Philadelphia Eagles:

Mark Sanchez
March, 27, 2014
Mar 27
8:03
PM ET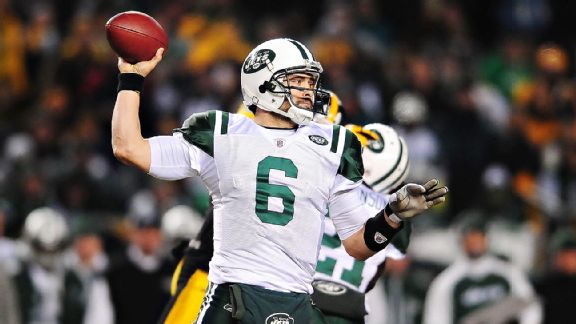 Andrew Weber/USA TODAY SportsAs a quarterback who played in two AFC title games, Mark Sanchez brings experience as a backup.
Mark Sanchez
is one of those players whose negatives have come to define him. We forget that he was a first-round pick, that he went to the AFC Championship Game in each of his first two seasons. We associate him with the butt-fumble, with bad interceptions, with the futility that is the
New York Jets
. When his name is suggested in connection with your favorite team, your first reaction is something along the lines of, "Jeez. Really? Why?"
But the fact is, at this point in his career, Sanchez is everything you look for in a backup quarterback. And that's what the
Philadelphia Eagles
see in him -- a backup quarterback. The
Eagles signed Sanchez
to an undisclosed contract on Thursday. He's not being brought in to compete with
Nick Foles
, whose monster second half of the 2013 season solidified him as the team's starter going into 2014. It's possible that Sanchez is being brought in to compete with second-year man
Matt Barkley
for the backup role, but since Barkley was and likely still is a project, it's also possible that Sanchez is being brought in to serve as Foles' backup until (or if ever) Barkley is ready to do that.
Would Chip Kelly's offense function as smoothly with Sanchez at quarterback as it did last year with Foles? Unlikely, if Sanchez were to be as inaccurate a thrower as he has been so far in his career. But that's not the point. Very few teams have ever had a backup who could step in and replicate a starter's performance, because quarterbacks who can do that tend to get jobs as starters elsewhere. The job of a backup quarterback is basically to not mess things up. And Sanchez has enough NFL experience to allow Kelly to believe he can meet that standard.
What you're looking for in a backup is a guy for whom the moment won't be too big -- a player who won't fall apart emotionally just because he suddenly finds himself thrown into an NFL game. Sanchez fits that description. There are only seven active NFL quarterbacks (and only 36 in league history, for that matter) who have won more playoff games than the four Sanchez won in his first two seasons. Of the backup options on this offseason's market, the only one with more experience as a starter was
Michael Vick
, who coincidentally just left the Eagles to sign with the Jets.
If something happens to Foles and he has to sit out a couple of plays or a quarter or a game or a few weeks, Sanchez gives Kelly the ability to put a quarterback into the game who's not going to be overwhelmed. And there's peace of mind in that. Sanchez might not play well, and the Eagles might struggle if they have to go with him for a few weeks, but the same can be said for any backup anywhere.
The best-case scenario for Sanchez in all of this is that he gets an opportunity at some point to put on a positive performance and rebuild his career as an NFL starter. But if all he's going to be is a backup, the fact that he used to be a starter makes him a valuable one.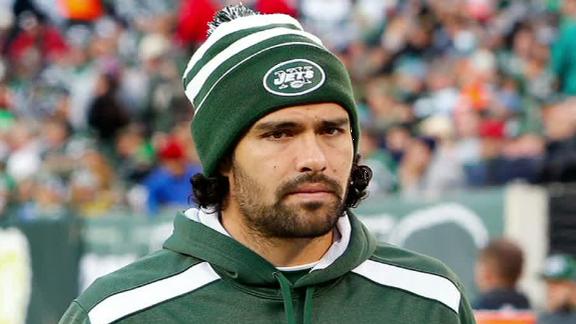 March, 25, 2014
Mar 25
3:35
PM ET
Chip Kelly will meet the media on Wednesday morning at the NFC coaches' breakfast from the Owners Meetings in Orlando.
The
Philadelphia Eagles
coach was one of the few to not speak at the NFL scouting combine in Indianapolis last month. He spoke at the Maxwell Football awards dinner a few weeks ago in Atlantic City, but now comes the chance to sit with him for an extended period of time.
The Eagles have had a busy offseason in re-signing their own players and adding a few free agents. Quarterback
Mark Sanchez
could be the next one to arrive and wide receiver
DeSean Jackson
could be the next to leave.
What do you want to hear from Kelly?
March, 24, 2014
Mar 24
10:27
PM ET
The
Philadelphia Eagles
need a backup quarterback.
Mark Sanchez
needs a new place to restart his career.
With ESPN Insider Chris Mortenson reporting Sanchez is expected to sign with the Eagles, it brings together two sides filling a major need.
Sanchez
Nick Foles
is without question the Eagles' starter. He threw 27 touchdown passes and had just two interceptions while compiling an 8-2 record in 2013. But with
Michael Vick
off to the
New York Jets
and
Matt Barkley
an unknown, coach Chip Kelly is dipping into the Pac-12 quarterbacks again.
Kelly was Oregon's offensive coordinator when Sanchez played at Southern Cal.
We will now get to see if he can revitalize Sanchez.
Things started so well for Sanchez with the Jets. He helped New York and Rex Ryan to two straight AFC Championship Games, losing to
Peyton Manning
and
Ben Roethlisberger
, but he never made the next step in his career.
His best statistical year came in 2011, when he threw for 3,474 yards with 26 touchdowns and 18 interceptions, but the Jets lost their final three games and that was the end of offensive coordinator Brian Schottenheimer.
Tony Sparano did not help Sanchez in 2012. A shoulder injury kept Sanchez out last year.
Provided the shoulder checks out, Sanchez will become the backup to Foles.
Kelly's first order of business is lifting Sanchez's accuracy. He is a 55.1 percent passer for his career. The best he has had in his career is 56.7 percent. In today's NFL with the rules the way they are, quarterbacks must complete about 65 percent to be effective.
With the Eagles, Sanchez would have better tools around him, especially on the offensive line. He could have
DeSean Jackson
at wide receiver, at least for a minute. He would have
Jeremy Maclin
and
Riley Cooper
to go with
Brent Celek
and
Zach Ertz
at tight end. And of course he would have
LeSean McCoy
.
He would also have Kelly, who has won with different kinds of quarterbacks along his stops at New Hampshire, Oregon and last year with the Eagles.
The Eagles are not the ground-and-pound of the Jets in Sanchez's first two years, but Kelly will run the ball to control the game and his quarterback.
Sanchez would be going to a perfect spot without the pressure to be the Sanch-ise. All he would need to be is a backup, not a savior.
March, 19, 2014
Mar 19
2:34
PM ET
Michael Vick
is expected to visit the
New York Jets
this weekend and if all goes according to plan he'll backup
Geno Smith
and send
Mark Sanchez
to the free agent market.
With Vick looking for a new place of employment it leads you to wonder if the Eagles quarterback situation is really stable.
Yes, the starter is
Nick Foles
and that's not changing with Chip Kelly as the coach.
But is a man with 16 starts under his belt ready to take the Eagles to playoffs again without a proven backup in place?
Currently, the Eagles have
Matt Barkley
and
G.J. Kinne
on the roster as the backup quarterbacks. Is this good enough?
Barkley struggled in two appearances last season when Foles was nicked up. Kinne spent time with the Eagles in the preseason and eventually was released but re-signed to the practice squad in October.
Should the Eagles look at a veteran backup to Foles?
The Eagles have struggled with the health of their quarterbacks. The last time a quarterback finished a full season with the Eagles was 2008 when
Donovan McNabb
was still around.
McNabb made 14 starts in 2009, but after he was traded to Washington, Vick took over and didn't start more than 13 games in a season.
The Eagles have started
Vince Young
,
Kevin Kolb
and Foles at quarterback due to injuries suffered by Vick.
And Foles himself left games with injuries, leading to Barkley to get his playing time.
Should Foles go down again with injury in 2014, maybe the Eagles need a veteran on the roster?
Matt Flynn
?
Jason Campbell
?
Josh Freeman
?
Rex Grossman
? Sanchez?
Whoever is signed, the key will be that veteran's ability to run Kelly's spread offense with efficiency. Not every quarterback can do it, and finding the right fit will be important.
As of now, it's Barkley, but the Eagles might want to find somebody else.
February, 25, 2014
Feb 25
8:00
AM ET
PHILADELPHIA -- We could start our look at the
Philadelphia Eagles
' impending free agents anywhere. This recent report, however, makes
Michael Vick
seem as good a place as any.
The
New York Jets
' potential interest in Vick is understandable on every level. The Jets fell off the map after two consecutive trips to the AFC championship game. Head coach Rex Ryan can only have so many chances left to get his team back to that level. He will need a quarterback to do it before time runs out.
Vick
Mark Sanchez
, who is coming off shoulder surgery and is due $9 million for 2014, probably is not going to be that guy.
Geno Smith
, the second-round draft pick from last year, deserves a chance to develop into a franchise quarterback. But Smith's rookie season did not summon memories of
Andrew Luck
,
Robert Griffin
III and
Russell Wilson
from the 2012 draft class. Smith threw 12 touchdowns and 21 interceptions in 2013, although he finished relatively strong.
A quick fix could be Ryan's best option, and no one is as compelling a quick-fix candidate as Vick.
The 33-year-old was having a good, but not great season for the Eagles before pulling a hamstring on Oct. 6 against the
New York Giants
. Vick's injury opened the door for
Nick Foles
, and Foles seized the opportunity.
Would Vick have been effective if he'd remained the starter in coach Chip Kelly's first season? There is reason to believe he would have. Before the injury, Vick had one poor outing in his first four starts in a radically new offensive system. He played very well in the season opener at Washington and a 33-30 home loss to San Diego.
Vick and the Eagles were overrun by the
Kansas City Chiefs
on a short week. He was fine in a no-chance loss in Denver. Before getting hurt against the Giants, Vick had made several big plays with his legs. The Eagles were winning, 16-7, when Vick was injured late in the first half.
Foles took the starting job with his performance after that, just as Vick had won it outright with a superb preseason showing. At season's end, Vick said he wanted to be a starter in the two or three years of high-quality football he felt he had left.
Of course, any team that signs Vick has to deal with the possible fan backlash. Although Eagles fans came to terms with Vick's history, he still turns up at the top of surveys designed to find the NFL's most disliked players.
He would probably have an easier time in the uniquely large and diverse New York market. In football terms, Vick would be reunited with offensive coordinator Marty Mornhinweg, who held that title for Vick's first four season with the Eagles. Mornhinweg would be as well-equipped as any coach in the league to get the most out of Vick at this late stage in his career.
There are other possible fits, of course. Vick could find a starting job in Oakland, Jacksonville, Minnesota or Tampa Bay. He could compete with, and serve as a veteran stopgap for, a rookie draft pick in any of those cities.
As for his chances of returning to Philadelphia, it is always possible. But with Foles entrenched as the starter,
Matt Barkley
in-house as his backup and a draft class full of possible developmental quarterbacks, it feels as if Vick's time here is done.
February, 3, 2014
Feb 3
2:00
PM ET
PHILADELPHIA – That old truism applies to quarterback
Michael Vick
. It is only going to take one team to believe he is the best solution for its quarterback problem.
But it will help if that one team has the right conditions to deal with any potential fallout from signing the still-controversial Vick. As I wrote recently,
Philadelphia Eagles
fans have gotten used to having Vick around after five years. Fans in other cities still may have an adverse reaction to having Vick join their favorite team.
But ESPN's Adam Schefter's report fits the bil
l. Schefter tweeted today that the
New York Jets
and the
Tampa Bay Buccaneers
are two franchises likely to have interest once Vick hits free agency next month.
The Jets' offensive coordinator is Marty Mornhinweg, who served that role for Vick's first four seasons with the Eagles. Mornhinweg knows Vick very well on two important levels. He doesn't have to wonder what it would be like to bring Vick into a locker room, and he has as good a feel as anyone for building an offense around Vick's skill set.
The Jets' head coach, Rex Ryan, might be more open than most to taking a shot with Vick. Ryan has spent the past couple years dealing with quarterback issues:
Mark Sanchez
,
Tim Tebow
,
Geno Smith
. If Ryan is going to last much longer with the Jets, an experienced and talented quarterback couldn't hurt.
Vick will turn 34 in June. He is not going to be any team's long-term solution as a franchise quarterback. But Ryan and the Jets are a perfect example of a situation where a short-term fix might make perfect sense.
As for Tampa Bay,
Mike Glennon
showed some genuine promise after replacing
Josh Freeman
as the starter. But Glennon wasn't exactly a
Nick Foles
-level revelation.
New head coach Lovie Smith went to a Super Bowl with
Rex Grossman
as his starter. Like Ryan, he's a defense-first guy. He's also an experienced, no-nonsense coach with the self-assurance to withstand any backlash that might come with signing Vick.
There are other possibilities, of course. The
Oakland Raiders
remain a franchise that is difficult to read from the outside. They have always had a reputation for welcoming players with tarnished reputations.
The
Cleveland Browns
seem less likely to be a fit for Vick now that Kyle Shanahan appears poised to become their offensive coordinator. During his time in Washington, Kyle and his father Mike Shanahan had difficult relationships with
Donovan McNabb
and
Robert Griffin
III. It's hard to imagine Vick choosing to go there if he has other options. Browns president Joe Banner was with the Eagles when they signed Vick in 2009, but players don't spend much time with club presidents.
The free agency period comes between the scouting combine, when teams can get a real feel for the crop of incoming quarterbacks, and the draft. Teams that need a quarterback and can't be certain of drafting one might find Vick their best option.
It only takes one.
January, 13, 2014
Jan 13
5:00
PM ET
PHILADELPHIA -- The
Michael Vick
situation provides a conundrum for the
Philadelphia Eagles
, bringing a couple of coach Chip Kelly's priorities into conflict.
All season, Kelly talked about the importance of having two quarterbacks capable of winning NFL games on the roster. The Eagles were living proof of the value of having Vick and
Nick Foles
. The
Green Bay Packers
, meanwhile, were an object lesson in what happens when your depth chart drops from
Aaron Rodgers
to
Seneca Wallace
.
Vick
"I think you can never have enough quarterbacks," Kelly said. "I've said that no matter where I was. In this league, we were fortunate that we had two this year, and that was a huge benefit to us that we had two, and we'll continue to always look at quarterbacks, and I think anybody that's any good in this league always does that."
Vick will be a free agent on March 11 and says he wants to go somewhere he can be a starter. And while he has said he would be willing to return to the Eagles as a backup "if all else fails," there is a very real possibility the Eagles won't be interested.
That's because, for all the praise Kelly heaped on Vick for handling his in-season demotion, the coach also had good things to say about rookie
Matt Barkley
.
"Matt was awesome," Kelly said. "I'm excited to get a full offseason with Matt in here to really get a chance to work with him, because I think he's got a skill set that's exciting when you see him, how the ball comes out of his hands, the decisions that he makes, and that's part of this whole deal."
Barkley
Kelly wanted Barkley enough for the Eagles to trade up a couple spots in the fourth round of the 2013 draft. Quarterbacks coach Bill Lazor spent hours of extra time working with Barkley. He saw action in three games, but was thrown into some pretty unfortunate situations.
The guess here is that Barkley is tagged to be the No. 2 quarterback behind Foles. His style is closer to Foles' than Vick's is, which theoretically makes for a smoother transition if he has to play. It also wouldn't shock me if the Eagles draft a quarterback again this year, maybe even higher than they took Barkley.
As for Vick, he is probably the best of a mediocre batch of free-agent quarterbacks this year. He will be 34, but still has a couple years left in him.
Some possible fits:
• Oakland, where coach Dennis Allen is going to be feeling some heat. Vick could be a good option to
Terrelle Pryor
as the younger quarterback gets up to speed.
• The
New York Jets
, where there will be intense pressure on head coach Rex Ryan in 2014, and where the offensive coordinator is former Eagles assistant Marty Mornhinweg. If the Jets stick with the combination of
Geno Smith
and
Mark Sanchez
for another year, chances are they'll be looking for a new head coach in 2015.
• Jacksonville, where the Jaguars slid from the No. 1 overall pick to No. 3 by winning a few late-season games. If they aren't in love with the quarterbacks available, or if they need a veteran to serve as a bridge to the rookie, Vick could be a fit.
• Cleveland is interesting. It's hard to say whether the presence of former Eagles president Joe Banner would be good or bad for Vick in Cleveland.
• Tampa Bay, which has a lot to like in
Mike Glennon
. But new coach Lovie Smith may want real competition for the starting job in training camp, and Vick just proved himself a solid locker room citizen through one of those.
• Buffalo is similar to Tampa Bay.
E.J. Manuel
is going to get every chance to be the quarterback, but coach Doug Marrone may want a veteran to compete, and Kevin Kolb's status may force the Bills to bring someone in.
• Kansas City. OK, OK, Andy Reid just had a very good year with
Alex Smith
. But Reid has fallen hard for Vick and scuttled his quarterback plans before. A long shot, yes, but there's a sliver of a chance.