Philadelphia Eagles:

Marshawn Lynch
January, 17, 2014
Jan 17
11:00
AM ET
PHILADELPHIA -- Bill Belichick dropped the phrase "one-game season" in his news conference Friday. On the eve of the NFL's championship-game weekend, that raised a minor, but sort of interesting, point regarding Chip Kelly's approach.
Belichick used the phrase to describe the NFL playoffs. Kelly used it to describe all 16 regular-season games.
Let's be clear. Kelly's "one-game season" mantra worked as intended. It helped keep the Eagles' focus on each upcoming opponent without being distracted by the standings or playoff scenarios or media chatter.
Kelly's approach was consistent. When the Eagles were 3-3 and improbably tied for first in the NFC East, Kelly joked about getting a trophy for this October achievement. When they were 3-5 and hadn't scored an offensive touchdown for two weeks, Kelly directed everyone's attention to the upcoming game in Oakland.
That was a pretty good one-week season: Eagles 49, Raiders 20.
[+] Enlarge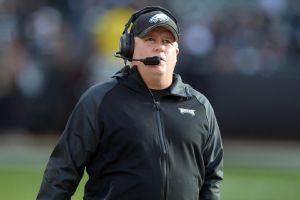 Kirby Lee/USA TODAY SportsDuring the regular season, Chip Kelly's defense was on the field more than any other defense in the NFL.
While it was an effective motivational tool, Kelly's approach doesn't apply in the NFL the way it literally did when he was at Oregon. In college, a team with national title aspirations really does have a series of one-week seasons. A single loss can knock your team out of contention.
That isn't the case in the NFL, obviously. The Eagles lost six games before getting to the real one-game season. The
San Diego Chargers
lost seven regular-season games and still made it into the playoffs.
The Chargers won a playoff game. The Eagles didn't. Who had the better one-game season?
If this was just a matter of semantics, it wouldn't be worth bringing up. But as we've watched the truly elite teams separate themselves from the rest of the league in the playoffs, it's natural to think about what the Eagles need to do to get back to that level.
No one is suggesting Kelly drop the "one-game season" idea when he's addressing his players. But it's important for a coach to approach the season as the 16-game, 17-week marathon that it really is.
Example: Kelly's much-discussed disdain for time-of-possession might be fine in a one-game season, assuming you win. But over 16 regular-season games, the Eagles' defense was on the field more than any other defense in the NFL. More time and more plays, which means more collisions, more running, more of everything.
It isn't exactly a reach to suggest a correlation between that workload and the way the Eagles couldn't get off the field in the second half of the playoff loss to New Orleans. The Saints were able to run nearly five minutes off the clock on their game-winning drive. The Eagles' defenders were getting pushed around, unable to stand their ground in the running game.
The conceit that the Eagles were the best conditioned team in the league proved to be just that. They were fit, but not markedly more than the teams they were playing every week.
None of the four teams that will play this weekend were on the minus side in time of possession.
McCoy
Another example:
LeSean McCoy
carried the ball 314 times in the regular season. That is 25 more times than the NFL's second-leading rusher, Chicago's
Matt Forte
, and 55 more times than Kansas City's
Jamaal Charles
, who finished third in rushing yards. Only Seattle's
Marshawn Lynch
, with 301, topped the 300-carry mark.
(Minnesota's
Adrian Peterson
was on pace for more carries than McCoy before getting hurt.)
McCoy had 31 carries for 184 yards in Week 1. The next week, he carried 11 times for 53 yards, averaging more than a yard less per carry. He averaged 7.9 yards in 20 carries against Kansas City in Week 3, then 4.6 yards in 16 carries against a lesser Denver defense in Week 4. That pattern continued most of the season: after averaging 7.5 yards in the snow against Detroit, McCoy averaged 4.8 in just eight carries in Minnesota.
The last two weeks of the regular season, McCoy carried the ball 45 times for 264 yards (5.9 yards per carry). In the first week of the postseason, against the 19th-ranked rush defense, McCoy carried the ball 21 times for 77 yards, a 3.7-yard average.
Would McCoy be stronger in the real one-game season if his carries over the regular season were managed differently? Would the defense have more in the tank in the playoffs if it didn't have the heaviest workload in the league for 16 games?
It's worth thinking about. Kelly has an eight-month offseason to do so.
December, 11, 2013
12/11/13
5:30
PM ET
PHILADELPHIA – Eagles running back
LeSean McCoy
, it must be noted, would not have to tackle Minnesota's
Adrian Peterson
if the injured superstar were to play Sunday.
McCoy
With that established, McCoy said he'll be disappointed if Peterson's foot injury keeps him sidelined when the Eagles visit the Metrodome.
"When we saw them on the schedule," McCoy said, "my eyes got big. I thought it was a chance to go one-on-one with one of the best backs. You always want to compete against one of the elite guys in the NFL."
McCoy certainly considers himself among them. He is pretty matter-of-fact when discussing his abilities and his place in the hierarchy. It is why he caused a stir early in the season by tweeting an insult about Denver's
Knowshon Moreno
, whose crime was being taken ahead of McCoy in the 2009 draft.
"I definitely think I'm in the top five [backs]," McCoy said. "Top three."
Asked to name the rest of that top five, McCoy mentioned Peterson, Kansas City's
Jamaal Charles
, San Francisco's
Frank Gore
and Seattle's
Marshawn Lynch
.
"There's a lot of different guys," McCoy said. "I like to give you a couple guys to think about, some elite guys.
Arian Foster
is in there, too, even though he's banged up."
McCoy said he valued consistency, versatility and longevity, but there was something else that was harder to define in identifying a great back.
"What makes you special?" McCoy said. "Guys that have great offensive lines, they'll get yards. But what else do you do special? Is he a shifty back? Will he run you over? Can he catch, can he run routes? Is he a mismatch for defenders? What makes that guy special? All those guys I named, I can give two, three, four, five attributes that make them a special back."
McCoy spoke from a bully pulpit. He is leading the NFL with 1,305 rushing yards, ahead of Peterson, and in total yards from scrimmage, ahead of Charles. In the latest ESPN.com MVP Watch, Dan Graziano had McCoy third behind only quarterbacks
Peyton Manning
and
Drew Brees
. Charles, at No. 8, was the only other running back in Graziano's top 10.
On Sunday, McCoy broke the Eagles' 64-year-old franchise record for rushing yards in a game, topping Steve Van Buren 217 to 205. He is 207 yards away from Wilbert Montgomery's 1979 record of 1,512 rushing yards in a season.
November, 13, 2013
11/13/13
3:00
PM ET
PHILADELPHIA -- Eagles running back
LeSean McCoy
lets his offensive linemen keep track of the NFL rushing leaders.
"If they're on TV, I'll watch them," McCoy said, "instead of going on ESPN.com and looking up the stats."
McCoy
If he did, McCoy might notice
Dan Graziano's MVP Watch
, in which a familiar face peers back at him from beside the No. 6. With the Eagles' record back to .500, McCoy meets Graziano's criteria for the weekly list.
(Before you ask, Graziano didn't consider quarterback
Nick Foles
because he has started only four of the Eagles' 10 games.)
The NFL's rushing leader, McCoy is ranked behind three quarterbacks --
Peyton Manning
,
Drew Brees
and
Russell Wilson
are 1-2-3 on the list -- Detroit wide receiver
Calvin Johnson
and Kansas City running back
Jamaal Charles
. McCoy is ahead of quarterbacks
Cam Newton
and
Andrew Luck
.
"If he keeps playing like he is, [MVP] is an honor he definitely can shoot for," Eagles guard
Evan Mathis
said.
Mathis is one of those linemen who keep an eye on McCoy's place among the leaders. He said he looked up on the big screen at Lambeau Field Sunday and saw the leaders posted. There was McCoy, at No. 1 with 932 rushing yards. He is 61 yards ahead of Seattle's
Marshawn Lynch
and 107 ahead of Washington's
Alfred Morris
. Morris has already had his bye week, so has played one less game.
"As long as we're winning," McCoy said. "Any back can tell you, it's cool to win the rushing title. To do it losing-wise, it's not the same. If you're winning, it's a way bigger deal. But it definitely matters, though."
Spoken like a true MVP. Or one of the top 10 candidates, anyway.
November, 7, 2013
11/07/13
8:00
AM ET
PHILADELPHIA – The questions for
Philadelphia Eagles
running back
LeSean McCoy
are the same. The tone after a 49-20 blowout win is very different from the tone after two consecutive games without an offensive touchdown.
McCoy rushed for only 44 yards Sunday in Oakland, fewer than he did in ugly losses to the Cowboys (55 yards) and Giants (48).
"The biggest thing is winning," McCoy said Wednesday. "I still lead the NFL in rushing, so I can't be that pissed."
McCoy
It's true. In the Eagles' first three games, McCoy put up two of the three biggest yardage totals of the season – 184 at Washington, 158 against Kansas City. He got far enough ahead of the pack that, even after a relatively quiet few weeks, no one has caught up to McCoy and his 777 rushing yards.
The pack is getting close. Seattle's
Marshawn Lynch
is at 726 yards. Kansas City's
Jamaal Charles
is one yard back at 725.
Adrian Peterson
has 711.
As for the Pack, Green Bay rookie
Eddie Lacy
is eighth overall with 596 yards. But while McCoy jumped out to a big lead and has slowed down, Lacy has the most rushing yards in the NFL over the past month.
The Eagles really haven't followed the NFL formula, using the passing game to get out to a lead and the running game to kill time. In Oakland, they got a big lead and just kept throwing.
"We scored almost every chance we had," McCoy said. "We were making plays up and down the field."
"When you're throwing the ball like that, you're probably not going to run the ball as much," center
Jason Kelce
said. "I think Chip [Kelly] and the offensive staff are really good at taking what the defense gives you. That's kind of what this whole offense is predicated on."
Nick Foles
' record-tying passing splurge was made possible, at least in part, by the Raiders' focus on McCoy. Oakland seldom blitzed, allowing Foles time to find open receivers romping through the secondary.
"They tried to stop the run so much, they left things open," McCoy said.
Against Dallas and the Giants, the Eagles were unable to exploit those opportunities in the passing game. Foles had a terrible performance against the Cowboys.
Michael Vick
struggled early, then was forced to leave the Giants game.
It won't always look as easy as it did against the Raiders' gravity-challenged secondary, but that was how the offense is designed to respond to teams stacking up against the run. And that, in turn, could get McCoy rolling again.
"I feel comfortable going into this week that we can run the ball a little more," McCoy said. "We threw the ball so well last game, a team will have to play us honest. When they try to stop the run, guys are making plays [in the pass game]. From now on, we'll probably see more honest defensive looks."