Philadelphia Eagles:

Matt Forte
February, 18, 2014
Feb 18
8:00
AM ET
PHILADELPHIA -- You learn a little bit about what coaches are thinking by listening to them speak. You learn a lot more by watching what they do when the pressure is on.
All season, Eagles coach Chip Kelly had positive things to say about
Bryce Brown
and
Chris Polk
, his backup running backs. They were coming along. They would get some carries as Kelly sought to lighten the load on
LeSean McCoy
.
[+] Enlarge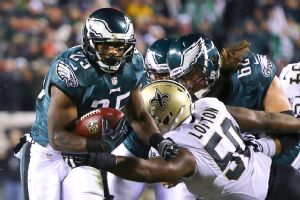 Al Bello/Getty ImagesLeSean McCoy rushed for 1,607 yards and had 539 yards receiving last season.
When the Eagles played Dallas in the final game of the season with the NFC East title on the line, Brown got exactly two carries when McCoy desperately needed a blow late in the game. Polk had zero carries and one catch.
The next week, in the Eagles' playoff loss to the
New Orleans Saints
, neither Brown nor Polk touched the ball. No carries, no catches, no nothing.
That tells you that the Eagles, the team with the NFL's leading rusher and No. 1 overall running game, need an upgrade at the running back position.
McCoy, who is still just 25, is and will be the man. Part of the reality here is that it is just plain tough to take him out of a game. He's that good. But his career is going to be longer if the Eagles can find a way to lessen his workload.
McCoy carried the ball 314 times in 2013 and caught 52 passes for a total of 366 touches. That's more touches than anyone in football (Chicago's
Matt Forte
was close with 363 -- 289 rushes and 74 receptions). When you add pass blocking, that's a lot of contact.
But sheer volume isn't the only factor. There were several games in which the run game just wasn't clicking. The offensive linemen talked about not being "on the same page" with McCoy at times. McCoy himself admitted to being too fine at times and not just hitting the holes that were there.
That might be an opportune time to get another back a series or two. See if things start working better. Once the run game gets into a groove, McCoy just might slide right into it and produce as he normally does.
The two most notable of those not-on-the-same-page games were the touchdown-less losses to the Giants and Cowboys in consecutive weeks. Brown got a total of five carries in those games. Polk was inactive for one and had zero touches in the other.
With
Matt Barkley
forced to play quarterback because of injuries to
Nick Foles
and
Michael Vick
, the run game was needed even more. It produced even less.
Polk had surgery on his shoulder after the season, so it's possible he was limited by that injury in the second half of the season. Brown and Polk both got in on the snowy rout of Detroit in December, but neither made much of a mark otherwise.
So yes, the Eagles have arguably the best running back and the most productive running game in the NFL. But they are still very likely to look to upgrade the running back position during this offseason.
There are a number of backs available in free agency, including Minnesota's
Toby Gerhart
-- a player Kelly went out of his way to praise and who played for new Eagles quarterbacks coach Bill Musgrave.
If Kelly is sentimental, he could look at New England's
LeGarrette Blount
, who played for Kelly at Oregon. If Kelly is feeling mischievous, he could bring in Denver's
Knowshon Moreno
, who was on the receiving end of some barbed comments from McCoy back in September.
More likely, the Eagles will keep an eye out for a back they like in the draft. Another Oregon product,
De'Anthony Thomas
, could be an interesting match. Thomas is just 5-9, 176 pounds, but has elite speed and could be the answer to the Eagles' need for a big-play return man as well.
January, 17, 2014
Jan 17
11:00
AM ET
PHILADELPHIA -- Bill Belichick dropped the phrase "one-game season" in his news conference Friday. On the eve of the NFL's championship-game weekend, that raised a minor, but sort of interesting, point regarding Chip Kelly's approach.
Belichick used the phrase to describe the NFL playoffs. Kelly used it to describe all 16 regular-season games.
Let's be clear. Kelly's "one-game season" mantra worked as intended. It helped keep the Eagles' focus on each upcoming opponent without being distracted by the standings or playoff scenarios or media chatter.
Kelly's approach was consistent. When the Eagles were 3-3 and improbably tied for first in the NFC East, Kelly joked about getting a trophy for this October achievement. When they were 3-5 and hadn't scored an offensive touchdown for two weeks, Kelly directed everyone's attention to the upcoming game in Oakland.
That was a pretty good one-week season: Eagles 49, Raiders 20.
[+] Enlarge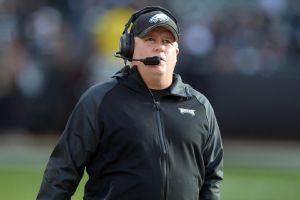 Kirby Lee/USA TODAY SportsDuring the regular season, Chip Kelly's defense was on the field more than any other defense in the NFL.
While it was an effective motivational tool, Kelly's approach doesn't apply in the NFL the way it literally did when he was at Oregon. In college, a team with national title aspirations really does have a series of one-week seasons. A single loss can knock your team out of contention.
That isn't the case in the NFL, obviously. The Eagles lost six games before getting to the real one-game season. The
San Diego Chargers
lost seven regular-season games and still made it into the playoffs.
The Chargers won a playoff game. The Eagles didn't. Who had the better one-game season?
If this was just a matter of semantics, it wouldn't be worth bringing up. But as we've watched the truly elite teams separate themselves from the rest of the league in the playoffs, it's natural to think about what the Eagles need to do to get back to that level.
No one is suggesting Kelly drop the "one-game season" idea when he's addressing his players. But it's important for a coach to approach the season as the 16-game, 17-week marathon that it really is.
Example: Kelly's much-discussed disdain for time-of-possession might be fine in a one-game season, assuming you win. But over 16 regular-season games, the Eagles' defense was on the field more than any other defense in the NFL. More time and more plays, which means more collisions, more running, more of everything.
It isn't exactly a reach to suggest a correlation between that workload and the way the Eagles couldn't get off the field in the second half of the playoff loss to New Orleans. The Saints were able to run nearly five minutes off the clock on their game-winning drive. The Eagles' defenders were getting pushed around, unable to stand their ground in the running game.
The conceit that the Eagles were the best conditioned team in the league proved to be just that. They were fit, but not markedly more than the teams they were playing every week.
None of the four teams that will play this weekend were on the minus side in time of possession.
McCoy
Another example:
LeSean McCoy
carried the ball 314 times in the regular season. That is 25 more times than the NFL's second-leading rusher, Chicago's
Matt Forte
, and 55 more times than Kansas City's
Jamaal Charles
, who finished third in rushing yards. Only Seattle's
Marshawn Lynch
, with 301, topped the 300-carry mark.
(Minnesota's
Adrian Peterson
was on pace for more carries than McCoy before getting hurt.)
McCoy had 31 carries for 184 yards in Week 1. The next week, he carried 11 times for 53 yards, averaging more than a yard less per carry. He averaged 7.9 yards in 20 carries against Kansas City in Week 3, then 4.6 yards in 16 carries against a lesser Denver defense in Week 4. That pattern continued most of the season: after averaging 7.5 yards in the snow against Detroit, McCoy averaged 4.8 in just eight carries in Minnesota.
The last two weeks of the regular season, McCoy carried the ball 45 times for 264 yards (5.9 yards per carry). In the first week of the postseason, against the 19th-ranked rush defense, McCoy carried the ball 21 times for 77 yards, a 3.7-yard average.
Would McCoy be stronger in the real one-game season if his carries over the regular season were managed differently? Would the defense have more in the tank in the playoffs if it didn't have the heaviest workload in the league for 16 games?
It's worth thinking about. Kelly has an eight-month offseason to do so.
December, 17, 2013
12/17/13
1:30
PM ET
PHILADELPHIA -- Coming off a game in which his defense gave up 48 points and lost three more defensive backs to injuries, Eagles defensive coordinator Bill Davis called Sunday's visit from the
Chicago Bears
"our biggest challenge of the season."
That's quite a distinction, considering the Eagles have faced
Peyton Manning
(allowing 52 points),
Philip Rivers
(33 points),
Jamaal Charles
(26 points),
Larry Fitzgerald
(21 points) and
Calvin Johnson
(20 snow-covered points).
But Davis was taking in all the factors: A game with enormous playoff implications for the Bears and possibly the Eagles; quarterback
Jay Cutler
and his array of weapons, including
Brandon Marshall
,
Alshon Jeffery
,
Martellus Bennett
and
Matt Forte
, and a secondary thrown into disarray by injuries and poor performance.
"Chicago might be one of the most talented offenses we face," Davis said. "They're obviously in the top five in scoring. They've got the big, physical Pro Bowl receivers – two of them. They've got a tight end who's a big, athletic pass receiving tight end. The running back is as rounded as any running back we've faced."
That would sound daunting coming off the nine consecutive games in which the Eagles' defense held the opposing team to 21 points or fewer. Coming off Sunday's debacle in Minnesota, and dealing with the smoking ruins of his secondary, you can see why Davis is concerned.
Nickel cornerback
Brandon Boykin
, who leads the team with four interceptions, has a concussion. His availability will be determined by the NFL concussion protocol. He would be replaced by safety
Patrick Chung
or cornerback
Roc Carmichael
, or a combination of both.
Davis may get rookie safety
Earl Wolff
back after a five-week absence due a knee injury. But Davis said Wolff will have to "crawl" back into the lineup before he's completely back to where he was in early November.
Wolff's replacement, the veteran Chung, was benched in favor of
Kurt Coleman
. Davis revealed Tuesday that decision was made before the game.
"Pat and Kurt knew we were rotating every two series," Davis said. "Now we were rotating because Patrick is in a little bit of a slump. We were prepared in practice, we were 50/50 with the reps. That wasn't something that was a knee-jerk reaction."
Coleman injured his hamstring and spent the second half in the locker room getting treatment.
Colt Anderson
, who plays mostly special teams, injured his knee while pressed into service on defense.
Davis said Wolff and Coleman are "day to day," while Anderson is "more week to week."
And those are just the injured players. Davis also has to regroup with starting cornerbacks,
Cary Williams
and
Bradley Fletcher
, who are coming off their worst performance since the Denver game. Safety
Nate Allen
earned the distinction of being the least-bad defensive back of the day for the Eagles.
"It is a well-rounded offense that's coming at us," Davis said. "We had a bad day in Minnesota. They're in the right mindset. Nobody's pouting about last week. We accepted it, we owned up to it, we talked about the mistakes. Now we're going forward and we're going to attack Chicago with everything we have."