Philadelphia Eagles:

Miles Austin
January, 2, 2014
Jan 2
8:00
AM ET
PHILADELPHIA -- When it comes to
Brandon Boykin
, the
New Orleans Saints
might do what the Eagles have not -- get him on the field more.
As the Eagles' nickel cornerback, Boykin has played about half the team's defensive snaps. Somehow, he intercepted six passes, which tied him for second in the NFL. That created a conundrum. If Boykin makes big plays at that rate, shouldn't he play more? Or does he make those plays because of the role he is in?
"I really think, and I believe this, that one of the reasons that he's grown like he's grown and made the plays that he's making is because we've allowed him to specialize and really focus on the nickel position and how to play there," defensive coordinator Bill Davis said. "He's a young player that's still growing and I think that is one of the things that we've done that I'm most happy with."
[+] Enlarge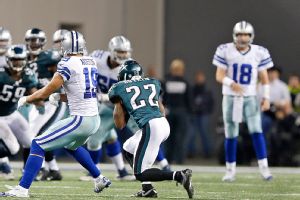 AP Photo/James D. SmithBrandon Boykin's interception late in the fourth quarter sealed the Eagles' Week 17 win over the Cowboys.
In time, Boykin could be an every-down cornerback. That's his goal. The Eagles had the luxury of leaving him in the slot because
Cary Williams
and
Bradley Fletcher
have evolved into a more-than-solid starting duo.
"I'm on the field a lot," Boykin said. "In the time that I'm getting, I'm making the plays. I don't really worry about that at all. It's gotten us to where we've gotten. I know what my role is. Everybody's jelling, so it doesn't matter to me."
Boykin's playing time is based on the opponent's personnel, and that's where the Saints come in. Coach Sean Payton likes to throw the ball, and he'll have five players running routes on many plays.
"All five eligible receivers are always available," Davis said. "They don't overload protection because the ball is out so quick."
So the Saints' style may dictate that the Eagles' nickel personnel are on the field a lot, and that could translate into more playing time for Boykin.
"This game, I'll probably be in a lot more than I have in the past this season," Boykin said. "I'm focusing on that."
Of course, more playing time means more responsibility. And it also means Boykin could be matched up quite a bit with tight end
Jimmy Graham
, who has a nine-inch height advantage.
"That's a possibility, if he lines up in the slot," Boykin said. "I'm sure they're going to do their fair share of that. They put him in a lot of different places to make mismatches for linebackers and whoever's on him. He'll be their main target most of the time."
In a way, the 5-foot-10 Boykin is better equipped to deal with the 6-foot-7 Graham than some of the Eagles' other defenders. He is used to being shorter than the guy he is covering. He has learned to focus on the receiver's hands rather than trying to play the ball on its way down. And he is good at tackling bigger players, because most players are bigger.
Boykin was covering the 6-foot-2
Miles Austin
when he made the interception that secured the Eagles' 24-22 win over the
Dallas Cowboys
Sunday night. It was the second game-ending interception of the season for Boykin.
"I think it has to be first" among his big plays, Boykin said. "It meant more than any of the other plays, just as far as what was on the line. You have to rank it up there."
December, 27, 2013
12/27/13
11:00
AM ET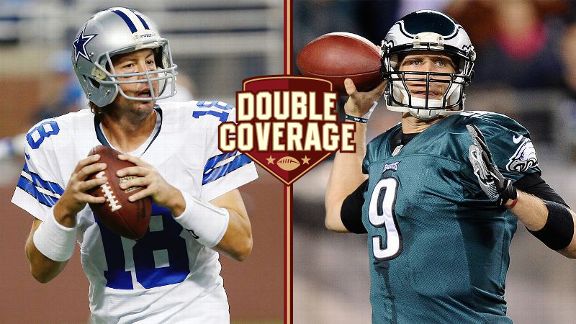 AP Photo, Getty ImagesDallas QB Kyle Orton, left, and the Eagles' Nick Foles didn't open the season as starters, but are expected to be leading their teams Sunday night with the NFC East title and a playoff berth at stake.
IRVING, Texas -- The NFC East title is at stake Sunday at AT&T Stadium when the
Dallas Cowboys
play the
Philadelphia Eagles
.
The Cowboys have been in this spot for the past three seasons, but for the first time the are likely to be without quarterback
Tony Romo
, who sources tell ESPN's Adam Schefter and Chris Mortensen is not expected to play. The Eagles were not expected to be in this situation in Chip Kelly's first season.
ESPN.com NFL reporters Todd Archer and Phil Sheridan dissect the matchup in this week's Double Coverage.
Archer:
Nick Foles
was awful when these teams met earlier in the season. Where has that guy gone?
Phil Sheridan:
This is the great mystery of the Eagles' season. Theories abound. Foles had been on the Eagles' injury report the week before that with a groin injury. Was it the groin? He left the game with a concussion. Had he suffered it earlier and been affected by that? He didn't play well in a bowl game at Arizona. Did he shrivel up in big games? Did Jerry Jones have his family tied up in a dungeon?
It was just such an outlier of a performance from anything else he's done this season, it seemed like there had to be some explanation. Best guess: He had a bad day. A really bad day. And he moved on from it and hasn't let it happen again. In his next game, he threw seven touchdown passes in Oakland. He's been outstanding since.
We've heard a lot about how involved Romo has been in running the offense. How much would that change with
Kyle Orton
in there? And is there any way he's ready to play at all?
Archer:
Honestly, I don't believe it changes all that much. The scheme will be the same. What they will miss is Romo's ability to make things up as things break down. That is not Orton's game. The offensive line has played much better down the stretch, especially running the ball. The pass protection has been good enough, but needs to be better because Orton simply doesn't move like Romo. But Orton has the arm strength to push the ball down the field, and his receivers like him even if they have not had much work with him. I'll go back to 2010 when the Cowboys lost Romo to a collarbone injury and
Jon Kitna
took over. In the six games Kitna started and finished with Garrett as interim head coach, the Cowboys averaged more than 30 points a game. They need to have Orton trust the system the way Kitna trusted the system.
How much credit does Chip Kelly deserve for getting the Eagles to this point? Certainly things didn't look stable when the Cowboys visited in October.
Sheridan:
Kelly deserves tons of credit. The Eagles were a smoking husk by the end of the Andy Reid era, as evidenced by their 4-12 record last season. Change was necessary, and Kelly is about as big a change as you can get. The players bought into it immediately, and they really seem to enjoy playing for him. He got a great effort from them Sunday night against the Bears, just hours after the Cowboys won and the Eagles knew they couldn't clinch the division.
I think two things happened to account for the rough patch the Eagles hit in October. The Giants had found some ways to disrupt the Eagles' run-blocking scheme, and the Cowboys deployed a similar approach. Also, the quarterbacks were both terrible and injured, in that order, in back-to-back losses to the Cowboys and Giants. Kelly adjusted the run blocking, Foles came back, and the Eagles are 6-1 since.
Let me ask the flip side of the Foles question: The Cowboys didn't have
DeMarcus Ware
in that first game. They dominated Foles and held
LeSean McCoy
to 55 rushing yards. What happened to those guys?
Archer:
Injuries have happened. The Cowboys have lost
Sean Lee
to hamstring and neck injuries, and he's not likely to play Sunday because of the neck.
Morris Claiborne
has missed six of the past seven games with a hamstring injury. He might play Sunday, but he's not been effective when he has played. Ware has not been anywhere close to form because of a variety of injuries and just poor play.
Jason Hatcher
has slumped after a solid start.
Brandon Carr
has slumped, too.
Bruce Carter
has not played well. Are you sensing a trend? To me there is a huge crisis of confidence with this defense from a player and coach standpoint. I don't know if the players trust the coaches, and I don't know if the coaches can dial up changes to stop anybody. But they can hang their hat on that first game as they enter this one, so we won't have to bring up Kelly's collegiate success vs. Monte Kiffin as much.
LeSean McCoy for MVP? It sure seems like he's perfect for what Kelly wants to do.
Sheridan:
Bears coach Marc Trestman nailed it after McCoy went for 133 rushing yards Sunday night: "I don't think it would matter what offensive system he plays in. Chip has done a tremendous job putting his offense in, no doubt about it, but he is just a great back."
One of the perennial gripes about Andy Reid was that he called running plays about as often as he turned down a second helping. That was true when he had
Duce Staley
,
Brian Westbrook
and McCoy. But McCoy was effective in Reid's offense. It's just that Kelly loves to run the ball, and his play designs reliably get McCoy into the secondary with one man to beat. And McCoy can beat almost anybody one-on-one.
MVP? Guessing the Sportsman of the Year
Peyton Manning
already has his name engraved on the trophy, but McCoy certainly belongs in the conversation.
What is the sense you get of the Cowboys' mindset? Do they see the blowout in Chicago, the collapse against Green Bay and the struggle at Washington as three bad games in a row? Or does pulling out the win Sunday give them a feeling they're back on the right track? And are they right?
Archer:
If you asked me this after the Redskins game, I would say they are riding high. It was the kind of win that can carry a team emotionally. But with the Romo news, I think that deflates them some. This team has shown a resiliency. They bounced back after tough losses to Denver, Detroit and Green Bay. I'll give Garrett credit for that. He has a mentally tough team. He just doesn't have a terribly talented team. Romo creates so much for this offense that they will need others to raise their games. It's possible. They still have
Dez Bryant
,
DeMarco Murray
,
Jason Witten
and
Miles Austin
on offense. That's not a shabby group by any stretch. And Orton is smart enough to know what he isn't. I think with the Romo news coming early in the week, it will allow them to prepare knowing he probably can't play.
.
October, 17, 2013
10/17/13
12:00
PM ET
There was a time when the
Philadelphia Eagles
and
Dallas Cowboys
both had a good chance of being undefeated going into an October showdown. That time may be long gone, but this meeting between a pair of 3-3 teams still has a lot of cachet.
The winner will have sole possession of first place in the NFC East. With Washington (1-4) and the
New York Giants
(0-6) already wrecked on the side of the road, this game will establish pole position for the race ahead.
Todd Archer, who covers the Cowboys for ESPN.com's NFL Nation, and Philadelphia counterpart Phil Sheridan discussed some of the big questions going into the game.
Sheridan:
DeMarcus Ware
and
DeMarco Murray
-- whether they're out or just limited by injury -- which can the Cowboys least afford to lose and why?
Archer:
To me, the easy answer is Ware because they really don't have much of a pass rush without him. The Cowboys can get by without Murray because of
Tony Romo
and the passing game. Ware has several little injuries this year with a stinger, a back strain, dehydration, getting poked in the eye and now this quad strain. He says he is a fast healer, but I don't think he'll heal fast enough for this week and the Cowboys will have to get by with what Jerry Jones called the "no-names," like
George Selvie
,
Kyle Wilber
and
Caesar Rayford
.
I'll go with the either/or as well:
Michael Vick
or
Nick Foles
? If both are healthy, whom does Chip Kelly eventually roll with?
Sheridan:
I wish I knew what Chipper is really thinking. Ultimately, I think he has to get an extended look at Foles this season. Vick's injury opened the door, and Foles certainly took a confident stride through it Sunday, earning NFC Offensive Player of the Week honors in Tampa. But part of being a successful NFL quarterback is coming back, week after week, through nagging injuries and fatigue. Kelly has to know whether Foles can do that before this season is over. Combine that with the fact that Foles may actually run the offense more effectively and I think it may be a while before we see Vick again.
Foles had a good day in Tampa. Now he faces the godfather of the Tampa 2. How is Monte Kiffin's defense coming together after six games?
Archer:
To be kind, not well. The Cowboys have allowed three 400-yard passers this season. They allowed 216 rushing yards last week against Washington. They likely won't have Ware, so that will hinder the pass rush. The Cowboys aren't really the true Tampa 2 scheme that Kiffin ran so well in Tampa. First off, he doesn't have
Warren Sapp
,
Derrick Brooks
or
John Lynch
, but the Cowboys are mixing their coverages a lot more because of their cornerbacks. They paid a lot of money for
Brandon Carr
,
Morris Claiborne
and
Orlando Scandrick
and have tried to play more man-to-man lately. They were fairly effective against the Redskins, and that helped the pass rush. They'll have to be that effective this week too.
I mentioned the 216 rushing yards, and
LeSean McCoy
is on the docket for the Dallas D. He's off to a great start and seems to be a perfect fit in this offense. True?
Sheridan:
One hundred percent true, although McCoy might be a pretty good fit in any offense that involves a football. Some of the Broncos, who don't see him often, were comparing him to
Barry Sanders
, and it's not as big a reach as you might think at first. He's quick, he's strong, he changes direction almost magically, and his instincts are remarkable. For a few weeks, the Eagles were piling up rushing yards without getting enough points. Against Tampa Bay, McCoy went for 116 yards and there was a 31 on the scoreboard. That's where the Eagles need to be.
Let's turn to the Dallas offense. Eagles defensive coordinator Bill Davis said this week what a lot of people think, that Romo is capable of making a big play or a big mistake at any time. How is the franchise quarterback's confidence this year?
Archer:
I wonder if Davis has seen Romo play much this year. Maybe he just saw the end of the Broncos game when he had the interception, but Romo has only three picks on the year. One was a busted route by a rookie receiver, and another was a tipped ball. I think his involvement in the game plan really has Romo tuned into the opposing defenses and what they're trying to do. He is not forcing throws (no, I'm not forgetting the late Broncos interception), and he is being more patient than ever. This is his offense in a lot of ways, and he doesn't want to screw it up. That being said, the offense has not performed well in its first two road games, scoring 16 and 14 points against Kansas City and San Diego. In the last two games, the Cowboys have spread it out more, and without Murray this week, I think you'll see more spread looks Sunday.
For so long we've been used to seeing a Jim Johnson-type defense in Philly, but Davis has a different style. What has or hasn't happened so far in the Eagles' move to the 3-4?
Sheridan:
It is a process, as Davis and Kelly constantly remind us. It's a tough transition when you have players better suited to a 4-3. It's even tougher with players who aren't suited to any defensive scheme at all. The Eagles seemed to have a few of those while giving up 33 passing touchdowns last year. They made a lot of changes in the secondary, but it has still been vulnerable -- especially on third down. The defense seemed to make progress against the Giants and Bucs, but those are two winless teams. It will be a big deal if the Eagles can continue to make progress against a quarterback like Romo.
How good is
Dez Bryant
right now, and how much more potent can this offense be if and when
Miles Austin
gets it going?
Archer:
Bryant has carried over his success from the second half of last season to this season, at least in terms of touchdowns. He is a nightmare for cornerbacks in the red zone. He's just too big and physical down there for them to handle. He's almost too physical and might get a pass interference penalty one of these days. But Romo is so confident in him down tight that he'll just throw it up knowing Bryant will get it or nobody else will. What's strange, however, is that Bryant has had three games in which he has averaged less than 10 yards per catch. If teams want to take him out with help, they can. And that's where Austin comes in. He's just not healthy yet but was off to a good start before injuring his hamstring. Rookie
Terrance Williams
has really caught on lately and helped make up for Austin's absence/lack of production. When he's right, Austin is dangerous in the slot and outside and is a tough matchup.
Let's stick with the receivers. Is
DeSean Jackson
, well, DeSean Jackson again?
Sheridan:
DeSean Jackson is DeSean Jackson, only better. He seems to have matured almost overnight. He says he worked out and added a little muscle mass during the offseason. Not sure whether it's that or Foles or Kelly's offensive approach, but Jackson is suddenly a factor in the red zone. He was always a deep threat but disappeared inside the 20. He has red zone scores in each of the last two games. He'll never be the kind of receiver you described Bryant as being, but he's added a better understanding of the game to his gift of speed.
Both teams are 3-3. It's not exactly the 1990s, when they might both be undefeated when they met in October, but this will still decide who is in first place in the NFC East. Do you think the Cowboys have what it takes to knuckle down and win the division in a decidedly down year?
Archer:
I think they do, but if there's one thing I've figured out in covering this team, it is to never come to expect anything. They are just too up and down. There's no doubt the NFC East is down, but the prevailing wisdom is that the Cowboys are infinitely more talented than every other team in the division, so they should run away with it. I don't know about that. They're good at the top but not so much in the middle and bottom. They have a ton of questions on defense. They can't afford injuries. They might have the best chance to win the NFC East, but it's not a lock. This game, to me, is huge. If they can get to 3-0 in the division, it gets a little easier. If they lose, they're riding that 8-8 bus again.
Is Kelly in this for the long haul?
Sheridan:
Here's another case where I wish I knew what was going on inside Kelly's head. He's good at talking about football, what he's trying to do and why. He doesn't entertain any questions that appear to be probing into his personal life or his feelings about anything. I think he's learned the NFL is difficult in different ways from the college game. Whether he enjoys being out of his comfort zone and sees it as a challenge to excel at this level or whether he can't wait to get back to a college gig, I have no idea. He just doesn't share that kind of thing. I can say that neither extreme would surprise me. More to the point, I think he can be a very good NFL coach. His offense certainly works in the league.
October, 17, 2013
10/17/13
8:00
AM ET
PHILADELPHIA -- After getting decent grades on a couple of tests, the
Philadelphia Eagles
defense faces another major pass/fail exam Sunday.
The
Dallas Cowboys
have the kind of high-powered passing offense that incinerated the Eagles in games against Denver and San Diego. After getting some turnovers against the Giants'
Eli Manning
and playing solidly against Buccaneers rookie
Mike Glennon
, the Eagles will find out just how much progress they've made against
Tony Romo
.
[+] Enlarge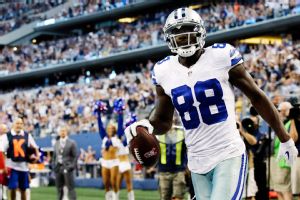 AP Photo/Tony GutierrezThe Eagles' secondary will have its hands full with red zone threat Dez Bryant, who has six receiving touchdowns.
The focus will be on cornerbacks
Cary Williams
and
Bradley Fletcher
, who will be matched up with
Dez Bryant
,
Terrance Williams
,
Miles Austin
and the rest of Romo's weapons.
"It's a unique challenge for me this week, to go up against the NFC's best," Williams said. "I take that role very seriously."
So far, Williams has played on the right side of the Eagles' defense, Fletcher on the left.
Brandon Boykin
has played mostly in the slot. Some teams would match their best corner on Bryant wherever he lines up.
"In practice, they switch right and left," defensive coordinator Bill Davis said of his corners. "We always have the ability to follow somebody if we want to, but right now Fletch and Cary are so similar in their builds and their styles -- if I felt there was an advantage, I would do it."
That's fine with Williams and Fletcher.
"My experience has always been on the right side," Williams said. "Not that I can't play the left side, by any means. It's what the defensive coordinator wants to do. I just think Coach thinks I play well on the right side, and that's great."
So neither corner knows which receiver he'll be facing on a given play. Against this offense, they will both have to be physical with Bryant at the line of scrimmage, trying to disrupt Romo's timing, and then stay with the big receiver.
"He's a heck of a challenge," Davis said. "He's got the size, speed, athleticism. We face a couple of them but we've got to be great with our one-on-one matchup of both corners. Fletch and Cary have to be great in their individual coverage on them. You can't double a guy every play. So they will have plenty of times where they've got to just handle that and we will get help to them and zone over the top of them and use all of the different tools to help when you stop a star receiver."
Williams and Fletcher may have similar builds and skill sets, but they couldn't be more different as people. Williams is volatile and demonstrative on the field and unafraid to speak his mind off it. Fletcher is softspoken off the field and more likely to sneak up and bat a ball away than try to take out the receiver.
"You don't want [Bryant] to get too settled out there," Williams said. "You don't want him to run free and make his moves. As far as I'm concerned, I'm going to get up in his face."
"He's a big receiver," Williams said. "You have to play the ball however it comes, if it's a longer ball, short ball, slants, anything. We're going to have to get up and press, slow down the timing."
The entire defense will be tested, of course. The pass rush has to make Romo uncomfortable. The linebackers and safeties have to cover the likes of tight end
Jason Witten
and handle whatever is left of the Cowboys' running game.
But there won't be many opponents that test the cornerbacks as unforgivingly as the Cowboys will.
"I think both our corners have been really good," linebacker
Connor Barwin
said. "They've emerged as playmakers."
Against the Giants and Bucs, they passed. They can't afford to fail this week.