Philadelphia Eagles:

Odell Beckham Jr.
May, 8, 2014
May 8
11:00
AM ET
By
Andy Jasner
| ESPN.com
Peter King floated
a report on his latest edition
of "Monday Morning Quarterback" stating the
Philadelphia Eagles
are looking up to move up from No. 22 in the first round to select LSU wide receiver
Odell Beckham Jr.
Beckham was asked about the scenario.
"I don't really pay it any mind,"
Beckham told CSNPhilly.com
. "It's almost like playing poker. You've got people bluffing and doing things like that. I keep the blinders and stay forward."
Beckham is not just a wide receiver but a capable special teams performer as well with the ability to return kickoffs and punts. He would also be a replacement for three-time Pro Bowl wide receiver
DeSean Jackson
, who was recently released.
What's Beckham's take on potentially playing for the Eagles?
"It's a versatile offense," Beckham told CSNPhilly.com. "You're running concepts, but to an extent you're getting the ball in the hands of your playmakers. It's quick, fast. It's spreading it around. It's fast-paced and that gives a lot of teams problems."
Beckham, who set a program single-season record for all-purpose yardage, is sure not lacking for confidence.
"I would definitely say I am one of the most versatile in this class," Beckham told CSNPhilly.com "Whether it's playing baseball, basketball, soccer, returning punts, kicking field goals, punt it. Doesn't matter to me. I've been doing that since I was 3 years old."
February, 25, 2014
Feb 25
2:00
PM ET
PHILADELPHIA -- The NFL scouting combine is wrapping up Tuesday in Indianapolis. Here's how some of the players we identified as possible
Philadelphia Eagles
picks fared in the annual NFL job fair.
Wide receivers
[+] Enlarge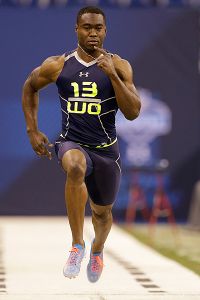 AP Photo/Nam Y. HuhBrandin Cooks might be out of the Eagles' reach after his fast time in the 40-yard dash at the combine.
Brandin Cooks
of Oregon State might have moved up beyond the Eagles' grasp by running the 40-yard dash in 4.33 seconds. That was the second fastest time overall, behind only running back
Dri Archer
. Combined with Cooks' incredible numbers from last season -- 128 catches, 1,730 yards -- the 5-foot-10, 189 pounder likely sealed his first-round status.
Kelvin Benjamin
of Florida State was as big as advertised -- 6-5, 240 pounds. His 40 time of 4.61 wasn't especially impressive, but did we mention he's 6-5?
Odell Beckham Jr.
, the LSU wideout projected to the Eagles in Mel Kiper Jr.'s most recent (pre-combine)
mock draft

, ran a 4.43. That increases his added value as a possible return man.
Vanderbilt's
Jordan Matthews
, who goes 6-3, 212 pounds, ran the 40 in 4.46, and also impressed by doing 21 bench press reps. Receivers don't have to lift bales of hay, but upper-body strength helps when blocking or trying to get off the line against press coverage.
Edge rushers
Dee Ford
, the Auburn defensive end projected to the Eagles by NFL Network's Mike Mayock, proclaimed himself a better player than
Jadeveon Clowney
, then did not participate in drills because of a medical issue. Ford said he was told not to work out because of a 2011 back injury. You have to wonder if that concern will drop Ford on draft boards.
Anthony Barr
of UCLA is considered the second best outside linebacker prospect after Buffalo's Kahlil Mack. The Eagles would only have a shot at Barr if he slipped a bit. His disappointing bench press result (15 reps) probably wasn't enough to overshadow his 4.66 speed. (Mack ran a 4.65 and did 23 reps.)
Stanford's
Trent Murphy
worked out with the linebackers, not the defensive linemen, and remains an intriguing option for the Eagles. The 6-5, 250-pound Murphy ran a 4.86.
Defensive backs
The top two safeties, Lousiville's
Calvin Pryor
and Alabama's
Ha Ha Clinton-Dix
, ran identical 40 times of 4.58. They didn't separate themselves from each other, but the blazing speed at cornerback could potentially sway a DB-needy team or two to go that route and drop the safeties a few spots.
Justin Gilbert
of Oklahoma State is one of those corners. Gilbert ran a 4.35 Tuesday. At 6-0, 202 pounds, that gives him an enviable combination of size and speed.
Michigan State corner
Darqueze Dennard
was
projected to the Eagles

by Todd McShay. After running a 4.42, the 5-11, 199-pound Dennard might also have moved up beyond the No. 22 spot.
February, 21, 2014
Feb 21
12:00
PM ET
PHILADELPHIA -- It is the position with the highest diva-per-capita ratio in football. That makes it tougher for the Eagles to shop for wide receivers, general manager Howie Roseman said.
"Being able to block -- obviously, we run the ball in Philadelphia," Roseman said. "When you look at that, it's an inherent toughness and willingness to do those little things that help. A lot of these guys in college, because they get the ball so much, they're big-time guys, they're not asked to do the dirty work. They're asked to do the things that are fun. … For us, the receiver position in Philadelphia is going to be a well-rounded guy."
There is plenty of tape of wide receivers running deep routes and making great catches, Roseman said. The combine gives the Eagles' decision-makers a chance to figure out which players are willing to do the "dirty work" that make Chip Kelly's offense tough to defend.
Here are a few receivers the Eagles will likely focus on. A complete list is impossible, since Roseman said the position is so deep this year, there could be a receiver the Eagles like in every round. And since they are likely to be gone before the Eagles' 22nd pick, we're leaving
Mike Evans
of Texas A&M and
Sammy Watkins
of Clemson off this list.
Marqise Lee, USC.
Some well-respected analysts, including ESPN's Mel Kiper Jr. and Mike Mayock of NFL Network, have the 6-foot, 195-pound Lee rated ahead of Evans. Lee has excellent speed and very good hands. He's also a kick returner, which could appeal to the Eagles.
Lee caught 57 passes in 2013. The year before, with a quarterback named
Matt Barkley
, Lee caught 118 passes for 1,721 yards and 14 touchdowns. Against Kelly's Oregon Ducks that year, Lee caught 12 balls for 157 yards and two touchdowns.
Odell Beckham Jr., LSU.
In his second first-round mock draft, Kiper had Beckham going to the Eagles at No. 22. At 5-foot-11, 208 pounds, Beckham has good speed and is also a potential return man.
Kelvin Benjamin, Florida State.
It's hard not to be intrigued by the 6-foot-5, 230-pound Benjamin, who was a sophomore in 2013. His perceived flaws -- less-than-elite speed, inconsistency in route running and occasional drops -- are mostly fixable with coaching.
His upside? As
Nolan Nawrocki of NFL.com
puts it: "A monster-sized, intimidating, big-play receiver, Benjamin has the overall strength, length and wide catching radius that will demand extra coverage be rolled his way."
Brandin Cooks, Oregon State.
Another guy who will be familiar to Kelly, the 5-foot-10, 185-pound Cooks put up remarkable numbers as a junior in 2013: 128 catches, 1,730 yards, 16 touchdowns. The Eagles would probably like a little more size -- they already have the diminutive DeSean Jackson -- but it's hard to argue with that kind of production.
Other names to watch:
Jarvis Landry
, LSU;
Davante Adams
, Fresno State;
Josh Huff
, Oregon;
Jordan Matthews
, Vanderbilt;
Allen Robinson
, Penn State.
February, 15, 2014
Feb 15
10:00
AM ET
For our first Twitter-based mailbag, the questions centered on the
Philadelphia Eagles
' wide receiver situation.
That's only a little surprising. The Eagles clearly need help at a couple of defensive positions, especially safety and outside linebacker. But the wide receiver picture is cloudy -- "complicated," as GM Howie Roseman described it.
Riley Cooper
is scheduled to be a free agent. So is
Jeremy Maclin
, who missed the 2013 season with a torn ACL. There is a chance veteran
Jason Avant
could be victim of a $2 million 2014 salary.
That leaves
DeSean Jackson
and some question marks. And so, on to the questions:
February, 12, 2014
Feb 12
8:00
AM ET
PHILADELPHIA -- We've looked at the Eagles defense position-by-position, with a special focus on areas of offseason need. Before we get to the offense, it's worth discussing any underrated area that could use some upgrading in free agency and the draft.
Special teams -- in this case, the return game.

The Eagles ranked 26th in the NFL with an average kickoff return of 21.4 yards and 27th with an average punt return of just 6.6 yards. That's just not good enough. With such an emphasis placed on field position, in fact, it's almost embarrassing.
Damaris Johnson
is not the sole reason, although his late-season disappearance suggests that head coach Chip Kelly and special teams coach Dave Fipp were not satisfied with his work. Johnson was the primary return man in the first half of the season and was barely used in the second half.
Brandon Boykin
and
Brad Smith
took over the kickoff return duties. Neither did appreciably better than Johnson, who averaged 25.9 yards per return.
DeSean Jackson
was the other punt returner. He averaged 5.1 yards per return, more than 3 yards less than Johnson's 8.3 yard average.
Conclusion: Boykin led the team in interceptions as the nickel cornerback. Jackson was the team's leading wide receiver. Players who are that involved in the offense and defense just aren't as committed in the return game. As for Smith, he was a midseason pickup who never really showed much.
So the Eagles could very much use a fast, dynamic return specialist. It might not be as glaring a need as safety, for example, but it's up there pretty high.
Chicago's
Devin Hester
is scheduled to be an unrestricted free agent. Hester is still a scary returner who handles punts and kickoffs. He's also 31 and not much of a factor as a wide receiver.
Ideally, the Eagles would be able to draft a player like
Cordarrelle Patterson
, the rookie wide receiver who burst into the league as an impact return man for Minnesota. Patterson was the guy who prompted the Eagles to kick short to disastrous effect in their game against the Vikings.
Guys like Patterson aren't easy to find, but the Eagles could well find themselves drafting a wide receiver in the first or second round. LSU wide receiver
Odell Beckham Jr.
averaged 26.4 yards per kickoff return and 8.4 yards per punt return. ESPN expert Mel Kiper Jr. had the Eagles taking Beckham in the first round in his recent mock draft.
Returners aren't solo artists. It takes sound blocking schemes and good coaching for a return game to be consistently dangerous. But a home-run hitter in the lead role is a good place to start.
There are three levels of special teams -- the kind that break down and cost your team games, the kind that are competent enough to go mostly unnoticed and the kind that make big plays and steal you a win or two.
The Eagles are in that middle area. They clearly want to get to the third level, and a game-breaking return man would be a huge step in that direction.
February, 6, 2014
Feb 6
3:00
PM ET
ESPN draft experts Todd McShay and Mel Kiper start off disagreeing right at the top of their latest mock drafts. So it's not surprising they have a difference of opinion on the
Philadelphia Eagles
' selection at No. 22.

McShay's first-round mock

has the Eagles selecting Michigan State cornerback
Darqueze Dennard
. It's hard to argue with McShay when he says the Eagles should make defense their "priority if the right player is available, in particular looking for an edge rusher and improving the athleticism and depth in the secondary."
While a safety would be preferable, it does appear there are more first-round corners in this year's draft. The 5-foot-10, 189-pound Dennard has "adequate size, good top-end speed and very good instincts and fluidity in coverage," McShay writes.
As for
Kiper's second mock
,

he has the Eagles taking LSU wide receiver Odell Beckham Jr. one spot before Kansas City takes Florida State wide receiver
Kelvin Benjamin
. Beckham is 6-0, 193 pounds. Benjamin is 6-4, 230 pounds. This seems like a big-people-beat-up-little-people situation to me, but Kiper likes Beckham to the Eagles "not just because he's a good receiver for a team that could use help in that department, but because he's versatile, and can work in the slot or on the edge."
Kiper has Dennard on the board when the Eagles pick. Again, there's a lot of disagreement between these two noted draft gurus.