Philadelphia Eagles:

Philadelphia Eagles
May, 26, 2014
May 26
8:03
AM ET
By
Andy Jasner
| ESPN.com
The
Philadelphia Eagles
traded up 12 spots in the second round from No. 54 to No. 42 to select Vanderbilt wide receiver
Jordan Matthews
in the NFL draft.
Matthews set numerous records with the Commodores and was a player the Eagles had been targeting throughout the draft process.
The 6-foot-3 Matthews left Vanderbilt as the all-time SEC leader in career receptions (262) and yards (3,759).
The Eagles were thrilled to grab Matthews at No. 42, and they'll get another chance to see Matthews develop during OTAs Tuesday through Thursday.
"Jordan Matthews, first of all, it's one of those guys, you ever meet someone and he's just like, 'Mr. Roseman, nice to see you. I know you're a Florida graduate and I went to Vandy in the SEC and how are your four kids,' and it's almost spooky," Eagles general manager Howie Roseman told reporters when the NFL Draft concluded. "It's like, all right, I've got you, you know who I am. I appreciate that. But at the Senior Bowl he's getting tape on guys, we're watching tape on guys at 5:30 in the morning. This guy, the level of determination he has, his work ethic, it's going to rub off on everyone. He can do anything he wants as a person. You leave meeting him, and he's as impressive a guy as I've ever met, really.
"When you talk about a guy like Jordan Matthews, he can [beat man coverage] by his ball skills, by being able to go over guys. He's 6-foot-3, he's 217 pounds, he's got huge hands, he's got long arms."
March, 31, 2014
Mar 31
4:35
PM ET
If
DeSean Jackson
signs with the
Washington Redskins
, would that be OK with you?
Pairing Jackson up with Robert Griffin III at quarterback and
Pierre Garcon
at wide receiver would give new coach Jay Gruden a pretty good 1-2 punch to throw at the Eagles and the rest of the NFC East. Add running back
Alfred Morris
and those defenses could be in a pick your poison kind of stance with the Redskins' ability to run the ball and throw it.
As Dan Graziano
pointed out in the New York Giants' blog
, the Giants should want Jackson out of the division. In 12 games against New York, Jackson has averaged 76 receiving yards per game, he has four receiving touchdowns, one rushing touchdown and two returns for touchdowns. He has not been as dynamic against the
Dallas Cowboys
with 36 catches for 674 yards and a touchdown in 10 regular-season games.
The last time a hyped receiver left Philadelphia and went to an NFC East rival was in 2006 when the Cowboys signed
Terrell Owens
. In six regular-season game against the Eagles, Owens had 26 catches for 471 yards and three touchdowns.
In Dallas' 38-17 win at Lincoln Financial Field, Owens caught 10 passes for 174 yards and a touchdown.
He reviled in his returns to Philly and Eagles fans had fun with him as well. They burned his jerseys in the parking lot before his return in 2006.
What type of reaction would Jackson receive if he came in as a member of the Redskins?
March, 31, 2014
Mar 31
1:00
PM ET
Jeremy Maclin
was betting on himself when he decided to sign a one-year contract with the
Philadelphia Eagles
this offseason.
Maclin
He has a chance to cash in with a big 2014, and that chance got better when the Eagles decided to part ways with
DeSean Jackson
.
"I didn't really think about it,"
Maclin said in this Philadelphia Inquirer story.
"I think my value is my value, regardless of who I have playing around me. That's my mindset and how I approach the situation."
The question for Maclin is his knee injury.
Adrian Peterson
has ruined the expectations for every player coming off a torn anterior cruciate ligament, setting a bar almost impossibly high. He ran for 2,097 yards in 2012 after tearing his ACL.
Washington Redskins
quarterback
Robert Griffin III
tore his ACL but was not the same in 2013 as he was in 2012, and ex-coach Mike Shanahan ended his season early.
The normal progression is it takes a full year for a player to feel whole again.
While ACL comebacks are more common these days, the rehab is still a tedious process. Maclin is expected to be ready to go when training camp begins, but the Eagles could limit his work in the offseason program.
Maclin has big-play ability -- 26 touchdown catches in four seasons -- but he has never had more than 964 yards in a season. He has never caught more than 70 passes in a season. While he knows what Chip Kelly's offense is about after being around the team, he hasn't gone through it on the field before.
Patience on both ends will be wise. Maclin will have to be patient with his recovery. The Eagles will have to be patient with Maclin.
The reward for the patience could be big for both sides.
March, 30, 2014
Mar 30
3:00
PM ET
This is a sad situation for the
Philadelphia Eagles
and wide receiver
DeSean Jackson
.
Even with the report from anonymous sources, it's difficult to figure out where the lion's share of blame belongs in this breakup.
[+] Enlarge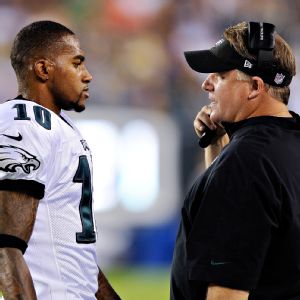 AP Photo/Michael PerezIt appears the Eagles and Chip Kelly didn't want to invest any more time in receiver DeSean Jackson.
The Eagles released Jackson, their most explosive player, on Friday afternoon. A report by NJ.com alleges that Jackson has ties to Los Angeles gang members. The report shows a photo of Jackson flashing what can be perceived as gang signs.
Is that report part of the reason for Jackson's release? Did the team have issues with Jackson's alleged affiliations? Was his attitude toward meetings and practices not serious enough for the team?
The problem I have with all this is the failure of the two sides to stay on the same page for the greater good of the team. Why couldn't Jackson play within the rules? Why didn't the Eagles try harder to get their message across?
I find it difficult to believe that the Eagles could not talk things through with their leading receiver.
Why not confront him about being questioned by Los Angeles police regarding a friend of his, who is allegedly a gang member?
Why not demand he report to work on time? Show effort in practice?
I'm not saying Jackson has to be a choirboy. You find flaws in players, coaches and owners up and down every NFL roster. How a team manages those flaws can often be the difference between disarray and raising championship trophies.
Jackson isn't the only player in the NFL who has alleged ties to gang members. People in all walks of life come across gang members, criminals and simply bad human beings. Are they all guilty by association?
Jackson isn't the only player in the NFL with questionable work habits. Players have been late for meetings and shown disdain for practice since organized sports were created.
It's hard for me to believe the Eagles made the decision because of his practice habits. I'm just waiting for Jackson to respond by channeling another famous, but highly criticized, Philadelphia athlete. "Practice?! We talkin' about practice?!"
If the Eagles really wanted Jackson around, they would have formulated a plan to get him in the right place.
A league source told ESPN's Sal Paolantonio that the Eagles decided to release Jackson for a number of reasons, but most involved "work ethic and attitude."
The same source said the Eagles learned Wednesday night about Jackson's alleged associations in Los Angeles, and that report "raised their level of concern."
Really? With as much as the team had invested in Jackson, they found out about those alleged relationships only this week? As sophisticated as scouting and security is in the NFL, it's very difficult to believe the Eagles didn't know who their star wide receiver was hanging out with from the time he was drafted until the time he was released.
Months before this report came out, there were photos of Jackson on his Instagram account with alleged gang members.
The Eagles, under a different regime, made a choice to select him in the second round. They have known him and what he's about for years. And now, all of a sudden, this reported gang association, his work ethic and missed meetings are major issues?
Where was the passion to get Jackson in line, much like there was when
Michael Vick
was signed back in 2009? Remember the protesters outside Lincoln Financial Field? Remember the outrage? The Eagles survived it all.
At the time of Vick's signing, owner Jeffrey Lurie said he was appalled by the quarterback's involvement with dogfighting. Lurie acted as if he wanted nothing to do with Vick and put everything on then-Eagles coach Andy Reid.
Those efforts worked out for the Eagles and for Vick, who became a solid citizen in Philadelphia. The Eagles showed patience and told Vick to live up to what the organization wanted from him.
Where was this effort for Jackson?
Chip Kelly is not Andy Reid, and apparently Kelly wasn't interested in putting in the time and effort it would have taken to get Jackson marching in the right direction.
I just can't imagine how Jackson finished ninth in the NFL in receiving yards last season after being late to all these meetings and simply going through the motions in practice.
How did he manage so much success when it came down to game time?
Either the effort to help Jackson was going to be too much for the Eagles, or there was something very personal going on between Jackson and others in the organization.
If you ask me, the Eagles simply didn't care about getting one of the best wide receivers in the league to buy into the program. It wasn't worth the effort.
You can bet somebody else will try.
March, 28, 2014
Mar 28
4:45
PM ET
By
ESPN.com staff
| ESPN.com
Philadelphia Eagles
decided to cut ties with receiver
DeSean Jackson
on Friday
after the team uncovered information
about Jackson's off-field connections and activities, a source told ESPN NFL Insider Adam Schefter.
Jackson issued a statement saying his release had nothing to do with his off-field activities. "I would like to make it very clear that I am not and never have been part of any gang," the wide receiver said. "I am not a gang member, and to speculate and assume that I am involved in such activity off the field is reckless and irresponsible."
Jackson was to make $10.5 million in 2014 and was owed $30.5 million over the remainder of his contract, but none of that money was guaranteed.
.
The
March, 26, 2014
Mar 26
1:26
PM ET
ORLANDO, Fla. --
Michael Vick
generated plenty of buzz Wednesday at the NFL owners' meetings -- positive buzz.
Philadelphia Eagles
coach Chip Kelly, addressing reporters at the NFC coaches' breakfast, said the 33-year-old quarterback still has the physical skills to be a winning quarterback. Later, NFL commissioner Roger Goodell commended Vick for changing his life in the aftermath of the dog-fighting scandal.
Vick
Vick signed a one-year contract last week with the
New York Jets
, who say he will compete with
Geno Smith
for the starting job.
"I still think he's got a lot of football left in him," said Kelly, who coached Vick last season. "He's got tremendous arm skill. I don't know too many guys in the league that have the arm that Mike does. There's still days in practice in December when he rips a couple and you're just like, 'Whoa.' He can throw the football. He still has the ability."
Vick was Kelly's choice last season as the Eagles' Week 1 starter, but he got hurt and eventually lost his job to
Nick Foles
, who played brilliantly. That's the biggest question about Vick, his ability to stay healthy. He takes chances outside the pocket, trying to utilize his once-remarkable speed.
"He's probably not as fast as when he first came into the league," Kelly said. "But when he first came into the league, he was the fastest guy to ever play the position. A slower version of Michael is a lot faster than maybe every other quarterback in the league, with the exception of one or two."
Before signing Vick, who spent nearly two years in a federal prison for his involvement in a dog-fighting ring, New York Jets owner Woody Johnson consulted with Goodell. The commissioner has developed a rapport over the years with Vick, whom he reinstated in 2009.
"I think Michael is a young man who made a tragic mistake," Goodell told a news conference at the conclusions of the meetings. "He paid a very heavy price for it, but I've seen him in everything he's done exceed expectations. He has worked very hard to be a positive force in a lot of different areas, and that's something I admire about him.
"When we went through the process of reviewing [his return to the NFL], whether he had demonstrated he would do things the right way and be a positive force, he has. I'm proud of the work that he's done."
March, 25, 2014
Mar 25
4:05
PM ET
Michael Vick
left the
Philadelphia Eagles
in part because he wanted a chance to be a starting quarterback. The
New York Jets
have offered him that chance.
Vick
"It's going to be really interesting to watch that competition unfold," Jets coach Rex Ryan said Tuesday at the NFL owners meetings in Orlando, Fla., "but
Geno Smith
is going to be hard to beat out."
Ryan said Vick would have a chance to be the Jets' starter in Week 1, which led to questions about who would take the first snaps when the team's on-field activities start this spring. Ryan deflected all of them, returning to a theme that competition is a good thing.
Smith threw for 3,046 yards as a rookie with 12 touchdown passes, but he was intercepted 21 times.
When Vick first got together with New York offensive coordinator Marty Mornhinweg with the Eagles, he had his best season with 21 touchdown passes and six interceptions in 2010. Ryan said Vick's background with Mornhinweg and the system will help him in competing for the job.
It's been awhile since Vick was that good, but Ryan believes Vick has plenty of football left.
"First off, you're getting a guy who's a proven winner," Ryan said. "He is a dynamic player."
It will be an interesting time around the Jets, as always.
March, 25, 2014
Mar 25
3:35
PM ET
Chip Kelly will meet the media on Wednesday morning at the NFC coaches' breakfast from the Owners Meetings in Orlando.
The
Philadelphia Eagles
coach was one of the few to not speak at the NFL scouting combine in Indianapolis last month. He spoke at the Maxwell Football awards dinner a few weeks ago in Atlantic City, but now comes the chance to sit with him for an extended period of time.
The Eagles have had a busy offseason in re-signing their own players and adding a few free agents. Quarterback
Mark Sanchez
could be the next one to arrive and wide receiver
DeSean Jackson
could be the next to leave.
What do you want to hear from Kelly?
March, 13, 2014
Mar 13
4:00
PM ET
The
Denver Broncos
have won the offseason title and free agency is not even four days old.
John Elway signed safety
T.J. Ward
to a four-year, $23 million deal that guarantees him $14 million. He stole cornerback
Aqib Talib
away from the
New England Patriots
with a six-year, $57 million deal that guarantees him $26 million. Then he thanked the
Dallas Cowboys
for their cap woes and unwillingness to pay
DeMarcus Ware
and signed Ware to a three-year, $30 million deal that includes $20 million guaranteed.
Ware will make $250,000 more with the Broncos this year than he would have with the Cowboys.
Add those three to an offense that will still put up points even if
Eric Decker
leaves and Denver should be viewed as the favorites in the AFC.
In fact, they might look like a "Dream …" Sorry. Got something stuck in my throat. "A Dream …" Man, there it goes again.
One more time: A dream team.
Could the 2011
Philadelphia Eagles
serve as a reminder that a "dream team" doesn't mean a Super Bowl team?
To refresh: The Eagles loaded up with
Jason Babin
(five years, $28 million),
Cullen Jenkins
(five years, $25 million) and
Nnamdi Asomugha
(five years, $60 million). They traded
Kevin Kolb
and got
Dominique Rodgers-Cromartie
in return. They added serviceable pieces in
Ronnie Brown
and
Evan Mathis
turned out to be a steal.
Then they signed
Vince Young
, who came up with the dream-team tag.
And Philadelphia finished 8-8.
The Broncos have
Peyton Manning
, so it's hard to see an 8-8 season. But what happens if Manning gets hurt?
March, 6, 2014
Mar 6
11:00
AM ET
Todd McShay's third NFL mock draft for 2014 is out on ESPN Insider today.
The Philadelphia Eagles now seem quite set on the offensive side of the ball, but could go in one of many directions with their first pick to improve their defense. McShay had
Darqueze Dennard
going to Philadelphia in his previous mock, and the Eagles probably would love that scenario, but overall, taking the best defensive player regardless of position seems like the smartest move for the Eagles. They have set themselves up to get very good value throughout this draft, especially to reinforce their defense.
Whom does McShay have the Eagles drafting at No. 22?
Let's take a look at his pick and analysis

:
December, 10, 2013
12/10/13
1:25
PM ET
PHILADELPHIA – The Eagles' Dec. 22 home game against the
Chicago Bears
has been rescheduled to an 8:30 p.m. kickoff, the NFL announced Tuesday.
The NFL's deal with its television partners allows for attractive games to be "flexed" into prime time for national broadcast on NBC. The game between Baltimore and New England, originally set for prime time, was moved to 4:25 p.m.
The game could have significant impact on two division races. The Eagles are first in the NFC East and can be no worse than tied for the division lead. The Bears are tied with the
Detroit Lions
at the top of the NFC North.
It is the first Eagles' game of the season to be flexed into prime time. They played a Monday night game to open the season and a Thursday night game against Andy Reid and the
Kansas City Chiefs
in Week 3. The Eagles' season finale at Dallas, which could decide the NFC East title, is a strong candidate to be moved to 8:30 as well.
The change in schedule could complicate holiday plans for many fans. The game is scheduled for three days before Christmas.