Philadelphia Eagles:

Prince Amukamara
October, 29, 2013
10/29/13
7:00
AM ET
PHILADELPHIA -- The pivotal play in the
Philadelphia Eagles
' 15-7 loss to the
New York Giants
Sunday was probably doomed the moment Chip Kelly called it. But a closer look at the video revealed there were many more problems than
Matt Barkley
holding the ball too long.
Taking a step back, the Eagles got to the Giants' 2-yard line thanks to a terrific pass by Barkley. Right tackle
Lane Johnson
got beat badly by Giants defensive end
Justin Tuck
, who beelined toward Barkley. The quarterback threw a strike to
Jason Avant
. It took a great tackle by cornerback
Terrell Thomas
-- more from him in a moment -- to prevent a touchdown on that play.
[+] Enlarge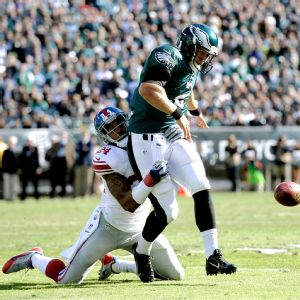 AP Photo/Michael PerezThe Giants' Terrell Thomas forces a Matt Barkley fumble near the goal line.
Kelly called a timeout before first-and-goal at the 2.
"I just wanted everybody settled down," Kelly said Monday. "We had a great drive going. We got the ball down there. We had three timeouts. There's no reason to rush, get up to the line of scrimmage and put ourselves in a situation. Let's go over what we're going to get, here is our low red zone play."
The best argument for not running the ball is that the Giants had nine defenders in the box. But the Giants did that because the Eagles lined up with two tight ends, one back, Barkley in the shotgun and two receivers split wide left. If Kelly had spread the Giants with his formation, they couldn't have loaded up in anticipation of the run.
One of the wideouts,
DeSean Jackson
, was the first read. The other,
Riley Cooper
, started in motion to the right. The ball was snapped and Barkley faked a handoff to Cooper, who kept running right with
LeSean McCoy
leading the way. Barkley started left on a naked bootleg.
Thomas, the cornerback in the slot, was not fooled. He ignored the play fake, was never blocked and ran directly toward Barkley. The quarterback pump faked, getting Thomas off his feet for a beat, and narrowly avoided the sack. Instead of throwing the ball away immediately, Barkley ran to his left, looking for Jackson or tight end
Zach Ertz
.
Barkley raised his arm -- he said he was about to throw the ball away -- but Thomas had caught up and slapped the ball loose.
Kelly said it was a fundamental play for the Eagles. But the design concentrates the defense in the center of the field, leaves at least one defender unblocked and takes McCoy and Cooper out of the play entirely. So it's not shocking it backfired with a rookie quarterback executing it.
Some other observations about the offensive futility after watching the game again:
Kelly tried a twist on his unbalanced line look. Jason Peters lined up at right tackle with Johnson on the outside in the tight end spot. As always, the Eagles ran out of the unbalanced look. As is becoming more common, they gained just 1 yard.

Johnson lined up split wide left on Vick's only really positive play. Vick threw to tight end James Casey and Johnson was out there to block Rolle. The play went for 11 yards. We'll be nice and not suggest that Johnson's play at right tackle supports moving him to wideout full-time. The rookie is, shall we say, a work in progress.

It was Johnson who whiffed on a block that allowed Tuck to blow up a second-quarter run play. McCoy took the handoff from Vick, started to his right and was immediately tripped up for a 3-yard loss.

On the very next play, the Eagles could have used Johnson split wide again. Vick turned and fired a quick pass to DeSean Jackson with Jason Avant and Jeff Maehl in front of him. The bubble screen went for just 3 yards because Maehl got tossed aside by Prince Amukamara, who made the tackle.

The drive that set up the first-and-goal play was given an enormous boost by a roughing-the-passer penalty on Mathias Kiwanuka. It was a ridiculous call. After Barkley released a pass that sailed over Jackson's head, Kiwanuka bumped into him with both hands up -- almost like a two-hand touch play. Barkley didn't fall or appear inconvenienced in any way.
October, 6, 2013
10/06/13
7:05
PM ET
EAST RUTHERFORD, N.J. -- Chip Kelly says the
Philadelphia Eagles
' offense is the same whether
Michael Vick
or
Nick Foles
is playing quarterback.
Your eyes might say otherwise. Heck, the people lined up across from the Eagles say otherwise.
Vick
Foles
"We were well conditioned coming into this game,"
New York Giants
cornerback
Prince Amukamara
said. "But when Mike Vick got out, their whole game plan changed just because there aren't two runners in the backfield. Foles does more passing."
Vick ran the ball seven times in just under a half before pulling his left hamstring. He picked up 79 yards.
"A couple of those long runs Mike had were actually designed sweep plays," Kelly said. "So he wasn't running a lot of read-option. We didn't change our game plan with Nick."
Foles did run by design. Just once. On second-and-goal from the New York 8-yard line, Foles sprinted around left end. He picked up three yards.
"There's obviously a difference between Mike Vick and Nick Foles, for sure, from an athletic standpoint," running back
LeSean McCoy
said. "But Nick can run this offense, also."
Foles ran a very efficient two-minute drill after replacing Vick late in the second quarter. That resulted in a field goal at the end of the half. The third quarter was a little more difficult. With Vick out of the game, the Giants were able to focus more on McCoy. He had minus-9 rushing yards on the Eagles' first possession of the half.
"It's Michael Vick," McCoy said. "He can take off at any given time. There's definitely a matchup difference when you compare to Michael Vick. People say we have to stop Vick. That's something he's had to deal with since he's been in the NFL."
In the fourth quarter, which decided the game, Foles was good enough. The Eagles' defense produced three interceptions, giving Foles the ball at the New York 25, 38 and 49 yard lines.
After the first, Foles struck quickly with a perfect 25-yard touchdown throw to tight end
Brent Celek
. After the second, Foles hit
DeSean Jackson
for 28 yards, then threw a perfect ball to Jackson for a 5-yard TD.
"Foles just came in and did a good job," Jackson said. "He's been in this position before. He knows what to do and he knows what to expect."
The question becomes whether preparation changes for next Sunday's game in Tampa. Vick's status might not be clear early in the week. He will have an MRI Monday. Kelly said it doesn't matter which quarterback is behind center.
"Our game plan doesn't drastically change," Kelly said.