Philadelphia Eagles:

Sean Lee
December, 29, 2013
12/29/13
7:45
PM ET
ARLINGTON, Texas -- Eagles safety
Earl Wolff
is inactive for Sunday night's showdown against the
Dallas Cowboys
.
Wolff missed four games after injuring his right knee in Green Bay Nov. 10. He returned for last week's game against Chicago but left after playing one series. Veteran
Patrick Chung
will start at safety in place of the rookie.
Backup safety
Colt Anderson
(hamstring) and backup center
Julian Vandervelde
, who were listed as out, were both inactive. Otherwise, it was the usual group: quarterback
Matt Barkley
, running back
Matthew Tucker
, offensive lineman
Dennis Kelly
and cornerback
Curtis Marsh
.
Offensive lineman
Matt Tobin
is active for the second time this season. He takes Vandervelde's spot on the 46-man roster, but would not play center if anything happened to starter
Jason Kelce
. That role would likely fall to left guard
Evan Mathis
.
As expected, Cowboys quarterback
Tony Romo
and inside linebacker
Sean Lee
are inactive. So is former Eagle
Ernie Sims
, which leaves Dallas even thinner at linebacker.
December, 27, 2013
12/27/13
11:30
AM ET
PHILADELPHIA – The quarterbacks are driving the pregame narrative, but come Sunday night, everyone could be talking about the Eagles and Cowboys running backs.
Nick Foles
has had to answer one million questions about what happened to him when the Eagles lost 17-3 to Dallas in October. And that's because Foles played his worst game that day and left with a concussion. But the Cowboys also shut down
LeSean McCoy
, the NFL's leading rusher.
[+] Enlarge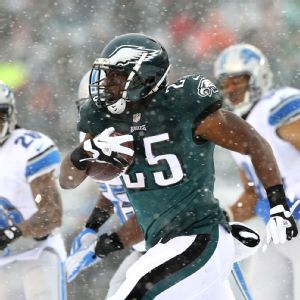 Elsa/Getty ImagesNot be overlooked, the performance of Eagles running back LeSean McCoy will be crucial in Sunday's contest versus the Cowboys.
And while the airwaves crackle with
Tony Romo
updates, DeMarco Murray's availability for this game could have an enormous impact. Romo played in that October game. Murray did not, and the Cowboys had just 74 rushing yards.
"They're not going to change their offense if it has to be
Kyle Orton
," Eagles linebacker
Connor Barwin
said. "They are who they've shown to be on tape. They'll have their running back back, so I'm sure they'll try to run the ball more."
Last week's game against the
Chicago Bears
illustrates how the Eagles defensive approach can be most effective. The Eagles held running back
Matt Forte
to 29 yards. They stuffed the run early and, after their offense built a 21-0 lead, were able to focus on pressuring the quarterback.
Whether it's Orton or a physically limited Romo, the pass rushers won't have to be concerned with the quarterback running the ball.
The Eagles' running game is a more complicated issue. It went awry for three of four games in October. The Giants and Cowboys did some things along the defensive front to disrupt the Eagles' blocking scheme. But McCoy was also making decisions that took him away from open space and into crowds.
"It was both, for sure," center
Jason Kelce
said. "But I think that (the disconnect between McCoy and the line) was a huge part of it. Shady sees things the way we're seeing things. We've just gotten better and better the more reps we've taken."
The Eagles' scheme is based on getting a blocker on each member of the defensive front and then let McCoy handle a single defender one-on-one. Against Dallas that day, the single defender was often linebacker
Sean Lee
, and Lee won those one-on-one matchups. He tackled McCoy five times, once for a loss. Lee had 11 tackles overall -- no other Cowboy had more than five -- plus an interception.
Lee is injured and unlikely to play Sunday. It would be overstating things to suggest that's a bigger loss than Romo, but not by much. Not in this game.
"He's one of the best 'backers in the league," Kelce said. "He makes a difference."
"It's a big loss," Barwin said. "That's a big challenge for them. If we lost DeMeco (Ryans), that would be a huge challenge for us. Hopefully that doesn't happen. But he's respected around this league as a hell of a player."
"He's obviously one of the top linebackers in the game," Eagles coach Chip Kelly said. "Nine games, he's got 99 tackles and four interceptions, and seeing him up close and personal when we played them in October, he was all over the field."
The Cowboys defense is vulnerable against the pass, to say the least. McCoy won't be required to carry the offense. But keeping the offense in balance will help take pressure off Foles and, if the Eagles are able to get the lead, run down the clock on the Cowboys' playoff hopes.
December, 27, 2013
12/27/13
8:00
AM ET
PHILADELPHIA -- Cornerback
Cary Williams
raised some eyebrows a couple weeks back when he said he was "glad" the Eagles lost to the
Minnesota Vikings
.
"It definitely knocked us off our high horse," Williams said. "It's something that was bittersweet. It was sad that we lost, the bitter part, but it was sweet that we lost. ... It's great that they were able to knock us off. We learned from the experience. We're going to get better."
Two weeks after getting trounced by a Minnesota team without
Adrian Peterson
and with
Matt Cassel
playing quarterback, the Eagles are again preparing for a depleted opponent. This time, it's the
Dallas Cowboys
and the stakes are higher. With a division title on the line, it turns out Williams had a point -- the Eagles might be better for having been humbled a bit.
[+] Enlarge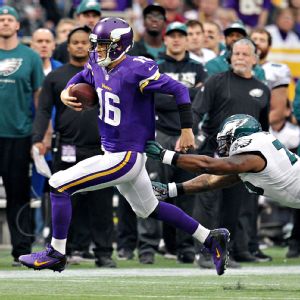 Brace Hemmelgarn/USA TODAY SportsBackup quarterback Matt Cassel and the Vikings hammered the Eagles 48-30 earlier this month.
"You saw what happened the last time we played a backup quarterback," linebacker
Connor Barwin
said. "Nobody here is taking anybody lightly."
The Cowboys appear likely to be without their quarterback,
Tony Romo
, and their quarterback on defense, inside linebacker
Sean Lee
.
"I know they're going to miss (Lee)," Eagles quarterback
Nick Foles
. "But I also know teams rally when guys are hurt, so I'm going to be ready for their best shot."
It isn't that the Eagles don't care who plays quarterback Sunday night. There are very practical football considerations if the less mobile
Kyle Orton
plays instead of the freewheeling Romo.
"You know where he's going to be," linebacker
Brandon Graham
said or Orton.
"We have to get back there really fast," linebacker
Trent Cole
said. "He likes to get the ball out. He's a rhythm quarterback. We've just got to get to him. Romo, he's very athletic. He can get out of the pocket. He can get hot.
"Of course we're very curious -- who's going to be the quarterback? But it's not going to change anything. We might not know until we step on the field who we're playing."
Head coach Chip Kelly didn't buy the Minnesota angle for a minute. That would mean acknowledging that his team wasn't prepared properly for the Vikings game, and Kelly isn't about to do that.
"I don't think that was our mind set going in," Kelly said. "I thought we had a great week of practice and as I said before, I think you've got to give Matt Cassel a lot of credit. Go back and watch the film of how well he played in that game -- they made plays and we didn't and that's what it is. I don't think anybody in this group was like, 'Hey, we don't have to get ready this week because such and such and such and such isn't going to play.' I know this team is not going to fall for the banana in the tailpipe trick. We are not concerned with that stuff."
However you brand it, the loss to Minnesota is fresh enough to prevent a repeat of the Eagles' flat approach. And if that doesn't do it, the stakes this Sunday should.
"We're fighting for the division," Cole said. "This is. Win or go home. This is where we start our road to the Super Bowl or we end our road to the Super Bowl and get ready for next year. This is big."
November, 29, 2013
11/29/13
4:00
PM ET
PHILADELPHIA -- As expected, the Eagles will go into Sunday's game against the
Arizona Cardinals
with only one notable injury. Safety
Earl Wolff
, who hyperextended his right knee in Green Bay Nov. 10, was listed as out on the team's Friday injury report.

The relative health of the Eagles in Week 13 could have a significant impact on the NFC East race. The Eagles (6-5) are a half-game behind the
Dallas Cowboys
, who beat Oakland 31-24 on Thanksgiving Day to get to 7-5.
But Dallas was without three defensive starters – cornerback
Morris Claiborne
and linebackers
Sean Lee
and
Justin Durant
– for that game. They have been without defensive end
Anthony Spencer
all season. Defensive end
DeMarcus Ware
, who has missed three games, played after saying he is at "97 percent" healthy.
The Eagles and Cowboys meet in the season finale on Dec. 29. Between now and then, the Eagles face Arizona (7-4), Detroit (7-5), Minnesota (2-8-1) and Chicago (6-5). Dallas plays Chicago, Green Bay (5-6-1) and Washington (3-8). The strength of schedule and chance to play the Eagles at home would slightly favor the Cowboys.
But the battle of attrition seems to give the Eagles an edge.
"When you have starters with games lost, I think it's always a difficult deal, just because of the preparation part of it and getting guys ready to play in games," Eagles coach Chip Kelly said. "It's a huge thing for us, not only in the (offensive) line but a lot of our positions because we haven't lost many guys, especially starters to injuries that have had them out. It's really helped us."
Wolff, safety
Patrick Chung
, cornerback
Bradley Fletcher
, linebacker
Mychal Kendricks
and quarterbacks
Michael Vick
and
Nick Foles
are the only starters to miss games with in-season injuries. That's a total of 14 games missed by starters (Wolff replaced Chung as a starter while he was out with a shoulder injury).
Chung has returned to the lineup to replace Wolff. Fletcher (pectoral muscle) and Kendricks (knee) are expected to return to their spots Sunday.
The Eagles lost three players, including starting wide receiver
Jeremy Maclin
, to ACL tears early in training camp. They have not placed a player on injured reserve since the season began.
October, 22, 2013
10/22/13
7:00
AM ET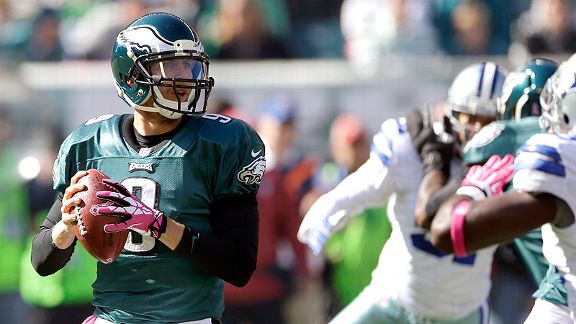 AP Photo/Matt RourkeNick Foles could not get into a rhythm or hit his receivers against Dallas.
PHILADELPHIA -- While watching the
Philadelphia Eagles
' 17-3 loss to
Dallas Cowboys
in real time, it was hard to believe quarterback
Nick Foles
was that awful or that head coach Chip Kelly's scheme was as bad as it appeared. After watching the game again, the answers are sobering.
Foles was, and so was Kelly's scheme. Here are some observations:
• Right off the bat, Kelly wanted to throw running back
Bryce Brown
at the Cowboys as a wrinkle. It did not work. Brown and
LeSean McCoy
opened in a two-back set I don't recall seeing before Sunday.
The novelty produced literally nothing. Foles missed both backs on the same play, a wheel route designed to exploit the perceived vulnerability of Dallas linebacker
Bruce Carter
. But Carter's coverage was fine and Foles could not make the perfect throws necessary to execute the play.
"It's the matchup," Kelly said Monday. "The ball wasn't like it hit his hands and he dropped it. I think we could have been a little more accurate on a couple of those throws."
Or it was a poor guess in preparation by the coaches.
• Foles was effectively sacked twice (one sack, one intentional grounding penalty) on the Eagles' first possession. Rookie right tackle
Lane Johnson
was involved in the protection breakdown both times, with help from guard
Todd Herremans
once.
Getting pounded twice in three plays is never a good way for a quarterback to start, and Foles never really seemed comfortable in the pocket all day. Even when protection was solid, he had happy feet and appeared to be anticipating pressure in his face.
On both the plays in question,
DeSean Jackson
lined up in the slot and was covered by cornerback
Orlando Scandrick
. Jackson had no success against Scandrick all game.
• Kelly got a lot of backslaps for using that unbalanced line look effectively last week against Tampa Bay. He used it again against the Cowboys and guess what? It isn't fooling anyone anymore.
The alignment has left tackle
Jason Peters
lined up as a tight end, outside tackle Lane Johnson, on the right side.
Brent Celek
, the tight end, lines up at left tackle. Every time I saw this alignment, the Eagles ran the ball from it. Every time. NFL coordinators tend to notice things like this.
Maybe if the blocks had been executed better, or the Eagles had been better prepared for the way the Cowboys line slanted and attacked different gaps, the ruse would have worked. But that didn't happen, and McCoy continually ran into unblocked linebackers (
Sean Lee
, usually) and safeties.
On one play, the first time I saw the unbalanced line, McCoy ran to the left and probably could have gotten outside. He cut inside Celek's block and was easily tackled by
J.J. Wilcox
.
"You've got to finish the blocks up front," Kelly said. "There are a lot of times where the numbers were right for us and we do have hat for a hat. We've got to finish it. There are other times when maybe the ball should have gone outside because of how we're blocking it and what the landmarks are, but the back cuts it inside. We've just got to get everybody on the same page.
"But again, schematically it wasn't like we're trying to run the ball and they've got an extra guy and we just keep running them into the unblocked guy. We've got to finish blocks up front. We have to finish runs when we have the ball in our hands."
Actually, there were a number of plays where the scheme left McCoy running right into unblocked Cowboys. That's on the coach.
• Bad blocking wasn't limited to the offensive line. The Eagles opened their fourth possession with Foles throwing a quick bubble screen out to Jackson.
Riley Cooper
whiffed on his block of Scandrick, and the corner blew up the play.
• Meanwhile, Foles was just terrible. I wondered if having the sun in his eyes was an issue until I realized that didn't happen until the second quarter. He was off target and out of rhythm long before that.
Foles almost got
Jason Avant
decapitated, lobbing an ill-considered pass that exposed Avant to a forearm in the throat from
Brandon Carr
. He kept missing open receivers, most notably Celek on what would have been a drive-launching first down in the second quarter, Avant on a likely first-down throw and
Jeff Maehl
on a couple throws that a truly gifted receiver might have caught.
Foles had Jackson running down the right sideline and threw it two yards out of bounds. Just a bad toss.
Foles' best throw of the day was an incompletion. He had Jackson streaking through the end zone and put the ball in the right place. Wilcox sprinted across and poked the ball away from Jackson. Just a great defensive play in that case.
• Kelly's explanation of his decision to go for a 60-yard field goal on fourth-and-a-foot at the end of the first half made sense – on the surface.
"If we run a play with 14 seconds left on the clock, I've got to call a timeout," Kelly said. "And we have to kick a 59-yard field goal. If the field goal was one-yard short, I'd be kicking myself in the tail right now because we need to be a little bit closer because he wasn't one yard short. … I don't think we were going to dial up a play that was going to get us 15 yards on 4th and 1 to put us in a situation for a closer field goal."
Kelly said the wind was at
Alex Henery
's back, which also meant it would be in the face of the Cowboys if Henery missed, which he did.
The problem was the play calling that put the Eagles in that situation. With Foles finding a faint pulse in the two-minute offense, he threw a quick hitch to Cooper for a nine-yard gain. Naturally, Kelly called the same play out of the same formation on second-and-one. This time, with cornerback
Morris Claiborne
unfooled, Cooper dropped the pass.
On third-and-inches, Foles threw that deep ball out of bounds for Jackson.
So the fourth-and-inches didn't happen by itself. It started as a second-and-inches and Kelly play-called his way into a 60-yard field goal.
• Finally, a look at the play on which Foles was injured. Again, it starts on first down at the Dallas 9-yard line, with that unbalanced line look. The Cowboys knew McCoy would run and McCoy ran into three -- repeat: three -- unblocked defenders for no gain.
On second down, Foles had time as the Cowboys rushed only four men. But he couldn't find anyone, ran left at the first hint of pressure and was forced to throw the ball away before he was brought down from behind. The folks at Pro Football Focus timed Foles at 6.3 seconds from taking the snap to throwing away.
That brought up third down. Foles had time again. He slid to his left and had Cooper open at about the 4-yard line. Foles waited long enough for a defensive back to slip up behind Cooper. About then, the blockers lost their men and Foles was forced to start running to his right.
David Carter
and
George Selvie
-- raise your hand if you'd heard of them before -- followed him. Foles held on to the ball for a ridiculous 9.5 seconds, according to Pro Football Focus, before Selvie wrapped him up. Their helmets bumped, but it appeared the back of Foles' head bounced off the ground on the sack, too. As soon as he got up, referee John Parry looked for Eagles medical staffers and pointed to his head.
October, 20, 2013
10/20/13
7:30
PM ET
PHILADELPHIA -- Somebody made
LeSean McCoy
, the NFL's leading rusher, look average. It can be debated whether it was the
Dallas Cowboys
defense, the Eagles' offensive line or Chip Kelly's game plan.
"We will have to go back and watch film and see exactly what the reason was that we weren't successful running the ball," center
Jason Kelce
said after the Cowboys smothered the Eagles' offense, 17-3. "But it was a poor game for us running the ball."
[+] Enlarge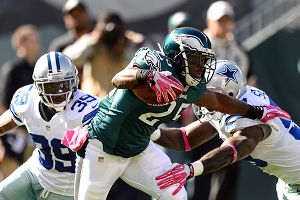 Howard Smith/USA TODAY SportsLeSean McCoy couldn't get on track against the Cowboys, gaining just 55 yards in 18 carries.
McCoy carried 18 times for 55 yards, just a 3.1-yard average.
Bryce Brown
carried twice for 4 yards.
A week ago, McCoy rushed for 116 yards with
Nick Foles
at quarterback, apparently debunking the idea that the run game relied on the threat of
Michael Vick
. After Sunday's anemic performance, that question was inevitable.
"We ran a lot of power, a lot of sweeps," Kelly said. "Go through the amount of plays we ran, we really didn't run a ton of zone read at all. So I think running power plays and sweep plays, it's just executing your blocks and finish(ing) things, and we didn't do that."
It would not reflect well on Kelly if his running game relied on his quarterback, especially with a talented back like McCoy at his disposal.
"We pride ourselves on being a good running team," Kelce said. "That was embarrassing."
Turns out, the Cowboys felt embarrassed by their previous games against McCoy and the Eagles. So even without defensive end
DeMarcus Ware
, they were determined to make a statement Sunday.
"I remember the last time I came up here, two years ago, (McCoy) went for 180 and he ran all over us," Cowboys linebacker
Sean Lee
said. "So all week during practice, we worked on finding a way to stop him and I think we did that."
Time after time, the Cowboys would get to McCoy in the backfield or prevent him from getting into their secondary. He is remarkably elusive and hard to tackle once he gets moving.
"They weren't loading extra guys in the box," Kelly said. "They did exactly what they did coming into the game."
"They had similar looks to what they had done leading up to today," Kelce said. "Their safety had a few tackles where he came down late and was not accounted for. Usually, LeSean on a safety is a missed tackle, for the most part. They did a lot of slanting and angling, but they did that on tape. We knew that was coming."
The Eagles just couldn't get McCoy free. Or he couldn't find his way to freedom.
"I think that this was one of my worst performances since being a rookie," McCoy said. "We have to get better. There was so much to gain from this game. We just didn't get it done today."