Philadelphia Eagles:

Tamba Hali
February, 26, 2014
Feb 26
2:45
PM ET
PHILADELPHIA --
Jason Peters
was angry with himself. He gave up a sack to the
Kansas City Chiefs
'
Tamba Hali
because he thought
Michael Vick
was taking a three-step drop instead of a five-step drop.
"He just ran the edge and got me," Peters said. "He didn't really beat me. Bad technique."
This conversation took place in Deccember. The sack happened in September, while Peters was playing with a finger broken so severely, an X-ray showed the two pieces of bone weren't touching.
[+] Enlarge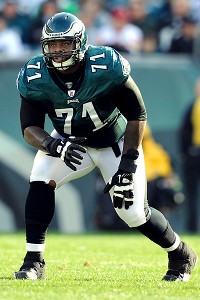 AP Photo/David DrapkinJason Peters' new deal includes nearly $20 million in guaranteed money, the most ever for an offensive lineman age 32 or older.
That explains a lot about Peters' expectations of excellence. That in turn explains how an undrafted rookie tight end who got $5,000 to sign with the
Buffalo Bills
just signed a five-year, $51.3 million contract to finish his career as the left tackle of the
Philadelphia Eagles
.
The deal includes nearly $20 million in guaranteed money, the most ever for an offensive lineman Peters' age, 32, or older.
"He's a unique player," Eagles general manager Howie Roseman said Wednesday. "When you talk about the physical gifts that he has, there's not many men on this earth who are as physically talented as he is. His level of play was unheard-of. He's got a chance to be a Hall of Fame-type player in an Eagles uniform."
Peters was going into the final year of his contract. The Eagles approached him before the season about an extension. Vincent Taylor, Peters' agent, said there were "soft talks" throughout the season. Peters, who missed all of 2012 while rehabbing a torn Achilles tendon, returned to Pro Bowl form in his first season under coach Chip Kelly.
For Peters, the appeal to signing an extension now was simple.
"The security," Peters said. "I guess they didn't want to risk losing me. I didn't want to go anywhere, and I let them know that. We got it done."
That Achilles injury factored into the thinking on both sides. For Peters, it was an example of how quickly a career can be threatened. He tore it while working out in March 2012, then reinjured it in an accident. It took two surgeries and months of rehab to get back on the field.
"I think that was one of Jason's motivations," Taylor said. "He said, 'Vince, I just want peace of mind. Because you know me, I don't know any other gear besides 100 percent. I want to know if I go out and something happens while I'm giving it all I've got, then I'll be OK.'"
For the Eagles, Peters' absence through a disastrous 4-12 season made them appreciate his presence in 2013 that much more.
"When you lose a player like that, the ramifications along your offensive line and the things you need to do to recover are extremely hard," Roseman said. "I can't tell you that, when we went and looked at our team with that hole, without his name, and then go back and look at the tape from this year, that those thoughts don't come across. When he's out on the field, we all feel different."
Peters played most of 2013 with his fingers taped together because of that fracture. He had a minor quadriceps injury that forced him to miss a few snaps. But he dropped more than 20 pounds in Chip Kelly's conditioning and nutrition program and said he felt better and more energetic than ever.
So Peters said he has no doubts he can play another five seasons, which would take him to age 36.
"I think so," Peters said. "And they obviously think so. They wouldn't have given me the contract if they didn't. I'm definitely going to live up to it."
January, 16, 2014
Jan 16
10:00
AM ET
PHILADELPHIA -- Unlike the first two categories in our NFL Nation survey, the
Philadelphia Eagles
' results were markedly different from the national totals when it came to naming the most respected player in the NFL.
Nationally, Denver quarterback
Peyton Manning
was the runaway winner. Although he beat Philadelphia 52-20 early in the 2013 season, the 10 Eagles polled did not name Manning.
Indeed, they didn't show much of a consensus on anyone. Minnesota running back
Adrian Peterson
was the only player to get two votes from the Eagles. One player said he had the most respect for the guys who play special teams and run the scout team in practice.
Eagles quarterback
Michael Vick
got one vote. So did
London Fletcher
,
Calvin Johnson
,
Tamba Hali
,
Andre Johnson
,
Ed Reed
and
Earl Thomas
.
December, 12, 2013
12/12/13
8:00
AM ET
PHILADELPHIA – For most of the season,
Jason Peters
appeared on the
Philadelphia Eagles
' weekly injury report with what looked like a random list of body parts next to his name.
Fingers. Shoulder. Pectoral muscle.
What mattered, though, was the body part that never showed up on the list. Peters said his twice-ruptured, twice-repaired Achilles tendon has been pain-free.
[+] Enlarge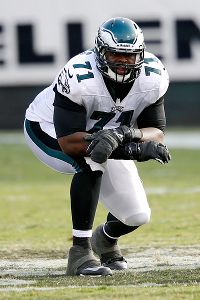 AP Photo/Kevin TerrellJason Peters was one of two Philadelphia offensive linemen to earn a Pro bowl nod in 2013.
"It feels like I never done it," Peters said. "It never gets sore, none of that. I feel good every day I go out there."
In order to play in Chip Kelly's up-tempo offense, Peters dropped from 345 to 320 pounds. A happy by-product of that is less weight for his Achilles to bear.
"I feel as strong as I've ever felt," Peters said. "I didn't lose anything by losing the weight."
Peters played with those various nagging injuries, never missing a start. If he hasn't been as good as the Pro Bowl-caliber tackle he was before the Achilles cost him the 2012 season, it's impossible to tell.
"I felt like I played pretty good the first three weeks," Peters said. "I gave up one sack to [Kansas City's Tamba] Hali and a couple pressures. Besides that, I think it took me a little while to get rolling, but after a couple weeks I settled and got it going."
Hali's sack of
Michael Vick
stood out because it was such a rare occurrence. Hali got by Peters with a speed rush. It turns out there was more going on than met the eye.
"I think Mike took a five-step drop," Peters said. "I thought it was a shorter drop, a three-step drop. He just ran the edge and got me."
Three months later, Peters still seems annoyed by the play.
"It bothered me a lot," Peters said. "He didn't really beat me. Bad technique. It made me better, humbled me to work harder the next week and the week after that."
It was rare for Peters to appear in the locker room during the hour or so it is open to the media. Center
Jason Kelce
said Peters is quiet around strangers but warm and open around his teammates. Before every game, Peters is the player at the center of the Eagles' final huddle before they return to the locker room for final preparations.
He is a presence, one the Eagles missed badly last season. Peters was the first domino to fall along the offensive line. By this time last year, Peters, Kelce and
Todd Herremans
were all gone.
This year, all five linemen have started every game. That goes a long way toward explaining why
LeSean McCoy
is leading the NFL in rushing and why
Nick Foles
has been able to perform at such a high level.
Those are the kinds of results that get offensive linemen sent to the Pro Bowl. Kelce and left guard
Evan Mathis
are both worthy of consideration for their first trips. For Peters, it would be the sixth selection.
"If I make it, I make it," he said. "If I don't, I don't. I'll just work harder next year to make [it]. It's no big deal to me. I've got a couple under my belt. I'd rather just get to the playoffs and go deep into the playoffs."
The Eagles have a chance to do just that, and the big man at left tackle is one of the reasons.