Philadelphia Eagles:

Terrance Williams
January, 10, 2014
Jan 10
5:00
PM ET
PHILADELPHIA -- There was a time a rookie offensive tackle would be eased into NFL action. He might even start out at guard and gradually move outside as he became more comfortable.
Of course, there was also a time a quarterback might sit for all or most of a season before becoming a starter.
That time, in the ever faster-moving NFL, is gone.
So it should be no surprise that
Lane Johnson
, the fourth pick in the 2013 draft, played 1,103 of a possible 1,104 offensive snaps for the
Philadelphia Eagles
in his first season. Johnson was given one down off to catch his breath in the first game against the Giants in October.
It still takes more than a season to evaluate a draft class, but the process is being sped up all the time. Here's a look at Johnson and the rest of the Eagles' rookies -- or as first-year coach Chip Kelly puckishly dubbed them, "My favorite draft class for the Philadelphia Eagles."
Johnson
First round
:
Lane Johnson, offensive tackle, Oklahoma
. The fourth overall pick, Johnson was one of the three offensive tackles taken at the top of the draft. He arguably had a better overall rookie season than No. 1 pick
Eric Fisher
(Kansas City) and No. 2 pick
Luke Joeckel
(Jacksonville).
Perhaps inevitably for a guy who had played quarterback and defensive end before being shifted to the offensive line in college, Johnson had some growing pains. According to Pro Football Focus, he allowed seven sacks in the first eight games of the season but just three the rest of the way. He was solid in run blocking, as well.
It's worth noting, too, that few rookie tackles (if any) are asked to line up split wide and block on bubble screens. Johnson took everything thrown his way with a smile and a shrug. He's got a chance to be anchored at tackle for this franchise for a decade.
Also on board: Almost everyone.
Good pick or bad pick? Very good pick.
Ertz
Second round: Zach Ertz, tight end, Stanford
. Taking Ertz here, 35th overall, was an expression of GM Howie Roseman's commitment to taking the top-graded player regardless of need. The Eagles already had signed
James Casey
in free agency and and had
Brent Celek
on the roster.
Would they have improved their overall team more by drafting cornerbacks
Darius Slay
or
Johnthan Banks
, or linebackers
Manti Te'o
or
Kiko Alonso
, or running back
Giovani Bernard
?
Maybe. But Ertz is going to be making plays in Kelly's offense for years to come. He's smart, driven and possesses excellent hands and good size (6-foot-5, 250). Like most young tight ends, he has to improve as a blocker and said he plans to spend time in the weight room in the offseason.
Also on board: Slay, Bernard, Te'o,
Geno Smith
and Tank Carradine were the next five players drafted. Alonso, who earned defensive rookie of the year consideration, went 11 picks later to Buffalo.
Good pick or bad pick? Good pick.
Logan
Third round: Bennie Logan, defensive tackle, LSU
. The 6-foot-2, 309-pound Logan's development allowed the Eagles to trade veteran
Isaac Sopoaga
at the deadline. Logan started at nose tackle the last eight games, which corresponded with the overall defense's improvement.
Oddly, Logan had his only two sacks in the first half of the season, when he was playing limited snaps. It remains to be seen if he's the true anchor/nose tackle of the future, but he has enough versatility to play in different fronts as needed.
Also on the board:
Tyrann Mathieu
,
Mike Glennon
,
Terrance Williams
,
Terron Armstead
,
Keenan Allen
.
Good pick or bad pick? Good. Best possible? A few of the guys taken right after Logan look pretty good, too.
Barkley
Fourth round: Matt Barkley, quarterback, USC
. The Eagles traded up to take Barkley at the top of the fourth round. It seemed an odd move at the time -- everyone thought Kelly would prefer more mobile quarterbacks -- and is still easily debatable.
It wouldn't be fair to read too much into Barkley's limited playing time. He was pressed into service when
Nick Foles
and then
Michael Vick
were injured. Barkley had little practice time to draw upon. He threw four interceptions and zero touchdowns in 49 attempts.
If he's the No. 2 quarterback here or eventually flipped to another team looking for a potential starter, he was worth the 98th pick in the draft. If he winds up starting here some day, he was a steal.
Also on board:
Nico Johnson
,
Akeem Spence
,
Ace Sanders
,
Josh Boyce
,
Ryan Nassib
.
Good pick or bad pick? Curious pick.
Wolff
Fifth round: Earl Wolff, safety, NC State
. By this point in the draft, there's an element of luck involved. The Eagles desperately needed safety help and took a shot on Wolff with the 136th pick. It was a good shot.
Wolff took the starting job from veteran
Patrick Chung
early in the season. He had his growing pains, but was starting to settle into the job when he hurt his knee Nov. 10 in Green Bay. Wolff made one brief appearance after that, aggravated the knee and didn't play again.
Also on board:
Jesse Williams
,
Tharold Simon
,
Montori Hughes
,
Stepfan Taylor
and
Oday Aboushi
were the next five players taken.
Good pick or bad pick? Good pick.
Seventh round: Joe Kruger, defensive end , Utah
. He spent the season on injured reserve. Should be an interesting guy to watch in training camp.
Seventh round: Jordan Poyer, cornerback, Oregon State
. Poyer made the team coming out of camp, but was released when the Eagles needed to clear roster space for a running back in October. Cleveland claimed Poyer off waivers and he finished the season with the Browns.
Seventh round: David King, defensive end, Oklahoma
. Released in camp.
Also on board: A bunch of guys.
Good picks or bad picks? Oh, come on.
November, 1, 2013
11/01/13
3:00
PM ET
PHILADELPHIA -- We looked at the
Philadelphia Eagles
' 2013
free-agent signings Thursday
. Today we turn to the draft class, with the upfront acknowledgement that you can't truly evaluate players in their first year.
It's a little different with the veterans, since they're meant to be plug-and-play pieces. So we're not here to make conclusions about the draft picks, merely to assess how they're coming along and whether we have any better idea if the selections made sense.
• First-round pick
Lane Johnson
(fourth overall) has played every single offensive snap, mostly at right tackle. He is the beneficiary and victim of the NFL trend toward throwing high draft picks at every position into the fire immediately. There's hardly any such thing as easing first-round picks into the lineup.
With that in mind, Johnson has been just fine. When he makes a big mistake, it had big consequences. Plays, and teammates, get blown up. Pro Football Focus has him on the hook for seven sacks, five quarterback hits and 30 hurries. He is much stronger in the run game, which typically comes first for offensive linemen. With his size, athleticism and demeanor, you get the feeling Johnson will be a solid player for years here, and that's ultimately what a first-round pick should be.
Good pick, bad pick:
Good pick. Maybe one of the defensive linemen that went in the first half of the round would have been a good call, too, but locking down a tackle spot is vital to building any team.
• Second-round pick
Zach Ertz
(35 overall) may turn out to be a great player -- there's no knock on the kid's size, skill set or football savvy -- but he is arguably the most questionable pick the Eagles made in the 2013 draft. GM Howie Roseman's declared approach, choosing the best player regardless of position, explains the decision to choose a tight end after the team had invested $12 million in free agent
James Casey
.
But was it a wise use of the third pick of the round? Chip Kelly just hasn't used his tight ends the way we expected when the Eagles loaded up at the position. Ertz has 14 catches for 201 yards. By comparison, Washington's third-round tight end,
Jordan Reed
, has 34 catches for 388 yards and two touchdowns. Is Reed a better player or is he just being utilized more often? Point is, if you're not going to utilize the tight end, it makes sense to use such a high pick to address one of the many other needs a 4-12 team has.
Good pick, bad pick:
Mystifying pick. This is a case where a guy could be a good player, but not a good pick.
• Third-round pick
Bennie Logan
(67 overall), a defensive tackle from LSU, hasn't really distinguished himself yet -- although he does have two sacks. That's OK, because the Eagles signed veteran
Isaac Sopoaga
to man the nose tackle position as they switched to a 3-4 scheme. With Sopoaga traded away, Logan should get more playing time and a chance to make more of an impact.
Good pick, bad pick:
Good because it was the first pick dedicated to a defense in dire need of talent. Of course, if the Eagles had used that second rounder on defensive tackle
Kawann Short
(Carolina) or linebacker
Kiko Alonso
(Buffalo), they would have been free to scoop up one of the third-round wide receivers (
Terrance Williams
,
Keenan Allen
) or even defensive back
Tyrann Mathieu
.
• Fourth-round pick
Matt Barkley
(98 overall) was another curious choice. The Eagles traded up in the round to take the quarterback from USC. That wouldn't seem out of place except that Barkley seems like an odd fit in Kelly's offense. The explanation at the time was that Kelly didn't need a mobile quarterback, but the coach's subsequent choice of
Michael Vick
doesn't really support that.
Barkley has been forced to play the past two weeks because of injuries. It has been eventful, to say the least. He turned the ball over on his first four possessions, an unprecedented feat, but had stretches where he got the ball out quickly and accurately. He may be able to play in this league, but he'd be much better off in a different system.
Good pick, bad pick:
Again, strange pick. Nothing wrong with adding young quarterbacks at this point in the draft, but the Eagles had plenty of other holes to fill.
• Fifth-round pick
Earl Wolff
(136 overall) personifies the development of the Eagles' defense. He was initially meant to play occasionally as he learned, but was forced to start when veteran safety
Patrick Chung
injured his shoulder. Wolff still makes mistakes, but he has come a long way and continues the Eagles' tradition of pretty solid fifth-round picks --
Trent Cole
and
Brent Celek
come to mind.
Good pick, bad pick:
Good pick. If he recedes into a backup/special teams role, Wolff already has given the Eagles more than many fifth-round picks give their teams.
• Seventh-round picks
Joe Kruger
(212),
Jordan Poyer
(218) and David King (239) are non-factors this year. Kruger, who was seen as a developmental guy, is on injured reserve. Poyer was released to create a roster spot for running back
Matthew Tucker
, then claimed off waivers by Cleveland. King was released at the end of training camp and is on Cincinnati's practice squad.
Good picks, bad picks:
Seventh-round picks. They are what they are.
• Undrafted rookies:
Jake Knott
, a linebacker, had been a regular on special teams until injuring his hamstring two weeks ago. His absence led to the signing of
Emmanuel Acho
, so it will be worth watching whether Knott gets his job back when he's healthy. Tucker was on the practice squad until injuries required his elevation to the 53-man roster. He hasn't been a factor. Defensive lineman
Damion Square
, inactive the past six weeks, is one of the players who could get more playing time in the wake of the Sopoaga trade. Offensive lineman
Matt Tobin
is a project who has been inactive all eight games.
October, 17, 2013
10/17/13
8:00
AM ET
PHILADELPHIA -- After getting decent grades on a couple of tests, the
Philadelphia Eagles
defense faces another major pass/fail exam Sunday.
The
Dallas Cowboys
have the kind of high-powered passing offense that incinerated the Eagles in games against Denver and San Diego. After getting some turnovers against the Giants'
Eli Manning
and playing solidly against Buccaneers rookie
Mike Glennon
, the Eagles will find out just how much progress they've made against
Tony Romo
.
[+] Enlarge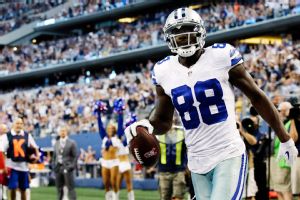 AP Photo/Tony GutierrezThe Eagles' secondary will have its hands full with red zone threat Dez Bryant, who has six receiving touchdowns.
The focus will be on cornerbacks
Cary Williams
and
Bradley Fletcher
, who will be matched up with
Dez Bryant
,
Terrance Williams
,
Miles Austin
and the rest of Romo's weapons.
"It's a unique challenge for me this week, to go up against the NFC's best," Williams said. "I take that role very seriously."
So far, Williams has played on the right side of the Eagles' defense, Fletcher on the left.
Brandon Boykin
has played mostly in the slot. Some teams would match their best corner on Bryant wherever he lines up.
"In practice, they switch right and left," defensive coordinator Bill Davis said of his corners. "We always have the ability to follow somebody if we want to, but right now Fletch and Cary are so similar in their builds and their styles -- if I felt there was an advantage, I would do it."
That's fine with Williams and Fletcher.
"My experience has always been on the right side," Williams said. "Not that I can't play the left side, by any means. It's what the defensive coordinator wants to do. I just think Coach thinks I play well on the right side, and that's great."
So neither corner knows which receiver he'll be facing on a given play. Against this offense, they will both have to be physical with Bryant at the line of scrimmage, trying to disrupt Romo's timing, and then stay with the big receiver.
"He's a heck of a challenge," Davis said. "He's got the size, speed, athleticism. We face a couple of them but we've got to be great with our one-on-one matchup of both corners. Fletch and Cary have to be great in their individual coverage on them. You can't double a guy every play. So they will have plenty of times where they've got to just handle that and we will get help to them and zone over the top of them and use all of the different tools to help when you stop a star receiver."
Williams and Fletcher may have similar builds and skill sets, but they couldn't be more different as people. Williams is volatile and demonstrative on the field and unafraid to speak his mind off it. Fletcher is softspoken off the field and more likely to sneak up and bat a ball away than try to take out the receiver.
"You don't want [Bryant] to get too settled out there," Williams said. "You don't want him to run free and make his moves. As far as I'm concerned, I'm going to get up in his face."
"He's a big receiver," Williams said. "You have to play the ball however it comes, if it's a longer ball, short ball, slants, anything. We're going to have to get up and press, slow down the timing."
The entire defense will be tested, of course. The pass rush has to make Romo uncomfortable. The linebackers and safeties have to cover the likes of tight end
Jason Witten
and handle whatever is left of the Cowboys' running game.
But there won't be many opponents that test the cornerbacks as unforgivingly as the Cowboys will.
"I think both our corners have been really good," linebacker
Connor Barwin
said. "They've emerged as playmakers."
Against the Giants and Bucs, they passed. They can't afford to fail this week.