Philadelphia Eagles:

Terrell Thomas
March, 10, 2014
3/10/14
10:00
AM ET
Here are the top 15 free agents, followed by their rankings, entering Tuesday's signing period as compiled by NFC East reporters Dan Graziano, Todd Archer, Phil Sheridan and John Keim. There are some strong options at the top, but there is not a lot of depth in the NFC East when it comes to free agency. And if Dallas'
DeMarcus Ware
gets released, he vaults to a top spot on this list. As always, ESPN's free-agent tracker will keep you updated during this period.
1. LB Brian Orakpo, 8.5:
The Redskins used the franchise tag on him, so barring a surprise, he'll be back. It's a controversial move among fans, but the Redskins need his pass rush and promise to unleash him more often. His career best for a single season is 11 sacks.
2. DT Linval Joseph, 8:
A very big, strong and young (25) interior run-stuffer who has also shown the ability to create pressure from the interior, Joseph could be available because of the Giants' depth at defensive tackle and their many needs.
3. DT Jason Hatcher, 8:
He is coming off an 11-sack season, but he turns 32 in July and Dallas doesn't have much cap space.
4. LB Jon Beason, 7:
The Giants are working hard to sign him before free agency opens, as his leadership and high-energy play at middle linebacker helped transform their defense during the 2013 season.

Nicks
5. WR Hakeem Nicks, 7:
This grade is based on talent and past accomplishments, and a feeling that he was being overly careful in 2013 in order to hit free agency healthy. Lacks his early career speed, but knows how to play the position as well as anyone.
6. WR Jason Avant, 7:
For a team in need of a third-down possession guy, the sure-handed Avant will be a great value.
7. P Donnie Jones, 7:
The Eagles are expected to re-sign Jones, who was an underrated contributor to their NFC East title team.
8. DE Anthony Spencer, 6:
He is coming back from microfracture surgery, so the cost won't be high.
9. LB Perry Riley, 6:
The Redskins need to re-sign him because they already have a hole at inside linebacker after
London Fletcher
retired. But they won't break the bank for Riley, who needs to improve in coverage.
10. DE Justin Tuck, 6:
Coming off an 11-sack season that came out of nowhere after two down years, Tuck turns 31 later this month but is a locker-room leader and a 4-3 defensive end who can set the edge against the run.
Vick
11. QB Michael Vick, 6:
With
Nick Foles
' ascension, Vick is looking for a chance to start elsewhere.
12. RB Andre Brown, 5:
He played very well in his first few games back off a broken leg, but faded down the stretch and fumbled too much in the final few games. He is likely not a guy who can be relied on as a starter, but potentially a valuable piece.
13. TE Brandon Myers, 5:
A huge disappointment in New York after catching 79 passes as a Raider in 2012, Myers also contributed little as a blocker. The Giants are likely to let him go. He could fit better with a different system.
14. CB Terrell Thomas, 5:
He played all 16 games after missing the previous two seasons because of ACL tears in the same knee. Thomas believes he can hold up as a starter off a real offseason, and would like to cash in.
15. S Danny McCray, 5:
He is a core special teamer only, so the Cowboys could find value here.
October, 30, 2013
10/30/13
7:00
AM ET
PHILADELPHIA -- The Eagles offense hasn't scored a touchdown in nearly 134 minutes of football. So the hints of friction on display at the NovaCare Complex Tuesday were probably understandable.
First there was the gap between coach Chip Kelly's defense of his first-and-goal-at-the-2 play call and rookie quarterback
Matt Barkley
's version of events.
Here's Kelly on Monday: "That's the first play we've run since Day 1 here. We're going to go to kind of what we know the best, whatever everybody should understand is what we're going to do. If you ask everybody on our team, they know what we were going to call in that situation."
[+] Enlarge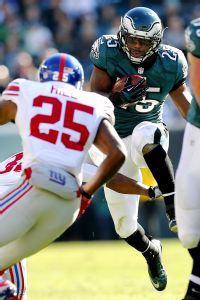 Rich Schultz /Getty ImagesLeSean McCoy, the NFL's leading rusher, carried 15 times for 48 yards against the New York Giants.
And here's Barkley on Tuesday: "I never got a (practice) rep with that play. You see it on film. You see the other guys doing it and you go through it in your head. But the timing of getting it out, of somebody coming off the edge like that -- you just haven't experienced it yet."
That's a pretty huge discrepancy.
Barkley held the ball too long and lost it on a fumble caused by cornerback
Terrell Thomas
. That raised the question of why Kelly would call a play that forced a rookie quarterback to roll out to his left. Kelly's explanation wasn't strong, but it certainly doesn't hold up if the play wasn't even "what we know the best."
And then there is the mystery of the missing running game.
LeSean McCoy
took responsibility after the last two losses, saying he had to do a better job of reading the blocks and hitting holes. In reviewing video of the game, there seemed to be plenty of plays where McCoy just simply had nowhere to go.
It is a vexing problem even to the men involved.
"I felt like the last couple weeks, the backs and the offensive line have been on a different page, chemistry-wise," center
Jason Kelce
said. "I think there have been some times when there's something there, or we've had it blocked pretty good, and for whatever reason, the backs really haven't been on the same page with us."
That's a pretty strong comment coming from the thoughtful Kelce. And it may help explain why left tackle
Jason Peters
, who was seen gesticulating at McCoy after one poor running play, declined to talk to the media after the game.
"(It's) much like if you have inefficiencies in the passing game," offensive coordinator Pat Shurmur said. "It's not always the runner. It's not always the blockers. We as coaches have to do a better job of dialing up the right plays. It's a combination of all things, and we just need to get better."
Shurmur dismissed the notion that the absence of
Michael Vick
, and his threat as a runner, is the main issue. McCoy did run for 116 yards in Tampa with
Nick Foles
at quarterback. Also, Shurmur explained, some of what appear to be read-option plays really aren't. The quarterback may be reading a particular defender, but there is no option for him to run.
"When you read a defender," Shurmur said, "you can do other things with the football if you can't run it. You can flip it out on the perimeter. You can run it with anybody. You may not get the same amount of yards you would get if a guy is a better runner."
With Foles back at quarterback in Oakland, it would certainly help if McCoy, Kelce, Peters and the rest can find that same page.
At least Foles should have practiced all the plays.
October, 29, 2013
10/29/13
7:00
AM ET
PHILADELPHIA -- The pivotal play in the
Philadelphia Eagles
' 15-7 loss to the
New York Giants
Sunday was probably doomed the moment Chip Kelly called it. But a closer look at the video revealed there were many more problems than
Matt Barkley
holding the ball too long.
Taking a step back, the Eagles got to the Giants' 2-yard line thanks to a terrific pass by Barkley. Right tackle
Lane Johnson
got beat badly by Giants defensive end
Justin Tuck
, who beelined toward Barkley. The quarterback threw a strike to
Jason Avant
. It took a great tackle by cornerback
Terrell Thomas
-- more from him in a moment -- to prevent a touchdown on that play.
[+] Enlarge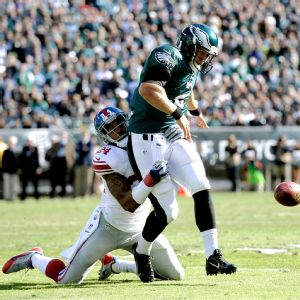 AP Photo/Michael PerezThe Giants' Terrell Thomas forces a Matt Barkley fumble near the goal line.
Kelly called a timeout before first-and-goal at the 2.
"I just wanted everybody settled down," Kelly said Monday. "We had a great drive going. We got the ball down there. We had three timeouts. There's no reason to rush, get up to the line of scrimmage and put ourselves in a situation. Let's go over what we're going to get, here is our low red zone play."
The best argument for not running the ball is that the Giants had nine defenders in the box. But the Giants did that because the Eagles lined up with two tight ends, one back, Barkley in the shotgun and two receivers split wide left. If Kelly had spread the Giants with his formation, they couldn't have loaded up in anticipation of the run.
One of the wideouts,
DeSean Jackson
, was the first read. The other,
Riley Cooper
, started in motion to the right. The ball was snapped and Barkley faked a handoff to Cooper, who kept running right with
LeSean McCoy
leading the way. Barkley started left on a naked bootleg.
Thomas, the cornerback in the slot, was not fooled. He ignored the play fake, was never blocked and ran directly toward Barkley. The quarterback pump faked, getting Thomas off his feet for a beat, and narrowly avoided the sack. Instead of throwing the ball away immediately, Barkley ran to his left, looking for Jackson or tight end
Zach Ertz
.
Barkley raised his arm -- he said he was about to throw the ball away -- but Thomas had caught up and slapped the ball loose.
Kelly said it was a fundamental play for the Eagles. But the design concentrates the defense in the center of the field, leaves at least one defender unblocked and takes McCoy and Cooper out of the play entirely. So it's not shocking it backfired with a rookie quarterback executing it.
Some other observations about the offensive futility after watching the game again:
Kelly tried a twist on his unbalanced line look. Jason Peters lined up at right tackle with Johnson on the outside in the tight end spot. As always, the Eagles ran out of the unbalanced look. As is becoming more common, they gained just 1 yard.

Johnson lined up split wide left on Vick's only really positive play. Vick threw to tight end James Casey and Johnson was out there to block Rolle. The play went for 11 yards. We'll be nice and not suggest that Johnson's play at right tackle supports moving him to wideout full-time. The rookie is, shall we say, a work in progress.

It was Johnson who whiffed on a block that allowed Tuck to blow up a second-quarter run play. McCoy took the handoff from Vick, started to his right and was immediately tripped up for a 3-yard loss.

On the very next play, the Eagles could have used Johnson split wide again. Vick turned and fired a quick pass to DeSean Jackson with Jason Avant and Jeff Maehl in front of him. The bubble screen went for just 3 yards because Maehl got tossed aside by Prince Amukamara, who made the tackle.

The drive that set up the first-and-goal play was given an enormous boost by a roughing-the-passer penalty on Mathias Kiwanuka. It was a ridiculous call. After Barkley released a pass that sailed over Jackson's head, Kiwanuka bumped into him with both hands up -- almost like a two-hand touch play. Barkley didn't fall or appear inconvenienced in any way.
October, 27, 2013
10/27/13
7:55
PM ET
PHILADELPHIA -- When he was developing his freewheeling, risk-taking reputation as a head coach at Oregon, Chip Kelly was used to having the best team on the field every Saturday. That tends to help make your decisions turn out the way you planned.
With the
Philadelphia Eagles
, Kelly's decisions have been run through the shredder of his players' limitations. Sunday's 15-7 loss to the
New York Giants
was a feast for second-guessers (and even first-guessers).
• We'll go light on the play call on first-and-goal at the 2-yard line late in the first half. Play calls are usually all about execution. If
Matt Barkley
ran the play exactly as designed, the Eagles may well have scored a touchdown on that possession.
[+] Enlarge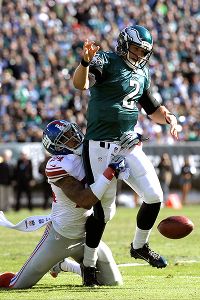 AP Photo/Michael PerezTerrell Thomas forced a Matt Barkley fumble on first-and-goal from the 2, squashing an Eagles scoring opportunity.
"It's a play we've run," Kelly said. "We talked about it. If we don't have [an open receiver], let's throw it away and we'll go next time."
There was no next time because Barkley held the ball long enough for Giants cornerback
Terrell Thomas
to run him down and knock it out of his hands. The turnover ruined the Eagles' best chance at an offensive score.
Kelly's explanation makes sense. He should have a better feel for a rookie quarterback in that situation. Barkley isn't used to the speed of the NFL game in new situations, and that was a new situation.
• On fourth-and-10 in the third quarter, ball at the New York 32, Kelly went for a first down.
Last week, he went for a 60-yard field goal late in the first half against Dallas. That baffling decision gave the Cowboys a chance to take a deep shot at the end zone.
Tony Romo
's pass went through
Dez Bryant
's hands and was intercepted by
Earl Wolff
.
This time, it would have been a 49-yard attempt for
Alex Henery
, or a chance for
Donnie Jones
to pin the Giants deep with a punt.
"There was wind," Kelly said. "That was a tough wind. That's why we went for it on fourth down there. [Special-teams coach Dave Fipp] said we need to get a little bit closer in that situation."
Barkley fumbled the snap, picked up the ball and fired it over the head of
Jason Avant
, turning the ball over on downs.
• On fourth-and-4 at midfield in the fourth quarter, down 15-0, Kelly punted.
"It was a two-score game," Kelly said. "So I knew we were going to stop them. I have great confidence in our defense. I wish they stopped them on the first third down. We felt like we were going to get the ball back with time to score and get an onside kick."
The Giants held the ball for 3 minutes, 16 seconds before punting it back. The Eagles got the ball again and found themselves in a fourth-and-20 situation at the Giants' 46. This time, Kelly went for it and Barkley completed a 5-yard pass.
• After
Najee Goode
recovered an errant snap for the Eagles' only score of the game, making it 15-7 with 4:11 left, Kelly opted for an onside kick. This doesn't quite line up with the previous reasoning about having faith in his defense.
"I only had one timeout," Kelly said, "so it didn't matter if we kicked it deep. It was still the same amount of time on the clock. We felt like if we could get it at that point in time, that was my decision. In terms of time off the clock is going to be the same exact thing."
But field position would not be the same. Giving the Giants the ball at their own 20 with a timeout and the two-minute warning to stop the clock gives you a shot at decent field position with a defensive stop. Giving the Giants the ball at midfield means game over.
And that, of course, is exactly what happened.
October, 27, 2013
10/27/13
6:50
PM ET
PHILADELPHIA -- Eagles coach Chip Kelly didn't hesitate to identify the reason his team has scored a total of 10 points in two home losses to NFC East rivals.
"Right now," Kelly said, "we're unstable at the quarterback spot and we are not playing well at the quarterback spot, and we lost our last two games because of it."
Kelly set himself up for his current woes by bringing
Michael Vick
back and naming him the No. 1 quarterback. Vick is 33 years ago. He had missed nine of 32 possible starts over the previous two seasons. It is not surprising that he pulled a hamstring three weeks ago, and it should not be surprising that it took longer than expected to heal.
"When it was originally diagnosed, it was supposed to be 10 to 14 days," Kelly said. "It was actually 21 days until [Vick] played."
[+] Enlarge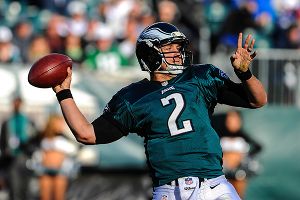 John Geliebter/USA TODAY SportsWith Michael Vick sidelined again, rookie Matt Barkley stepped in for the Eagles, completing 17 of 26 passes for 158 yards.
Vick lasted nine plays before feeling the hamstring pop again. He will undergo another MRI on Monday. It seems very unlikely he will be ready to play in Oakland next week or, for that matter, in Green Bay the week after that.
Nick Foles
, meanwhile, is in the NFL concussion protocol. His availability will be determined by doctors. All we know at the moment is that he hasn't yet been cleared to practice.
Matt Barkley
, a rookie forced to play in relief of Foles last week and Vick this week, would be the starter by default if Foles isn't cleared.
So yes, there is officially instability at the quarterback position -- a not-unexpected outcome when you choose the most unstable possible option as your starter. That is an issue that time should resolve.
The poor play, which predates the injuries, is an entirely different matter. Foles was terrible against the Cowboys for three quarters last week before the concussion ended his day. And Vick was even worse against the Giants than he was three weeks ago before the initial hamstring injury.
The Giants surprised the Eagles by playing zone coverage more than they did in the first meeting. That can happen. But it shouldn't cause a 12-year veteran quarterback to lose his composure. There was Vick, though, throwing a ball behind tight end
Brent Celek
and right to Giants safety
Antrel Rolle
.
"I don't know what happened," Celek said.
Nobody seemed to know what happened on the next possession, either. Kelly said he had no designed runs planned for the hobbled Vick, but he opened that drive with a naked bootleg. Vick ran right into Rolle, who sacked him and knocked the ball out of his hands. Vick recovered -- arguably his best play of the afternoon.
Barkley wound up playing two-and-a-half quarters. His most significant preparation time was the quarter he played the week before. Because Vick was rusty after having missed two games, Kelly felt he needed the vast majority of practice reps.
Considering the situation, Barkley didn't play poorly. He completed 17 of 26 passes for 158 yards. He took three sacks and threw an interception on a desperation deep ball in the fourth quarter.
"I played all right," Barkley said. "I thought I made some good throws. I made some poor decisions."
The worst of those was holding the ball too long on a first-and-goal play at the 2-yard line. Barkley was supposed to look for
DeSean Jackson
first, then for Celek. If neither was open, he should throw the ball away out of the end zone. Instead, he held it long enough for Giants cornerback
Terrell Thomas
to knock it out of his hands.
"I was about to throw it away," Barkley said. "He just got there a second too early."
It was a rookie mistake -- a rookie coach's mistake. Kelly should understand that Barkley has little feel for the speed of the NFL game, especially in the red zone. Even if he didn't have
LeSean McCoy
carry it from the 2, there were plenty of plays with quick throws he could have called.
It seemed likely long before the season began that because of injuries or poor performances, Kelly would see Vick, Foles and eventually Barkley over the course of this first season. It turns out that Kelly has gotten both -- injuries and poor performances -- at the same time.