Philadelphia Eagles:

Todd Herremans
October, 29, 2013
Oct 29
9:00
AM ET
PHILADELPHIA -- Chances are that
Michael Vick
will see the field again in an Eagles uniform. That's just how Chip Kelly's first season as head coach has unfolded, as a game of musical chairs in the quarterback meeting room.
Chances are also very good that Sunday's 15-7 loss to the
New York Giants
marked Vick's final chance to convince Kelly and general manager Howie Roseman that he can be the quarterback here beyond 2013. It was a fitting valedictory performance, encapsulating all the risks that come with Vick's unquestioned gifts.
After mostly avoiding the turnover plague that defined his previous two seasons, Vick threw a terrible interception on the third play against the Giants. Bad decision, bad throw, bad way to set the tone. He walked off the field shaking his head.
[+] Enlarge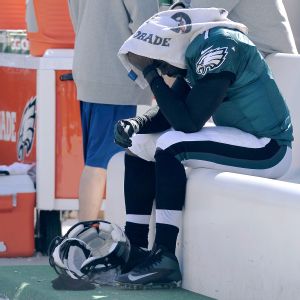 AP Photo/Michael PerezMichael Vick reinjured his hamstring in Sunday's loss to the New York Giants.
On his very next play, Vick turned right into an approaching defender. He kept backpedaling, losing more yardage with each step, then fumbled. The ball was actually under Giants safety
Antrel Rolle
's shoulder -- if he'd realized what it was, the Giants would have had the ball at the Eagles' 9-yard line.
Vick reinjured his left hamstring on a play strikingly similar to the one on which he injured it in the first place. That happened back on Oct. 6 against the Giants at MetLife Stadium.
Once again, Vick took the snap. Once again, he had time but couldn't get comfortable in the pocket. Once again, he started running to his left. Once again, he crossed the sideline by the Giants' bench and felt his hamstring pop.
This time, Vick trotted back to the middle of the field as if nothing was wrong. He clearly didn't want to let on -- to the Giants defense, to his teammates, to Kelly -- what had just happened.
That's Vick. His toughness is as unquestioned as his talent. He probably shouldn't have played at all Sunday, but he did. He probably shouldn't have stayed in the game after feeling his hamstring pop, but he did.
On the very next play, Giants defensive tackle
Linval Joseph
bulldozed Eagles guard
Todd Herremans
, pushing him straight back more than 5 yards and into Vick. As the quarterback tried to extricate himself,
Justin Tuck
materialized. Tuck crushed Vick as he threw the ball away, drawing an intentional grounding penalty.
An interception. A sack. A fumble. A grounding call. All in the first quarter. Vick reappeared for a series in the second quarter, but you could tell the play calling was dictated by the quarterback's condition. Kelly called for a couple of quick outs and a handful of runs -- nothing that called for Vick to stand in the pocket for long or to move.
And that was it. Vick retreated to the bench and put a towel over his head. The TV cameras caught him looking stricken or being consoled by teammates as
Matt Barkley
operated the offense.
Vick understands the situation. After this miscalculation and reinjury, he will likely take longer to rehab the hamstring this time. Factor in the Eagles' bye week and it could be over a month before Vick is able to play. By then, with perhaps four games left, what would be the point of going back to the 33-year-old with the expiring contract?
If the Eagles are out of the playoff hunt, which seems likely, there would be none. And if the Eagles are in the playoff hunt, that would mean
Nick Foles
or Barkley is playing well enough to get them there. Either way, the season becomes about the future, and Vick is not the future.
Chances are, injuries or other issues will force Vick back onto the field before the season ends. But the Vick era in Philadelphia, such as it was, likely ended Sunday with his hamstring throbbing, a towel over his head, and his team enduring yet another loss.
October, 27, 2013
Oct 27
7:00
PM ET
PHILADELPHIA -- The
Philadelphia Eagles
find themselves in the middle of two dubious streaks, each difficult to fathom.
Their offense, the centerpiece of Chip Kelly's plan to rebuild the 4-12 team he inherited, has not scored a touchdown in two weeks.
Bad.

Kelly
Meanwhile, the team has lost 10 consecutive games at Lincoln Financial Field, extending the franchise record set last week.
Worse.
"I didn't think that would ever happen," guard
Todd Herremans
said of the offense's futility. "But it did. We have to figure out what to fix. Our offense got shut out the whole game. We have to pick up our side of the ball and score points."
"I don't really think I can (explain it)," tight end
Brent Celek
said. "It's terrible. Obviously it's something that's got to get fixed. When we're down on the 2-yard line, we've got to score. We can't have things like that. We've got to fix it. We've got to fix it fast."
"It's embarrassing now that we can't put points on the board," guard
Evan Mathis
said.
The home losing streak is another sore subject. The Eagles beat the Giants here on Sept. 30, 2012. They lost their last six homes games under Andy Reid. But then, they lost most of their road games, too. That's how you get to 4-12.
But this is a new era. Kelly still hasn't won a game at the Linc. He and this team are 0-4, with losses to San Diego, Kansas City, Dallas and the Giants. It is no surprise, then, that fans were booing the Eagles offense after the third bad series of this game.
"I'm pretty pissed," Celek said. "I'm about as angry as you can be after a game. It's embarrassing to be at home and have that happen. The fans, they're pissed. I would be pissed, too. It's ridiculous."
The Eagles are on the road for their next two games, at Oakland and Green Bay. They come home for three in a row after that, with their bye week mixed in. Their next opportunity to end the home losing streak is Nov. 17, against Washington.
Who knows? Maybe they will even have scored a touchdown or two by then.
October, 24, 2013
Oct 24
8:00
AM ET
PHILADELPHIA -- The defensive game plan against the
Philadelphia Eagles
always starts off the same: Try to stop
LeSean McCoy
in the run game and work from there.
"We can't just give in because they're trying to stop the run," McCoy said. "There's things I can do."
[+] Enlarge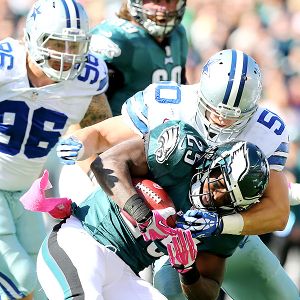 Elsa/Getty Images"I felt it was my worst performance since my rookie year," LeSean McCoy said of his play last week.
The
New York Giants
shut McCoy down three Sundays ago. With McCoy ineffective,
Michael Vick
ran for 79 yards in the first half and
Nick Foles
threw for 197 yards and two touchdowns in just more than one half of relief work.
Tampa Bay focused on McCoy until Foles began picking its defense apart in the passing game. The Buccaneers adjusted and McCoy ran for 116 clock-draining yards.
The
Dallas Cowboys
last week used some of the same concepts as the Giants. When they were effective against McCoy, Foles was incapable of doing anything to make them pay.
"We need to execute a little bit better in the run game, obviously," Eagles coach Chip Kelly said. "But I feel like if you're going to try to gang up on one aspect, we need to be able to lean on another aspect for us to be successful offensively."
Plenty has been written and said about Foles' stunningly inept performance. But what about the run game? McCoy accepted full responsibility for its ineffectiveness.
"I just wasn't myself," McCoy said. "A game like this, my team needed me, I didn't show up. I started doing too many individual types of plays, not really going with the plays. I was frustrated. I wasn't making the plays I usually make. I started trying to make too many things happen. I felt it was my worst performance since my rookie year."
Accountability is a good thing, but McCoy is probably being a bit too hard on himself. There were a few runs against Dallas where he might have found more room cutting outside, or where he turned toward an approaching safety, but that's probably true in every game. He simply didn't have that much room most of the time, and that was a result of the scheme and the offensive line's performance.
"The running game's a big part of this offense," left guard
Todd Herremans
said. "We have to prove we can still run the ball when [the Giants] are running their little stunts against us. Our blocks have to be more precise and give Shady a little more room to work."
McCoy is the NFL's leading rusher with 685 yards. He has gained 458 of them, or 67 percent, in three games. In the other four combined, he has gained 227, an average of 56.8 yards per game.
When the quarterback has been able to make something else happen -- against Washington, against the Giants, against Tampa Bay -- the Eagles have won. When the quarterback has not -- and when the defense made the offense moot against San Diego and Denver -- the Eagles have lost.
It starts with trying to stop McCoy, but it doesn't end there.
October, 22, 2013
Oct 22
7:00
AM ET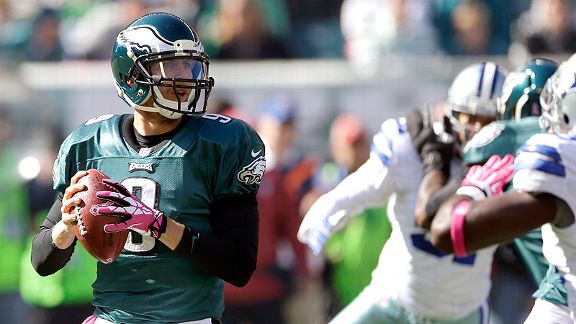 AP Photo/Matt RourkeNick Foles could not get into a rhythm or hit his receivers against Dallas.
PHILADELPHIA -- While watching the
Philadelphia Eagles
' 17-3 loss to
Dallas Cowboys
in real time, it was hard to believe quarterback
Nick Foles
was that awful or that head coach Chip Kelly's scheme was as bad as it appeared. After watching the game again, the answers are sobering.
Foles was, and so was Kelly's scheme. Here are some observations:
• Right off the bat, Kelly wanted to throw running back
Bryce Brown
at the Cowboys as a wrinkle. It did not work. Brown and
LeSean McCoy
opened in a two-back set I don't recall seeing before Sunday.
The novelty produced literally nothing. Foles missed both backs on the same play, a wheel route designed to exploit the perceived vulnerability of Dallas linebacker
Bruce Carter
. But Carter's coverage was fine and Foles could not make the perfect throws necessary to execute the play.
"It's the matchup," Kelly said Monday. "The ball wasn't like it hit his hands and he dropped it. I think we could have been a little more accurate on a couple of those throws."
Or it was a poor guess in preparation by the coaches.
• Foles was effectively sacked twice (one sack, one intentional grounding penalty) on the Eagles' first possession. Rookie right tackle
Lane Johnson
was involved in the protection breakdown both times, with help from guard
Todd Herremans
once.
Getting pounded twice in three plays is never a good way for a quarterback to start, and Foles never really seemed comfortable in the pocket all day. Even when protection was solid, he had happy feet and appeared to be anticipating pressure in his face.
On both the plays in question,
DeSean Jackson
lined up in the slot and was covered by cornerback
Orlando Scandrick
. Jackson had no success against Scandrick all game.
• Kelly got a lot of backslaps for using that unbalanced line look effectively last week against Tampa Bay. He used it again against the Cowboys and guess what? It isn't fooling anyone anymore.
The alignment has left tackle
Jason Peters
lined up as a tight end, outside tackle Lane Johnson, on the right side.
Brent Celek
, the tight end, lines up at left tackle. Every time I saw this alignment, the Eagles ran the ball from it. Every time. NFL coordinators tend to notice things like this.
Maybe if the blocks had been executed better, or the Eagles had been better prepared for the way the Cowboys line slanted and attacked different gaps, the ruse would have worked. But that didn't happen, and McCoy continually ran into unblocked linebackers (
Sean Lee
, usually) and safeties.
On one play, the first time I saw the unbalanced line, McCoy ran to the left and probably could have gotten outside. He cut inside Celek's block and was easily tackled by
J.J. Wilcox
.
"You've got to finish the blocks up front," Kelly said. "There are a lot of times where the numbers were right for us and we do have hat for a hat. We've got to finish it. There are other times when maybe the ball should have gone outside because of how we're blocking it and what the landmarks are, but the back cuts it inside. We've just got to get everybody on the same page.
"But again, schematically it wasn't like we're trying to run the ball and they've got an extra guy and we just keep running them into the unblocked guy. We've got to finish blocks up front. We have to finish runs when we have the ball in our hands."
Actually, there were a number of plays where the scheme left McCoy running right into unblocked Cowboys. That's on the coach.
• Bad blocking wasn't limited to the offensive line. The Eagles opened their fourth possession with Foles throwing a quick bubble screen out to Jackson.
Riley Cooper
whiffed on his block of Scandrick, and the corner blew up the play.
• Meanwhile, Foles was just terrible. I wondered if having the sun in his eyes was an issue until I realized that didn't happen until the second quarter. He was off target and out of rhythm long before that.
Foles almost got
Jason Avant
decapitated, lobbing an ill-considered pass that exposed Avant to a forearm in the throat from
Brandon Carr
. He kept missing open receivers, most notably Celek on what would have been a drive-launching first down in the second quarter, Avant on a likely first-down throw and
Jeff Maehl
on a couple throws that a truly gifted receiver might have caught.
Foles had Jackson running down the right sideline and threw it two yards out of bounds. Just a bad toss.
Foles' best throw of the day was an incompletion. He had Jackson streaking through the end zone and put the ball in the right place. Wilcox sprinted across and poked the ball away from Jackson. Just a great defensive play in that case.
• Kelly's explanation of his decision to go for a 60-yard field goal on fourth-and-a-foot at the end of the first half made sense – on the surface.
"If we run a play with 14 seconds left on the clock, I've got to call a timeout," Kelly said. "And we have to kick a 59-yard field goal. If the field goal was one-yard short, I'd be kicking myself in the tail right now because we need to be a little bit closer because he wasn't one yard short. … I don't think we were going to dial up a play that was going to get us 15 yards on 4th and 1 to put us in a situation for a closer field goal."
Kelly said the wind was at
Alex Henery
's back, which also meant it would be in the face of the Cowboys if Henery missed, which he did.
The problem was the play calling that put the Eagles in that situation. With Foles finding a faint pulse in the two-minute offense, he threw a quick hitch to Cooper for a nine-yard gain. Naturally, Kelly called the same play out of the same formation on second-and-one. This time, with cornerback
Morris Claiborne
unfooled, Cooper dropped the pass.
On third-and-inches, Foles threw that deep ball out of bounds for Jackson.
So the fourth-and-inches didn't happen by itself. It started as a second-and-inches and Kelly play-called his way into a 60-yard field goal.
• Finally, a look at the play on which Foles was injured. Again, it starts on first down at the Dallas 9-yard line, with that unbalanced line look. The Cowboys knew McCoy would run and McCoy ran into three -- repeat: three -- unblocked defenders for no gain.
On second down, Foles had time as the Cowboys rushed only four men. But he couldn't find anyone, ran left at the first hint of pressure and was forced to throw the ball away before he was brought down from behind. The folks at Pro Football Focus timed Foles at 6.3 seconds from taking the snap to throwing away.
That brought up third down. Foles had time again. He slid to his left and had Cooper open at about the 4-yard line. Foles waited long enough for a defensive back to slip up behind Cooper. About then, the blockers lost their men and Foles was forced to start running to his right.
David Carter
and
George Selvie
-- raise your hand if you'd heard of them before -- followed him. Foles held on to the ball for a ridiculous 9.5 seconds, according to Pro Football Focus, before Selvie wrapped him up. Their helmets bumped, but it appeared the back of Foles' head bounced off the ground on the sack, too. As soon as he got up, referee John Parry looked for Eagles medical staffers and pointed to his head.
September, 30, 2013
Sep 30
3:00
PM ET
A review of four hot issues after the
Philadelphia Eagles
'
52-20 loss
to the
Denver Broncos
:
This game was never going to be a pleasant afternoon in the Rockies for these Eagles.
After
Philip Rivers
dissected their patchwork secondary in Week 2, we immediately wondered how bad things would get when the Eagles faced the elite quarterbacks, with no one being more elite than
Peyton Manning
. Now we know.
"We ran into a buzzsaw," Eagles defensive coordinator Bill Davis said after the game. Davis had left the locker room, possibly after turning in his belt and shoelaces. He spoke to reporters via the iPhone of a member of the media relations staff.
[+] Enlarge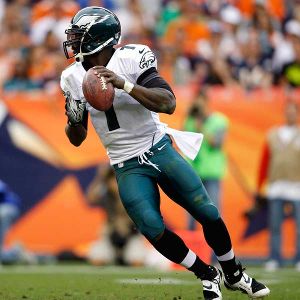 Chris Humphreys/USA TODAY SportsMichael Vick spent a significant amount of time scrambling after the Eagles' offensive line failed to block Broncos defenders in their Week 4 game.
The Eagles became a part of the history that Manning is making, the same way Michael Spinks was part of the history Mike Tyson made or the rest of the field was part of the history Usain Bolt made in the Olympics. They have no choice but to accept that and find a way to move on.
The next three weeks are huge for Chip Kelly.
After losing three games to the AFC West, by larger margins every week, Kelly's Eagles play the
New York Giants
(0-4),
Tampa Bay Buccaneers
(0-4) and
Dallas Cowboys
(2-2).
The Eagles have an opportunity to win all three of those games, which would get them to 4-3, restore their respectability and give the second half of the season meaning. All three games are against NFC teams and two are within the division, where the Eagles are 1-0. Since 1990, teams that start 1-3 have just a 14 percent chance to go to the playoffs, according to ESPN Stats & Information. But somebody is going to win the NFC East. It says so right in the rulebook. Until they lose games and ground to Dallas, the Eagles have a chance to be that team.
The offensive line is becoming an issue.
Kelly laid the blame for the offensive struggles squarely on the pressure quarterback
Michael Vick
is experiencing. "We've got times where he is at the top of his drop and he's sticking his foot into the ground and there's pressure on him," Kelly said. "That's not on Mike."
A quick history lesson: Two years ago, Andy Reid brought in longtime
Indianapolis Colts
assistant Howard Mudd to coach the offensive line. Mudd has a unique approach suited to slimmer, more athletic linemen. The result was a purge of players who just didn't fit. Could it be that some of the linemen here just don't fit Kelly's own unique approach? Could it simply be that the players returning from injuries --
Jason Peters
,
Todd Herremans
,
Jason Kelce
-- aren't at full health? Is it just a natural transition period?
"Someone who's been playing fantastic for 52 plays, on the 53rd play makes a mistake up front," Kelly said. "Somebody you expected to be picked up is creating penetration."
Time will provide the answers, but there is enough of a body of work to start asking the questions.
There are no playmakers on this defense.
Davis has been trying to scheme around the personnel he has while shifting the team from a 4-3 to a 3-4 base. The results were not very good through three weeks, and they were disastrous Sunday against the Broncos. No matter the scheme, though, a great player will find ways to make an impact: a sack on a crucial third down, a ball stripped from a running back or receiver, something. The Eagles just aren't getting those plays.
"We only have one way to go," Davis said. "We have to get better. Everything about the defense has to improve. We have enough talent."
Davis may or may not believe those words. The rest of us have to believe our eyes.
September, 26, 2013
Sep 26
3:15
PM ET
PHILADELPHIA -- The
Philadelphia Eagles
' offensive line was expected to be the best in the NFL this season, at least by the five men who line up in front of
Michael Vick
.
Peters
Three games in, Vick has been pressured 48 times, the most among NFL quarterbacks according to ESPN Stats & Information. He has been sacked 11 times, more than anyone except Miami's
Ryan Tannehill
.
So what's happening? A lot of things.
"It depends on each individual situation," head coach Chip Kelly said. "There's not one answer that is the answer."
More than half the sacks, six, came in Thursday's loss to the
Kansas City Chiefs
. The Eagles' tackles,
Jason Peters
on the left and
Lane Johnson
on the right, simply couldn't handle
Justin Houston
and
Tamba Hali
.
"On paper, it looked like it worked against the Kansas City Chiefs," center
Jason Kelce
said. "I would argue that if we don't have as many turnovers and we don't do as many things wrong, we're still successful against KC. The way they did it put our tackles on an island. We're still very confident we can put our tackles on an island and win most of those matchups."
Peters dislocated a finger early in the game and struggled with his technique after having three fingers taped together.
"He was trying to block one of the outstanding rushers (Hali) in this league," offensive coordinator Pat Shurmur said. "There's some good plays and then every once in a while you have a bad play. He was dealing with a little nick on his hand. He's doing fine."
Johnson, the rookie first-round pick, was overmatched at times and miscommunicated with guard
Todd Herremans
at times.
Kelly's preference to have just five men in pass protection is one factor in the pressure on Vick so far.
"It's a little more challenging," Kelce said.
And then there is this:
Last season, every Eagles starter except left guard
Evan Mathis
suffered a season-ending injury. The return of Peters, Kelce and Herremans was the reason for that preseason swagger. But it also means all three are returning from serious leg injuries.
Of course, there is the matter of Vick himself. He is supposed to be making quicker decisions and getting rid of the ball faster in Kelly's offense. But he occasionally falls back on old habits and holds it too long.
"It's our job to protect," Kelce said. "We know if we can give Mike enough time, he can take care of things."
Ultimately, despite the breakdowns, the line has been part of a remarkably productive offense. That's why Kelly is sticking with his five starters and expecting them to continue improving together.
The Eagles lead the NFL with 209 rushing yards per game. They are also averaging 253 passing yards and 26 points per game.
"Right now, we're not sitting in our offensive staff room saying we're not getting a lot of production offensively," Kelly said. " I think we're running the ball very effectively and throwing the ball very effectively."
September, 24, 2013
Sep 24
7:00
AM ET
The
Philadelphia Eagles
get back to work Tuesday after four days of R&R&R -- rest, relaxation and regret after losing two home games in five days.
As they begin preparing for Sunday's game in Denver, here are some things to ponder:
The last time Peyton Manning looked mortal in a regular-season game was one year ago, against the Houston Texans. Connor Barwin had a fumble recovery in that game. Manning completed 26 of 52 passes (50 percent) for 330 yards in a 31-25 loss. A week earlier, Manning had his last truly poor performance, throwing three interceptions in the first quarter of a 27-21 loss in Atlanta.



Manning

But those were just Manning's second and third games after returning from his one-year hiatus due to neck surgery. Since getting his rhythm back, Manning's only loss has been in the 38-35 playoff loss to Baltimore.

So nobody has really stopped Manning. That's a daunting reality for an Eagles defense that has allowed 323 passing yards per game and a 67.2 percent completion percentage.
The Eagles' offensive line was a disaster area last season, but injuries were the primary issue. It was expected that this year's unit would be among the best in the NFL. Left tackle Jason Peters, who missed all of 2012 after twice tearing an Achilles tendon, practically guaranteed it.

Against Kansas City Thursday night, the line was simply not good. Pro Football Focus, which grades every player in every game based on film review, slapped a minus-5.6 on rookie right tackle Lane Johnson and a surprisingly low minus-4.0 on right guard Todd Herremans. Peters struggled with Tamba Hali all game and center Jason Kelce committed two major gaffes, including his fumbled Snap To Nobody.

This week is crucial, because it will help identify what is going on: Were the linemen just feeling the fatigue of three games in 11 days? Was it an early sign that they just aren't up to the task of Chip Kelly's uptempo offense for a full season? Are Peters, Kelce and Herremans simply not back to full strength after injuries ended their 2012 season? Is Johnson picking up the NFL game quickly enough to keep Michael Vick alive?
Speaking of Vick, can he bounce back with a strong performance after looking uncomfortably like he did for most of the past two seasons?That's vital to the Eagles' chances for success this season. When Vick is going good, as he did for an unforgettable stretch in 2010 and for the first two games of this season, he's one of the league's most dynamic players. But once he hits a bad patch, he has not been able to get back to that level -- often, injuries have prevented him from even trying.

"I thought Mike played OK," Kelly said Friday. "He has played better. But it's always a combination, unfortunately. It's not always on one guy. ... We've got to be able to stand in the pocket at times, (be) able to get to the top of our drop and not give up so much pressure. There are times for Mike when the ball has to get out a little bit quicker in certain situations."
The NFC East is practically begging the Eagles to be contenders. Washington and New York are both 0-3. Dallas is in first place at 2-1. If the Eagles had been able to steal either of those home games, they'd be tied for first. As it is, they still have five divisional games and 11 conference games left on the schedule.

Nobody expected Kelly to come in and win the division in his first season in the league. But nobody expected this division to be quite so winnable, either.
September, 20, 2013
Sep 20
5:05
PM ET
PHILADELPHIA -- Chip Kelly still had the upbeat demeanor of the successful salesman who truly believes in his product. And that's as it should be. It wouldn't say much about the product if Kelly's confidence was shaken by two lost football games -- even if they were at home, against teams the Philadelphia Eagles were favored to beat.
"I think you draw on the positives," Kelly said Friday afternoon. "You know, what did you do well? And then look at what correctable mistakes occurred in the game and address them. That's what I talked about in the locker room after the game with our guys."
But Kelly's belief in what he's selling isn't the issue. It's whether his players believe in it, too. We talked about that in the affirmative after the Eagles' breathtaking debut at Washington on Sept. 9. If actual on-field success had the players buying in, what effect do two bad losses have on them?
[+] Enlarge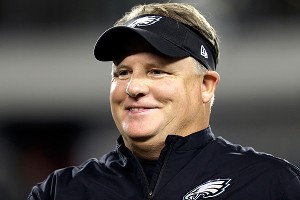 AP Photo/Matt RourkeNew Eagles head coach Chip Kelly has reached his first mini-crisis three games into his first season.
Cover the Eagles, and Philadelphia sports in general, long enough and you become a connoisseur of losing locker rooms. After Thursday's loss to Andy Reid and the
Kansas City Chiefs
, the Eagles were a notch or two below the standard postgame disappointment. Most of the players cleared out very quickly, leaving one writer to wonder aloud, "When did this become the Phillies clubhouse?"
Asked to describe the mood, cornerback
Cary Williams
said, "Somber."
It is understandable. The Eagles lost 11 of their last 12 games in 2012. That is just an emotional pounding when you're as competitive as professional athletes are by definition. This team embraced Kelly's fresh approach -- from the blaring music to the smoothies, to the up-tempo offense, to the win-the-day culture -- because it very much wanted to be led out of the NFL valley of despair.
So the same thing that made the Eagles so giddy after the Washington game made them so despondent after a second, even more 2012-like loss in four nights.
Guard
Todd Herremans
, who is normally expansive in his willingness to share his knowledge of the game, was reduced to monosyllables. Center
Jason Kelce
, one of the smartest players on the team, was forced to explain how he snapped the ball into thin air, creating a turnover, and later failed to snap it at all when the rest of the team jumped on the proper snap count.
When it worked at Oregon -- and certainly when it worked against Washington and San Diego -- Kelly's offense requires and inspires a certain swagger. It is the defense that wears down, loses focus and makes mistakes. On Thursday, that happened to the Eagles' offense: six sacks, five turnovers, just 16 points.
It doesn't help that Kelly has given his players other reasons to doubt him. He says time of possession is meaningless, but the players now know what it physically feels like to be on the wrong side of a 2-to-1 disparity. He says his methods guarantee the Eagles will be fresher than their opposition, but their bodies tell them otherwise.
Kelly's admitted ignorance of a timeout rule in the San Diego game didn't help. Neither did the gimmicky two-point conversion play that failed Thursday night and sapped the Eagles' hard-earned momentum.
It would be going way too far to suggest that Kelly has lost his team. But it is fair to say that is what is at stake after two bad losses in five days. Kelly is facing his first real test as an NFL head coach.
The schedule does him no favors. He gave his players off until Tuesday. They return and begin preparing for a game against
Peyton Manning
and the Broncos in Denver. They play the Giants, also on the road, the week after that.
In a situation like this, players look to the head coach. They want to see how he is reacting and whether he has any answers. That same flat-line demeanor that annoyed some fans about Reid was intended to reassure his players. In his best years, Reid backed that up by coming up with concrete solutions to on-field problems.
Kelly has the demeanor part right. His unwavering confidence in what he's selling is crucial right now. It has worked for him in the past. It's just that he might have to tweak the product a little bit to appeal to this slightly older, more affluent demographic.
September, 17, 2013
Sep 17
2:25
PM ET
PHILADELPHIA -- Chip Kelly was given a challenging first three games by the NFL schedule makers. On Thursday night, his
Philadelphia Eagles
will play their third game in 11 days.
"Yeah, we obviously had to make an adjustment this week," said Kelly, who never had such a short week during his tenure at Oregon. " When you play a game on Sunday, and you have to come back and play a game on Thursday, that's the one that really adjusts your schedule just because you only really have three training days. But we knew it before the season started."
No one at the NovaCare Complex is complaining, though, for one reason. The Eagles' opponents have had it tougher.
The Chiefs played Sunday at home, same as the Eagles. They have three days to prepare, same as the Eagles. But they have to travel to Philadelphia Wednesday and charter back after the game Thursday night.
"They went Sunday, Sunday, Thursday," Kelly said. "We just went Monday, Sunday, Thursday. We had an 11-day deal, they had a 12-day deal."
Sunday's opponent, the Chargers, played even later on Monday night to open the season. The Chargers had a short week to prepare, same as the Eagles. But they had to fly across the country and play at 1 p.m. on the opposite coast -- which felt like 10 a.m. to their body clocks.
"It's tough, but they're in the same boat we are," guard
Todd Herremans
said. "It's not like they had any more time off than us. It's not like we're going against a team that had more time to prepare or rest than us."
The challenge for both teams is recovering physically from a Sunday game in time to practice for three days and play with no days off.
"It's tough trying to get your body back," Eagles linebacker
DeMeco Ryans
said. "As far as coming off a tough loss, it's nice to have the game quick to get over the loss and see how much better you can play."
The payoff for the Eagles will be the extra three days to rest, recover and prepare for their Sept. 29 game in Denver. That will also be their first game that requires an airplane flight.
Of course, it also means trying to run their uptempo offense at altitude and pitting the second-worst pass defense in the NFL against
Peyton Manning
.
There are some things the schedule can't help you with.