Philadelphia Eagles:

Tom Brady
January, 29, 2014
Jan 29
10:00
AM ET
He's out there somewhere. It will always be a mystery exactly who he is and what he was thinking.
He is the one NFL player, out of 320 surveyed by ESPN.com, who named
Michael Vick
as the quarterback he would want with two minutes left and the Super Bowl on the line.
Nothing against Vick personally, but his most significant postseason moment came 12 years ago, when he led Atlanta to a victory over Green Bay at Lambeau Field. In his one opportunity to lead a playoff comeback as an Eagle, he threw an interception in the end zone against the Packers three years ago.
Anyway, the national results were about what you'd expect. New England's
Tom Brady
was named by 128 players (40 percent). That's exactly the percentage of the 10 Eagles surveyed who named Brady.
If the results say anything, it is that achievement in the postseason resonates with people. Brady hasn't won a Super Bowl in 10 years, but there is no taking away what the three championships he did win.
Green Bay's
Aaron Rodgers
, the winning quarterback the day Vick was intercepted to end the Eagles' comeback, was named by two Eagles.
Peyton Manning
, who finished second nationally to Brady, was named by just one Eagle.
Drew Brees
,
Russell Wilson
and
Joe Flacco
-- who was in the situation a year ago -- were also named by Eagles players. Except for Wilson, all of the quarterbacks named by Eagles players have at least one ring. And Wilson may have earned one by Sunday night.
January, 16, 2014
Jan 16
10:00
AM ET
PHILADELPHIA -- Quarterback. When asked to name the first player they would pick to start a franchise, players from every corner of the
Philadelphia Eagles
' locker room went with a quarterback -- with one exception.
Maybe it's because the Eagles were preparing to play the
Detroit Lions
at the time of the polling, but one player named wide receiver
Calvin Johnson
. His thinking: Johnson will make any quarterback better.
Otherwise, the Eagles' voting echoed the national results.
Peyton Manning
, who finished No. 1 in the NFL Nation survey, was tied for second with Green Bay's
Aaron Rodgers
in the Eagles' locker room.
Tom Brady
and
Cam Newton
also received votes.
But
Andrew Luck
, a guy the Eagles haven't faced, was the leading vote-getter with three votes. The players who named Luck cited his youth as a factor. They wanted the next great quarterback to build with. Those who named Manning and Brady said they would want to win right away.
January, 13, 2014
Jan 13
1:00
PM ET
PHILADELPHIA -- It was interesting to watch the weekend's NFL playoff action with an eye on the quarterback play and what it told us about
Nick Foles
' place in the pecking order.
But the real takeaway was that the Eagles need to get better in almost every area other than quarterback if they're going to take a step forward next year. The teams that have won in this postseason have tended to be more complete and better able to crank up the intensity level a few notches.
[+] Enlarge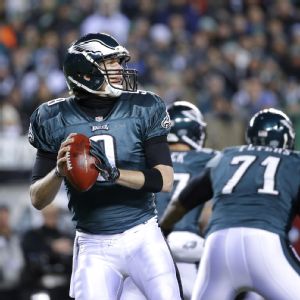 AP Photo/Matt RourkeDespite Nick Foles' 195 yards and two TDs against New Orleans, the Eagles still lost the game.
The Saints were better equipped for playoff-level football than the Eagles, and the Seahawks were better equipped than the Saints. San Francisco, Denver and New England all took the field running hotter than their opponents.
Seattle's
Russell Wilson
threw for 103 yards. San Francisco's
Colin Kaepernick
threw for 196 and one touchdown. If Foles had a game like that, the instant reaction would be that Chip Kelly needed to trade up and get Johnny Manziel in the draft.
But Wilson and Kaepernick won, because they were able to make some plays that didn't show up in their passer ratings (67.6 for Wilson, 87.8 for Kaepernick). They won, too, because their teams were able to run the ball and because their defenses were markedly better and more aggressive than the other teams'.
Carolina's
Cam Newton
was sacked five times and threw two interceptions. He looked overwhelmed by the Niners and the moment, or both.
Analysts who have
Andrew Luck
pegged as the next great NFL quarterback spent the weekend defending his four-interception performance against the Patriots. Again, it's hard to imagine Foles turning in a performance like that, let alone the backlash it would bring against him.
But even the winning quarterback in that game, the inarguably great
Tom Brady
, threw for just 198 yards and had a passer rating of 78.4.
Only in Denver's win against San Diego did we see the kind of quarterback play we associate with playoff wins.
Peyton Manning
threw for two touchdowns and 230 yards (a 93.5 rating), while
Philip Rivers
was efficient (18-for-27, two TDs, 115.8 rating), but threw for just 217 yards.
Foles' performance against the Saints the week before doesn't look so bad in comparison to this weekend's play. He completed 23 of 33 passes for 195 yards and two touchdowns. He didn't turn the ball over.
Based on the second round, that performance would have been more than good enough if the Eagles' defense had taken care of business or if the Eagles' running game had gotten going the way it usually did in the regular season.
It wound up being much more compelling to note how much better coached and prepared the winning teams appeared to be this weekend. John Harbaugh's 49ers played at a much higher level than Ron Rivera's Panthers. Same with Pete Carroll's Seahawks, who dominated the same coaching staff that got the better of Kelly a week earlier.
It probably isn't shocking that Bill Belichick and John Fox, who coached against each other in a Super Bowl a decade ago, defeated Chuck Pagano and Mike McCoy.
The better team, and the better-coached team, won in each of the four games this weekend. That reinforced the notion that the same was true the week before.
January, 12, 2014
Jan 12
12:00
PM ET
PHILADELPHIA -- Eagles quarterback
Nick Foles
is snubbed no more.
Foles
Foles, a first alternate, will be added to the Pro Bowl roster because at least one of the quarterbacks ahead of him –
Tom Brady
,
Philip Rivers
or
Peyton Manning
– will be in the Super Bowl the following week. During the NFL Network broadcast revealing Pro Bowl selections, viewers cited Foles as the biggest snub in real-time polling.
There's nothing unusual about being selected as an alternate and then playing in the Pro Bowl. Former Eagles quarterback
Donovan McNabb
is listed as a six-time Pro Bowler. Four times he was an alternate who replaced a quarterback who withdrew. Once he was selected but didn't play.
The 24-year-old Foles started only 10 regular-season games after replacing
Michael Vick
in the lineup. Foles went 8-2 as a starter, leading the Eagles to the NFC East title by completing 203 of 317 passes (64 percent) for 2,891 yards and 27 touchdowns. He threw only two interceptions.
Foles' 27 to 2 ratio was the best of all-time. His 119.2 passer rating led the NFL and was third-best all-time for a full season.
Eagles left tackle
Jason Peters
, who was plagued by minor injuries all season, withdrew from the Pro Bowl. Peters was selected for the sixth time.
Houston Texans
tackle
Duane Brown
will replace Peters.
January, 9, 2014
Jan 9
10:00
AM ET
When asking members of the
Philadelphia Eagles
about the
most feared player in the NFL
, the initial reaction was the same: "We don't fear anybody."
The secondary reaction was divided. Some players took it to mean the nastiest, toughest player. Others took it to mean the most difficult to defend against. Based on that initial reaction -- not fearing anyone -- more players went with the latter interpretation.
So there was one vote for
Detroit Lions
defensive tackle
Ndamukong Suh
, but three for Lions wide receiver
Calvin Johnson
. There were votes for
Peyton Manning
(two),
Tom Brady
and
Aaron Rodgers
-- players feared because they might break an opponent's heart, not because they might stomp on his head.
December, 31, 2013
12/31/13
3:30
PM ET
PHILADELPHIA – There are plenty of reasons the Eagles went 7-1 after reaching the halfway point of the season with a 3-5 record. None of those reasons is anywhere near as significant as Nick Foles' assumption of the starting quarterback position.
It would be oversimplifying things to blame
Michael Vick
for the team's 1-3 start. Vick played quite well in several of the Eagles' early losses. But Foles is 8-2 as a starter and has posted the NFL's best passer rating because of his mastery of coach Chip Kelly's offense.
Considering it is their first season together, the Kelly/Foles combination is a reason for great optimism for the Eagles for seasons to come. The duo has a chance to be as effective a team as the one the Eagles will face Saturday night in the first round of the playoffs.
Sean Payton and
Drew Brees
are perhaps the NFL's most seamless blend of coach and quarterback.
Peyton Manning
moved on from Tom Moore, the offensive coordinator he mind-melded with in Indianapolis.
Tom Brady
has worked with a number of offensive coaches.
Aaron Rodgers
and Mike McCarthy have an excellent partnership in Green Bay.
But Payton and Brees?
"I think they're really one and the same person," Eagles defensive coordinator Bill Davis said. "Their understanding together – no matter what's in Sean's head, Drew can execute. That's the key to great offensive football, when the quarterback has the same understanding as the coordinator or the head coach, in this case."
Payton's first NFL job was as quarterbacks coach with the Eagles in 1997 and 1998. He worked with
Rodney Peete
,
Bobby Hoying
and
Ty Detmer
here. With the
New York Giants
, Payton worked with
Kerry Collins
. In Dallas, he coached
Quincy Carter
,
Vinny Testaverde
and
Drew Bledsoe
.
When the Saints hired Payton as a head coach in 2006, he needed a quarterback. Brees was a free agent coming off a shoulder injury.
Philip Rivers
had replaced him in San Diego. The
Miami Dolphins
wanted him.
But Payton drove him around New Orleans and spent hours in the film room talking about the offense they would build together. From the start, it was a collaboration between the coach and the quarterback.
The situation in Philadelphia is very different. Kelly is the offensive innovator brought in from the college game. Foles was here when Kelly was hired, seemingly a poor fit for the zone-read principles Kelly planned to run. The mobile Vick won the starting job in training camp.
But Foles got a chance when Vick pulled his hamstring in early October, and he made it impossible for Kelly to go back to the veteran. The Kelly/Foles partnership produced the second-half run that landed the Eagles in the postseason. But it is more mentor/protégé than the peer-to-peer relationship Payton developed with Brees.
"The one thing with Nick is that he's a very quick study," Kelly said. "I think one of the ways that all of us are a quick study is we need to make mistakes, but you have to be able to learn from your mistakes, and I think that's one thing that Nick does a really, really good job of -- he's very analytical of himself. He's very critical of himself in a really constructive way. I think that shows up in terms of the little teeny details that I think separate being good and going to great. He's willing to work at that, and that's something that as a coach you really love, having a guy that can take that in a constructive manner."
December, 27, 2013
12/27/13
10:45
PM ET
PHILADELPHIA -- The Eagles' late-season run to the brink of an NFC East title did not translate into many Pro Bowl berths.

LeSean McCoy
, the NFL's leading rusher, was an almost automatic selection. Left tackle
Jason Peters
, who had five Pro Bowl selections on his resume, was the only other Eagle chosen.
Five
Cleveland Browns
were chosen, so the wins-to-Pro-Bowl-berths relationship is kind of hard to figure sometimes.
McCoy was a lock. He needs just 37 rushing yards to break Wilbert Montgomery's franchise record of 1,512.
Three Eagles have legitimate gripes. And no, one of them is not quarterback
Nick Foles
, who was cited as the biggest snub via social media on the NFL Network's Pro Bowl selection special.
Foles has had 60 percent of a Pro Bowl season. The fact that he didn't start the Eagles' first five games, and missed another game because of a concussion, surely hurt his cause. It's also hard to argue with any of the six quarterbacks chosen:
Tom Brady
,
Drew Brees
,
Peyton Manning
,
Cam Newton
,
Philip Rivers
and
Russell Wilson
.
The three Eagles who should have been ticketed for Hawaii:
Wide receiver
DeSean Jackson
is having the best season of his career. There are plenty of wide receivers with big numbers, but Jackson has provided a huge big-play element to the Eagles' prolific offense.
Left guard
Evan Mathis
has been the highest-rated guard by Pro Football Focus for several seasons now. He is equally dominating in the run game and in pass protection.
Center
Jason Kelce
has battled back from an ACL tear to anchor the Eagles' offensive line. Kelce makes the line calls, snaps the ball and is still able to get downfield and block for McCoy in the secondary.
Foles was selected as a first alternate. Jackson and Mathis were second alternates.
No one from the Eagles defense was chosen. Again, not surprising.
DeMeco Ryans
and
Trent Cole
have Pro Bowl pedigrees, but neither has the big sack or interception numbers that draw votes. Cole has eight sacks in the Eagles' last seven games but had zero through the first half of the season.
"I'd be disappointed if some of those guys didn't make it because I think [they're] deserving," Eagles coach Chip Kelly said. "But I don't think our guys -- I mean, it's a nice reward, but I think that their focus and attention is on what's going to go on this Sunday."
Click here
for the complete Pro Bowl roster.
December, 26, 2013
12/26/13
10:45
AM ET
PHILADELPHIA – Selections for the new-look Pro Bowl will be announced Friday night. After sending zero representatives from last year's 4-12 team, the Eagles have a few worthy candidates.

Running back
LeSean McCoy
is the most obvious. If the NFL leader in rushing and yards from scrimmage isn't selected, there's no point in having the game. McCoy set the Eagles' record for rushing yards in a game with 217 against Detroit. He needs 37 to pass Wilbert Montgomery's mark of 1,512 rushing yards in a season.
Quarterback
Nick Foles
is a tougher case. He has started only nine of the Eagles' 15 games. The team's record in those games is 7-2. Foles has thrown 25 touchdown passes and just two interceptions, a remarkable ratio. He leads the NFL in passer rating.
Foles might have had a better chance under the old format. Aside from
Drew Brees
, the NFC quarterbacks with big numbers have some other issues:
Matt Ryan
and
Matthew Stafford
are not going to the playoffs.
Aaron Rodgers
has missed the past six weeks.
Tony Romo
is injured.
Carson Palmer
is not exactly a lock.
But this year, players are not being chosen to represent the two conferences. The teams will be selected in a draft in late January. So Foles will also be competing for spots with
Peyton Manning
,
Tom Brady
,
Philip Rivers
and
Andy Dalton
, as well.
Sometimes a player has to establish himself for a season or two before getting Pro Bowl recognition. It feels like that kind of year for Foles.
Wide receiver
DeSean Jackson
has the rep -- he's been selected twice -- and the numbers. He isn't the no-brainer that McCoy is because so many receivers are putting up big numbers this season, but he's certainly deserving. While Jackson is 14th among NFL wide receivers with 79 catches, his 1,304 yards are eighth most.
With Foles and especially McCoy having such outstanding seasons, the Eagles' offensive line should get some respect. Three players are eminently deserving: left tackle
Jason Peters
, left guard
Evan Mathis
and center
Jason Kelce
.
Peters is a five-time Pro Bowler and has returned from a career-threatening Achilles injury. Those two factors make him the most likely Eagles lineman to be selected.
Mathis is overdue for recognition. Pro Football Focus, which grades every player at every position on every play, has all but anointed Mathis as the best left guard in the game the past couple seasons. He's smart, tough and durable. It's his time.
Kelce may be where Mathis was last year. He's integral to what coach Chip Kelly does on offense.
"He's been huge," Kelly said. "I think everything that we get started on the offensive side of the ball starts with him. He sets the blocking schemes for us. Very, very smart, and a real student of the game. He's really almost the coach on the field for that group, and he takes a little pressure off the quarterback. In some systems, the quarterback is making all those calls, and in our system our center does it, and it's because Jason can handle it, and I think he's been really invaluable to us."
Eagles defensive coordinator Bill Davis meant it as a compliment when he said his unit was playing well despite a lack of big stars and Pro Bowlers. But it does seem unlikely the defense will get much play in the All-Star game this season. The most likely candidates – defensive end
Fletcher Cox
, linebackers
DeMeco Ryans
and
Trent Cole
– don't have stats that catch the eye. And underrated contributors like linebacker
Connor Barwin
, nickel corner
Brandon Boykin
and defensive tackle
Cedric Thornton
are, well, underrated. That makes them long shots by definition.
Punter
Donnie Jones
has been excellent for the Eagles when they've needed him most. His overall numbers -- 21st in average, 11th in net average -- probably will keep him from being selected.
December, 2, 2013
12/02/13
5:45
PM ET
PHILADELPHIA -- Despite coach Chip Kelly's declaration Monday, the
Philadelphia Eagles
are unlikely to offer quarterback
Nick Foles
a 1,000-year contract after his breakout season.
During his weekly phone appearance on 94.1 WIP-FM radio, Kelly was asked if Foles would be his quarterback for the long term. His answer: "I hope so."
That prompted reporters to ask Kelly about it during his Monday afternoon news conference. The result was a variation of the back-and-forth over whether Foles or
Michael Vick
would be Kelly's starting quarterback.
"I will say he is the starting quarterback for the next thousand years here," Kelly said, tongue firmly in cheek. "If I'm wrong next week, then I'm wrong next week."
On a more serious note, Kelly said Foles could well be the quarterback beyond this season, but again hedged.
"Yeah, as long as he can stay healthy," Kelly said. "That's what I've qualified it with all the time. That is one thing I don't think anybody can predict, the health of anybody. That is a reality. How many quarterbacks have gone down this season in the National Football League? It's a pretty high amount.
"I think that's one thing everybody has to understand when you're going into this thing. It's a very, very difficult game. They take a lot of hits. I understand why they protect the quarterback in this league because of the hits they do take. When you have a quarterback that's durable and can last, that's when you know you've got a guy."
The issue is of interest mostly because of the perception Kelly would eventually need to find a mobile quarterback of his choosing to run his offense. At 33, Vick was a stopgap at best. Foles was perceived to be too immobile to run Kelly's system. As he's put up unprecedented numbers and won games, though, it is natural to wonder if he can be the franchise quarterback.
But Kelly doesn't like to waste time or energy on things when he doesn't have to. The Eagles can't draft Marcus Mariota or Teddy Bridgewater in time to play the
Detroit Lions
Sunday, so why speculate? By the time they have to decide on the draft, they'll have four more Foles performances, plus possibly the postseason, to evaluate.
"Right now, I'm on a one-week deal," Kelly said. "I don't think Nick's going to come in tomorrow and say I don't want to play anymore because you guys don't want me here six weeks from now. So the questions we get asked about it long term, right now is not long term. Long term for us is this Sunday against the Detroit Lions, that is the end of the deal."
Throughout the competition between Vick and Foles, Kelly would say that if he had a player like
Tom Brady
, his No. 1 quarterback would be obvious. Surely Brady or
Aaron Rodgers
or
Drew Brees
are going to be the starters for their respective teams in 2014.
"It's a semantics thing," Kelly said.
And it turns out Kelly is as good at semantics as he is at drawing up plays.
November, 27, 2013
11/27/13
2:30
PM ET
PHILADELPHIA -- Bruce Arians' assessment of the read-option raised an interesting point.
"It's a great college offense," Arians said in a conference call with Philadelphia media Wednesday. Arians went on to say that he thinks running the ball often takes too much of a physical toll on quarterbacks at the NFL level.
[+] Enlarge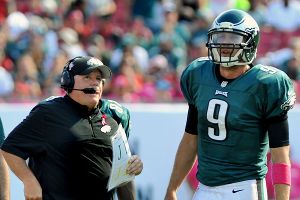 Al Messerschmidt/Getty ImagesChip Kelly argues that he doesn't use the read-option as often as people think, but he can count on a handful of rushing yards from Nick Foles.
Considering the Arizona coach has two decades of experience in the NFL and another 16 as a college coach, his point of view has serious credibility.
Eagles coach Chip Kelly has just 10 months of NFL experience. The read-option is a core element of his offensive philosophy. That philosophy, of course, was honed during a career coaching college football. Kelly was hired, at least in part, because of his command of the latest trend -- or fad -- to hit the pro game.
So here's the interesting point: As the backlash gains momentum against the read-option and running quarterbacks like
Robert Griffin III
and
Colin Kaepernick
,
Nick Foles
' stunning 2013 season might spare Kelly from getting on the wrong side of history.
I'm not looking to get in the middle of a war between adherents of old-school NFL pocket passers and believers in the revolutionary (or even evolutionary) changes brought by Griffin, Kaepernick,
Cam Newton
and others. That battle -- symbolized by Kaepernick versus Baltimore's
Joe Flacco
in the Super Bowl last winter -- will ultimately be decided on the field.
Even Kelly, obviously an acolyte of the read-option, acknowledges that he doesn't use it as often as people think. Some of the plays that appear to be read-option based aren't. The quarterback may appear to be making decisions based on the read of a defensive player, but the play actually has a predetermined design with no read or option involved. It's just a fake.
And even Foles, with his obvious limitations as a running threat, is still running read-option plays at times. Kelly has made it clear that he isn't abandoning his principles just because he doesn't have a sprinter at quarterback.
"When Nick takes off, it's not 60 yards, but it's 6," Kelly said. "In critical situations, he can still do that. We're not calling an entirely different package. But I think in everybody, there are subtleties in there that Nick may like this throw better than Mike [Vick] likes that throw. But overall, we're still running four verticals, double-post concepts. We're still running the quick game, still running our schemes."
So there is no mindless doctrine at work here. Kelly and Foles are both believers in the potential of the read-option while embracing the nuance of employing it in the NFL.
But let's just say
Michael Vick
had stayed healthy a bit longer this season and remained at quarterback. Kelly might have relied on his running ability more, as he did in the Oct. 6 game against the Giants in which Vick was injured. Vick ran the ball seven times for 79 yards in the first half. His rushing yardage basically was the Eagles' offense until he got hurt.
Once Foles took over, the Eagles offense became more diverse and more effective in the red zone. Wide receiver
Riley Cooper
instantly became a frequent and dangerous target. Kelly's play calling has evolved in order to take advantage of what Foles does best, just as it would have evolved toward what Vick did best.
That doesn't mean just standing statue-still in the pocket either. In his last game, against Washington, Foles was asked to run the ball more often. He did, picking up 48 yards on eight carries before losing a yard on a final kneeldown.
Foles' performance forced Kelly to stick with the second-year quarterback for the rest of this season. A strong finish will make it tough for Kelly to do anything but bring Foles back as his starter in 2014.
If the trend in the NFL favors running quarterbacks and the read-option, Kelly is a coach capable of getting the most out of that. He will have time to acquire and develop a young quarterback to play that style.
But if there really is a backlash and pocket passers like
Peyton Manning
,
Tom Brady
and
Drew Brees
remain dominant, Kelly will already have one in place. By playing well, Foles might have saved Kelly and the Eagles from going too far in a direction that could turn out to be a dead end.
November, 18, 2013
11/18/13
3:45
PM ET
PHILADELPHIA --
Philadelphia Eagles
quarterback
Nick Foles
said Sunday he wanted to play quarterback at the level established by the likes of
Peyton Manning
,
Drew Brees
and
Tom Brady
.
No one gets into that club without a Super Bowl ring, but the numbers say Foles is playing at that level.
Passer rating? Foles is tops in the NFL at 128.0.
QBR, which measures overall quarterback performance? Foles' 78.2 is second only to Manning's 82.8.
[+] Enlarge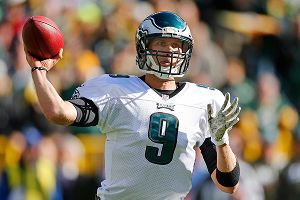 Gregory Shamus/Getty ImagesNick Foles has thrown 16 touchdown passes and no interceptions this season.
Yards per attempt? Touchdown/interception ratio? Foles is right there at the top.
The question becomes, then, what do the numbers mean to Chip Kelly?
The Eagles' coach is the one who will decide whether Foles or
Michael Vick
is his quarterback for the rest of the season (spoiler alert: barring injury or prolonged slump, it has to be Foles) and then whether Foles or someone else is his quarterback for 2014 and beyond.
"The big thing for me with our quarterbacks is wins, No. 1, and then interceptions, No. 2," Kelly said Monday. "(Foles) has been really good at both things. A lot of that, attempts and all that, a lot of times it depends on who's calling plays. He can't throw where you're not calling it.
"Anything that gets over 100, it skews me. I don't know how you get like a 132. I know the higher the better, but the biggest thing for is us is, are we winning? We've won with Nick, and he's not turning the ball over."
Foles has thrown 16 touchdown passes and zero interceptions. He has led the Eagles on the three-game winning streak that has taken them from 3-5 and reeling to 6-5 and first place in the NFC East.
All that, and he is still not officially the Eagles' No. 1 quarterback. Kelly has deferred making any pronouncements until Vick is healthy enough to play. Kelly said Vick "could have played" if necessary against Washington on Sunday. He was inactive, though, because there was no reason to force the issue with his twice-injured hamstring.
But that means the day of reckoning is coming. Barring a setback, Vick should be healthy when the Eagles return to practice next week, after their bye.
"(Foles) is going to start for the bye week," Kelly said, teasing reporters who have been asking who's-the-starter questions since Vick got hurt.
More seriously, he said he would sit down with Foles and Vick and explain his plan "whenever we get two healthy guys that we need to talk to."
The only reason to go back to Vick would be if Kelly believed the veteran was better at running his offense. And it's pretty hard to make the case for that when Foles is running Kelly's offense as well as any quarterback is running any coach's offense. Foles is even running the ball off the read-option pretty well.
"When Nick takes off, it's not 60 yards, it's six," Kelly said. "In critical situations, he can still do that. There's flexibility in what we do. It's all based on personnel. Anybody who's smart is going to cater their offense to what (the quarterbacks) do.
"The best example in this league is (Denver's) John Fox. When he had
Tim Tebow
, he ran one offense and they went to the playoffs. When he had Peyton Manning, the offense changed. He didn't ask Peyton Manning to do what Tim Tebow was doing. He also didn't ask Tim Tebow to do what Peyton Manning is doing."
It's safe to say Foles is closer to Manning's style than Tebow's. Foles might not be at Manning's elite level yet, but he's the closest thing Chip Kelly has.
October, 16, 2013
10/16/13
9:00
AM ET
A weekly analysis of the Eagles' quarterback play.
Foles
Vick
Rewind
: Setting aside the
Nick Foles
/
Michael Vick
comparisons for a second, let's look at how Foles did against Tampa Bay's defense compared to others who have faced it.
Foles: 22-for-31, 296 yards, 3 TDs, 0 INT, 31 points.
Drew Brees
: 26-for-46, 322 yards, 1 TD, 2 INT, 16 points.
Tom Brady
: 25-for-36, 225 yards, 2 TDs, 1 INT, 23 points.
The point is not that Foles belongs in a conversation with those quarterbacks just yet -- merely that it's worth holding either Eagles quarterback to the NFL standard for performance. Against the same defense, Foles was comparable or better than two of the best.
Fast-forward
: The
Dallas Cowboys
have allowed more than 30 points and 400 passing yards to
Eli Manning
,
Philip Rivers
(OK, 394) and
Peyton Manning
. Clearly, their secondary is vulnerable to a smart, accurate quarterback. Foles has the added benefit of having faced a Tampa 2 defense. Monte Kiffin doesn't run exactly the same style in Dallas, but he's the trunk of that tree.
Uncertainty principle
: For the second week in a row, there will be doubt and speculation about the status of Michael Vick's hamstring and the identity of the Eagles' starter. For the second week in a row, it appears likely that Foles will get the start as the Eagles and Vick avoid the risk of turning a two-week injury into a six-week injury.
Prediction
: It is one thing to win a shootout against
Mike Glennon
in Tampa, quite another to win one against
Tony Romo
. Foles will be under more pressure to score points this week. It is also unlikely that he will continue to play mistake-free football. Still, expect Foles (or Vick, should he get the nod) to do enough to keep the Eagles in what figures to be another NFC East touchdown-fest.