Philadelphia Eagles:

Trent Murphy
February, 25, 2014
Feb 25
2:00
PM ET
PHILADELPHIA -- The NFL scouting combine is wrapping up Tuesday in Indianapolis. Here's how some of the players we identified as possible
Philadelphia Eagles
picks fared in the annual NFL job fair.
Wide receivers
[+] Enlarge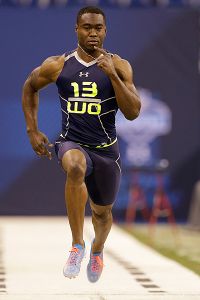 AP Photo/Nam Y. HuhBrandin Cooks might be out of the Eagles' reach after his fast time in the 40-yard dash at the combine.
Brandin Cooks
of Oregon State might have moved up beyond the Eagles' grasp by running the 40-yard dash in 4.33 seconds. That was the second fastest time overall, behind only running back
Dri Archer
. Combined with Cooks' incredible numbers from last season -- 128 catches, 1,730 yards -- the 5-foot-10, 189 pounder likely sealed his first-round status.
Kelvin Benjamin
of Florida State was as big as advertised -- 6-5, 240 pounds. His 40 time of 4.61 wasn't especially impressive, but did we mention he's 6-5?
Odell Beckham Jr.
, the LSU wideout projected to the Eagles in Mel Kiper Jr.'s most recent (pre-combine)
mock draft

, ran a 4.43. That increases his added value as a possible return man.
Vanderbilt's
Jordan Matthews
, who goes 6-3, 212 pounds, ran the 40 in 4.46, and also impressed by doing 21 bench press reps. Receivers don't have to lift bales of hay, but upper-body strength helps when blocking or trying to get off the line against press coverage.
Edge rushers
Dee Ford
, the Auburn defensive end projected to the Eagles by NFL Network's Mike Mayock, proclaimed himself a better player than
Jadeveon Clowney
, then did not participate in drills because of a medical issue. Ford said he was told not to work out because of a 2011 back injury. You have to wonder if that concern will drop Ford on draft boards.
Anthony Barr
of UCLA is considered the second best outside linebacker prospect after Buffalo's Kahlil Mack. The Eagles would only have a shot at Barr if he slipped a bit. His disappointing bench press result (15 reps) probably wasn't enough to overshadow his 4.66 speed. (Mack ran a 4.65 and did 23 reps.)
Stanford's
Trent Murphy
worked out with the linebackers, not the defensive linemen, and remains an intriguing option for the Eagles. The 6-5, 250-pound Murphy ran a 4.86.
Defensive backs
The top two safeties, Lousiville's
Calvin Pryor
and Alabama's
Ha Ha Clinton-Dix
, ran identical 40 times of 4.58. They didn't separate themselves from each other, but the blazing speed at cornerback could potentially sway a DB-needy team or two to go that route and drop the safeties a few spots.
Justin Gilbert
of Oklahoma State is one of those corners. Gilbert ran a 4.35 Tuesday. At 6-0, 202 pounds, that gives him an enviable combination of size and speed.
Michigan State corner
Darqueze Dennard
was
projected to the Eagles

by Todd McShay. After running a 4.42, the 5-11, 199-pound Dennard might also have moved up beyond the No. 22 spot.
February, 20, 2014
Feb 20
3:00
PM ET
PHILADELPHIA -- Mike Mayock, the Philadelphia-area native and NFL Network analyst, made some waves this week by touting Auburn defensive end
Dee Ford
as a possible first-round pick for the Eagles this year.
Ford had a terrific Senior Bowl, and the Eagles do have a history of drafting players who show up in Mobile. But the 6-foot-2, 240-pound Ford is often compared to
Trent Cole
, a very good pass-rushing defensive end who was forced into the uncomfortable role of 3-4 outside linebacker last season. Do the Eagles, who also have 2010 first-round pick
Brandon Graham
playing out of position, really want another 6-2 defensive end learning how to drop into coverage?
The answer will depend on just how effective GM Howie Roseman and his staff believe Ford will be at getting to NFL quarterbacks. It remains a valued skill, which is why an edge player -- whether it's an outside linebacker or defensive end -- has to be near the top of the Eagles' list of offseason needs.
With that, here are some players the Eagles could be looking at during this week's combine in Indianapolis:
[+] Enlarge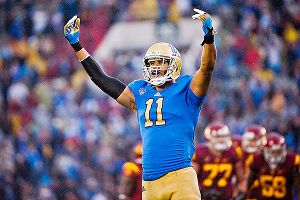 Jonathan Moore/Getty ImagesAnthony Barr is rated as the second-best outside linebacker in the draft by Scouts Inc.
Anthony Barr, UCLA linebacker.
A lot of early evaluations had Barr in the top 10 of draft-eligible players. He seems to be dropping, which could say something about the utility of early evaluations or something about the find-the-flaw nature of film study.
If the 6-foot-4, 245-pound Barr drifts into the teens, could the Eagles find a way to trade up and take him? It depends on how much they like him, of course, and they will get a much better feel for that this week.
Kony Ealy, Missouri defensive end.
Everybody is talking about his teammate,
Michael Sam
, but Ealy is the Mizzou player most likely to go in the first round. At 6-foot-4 and 275 pounds, Ealy is closer to Chip Kelly's physical specs.
Mayock has Ealy as his
second highest-rated
defensive end, behind only
Jadeveon Clowney
. But NFL Network's
Nolan Nawrocki says
Ealy "could also draw looks as a 3-4 rush linebacker." The combine will give Roseman, Kelly and defensive coordinator Bill Davis a firsthand look at him.
Stephon Tuitt, Notre Dame defensive end.
At 6-foot-6, 303 pounds, Tuitt is not going to be a linebacker. But he is
described by ESPN's scouts
as "Ideal fit as a 5-technique for a base 3-4 scheme." The Eagles have
Fletcher Cox
at one end. They like
Cedric Thornton
at the other. But a strong, deep defensive line can only make the rest of the defense better. A long shot, but interesting.
Trent Murphy, Stanford.
Murphy lined up as an outside linebacker in college. He was used as a defensive end in the Senior Bowl, and Mayock has him as his fifth-best end.
If the Eagles have interest in the 6-foot-5, 252-pound Murphy -- who had 14 sacks last season -- it would be as a linebacker. He could be a second-round option.
Dee Ford, Auburn.
His big-game production is compelling. Ford had two sacks in the national championship game and two of
Johnny Manziel
when Auburn beat Texas A&M.
Ryan Shazier, Ohio State linebacker.
The 6-foot-2, 226-pound Shazier looks more like a weakside linebacker in a 4-3 scheme, but his coverage ability is hard to overlook in today's game.
Kyle Van Noy, BYU linebacker.
Another second-round name to watch. Van Noy is 6-foot-3 and 244 pounds -- a little light but a versatile player who could potentially add a little upper-body weight and strength.
February, 7, 2014
Feb 7
8:00
AM ET
PHILADELPHIA -- In assessing the Eagles' biggest areas of need, the outside linebacker position is especially tricky.
It is obvious the Eagles need to generate more pressure on quarterbacks from their edge rushers. In their two biggest games of the season -- the NFC East clinching win in Dallas and the playoff loss to New Orleans -- the Eagles did not put nearly enough pressure on
Kyle Orton
and
Drew Brees
.
And since that's our final impression of the team, it resonates. But when you look at the individual players involved, things begin to get murkier.
Trent Cole
was rightly praised for making the difficult transition from defensive end, where he was a Pro Bowl-level player for his entire previous career, to outside linebacker. Cole had zero sacks in the Eagles' first eight games, then had eight in the second half of the season.
Does that mean he grew more comfortable in his new role? Partly. But it also appears that defensive coordinator Bill Davis simply used Cole more often in familiar situations. He did drop into coverage at times, and Cole was always an eager and aggressive run defender, but Cole rushed the passer much more than his counterpart on the outside,
Connor Barwin
.
As the season progressed and Davis came to understand his players better, he used Barwin to do the less glamorous tasks. He rushed the passer less and dropped into coverage more. Barwin even lined up at cornerback against big receivers like
Larry Fitzgerald
, jamming them at the line and then sliding into shallow zone coverage.
In a perfect world, Davis would surely like a group of versatile linebackers equally capable of covering backs and tight ends or rushing the quarterback. That would give him more options when devising alignments and calling plays. As it is, he is camouflaging one player's limitations by limiting another player.
There's nothing unusual about that, especially when a team is caught in a transition such as the 2013 Eagles were. Cole and
Brandon Graham
, two 4-3 defensive ends, tried to adjust their games (and their bodies) to fit as 3-4 outside linebackers. They did better than expected, but they remained most effective within their comfort zone – rushing the passer.
The Eagles can hold on to Cole and Graham throughout free agency and the draft, then make decisions on them depending on what happens.
It's hard to imagine the Eagles throwing big money at Washington's
Brian Orakpo
, arguably the best outside linebacker on the market. But if Pittsburgh doesn't commit to
Jason Worilds
, who started ahead of first-round pick
Jarvis Jones
in 2013, he could be an interesting name to watch. After all, Davis made it clear that his model is the Steelers 3-4 defense. Worilds is already ahead of the learning curve.
The draft could provide help, as well. Stanford's Trent Murphy and Ohio State's Ryan Shazier could be around when the Eagles are on the board with the 22nd pick of the first round.
It isn't a bad spot to be in. If Graham and, especially, Cole are back next season, the Eagles can still pick up where they left off in the second half of 2013. If they can get younger and more versatile at the outside linebacker position, Barwin will be freed up to have even more of an impact. That would make the long-term prognosis for this defense even brighter.
January, 24, 2014
Jan 24
12:30
PM ET
PHILADELPHIA -- The NFL scouting combine is about a month away. So Saturday's Senior Bowl in Mobile, Ala., is your last chance to eyeball some of the players the
Philadelphia Eagles
could select in the draft in May.
Based on a number of sources and a little logic, here are five players to keep an eye on:
Cornerback Stan Jean-Baptiste, Nebraska.
As
Jimmy Kempski of philly.com noted
, the Eagles' staff spent a good deal of time chatting with defensive players after the practice sessions this week. Jean-Baptiste, a 6-foot-2, 215-pound converted wide receiver, has the size and the cover skills the Eagles are looking to add to their secondary. Watch Jean-Baptiste with an eye on whether he's willing to tackle, especially when playing the run.
Safety Deone Bucannon, Washington State.
You may have heard the Eagles have had a tough time filling the safety position. The 6-1, 216-pound Bucannon plays with a "nasty edge," according to
Greg Bedard of MMQB.com
. That's an element the Eagles have lacked since Brian Dawkins, and is probably a more pressing need than corner right now.
Outside linebacker Trent Murphy, Stanford.
Could he be the defensive equivalent of tight end
Zach Ertz
, the Stanford tight end the Eagles took last year? Chip Kelly definitely remembers those who played well against his Oregon teams. Murphy is 6-6, 261 pounds. The
Atlanta Falcons
' coaches have him playing defensive end this week, but that should be seen as a testament to Murphy's versatility. He had 15 sacks as a linebacker during his senior season.
Outside linebacker Jeremiah Attaochu, Georgia Tech.
Sheil Kapadia over at
Eagles 24/7 did a piece
about how the 6-3, 252-pound Attaochu might fit in the Eagles' scheme. Unlike Murphy, Attaochu could be around in the second round if the Eagles go for a defensive back or wide receiver in the first round.
Wide receiver Jordan Matthews, Vanderbilt.
It is considered a deep draft for big-bodied wide receivers, and it would make perfect sense for the Eagles to grab one in the first round. Texas A&M's
Mike Davis
and Florida State's
Kelvin Benjamin
won't be on the field Saturday. The 6-3, 210-pound Matthews will.