Philadelphia Eagles:

Tyrann Mathieu
January, 10, 2014
Jan 10
5:00
PM ET
PHILADELPHIA -- There was a time a rookie offensive tackle would be eased into NFL action. He might even start out at guard and gradually move outside as he became more comfortable.
Of course, there was also a time a quarterback might sit for all or most of a season before becoming a starter.
That time, in the ever faster-moving NFL, is gone.
So it should be no surprise that
Lane Johnson
, the fourth pick in the 2013 draft, played 1,103 of a possible 1,104 offensive snaps for the
Philadelphia Eagles
in his first season. Johnson was given one down off to catch his breath in the first game against the Giants in October.
It still takes more than a season to evaluate a draft class, but the process is being sped up all the time. Here's a look at Johnson and the rest of the Eagles' rookies -- or as first-year coach Chip Kelly puckishly dubbed them, "My favorite draft class for the Philadelphia Eagles."
Johnson
First round
:
Lane Johnson, offensive tackle, Oklahoma
. The fourth overall pick, Johnson was one of the three offensive tackles taken at the top of the draft. He arguably had a better overall rookie season than No. 1 pick
Eric Fisher
(Kansas City) and No. 2 pick
Luke Joeckel
(Jacksonville).
Perhaps inevitably for a guy who had played quarterback and defensive end before being shifted to the offensive line in college, Johnson had some growing pains. According to Pro Football Focus, he allowed seven sacks in the first eight games of the season but just three the rest of the way. He was solid in run blocking, as well.
It's worth noting, too, that few rookie tackles (if any) are asked to line up split wide and block on bubble screens. Johnson took everything thrown his way with a smile and a shrug. He's got a chance to be anchored at tackle for this franchise for a decade.
Also on board: Almost everyone.
Good pick or bad pick? Very good pick.
Ertz
Second round: Zach Ertz, tight end, Stanford
. Taking Ertz here, 35th overall, was an expression of GM Howie Roseman's commitment to taking the top-graded player regardless of need. The Eagles already had signed
James Casey
in free agency and and had
Brent Celek
on the roster.
Would they have improved their overall team more by drafting cornerbacks
Darius Slay
or
Johnthan Banks
, or linebackers
Manti Te'o
or
Kiko Alonso
, or running back
Giovani Bernard
?
Maybe. But Ertz is going to be making plays in Kelly's offense for years to come. He's smart, driven and possesses excellent hands and good size (6-foot-5, 250). Like most young tight ends, he has to improve as a blocker and said he plans to spend time in the weight room in the offseason.
Also on board: Slay, Bernard, Te'o,
Geno Smith
and Tank Carradine were the next five players drafted. Alonso, who earned defensive rookie of the year consideration, went 11 picks later to Buffalo.
Good pick or bad pick? Good pick.
Logan
Third round: Bennie Logan, defensive tackle, LSU
. The 6-foot-2, 309-pound Logan's development allowed the Eagles to trade veteran
Isaac Sopoaga
at the deadline. Logan started at nose tackle the last eight games, which corresponded with the overall defense's improvement.
Oddly, Logan had his only two sacks in the first half of the season, when he was playing limited snaps. It remains to be seen if he's the true anchor/nose tackle of the future, but he has enough versatility to play in different fronts as needed.
Also on the board:
Tyrann Mathieu
,
Mike Glennon
,
Terrance Williams
,
Terron Armstead
,
Keenan Allen
.
Good pick or bad pick? Good. Best possible? A few of the guys taken right after Logan look pretty good, too.
Barkley
Fourth round: Matt Barkley, quarterback, USC
. The Eagles traded up to take Barkley at the top of the fourth round. It seemed an odd move at the time -- everyone thought Kelly would prefer more mobile quarterbacks -- and is still easily debatable.
It wouldn't be fair to read too much into Barkley's limited playing time. He was pressed into service when
Nick Foles
and then
Michael Vick
were injured. Barkley had little practice time to draw upon. He threw four interceptions and zero touchdowns in 49 attempts.
If he's the No. 2 quarterback here or eventually flipped to another team looking for a potential starter, he was worth the 98th pick in the draft. If he winds up starting here some day, he was a steal.
Also on board:
Nico Johnson
,
Akeem Spence
,
Ace Sanders
,
Josh Boyce
,
Ryan Nassib
.
Good pick or bad pick? Curious pick.
Wolff
Fifth round: Earl Wolff, safety, NC State
. By this point in the draft, there's an element of luck involved. The Eagles desperately needed safety help and took a shot on Wolff with the 136th pick. It was a good shot.
Wolff took the starting job from veteran
Patrick Chung
early in the season. He had his growing pains, but was starting to settle into the job when he hurt his knee Nov. 10 in Green Bay. Wolff made one brief appearance after that, aggravated the knee and didn't play again.
Also on board:
Jesse Williams
,
Tharold Simon
,
Montori Hughes
,
Stepfan Taylor
and
Oday Aboushi
were the next five players taken.
Good pick or bad pick? Good pick.
Seventh round: Joe Kruger, defensive end , Utah
. He spent the season on injured reserve. Should be an interesting guy to watch in training camp.
Seventh round: Jordan Poyer, cornerback, Oregon State
. Poyer made the team coming out of camp, but was released when the Eagles needed to clear roster space for a running back in October. Cleveland claimed Poyer off waivers and he finished the season with the Browns.
Seventh round: David King, defensive end, Oklahoma
. Released in camp.
Also on board: A bunch of guys.
Good picks or bad picks? Oh, come on.
January, 10, 2014
Jan 10
2:00
PM ET
PHILADELPHIA -- Bad drafts don't happen in a vacuum, and neither do good ones. The Eagles' 2013 draft class is an example of what it looks like when everything -- scouting, drafting, coaching, development -- works the way it is supposed to.
The Eagles took tackle
Lane Johnson
with the fourth pick in the draft, tight end
Zach Ertz
in the second round and defensive tackle
Bennie Logan
in the third. All three were contributors in their first season and look like very good choices.
[+] Enlarge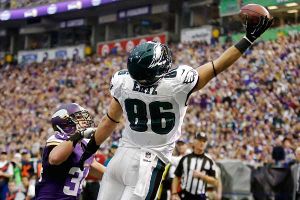 Bruce Kluckhohn/USA TODAY SportsZach Ertz and the other top picks in the Eagles' 2013 draft class were valuable contributors during their rookie seasons.
But what if they had taken defensive tackle
Star Lotulelei
, who excelled in Carolina, in the first round, then took linebacker
Kiko Alonso
in the second round and either cornerback
Tyrann Mathieu
or offensive tackle
Terron Armstead
in the third?
The point isn't that, with hindsight, the Eagles should have done that. The point is that there are different ways to assemble the puzzle pieces for a good draft. And the larger point is that a draft class can sink or rise depending on the coaching that it gets.
For a number of reasons, the Eagles under Andy Reid lost that hands-on teaching and development element. Were the 2010 (
Brandon Graham
,
Nate Allen
) and 2011 (
Danny Watkins
,
Jaiquawn Jarrett
) draft classes really as bad as they looked? Or were all those players undermined by the dysfunction that had crept into the NovaCare Complex – constant change at defensive coordinator, Jim Washburn's wide 9 defense, Howard Mudd's idiosyncratic offensive line approach, etc.?
Case in point: If the Eagles had taken safety
Earl Thomas
or defensive end
Jason Pierre-Paul
instead of Graham in the 2010 first round, would they be the players they became in Seattle and New York? Or would they have the same lost look on their faces that became common among Eagles defenders in the Juan Castillo era?
The Eagles weren't alone in ranking Watkins as a first-round pick. Was everyone in the NFL that wrong, or was Mudd precisely the wrong guy to coax the best out of a raw rookie from Western Canada? Maybe a little of both.
Chip Kelly and his coaching staff helped make this 2013 class look good, and there's proof. Kelly's staff also made the 2012 class better.
Fletcher Cox
improved steadily as he made the transition to the 3-4 defensive techniques.
Mychal Kendricks
grew into a turnover machine.
Vinny Curry
may not really fit the new system, but he was productive when used as a pass-rusher in defensive coordinator Bill Davis' defense.
Brandon Boykin
was a revelation playing nickel cornerback.
You might have heard that
Nick Foles
had a pretty good year.
Like Reid, Kelly brought in a bunch of smart, energized teachers for his position coaches. Over time, Reid's group aged and moved on. Kelly's staff is just about to hit its stride here.
"Now that we've got at least a year of experience, it'll be a little bit different here in the offseason," Kelly said. "We're all not living in a hotel and spending basically 20 hours a day here because we've got nowhere else to go. There's a lot of differences to it. ... I think we've laid a foundation, but you've got to build something upon that foundation."
A little later, a look at the 2013 draft class.
December, 3, 2013
12/03/13
8:00
AM ET
PHILADELPHIA -- Eagles quarterback
Nick Foles
' biggest mistake so far this season might be setting unreasonably high expectations for himself.
Foles has been so good, so statistically close to flawless, that it is easy to forget he hasn't started a full season's worth of games yet. He is 23 and still facing new challenges and unfamiliar situations almost weekly.
That's why it isn't a criticism of Foles to suggest that the Eagles' second-half offensive troubles Sunday against Arizona had more to do with the quarterback than with Chip Kelly's play calling.
On three possessions in a row, with a 24-14 lead, Kelly remained aggressive with his play calling. Foles simply didn't throw the ball very well on several plays. He was under intense pressure on a few others.
After the Cardinals scored to make it 24-14, the Eagles got the ball back on their 29-yard line. The first-down call was for a pass to
DeSean Jackson
, who was running a shallow crossing route from right to left. Jackson was wide-open.
Last week, Kelly was asked whether those flyswatter contraptions in practice could help explain how Foles had avoided having a single pass batted at the line of scrimmage. Well,
Calais Campbell
didn't have a flyswatter, just a long reach. He smacked Foles' low throw away.
After a
LeSean McCoy
run was stuffed for a 2-yard loss, Foles dropped back to pass again. This time, linebacker
Daryl Washington
blitzed behind two linemen, sliding off and making a beeline for the quarterback. Foles stepped to his right and into the arms of
Matt Shaughnessy
for the easy sack.
A
Cary Williams
interception gave the Eagles the ball at their own 49 with 51 seconds left in the third quarter. Not only did they fail to take advantage of the field position, they had to punt on the first play of the fourth quarter. They took less than a minute to go three-and-out.
The first two plays were both passes. Foles missed
Brent Celek
, who had a step on safety
Yeremiah Bell
. A better throw and the Eagles are nearly in field goal range with a first down. On second down, Foles overthrew McCoy on a swing pass to the right. Kelly called a run on third down, and the Eagles punted again.
The final relevant sequence came on the Eagles' first possession of the fourth quarter. It was still 24-14. They needed to move the ball and score or at least kill a chunk of the remaining time. They used just under two minutes.
Foles threw two deep balls on this possession. On the first play, from his own 36, he had tight end
Zach Ertz
matched up one-on-one with safety
Tyrann Mathieu
down the left sideline. Foles overthrew Ertz when a back-shoulder throw might have gone for a long gain. Ertz made a great effort, nearly catching the ball by diving forward.
After getting a first down at the Arizona 46, Foles went deep down the left sideline again. This time he had
Riley Cooper
matched up with cornerback
Jerraud Powers
. This time, Foles underthrew the receiver. There was contact as Cooper tried to fight his way back. He got his hand on the ball, but couldn't gather it in. The TV cameras caught Cooper on the ground, looking up at an official and saying, it appears, "He grabbed my arm."
The next two plays were pass calls. Foles was sacked both times, as unblocked Arizona defenders blitzed him and forced him into the arms of teammates.
Three of the Cards' five sacks took place during those three possessions. Foles and the offensive line, usually so adept at reacting to blitzes, were overcome by the pressure. On the next series, Foles was hit as he threw the interception that was negated by a penalty. Frequent hits will do that to even the most experienced quarterback.
Foles is not that, not yet. The Arizona defense raised its game in the second half, desperately trying to get back into a game with huge playoff implications for the Cardinals. Defensive coordinator
Todd Bowles
was more aggressive, taking risks in order to stop McCoy and create turnovers.
"People aren't playing the normal defenses they normally play in the first, second and third quarter," Kelly said. "They're putting an extra guy on the line of scrimmage. If you bring in an extra tight end, they're going to have two more than you -- one for the quarterback and one for the extra player. That is a difficult situation to run the ball against. The answer is easy: Hey, throw it. If you throw it and it's incomplete, the clock stops."
When Foles threw Sunday, it was incomplete. With experience, he will get a better feel for how to deal with situations like that. For now, he handled it well enough to avoid killer mistakes and secure the win. That's good enough.
December, 2, 2013
12/02/13
8:00
AM ET
PHILADELPHIA -- A look at four issues from the
Philadelphia Eagles
'
24-21 win
against the
Arizona Cardinals
Sunday.
[+] Enlarge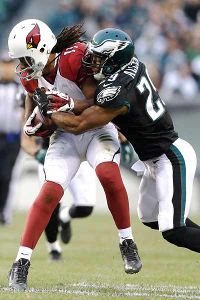 Matt Rourke/AP PhotoEagles safety Nate Allen did his best to keep Cardinals receiver Larry Fitzgerald in check during their Week 13 game Sunday.
Foles is lucky as well as good.
Nick Foles
needs to throw just two more touchdown passes to break
Peyton Manning
's NFL record of 20 touchdown passes without an interception. Foles also broke teammate
Michael Vick
's team record of 224 consecutive pass attempts without an interception. Going back to late last year, Foles has thrown 233 pick-free passes.
That's all good. But luck came in when he threw an ill-advised pass as he was being hit in the fourth quarter. The ball landed in the hands of Arizona cornerback
Patrick Peterson
, but the interception was negated by a holding penalty on safety
Tyrann Mathieu
.
"It definitely was a mistake by me," Foles said. "I was happy there was a penalty that kept our drive going. It wasn't a smart decision." It was the kind of decision that can turn a game around. Luck kept that from happening.
"That's just the game of football," Foles said. "It's a crazy game, and things happen."
Nate Allen isn't Brian Dawkins, but that's OK.
Allen, the fourth-year safety from South Florida, made a nice break on an underthrown
Carson Palmer
pass for an early interception. Allen was part of an egregiously bad secondary the past two years and has not exactly been a huge fan favorite. But his improved play has been a big part of the defense's development.
"He's one of the hardest workers in the building," Eagles defensive coordinator Bill Davis said. "It means so much to him. He's motivated because he hasn't had the success and everyone has been on him for a couple years here. Everyone wanted him to be Brian Dawkins and now everybody's kind of letting him be Nate Allen."
Fitzgerald? Check. Megatron?
The Eagles' defense did a decent enough job on Arizona's
Larry Fitzgerald
and
Michael Floyd
. Each caught a touchdown pass. Fitzgerald caught five passes for 72 yards, Floyd five for 99. Those are very good numbers, but neither could break open the game. That's encouraging, because the Eagles defenders get Detroit's
Calvin Johnson
here next Sunday.
"Those guys stepped up and took on the challenge of playing this top receiving group," Davis said. "There's a lot of times they were one-on-one. Throughout the game, I was mixing in [coverages], but there were a lot of snaps that were, 'Hey, get your man.'"
Davis often had linebacker
Connor Barwin
lined up directly across from Fitzgerald, especially in the slot. Barwin was able to get a more physical jam on Fitzgerald at the line before giving him up to a defensive back to cover.
The NFC playoff picture is a little clearer after this.
The Eagles earned a tiebreaker over Arizona should they wind up with the same record in the wild-card race. Sunday's win also keeps them within a game of San Francisco (8-4), which is currently in position to earn the second wild card. Chicago's loss to Minnesota leaves the Bears at 6-6, a game behind Detroit. The Eagles face those three NFC North teams over the next three weeks -- Detroit and Chicago at home, with Minnesota on the road in the middle.
The Eagles' best shot at the playoffs remains in beating Dallas (7-5) for the NFC East title, but the Cowboys are one of the teams with a realistic shot at a wild card.
December, 1, 2013
12/01/13
8:10
PM ET
PHILADELPHIA – The officiating is always in the eye of the beholder.
"You win some calls, you lose some calls," Eagles safety
Nate Allen
said. "When you win the game, it's easier to accept the ones you lose."
Referee Tony Corrente's crew played a major role in the Eagles' 24-21 victory over the
Arizona Cardinals
Sunday. Their work may have been good or it may have been bad, but it looked beautiful when the Eagles beheld it.
"The refs let us play a little bit today," Eagles cornerback
Bradley Fletcher
said. "So I think that is a good thing, especially on our end."
Fletcher made contact with Cardinals wide receiver
Michael Floyd
while breaking up a fourth-down pass from
Carson Palmer
. Floyd and his teammates wanted a flag, but none was thrown.
It was one of three key fourth-quarter calls that went the Eagles' way. The first came earlier, when
Nick Foles
made a rare poor decision and threw the ball while being tackled. It floated into the arms of Cardinals' cornerback
Patrick Peterson
.
The interception would have stopped Foles' streak at 19 touchdowns passes without a pick, one shy of the NFL record. It also would have given the Cardinals the ball in Eagles territory with plenty of time to score a go-ahead touchdown.
Instead, a defensive holding penalty on safety
Tyrann Mathieu
gave the Eagles a first down.
"The interception call was definitely holding," said Eagles wide receiver
Jason Avant
, who was held on the play. "Listen, man, when it comes to pass interference I don't know the definition of it anymore. I was just hoping, especially when I saw 21 (Peterson) with the ball in his hands. I just started looking around. There was a flag where I had been."
After Fletcher ended the Cardinals' last offensive possession, the Eagles had a third down from the Arizona 9. They were trying to run as much time off the clock as possible. Foles rolled to his right, looking for tight end
James Casey
in the flat.
Foles was taken down, which would have brought up fourth down with 1:42 left on the clock. Instead, Arizona linebacker
Matt Shaughnessy
was called for holding Casey. From the replay, it looked like Shaughnessy was fighting off a Casey block and got his hand stuck.
"He was blocking down on me," Shaughnessy said. "I was fighting the pressure, pushing him outside and he tried to release. I threw him down and then I went after the quarterback."
Ah, the eye of the beholder.
"He held the crap out of him," Eagles coach Chip Kelly said. "It was a great call. Watch it on film. (Casey) is supposed to run a route into the flat and there was no one else left (to cover him). If they didn't hold him, he would have been in the flat."
To their credit, the Cardinals didn't complain publicly about the calls. They made enough mistakes early in the game to leave themselves at the mercy of the officials later.
"We didn't make enough plays to win the football game," Mathieu said.
November, 29, 2013
11/29/13
9:00
AM ET
PHILADELPHIA --
Nick Foles
was drafted 87 spots after
Andrew Luck
. On Sunday, the
Philadelphia Eagles
quarterback gets a chance to prove he's better -- against the
Arizona Cardinals
defense, at least.
Last week, the Cardinals held Luck to 163 yards and a late, meaningless touchdown. Luck completed 20 of 39 passes and threw one interception. He was sacked only once, but his passer rating was an abysmal 44.6 when the Cardinals pressured him, which was often.
"They have a lot of talent," Foles said. "They have a lot of size up front -- 'backers and secondary are very athletic. So it will be a great test for our whole offense."
For Foles, it is more than an opportunity to look better than Luck for a week. It is a chance to perform at the same high level he has for a month against a superior defense. He still has a chance at
Peyton Manning
's NFL record, set this year, of 20 touchdown passes before throwing an interception. Foles has thrown 16 touchdowns.
"I think Nick's done a really good job against the blitz," Eagles coach Chip Kelly said. "I think it's one of his strengths, because I think he's intelligent and he's got a really good understanding of what we're doing."
"I think he sees the field well," offensive coordinator Pat Shurmur said. "He understands what the defense is going to do going into the game, and he's able to come back and talk about where the pressure came, where he needed to go with the football. So I think he's very aware of what a defense can and will do to him. But I think that gets better with time, and I anticipate he'll even be better this week."
The Cards' reputation as a blitz-happy defense may be overblown a bit. According to ESPN Stats & Information, the Cardinals have rushed four or fewer players on 61 percent of opponent dropbacks during their four-game winning streak. They have intercepted five passes during that stretch without relying on the blitz to disrupt the quarterback.
Fewer pass-rushers means more players dropping into coverage, of course. For the Cards, that means playmakers like
Patrick Peterson
,
Tyrann Mathieu
and
Karlos Dansby
.
"The reason they don't get burned [when they do blitz] is that they have a good secondary," Foles said. "They really try to get a lot of pressure on the quarterback, and then their secondary hunkers down and tries to take away the easy routes. They make you work for it."
Overall, the Cardinals have 15 interceptions, which is tied for third most in the NFL. They are in the middle of the pack -- tied for 16th -- with 29 sacks.
The last time the Eagles played a defense this well-rounded, it was Kansas City and
Michael Vick
was the quarterback. The Eagles turned the ball over five times in a 26-16 loss.
Foles has excelled against Oakland, Green Bay and Washington the past three games. If he can be as successful against the Cardinals, that will take more talent than luck -- and more than Luck.