Philadelphia Eagles:

Vinny Curry
June, 15, 2014
Jun 15
8:00
AM ET
By
Andy Jasner
| ESPN.com
Vinny Curry
recently changed his diet.
Curry
He's hoping it changes his game.
Curry, a second-round draft pick in 2012, had four sacks last season for the
Philadelphia Eagles
. With the new diet and some pounds shed, Curry is looking for increased production in 2014.
According to CSNPhilly.com, Curry is
staying away
from dairy, red meat and gluten.
"I'm just trying to experiment in little ways," Curry said. "Just trying to find an edge."
Curry said he dropped two sizes around his midsection. And he's thrilled with the results.
"Put it this way: Me and [defensive tackle]
Fletcher Cox
used to wear the same size jeans," Curry said. "It keeps me motivated. Keeps me excited. I'm just trying to be doing what somebody else ain't doing."
The Eagles were ranked 29th in the league in defense last season, and Curry is determined to prove he can help change that with his new frame.
"When opportunity comes I'm going to be there to take advantage of it," Curry said. "I'll try to help my team in the best way I can. I come to challenge everybody."
March, 25, 2014
Mar 25
9:30
AM ET
So far the
Philadelphia Eagles
have re-signed key their own players, such as
Jason Kelce
,
Riley Cooper
,
Jeremy Maclin
and
Nate Allen
, and added pieces like
Malcolm Jenkins
and
Nolan Carroll
.
They have not, however, added any pieces to help the pass rush.
[+] Enlarge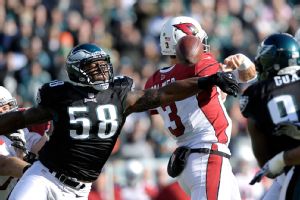 AP Photo/Michael PerezTrent Cole led the Eagles in sacks last season, but the team's pass rush could use reinforcements.
The Eagles recorded 37 sacks in 2013, which ranked 20th in the NFL.
Trent Cole
led the team with eight sacks.
Connor Barwin
had five and three players --
DeMeco Ryans
,
Mychal Kendricks
and
Vinny Curry
-- had four apiece.
"It's hard to find pass rushers, especially on the open market," Eagles general manager Howie Roseman said in
this Philadelphia Daily News story
. "There aren't a lot of teams letting them go. And then you look at the draft and where those guys go, they go high.
"Certainly, you want to continue to add pass rushers. But we feel we have some guys we think can rush the passer and fit what we're doing at the outside linebacker position."
Philadelphia had interest in
DeMarcus Ware
, and the Cowboys were not keen on possibly seeing their all-time leader in sacks twice a year, but the
Denver Broncos
swooped in with an offer Ware could not refuse ($20 million guaranteed).
In free agency,
Shaun Phillips
has 3-4 experience from his time with the
San Diego Chargers
, but the pickings are thin.
As the Eagles move into their second year in the 3-4 scheme, they will have a better feel for what they want in an outside linebacker. Projecting a college defensive end to outside linebacker in a 3-4 is never easy, but it is something the
Pittsburgh Steelers
have excelled at for years.
The two best in this year's draft, Buffalo's
Khalil Mack
and UCLA's
Anthony Barr
, figure to be gone by the time the Eagles pick in the first round.
In a division with quarterbacks such as
Eli Manning
,
Tony Romo
and
Robert Griffin
III, finding pass rushers is more important than pass defenders.
March, 8, 2014
Mar 8
8:00
AM ET
We'll finally start to get some action and answers in free agency. Teams can begin contacting agents Saturday afternoon and completing deals on Tuesday.
Until then, let's find out what's on fans' minds. Thanks to everyone for their comments and questions. We got enough to break this up into two posts, so if your tweet isn't here, look for it later Saturday afternoon.
Without further ado:
March, 3, 2014
Mar 3
12:45
PM ET
The Eagles' 2011 draft has long been filed under "D" for Disaster – ever since owner Jeffrey Lurie specifically absolved general manager Howie Roseman of blame for the picks made while then-coach Andy Reid had final say on personnel decisions.
Thornton
It is the top of the draft – first-round pick
Danny Watkins
and second-rounder
Jaiquawn Jarrett
– that rightfully draws the criticism. But the Eagles found the anchor for their offensive line, center
Jason Kelce
, in the sixth round of that draft. Kelce signed a seven-year contract last week that will keep him with the Eagles through 2020.
On Monday, the team signed defensive end
Cedric Thornton
to a one-year deal. Thornton was in that 2011 class, too. He wasn't even drafted, signing with the Eagles as a rookie free agent. Over the course of several defensive coordinators and a major scheme change, the 6-foot-4, 309-pound Thornton emerged as a reliable starter at defensive end.
Thornton was an exclusive rights player (the term "free agent" really doesn't fit), so it was all but a foregone conclusion that he would re-up with the Eagles.
The youth and flexibility along the defensive line give the Eagles plenty of options. They have Thornton, 25; nose tackle
Bennie Logan
, 24; and end
Fletcher Cox
, 23, at the top of the depth chart. Cox, their 2012 first-round pick, is the only one making a premium salary.
Clifton Geathers
,
Damion Square
and
Vinny Curry
rotated in and played situationally.
Thornton drew praise all season from coach Chip Kelly and defensive coordinator Bill Davis. He was ahead of the curve in converting from the 4-3 scheme to the 3-4 that Davis brought in. Pro Football Focus ranked Thornton third in the NFL among 3-4 defense ends as a run-stopper. Only Houston's
J.J. Watt
and the Jets'
Sheldon Richardson
graded higher.
Thornton's emergence gives the Eagles the luxury of addressing other areas as needed. But his relative affordability doesn't prohibit them from upgrading at the position if their draft board dictates they should take a defensive end.
The 2011 draft didn't go well for the Eagles, but that class provided them good players on both lines.
March, 1, 2014
Mar 1
8:00
AM ET
PHILADELPHIA -- Welcome to March. Within a couple weeks, we should start to have real answers to many of our questions about what the
Philadelphia Eagles
might do in free agency.
Until then, we get to speculate and discuss. Let's get right to some questions delivered in our Twitter mailbag (hashtag 'em #espneagles so I can find them). Thanks to everyone who participated. Some good stuff to tackle:
.
February, 14, 2014
Feb 14
5:00
PM ET
PHILADELPHIA -- For anyone who covers an NFL team -- or a team in any professional sport, really -- the
report released Friday
by NFL investigator Ted Wells on the
Richie Incognito
/
Jonathan Martin
case raises questions.
The 144-page report provides a deeply disturbing look behind the scenes of the
Miami Dolphins
over the past couple of years. Could that sort of thing be going on with other teams, including the Eagles? Would the media be aware? Are there warning signs we should be looking for?
That got me to thinking about the situation in 2012, when coach Andy Reid released defensive end
Jason Babin
, then fired defensive line coach Jim Washburn in a surprising turn of events.
Washburn had been brought in to implement his "Wide 9" defensive scheme. Babin had registered 18 sacks and been selected to the Pro Bowl in 2011. For them to be gone in the middle of the next season was very unusual, to say the least.
Afterward, Reuben Frank of CSNPhilly.com reported that Washburn referred to defensive coordinator Juan Castillo as "Juanita" in front of his players. As for Babin, he was a loud and often unpleasant presence when the locker room was open to the media. It wasn't hard to imagine that he was equally abrasive behind closed doors.
That's not to say Babin engaged in any of the behavior Incognito is accused of in the new report. But there was no doubt Reid was sending a message when he released the Pro Bowler and fired his position coach. In what turned into a 4-12 season, Reid's last with the Eagles, he made an example of those two individuals.
It was surprising, because the timing was so unusual. But reporters certainly had a sense that Babin was a strong personality concerned only with amassing sacks and that Washburn had little use for anyone outside of his position group.
Philadelphia Inquirer beat writer Jeff McLane wrote: "Washburn had become a 'cancer' around the team, according to one Eagles source, the situation becoming worse when defensive end Jason Babin was released last week."
And columnist Marcus Hayes of the Philadelphia Daily News had this to say about Babin's release, under the headline "Babin's exit doesn't seem like much of a surprise": "Maybe this was Reid's message: Don't be a jerk. ... Babin's attitude set an uncomfortable tone on a team bursting with impressionable young linemen:
Brandon Graham
,
Fletcher Cox
,
Cedric Thornton
,
Vinny Curry
. … He was a locker-room lawyer of the worst kind; a me-first, me-last, self-absorbed bully who inexplicably spent an inordinate amount of time shirtless."
Years ago, when the Eagles practiced and trained at Veterans Stadium, reporters spent considerably more time around the players. It was much easier to get a feel for the dynamics and chemistry of a team. With the building of the NovaCare Complex and its myriad places other than the locker room for players to spend time, all of that became tougher. You simply don't see the players interact with each other as much anymore. The same is true for other teams.
Considering the peek behind the scenes provided by the Incognito report, that might not be an accident.
February, 11, 2014
Feb 11
8:00
AM ET
PHILADELPHIA -- If the question was whether or not Jerry Azzinaro's approach would work with NFL players, the answer wasn't quite what you might expect.
Sure, Azzinaro had the Eagles defensive linemen he coached hitting the blocking sled every day, working on fundamentals and reinforcing techniques. But if you were looking for veteran NFL linemen to resist, you were looking in the wrong place.
Defensive ends
Fletcher Cox
(23),
Cedric Thornton
(25) and nose tackle
Bennie Logan
(24) aren't much older than the players Azzinarro was coaching at Oregon before Chip Kelly brought him to Philadelphia. Cox, Thornton and
Clifton Geathers
each had one year of NFL experience. Logan and
Damion Square
had none.
[+] Enlarge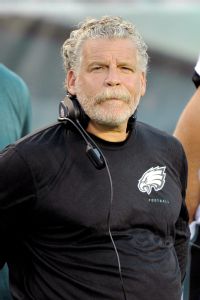 Drew Hallowell/Getty ImagesEagles defensive line coach Jerry Azzinaro had a young group to work with in 2013.
The only veteran, free-agent signing
Isaac Sopoaga
, was traded away in midseason to make room in the starting lineup for Logan.
Point is, the Eagles have a very young group of defensive linemen who quickly became an asset in their first season in Bill Davis' system. If the truism that players make their biggest improvement between Year 1 and Year 2 holds true, this group should be a real strength in 2014.
Cox, a first-round pick in 2012, took a little time to adjust to the two-gap system Davis and Azzinaro preferred. Simply put, he had to become responsibility for both sides of the offensive lineman in front of him instead of attacking one side or the other. It is a less intuitive way to play, but Cox steadily improved.
Those techniques allowed Thornton, an undrafted free agent, to establish himself as an impact player. Kelly and Davis routinely singled Thornton out as the Eagles' most productive and consistent defensive lineman.
Logan, a third-round pick last year, made Sopoaga expendable and started the rest of the year. Logan doesn't have the massive size associated with the nose tackle -- he goes about 310 pounds -- but is expected to add some bulk in the offseason.
Square, Geathers and
Vinny Curry
provided depth and played well in various situations.
The youth and potential along the defensive line put the Eagles in an enviable position as they continue to build their defense. If they find a bigger, more physical nose tackle in free agency or the draft, they can move Logan to end or rotate him in on passing downs. They don't have a pressing need for an end, but their rotation system means they can always use more depth and different types of linemen.
Davis sometimes uses a 4-3 look, allowing outside linebackers
Trent Cole
and
Brandon Graham
to rush from the more familiar three-point stance. As the Eagles defense evolves, with players selected to fit the system, Davis can be more creative and maximize the potential of his front seven.
Azzinaro is the guy in charge of getting that potential from the linemen. He couldn't have done much better in his first season.
January, 10, 2014
Jan 10
2:00
PM ET
PHILADELPHIA -- Bad drafts don't happen in a vacuum, and neither do good ones. The Eagles' 2013 draft class is an example of what it looks like when everything -- scouting, drafting, coaching, development -- works the way it is supposed to.
The Eagles took tackle
Lane Johnson
with the fourth pick in the draft, tight end
Zach Ertz
in the second round and defensive tackle
Bennie Logan
in the third. All three were contributors in their first season and look like very good choices.
[+] Enlarge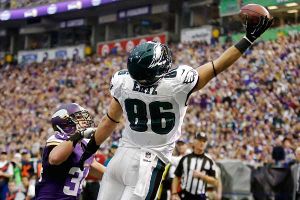 Bruce Kluckhohn/USA TODAY SportsZach Ertz and the other top picks in the Eagles' 2013 draft class were valuable contributors during their rookie seasons.
But what if they had taken defensive tackle
Star Lotulelei
, who excelled in Carolina, in the first round, then took linebacker
Kiko Alonso
in the second round and either cornerback
Tyrann Mathieu
or offensive tackle
Terron Armstead
in the third?
The point isn't that, with hindsight, the Eagles should have done that. The point is that there are different ways to assemble the puzzle pieces for a good draft. And the larger point is that a draft class can sink or rise depending on the coaching that it gets.
For a number of reasons, the Eagles under Andy Reid lost that hands-on teaching and development element. Were the 2010 (
Brandon Graham
,
Nate Allen
) and 2011 (
Danny Watkins
,
Jaiquawn Jarrett
) draft classes really as bad as they looked? Or were all those players undermined by the dysfunction that had crept into the NovaCare Complex – constant change at defensive coordinator, Jim Washburn's wide 9 defense, Howard Mudd's idiosyncratic offensive line approach, etc.?
Case in point: If the Eagles had taken safety
Earl Thomas
or defensive end
Jason Pierre-Paul
instead of Graham in the 2010 first round, would they be the players they became in Seattle and New York? Or would they have the same lost look on their faces that became common among Eagles defenders in the Juan Castillo era?
The Eagles weren't alone in ranking Watkins as a first-round pick. Was everyone in the NFL that wrong, or was Mudd precisely the wrong guy to coax the best out of a raw rookie from Western Canada? Maybe a little of both.
Chip Kelly and his coaching staff helped make this 2013 class look good, and there's proof. Kelly's staff also made the 2012 class better.
Fletcher Cox
improved steadily as he made the transition to the 3-4 defensive techniques.
Mychal Kendricks
grew into a turnover machine.
Vinny Curry
may not really fit the new system, but he was productive when used as a pass-rusher in defensive coordinator Bill Davis' defense.
Brandon Boykin
was a revelation playing nickel cornerback.
You might have heard that
Nick Foles
had a pretty good year.
Like Reid, Kelly brought in a bunch of smart, energized teachers for his position coaches. Over time, Reid's group aged and moved on. Kelly's staff is just about to hit its stride here.
"Now that we've got at least a year of experience, it'll be a little bit different here in the offseason," Kelly said. "We're all not living in a hotel and spending basically 20 hours a day here because we've got nowhere else to go. There's a lot of differences to it. ... I think we've laid a foundation, but you've got to build something upon that foundation."
A little later, a look at the 2013 draft class.
January, 3, 2014
Jan 3
11:25
AM ET
The way things have gone for the
Philadelphia Eagles
this season, you half expected to hear that
Drew Brees
fell down an elevator shaft or was hit by some space junk. But no, the
New Orleans Saints
' superb quarterback will not go the way of
Aaron Rodgers
,
Adrian Peterson
and
Tony Romo
the week before their teams played the Eagles.
Of course, that doesn't mean anyone knows which Brees will show up for the first-round playoff game Saturday night at Lincoln Financial Field. Will it be the Brees with the 8-0 record at home, or the Brees who has gone 3-5 on the road this season?
In search of the answer to this and other questions, ESPN.com reporters Mike Triplett in New Orleans and Phil Sheridan in Philadelphia exchanged insight and info.
Phil Sheridan:
Let's start with the obvious: the disparity between the Saints at home and on the road. Is it mostly Brees? The fast track at the Superdome versus grass fields elsewhere? Exposure to electromagnetic waves in the outdoors? Some combination?
Mike Triplett:
Shoot, if I had the answer to that question, I'd probably be interviewing for some of these head-coaching vacancies around the league. It really is a mystery. Of course, the most obvious answer is that it's harder for all teams to play on the road -- especially when weather conditions become a factor. And the Saints have had some road struggles in the past (including an 0-3 playoff record with Sean Payton and Drew Brees). But even in those playoff losses, their offense showed up. We've never seen a season quite like this, where they've had so much trouble scoring points on the road.
Honestly, it's really come down to the football stuff: Early turnovers that put them in a hole, drive-killing penalties, an inability to stop the run. I expect their offense will still put up plenty of yards and points in this game, but I'm curious to see if they can avoid those costly turnovers -- and if they can find a way to contain
LeSean McCoy
. Those are the trends they must reverse from their previous road losses.
While we're dwelling on the negative, what could be the Eagles' fatal flaw? If something goes wrong for them in this game, what do you think it will be?
Sheridan:
The Snowball Effect. While the Eagles' defense has done a remarkable job of keeping points low -- 11 of the past 12 opponents have scored 22 or fewer -- there is a persistent suspicion that the smoke could clear and the mirrors could crack.
Matt Cassel
hung 48 points on them two weeks ago, the most since
Peyton Manning
put up 52 in Week 4. Even Sunday night,
Kyle Orton
was only a couple of slightly better throws away from scoring another touchdown or two. Brees is obviously capable of making those throws. If the Saints can move the ball the way many teams have, plus translate the yards into points, it could force the Eagles to play catch-up. And we haven't really seen
Nick Foles
in a shootout-type game yet.
Jay Cutler
didn't show up two weeks ago when the Bears came to town, and a freak snowfall took Detroit's
Matthew Stafford
and
Calvin Johnson
out of their game.
The stats say Rob Ryan has transformed the Saints' defense from a farce into a force. Does that align with what you see when you watch them? Does Ryan have the scheme and the personnel to be physical with the Eagles' receivers while getting pressure on Foles?
Triplett:
That's absolutely true, Phil. Ryan has been an outstanding fit for this team. I know Philly fans didn't see his best results with the
Dallas Cowboys
the past two years. But it must have been a perfect storm here, where the Saints' defense had just given up the most yards in NFL history under former coordinator Steve Spagnuolo in 2012. The players were ready for a change -- and Ryan is all about change. He constantly adapts his approach from week to week, building around his players' strengths and tailoring game plans for certain opponents.
Several young players are having breakout years -- including pass-rushers
Cameron Jordan
and
Junior Galette
(12 sacks each this season) and cornerback
Keenan Lewis
, who is a true No. 1 corner. He's physical with long arms and plays well in man coverage. I imagine he'll be matched up a lot against
DeSean Jackson
.
From what I've read about Chip Kelly, it seems as though he's a kindred spirit of both Ryan and Sean Payton -- trying to create confusion and mismatches. Is it possible for you to boil down his philosophy to one or two paragraphs?
Sheridan:
Force the issue. That's the underlying principle. It's behind the no-huddle, up-tempo approach, and it drives many of the unusual things he does with formations and blocking schemes. Kelly wants to spread the field horizontally and vertically, forcing defenses to account for every offensive player and every square foot of grass. He'll line right tackle
Lane Johnson
out like a wide receiver, or left tackle
Jason Peters
at tight end on the right, or DeSean Jackson in the backfield, just to see how the defense responds. If he sees a mismatch, he'll exploit it until the defense corrects it.
It must be said that Kelly inherited a lot of offensive talent that was pretty darn good under Andy Reid. The line has been outstanding and, just as important, healthy. Jackson, McCoy and the other skill players are exceptional. The X factor has been the way Foles has mastered what Kelly wants to do. There are a lot of quick reads and decisions for the quarterback to make -- whether it's a zone-read or a package play with run/pass options -- and Foles has translated Kelly's dry-erase board to the field very well, leading the Eagles to a 7-1 record since they were 3-5 at the midway point.
Payton is a similar creative offensive mind with an NFL pedigree. The first time I met him, he was the Eagles' quarterback coach on Ray Rhodes' late 1990s teams, trying to win with Bobby Hoying and various Detmers. Is he any different or more driven since serving his one-year suspension? Is there a sense the Saints are back where they belong and determined to make a deep run?
Triplett:
I think it's a great comparison. Although the offenses don't look identical, the philosophies are the same -- create, identify and exploit mismatches. The Saints will actually rotate in a ton of different personnel groupings early in games, as well as mix up their formations, to see how defenses react.
Payton hasn't changed drastically this season. One of the things that stood out to me most early in the season was his patience in games -- how he'd stick with a methodical attack, settling for a lot of check-down passes, etc., to win games against teams such as Chicago and San Francisco. Lately, Payton's been a little stumped in similar-style games on the road, though.
Overall, the idea with him is that he is hyperfocused on every detail that can help this team win. Brees keeps saying Payton's leaving no stone unturned. It started with switching defensive coordinators on his second day back on the job, then things such as changing the team's conditioning program, then recently switching out the left tackle and kicker heading into Week 16.
I'll leave you with a quick question, Phil. Who are the one or two players we haven't talked about much who could have a big impact on this game? From my end, the answer would probably be those young pass-rushers, Jordan and Galette.
Sheridan:
I'm going to go with the Eagles' key pass-rushers, too --
Fletcher Cox
,
Trent Cole
and
Connor Barwin
. The Eagles didn't sack Orton at all Sunday night in Dallas. Orton is no Brees, but he does get the ball out quickly. So it might not result in many sacks against the Saints, but the defense has to disrupt Brees' rhythm as much as possible. Cole had eight sacks in the second half of the season. Cox has been outstanding at collapsing the pocket. Barwin is as likely to jam
Jimmy Graham
at the line of scrimmage as rush the passer.
But somebody from that group -- or maybe it will be
Brandon Graham
or
Vinny Curry
-- has to make Brees feel uncomfortable, or it's going to be a long night for the Eagles. As you pointed out, the Saints have made more mistakes on the road than at home. Forcing some of those mistakes, preferably early, could make the air feel colder and the wind feel sharper.
.
October, 20, 2013
10/20/13
8:05
PM ET
PHILADELPHIA -- Here it was, the moment the
Philadelphia Eagles
could turn it all around – the game, the season, that embarrassing home losing streak. And fittingly, in a city that celebrates it, that moment was provided by the defense.
Vinny Curry
and
Trent Cole
collapsed the pocket.
Tony Romo
didn't get his feet set. The
Dallas Cowboys
quarterback saw running back
Phillip Tanner
over the middle. He didn't see Eagles inside linebacker
DeMeco Ryans
.
"I just looked up and saw the ball," Ryans said. "So I made a play on it."
Ryans returned his interception to the Dallas 30-yard line. The Eagles were only down 10-0 thanks to a defense that held Dallas to three points in the first half and had allowed just one touchdown. Despite almost three quarters of offensive futility and frustration, a touchdown there would have turned the game around.
"We were talking about getting some momentum and a turnover," Ryans said. "I was fortunate enough to come down with it. I was looking forward to it giving us some momentum and flipping it to our side."
Instead, the Eagles fizzled in the red zone. Quarterback
Nick Foles
was knocked out of the game on the final play of the third quarter. The field goal kicked to open the fourth quarter represented the Eagles' only points of the game.
"If our defense only allows 17 points," center
Jason Kelce
said, "we have to win the game."
For the day, it was frustrating. The Eagles held Romo to 28-of-47 passing for 317 yards. They sacked him twice and intercepted him twice, leaving him with a mediocre 69.2 passer rating. The 17 points were the Cowboys' lowest total since a 17-16 loss to Kansas City in Week 2.
For the bigger picture, though, the performance was encouraging. This is a loaded offensive team, even without running back
DeMarco Murray
. The Cowboys represented the most significant test since the Eagles were punked by Denver, 52-20, three weeks earlier.
"It was probably the best defensive outing we have had all season," Ryans said. "I am just disappointed we didn't hold them out of the end zone the couple of times they got in there today. From where we started out, we have gotten a lot better."
Ryans had a sack and the pick. Curry had the other sack. Rookie safety
Earl Wolff
got his first career interception on Romo's desperation heave into the end zone at the end of the first half. Wolff, Ryans and
Nate Allen
were disruptive in the blitz game. Cornerbacks
Cary Williams
and
Bradley Fletcher
held their own against
Dez Bryant
and the other receivers, for the most part.
"We were able to get some pressure and get [Romo] out of rhythm," linebacker
Connor Barwin
said. "That's what we want to do every week against the opposing quarterback."
"There are a lot of positives," defensive coordinator Bill Davis said. "But at the end of the day, there is going to be a winner and a loser and we lost. That is not good enough. You always have to outplay the opponent's defense and today we didn't."
September, 10, 2013
9/10/13
2:45
PM ET
PHILADELPHIA -- Chip Kelly raised a lot of eyebrows on Monday night. He raised a few more Tuesday when
he said his offense looked "slow
" in his eyes.
Here are some other highlights from Kelly's first day-after news conference as head coach of the Eagles:
•
Michael Vick
shouldn't block, but forget about him learning to slide.
Vick
"Those are not by design," Kelly said of the times Vick did his fullback impersonation. That tended to happen when
LeSean McCoy
would start to one side, then make a dramatic cut the other way. Vick was often the only Eagle in the area, and he threw a few solid blocks.
For a guy with an injury history, that's probably not a good idea.
"We tell Mike not to do it," Kelly said. "It's simple."
Vick also takes more hits than necessary because he dives forward at the end of runs instead of sliding feet first.
"I think that's the way Mike likes to do it," Kelly said. "I think that's way he's going to do it. We can put him in a little bit better situation. I'm also realistic. I don't think, at 33, we're going to get him to hook slide."
•
James Casey
may be on the sideline, but he's not in the doghouse.
Casey
It was surprising how little Casey played in the preseason. Some of us thought maybe that's because Kelly was hiding how he planned to deploy the free-agent tight end from Houston.
If so, he's still hiding him. Casey was on the field for only a couple of plays against Washington. Kelly said that was about personnel groupings and game planning.
"We ran a lot of '11' personnel last night," Kelly said. "In '11' personnel, he's not in the game. A lot of times, that dictates what they do. They have more DBs in the game. It has nothing to do with James' ability or whether we're happy with him. Sometimes we're going to feature three tight ends prominently."
Clearly, Casey is behind veteran
Brent Celek
and rookie
Zach Ertz
. That is a bit of a surprise.
•
Vinny Curry
was inactive for similar reasons. Kelly said Curry, who looked very good at pressuring quarterbacks in the preseason, simply fell victim to numbers. The Eagles dressed six defensive linemen and he was the sixth.
Considering how well the Eagles contained
Alfred Morris
(45 yards on 12 carries), it's hard to argue with that.
• Cornerback issues continue. The Eagles re-signed
Brandon Hughes
Tuesday, which was the plan all along, Kelly said. Hughes was released Saturday only so his 2013 salary wouldn't become fully guaranteed by his being on the roster Sunday.
Hughes, who broke his hand in camp, is cleared to practice Wednesday, Kelly said.
Good thing, because starting corner
Bradley Fletcher
sustained a concussion Monday night. His availability will be determined by the NFL protocol, which makes him unlikely to play against San Diego Sunday.