Pittsburgh Steelers:

Cleveland Browns
July, 11, 2014
Jul 11
10:00
AM ET
By
ESPN.com.staff
| ESPN.com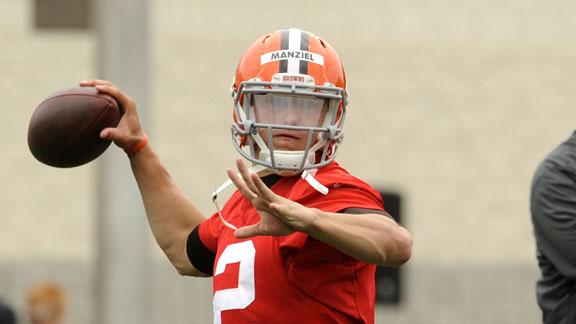 This offseason has seen plenty of high-profile additions and departures in the AFC North.
The
Cleveland Browns
and
Baltimore Ravens
brought more excitement to their offenses. The Browns drafted quarterback
Johnny Manziel
in the first round, and the Ravens signed wide receiver
Steve Smith
.
The
Cincinnati Bengals
and the
Pittsburgh Steelers
dealt with some significant losses. Bengals defensive coordinator Mike Zimmer left to become the head coach of the
Minnesota Vikings
, and three starters (
Brett Keisel
,
LaMarr Woodley
and
Ryan Clark
) are gone from the Steelers defense.
How will these changes affect the teams in the division? That's the focus for ESPN's AFC North reporters: Scott Brown in Pittsburgh, Coley Harvey in Cincinnati, Jamison Hensley in Baltimore and Pat McManamon in Cleveland.

Johnny Manziel will be the starting quarterback for the Browns in the season opener in Pittsburgh.
Scott Brown: Fiction. Johnny Football has too much ground to make up to overtake Brian Hoyer as the starter by the time the Browns open the regular season in Pittsburgh. Manziel will start at some point this season, but it won't be Sept. 7 at Heinz Field. Even if it is a toss-up between Hoyer and Manziel leading up to the season opener, the Browns will be wise enough to go with the player who has NFL starting experience over the one who will have a Texas-sized bullseye on his jersey. Steelers defensive coordinator Dick LeBeau generally torments rookie quarterbacks and definitely doesn't take selfies with them. The Browns wouldn't put Manziel in a position in which he has little chance of succeeding ... would they?
Coley Harvey:
Fiction. As bold a prediction as it might be to claim Manziel is Cleveland's Week 1 starter at Pittsburgh, it's simply not happening. For starters, the Browns already said he wasn't going to get the nod. Right now, the organization seems to view the first-string quarterback job as Brian Hoyer's to lose, and judging from the way Hoyer's once-promising year so abruptly ended, I can't imagine he's going to be handing many reps to Manziel if he can help it. While I'd expect Manziel to perform well in the preseason, it just doesn't seem right now that Cleveland feels comfortable putting so much control in his hands to start the season. Manziel probably hasn't helped himself in that regard by going against the reported wishes of management and continuing to put himself in vulnerable situations weekend after weekend. By ignoring their requests to calm the partying, a coach or executive has to feel a little less inclined to trust the young quarterback for now.
Jamison Hensley: Fiction. There are too many factors going against Manziel starting right away. Browns coach Mike Pettine was on the Bills' sideline this past season when he watched EJ Manuel struggle as a rookie. The Browns have a legitimate alternative in Brian Hoyer. And the Browns' first game is against the Steelers, who are known to rough up young quarterbacks. Including the playoffs, the Steelers are a league-best 17-2 vs. rookie quarterbacks since 2004, when coordinator Dick LeBeau re-joined the Steelers as defensive coordinator. Plus, Manziel hasn't done much to prove to the coaching staff that he's mature enough to handle the starting job after becoming Johnny Las Vegas on holiday weekends. It just makes too much sense to sit Manziel as a rookie. Then again, the Browns aren't known for making logical moves
Pat McManamon: Fiction. The Browns simply do not want Manziel to start the opener, and Mike Pettine has made no secret of that. Over and over, he's said that though Manziel can start at some point, he does not believe it's ideal. Given that the first three opponents are the Steelers, Saints and Ravens, it's even more reason not to rush him. Those three opponents have chopped up a lot of veterans, not to mention rookies. If Josh Gordon is not on the team, the quarterback's challenge is even more difficult. The Browns want to take things slowly with Manziel, and right now he admits he's not the best quarterback on the team. The only way he starts in Pittsburgh is if Brian Hoyer is hurt.
@PatMcManamon Fiction, too much to be lost by starting him before his time, plus i think most fans think @bHoyer6 is owed a chance

— Joe Jirgal (@limegreenmonza) July 2, 2014
---

The Bengals have a top-10 defense even without coordinator Mike Zimmer.
Brown: Fact. With all due respect to Zimmer, he didn't make one tackle in the six seasons he coordinated the Bengals' defense. Not to marginalize coordinators, but Dick LeBeau has one of the keenest and most imaginative defensive minds in NFL history, and he somehow forgot how to coach defense this past season, when injuries and age caught up with the Steelers. The Bengals have plenty of talent, assuming defensive tackle Geno Atkins and cornerback Leon Hall make a healthy return from their respective injuries. And the adjustment to new defensive coordinator Paul Guenther should be a relatively smooth one since Guenther coached the Bengals' linebackers before succeeding Zimmer. If the Bengals don't field a top-10 defense this season, it will be because they can't make up for the free-agent loss of defensive end Michael Johnson or their secondary springs too many leaks.
Harvey: Fact. Zimmer was rightfully deified during his time in Cincinnati, but his exit for Minnesota doesn't mean there's now a sudden end to the Bengals' era of defensive dominance. Cincinnati will be bringing back a defense that mostly mirrors the group it had last year. The only absences of note are Michael Johnson, James Harrison and Chris Crocker. Johnson was signed by Tampa Bay in free agency, and Harrison was released. Signed to a one-year deal when he emerged from retirement this past September, Crocker was a free agent this offseason who didn't have his contract renewed. Still, knowing Crocker's track record of signing as a September off-of-the-couch call-up the past two years, you can't fully rule out an appearance from him in Cincinnati at some point this year. Of all the Bengals' defensive departures, Zimmer's was certainly the biggest. The coordinator who helped revolutionize the Bengals' defensive system and turned them into a perennial power implemented unique rotations, lineups and blitz and coverage packages. As the league's No. 3 defense this past season, the Bengals pulled off a franchise feat that hadn't been replicated in more than 30 years. Under new coordinator Paul Guenther, who formulated many of the blitz packages for Zimmer, the Bengals are hoping to be even better than that No. 3 ranking this year. While they probably won't get ranked as high as No. 3, they still will be among the top 10.
Hensley: Fiction. It's true that a defense is only as good as its players on the field. But let's not disregard the impact of Zimmer on the Bengals' defense. In Zimmer's first season in Cincinnati (2008), the Bengals jumped from No. 27 to No. 12 in defense. The Bengals then went on to finish in the top 10 in yards and points allowed in four of the next five seasons under Zimmer. He's a fiery leader who got the most out of his players. Many expect a smooth transition with Paul Guenther being promoted to defensive coordinator, but he's never been in charge of a defense in the NFL. His job won't be made any easier by the fact that defensive end Michael Johnson left in free agency and defensive tackle Geno Atkins is still recovering from an ACL injury. The Bengals secondary is dealing with aging veterans (Terence Newman and Adam Jones), injury (Leon Hall) and unfulfilled potential (Dre Kirkpatrick). Don't be surprised if the Bengals slip out of the top 10 this season.
Pat McManamon: Fact. The Bengals have too many good players and too good a system to falter with Zimmer's departure. He'll be missed, but defenses are as good as the players on the field, and with stalwart Geno Atkins coming back from injury to go with a crew that includes Vontaze Burfict, the Bengals should still be formidable. Also, new coordinator Paul Guenther knows the system, knows the blitzes and worked closely with Zimmer. It always hurts to lose a coordinator like Zimmer, but the Bengals seemed to be as prepared as a team can be. The other thing to remember is that offenses can help defenses by possessing the ball, and new offensive coordinator Hue Jackson will run the ball more than Jay Gruden did.
@ColeyHarvey straight up truth coley!! #BeastMode...#PaulyG

— Who Dey Nation CEO (@BengalsFiend) July 7, 2014
---

Steve Smith will become Joe Flacco's top target this season.
Brown: Fiction. I'm tempted to say fact here because of the trust and rapport that Flacco developed with Anquan Boldin before the Ravens traded the veteran wide receiver to the 49ers this past year. Boldin, however, is bigger and more physical than Smith and doesn't rely as much on speed as the latter still does, even at the age of 35. Look for tight end Dennis Pitta to re-establish himself as a big part of the Ravens' offense after missing all but four games this past season because of a dislocated hip. Pitta caught 61 passes and was targeted 93 times by Flacco in 2012, while Boldin caught just four more passes than Pitta, despite getting targeted 112 times. A healthy Pitta becomes Flacco's go-to receiver again.
Harvey: Fiction. Another Smith will end up being Flacco's top passing target this season. Torrey Smith, the man who saw 139 throws directed his way this past season, will remain the go-to receiver in an offense that hopes for increased production from 2013. During the mostly down year for Baltimore's offense, Torrey Smith caught 65 of the 139 balls thrown his way, leading the team in receptions. While at Carolina last year, Steve Smith caught 64 passes on just 109 targets from Cam Newton. The longtime Panther was one of the stars of an offense that also relied on Newton to make plays with his feet, in addition to spreading the ball to other receivers. The Ravens had difficulty getting any kind of rushing offense going, which made it easy for defenses to sell out on guarding their receivers. If Ray Rice struggles to perform out of the backfield again this year -- or if he ends up missing considerable time due to a possible suspension from commissioner Roger Goodell following his arrest in Atlantic City this offseason for assault on his now-wife -- much the same could happen to the Ravens' receivers in 2014. Even if that happens, Steve Smith's addition ought to help Flacco and the Ravens. Still, don't look for the 35-year-old to take over as the team's dominant receiver. That title ought to remain Torrey Smith's.
Hensley: Fact. There's a chance tight end Dennis Pitta or wide receiver Torrey Smith will end up being Flacco's go-to receiver. In the end, Flacco will spread the ball around to Pitta, Torrey Smith and Steve Smith. But if you're asking who will be Flacco's top target, the best bet is Steve Smith. All you needed to do was watch one practice this offseason, and you'd see the chemistry building between Flacco and Smith. Many have compared Steve Smith to Anquan Boldin because both are tough receivers. Smith, though, stacks up more favorably to Derrick Mason, who averaged 71 receptions in three seasons with Flacco. Like Mason, Smith can get open on the comeback route as well as slants. A prideful player such as Smith will also do everything in his power to show the Carolina Panthers he can still play. The Ravens will get the best out of Smith this year.
Pat McManamon: Fiction. The Ravens still have this guy Torrey Smith, right? He's a little younger than the 35-year-old Steve Smith. A little bigger too. And he should be ready to be the No. 1 receiver on the team. This is not to say Steve Smith won't help. He will. He brings a veteran presence the Ravens lacked -- though it's curious they gave away Anquan Boldin before last year and signed another aging guy who fits the "crafty veteran mold" a year later. Ozzie Newsome said Smith is not the "typical aging player," which is good, because he'll catch a lot of passes and open up the field more to provide opportunities for Torrey Smith and tight end Dennis Pitta. The Ravens also seem to be a team well-suited to getting the most from veterans. But if Baltimore brought Steve Smith in to be the top guy, it's a problem. That role and responsibility belongs to Torrey Smith.
@jamisonhensley Fiction. Now that Pitta is healthy, the bromance will reignite this year. I see @dennispitta having a big year. #ravens

— Jordan Ours (@JO___14) July 7, 2014
---

The retooled defense is enough to get the Steelers back to the playoffs.
Brown: Fact: The Steelers got younger and faster and will be better on that side of the ball if their outside linebackers provide some semblance of a pass rush. The Steelers don't need dramatic improvement from their defense if their offense builds on its strong finish in 2013. The Steelers averaged just under 28 points in their final eight games this past season, and they only lost one starter (wide receiver Emmanuel Sanders) on offense. Pro Bowl center Maurkice Pouncey returns from a torn ACL to lead an offensive line that allowed just seven sacks in the final seven games last year. And the Steelers have enough talent at the skill positions for Ben Roethlisberger and the offense to carry the defense.
Harvey:
Fact. I've gone on record in recent days saying I believe the Steelers will pose a legitimate threat to the Bengals' chances at defending their division title, so I won't waver now. Pittsburgh's culture will be the real difference-maker in getting the Steelers back to the playoffs. You're simply not going to see coach Mike Tomlin or quarterback Ben Roethlisberger tolerating the type of year the team had in 2013. By the way, we can't forget how close Pittsburgh was by the end of the season, after imploding near the start primarily because of a lacking offensive line that caused a poor running game and offensive imbalance. When it comes to the retooled defense, offseason moves such as drafting outside linebacker
Ryan Shazier
and defensive end
Stephon Tuitt
ought to help. The addition of
Cam Thomas
on the line also should help counter the interior rushing attack teams like to employ in the physical AFC North. While I still see the Bengals making the playoffs too, the Steelers ought to get there again, thanks to their improved defense.
Hensley: Fact. The Steelers got younger and quicker with their first two draft picks this year, linebacker Ryan Shazier and defensive end Stephon Tuitt. Cam Thomas, a free-agent addition, will be a space-eater on the interior of the line. What will help this retooled defense become even better are the moves made on offense. The Steelers stockpiled their backfield by signing free agent LeGarrette Blount and drafting Dri Archer in the third round. Plus, Le'Veon Bell was beginning to hit his stride at the end of his rookie season. This commitment to the run will control the clock and take pressure off a defense adjusting to its new parts.
McManamon: Fact. There is no team in the league that finds personnel to fit its system better than the Steelers. With three new starters defensively, Pittsburgh continues its transition from the James Harrison-James Farrior-Casey Hampton-Brett Keisel days. Kevin Colbert's drafting is usually logical and sound, and in Ryan Shazier the Steelers believe they found an immediate starter. One thing will be true about Pittsburgh this season: They will be faster on the field and they will not start slow. Pittsburgh will build on the momentum of an 8-4 finish in 2013 (after an 0-4 start), and as they build the defense will grow.
@ScottBrown_ESPN Fact. They are faster and younger. It will be a sad year for @WarrenSapp. #AFCN4Downs

— Kat Harry (@katharry33) July 2, 2014
.
April, 15, 2014
Apr 15
2:00
PM ET
Cleveland Browns
fans complained the past few years as the team sat idly by while free agency raged. The Browns fiddled while free agents burned holes in owners' pockets.
Or something like that.
Since the 2014 version of free agency began, the Browns have spent $55.8 million in guaranteed money.
That's the highest total in the AFC North, and following the matching of Jacksonville's offer to
Alex Mack
, ranks third in the league in guaranteed money spent since March 11.
Which means the Browns rank third to the Bucs and Broncos in guaranteed money, with most of it going to Mack ($18 million reported, though the number has not been confirmed), linebacker
Karlos Dansby
($12 million) and safety
Donte Whitner
($13 million). The Browns started free agency with a glut of cap space, and they've not been shy about using it.
And they've spend more than $50 million in guaranteed contracts without even addressing the quarterback position.
Second in the division in spending are the
Baltimore Ravens
at $36.3 million, though their total does not include re-signing
Dennis Pitta
just before free agency began. That signing brings the Ravens' guaranteed money total to $52.3 million -- still short of the Browns.
Most of Baltimore's money went to Pitta and offensive tackle
Eugene Monroe
($19 million).
Take away those two re-signings and Baltimore's guaranteed total of $18 million is more like a team that feels good about itself.
Same for the Bengals, a team that has made the playoffs three years in a row and feels it's close to something good. Cincinnati has spent just $7.3 million in guaranteed money, the fourth lowest total in the league.
Pittsburgh? The Steelers never go overboard in free-agent spending and this year is no different. Their total of $8.7 million is just ahead of Cincinnati.
April, 10, 2014
Apr 10
8:00
AM ET
ESPN's AFC North team reporters -- Jamison Hensley (Ravens), Coley Harvey (Bengals), Pat McManamon (Browns) and Scott Brown (Steelers) -- take a look at the remaining free agents in the division:
BALTIMORE RAVENS
TE Dallas Clark
: He looked like a tight end playing in his final season, catching 31 passes for the Ravens (his fewest in a season since 2006). It wouldn't be a surprise if Clark retired. He turns 35 in June.
TE Ed Dickson
: The signing of
Owen Daniels
rules out a return for Dickson. He'll be playing in the NFL in 2014, and it will likely be for about the league minimum. Dickson needs a fresh start elsewhere, and he's visiting the Carolina Panthers.
RB Bernard Scott
: The Ravens opted to sign
Justin Forsett
instead of Scott to be their third running back. Scott could have trouble catching on with another team. This offseason, Scott turned 30, which is not a kind number for running backs.
WR Brandon Stokley
: He said after the season that he plans to retire after suffering another concussion. Stokley was the last active player from the Ravens' 2000 Super Bowl championship team.
CINCINNATI BENGALS
LB Michael Boley
: Signed to a one-year deal early last season, Boley has been seen as little more than a stop-gap for last season's team. His return is unlikely.
DB Chris Crocker
:
Danieal Manning
's signing last week might have been enough to prevent the Bengals from re-signing Crocker. The two play similar positions and serve similar purposes as older players. Crocker still hasn't announced -- for a third time -- if he's retiring.
P Zoltan Mesko
: Much like Boley, Mesko was a stop-gap solution while punter
Kevin Huber
was out injured. When OTAs and minicamps resume, Huber is expected to be near full health from a broken jaw.
OT Dennis Roland
: Though the Bengals signed former Packers tackle
Marshall Newhouse
this offseason, they still could re-sign Roland for depth, and to give them a tackle who can be a good short-yardage edge blocker.
TE Alex Smith
: There is still a chance the Bengals could bring Smith back, considering H-back
Orson Charles
was
arrested and charged with wanton endangerment
March 31 in Richmond, Ky., the result of what police believe was a road rage incident involving a handgun.
CLEVELAND BROWNS
C Alex Mack
: His only visit has been to Jacksonville, where the Jaguars are expected to sign him to an offer sheet. The Browns then will have five days to decide if they want to match the offer.
RB Willis McGahee
: Not surprising there has been so little interest. His age and the poor running back market make him a tough sign.
PITTSBURGH STEELERS
OT Levi Brown
: Suffered a season-ending triceps injury before playing a down for the Steelers last season; would have to accept a non-guaranteed contract to return and try to make the team in 2014.
WR Plaxico Burress
: Wants to play in 2014, but is 36 and coming off a shoulder injury that sidelined him all of last season; does not appear to be in Steelers' plans.
RB Felix Jones
: Didn't show enough last season as a change-of-pace back or a kickoff returner to warrant serious consideration for the Steelers to bring him back.
DE Brett Keisel
: Re-signing the 12th-year veteran is still an option for the Steelers, who are thin along the defensive line, though nothing will happen until after the draft.
P Mat McBriar
: McBriar did OK after the Steelers signed him in October, but it looks like they will go with a younger leg at the position in 2014.
C/G David Snow
: Didn't dress in final four games after signing with Pittsburgh last December, and the Steelers have added depth to their offensive line.
RB LaRod Stephens-Howling:
Another player coming off an injury (torn ACL) the Steelers might consider re-signing once he is healthy or close to full strength.
LB Stevenson Sylvester
: Is a core special teams player and a depth guy the Steelers would probably have interest in bringing back at the right price.
C Fernando Velasco
: The Steelers are likely to re-sign one of their most unsung players in 2013 once he has fully recovered from the ruptured Achilles tendon he suffered in November.
LB Jamaal Westerman
: Played in the regular-season finale after signing with the Steelers last December, but is not not in the team's plans.
December, 19, 2013
12/19/13
2:39
PM ET

Voting is underway among the four ESPN.com reporters for the All AFC North Team of 2013.
Results will be announced after the season.
But we thought it might be fun to get input from readers on one of the tougher positions to select: wide receiver.
We can only pick two for the All AFC North Team, and the division includes four standouts and one up-and-coming rookie: Cleveland's
Josh Gordon
, Pittsburgh's
Antonio Brown
, Cincinnati's
A.J. Green
and
Marvin Jones
, and Baltimore's
Torrey Smith
.
Their numbers:
.
November, 24, 2013
11/24/13
10:00
AM ET
By
ESPN.com staff
| ESPN.com
Join our ESPN.com NFL experts as they break down the Pittsburgh Steelers' visit to the Cleveland Browns. Contribute your thoughts and questions beginning at 1 p.m. ET. And, be sure to visit our
NFL Nation Blitz page
for commentary from every game, as well as fan photos and the latest buzz from Twitter. See you there.
November, 21, 2013
11/21/13
5:48
PM ET
PITTSBURGH -- The
Cleveland Browns
defense is apparently as impressive on film as it is on paper.
Offensive coordinator Todd Haley said he thinks Phil Taylor and
Ahtyba Rubin
are even better than the
Detroit Lions
' defensive tackles
Ndamukong Suh
and
Nick Fairley
.
The
Pittsburgh Steelers
couldn't run on Suh and Fairley last Sunday as they mustered just 40 rushing yards in a 37-27 win over the Lions.
Next up for the Steelers are the Browns, who are yielding just 98.5 rushing yards per game and are fifth in the NFL in total offense. The Browns are one of three teams this season that have not allowed a 300-yard passer or 100-yard rusher in a game.
"I thought Detroit was real good but I think this team's better," Haley said on Thursday. "The front seven in general, I think, is probably the best front seven we've seen. We've got our work cut out for us because as we move into late November and December you've got to be able to run the ball effectively when they know you're running it."
Weather could be an issue in Cleveland as snow has been forecast for late Saturday night and early Sunday morning. Snow and that wind that always seems to swirl off nearby Lake Erie could limit how much the Steelers throw the ball -- and run the no-huddle offense that worked so well against the Lions.
The Lions held
Le'Veon Bell
to 36 yards last Sunday, and the rookie running back is averaging just 3.1 yards per carry. Haley said he is pleased with the progress Bell has made, citing his contributions in the passing game as well as some timely runs the former Michigan State star has made.
Haley said the Steelers need more big plays to improve a rushing attack that averages 76.5 yards per game.
"I want to see one of those breakout runs here pretty quick," Haley said. "We've had to work for every yard but I do feel like we're making progress even with some of the moving parts and different people we've had to plug in. What we need is a few of breakout runs. We're going to keep working, keep working technique and I think it will happen and hopefully it's happening at the right time."
August, 23, 2013
8/23/13
8:00
AM ET
The third preseason game, which is often considered the dress rehearsal, was more of a disaster at times for the Baltimore Ravens in a 34-27 loss to Carolina on Thursday night. You can
click here
for my observations on the game. For what's happening around the division, here's the wake-up call ...
RAVENS
: The
Baltimore Sun
's Mike Preston believes the Ravens failed Thursday night to build any sort of offensive momentum heading into the regular season. "There is no need to panic yet, because most offenses are behind the defenses at this time of year, and the Ravens have some proven commodities with [Joe] Flacco, running back Ray Rice, fullback Vonta Leach and receiver Torrey Smith," Preston wrote. "But you'd at least like to see more life in the offense, and so far there hasn't been much."
BENGALS
: Taylor Mays is no lock to survive the final cutdown, and the final two preseason games could determine the safety's fate. "If they went with four [safeties], Mays could be on the bubble," wrote Joe Reedy of
The Cincinnati Enquirer
. "Reggie Nelson, George Iloka and Shawn Williams figure to be locks with Mays and Jeromy Miles vying for a spot. Miles saw the second-most snaps on special teams during the regular season and was second in tackles."
STEELERS
: Ben Roethlisberger is the oldest and most experienced quarterback on the Steelers for the first time since he entered the league in 2004. He is the player responsible for making sure the new quarterbacks -- Bruce Gradkowski, Landry Jones and John Parker Wilson -- know what they're doing. "It's definitely different," Roethlisberger told
The Pittsburgh Post-Gazette
. "I wish I knew the offense even better than I do, just because I feel I know my answers will be even more right. I do the best I can to talk with Todd, to know the answers, so I can help these guys because they come to me and ask. And even if they don't come and ask, even in practice, if I see something, I'll come up to them and say, 'Do this,' or 'I'm thinking do this.' It helps to have that growth in this offense."
BROWNS
: Wide receiver Greg Little said he will act more responsibly after it was reported that he wrecked his car driving 127 mph, which was more than 70 mph over the legal speed limit. "It's obviously something that I've got to take very seriously and slow my speeds down and be cautious of others on the road," Little said, via
The Plain Dealer
. "I could have seriously put my life and other lives in danger." Little was cited in April for drag racing after he crashed his expensive, high-performance Audi into a guardrail, took out a light pole and left more than 40 yards of brake tracks, according to a police report. Little was not hurt in the crash, which records say took place at 2:47 a.m., but said he understands his behavior was unacceptable.