March, 20, 2014
Mar 20
10:00
AM ET
By
ESPN.com staff
| ESPN.com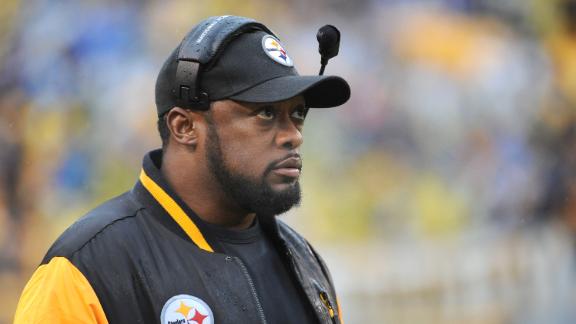 The AFC North has seen some changes this offseason with a new coaching staff and GM in Cleveland, where free agency and multiple first-round draft picks are conspiring to inspire some hope in Browns fans. Is it warranted?
And will there be change in Pittsburgh if the Steelers go three straight years without a playoff berth?
What about in Baltimore, where running back
Ray Rice
followed up a disastrous 2013 season with a highly publicized offseason arrest? Will his slide continue next season?
And the one and only question in Cincinnati remains: Can the Bengals win a playoff game with
Andy Dalton
at the helm?
These issues are addressed by ESPN's quartet of AFC North reporters: Scott Brown in Pittsburgh, Coley Harvey in Cincinnati, Jamison Hensley in Baltimore and Pat McManamon in Cleveland.

This will be Mike Tomlin's last season if the Steelers don't make the playoffs.
Scott Brown: Fiction. The Steelers have had just three head coaches since 1969, and patience with their field bosses has been one of the organization's hallmarks. The Steelers missed the playoffs three consecutive seasons from 1998 to 2000, and Bill Cowher rewarded the Steelers' patience with him by going 55-24-1 over the next five seasons and winning a Super Bowl. The Steelers have yet to experience a losing season under Tomlin, and he still commands his players' respect and attention. It is way too early to start speculating about his future in Pittsburgh.
Coley Harvey:
Fact. If NFL history has taught us one thing about the Steelers, it's this: Mediocrity doesn't last long in Pittsburgh. After two consecutive postseason-less winters, the city that boasts the NFL's most Super Bowl victories won't bear going through a third. Tomlin might be lucky just to make it to the Monday after the regular season if the Steelers post another 8-8 record or worse this fall. Pittsburgh's ground game was an issue last season, and the club's success this season could hinge on it, too. As long as Tomlin's team can showcase some of its old multidimensional play this season, the Steelers ought to make the playoffs, sparing him a firing.
Jamison Hensley: Fact. History is obviously against me on this one. The Steelers have been the picture of stability when it comes to head coaches, and they stuck with Bill Cowher when he went three seasons without making it to the playoffs. But the landscape of the division has changed. The Cincinnati Bengals are going to be the favorite to win a second straight AFC North title. The Baltimore Ravens, the Steelers' biggest rivals, won a Super Bowl 13 months ago. Tomlin hasn't guided the Steelers to the playoffs since 2011, and he hasn't won a postseason game since beating the New York Jets in the 2010 AFC Championship Game. If Tomlin can't get the Steelers back in the playoffs, the Rooneys need to find someone who can make this team relevant again.
Pat McManamon: Fiction. Tomlin's consecutive 8-8 seasons are disappointing in Pittsburgh, but the Rooneys will not knee-jerk a guy who has yet to have a losing season. Tomlin is wading through a major roster transition, but he's never lost his team the way some coaches do. That matters to the Rooneys, who value continuity more than anyone. Bill Cowher went 7-9 and 6-10 in 1998 and '99 and stayed seven more seasons. Belief in a system is what makes Pittsburgh successful.
@ScottBrown_ESPN Fiction: Chuck Noll & Bill Cowher had down years. He is gone only if team falls apart ala Houston Texans. #AFCN4Downs

- Scott Cromer (@wolfpac4ever) March 17, 2014
---

The Browns will be much improved with their front-office moves, free-agent acquisitions and position in the draft.
Brown: Fiction. The Browns will be better in 2014, but there is too much uncertainty at quarterback to say improvement will come in leaps and bounds rather than in increments. Brian Hoyer is an upgrade over what the Browns have had at quarterback, but is he the long-term answer there? The top-rated quarterbacks in the draft, meanwhile, all come with different question marks and risks. There is not an Andrew Luck among the group, and until the Browns find the answer at quarterback, they will not challenge for the AFC North title.
Harvey:
Fiction. While I'm inclined to say "fact," it's the "much improved" portion of the question that has me a little troubled. Do I think the various personnel changes the Browns made this offseason will help them improve and make them a better organization overall? Absolutely. Do I believe their improvements will be so immediately noticed that they go from 4-12 last year to 12-4 and win the division this year? I don't think so. In time, though, I'm willing to bet on the Browns. The new front office seems to have provided some measure of stability. Some of the free-agency decisions the group has already made have been smart ones. And with two first-round draft picks, it's hard to believe the Browns will end up missing on them both. Maybe the Browns' recent history has me balking on them a bit here, but I think it might be a year or two before we start really seeing how much this offseason's changes have improved them.
Hensley: Fiction. I agree the Browns are going to be improved, but not much improved. The moves made on defense were lateral ones. The addition of running back Ben Tate will help, if he can stay healthy. Let's be honest, it always comes down to quarterback for the Browns. Cleveland is either going with Brian Hoyer, a journeyman who generated unrealistic expectations after two good games last season, or a promising yet inexperienced rookie. This is too bad, because the Browns have the other pieces in place to be an exciting passing attack. At this point, because of the annual question mark at quarterback, the Browns are a six- or seven-win team at best.
McManamon: Fiction: It has to happen on the field, and until it does, the Browns have everyone in Missouri, where it's a matter of showing me. With six double-digit-loss seasons in a row and some uncertainty at quarterback, the Browns have to prove to their fans they can do it. However, it must be said that a lot of logical moves have been made, and the Browns are better now than they were when free agency began. With so many high draft picks, the Browns have the chance to bring in more good players. The potential for improvement is real, but labeling it a sure thing is premature with this team.
@PatMcManamon: I honestly feel something I never felt with this new start. Actually trust Ray Farmers evaluations and thoughts #AFCN4Downs

- Mark W (@unruinable) March 17, 2014
---

The Bengals will never get further than the first round of the playoffs with Andy Dalton at quarterback.
Brown: Fact. You could give Dalton the benefit of the doubt after he and the Bengals fell short in his first two playoffs games. But there can be no excuses after Dalton's subpar play in January doomed the Bengals to a home loss against a Chargers team that sneaked into the playoffs. Credit Dalton for making the Bengals a perennial playoff team, but nothing in his postseason play suggests that he is the quarterback who can turn Cincinnati into a legitimate Super Bowl contender.
Harvey:
Fiction. Dalton's first-round struggles have been exhaustively noted. The Bengals' first-round struggles have been, too. (They haven't won a playoff game since the 1990 season.) If there is ever a year that Cincinnati could finally get out of the first round and onto a deeper postseason run, this could be it. OK, we said that last year, too. Here's the thing, though. The 2014 Bengals have something the 2013 team didn't: Hue Jackson in charge of the offense. Cincinnati has seen two trends develop in its three first-round playoff losses with Dalton as the quarterback. It has committed too many turnovers -- Dalton has one lost fumble and six interceptions in the three games -- and it has avoided running the ball. Jackson will ensure better balance comes to this offense, easing the pressure on Dalton. Eventually, that first playoff win is going to come for him.
Hensley: Fiction, although I'm not going to go as far as to say Dalton will be the reason why the Bengals win a playoff game. Marvin Lewis' young team is just too talented to be one-and-done every season. There will be a time when the Bengals win because either the defense dominates a playoff game or running back Giovani Bernard breaks loose. If you're asking me whether the Bengals will make a Super Bowl with Dalton, I would bet against it. He has been awful in his three playoff games. Dalton is the anti-Flacco. He produces great numbers in the regular season but falls apart in the playoffs.
McManamon: Fiction. Many teams would like to have Dalton. Many. Last season's first-round loss to San Diego was a large disappointment, but Dalton is going through the traditional growing pains of a quarterback. For a quarterback to be asked to throw 51 times in a playoff game is ludicrous. That was asking way too much. The switch in offensive coordinator to Hue Jackson will help because he will run the ball more, and run the ball more consistently. Dalton has averaged almost 3,800 yards and just short of 27 touchdowns his first three seasons, and people want to question his future? Absurd.
@ColeyHarvey Fact. Best predictor of future performance is past performance #AFCN4Downs

- AndyKerman (@LotionDolphin) March 17, 2014
---

Ray Rice's decline in production will continue next season while his reputation also slides after his arrest.
Brown: Fiction. This guy has too good of a résumé to think he just fell off a cliff during his sixth NFL season (and took many a fantasy football team with him). Yes, NFL running backs have a short shelf life, and Rice has a lot of wear on his tread. But the Ravens should be better up front next season, and if anything, Rice's arrest should make him as motivated as ever to show that last season was an aberration.
Harvey:
Fact. But it's not Rice's reputation that will contribute to his statistical slide. The running back has simply started moving beyond the prime of his career. His legs have been beaten up so far in his six-year career, and it doesn't appear they will be coming back anytime soon. When he was at his best, Rice was averaging well over 250 carries a season. He had 254 during his breakout second year in 2009, when he rushed for 1,339 yards. He had 307 carries for 1,220 yards the next year, then 291 for 1,364 yards and 12 rushing touchdowns in 2011. After having 257 carries in 2012, he had only 214 in one fewer game in 2013. Overuse has led to Rice's decline, not a changing reputation.
Hensley: Fiction, but let me explain. I honestly don't know how Rice's play could be worse than it was last season. He averaged 3.1 yards per carry, and he was held below 60 yards rushing in 12 of 15 games. Injuries were a factor, but you have to wonder whether the wear and tear has caught up to him. In what is likely a make-or-break year for him, Rice has reportedly lost weight this offseason to regain some explosion. That would be a good sign if he were the sole problem. The Ravens haven't done anything yet to improve their offensive line from last season. If the line can't open any running lanes, it doesn't matter what kind of condition Rice is in.
Pat McManamon: Fact. When a running back loses it, it goes fast. Rice showed all the signs of losing it last season, when his per-carry average dropped to a woeful 3.1. Rice is 27, the age at which a running back's production is at its peak. ESPN Stats and Information shows a steady and severe decline starting after a back is 27, a decline that continues every season. Add in Rice's troubling offseason behavior with his fiancée and that disturbing security video and it seems his career -- and perhaps personal -- path is headed in the wrong direction.
@jamisonhensley FACT: Rice's age combined w/ heavy usage in college/NFL has caused his body to wear down. RBs don't last in NFL #AFCN4Downs

- Tacowrecker (@tacowrecker) March 17, 2014
.
December, 29, 2013
12/29/13
8:45
PM ET
If you find yourself upset at
Kansas City Chiefs
coach Andy Reid this evening, here's some free advice:
Get over it.

Reid
Reid didn't do anything to impact the AFC playoff race other than fail to extend an already fortunate turn of events for the
Pittsburgh Steelers
, who ultimately were eliminated from contention by the Chiefs' 27-24 overtime loss to the
San Diego Chargers
. The Chiefs' backups gave the Chargers all they could handle, and if the Steelers are angry about missing the playoffs, they should focus on their 2-6 start rather than Reid's decision to do what is best for his team.
To review, Reid
replaced 19 of 22 starters
-- including quarterback
Alex Smith
and running back
Jamaal Charles
-- because the Chiefs clinched a playoff spot two weeks ago and their seeding wouldn't be impacted by the outcome of Sunday's game. The Chiefs had the upper hand for most of the contest, as it turned out, and led 24-14 early in the fourth quarter. They had a chance to win at the end of regulation, but place-kicker
Ryan Succop
-- one of a handful of Chiefs regulars who were in their normal roles -- missed a 41-yard field goal attempt with four seconds remaining.
For starters, let's not pretend that the Chiefs would have been anywhere close to clear favorites if they had played their regulars. The Chargers have now won five of their past six games, including a 41-38 victory against the Chiefs at Arrowhead Stadium, and had much more to play for.
The Steelers, meanwhile, entered Sunday needing four games to go a certain way. Generally speaking, that's considered a longshot -- and the Steelers were close. They took care of their own business by beating the
Cleveland Browns
, 20-7. Then the Steelers received help from the
New York Jets
, who won on the road against the
Miami Dolphins
, and the
Cincinnati Bengals
, who beat the
Baltimore Ravens
.
The final piece of the puzzle would have been for the Chiefs to beat the Chargers. That would have given the Steelers the tiebreaker for the No. 6 seed. It's true the Steelers reversed the start of their season, winning six of their final eight games, and they would have been a tough out in the playoffs.
But they play 16 games for a reason. That minor fact -- and not Andy Reid's decision-making -- is responsible for the Steelers missing the playoffs for the second consecutive season.
September, 26, 2013
9/26/13
2:30
PM ET
You've probably heard more than you care to about the causes of football concussions, the NFL's increasingly detailed diagnosis process and its treatment protocol. Independent neurologists are on the sideline during games this season, for instance, and players must be taken to the locker room to undergo tests at any sign of concussion symptoms.
While those steps are helpful and important, there is still ample evidence of the remaining gray area in this issue.
I've covered two games so far in 2013, and in both, an individual has played while concussed. (Or, in one case, played while claiming to have hidden a concussion.)
Pittsburgh Steelers
running back
Isaac Redman
returned to a Sept. 16 game after being cleared of a possible head injury, and
Oakland Raiders
quarterback
Terrelle Pryor
remained in last Monday night's game for two plays after a brutal hit that was later determined to have caused a concussion.
[+] Enlarge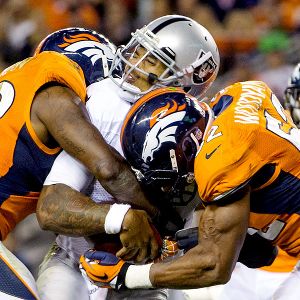 Kent Nishimura/Colorado Springs GazetteTerrelle Pryor played two more snaps after this hit late in the fourth quarter.
Let's walk through both issues and then I'll offer a few thoughts.
Redman was slow to get up on the opening kickoff in Week 2 at Paul Brown Stadium. He was taken to the locker room to be evaluated for a head injury, was cleared and returned to the game. He played 19 snaps, carrying on three of them and also catching two touchdowns, and finished the game.
I was among the reporters who interviewed Redman afterwards after the game. He spoke of being "embarrassed" by the loss to the
Cincinnati Bengals
, among other topics, and never once did I think, "Wow, this guy seems hazy."
This week, however, Redman
told the Pittsburgh Post-Gazette
that he in fact had suffered a concussion and "was pretty much out of it the rest of the game." Asked how he had beat the concussion tests in the locker room, Redman said: "I said I was alright."
In a statement, the Steelers detailed their evaluation process:
"Isaac was taken out of the game, and we announced that he was being evaluated for a concussion. He was then taken through the proper protocol by our medical staff and it was deemed he was cleared to return to action after multiple examinations. He then re-entered the game and saw action shortly thereafter and throughout the rest of the game."
Meanwhile, last Monday night, we all saw Pryor absorb a crushing hit from
Denver Broncos
linebacker
Wesley Woodyard
late in the fourth quarter at Sports Authority Stadium. Pryor remained face down for a moment, and during an ensuing review to determine whether he fumbled, he wandered the field as if trying to collect himself.
Officials determined that the Raiders would maintain possession. Pyror returned to the huddle and threw a third-down pass to receiver
Rod Streater
. As the Raiders huddled for a fourth down play, Pryor turned and looked at the sideline as if he couldn't hear the call. The Raiders called timeout, Pryor walked to the sideline to get the play, and then returned to throw an incomplete pass.
Pryor didn't play again, the next day
he tweeted:
"Sorry about the loss RaiderNation. I don't remember much ! Good hit by whoever it was. I heard our team fought well .. We will be back!"
I'm not looking to assign blame here. Concussions don't always look the same and they descend at different paces. I don't think we want to get to the point where every hard hit leads to a player getting tested in the locker room during a game.
And despite warnings from the league, the NFL Players Association and independent doctors, we should probably expect at least some players to try to play through them. The process is better, no doubt, but it's not perfect and never will be.
September, 17, 2013
9/17/13
2:28
AM ET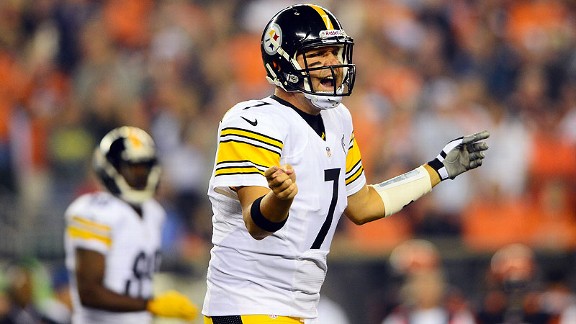 Andrew Weber/USA TODAY SportsMonday was frustrating for Ben Roethlisberger, who got little help from his backs and receivers.
CINCINNATI -- This is it, right? There is no fixing it, not now, not in a matter of weeks or even months. The team the
Pittsburgh Steelers
put on the field Monday night looked old, slow and -- blasphemous as it might seem in the Iron City -- a little soft. Shut down and manhandled in a
20-10 loss
to the
Cincinnati Bengals
, the Steelers did nothing to contradict the notion that their well-worn nucleus is in decline.
A "Monday Night Football" audience witnessed what close observers have suspected for some time: The Steelers' offense is punchless, and their defense, while still stout at times, no longer can be counted on to make big plays. These roster-wide symptoms have left the Steelers 0-2 for the first time in the seven-year Mike Tomlin era, and they have the potential to take this franchise to unprecedented places.
"If we don't shore something up," safety
Ryan Clark
said, "if we don't play better than we did tonight, we won't win a game. Period. Point blank."
We should acknowledge that the Bengals played a role in what we saw Monday night. They are a good team and could be the best the AFC North has to offer, but to me the Bengals' performance only accentuated the Steelers' step back.
We saw Bengals running back
Giovani Bernard
darting through the Steelers' defense, averaging 7.2 yards every time he touched the ball, while the Steelers' crew of grinders slogged to 44 yards on 16 carries.
Every time we looked up, it seemed, a Steelers ball carrier was being tackled at the line of scrimmage. Most egregious: Receiver
Jerricho Cotchery
was dragged down for a 5-yard loss on an ill-fated reverse. In all, the Steelers ran 16 plays in the first three quarters that netted 3 or fewer yards.
Meanwhile, quarterback
Ben Roethlisberger
had one of the worst games of his career as a downfield passer. He overthrew nine passes, which, according to ESPN Stats & Information, was the highest total of his career. Was Roethlibserger that off? I don't think so. Watching with an amateur eye, it didn't look like he had much room to squeeze in the ball to receivers who got little separation.
Everything that I'm used to seeing from -- and thinking about -- the Steelers was missing Monday night. They didn't run well. None of their pass-catchers enhanced a play beyond what the scheme called for. Their defense still hasn't forced a turnover this season. Indeed, the Bengals averaged a modest 5.2 yards per play, but they managed to run 79 of them because the Steelers couldn't get them off the field.
"We weren't good enough tonight," said Tomlin, who lost for the first time as a head coach when taking the field with a losing record. "We have to accept that. But I emphasize tonight, like I just emphasized to our group, there's a certain amount that we need to swallow and rightfully so, but we've got to maintain our way."
I didn't expect the Steelers to give up on their season after this loss, but other than Clark's pointed statement, I found a staunch refusal to process the evidence that played out Monday night.
Roethlisberger, in fact, suggested that Steelers receivers lost balls in the lights at Paul Brown Stadium. As well, Tomlin and every player I listened to mentioned a debatable tripping call that negated a 33-yard pass to receiver
Antonio Brown
in the third quarter. The play was a significant turning point, but it wasn't insurmountable. In fact, the Steelers were within seven points in this game until midway through the fourth quarter.
"That's part of the game," receiver
Emmanuel Sanders
said. "Sometimes we connect. Sometimes we don't. But I think we still made enough plays. Some plays got called back, and sometimes we didn't execute to the best of our ability."
Again, the Steelers have 14 games left to play, and presumably plenty of time to change their identity. The return of tight end
Heath Miller
would help, and Tomlin promised that speedy receiver
Markus Wheaton
could get involved.
But a 30-year-old tight end and a rookie receiver aren't going to rescue this team. The Steelers' roster can't change substantively during the season. Perhaps they can find a way to grind out victories without splash plays on offense and regular turnovers on defense, but that path offers no margin for error.
My lasting impression of this team, at least for now, will be of the final play Monday night. With 16 seconds left, Roethlisberger completed an 18-yard pass over the middle to Brown. The Steelers rushed to the line of scrimmage, and Roethlisberger motioned as if he wanted to spike the ball for one final play.
Players lined up, the clock ticked down and center
Fernando Velasco
-- starting one week after the Steelers signed him to replace the injured
Maurkice Pouncey
-- snapped the ball with one second left.
Roethlisberger spiked it, looked up and saw no seconds remaining. He and the rest of the team were just a step slow. Is this it for this group of Steelers? Watching Monday night, it sure looked like it.