Pittsburgh Steelers:

Oakland Raiders
June, 24, 2014
Jun 24
8:00
AM ET
Join us today at 1 p.m. ET, 10 a.m. PT, for NFL Nation TV's Spreecast episode No. 11. Host Paul Gutierrez (
Oakland Raiders
reporter), co-host Coley Harvey (
Cincinnati Bengals
reporter) and guests John Keim (
Washington Redskins
reporter) and Scott Brown (
Pittsburgh Steelers
reporters) discuss a range of topics from the team nickname under fire in the nation's capital to the passing of a legend in Chuck Noll to
Michael Vick
thinking very highly of himself, among other timely issues. Viewers are encouraged to log in and ask the panelists questions as well as contribute in the chat feature.
March, 17, 2014
Mar 17
11:00
AM ET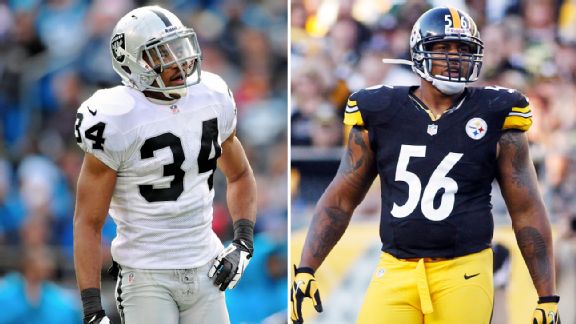 Getty ImagesIn safety Mike Mitchell and linebacker LaMarr Woodley the Steelers and Raiders hope to find free-agent steals.
LaMarr Woodley
is now a Raider as he signed with Oakland last week following his release from the Steelers. The Steelers, meanwhile, made an uncharacteristic signing on the first day of free agency, bringing in
Mike Mitchell
to take over for
Ryan Clark
at free safety. Mitchell played for the Panthers in 2013 but spent his first four seasons with the Raiders.
ESPN.com Steelers writer Scott Brown and ESPN.com Raiders writer Paul Gutierrez take a closer look at Woodley and Mitchell and what their signings mean for their respective teams.
Paul Gutierrez:
The Raiders had many needs entering the offseason, perhaps none greater than pass rush. They seemed to address that by signing
Justin Tuck
and LaMarr Woodley, but I'm sure Raiders fans are wondering just how much Woodley, who turns 30 in November, has left in the tank?
Scott Brown:
The Raiders should be getting a player who will be extremely motivated following his release by the Steelers -- and by how his career played out after they had made Woodley the highest-paid defensive player in franchise history. It proved to be a rather stunning fall from grace for Woodley, and ultimately the Steelers picked
Jason Worilds
, whom they had been widely criticized for drafting in the second round in 2010, over Woodley.
Woodley's inability to stay on the field led to the Steelers making that choice, and if he can stay healthy he could turn out to be a real bargain for the Raiders. Woodley played well until a calf injury sidelined him in the second half of the last season and ultimately shut him down. What has the reaction been to the Woodley signing, and do you think the Raiders view it as a low-risk, high-reward proposition?
Gutierrez:
The reaction has been one of relief from Raiders fans, especially since Tuck had signed earlier in the wake of the
Rodger Saffold
debacle. Now, I'm not saying it "saved" the Raiders' free agent-signing season, but it did wash away some of the bad taste because the Raiders had a huge need at pass rush. In Woodley (57 career sacks) and Tuck (60.5 career sacks) they addressed it even if both guys will be on the wrong side of 30 come midseason. Still, Woodley and Tuck, bring a championship mentality (two Super Bowl appearances) to a franchise that has not had a winning record since 2002. And yeah, the money is right ("only" up to $12 million) as is the length of the deal (two years).
Still, there are questions about how his skill set plays into the Raiders' base 4-3 defense since Woodley was the left outside linebacker in the Steelers' 3-4 scheme. He says he'll play with his hand in the dirt as a defensive end in a 4-3. Do you see that as a realistic possibility, or is that too much to ask of him at this stage of his career?
Brown:
Woodley should be fine moving to defensive end as that is what he played in college when he tormented quarterbacks for Michigan. The move might help him regain some of his pass-rushing mojo as Woodley won't drop into coverage nearly as often as he did with the Steelers. I like the signing for the Raiders, especially if Woodley prepares and plays as if a fire has been lit under him. Did complacency set in after he signed the six-year, $61.5 million in 2011? It sure seems that way and maybe getting released is what Woodley needed to get his career back on track.
The Steelers normally stay on the sidelines during the first wave of free agency but they made a significant signing when they lured Mike Mitchell away from Carolina with a five-year, $25 million contract. Mitchell spent his first four seasons in Oakland and I'm curious about your impressions of him. Did he simply need a change of scenery or did things click for him last season because he played on a better team?
Gutierrez:
Yeah, it's been a couple of years since I covered Mitchell on a day-to-day basis but he definitely left an impression as one of the best interviews in the Raiders locker room, win, lose or draw. The spotlight was on him from the day Al Davis used a second-round pick on a little-known player from Ohio University. Davis had visions of another undersized, hard-hitting safety from the Buckeye State in Jack Tatum but that was a tough bar to reach. Still, he had some flashes… especially in covering San Diego tight end
Antonio Gates
a few years back. A change of scenery, and being with a team that had a better pass rush, definitely helped him out in Carolina. Plus, he was able to freelance more with the Panthers as a free safety, rather than on the strong side. And with his outspoken manner, gritty disposition and, yes, rep as a hard hitter, he seems to fit the mold of Raiders and Steelers' DBs of yore, even if he's not Tatum or even Donnie Shell.
Speaking of old school, Raiders fans still refer to "IT" as the Immaculate DE-ception… so when, if ever, is Frenchy Fuqua going to tell the entire story?
Brown:
I just read a tremendous book on the 1970s Steelers, "Their Life's Work," and it sounds like he is taking that story to his grave. I'm sure Steelers' fans would counter that the Immaculate RE-ception is history and in the books no matter how it went down. It certainly is one of the more intriguing chapters of that storied rivalry and remains so after all of these years. What are the chances that the Raiders and Steelers turn back the clock at some point and resume meeting regularly in the playoffs as they did in the 1970s?
Gutierrez:
Well, that would mean the Raiders have to get BACK to the playoffs, a place they have not visited since 2002. Realistically, I can't see it happening in the next year or two, but in the NFL, things do change quickly. Not sure the rivalry can ever get back to the days of the '70s, though, when the Steelers and Raiders met in
three straight AFC title games
, which I wrote about in January.
October, 27, 2013
10/27/13
9:55
PM ET
OAKLAND -- The Raiders struck a first blow Sunday that was as stunning as it was spectacular when quarterback
Terrelle Pryor
kept the ball on a read-option and raced 93 yards for a touchdown.
There were several factors behind how Pryor ripped off the longest run by a quarterback in NFL history, starting with his fake to running back
Darren McFadden
.
Pryor
"I saw D Mac carrying out the fake and I heard the crowd screaming and I was trying to figure out what they were screaming about," Raiders safety
Charles Woodson
said, "and all of sudden T. Pryor is at the 50-yard line running the ball."
The Steelers bit on the fake, though left outside linebacker
LaMarr Woodley
carried out his assignment when he went after McFadden and buried the seventh-year veteran.
That left strong safety
Troy Polamalu
as the key guy once Pryor kept the ball instead of putting it in McFadden's belly.
"I was saying in my head Polamalu has to get blocked," Pryor said.
Wide receiver
Rod Streater
took care of that, tying up the Steelers' best defensive player and allowing Pryor to flash through an opening on the right side and into the open field.
Polamalu couldn't shed Streater's block, but he didn't get any help from the back end of the Steelers' defense either.
"I should have been a little patient in the middle of the field so if things broke down I could kind of overlap," free safety
Ryan Clark
said.
The Raiders pulled a guard to help sell a hand-off to McFadden, but the Steelers were also guilty of overpursuing on the play.
"Even if you're excited about stopping McFadden, you have to understand the beast that's playing quarterback," Clark said. "Once a guy like him gets a in front of the whole defense, he's a legit 4.4 (speed in 40-yard dash). It just looks slow because he's 6-6 but he was moving."
Raiders coach Dennis Allen said Oakland picked that play to open the game as a way of easing Pryor into action against his hometown team.
Pryor's touchdown set the tone for the Raiders, who gashed the Steelers for 197 rushing yards en route to their
21-18 victory
. But, said Polamalu, "We had 59-and-a-half minutes to come back. We had our opportunities. We just didn't seize them."
October, 27, 2013
10/27/13
2:30
PM ET
By
ESPN.com staff
| ESPN.com
Join our ESPN.com NFL experts as they break down the Pittsburgh Steelers' visit to the Oakland Raiders. Contribute your thoughts and questions beginning at 4:00 p.m. ET. And, be sure to visit our
NFL Nation Blitz page
for commentary from every game, as well as fan photos and the latest buzz from Twitter. See you there.
September, 26, 2013
9/26/13
2:30
PM ET
You've probably heard more than you care to about the causes of football concussions, the NFL's increasingly detailed diagnosis process and its treatment protocol. Independent neurologists are on the sideline during games this season, for instance, and players must be taken to the locker room to undergo tests at any sign of concussion symptoms.
While those steps are helpful and important, there is still ample evidence of the remaining gray area in this issue.
I've covered two games so far in 2013, and in both, an individual has played while concussed. (Or, in one case, played while claiming to have hidden a concussion.)
Pittsburgh Steelers
running back
Isaac Redman
returned to a Sept. 16 game after being cleared of a possible head injury, and
Oakland Raiders
quarterback
Terrelle Pryor
remained in last Monday night's game for two plays after a brutal hit that was later determined to have caused a concussion.
[+] Enlarge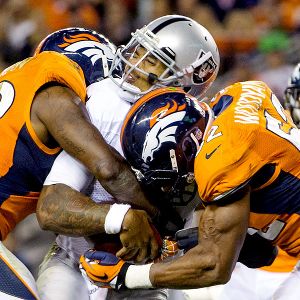 Kent Nishimura/Colorado Springs GazetteTerrelle Pryor played two more snaps after this hit late in the fourth quarter.
Let's walk through both issues and then I'll offer a few thoughts.
Redman was slow to get up on the opening kickoff in Week 2 at Paul Brown Stadium. He was taken to the locker room to be evaluated for a head injury, was cleared and returned to the game. He played 19 snaps, carrying on three of them and also catching two touchdowns, and finished the game.
I was among the reporters who interviewed Redman afterwards after the game. He spoke of being "embarrassed" by the loss to the
Cincinnati Bengals
, among other topics, and never once did I think, "Wow, this guy seems hazy."
This week, however, Redman
told the Pittsburgh Post-Gazette
that he in fact had suffered a concussion and "was pretty much out of it the rest of the game." Asked how he had beat the concussion tests in the locker room, Redman said: "I said I was alright."
In a statement, the Steelers detailed their evaluation process:
"Isaac was taken out of the game, and we announced that he was being evaluated for a concussion. He was then taken through the proper protocol by our medical staff and it was deemed he was cleared to return to action after multiple examinations. He then re-entered the game and saw action shortly thereafter and throughout the rest of the game."
Meanwhile, last Monday night, we all saw Pryor absorb a crushing hit from
Denver Broncos
linebacker
Wesley Woodyard
late in the fourth quarter at Sports Authority Stadium. Pryor remained face down for a moment, and during an ensuing review to determine whether he fumbled, he wandered the field as if trying to collect himself.
Officials determined that the Raiders would maintain possession. Pyror returned to the huddle and threw a third-down pass to receiver
Rod Streater
. As the Raiders huddled for a fourth down play, Pryor turned and looked at the sideline as if he couldn't hear the call. The Raiders called timeout, Pryor walked to the sideline to get the play, and then returned to throw an incomplete pass.
Pryor didn't play again, the next day
he tweeted:
"Sorry about the loss RaiderNation. I don't remember much ! Good hit by whoever it was. I heard our team fought well .. We will be back!"
I'm not looking to assign blame here. Concussions don't always look the same and they descend at different paces. I don't think we want to get to the point where every hard hit leads to a player getting tested in the locker room during a game.
And despite warnings from the league, the NFL Players Association and independent doctors, we should probably expect at least some players to try to play through them. The process is better, no doubt, but it's not perfect and never will be.