What's in a (jersey) number?
October, 25, 2013
10/25/13
9:30
AM ET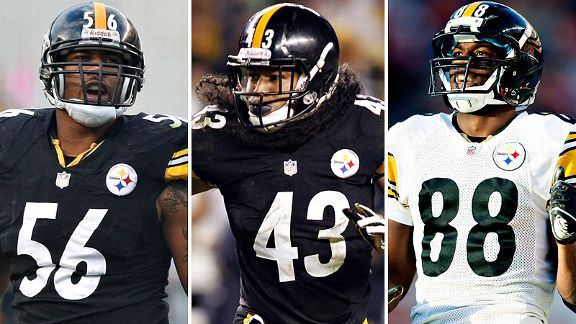 USA TODAY SportsLaMarr Woodley, left, and Emmanuel Sanders, right, embrace wearing numbers worn by famous players, while Troy Polamalu's No. 43 followed him from USC to the NFL.
PITTSBURGH -- Few things touched Dick LeBeau more than when Steelers players wore his No. 44
Detroit Lions
jersey at various times during the push to get him into the Pro Football Hall of Fame. The gesture wasn't the only reason seeing his old number meant so much to LeBeau, who was enshrined in Canton in 2010.
"Sometimes I talk to other players and remark about how personal your uniform number becomes," LeBeau said. "It becomes a number you associate with for the rest of your life. If I go to a hotel and pass the Room 4444 I always say 'Oh, that's got to be a good room.' It's part of your personality and your character."
A canvassing of the Steelers' locker room revealed that some players do not attach any significance to their jersey number. But others had good and sometimes funny stories about what their current number means to them.
No. 56 LaMarr Woodley:
The Steelers outside linebacker had his number chosen for him early in his football career, and it didn't take Woodley long to grasp the significance of it. "When I was a freshman in high school I was on varsity and didn't get a chance to pick what number I wanted so my high school coach just threw me the number and it was 56," Woodley said. "I started playing outside linebacker and I realized
Lawrence Taylor
wore that number so after watching some highlight film on him I tried to mimic that a little bit, like you better know where 56 is on the field."
No. 43 Troy Polamalu:
The Pro Bowl safety followed a family tradition by wearing No. 41 in high school before eventually switching to his current number. "My older brothers wore it. Kind of my second family that raised me, the father wore it," Polamalu said of No. 41. "When I got to USC they gave me No. 43 because a safety by the name of Grant Pearsall wore it and I just kind of accepted it. I contemplated changing my number in college a few times my sophomore year. It just didn't work and when I left there our equipment manager Sid Brooks called [Steelers equipment manager] Rodgers [Freyvogel] and told him to give me No. 43."
No. 88 Emmanuel Sanders:
The fourth-year wide receiver wanted a number in the teens after the Steelers drafted him in 2010. He has since embraced the number made famous by Lynn Swann among others. "I feel like 88 has always been a legendary number on many teams so I definitely wear the number proudly," Sanders said. "Not only that but I'm a superstitious kind of guy and eight means infinity because it never stops."
No. 24 Ike Taylor:
The veteran cornerback said his number is a reflection of his mentality. "Just always working 24/7," Taylor said. "That's always been my frame of mind. High school, I was No. 9. College, I was 27 and coming into the league I was like 'You know what, I want to be different' so I got 24."
No. 89 Jerricho Cotchery:
The veteran wide receiver couldn't help but laugh as he recalled how former Jets coach Herm Edwards made him partial to a number he didn't want after New York drafted him in 2004. "I made a few plays in training camp and Herm just kept saying, 'There goes 89 again. Somebody cover 89,'" Cotchery said. "He was doing it every day so by the end of training camp my college number came open, No. 82, and I was just like, 'Well, everybody's been saying 89 so I'm going to go ahead and keep that number.' I've been 89 since then, so blame Herm Edwards if you don't like the number."
[+] Enlarge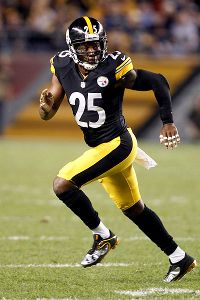 Charles LeClaire/USA TODAY SportsRyan Clark wears No. 25 to honor his dad, who wore the same number in college.
No. 25 Ryan Clark:
Clark wears No. 21 in practice to honor the memory of his good friend, former Redskins safety
Sean Taylor
. His game-day number honors someone else to whom the veteran safety is close. "My dad wore [No. 25] in college at Nicholls State and wore it all of his life growing up," Clark said. "When I had an opportunity to get a number I just chose it. I think he likes it. He never told me but he's a dad."
No. 77 Marcus Gilbert:
The number initially didn't mean much to the Steelers' right tackle. But when he met former Steelers left tackle
Marvel Smith
during training camp in 2012, Gilbert really took to the number he has had since arriving in Pittsburgh in 2011. "I have a chip on my shoulder wearing it because I want to make him proud," Gilbert said. "I enjoy watching his old tape from when he was here with the Steelers. Every time he got on the field he dominated, so I wear that number with pride."
No. 93 Jason Worilds:
The fourth-year outside linebacker wore No. 6 at Virginia Tech and initially had No. 97 with the Steelers. But he has since switched to the number also worn by one of the NFL's top pass-rushers over the past decade. "I was a
Dwight Freeney
fan and I used to watch a lot of his film," Worilds said. "Coming here and being a linebacker I knew a lot of the 50 numbers were taken. I eventually got a chance to have [No. 93] and I took it."
No. 95 Jarvis Jones:
The Steelers' first-round draft pick last April, Jones is well-aware he has the number that former great Greg Lloyd made famous in Pittsburgh. "Coach [Mike] Tomlin picked it," Jones said. "After getting the number and finding out the history of it I kind of knew the significance of it. It's a challenge every day I put it on. I've got to come here with the mindset to get better every day to understand who wore it and played this role before me and continue the tradition."
No. 44 Dick LeBeau:
We've got to end with LeBeau and the meaning of the number that he immortalized during his Hall of Fame career with the Lions. "Forty-four was my brother's number in high school and I wanted it because of that reason," LeBeau said of his older brother Bob. "When I went to Ohio State it was open and I asked for it and got it and when I went to Detroit I asked for it and got it. It will always be a part of my personality."