Pittsburgh Steelers:

2013 Week 7 BAL at PIT
October, 20, 2013
10/20/13
10:55
PM ET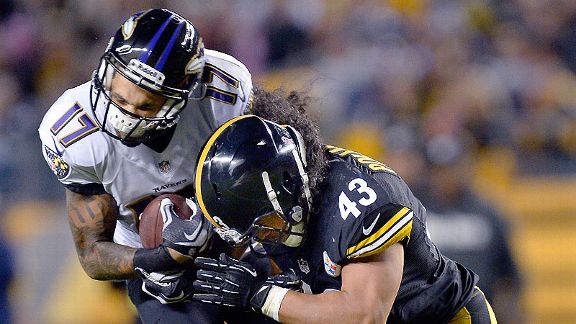 AP Photo/Don WrightThe Steelers played ball-control offense and stingy defense and won their second straight.
PITTSBURGH -- He arrived at
Tandon Doss
' torso at roughly the same time as a
Joe Flacco
pass, and the resulting collision left
Troy Polamalu
noticeably woozy.
Doss hung on to the ball in yet another tighter-than-shrink-wrap game between the Ravens and Steelers at Heinz Field. But Polamalu retained his senses, which seemed like a fair trade even though Flacco was conjuring up more of his late-game magic when the Steelers desperately needed a stop.
Polamalu got up, and the Steelers safety, who is as religious as he is relentless, did the sign of the cross for good measure. Nothing provided a better metaphor for the Steelers after
Ben Roethlisberger
, not Flacco, led a game-winning drive at Heinz Field.
The Steelers are 2-4 after beating the Ravens
19-16
, and they have steadied themselves after a wobbly start that probably had fans seeking divine intervention.
It is not just that the Steelers have won two games in a row for the first time in almost a year. It is how they prevailed that leads you to think they can continue to pull their season back from the brink, especially with a winnable game at Oakland next on the schedule.
Forget for a second that the Steelers unveiled a Wildcat package that surprised the Ravens as much as it did the fans who crammed into Heinz Field for the renewal of one of the NFL's most contentious rivalries.
Or that the Steelers' only touchdown came on a shovel pass from Roethlisberger to tight end
Heath Miller
.
In the end, there was nothing gimmicky about the Steelers' first regular-season win over the Ravens in Pittsburgh since 2009.
The Steelers were the more physical team, and their oft-maligned offensive line got enough push and provided enough openings for the Steelers to rumble for 141 yards and average just under 5 yards per carry.
The defense, meanwhile, extended its streak of not allowing a touchdown to eight quarters before Flacco masterfully led a late scoring drive that culminated in a 1-yard scoring pass to tight end
Dallas Clark
.
It also snuffed out the Ravens' running game --
Ray Rice
averaged just 3 yards per carry while rushing for 45 yards -- and the Steelers didn't allow big plays save for one.
Torrey Smith
caught a 41-yard pass on a perfectly thrown ball from Flacco late in the third quarter, but the Steelers limited the damage to three points.
And that was no small consideration since the Steelers and Ravens played a sixth consecutive regular-season game in Pittsburgh that was decided by three points.
Miller said after the Steelers beat the Jets last Sunday that it felt right in the locker room. The victory over the Ravens looked right even if it wasn't always pretty.
It looked like Steelers football, not the hideous mutation that resulted in the team's first 0-4 start since 1968.
And who knows how far stingy defense and a ball-control offense can take the Steelers as they try to fight their way back in a very mediocre conference.
"Although our team has changed from year to year that's been our formula," Polamalu said.
When asked what the Steelers have to do to stay on a winning track, Polamalu said, "Not pat ourselves on the back and continue to grind."
[+] Enlarge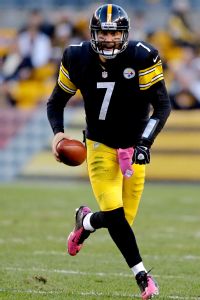 AP Photo/Gene J. PuskarFor the 28th time in his career, Ben Roethlisberger led a game-winning drive in the fourth quarter.
That seemed to be one of the dominant themes in a happy but hardly overjoyed postgame locker room.
And rightfully so.
The Steelers still need a telescope to see the top of the AFC, and the victory over the Ravens came against a reeling champion that has declared a state of emergency, according to outside linebacker
Terrell Suggs
.
The win also came in spite of the Steelers themselves, who controlled the game but still needed Roethlisberger to bring them back from a fourth-quarter deficit or tie for the 28th time in his career.
The Steelers had to settle for too many
Shaun Suisham
field goals. They lost a fumble that prevented them from taking a double-digit lead into halftime and they didn't force any turnovers.
Not that style points mattered considering the stakes involved for the Steelers.
"We were playing for our season," outside linebacker
LaMarr Woodley
said. "When we started the season 0-4 a lot of people counted us out and we've still got an opportunity to turn this thing around. It's supposed to have been like this all year and we've just got to continue to play like this."
The biggest indication that the Steelers have restored some normalcy came after
Emmanuel Sanders
' kickoff return late in the fourth quarter was brought back to Pittsburgh's 34-yard line following a ruling that he had stepped out of bounds on the way to the end zone.
The Steelers still had almost two minutes to break a 16-16 tie and a quarterback with a long list of clutch scoring drives to his credit.
But the late-game heroics that had become so associated with Roethlisberger also became few and far between as the Steelers slipped to mediocrity last season. That could have been weighing on the minds of the players in their huddle before the final drive of the game.
It apparently wasn't.
"No one had any negative thoughts," Sanders said. "We just had the feeling we were going to go win it."
Roethlisberger did just that, completing three passes and drawing an illegal contact penalty that gave the Steelers their initial first down on the final drive.
He and the offense set up Suisham, whose right leg did the rest.
"We need to have all the confidence in the world that we are going to go down and win this game," Roethlisberger said of the Steelers' mindset. "I think it is big when everybody buys into what you are doing and we did a good job of that."
October, 20, 2013
10/20/13
9:02
PM ET
PITTSBURGH -- Observed in the locker room after the
Pittsburgh Steelers
'
19-16 win
over the
Baltimore Ravens
.
Sanders
Oh so close:
Mike Tomlin didn't hide his displeasure about the late kickoff return for a touchdown that was called back after
Emmanuel Sanders
stepped out of bounds at the Steelers' 37-yard line. Sanders, who brought a deep kickoff out of the end zone, came within inches of successfully staying in bounds along the Steelers sideline and scoring. What upset Tomlin is that the call could not be reviewed per NFL rules, which seems silly considering the impact the play had on the game and how close it was. "I've got to go back and look at it," Sanders said when asked if he stayed in bounds. "I saw it on the replay board. It seemed like I tiptoed the boundary but it was so close."
A new wrinkle:
The Steelers ran the Wildcat offense four times with rookie running back
Le'Veon Bell
taking a direct snap from center. Bell, who ran three times out of the formation and once handed off to wideout
Antonio Brown
, said the Steelers had not practiced the Wildcat until last week. That's right, the Steelers did not work on the Wildcat in any of their offseason practices or during training camp, which is why the Ravens didn't expect it. "I'm comfortable with it," said Bell, who ran the Wildcat at Michigan State and played quarterback at high school. "We can get better at it."
Injury update:
Steelers outside linebacker
Jarvis Jones
(concussion) didn't dress even though the rookie passed an imPACT test on Friday. Tomlin said renowned concussion doctor Micky Collins expressed reservations about Jones playing against the Ravens following a check-up on Saturday. "We didn't second-guess it," Tomlin said. "We moved on. It is my assumption that he'll be ready to go next week." Right tackle
Marcus Gilbert
aggravated a quadriceps injury early in the game and did not return. Tomlin opted for
Guy Whimper
over
Mike Adams
at right tackle because the latter had figured prominently into the Steelers' plans to use a lineman as an extra tight end, and the coach did not want to disrupt that.
Welcome back:
James Farrior
, a stalwart on the teams that won a pair of Super Bowls and played in three of them from 2005 to 2010, shared a long hug with Steelers defensive coordinator Dick LeBeau. The former linebacker caught up with different teammates in the victorious locker room and said he is plenty busy even though he is no longer involved with football. Farrior and his wife have 12-week-old twins and are raising them in Houston. Since she works, Farrior, who retired in 2012 after the Steelers released him, is now a full-time dad. His smile suggests he is loving every minute of it.
October, 20, 2013
10/20/13
7:20
PM ET
PITTSBURGH -- A few thoughts on the
Pittsburgh Steelers
'
19-16 win
over the
Baltimore Ravens
at Heinz Field:

What it means:
In a word, everything. The Steelers needed consecutive wins to build their confidence and to stay relevant in both the AFC North and conference playoff picture. They didn't make it easy on their fans or coach Mike Tomlin, but they gritted out their first regular-season win over Baltimore at Heinz Field since 2009.
Emmanuel Sanders
nearly won the game with a late kickoff return for a touchdown. After officials ruled he had stepped out at the Steelers' 34-yard line,
Ben Roethlisberger
methodically moved the offense down the field and
Shaun Suisham
won the game with a 42-yard field goal on the final play. Roethlisberger led the Steelers back from a fourth-quarter deficit or tie for the 28th time in the regular season. He also got the better of
Joe Flacco
, who had directed late drives to beat the Steelers at home in two of the previous three years.
Stock watch:
More than a quarter into the season, the Steelers discovered that they indeed have a running game. Rookie
Le'Veon Bell
rushed for 93 yards, justifying the praise Tomlin lavished on him last week. Bell averaged more than 5 yards per carry in just his third career game and first one against the Ravens while outplaying Ravens Pro Bowler
Ray Rice
. Bell's big game allowed the Steelers to finally snap an 11-game streak of rushing for fewer than 100 yards. It also gave them a significant advantage in time of possession.
Playing it (too) safe:
The Steelers hadn't allowed a touchdown in eight quarters, which is why they didn't get overly aggressive after the Ravens attempted an unsuccessful onside kick early in the fourth quarter. But recent history should have taught Tomlin to go for the knockout blow when he had the chance. After Suisham's third field goal of the game increased the Steelers' lead to 16-9, Flacco worked his patented Heinz Field magic. The Ravens quarterback coolly led the Ravens on a 16-play, 73-yard drive that he capped with a 1-yard touchdown pass to tight end
Dallas Clark
. Flacco completed 9 of 10 passes for 60 yards on the only touchdown drive allowed by the Steelers.
What's next:
The Steelers travel across the country to play at Oakland, where the Raiders are in perpetual rebuilding mode but have given the Steelers problems in recent years. The Raiders have beaten their historic rivals two times in a row in Oakland, including last year, when defensive breakdowns doomed the Steelers to a 34-31 loss. The Steelers have lost three of their last four games to Oakland dating back to 2006. The Raiders are 2-4 and off this week.
October, 17, 2013
10/17/13
3:05
PM ET
PITTSBURGH -- A canvassing of veteran players in the locker room where they still aren't shooting pool reinforces the perception that you probably have to play in a Steelers-Ravens game to truly understand it.
As wide receiver
Antonio Brown
put it when asked if the Steelers rookies know what is in store for them Sunday: "I don't think they have a clue."
[+] Enlarge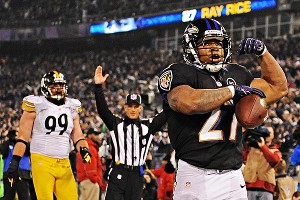 Patrick Smith/Getty ImagesSteelers rookies can expect a level of grudge against the Ravens that even big college rivalries can't match.
Allow
Brett Keisel
, who knows what Steelers-Ravens is about as much as anyone, to try and explain.
"Coming out of college you always have certain rivalries that you kind of gear up towards," Keisel said. "When I was at BYU it was Utah. This Steelers-Ravens rivalry is a whole lot bigger, a whole lot meaner, a whole lot nastier. It's a grudge match, it really is."
And back to Brown to provide context to what a grudge match between two teams that don't like each -- in part because they are so similar -- entails.
"Guys aren't going to pick you up [after a play], guys are going to give you an extra shove, guys are going to come out of the tunnel fired up," Brown said.
Running back
Le'Veon Bell
is at least somewhat familiar with the ethos of Ravens-Steelers.
He grew up in Columbus, Ohio, in a house filled with Steelers fans, and Bell said he always made it a point to watch Pittsburgh when it played Baltimore.
"I know how big the game is," Bell said. "I just haven't been a part of it yet. This is going to be like a bloodbath, two teams that really don't like each other."
It is also two teams that are perpetually fighting for the upper hand over one another. There is close and there is is Ravens-Steelers.
The teams have the same number of wins (11) as well as the same number of touchdowns (43) in the 22 games they have played since 2003, according to ESPN Stats & Information.
"It always seems to be close, it always seems to come down to the end, who made a mistake who didn't so hopefully we don't," Keisel said.
The only consolation that the losing team Sunday will have is that it doesn't have to wait until next season to exact payback.
Indeed, asked if there are any parallels between Steelers-Ravens and Michigan-Ohio State, former Buckeyes star
Cameron Heyward
said, "Just that we circle both on the calendar."
Then, the Steelers defensive end added, "Only this one you circle twice."