Pittsburgh Steelers:

2014 NFL Combine
February, 25, 2014
Feb 25
4:15
PM ET
PITTSBURGH --
Terrence Brooks
said he considers himself the best safety in the 2014 draft, something that runs contrary to the opinion of NFL draft analysts.
The Florida State product can make one claim following the NFL scouting combine: No safety in this year's draft is faster than Brooks.
Brooks ran the 40-yard dash in 4.42 seconds on Tuesday, tops among the safeties in the draft and considerably faster than the times posted by Alabama's
Ha Ha Clinton-Dix
and Louisville's
Calvin Pryor
.
[+] Enlarge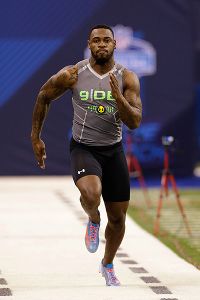 AP Photo/Nam Y. HuhFlorida State defensive back Terrence Brooks turned heads at the combine when he ran a 4.42 in the 40-yard dash.
The two safeties who are widely considered the best ones in the draft each turned in official 40-yard dash times of 4.56 seconds.
The Steelers will take a safety at some point in the draft, but they may need to be blown away to take Clinton-Dix or Pryor at No. 15 overall. Consider that since the AFL-NFL merger in 1970, the Steelers have used their first-round pick on a safety only one time.
That happened in 2003, when they traded up to take
Troy Polamalu
at No. 16.
To say that worked out well for them is an understatement, but even with safety an obvious need, do the Steelers see Clinton-Dix or Pryor as the kind of game-changer who is worth taking in the first half of the draft?
Brooks has emerged as one of the top options if the Steelers wait until later in the draft to grab a safety, and here are more things to like about him aside from his straight-line speed:
Brooks is self-assured but he also plays with a bit of an edge due to arriving at Florida State as less celebrated than a lot of the other recruits in his class.

Brooks played cornerback at Florida State before converting to safety. That should translate into his having the kind of coverage skills that are necessary for a free safety at the next level.

Brooks regularly practiced against elite competition at Florida State, and he said he matched up against Seminoles wide receiver Kelvin Benjamin at times. Look at the drafts under general manager Kevin Colbert and coach Mike Tomlin and it's pretty clear the Steelers value players who come from pedigreed programs and power conferences.

Brooks, who turns 22 next week, played all four years at Florida State and is not among the record number of underclassmen who are in the draft. Colbert said last week at the combine that the maturity level of some of the younger players in the draft is a concern. That presumably wouldn't be as much of a concern with Brooks.
Brooks isn't the biggest safety -- he checked in at 5-foot-11 and 198 pounds in Indianapolis -- and he got overshadowed at Florida State on a defense that was loaded with future NFL players. But he may have pushed his way into the second round of the draft with the sheer speed he displayed at the combine, and he wasn't lacking for confidence before arriving in Indianapolis.
"I have a great feel for knowing where the ball is going. I'm fast and quick and physical, too," said Brooks, who was fifth on the Seminoles with 56 tackles in 2013 and also intercepted two passes. "Any team that wants to take a chance on me won't be disappointed."
February, 25, 2014
Feb 25
12:17
PM ET
PITTSBURGH -- Two cornerbacks who should interest the
Pittsburgh Steelers
cemented their standing as the top two players at their positions on the final day of the NFL scouting combine.
Oklahoma State's
Justin Gilbert
posted blazing times of 4.35 and 4.38 seconds in the 40-yard dash Tuesday morning, while Michigan State's
Darqueze Dennard
checked in with times of 4.42 and 4.46.
Gilbert

Dennard
The times are unofficial -- the official one for each player is likely to be higher -- but both Gilbert and Dennard showed that speed won't be an issue when it comes to their pre-draft evaluations.
The bigger question is did each help himself enough at the combine to move out of the Steelers' range at No. 15?
At least one team ahead of the Steelers -- the Lions at No. 10 -- has a glaring need at cornerback, and the position has taken on even greater importance with teams increasingly using three cornerbacks to counter pass-centric offenses in the NFL.
ESPN analyst Mel Kiper Jr. has Gilbert and Dennard ranked No. 16 and No. 18, respectively, on his list of the top players in the draft. Kiper has said the two should jockey for the top position at their position all the way up to the draft.
Dennard, who won the Jim Thorpe Award in 2013, which is given to the top college defensive back in the country, is the more physical of the two players. He recorded 62 tackles and intercepted four passes last season.
Gilbert intercepted seven passes last season while playing in the pass-happy Big 12, and he said playing in a conference where cornerbacks can do anything but hide should help him make the transition to the NFL.
"I think that Big 12 defensive backs are some of the best DBs in the country and college football," Gilbert told reporters in Indianapolis. "Sometimes we're overlooked because we give up plays, but at the same time we have way more plays coming at us instead of say, for instance, the SEC. They have a lot of run attacks where the corners are not being a lot pressured. So we have a lot to live up to.
History says that neither Gilbert nor Dennard will be the Steelers' first-round pick in May.
The Steelers have not used a first-round pick selection on a cornerback since 1997, when they chose
Chad Scott
. Also, the draft appears to be a deep one at cornerback, and the Steelers should be able to fetch a couple of quality prospects in later rounds, something they did in 2011 when they picked
Curtis Brown
and
Cortez Allen
in the third and fourth round, respectively.
On the flip side, if there is ever a year for the Steelers to take a cornerback in the first round -- this is it.
They only have three experienced cornerbacks on their roster, and 11th-year veteran
Ike Taylor
is going to have to accept a big pay cut to return to the Steelers. Allen is the only cornerback on the roster with any upside, making it a must that the Steelers add young talent at a position where general manager Kevin Colbert has said the team is lacking depth.
Dennard over Gilbert or Gilbert over Dennard?
It would be real interesting to see what the Steelers do if they are in a position to make that choice.
February, 24, 2014
Feb 24
3:45
PM ET
PITTSBURGH -- The
Pittsburgh Steelers
almost certainly won't get a chance to draft
Sammy Watkins
.
But the other wide receiver from Clemson could be a possibility in the second round if the Steelers address a different position with the 15th overall pick.
[+] Enlarge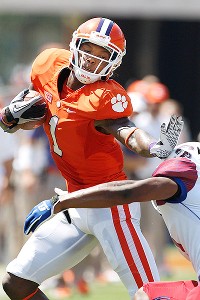 Tyler Smith/Getty ImagesWR Martavis Bryant finished his three-year Clemson career with 1,354 yards and 13 touchdowns.
ESPN draft analysts Steve Muench and Kevin Weidl wrote that
Martavis Bryant
was among the wide receivers who helped themselves at the NFL combine, and indeed he posted impressive measurables across the board.
Bryant checked in at 6-4 and 211 pounds, and he ran an official 40-yard dash time of 4.42 seconds, tied for fifth and a tick better than the more celebrated Watkins.
Bryant further flashed his athleticism by tying for sixth among wide receivers in the vertical jump (39 inches) and tying for eighth in the broad jump (10 feet, 4 inches).
Here is what Muench and Weidl
wrote as part of a report

on the running backs and wide receivers following the physical tests:
Bryant dealt with a few focus drops throughout the season, and being more of straight-line receiver, he wasn't an ideal fit within the Clemson offense. However, he has an intriguing skill set that translates well and could bring strong return in the fringe Day 2 range for teams like the Ravens, Steelers, Lions and Panthers who are looking for a vertical threat to team up with a strong-armed quarterback.
Bryant appears to have a ton of upside, and he set a Clemson record by averaging 22.2 yards per reception during his career. But he played sparingly his first two seasons at Clemson and didn't start until 2013 when he caught 42 passes for 828 yards and seven touchdowns.
Questions teams such as the Steelers will have to answer when evaluating Bryant: Did his supreme physical skills not translate into more production at Clemson because he was overshadowed by
DeAndre Hopkins
, a first-round pick last year, and Watkins?
Also is Bryant's best football ahead of him or are his measurables more of a tease than an indicator of success in the NFL?
Bryant, who has been training with Pro Football Hall of Famer
Cris Carter
in Florida, was asked by reporters in Indianapolis what strengths he will take to the next level.
"Great speed off the ball. Good hands," he said. "I love to run past defenses after catching the ball."
February, 24, 2014
Feb 24
12:30
PM ET
PITTSBURGH -- If the Steelers are looking for a worthy successor to
Casey Hampton
, who was not re-signed after the 2012 season, Louis Nix III measures up to the five-time Pro Bowler in one sense.
The man knows how to fill reporters' note pads.
[+] Enlarge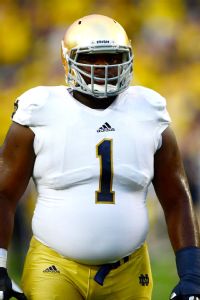 Andrew Weber/USA TODAY SportsCould the Steelers look to light-hearted Notre Dame nose tackle Louis Nix in the draft?
Hampton was a media favorite in Pittsburgh because of his candid and colorful answers -- not to mention his tendency to generate a laugh that emanated from his ample belly -- and Nix provided one of the more entertaining interviews at the NFL scouting combine.
Here are a few gems from the former Notre Dame standout whose Twitter handle is @1IrishChocolate:
On feeling lighter after shedding more than 20 pounds: "Yeah man, my stomach doesn't stick out as much. That's kind of nice. I like that part. My thighs got a little smaller. I just feel sexier, man."

On embracing salads and eschewing Five Guys Burgers and Fries: "No dressing. I eat it like chips. I just pick it up and yeah."

On whether he is the best nose tackle prospect in the draft: "What do you think?" When told yes, Nix said, "Thank you."
The question for the Steelers isn't so much whether Nix is the best nose tackle in the draft but whether that position is worthy of the 15
th
overall pick.
The Steelers only played their base defense about 40 percent of the time last season, Kevin Colbert said, but the general manager also pointed out that everything in a 3-4 defense starts with the nose tackle -- and shutting down the run.
The Steelers have to be encouraged by the commitment Nix has shown since undergoing knee surgery last November to repair meniscus damage.
Nix said he has shed 23 pounds since January -- he has been training at Athletic Performance Inc in Arizona -- and that he weighed in at 331 pounds at the combine while measuring 6-2.
"I hope (the lost weight) helps my knee and I plan on staying low," Nix said. "Hopefully my knee stays good like it is now and I'll be good. My knee is well. I can run on it."
Nix ran an unofficial time of 5.25 seconds in the 40-yard dash on Monday. More relevant or significant is that his knee is strong enough for him to take part in running drills in Indianapolis.
"I'm back and myself again," Nix said. "Less weight though."
Whether he brings both of his lighter sides to Pittsburgh remains to be seen.
But if the Steelers are satisfied with what they saw from Nix in Indianapolis he figures to remain at the forefront of discussion when it comes to the team's first-round pick.
February, 24, 2014
Feb 24
8:00
AM ET
PITTSBURGH --
Sammy Watkins
solidified his standing as the top wide receiver in the draft on Sunday by running an official 40-yard dash time of 4.43 seconds at the NFL scouting combine.
The Clemson standout is expected to be gone well before the 15th overall pick of the draft.
Evans
The question for the Steelers is whether or not they will have an opportunity to take Texas A&M wide receiver
Mike Evans
with their first-round pick.
Evans has had an impressive combine, though, we don't know how he has performed behind doors in team interviews or if he has any medical issues that might concern the Steelers. Based on everything else, Evans appears to have separated himself from the wide receivers who are jockeying for position behind the transcendent Watkins.
At least for now.
Evans ran an official time of 4.53 seconds in the 40-yard dash, showing impressive speed for a player who measured in at 6-5, 231 pounds in Indianapolis and also has the longest arms of any wide receiver at the combine.
Evans' 40-yard dash time could push him up draft boards and out of the range of the Steelers, who appear intent on adding another dimension to a wide receiving corps that lacks an established big target.
Speed has been the biggest question with Evans, and he opened eyes with what he posted in the 40-yard dash.
To put his time into perspective consider that the 6-5, 240-pound
Kelvin Benjamin
ran the 40-yard dash in 4.61 seconds, almost a full second slower than Evans.
Evans and Benjamin are probably the top two targets for the Steelers if they use their first-round pick on a tall wide receiver, and there are a couple of things are worth nothing.
The 40-yard dash is just one aspect of the combine, and the combine is only part of what goes into the final grade that the Steelers will assign to prospects prior to the draft.
The draft isn't until May and there are still pro days for the Steelers to attend and homework to do on the prospects that they do like after the combine. In other words, it is way too early to read too much into a 40-yard dash time, though it happens every year or with other physical tests that are conducted at the combine.
What doesn't help the Steelers if they covet Evans: he was considered a high first-round pick before the combine.
Johnny Manziel
's favorite target has the size and length that sets him apart from most of the wide receivers in the draft and he was highly productive in the uber-competitive SEC. The combine has confirmed that he has the speed to thrive at the next level, though it's one thing to run fast in shorts and often quite another to play fast in pads.
It will be interesting to see how much Evans has helped himself in the eyes of draft gurus such as ESPN's Mel Kiper Jr. and Todd McShay when they review the combine.
One thing that appears certain from his time in Indianapolis: Evans did nothing to hurt himself, and he possibly put himself out of reach for the Steelers.
February, 22, 2014
Feb 22
11:00
AM ET
PITTSBURGH -- The
Pittsburgh Steelers
plan to be more active in free agency than in past years, and that was the case even before a report by ESPN NFL Insider Adam Schefter that the salary cap will rise from $123 million to $130 million.
Steelers president Art Rooney II said the organization hasn't adjusted its plan based on the extra $4 million that teams are expected to have under this year's salary cap.

That plan apparently includes the Steelers filling some holes through free agency, something the team should have more flexibility to do once the salary-cap ceiling for 2014 is officially announced.
"We'll have our eyes open to see if there's somebody that can come in and help us get better," Rooney said Saturday morning on 970 ESPN. "There's always interesting prospects out there in terms of the unrestricted market. There's certainly some areas we're going to try to address this offseason."
Rooney said the Steelers are already well into the process of getting in compliance with the salary cap by March 11. He said the team has talked with agents of Steelers players about restructuring contracts and new deals for priority free agents.
"I would say it's kind of like putting a jigsaw puzzle together," Rooney said. "The only difference is the size of the pieces can change on you from one day to the next. It is a little complicated. I think we have enough options that we'll get done what we need to get done."
Rooney is in Indianapolis for the NFL scouting combine, and he has sat in on the individual player interviews that are a significant component of the combine.
Rooney said he is confident the Steelers will get a good player with their first-round pick, No. 15 overall, given the strength of this year's draft.
He did not offer any hints as to whom the Steelers will take with their first pick in the draft.
"It's kind of like going to a great restaurant with a great menu," Rooney said. "There are a lot of things on the menu, and it's hard to pick just which one you're going to take, but that's what this process is about."
February, 21, 2014
Feb 21
1:30
PM ET
PITTSBURGH --
Louis Nix III
, the top nose tackle prospect in the draft, has been linked to the Steelers as much as any player in the mock drafts that have already proliferated.
ESPN's Mel Kiper Jr. and Todd McShay have done two mock drafts apiece and each time they have had the Steelers taking Nix with the 15th overall pick.
Steelers general manager Kevin Colbert rarely talks about individual players before the draft. And true to form he didn't tip his hand when discussing how the role of nose tackles has changed as the NFL has become more of a passing league.
[+] Enlarge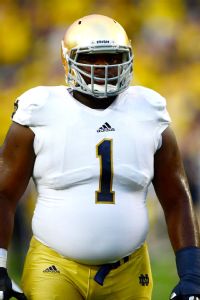 Andrew Weber/USA TODAY SportsNotre Dame's Louis Nix III has the prototypical size to be a space-eating nose tackle.
Colbert acknowledged that the Steelers only played their base defense about 40 percent of the time last season, and the nose tackle is the first player to come off the field when the Steelers use one of their sub-packages.
But he dismissed the notion that such math devalues nose tackles, especially on a Steelers' defense that is predicated on stopping the run.
"In a 3-4 defense you're still going to start with a nose tackle," Colbert told Pittsburgh reporters at the NFL scouting combine in Indianapolis. "You have to get into third-down situations, and those second-and-longs, too. If you don't have that player help you get to those extended downs then you're going to have problems.
The Steelers had their share of problems stopping the run last season.
They yielded 125 rushing yards per game, an increase of 30 yards from 2012, and that spike coincided with
Steve McLendon
taking over at nose tackle for five-time Pro Bowler
Casey Hampton
.
It would be unfair and inaccurate to pin the Steelers' struggles in stopping the run solely on McLendon.
It certainly didn't help that the Steelers had a rookie inside linebacker
Vince Williams
learning on the job in 2013. Or that the Steelers were not nearly as sound from an assignment standpoint as they have been in past seasons.
Whether they think they need an upgrade at nose tackle is another question.
When asked last week to assess McLendon's performance in 2013, Colbert said, "He did OK. He fought through some injuries and gave us some good work. But to say anybody was good enough, including myself, when you're 8-8 that's a disservice to the organization."
That qualifies as neither an endorsement nor an indictment of McLendon, which is why the Steelers are presumably open to taking a player who will be on the field less than half the time with their first-round pick.
If they use their first selection on a nose tackle, Nix appears to be the only one worthy of such a high pick.
The former Notre Dame standout fits the prototype for a space-eating nose tackle, one who can anchor the middle of the defensive line and free the inside linebackers to flow to the ball.
Nix has to check out medically at the combine after undergoing surgery last November to repair torn meniscus in his knee. It will also be interesting to see what he weighs -- the 6-2 Nix is generally listed at 345 pounds -- and what kind of shape he is in three months after his surgery.
If Nix is in good shape that would shine a positive light on his work ethic and answer questions the Steelers may have about his knee.
February, 20, 2014
Feb 20
4:30
PM ET
PITTSBURGH -- Player interviews are an integral part of the NFL scouting combine, and those sessions may take on even greater importance this year.

Steelers general manager Kevin Colbert reiterated on Thursday that he has never seen a draft class as talented as this one in his 30 years of scouting. But there is a huge caveat, and it makes the draft a boom-or-bust proposition, one that can elevate a franchise or lead to a trail of pink slips a couple of years down the road.

"Even though it's the most talented group I've seen I'm also worried it's the most immature group," Colbert told reporters in Indianapolis, "and we have to be prepared for more player development-type programs, maybe enhancing your player development so as to get the most out of these younger players."

Therein lies the double-edged sword when it comes to the 2014 draft: the record 98 underclassmen who are in it make it awash in talent but also one that is fraught with risk.

Projecting which players will make a successful transition from college to the NFL is hard enough. The trend toward draft-eligible players getting younger only adds to the difficultly for teams that can only do so much homework before pulling the trigger on their picks.

"Experience has told us that a lot of these younger players aren't ready for this and it's a huge leap," Colbert said. "I don't think a lot of them understand that until they get on a playing field and see the increase in the quality of play."

That reality is one reason why the Steelers prefer to bring along rookies slowly and play them a year later rather than a year too early.

It also shows why teams are making educated guesses when they draft, particularly when they select underclassmen.

"The emotional part of being a college kid and the next day being a professional, I think it's a little easier to transition from your senior year to the pros than it would be your junior or sophomore year," Colbert said. "If you fail early it can be emotionally overwhelming and sometimes career-ending."
February, 19, 2014
Feb 19
1:30
PM ET
PITTSBURGH -- With the NFL combine starting Wednesday in Indianapolis, we're taking a look at positions of need and who the
Pittsburgh Steelers
might be looking at during the combine at those positions.
Position of need:
Inside linebacker
The Steelers need depth at the position and possibly a long-term starter. Rookie
Vince Williams
started 11 games at left inside linebacker following the loss of
Larry Foote
in the 2013 season opener. Williams, a sixth-round draft pick, made steady improvement, but struggled in coverage. It is too early to tell whether he is a viable NFL starter in the mold of Foote, who stood out against the run, or is better suited as a reserve who is also a core special-teams player. Foote has one year left on his contract, but given his age -- the 12th-year veteran turns 34 in June -- and the fact that he is coming back from a ruptured bicep, there is no guarantee he returns for another season.
Stevenson Sylvester
will be an unrestricted free agent next month.
Three players the Steelers might be targeting
Chris Borland, Wisconsin:
The Steelers, like most teams, should fall in love with his game tape. Borland made tackles all over the field at Wisconsin, racking up 416 stops during a career in which he earned first-team All-Big Ten honors three times. Borland burnished his reputation as a guy who can simply play at the Senior Bowl ,and ESPN draft analyst Mel Kiper Jr. ranks the 5-foot-11, 245-pounder second among inside linebackers. Concerns about his height and short arms, which raise questions about whether he will struggle to shed blocks at the next level, could hurt Borland's draft stock. Couple that with the belief many teams have that inside linebackers can be found later in the draft, and there is a good chance Borland will still be available when the Steelers pick in the second round.
Christian Kirksey, Iowa:
Kirksey played outside linebacker in college, but he would likely move inside if drafted by a team that plays a 3-4 defense like the Steelers. Kirksey had an outstanding senior season -- he recorded 104 tackles despite getting overshadowed by teammates
James Morris
and
Anthony Hitchens
-- and he drew good reviews from his week at the Senior Bowl. The 6-2, 234-pounder has good size and athleticism, and Iowa coach Kirk Ferentz has raved about his character. Kirksey could be among the inside linebackers available to the Steelers in the middle rounds if they address other positions earlier in the draft.
C.J. Mosley, Alabama:
The consensus All-American and possibly the most ready-made NFL player in the draft might not even get to the Steelers at No. 15 overall. The 6-2, 228-pound Mosley is a three-down linebacker who should make an immediate impact, if not start right away. The hunch here is that Mosely does make it past the first 14 picks with a handful of teams in front of the Steelers desperate for quarterbacks and the de-valuing of inside linebacker in the draft in general. If Mosley, who is expected to test well in all aspects at the combine, is available when the Steelers make their first-round pick, it will be very temping for them to take him and pair him with
Lawrence Timmons
. That, if Mosley is as good as advertised, would help the Steelers improve a run defense that allowed 125 yards per game in 2013.
February, 18, 2014
Feb 18
2:00
PM ET
PITTSBURGH --
With the NFL scouting combine starting Feb. 22, we review positions of need and who the Pittsburgh Steelers might be looking at during the combine at those positions.
Position of need
: Cornerback
Ike Taylor
's play slipped last season, and there is no guarantee that the 11th-year veteran returns in 2014. Taylor is slated to make $7 million in base salary next season, and he will have to accept a drastic pay cut to play another season in Pittsburgh.
Cortez Allen
, who has shown signs that he can succeed Taylor as the No. 1 cornerback, is the only player at that position who still has upside. And Taylor, Allen and
William Gay
are the only three experienced cornerbacks on the roster. Look for the Steelers to draft at least two cornerbacks, as general manager Kevin Colbert has acknowledged that the position is lacking in depth.
Three players the Steelers may be targeting
Darqueze Dennard, Michigan State:
He and Oklahoma State's
Justin Gilbert
are the consensus
top two cornerbacks
in the draft. The 5-11, 195-pounder Dennard has decent size and teams love his physicality. There are questions about Dennard's speed, so his 40-yard dash time at the combine could have a significant impact on his draft stock. Teams will love his game tape, and Dennard recorded 62 tackles and intercepted four passes last season while playing for one of the best defenses in college football. The Steelers haven't used a first-round pick on a cornerback since Chad Scott in 1997, and they won't get a crack at Dennard in the second round. There does appear to be some depth at cornerback if the Steelers opt to address another position with the 15th overall pick of the draft.
Pierre Desir, Lindenwood:
Given his size and athleticism as well as the Steelers' success with Taylor and Allen -- both were fourth-round picks from small schools -- it seems logical that they will take a long look at Desir at the combine. The 6-1, 195-pounder intercepted 13 passes in two seasons at Lindenwood University, a Division II school in Missouri, and teams often threw away from him. Desir addressed questions about his level of competition in college by playing in the East-West Shrine game as well as the Senior Bowl. Desir is not ranked among ESPN draft analyst Mel Kiper Jr.'s top 10 cornerbacks, and he could be available in the third or fourth round. It will be interesting to see what his combine measurables are, and how Desir handles the big stage in Indianapolis.
Bradley Roby, Ohio State:
An up-and-down junior season raised questions about his maturity and probably cost the 5-11, 192-pounder a chance of getting drafted in the first round. Roby, who had 68 tackles and three interceptions last season, is arguably the most talented cornerback in the draft, and if he tests well and interviews well in Indianapolis he could re-establish himself as a first-round prospect. But if concerns about his inconsistency in 2013, as well as the one-game suspension Roby served for an offseason arrest, drop him into the middle of the second round or lower he could be of interest to the Steelers. Roby is a first-round talent and the right setting could make him a steal in the second round. Keep in mind that the Steelers have drafted 13 players from the Big Ten since 2007. Also former Buckeyes great Dick LeBeau is well-positioned to do the necessary homework on Roby.