Pittsburgh Steelers:

Aaron Donald
March, 6, 2014
Mar 6
2:00
PM ET
The re-signings of
Troy Polamalu
and
Will Allen
have not made safety any less of a priority in the 2014 NFL draft. The
Pittsburgh Steelers
, who are not expected to re-sign starting free safety
Ryan Clark
, have to draft at least one safety in May in preparation for the post-Polamalu years.

The consensus is that Alabama's
Ha Ha Clinton-Dix
and Louisville's
Calvin Pryor
are the top two safety prospects in the draft, and ESPN's Todd McShay has the
Steelers taking Clinton-Dix

in his third mock draft, which was unveiled Thursday.
McShay had the Steelers taking Notre Dame defensive tackle
Louis Nix III
in his two previous mock drafts, including one right after the NFL scouting combine. He now has the Steelers addressing their secondary with the 15th overall pick, and here is what he wrote:
"I think Pittsburgh's priorities should be to get younger on defense and upgrade the offensive line, but in this scenario there isn't a tackle who really justifies a top-15 pick (although Zack Martin at least merits consideration). If they trade back, nose tackle Louis Nix III could be an option, but I have enough concerns about his 2013 performance that I don't think he'd go off the board this early. So I think this pick comes down to the best available secondary player, and Clinton-Dix is a playmaker at the safety position, with really good range."
What is interesting in regard to Nix is the one time the Steelers have traded down in the first round since Kevin Colbert joined the organization in 2000 happened in 2001. The Steelers moved from No. 16 to No. 19, swapping places with the Jets while also receiving fourth- and sixth-round picks from New York.
They used that pick on nose tackle and hit big, literally and figuratively, on
Casey Hampton
. Nix has been linked to the Steelers because of the perceived need for a successor to Hampton, who was not re-signed after the 2012 season.
Also noteworthy from McShay's latest mock draft is he has the Lions taking Texas A&M wide receiver
Mike Evans
10th overall and Pryor going to the Rams with the 13th pick in the draft.
McShay has the Bears, who pick one spot ahead of the Steelers taking Pitt defensive tackle
Aaron Donald
. He also has five cornerbacks going in the first round with Oklahoma State's
Justin Gilbert
coming off the board at No. 8 to the Vikings.
McShay has a run on cornerback starting with the Cardinals taking Michigan State's
Darqueze Dennard
at No. 20. The other cornerbacks going in the first round of McShay's mock draft are Ohio State's
Bradley Roby
(Eagles), Virginia Tech's
Kyle Fuller
(Bengals) and TCU's
Jason Verrett
(Chargers).
January, 24, 2014
Jan 24
12:00
PM ET
PITTSBURGH -- Aaron Donald has continued at the Senior Bowl what he did during a storied a career at Pitt.
[+] Enlarge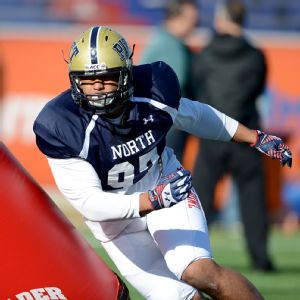 AP Photo/Johnny VyThe Steelers have the advantage of familiarity with Pitt's Aaron Donald but have to wonder whether he fits into their defensive scheme.
The Penn Hills High School graduate has been the hardest player to block during practices, according to anyone within three zip codes of Mobile, Ala. No less an NFL draft authority than the NFL Network's Mike Mayock has compared Donald to Bengals defensive tackle
Geno Atkins
.
Whoa.
ESPN's NFL draft experts on the ground are similarly impressed with Donald. Here is
one item from a story
that Todd McShay, Steve Muench and Kevin Weidl collaborated on after watching the Senior Bowl practices: "Donald showed the ability to beat offensive linemen with quickness, power and active hands, and his ability to do it so many different ways make it that much harder to keep him off the quarterback."
Sounds like a player who will really help a team.
And the Steelers should know as much if not more about Donald than any other team by the time the NFL draft rolls around in May.
Pitt shares a practice facility with the Steelers, and general manager Kevin Colbert has said the team does more homework on local prospects because proximity provides that advantage -- and because the Steelers don't want to let a potential great player get away.
The problem with Donald: He clearly is a better fit in 4-3 defense as an attacking tackle rather than a hold-the-point-of-attack end in a 3-4 scheme.
The 6-foot, 288-pound Donald is probably too small to play nose tackle in a 3-4 defense and would likely be miscast in that role, too.
But he also seems like a classic case of player who transcends measurables and can play regardless of scheme. The Steelers, I'm guessing, would love to keep Donald in Pittsburgh but their top picks will be used on players who are better fits for them and fill a need.
And since it is unlikely that Donald lasts beyond the second round of the draft, he will probably continue his football career outside of Pittsburgh.
January, 21, 2014
Jan 21
8:00
AM ET
Mike Tomlin's worst nightmare could accompany the Steelers to the serene setting of St. Vincent College in late July.
The Steelers are one of just eight teams that are, ahem,
eligible for HBO's "Hard Knocks"
this year, and imagine the ratings bonanza that the only team to win six Super Bowls would provide with an inside look at its training camp.
Tomlin surely does not want to find out just how many viewers the Steelers would attract by appearing on "Hard Knocks."
He is as closely guarded about his team's inner workings as any coach, and Tomlin loves training camp because it minimizes distractions with players living in dorm rooms and abiding by curfews at the small college that has hosted the Steelers every summer for almost 50 years.
TV cameras with the kind of access that "Hard Knocks" enjoys are the last thing Tomlin wants as he molds a team that has missed the playoffs in consecutive seasons for the first time on his watch.
The best-case scenario for Tomlin and the Steelers is that one of the other teams eligible for "Hard Knocks" is so desperate for the publicity that it lobbies the NFL to be the subject of the long-running series.
The Jaguars are among the eight teams eligible for "Hard Knocks," and no team has more trouble filling its stadium than Jacksonville. The Steelers, meanwhile, need "Hard Knocks" as much as they need another season of offensive linemen dropping like bowling pins.
The show would offer a compelling look at Tomlin and one of the NFL's flagship franchises behind closed doors. But you can bet the Steelers will do everything they can to keep HBO from documenting their training camp anytime soon.
In other Steelers/NFL news:
The Steelers are down to one representative in the Pro Bowl after strong safety Troy Polamalu opted out of the annual all-star game with an injury. Funny, that Polamalu played every snap this season. But it's hard to blame him for withdrawing from a game that should have been put out of its misery by now and replaced with some sort of showcase anchored by a skills competition. Browns safety T.J. Ward replaced Polamalu on the Pro Bowl roster, giving four-win Cleveland six Pro Bowlers.
The extra-point could be getting the boot, and I would have no problem if the NFL did away with it. Forget ways to make the play after a touchdown more meaningful. How about getting rid of a kick that has become automatic to shave a little time off games that are getting longer and longer?
Here are a few other links:
Steelers.com's Mike Prisuta looks at playing running back from the eyes of Le'Veon Bell. Speaking of Bell, I talked to former Steelers running back Jerome Bettis about a number of subjects and he is a big fan of Bell and plans on reaching out to him. I will have more on that, the Hall of Fame and Bettis' take on the Steelers in later posts.
ESPN.com Browns reporters Pat McManamon takes a look at the history Cleveland's next head coach will have to overcome.
CBS NFL draft analyst Dane Brugler provides an update from the Senior Bowl, and among the players who jumped out at him during the North team's first practice were Pitt defensive tackle Aaron Donald.