Pittsburgh Steelers:

Aaron Rodgers
July, 24, 2014
Jul 24
1:00
PM ET
PITTSBURGH -- ESPN NFL analyst Ron Jaworski recently ranked all of the starting quarterbacks in the NFL. The
Pittsburgh Steelers
'
Ben Roethlisberger
is sixth on his list after
Peyton Manning
,
Tom Brady
,
Aaron Rodgers
,
Drew Brees
and
Andrew Luck
.
Roethlisberger
"Jaws" performed his usual exhaustive film review in
compiling his list
, and he offered strong praise for Roethlisberger as well as an astonishing statistic:
I thought Big Ben had one of his best seasons in 2013. We all know he has a unique skill set, with the ability to be a pocket passer but also extend the play when it's necessary. Ultimately, there are two sets of numbers that stand out to me for Roethlisberger. The first is that he has 156 career starts and has won 67 percent of them. That's astonishing. The second is that veteran quarterbacks understand the necessity of coming away with touchdowns and not field goals in the red zone. In the last two seasons, Roethlisberger has 27 TDs and zero INTs inside the 20-yard line."
You can debate where Roethlisberger ranks among NFL quarterback but one thing that can't be disputed: Big Ben is the player the Steeler can least afford to lose for an extended period in 2014.
The 11
th
-year veteran makes the no-huddle attack go and that will again be an important component of the Steelers' offense. Roethlisberger, who turned 32 in March, is still playing at a high level and he is coming off a season in which he took every snap.
Bruce Gradkowski
is a capable backup but nothing would help the Steelers more as they try to return to the playoffs after a two-year hiatus than if Gradkowski spends most if not all of the upcoming season on the sidelines.
Here are four other players whom the Steelers cannot afford to lose this season.
WR Antonio Brown:
The Steelers' wide receivers become average if Brown is sidelined by a significant injury. The reigning Steelers MVP caught 110 passes for a team-record 1,499 yards last season and he will again make the other wideouts better simply because of the attention he commands from opposing defenses.
C Maurkice Pouncey:
The Steelers got lucky that
Fernando Velasco
and later
Cody Wallace
played so capably at center after Pouncey tore his ACL eight plays into last season. They cannot count on that fortune again if Pouncey goes down. The three-time Pro Bowler is the unquestioned leader of the offensive line, and he is eager to reward the Steelers for the lucrative contract extension they gave him last month.
LB Lawrence Timmons:
Durable and incredibly productive, Timmons should have at least one Pro Bowl on his resume by now. He will call the defense until rookie
Ryan Shazier
is ready to assume that responsibility. Simply getting lined up properly proved to be a problem for the defense after
Larry Foote
went down in the 2013 opener with a season-ending arm injury.
DE Cameron Heyward:
The 2011 first-round pick is the one proven commodity that the Steelers have at defensive end. Heyward pushed his way into the starting lineup after the fourth game of last season, and he led the Steelers with 31 quarterback pressures in 2013 and tied for the team lead with five sacks. To say there is a significant drop-off after Heyward at defensive end is an understatement.
January, 29, 2014
Jan 29
10:00
AM ET
Tom Brady
and
Peyton Manning
dominated ESPN's NFL Nation survey of which quarterback players would most want if their respective teams needed a touchdown to win the Super Bowl with two minutes left in the game.
Brady (128) and Manning (86) combined to capture roughly two-thirds of the vote among the 320 players polled by ESPN's NFL Nation.
Ben Roethlisberger
received 20 votes to finish fifth among quarterbacks behind Brady, Manning,
Aaron Rodgers
(32) and
Drew Brees
(21).
Five of Roethlisberger's votes came from teammates, a sign of how much his play at the end of close games is valued in the Steelers' locker room.
Roethlisberger has led the Steelers to wins 33 times, including the postseason, in games in which they trailed or were tied in the fourth quarter. His most famous rally came in Super Bowl XLV five years ago when Roethlisberger marched the Steelers 78 yards in eight plays for the touchdown that beat the upstart
Arizona Cardinals
, 27-23.
Roethlisberger capped the drive with a 6-yard pass that
Santonio Holmes
snared with a tip-toe catch before getting pushed out of bounds. That play delivered the Steelers' record sixth Super Bowl title and remains frozen in time for Pittsburgh fans.
Had I been granted a vote I would have thought long and hard before giving it to Brady over Roethlisberger, and I think you could flip a coin between the two quarterbacks who have won a combined five Super Bowls.
Roethlisberger's improvisational skills and his burning desire to win have long made him one of the best quarterbacks when the game is on the line. He has delivered every time? Of course not. But neither has Brady, who has been outdueled late in the Patriots' last two Super Bowl losses by
Eli Manning
.
Eli Manning received nine votes in the anonymous survey followed by
Andrew Luck
(eight) and
Matthew Stafford
(seven) and
Russell Wilson
(three).
The only other quarterback to receive more than one vote?
Matt McGloin
, who picked up two of them.
Draw your own conclusions there.
December, 20, 2013
12/20/13
3:00
PM ET
PITTSBURGH -- The
Pittsburgh Steelers
will take one decided advantage into their first meeting with the Packers since Super Bowl XLV: a relatively clean bill of health.
Keisel
All of the Steelers dealing with injuries, including defensive end
Brett Keisel
, practiced Friday and are listed as probable for the 4:25 p.m. ET game on Sunday at Lambeau Field. The Packers, meanwhile, will be without Pro Bowl quarterback
Aaron Rodgers
for at least another week.
The Packers have officially ruled out Rodgers, who broke his collarbone on Nov. 4, and
Matt Flynn
will again start in his place.
The difference between the two is huge, especially when it comes to the Steelers.
Rodgers lit up the Steelers the two previous times he played against them, including the Super Bowl win he led the Packers to in 2010.
Rodgers has thrown for 687 yards and six touchdowns with no interceptions in two games against the Steelers.
"He just knows where everybody is, and he's so quick with the ball," Steelers defensive coordinator Dick LeBeau said. "He's like (Dan) Marino the way he gets rid of the ball."
Flynn has resuscitated his career since returning to Green Bay, and he has led the Packers to back-to-back comeback wins.
LeBeau said the Packers' offense hasn't changed with Flynn playing quarterback.
"The ball's out quick and they're not dissimilar to the Bengals," LeBeau said.
Keisel will likely be among the Steelers who play against the Flynn-led Packers offense.
Keisel (foot) practiced fully on Friday, and the 12th-year veteran is expected to play Sunday after missing all but a few snaps of the Steelers' past five games because of plantar fasciitis.
Keisel is third on the Steelers with 23 quarterback pressures.
December, 20, 2013
12/20/13
10:00
AM ET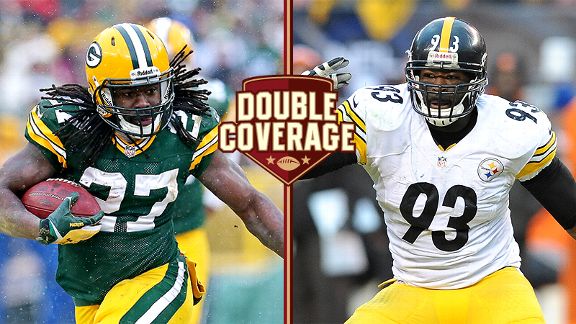 Getty ImagesJason Worilds and the Steelers will have to stop Eddie Lacy -- one of the league's best running backs this season.
The last time the
Green Bay Packers
and
Pittsburgh Steelers
met, the Lombardi trophy was on the line.
In Green Bay, the memories of Super Bowl XLV are alive and well.
In Pittsburgh, all Steelers quarterback
Ben Roethlisberger
said he remembers from that game is one thing: "We lost," he said this week.
The stakes are much different heading into Sunday's game at Lambeau Field. The Steelers (6-8) are in the midst of disappointing season, while the Packers (7-6-1) are fighting for their playoff lives.
Packers reporter Rob Demovsky and Steelers reporter Scott Brown discuss the rematch:
Rob Demovsky:
Let's start with this question. Steelers coach Mike Tomlin said this week that he doesn't regret passing on
Eddie Lacy
in favor of drafting running back
Le'Veon Bell
. Right now, Lacy looks like the better pick, but it's still too early in their careers to say anything definitive. How has Bell fit into the Steelers offense and what's the biggest reason he's only averaging 3.3 yards per carry?
Scott Brown:
Bell has become a big part of the offense and he has added another dimension to it with his pass-catching abilities. He is fourth on the team in receiving, and the Steelers don't just throw screen passes or checkdowns to Bell but also use him as a receiver. Bell is still finding his way as a runner and I'd say his low rushing average is a combination of playing behind a line that is better at pass blocking as well as the adjustment he is making to the speed of the game at this level. Bell has shown flashes, such as when he hurdles a cornerback or plants a defensive end with a stiff-arm, two things he did Sunday night against the Bengals.
Rob, are you surprised at all at the success Lacy has had so early in his career and what has his emergence meant to the Packers offense?
Demovsky
: The only thing that has surprised me about Lacy has been his durability. As everyone around the Steelers knows, there were major questions about his injury history coming out of Alabama. Then, early on his conditioning looked a little off -- although it was not as bad as that unflattering picture of him that was circulating during training camp. Then, he sustained a concussion and missed a game and as half. But ever since he has returned from that, there haven't been any major issues. He's managed to play through a sprained ankle the past two weeks. Whenever they get quarterback
Aaron Rodgers
back, they'll be tough to stop because defenses will have to respect both the run and the pass. That's something Rodgers hasn't really had since he's been the starter.
I've heard a lot of people say they think the Steelers got old in a hurry, especially on defense. Even Roethlisberger looks like an old 31. What do you see in that regard and how much, if at all, has that impacted what's happened to the Steelers this season?
Brown
: Age has certainly been a factor in the decline of the defense this season, but I think it's a bit of a misconception that the Steelers' problems stem from them getting old in a hurry. There is still age on the defense, most notably in the secondary, but the Steelers have quietly gotten younger on that side of the ball -- and will continue to do so after the season. What made the Steelers consistently good before this current stretch is they always seemed to have younger players ready to step in for starters who had passed their prime. Perhaps the best example of this is
James Harrison
and the kind of player he turned into after the Steelers released
Joey Porter
following the 2006 season.
The Steelers are actually pretty young on offense and while Roethlisberger is 31, he has played every snap this season. I think the offense will step to the forefront in the coming seasons while the Steelers retool the defense and Bell and the offensive line get better.
Rob,
Matt Flynn
had trouble sticking with a team before he returned to Green Bay. Is it too strong to say that he saved the season -- or at least prevented the Packers from dropping out of playoff contention after Rodgers went down with the broken collarbone?
Demovsky:
I'm not sure if Flynn saved their season as much as the Detroit Lions' ineptitude saved their season. Same with the
Dallas Cowboys
and
Atlanta Falcons
. It's not exactly like Flynn lit up a couple of defensive juggernauts. That said, it's obvious Flynn has a comfort level with the Packers offense that he did not have in Seattle or Oakland. How else can you explain why he has performed reasonably well here and so poorly in those places?
This is obviously the first meeting between these two teams since Super Bowl XLV. Roethlisberger said this week on a conference call with reporters at Lambeau Field that the only thing he remembers about that game is that his team lost. Given that the Steelers don't have the playoffs to play for this season, does avenging that Super Bowl loss give the Steelers any extra motivation this week?
Brown
: They can say that it doesn't, but I'm sure they would love a little payback for that loss even if a win by the Steelers on Sunday would come on a considerably smaller stage. I have been impressed with how the Steelers have remained focused even though they only have a sliver of hope of sneaking into the playoffs -- and that's if they manage to win their final two games. The Steelers, in fact, could already be eliminated from postseason contention before kickoff Sunday depending on what happens in the 1 p.m. ET games.
If their showing against the Bengals is a guide, the Packers will get the Steelers' best effort no matter what transpires in the early games. The Steelers seemingly had nothing to play for last Sunday night and they jumped all over the Bengals and cruised to a 30-20 win. It was their most impressive win of the season as much for the circumstances under which it came as for the opponent.
Rob, the Steelers offense has really been on the rise since offensive coordinator Todd Haley removed the reins from the no-huddle attack. Given some of the difficulties Green Bay has had on defense do you think it will need to score a lot of points to beat the Steelers?
Demovsky
: The Packers defense gave up 332 yards in the first half alone last Sunday against the Cowboys. They couldn't stop the run -- they haven't really done so since early in the season -- and they seem to have costly coverage breakdowns. When their defense has been at its best is when it has created turnovers. Those two fourth-quarter interceptions of
Tony Romo
sure made up for a lot of defensive mistakes. The same thing happened when they pitched a shutout in the second half against the Falcons the previous week. If Roethlisberger & Co. take care of the ball, then I expect the Steelers will force the Packers to match them in a shootout type of game.
December, 18, 2013
12/18/13
7:15
PM ET
PITTSBURGH -- The
Green Bay Packers
have yet to tip their hand about who will play quarterback Sunday at Lambeau Field but
Pittsburgh Steelers
free safety
Ryan Clark
hopes to see
Aaron Rodgers
.
Yep, the same Rodgers who threw the Steelers for a loop in Super Bowl XLV and passed for 383 yards and three touchdowns the only time he has faced them in a regular-season game.
"You'd like to play Aaron because we've played him twice and he's gotten the best of us defensively," Clark said. "It would be good to get out there and see how far you've come as far as playing against him. The game's going to be played Sunday whether Aaron plays or he doesn't."
Rodgers, who practiced on a limited basis on Wednesday, hasn't played since breaking his collarbone in a Nov. 4 loss to the Bears. The Packers are just a half-game out of first place in the NFC North, and Rodgers' return could help them win the division.
Packers coach Mike McCarthy said more than Rodgers receiving medical clearance will go into the decision on whether the highest rated passer in NFL history will returns against the Steelers.
"This is a big decision," McCarthy told Pittsburgh reporters Wednesday during a conference call. "We want to do the right thing. Everyone understands the stakes as far as what we have in front of us as a football team and how important this game is. But in the same breath we have a protocol and a system that we go through with every player and we especially want to stay true to that with Aaron."
Rodgers, the Super Bowl MVP when the Packers beat the Steelers almost three years ago, has a career passer rating of 105.2. He has completed almost 67 percent of his passes this season and thrown for 2,218 yards and 15 touchdowns with just four interceptions.
"I know he's a competitor and he wants to be out there," Clark said. "They're fighting to be in the playoffs still. If Aaron's healthy and he's cleared to go then he's definitely going to play."
December, 3, 2013
12/03/13
9:15
AM ET
PITTSBURGH -- Are the
Pittsburgh Steelers
likely to win their final four games of the season to finish 9-7? No. Can it be done? Absolutely.
"We know our position," free safety
Ryan Clark
said. "We know where we stand but nothing matters if we don't win games."
The Steelers may not have a safety net under them as they try to walk a high wire for the rest of the season. But the remaining quarter of the schedule sets up favorably for them as the Steelers play three of their final four games at home.
And their lone remaining road contest is against the Packers, who may or may not have starting quarterback
Aaron Rodgers
for that Dec. 22 game.
Here is a look at the Steelers' final four opponents (all times are ET):

Dolphins, 1 p.m. Sunday at Heinz Field:
The turmoil created by allegations of bullying in the Dolphins' locker room has not sunk Miami's season -- yet. The Dolphins are 6-6 despite all of the distractions swirling around the embattled franchise, and they will try to win in Pittsburgh for the first time since 1990. Second-year quarterback
Ryan Tannehill
is still finding his way but he has given the Dolphins hope that their search for a franchise quarterback since
Dan Marino
retired is over. Tannehill can make all of the throws, but all three of his multiple interception games this season have come in losses.

Bengals, 8:30 p.m. Dec. 15 at Heinz Field:
The Steelers could have beaten the Bengals in Cincinnati in September and that was without running back
Le'Veon Bell
and tight end
Heath Miller
. The Bengals are 8-4 and in control of the AFC North, but this isn't Denver or New England precisely because of the team's quarterbacks.
Andy Dalton
has yet to fully earn the trust of Bengals fans despite leading Cincinnati to the playoffs in each of his first two seasons. Dalton has again given them reason to worry. After throwing for over 300 yards in four consecutive games with 11 touchdown passes and six interceptions, Dalton has fallen into a bit of a slump. He is averaging 185.6 passing yards in the Bengals' past three games with six touchdowns and six interceptions.

Packers 4:25 p.m., Dec. 22 at Lambeau Field:
There is a huge X factor here and that is whether Rodgers plays. If the Packers (5-6-1) fall out of contention in the NFC North, there is no reason for them to bring Rodgers back this season from a broken collarbone. And if Rodgers doesn't play, the Steelers may well be favored in this game considering how badly the Packers have struggled since losing their Pro Bowl quarterback.

Browns, 1 p.m., Dec. 29 at Heinz Field:
This is as close to a gimme as there is, as the Browns (4-8) have lost three consecutive games and assumed their customary position at the bottom of the AFC North. The Browns have virtually no offense aside from wide receiver
Josh Gordon
, and their search for a capable quarterback continues. It's hard to imagine the Browns getting up for this game, although they would love nothing more than to knock off their archrivals if the Steelers have something on the line.
September, 5, 2013
9/05/13
2:13
PM ET
PITTSBURGH --
Bruce Gradkowski
long admired
Ben Roethlisberger
from afar. The eight-year veteran quarterback is even more impressed after seeing the
Pittsburgh Steelers
' starting quarterback on a daily basis.
"There's no doubt he's the best quarterback in this league," said Gradkowski, whom the Steelers signed last March to back up Roethlisberger. "Nothing against the other guys because there's so many talented guys out there like a
Tom Brady
,
Peyton Manning
,
Aaron Rodgers
,
Drew Brees
. But Ben, the way he's able to move around and avoid rushes and then if he sits back in the pocket how accurate he is. It's hard for a defense to try and plan against him."
Roethlisberger has also made even more of a believer out of Gradkowski because of the work he puts in off the field.
"I think he just does a great job of pushing his teammates to get better," said Gradkowski, who spent the previous two seasons with the Bengals. "That's what the quarterback position's all about is to make the guys around you better, to demand a high level of urgency and a championship effort. I think with him under center that's what it does around here."
Roethlisberger has already won a pair of Super Bowls, and he will try to lead the Steelers back to the postseason after the team slipped to an 8-8 record in 2012. Roethlisberger, who is nearing the 30,000-yard passing milestone, appears poised for a big season provided he stays healthy.
Roethlisberger also has a better rapport with second-year offensive coordinator Todd Haley, and the 10th-year veteran looked sharp during training camp and in three preseason games.
"I do feel good physically so that's Key 1,"said Roethlisberger, who takes 29,844 career passing yards into Sunday's game against the Titans. "I feel like I got a good amount of work in that I'll be ready to roll. We want to come out and set an early tempo."
Gradkowski, who returned to his native Pittsburgh to play for the Steelers, is not just anxious to see how Roethlisberger does this season.
Gradkowski's younger brother is succeeding
Matt Birk
as the Ravens' center. And
Gino Gradkowski
will make his first career start Thursday night when the defending Super Bowl champions visit the Broncos.
"I'm proud of him," Gradkowski said of his brother. "He's done a great job."