Pittsburgh Steelers:

Aaron smith
January, 10, 2015
Jan 10
12:00
PM ET
PITTSBURGH -- One of the indelible moments of the Pittsburgh Steelers' 2014 season took place soon after it ended with a 30-17 loss to the
Baltimore Ravens
in an AFC wild-card game.
Heyward
Defensive end
Cameron Heyward
held onto to
Brett Keisel
as if the latter was a life raft, not letting go, as tears welled in his eyes, until after a lengthy embrace.
Heyward articulated what that moment meant to him a couple of days later.
"He's always been a big teacher for me," Heyward said of Keisel. "He's taught me how to lead, how to get better. I don't want to let that guy down."
The mantle on a proud Steelers' defensive line will likely be passed from Keisel to Heyward.
Keisel is unlikely to return to the Steelers for a 13
th
season after sustaining a triceps injury at the end of November. And Heyward is perfectly positioned to continue the Steelers' legacy at defensive end that Keisel and Aaron Smith, Keisel's mentor, did so much to uphold.
Heyward, a first-round draft pick in 2011, led the team in quarterback pressures (21) this season and tied for the Steelers' lead with 7 ½ sacks.
And yet, after cleaning out his locker this week, Heyward is anything but satisfied with where he is following his first full season as a starter.
"We have to have more guys getting to the quarterback, myself included," Heyward said after a season in which the Steelers registered just 34 sacks in 17 games, including one in the playoff loss to the Ravens. "Anytime it's a pass I've got to get more pressure. I put more pressure on myself than any coach could."
The mentality is one reason why coach Mike Tomlin lauded Heyward as one of the young players who has emerged as a leader in the Steelers' locker room.
"Guys like [wide receiver] Antonio Brown, guys like [center]
Maurkice Pouncey
, guys like Cam Heyward are great workers," Tomlin said earlier this week. "Not only are they great players, they're great workers. I think that they provide a pretty good compass in leadership for others to follow in regards to bringing the mentality that's geared towards getting better on a daily basis and working."
Heyward said he learned to lead from players such as Keisel, outside linebacker
James Harrison
, strong safety
Troy Polamalu
and cornerback
Ike Taylor
– all of whom may have played their last game for the Steelers.
"They had already won Super Bowls before I got here but just the way they went about their business, always full-time pros on and off the field, they inspired me to be better," Heyward said. "I just thank them for all that they've done."
August, 19, 2014
8/19/14
8:15
PM ET
PITTSBURGH -- Fans all but begged the Steelers to bring back
Brett Keisel
during the months when it looked like the popular and hirsute defensive end would not be able to end an unlikely NFL career on his own terms.
A lot of people
got their wish Tuesday
. Not the least of them was Keisel.
The deal that returns him to the only organization he has known will also allow Keisel to retire as a Steeler. "Da Beard" wanted that as much as he did another season of playing in the NFL.
The
Arizona Cardinals
' interest in Keisel prompted the Steelers to double back on him, even though they are generally getting younger on defense.
Keisel
That is not a knock against
Cam Thomas
, whom the Steelers signed to a two-year, $4 million contract in March. It is certainly not an indictment of second-round pick
Stephon Tuitt
, whom the Steelers love -- and who is the future at left defensive end.
But teams can usually find a place for players such as Keisel, and the Steelers are no exception. He is so valuable in the locker room and defensive linemen's meeting room because of his leadership.
And he showed this past season that he can still play when healthy. Keisel missed almost five games, but it's not like his body was breaking down because he was in his 12th NFL season.
One injury, plantar fasciitis, sidelined Keisel for a mid- to late-season stretch. Even that painful foot injury did not stop Keisel from finishing third on the Steelers with 26 quarterback pressures and fourth on the team with four sacks.
He can still help the Steelers' defense, even if he gets limited snaps while playing in a rotation. And his return won't stunt the development of Tuitt.
On the contrary, Keisel is the perfect player to mentor the immensely talented Tuitt. He is a two-time captain who has been held as an example by Steelers defensive line coach
John Mitchell
because he always runs to the ball.
Always.
When he is giving pointers to Tuitt, Keisel can think back to when Aaron Smith mentored him -- Tuitt actually wears the No. 91 for which Smith set the standard -- and marvel at where the time went.
It has been almost 13 years since Keisel crashed the league that didn't want him and nearly called it a career before he ever got started. Keisel lasted until the 242nd pick of the 2002 NFL draft and almost left St. Vincent College a couple months later because the seventh-round selection felt so overwhelmed at his first training camp.
But he ended up staying, and he developed into one of the unlikeliest core players of the teams that won two Super Bowls and played in a third in a six-season span.
Just when it looked like the Steelers had moved on from Keisel, who celebrates his 36th birthday next month, they bring him back for another season.
Both sides will be better for it -- and Keisel gets to author the ending he wanted all along for his improbable story.
June, 19, 2014
6/19/14
12:30
PM ET
PITTSBURGH -- He was issued the number worn by Aaron Smith, one of the best defensive ends in
Pittsburgh Steelers
history.
His position coach continued the link when he compared
Stephon Tuitt
to a young Aaron Smith.
Pressure? Yeah, and Tuitt says bring it on.
"I love pressure," the rookie defensive end said. "I thrive off of that."
[+] Enlarge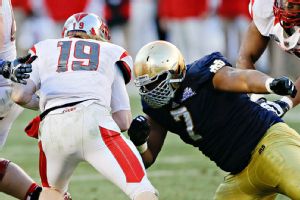 AP Photo/Frank Franklin IIStephon Tuitt, 7, of Notre Dame hopes to follow in the footsteps of Aaron Smith as the Pittsburgh Steelers' next dominant 3-4 defensive end.
He better, since the Steelers are hoping Tuitt is one of the players they build around up front with Smith and nose tackle Casey Hampton no longer with the team and defensive end
Brett Keisel
still a free agent.
John Mitchell has spoken highly of Tuitt since the Steelers drafted the former Notre Dame star, calling him a steal in the second round and later comparing him to Smith, who was so good in his prime that teams could not effectively block him with just one man.
Mitchell, however, has tempered expectations during minicamp, which wraps up today, and said the Steelers won't play Tuitt until he is ready.
"The worst thing you want to happen to a good player who is going to be good down the road, he loses confidence because he goes in the game when he's not ready to play," the veteran defensive line coach told Steelers.com. "We're not going to rush this kid in there. When he's ready to play and we feel he can help this team, that's when we're going to play him. As he grows he's going to be a good football player and he's going to play here for a long time."
It certainly wouldn't hurt if Tuitt, who could have returned to Notre Dame for his senior season, is able to help the Steelers right away since much at defensive end is unknown after
Cameron Heyward
.
Cam Thomas
, who started 10 games at nose tackle for the
San Diego Chargers
last season, will go into training camp as the starting defensive end opposite Heyward. After that the Steelers have a bunch of young, unproven players at the position, though there is a chance they bring Keisel back.
Tuitt is the most promising of the youngsters the Steelers have at defensive end.
The 6-foot-5, 303-pounder already has an NFL body, and he likely would have been a first-round pick had he not carried extra weight in 2013 after surgery compromised his offseason training.
Tuitt's sheer size and the fact that he played some five-technique defensive end in college should help reduce his learning curve.
"I played every single position at Notre Dame," said Tuitt, whose 21 ½ career sacks rank among the school's all-time leaders "Coming into this defense there isn't much change. It's just different when everybody you're going against is top caliber."
Top-caliber is an apt description of the defensive end who wore No. 91 before Tuitt.
Smith established himself as one of the best 3-4 defensive ends of his generation, and he was a main reason the Steelers regularly ranked among the top rushing defenses in the NFL.
Tuitt has yet to meet Smith, but he has already heard plenty about him.
"I've gotten a chance to see who wore this number before me, and the person who wore the number before me was a great player for the Steelers," Tuitt said. "With that comes a great opportunity to become the best, and that's somebody I want to become as great as or greater than."
June, 18, 2014
6/18/14
12:00
PM ET
PITTSBURGH -- The Steelers signed defensive end
Stephon Tuitt
to a four-year contract on Tuesday, making the former Notre Dame star the last of their nine draft picks to come to terms with the team.
The Steelers also made a roster move on Tuesday, signing running back Jordan Hall and releasing cornerback
Deion Belue
.
Hall, who starred at nearby Jeannette High School and was teammates there and at Ohio State with
Terrelle Pryor
, took part in the Steelers' rookie minicamp last month on a tryout basis. The 5-9, 191-pounder is 12
th
on Ohio State's all-time list with 3,486 all-purpose yards.
Hall also rushed for career 1,568 yards and 14 touchdown at Ohio State.
Tuitt, a second-round pick, is expected to push for significant playing time as a rookie after recording 21.5 career sacks for the Fighting Irish in 35 games.
The 6-5, 303-pounder already has an NFL body and defensive line coach John Mitchell has said Tuitt reminds him of a young
Aaron Smith
.
Tuitt is wearing the same number (91) that Smith had during a standout career in which he established himself as one of the top 3-4 defensive ends of his generation.
Tuitt agreed to terms a little less than a week after the Steelers signed running back
Dri Archer
.
Archer, a third-round pick, signed a four-year, $2.748 million contract, according to ESPN Sports & Information.
Archer received a $506,016 signing bonus and his deal counts as a $584,504 cap hit this year.
May, 22, 2014
5/22/14
12:45
PM ET
PITTSBURGH -- This is the next in a series that takes a post-free agency, post-draft look at all of the positions with the exception of quarterback.
Our fifth look is at a unit that is in transition.
Defensive line
Who is new:
Cam Thomas
,
Stephon Tuitt
and Daniel McCullers. The
Pittsburgh Steelers
signed Thomas to a two-year, $4 million contract in March, and the former Charger, also known as "Baby Zilla," can play nose tackle and defensive end. The Steelers took Tuitt, a defensive end, in the second round of the draft. They used the second of their two sixth-round selections on McCullers, a 6-7, 352-pound defensive tackle.
Who is gone:
Brett Keisel
,
Ziggy Hood
and
Al Woods
. Keisel, who has started at defensive end for the Steelers since 2006, remains unsigned. Hood and Woods signed with the Jaguars and Titans, respectively, as unrestricted free agents.
Returning starters:
Cameron Heyward
and
Steve McLendon
. Heyward played sparingly his first two seasons in Pittsburgh but he showed in 2013 why the Steelers could no longer keep him off the field. Heyward supplanted Hood as a starter five games into last season, and the 2011 first-round pick led the Steelers with 31 quarterback pressures and tied for second on the team with five sacks. McLendon took over for five-time Pro Bowler
Casey Hampton
at nose tackle and probably received too much blame for the Steelers yielding 4.3 yards per carry last season. McLendon has received several votes of confidence from the Steelers this offseason, and he should be better in his second season as a starter. "I'm not worried about him at this time," defensive line coach John Mitchell said.
Most significant addition:
Tuitt. The former Notre Dame star already has an NFL body and the 6-5, 303-pounder should play immediately given the Steelers' need at defensive end. The Steelers were elated that Tuitt lasted until their pick in the second round of the draft. They will be even happier if he develops quickly enough to start sooner rather than later opposite Heyward.
Most significant loss:
Keisel. The unquestioned leader of the defensive line and a Steelers captain, Keisel finished third on the team with 26 quarterback pressures last season and also recorded four sacks despite missing four-plus games because of a nagging foot injury. The Steelers haven't shown any inclination to bringing Keisel back for a 13
th
season, which is curious considering how thin they are at defensive end.
On outside looking in:
McCullers. The Tennessee product is probably a project more than a player who can provide immediate help up front. McCullers will have to prove to the Steelers he can play with the necessary pad level at nose tackle, and that will be a challenge given his sheer size.
Hidden number:
McLendon had nine quarterback pressures last season -- only two less than outside linebacker
Jarvis Jones
-- despite playing only 338 snaps and coming off the field on passing downs.
Outlook:
A defensive line that had been anchored for years by Keisel, Hampton and
Aaron Smith
has gotten very young. Heyward is the leader of the unit, and he only turned 25 a couple of weeks ago. The biggest question is who will start opposite Heyward. Right now it looks like a rotation of Thomas, Tuitt and
Brian Arnfelt
or
Nick Williams
will be used at right defensive end. The Steelers should also keep Keisel on call -- if he doesn't sign elsewhere -- in case some of the young players at defensive end don't progress quickly enough.
April, 29, 2014
4/29/14
3:15
PM ET
PITTSBURGH -- The
Pittsburgh Steelers
haven't shown any inclination to bringing back defensive end
Brett Keisel
for one more season.
Does that mean
Cameron Heyward
has ruled out the possibility of playing again with his mentor?
"I haven't," Heyward said, "but it's not my decision."
Heyward
Heyward keeps in regular contract with Keisel and he said the 12th-year veteran has been working out with the hopes of extending his career beyond the 2013 season.
Even if Pittsburgh re-signs Keisel, there is no question the defensive-line room has changed dramatically since Heyward joined it after the Steelers took him in the first round of the 2011 draft.
Gone from it are
Aaron Smith
,
Casey Hampton
and
Chris Hoke
.
And it doesn't look promising that Keisel will return, though the Steelers could re-sign him in June to provide depth at a position where they are perilously thin.
So much turnover along the defensive line has followed a period in which the Steelers experienced very little of it.
Heyward proved last season with his stellar play that he can fill the void at defensive end. He showed Tuesday that he is also capable of becoming a leader in the mold of his predecessors with a telling comment.
When asked if the transition on the defensive side of the ball has gone smoothly, Heyward said, "If it was smooth we would have been winning championships. We're just trying to be an honest group and make sure everybody's accountable. That's our main goal this offseason."
One of the Steelers' biggest priorities is shoring up a run defense that yielded 115.6 rushing yards per game last season and one key to that will be filling the hole opposite Heyward and getting better play from nose tackle
Steve McLendon
.
Heyward expects McLendon to emerge in his second season as a full starter and become a force in the middle of the line.
"I'm expecting a lot out of Steve," Heyward said. "He's struggled with some injuries (in 2013) but that's part of the game. He's definitely grown a lot and he sees his mistakes and definitely wants to be the best he can be."
Heyward, who led the Steelers with 31 quarterback pressures last season, said he expects
Cam Thomas
, who signed with the Steelers last month, to fill
Al Woods
' role and play both nose tackle and end.
As for younger players who could step up at defensive end, Heyward said second-year man
Brian Arnfelt
could contribute this season. Arnfelt, a former undrafted free agent who spent most of last season on the practice squad, played the final two games of 2013.
"He's put in a lot of work this offseason, been here almost every day with me," Heyward said "Him being around guys like Brett Keisel and Ziggy (Hood) he got to learn a lot and every day through practice you saw Brian get better. You could see at practices toward the end of the year that he was really starting to strive and make a lot of progress."
January, 28, 2014
1/28/14
4:00
PM ET
PITTSBURGH --
Brett Keisel
took part in Super Bowl Media Day on Tuesday asking hair-related questions as part of a promotion for Head & Shoulders.
Keisel
The Steelers defensive end, however, made it clear after the media extravaganza/parody that he is not in the New York City area this week auditioning for post-football jobs such as professional pitch man or some sort of NFL analyst.
Keisel, nearly a month after his 12
th
NFL season ended, told ESPN's SVP & Russillo
that retirement isn't on his radar
even though he is 35 and has played out the five-year contract he signed in 2009.
"I think I've got a couple [of seasons] left in me," Keisel said on the syndicated talk radio show. "I feel great and still feel like I can play and we'll see what happens."
The question Keisel may soon face is how far he is willing to go to continue his career -- and that could be literally.
Keisel has said he can't imagine donning a different uniform, and he and his wife have fallen so in love with Pittsburgh that they plan to raise their family here after his playing days are over.
But the Steelers are more likely than not to move forward without Keisel. It is something they have done the last two years with other cornerstones from the teams that won two Super Bowls and played in another from 2005-10.
Hines Ward
,
James Farrior
,
Casey Hampton
and
Aaron Smith
, Keisel's onetime mentor, are among those whom the Steelers released or did not re-sign, and Keisel could soon join that list.
He would have to accept a drastic pay cut -- he made $4.9 million in 2013 -- and probably a reduced role for the Steelers to even considering bringing him back for another season.
If Keisel is amenable to both I think the Steelers should re-sign the 6-5, 285-pounder, especially since fellow defensive ends
Ziggy Hood
and
Al Woods
are also set to become unrestricted free agents on March 11 and face uncertain futures.
Keisel had four sacks last season and 26 quarterback pressures, third most on the Steelers, despite missing four games and playing sparingly in another because of a nagging foot injury.
Bringing him back as a situation pass rusher, a role he filled before becoming a full-time starter in 2006, would make a lot of sense.
That is if the dollars and cents work for the Steelers and Keisel.
There are a lot of variables at play as far as Keisel's future with with the Steelers.
One that isn't: his desire to keep playing.
January, 16, 2014
1/16/14
1:50
PM ET
PITTSBURGH -- The last two years show that sentimentality has nothing to do with Art Rooney II's desire for
Troy Polamalu
to retire as a Steeler.
[+] Enlarge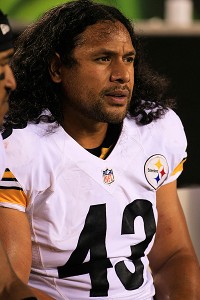 AP Photo/Tom UhlmanMoney may be the only thing in the way of Troy Polamalu retiring as a Steeler.
Hines Ward
,
Aaron Smith
,
James Harrison
,
James Farrior
and
Casey Hampton
are among the players whom the Steelers have either cut or not re-signed since 2012. Like Polamalu, all were cornerstones on the teams that won two Super Bowls and played in another from 2005-10.
True, Polamalu is the most iconic of those players with the flowing locks that have morphed into their own brand and a game that is a study in angles, kinetics and flash.
But the 2010 NFL Defensive Player of the Year is also still playing at a high level even if he has slipped a bit in coverage. That was never the strongest part of his game anyway. and Polamalu is still arguably the most valuable piece the Steelers have on defense given how defensive coordinator Dick LeBeau deploys him all over the field.
Any doubts the Steelers may have had about wanting Polamalu back in 2014 were erased by a season in which he displayed remarkable durability.
Consider that a significant number of the 1,041 snaps Polamalu played came at inside linebacker in the Steelers' quarter package. And yet the 11
th
-year veteran did not come off the field a year after he missed more than half of the 2012 season because of a calf injury.
Necessity is also a factor in the Steelers wanting Polamalu back in 2014. The team is unlikely to re-sign free safety
Ryan Clark
, and there is no way the Steelers can go into next season with two new safeties.
Shamarko Thomas
, the eventual successor to Polamalu at strong safety, showed promise during his rookie season. But the fourth-round draft pick did not play a defensive snap in the final seven games after sustaining a high ankle injury and getting supplanted by veteran
Will Allen
in the quarter package.
Money is the one thing that could complicate Polamalu finishing his career in Pittsburgh.
His cap hit of just under $10.9 million is prohibitive for a team that needs to shed salary in the offseason. And the Steelers wanted to re-sign Harrison last year but the two sides couldn't agree on the amount of a pay cut the outside linebacker take, and he is now playing in Cincinnati.
It is possible that a similar scenario could play out with Polamalu but I think it is highly unlikely.
Polamalu wants to
finish his career in Pittsburgh
. Rooney expressed, in as strong of terms possible, that he wants the same thing.
The two sides will find a way to make it happen.
December, 30, 2013
12/30/13
10:58
AM ET
PITTSBURGH -- Defensive end
Brett Keisel
, like safety
Ryan Clark
, has probably played his last game as a Steeler at Heinz Field. And Keisel, like Clark, isn't thinking about retirement right now.
He made very clear after the
Pittsburgh Steelers
' 20-7 win over the bumbling
Cleveland Browns
that whatever nostalgia he experienced Sunday shouldn't be mistaken for Keisel giving serious thought to retiring after more than a decade of playing in the NFL.
Clark
Keisel
"I'm not saying it's over for me at all," Keisel said. "I still feel like I can play and we'll see."
Keisel and Clark are in remarkably similar situations.
Each just finished his 12
th
NFL season and each has to make a minimum of $955,000 next season per the collective bargaining agreement regarding veteran salaries.
Like Clark, Keisel is aware of what has happened in recent years with the Steelers either releasing or not re-signing defensive stalwarts such as linebackers
James Farrior
and
James Harrison
, defensive end
Aaron Smith
and nose tackle
Casey Hampton
.
If Keisel is the next to go he at least went out in memorable fashion.
He recorded a sack and a forced fumble on the same play early in the game. Keisel then delivered what had become one of his signatures after dropping a quarterback. The avid outdoorsman mimicked shooting a bow and arrow after sacking
Jason Campbell
, and he had the presence of mind to not drop to his knee and avoided getting a taunting penalty.
"I had to shoot one more," Keisel said. "I'm glad I had the opportunity."
He would love nothing more than to get more opportunities with the Steelers but Keisel is well aware that he could soon confront a dilemma that others such as Farrior, Smith and wide receiver
Hines Ward
faced before him: retire as a Steeler or try to extend his career elsewhere.
Keisel can't imagine wearing another uniform and he loves Pittsburgh so much that he and his wife plan to raise their family here. But he is also an admitted competition junkie so walking away from football won't be easy, especially since Keisel still feels like he can still play.
If he suited up for the final time as a Steeler on Sunday, he didn't leave anything to chance.
Keisel gathered the defensive linemen before the game and told them to savor the moment because it would be the last time they would all play together with change inevitable after every season.
Keisel -- and the linemen who see him as their unquestioned leader -- then helped a defense stymie the Browns and keep them off the scoreboard until the waning minutes of the game.
"It was emotional," Keisel said of is meeting with the linemen, "but I'm just proud to be a Steeler and proud to have helped finish this thing strong. You never know what's going to happen. But it's a great feeling to come off the game with a big win. I'm a happy camper."
December, 12, 2013
12/12/13
1:17
PM ET
PITTSBURGH -- It seems ludicrous now considering that he may be the Steelers' best defensive player this season. But it wasn't too long ago that it was easy to wonder if the Steelers had made a mistake when they used their 2011 first-round pick on
Cameron Heyward
.
He played sparingly outside of special teams his first two seasons, and it was also easy – or convenient – to forget that Heyward didn't have the benefit of getting acclimated to a new defense before his first training camp because of the lockout.
[+] Enlarge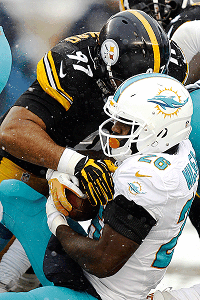 Charles LeClaire/USA TODAY SportsSteelers defensive end Cameron Heyward showed off his tenacity against the Dolphins.
Or that it takes years for ends to master the technique and hand-to-hand combat skills that are necessary to succeed in the Steelers' 3-4 defense.
Heyward, it can be argued, is actually ahead of schedule. And any questions about whether he has arrived were erased last Sunday against the Dolphins.
Heyward recorded a career-high 10 tackles, and he displayed a brute strength on a couple of them in yanking Dolphins ball carriers to the ground. The former Ohio State star is second on the Steelers with 24 quarterback pressures and third on the team with four sacks.
And yet when asked if development has been a source of satisfaction this season, Heyward said, "No, because it just doesn't show up on the [score]board. I think I've become more confident in what I'm doing out there. I just want it to translate onto the board. I'll do whatever it takes."
Heyward is a main reason why the Steelers have hope that their future performances translate into wins – and not just in the final three games of the season.
The player who didn't open the season as a starter -- he supplanted
Ziggy Hood
in the lineup after the fourth game -- has emerged as a cornerstone whom the Steelers can build around as they re-tool their aging defense. Heyward has also established himself as the next in a line of defensive ends who have distinguished themselves, most notably
Aaron Smith
and
Brett Keisel
.
"I've had the pleasure of just getting to learn from those guys and there's so much I've learned," Heyward said. "I'm just trying to live up to the hype. Those guys have set the bar pretty high and just trying to carry it on."
He has already started doing just that.
"Cam had a lot of God-given ability. It just took him some time to learn what to do," Steelers defensive line coach John Mitchell said. "He's getting better and better. He feels more comfortable. We wanted to get him on the field because he was making plays."
December, 10, 2013
12/10/13
9:45
AM ET
PITTSBURGH -- It is not something he will have to confront right after the season ends but a decision
Brett Keisel
dreads may be on the horizon.
And the dilemma the veteran defensive end potentially faces is this: Retire so he doesn't have to leave Pittsburgh or finish his career elsewhere since Keisel feels like he still has some good years left in him.
"I don't think I could wear any other colors," Keisel said. "I'm a Steeler."
Keisel
He is also a competition junkie, which is why it won't be easy for Keisel to walk away from football if the Steelers decide that he is no longer in their plans.
Keisel's situation is a complicated one, and it has little to do with his standing as one of the most respected Steelers -- as well as a fan favorite because of his blue-collar ethos and the beard that has made him something of a cult figure in Pittsburgh.
Keisel is in the final year of his contract, and he fits the profile of the kind of veteran that the Steelers have released or not re-signed in the past two offseasons. As much as he has meant to the organization, Keisel is in his 12
th
NFL season and he is 35 years old.
The Steelers need to get younger on defense, but they also need a viable replacement at right defensive end if they decide against bringing Keisel back.
Ziggy Hood
is the obvious choice to take Keisel's spot. But he is also in the final year of his contract so there is no guarantee the former first-round draft pick will return to the Steelers.
If there is any veteran the Steelers should consider bring back for one more season it is Keisel. His play has not slipped appreciably despite his age, and he had been leading the Steelers in quarterback hurries before getting sidelined by plantar fasciitis.
Keisel is the undisputed leader of the defensive line, a player who is held up as a model to younger ones by position coach John Mitchell. And he would likely agree to the kind of short-term contract that would be favorable to the Steelers and allow him to finish his career in Pittsburgh.
What is working against Keisel, aside from the encroachment of age, is recent history.
Hines Ward
,
James Farrior
,
Aaron Smith
and
Casey Hampton
are among the veterans the Steelers released or didn't re-sign over the past two years. If Keisel is among the next to go will he follow those players in retiring instead of trying to play for another team?
It's a decision Keisel hopes to put off as long as possible.
"I still feel like I'm a good player," Keisel said, "and I still love competing. What's hardest for me in the offseason is when I don't have something that I'm competing in all the time because I've been doing this for so long. That's what probably scares me most about not having this every day is finding something that I can get an adrenaline rush from."
December, 9, 2013
12/09/13
5:50
PM ET
PITTSBURGH --
Ryan Clark
wasted little time acknowledging an uncomfortable truth after the loss that all but eliminated the Steelers from postseason contention.
Change is coming sooner rather than later, and it could sweep away most of the remaining veterans who won at least one Super Bowl with the Steelers and played in another.
Clark
"Any time you're in the last year of a contract and a team is playing a certain way you never know what moves they want to make," Clark said Sunday after the Steelers' 34-28 loss to the Dolphins. "I think guys need to realize, and I have realized probably because I am older, faces change. You lose James Farriors and you lose Aaron Smiths, and it hurts and it's tough but everybody's time comes. For me I want to enjoy bit, keep playing, have fun."
The Steelers have their share of pending free agents and they fall into two groups: veterans they may not try to re-sign and younger players they may not be able to re-sign because they command more money somewhere else.
Clark is clearly in the first category as he is in his 12th NFL season, turned 34 in October and is part of a secondary that desperately needs an infusion of youth.
He saw the Steelers make tough business decisions a couple of years ago when they released Farrior and Ward, two players who meant everything to the organization.
The same thing happened after last season when the Steelers did not try to re-sign
Casey Hampton
, a locker room favorite and one of the best run-stuffing nose tackles of his generation.
The Steelers rarely let sentiment get in the way of making difficult personnel decisions, and they don't figure to start now.
The franchise that has won a record six Lombardi Trophies is at a crossroads, and it faces another offseason that will be marked by turnover. Letting Clark walk may be one of the easier decisions it faces given his expiring contract and declining play.
That reality is the reason Clark is looking at the Steelers' final three games as anything but meaningless.
"I know (they) matter to me because for some of us this may be the last however many games in a Pittsburgh Steeler helmet, so you want to play well, you want to enjoy the time with your friends," Clark said. "You just continue to play hard, you continue to have fun and for me that's what I'm going to do and then what happens with that happens."