Pittsburgh Steelers:

Al Woods
March, 7, 2014
Mar 7
11:00
AM ET
»
AFC Free-Agency Primer
:
East
|
West
|
North
|
South
»
NFC
:
East
|
West
|
North
|
South
Key free agents:
WR
Emmanuel Sanders
, DE
Ziggy Hood
, WR
Jerricho Cotchery
, DE
Al Woods
, DE
Brett Keisel
, S
Ryan Clark
, RB
Jonathan Dwyer
, C
Fernando Velasco
, OT
Guy Whimper
, C/G
Cody Wallace
, TE
David Johnson
, LB
Stevenson Sylvester
.

Where they stand:
General manager Kevin Colbert has said the Steelers may be more active in free agency than in recent years, but don't expect their philosophy to fundamentally change. The Steelers will focus on their own players and are likely to sit out the first wave of free agency and target midlevel free agents after the marquee names have signed with other teams. Colbert hinted that the Steelers could try to land a potential starter via free agency, and they could use immediate help as well as depth at just about any position on defense. Nothing would help the Steelers more than if they could sign a free agent who will make an impact like Ryan Clark (2006) or
James Farrior
(2002) did, though they would have to splurge to get a free agent the caliber of Farrior.
What to expect:
Wide receiver Emmanuel Sanders, the team's top free agent, is going to command more money than the Steelers are willing to pay. He will almost certainly sign elsewhere, though look for veteran Jerricho Cotchery to re-sign with the team after catching 10 touchdown passes last season. Defensive end Ziggy Hood is likely to sign elsewhere, making it imperative that the Steelers bring back Al Woods. They could also re-sign Brett Keisel for one more season if the two sides can find common ground on compensation. The Steelers have a good chance of signing most of their free agents with the exceptions of Sanders and Hood, and that is how they will add depth to their offensive line. Free agents they could target include former Seahawks defensive end
Red Bryant
, Dolphins defensive tackle
Paul Soliai
and 49ers cornerback
Tarell Brown
. The Steelers met with former Lions safety
Louis Delmas
last month, but his knee issues may be too much of a red flag for them, and they have since re-signed veteran Will Allen.
January, 29, 2014
Jan 29
4:30
PM ET
PITTSBURGH -- This is the eighth in a series in which I will examine every position relative to the 2013 season – and look take a look ahead.
DEFENSIVE ENDS
2014 free agents
:
Ziggy Hood
,
Brett Keisel
and
Al Woods
.
The good
:
Cameron Heyward
finished the season as arguably the Steelers' best defensive player after opening it as a part-time player. Heyward, who didn't become a starter until the fifth game of the season, led the Steelers with 31 quarterback hurries, and he provided a consistent interior pass rush while also holding up well against the run. He emerged as a cornerstone of the Steelers' defense, something they desperately needed, and a player who can anchor the line in the coming seasons. Keisel and Hood had their moments and Woods showed that he can help the defense at end and nose tackle after receiving the first extensive playing time of his career.
The bad:
Keisel missed four games and barely played in another because of a nagging foot injury. Hood lost his starting job to Heyward, and he has been more workmanlike than anything in five seasons. The Steelers were expecting more out of their 2009 first-round draft pick, and they have to decide how much of a push they want to make toward re-signing him.
The money
(2014 salary-cap numbers): Heyward's cap hit will be $2.133 million, making him a bargain. The Steelers control Heyward's rights for two more years so they have plenty of time to sign him to a new deal. They have decisions to make regarding Hood, Keisel and Woods. My guess is two of those players returning in 2014 with Woods being one of them and either Hood or Keisel also returning. Keisel said he believes he still has a couple of good years left in him but he would have to accept a drastic pay cut for the Steelers to consider bringing him back.
Draft priority:
High. The Steelers need to draft a defensive end they can develop and pair opposite Heyward, especially if they don't think Hood can be that player. ESPN Insider Matt Williamson, a former NFL scout, said the Steelers' need at defensive end is such that addressing it should be one of their top priorities. Williamson doesn't think the Steelers will use their first-round pick on an end only because there isn't a good match for them at No. 15 overall.
January, 28, 2014
Jan 28
4:00
PM ET
PITTSBURGH --
Brett Keisel
took part in Super Bowl Media Day on Tuesday asking hair-related questions as part of a promotion for Head & Shoulders.
Keisel
The Steelers defensive end, however, made it clear after the media extravaganza/parody that he is not in the New York City area this week auditioning for post-football jobs such as professional pitch man or some sort of NFL analyst.
Keisel, nearly a month after his 12
th
NFL season ended, told ESPN's SVP & Russillo
that retirement isn't on his radar
even though he is 35 and has played out the five-year contract he signed in 2009.
"I think I've got a couple [of seasons] left in me," Keisel said on the syndicated talk radio show. "I feel great and still feel like I can play and we'll see what happens."
The question Keisel may soon face is how far he is willing to go to continue his career -- and that could be literally.
Keisel has said he can't imagine donning a different uniform, and he and his wife have fallen so in love with Pittsburgh that they plan to raise their family here after his playing days are over.
But the Steelers are more likely than not to move forward without Keisel. It is something they have done the last two years with other cornerstones from the teams that won two Super Bowls and played in another from 2005-10.
Hines Ward
,
James Farrior
,
Casey Hampton
and
Aaron Smith
, Keisel's onetime mentor, are among those whom the Steelers released or did not re-sign, and Keisel could soon join that list.
He would have to accept a drastic pay cut -- he made $4.9 million in 2013 -- and probably a reduced role for the Steelers to even considering bringing him back for another season.
If Keisel is amenable to both I think the Steelers should re-sign the 6-5, 285-pounder, especially since fellow defensive ends
Ziggy Hood
and
Al Woods
are also set to become unrestricted free agents on March 11 and face uncertain futures.
Keisel had four sacks last season and 26 quarterback pressures, third most on the Steelers, despite missing four games and playing sparingly in another because of a nagging foot injury.
Bringing him back as a situation pass rusher, a role he filled before becoming a full-time starter in 2006, would make a lot of sense.
That is if the dollars and cents work for the Steelers and Keisel.
There are a lot of variables at play as far as Keisel's future with with the Steelers.
One that isn't: his desire to keep playing.
January, 6, 2014
Jan 6
3:15
PM ET
PITTSBURGH -- The
Pittsburgh Steelers
have 21 players who are scheduled to become unrestricted free agents on March 11
th
, the start of the NFL's new year. Here is a quick look at 11 of those unrestricted free agents – and the priority the Steelers should place on re-signing them.
Worilds
OLB Jason Worilds:
The former second-round pick led Steelers with eight sacks and came into his own after a calf injury sustained by
LaMarr Woodley
provided an opening at left outside linebacker.
Priority:
Keeping Worilds should be at or near the top of Steelers' to-do list.
WR Emmanuel Sanders:
Showed flashes in his first year as a starter but also was plagued by inconsistency.
Priority:
Let market determine Sanders' value and then see if he is worth bringing back.
Keisel
DE Brett Keisel:
Unlikely to return but I think the Steelers should seriously consider bringing back Keisel for one more season if the price is right.
Priority:
The Steelers can be patient here as Keisel, 35, won't draw a lot of interest, at least initially, on the free-agent market.
DE Ziggy Hood:
Hasn't lived up to expectations as a first-round draft pick but I wouldn't call him a bust either. He is one of the tougher ones to call since Hood has been serviceable and is one of three defensive ends who are impending free agents.
Priority:
Much like Sanders, the Steelers should let the market determine Hood's value and then see if they are willing to pay it.
S Ryan Clark
: He has had a tremendous run in Pittsburgh – and in the NFL in general considering he is still playing 12 seasons after making the Giants as an undrafted free agent.
Priority:
The Steelers need to get younger in the secondary and that almost certainly spells the end of Clark's playing days in Pittsburgh.
Cotchery
WR Jerricho Cotchery:
Is coming off a career-best 10-touchdown season. Loves Pittsburgh, loves playing for Mike Tomlin and catching passes from
Ben Roethlisberger
. Is a consummate professional and great locker-room guy.
Priority:
The Steelers need to make this happen as they should be able to find common ground with Cotchery in terms of bringing the 10
th
-year veteran back in 2014.
DE: Al Woods:
Woods saw the first significant playing time of his career and started a pair of games at nose tackle for the injured
Steve McLendon
. He can play both end and nose tackle and still has upside.
Priority:
The Steelers, assuming the price is right, should bring back Woods. I don't see both Keisel and Hood returning and there is a chance each has played his last game in Pittsburgh. Uncertainty at defensive end beyond
Cameron Heyward
makes re-signing Woods a key.
RB Jonathan Dwyer:
Love him as a No. 2 running back who can be a spot starter if Le'Veon Bell goes down with an injury. The question is will Dwyer seek a larger role elsewhere and will there be much interest in him as a potential starter?
Priority:
Dwyer is another player whom the Steelers will let test the market and then see if they want to make a run at bringing him back.
Velasco
C Fernando Velasco:
One of the most unsung players of the season, Velasco stabilized the center position following the loss of Pro Bowler
Maurkice Pouncey
. Ruptured Achilles ended his season after 11 games.
Priority:
Velasco would be ideal as the first center/guard in reserve, and recent history shows how important depth is along the offensive line. The Steelers should have a good chance of re-signing Velasco because of his injury.
G/OT: Guy Whimper:
Proved to be a valuable fill-in and started a game at each guard spot. Whimper would bolster the offensive line depth if he returns.
Priority:
The Steelers should be able to bring back Whimper, assuming he wants to return, and his position flexibility is a bonus.
S Will Allen:
The veteran rejuvenated his career after re-signing with the Steelers following his release by the Cowboys. Allen played significant snaps as a third safety in the quarter package and was a core special-teams player.
Priority:
Allen wants to return and I think there is a good chance that the Steelers bring him back for another season because of their comfort with him and his ability to play special teams.
Rest of the free agents:
RB
LaRod Stephens-Howling
, RB
Felix Jones
, WR
Plaxico Burress
, TE
David Johnson
, TE
Michael Palmer
, C
Cody Wallace
, LB
Stevenson Sylvester
, LB
Jamaal Westerman
, P
Mat McBriar
and LS
Greg Warren
.
December, 16, 2013
12/16/13
1:15
PM ET
PITTSBURGH -- High marks all around after the Steelers' most impressive win of the season, given the opponent and the circumstances.
Quarterback:
Ben Roethlisberger
wasn't spectacular, but he didn't need to be after the Steelers built an early three-touchdown lead. Roethlisberger completed 20 of 25 passes for 191 yards and a touchdown, and finished with a passer rating of 95.2. The only marks against him were the interception he threw on a deep ball that became caught up in the wind, and the Steelers' inability to score touchdowns when they were twice inside the Bengals' 10-yard line.
Grade: B+
Running backs:
Le'Veon Bell
scored the first touchdown of the game, but he averaged just 2.4 yards on 22 carries. Despite his limited production on the ground, Bell still flashes the kind of ability to make you think he is going to be a very good running back in this league, such as when he planted Bengals defensive end
Michael Johnson
with a wicked stiff-arm. The Steelers got some nice production out of
Jonathan Dwyer
and
Felix Jones
.
Grade: B-
Brown
Receivers:
They caught just about everything that came their way, and weren't asked to do too much after the Steelers seized control of the game early. The receivers made a couple of key catches after the Bengals had crept back into the game.
Antonio Brown
again found the end zone, and he has caught six touchdown passes in the past seven games.
Grade: B
Offensive line:
The unit didn't open up a lot of holes for Bell, but it kept Roethlisberger clean. The Bengals managed just one sack and two quarterback pressures, and Roethlisberger has been dropped just five times in the Steelers' past five games. There were a couple of in-game injuries, but nothing that caused the kind of shuffling that has happened all too often this season. The line did not commit a holding penalty despite playing against a physical defense.
Grade: B+
Woods
Defensive line:
It might have played its best game of the season despite the absence of two starters.
Ziggy Hood
and
Al Woods
shined while filling in for
Brett Keisel
and
Steve McLendon
, respectively, and the Bengals averaged just 2.6 yards per carry. Cincinnati's longest run was 9 yards, and that came off a read-option by quarterback
Andy Dalton
. Hood recorded the Steelers' only sack of the game.
Grade: A
Linebackers:
Vince Williams
made a textbook read and tackle early in the game, stuffing
BenJarvus Green-Ellis
for no gain on third-and-1. That led to the muffed punt attempt that set up the first touchdown of the game. The linebackers were stout against the run all night, though they could have put more pressure on Dalton.
Grade: B
Secondary:
A.J. Green
caught nine passes for 93 yards, but the Steelers were more than happy to keep the Pro Bowler in front of them after jumping out to a 21-0 lead. Green averaged just 5.2 receiving yards per target, and the Steelers excelled at tackling after the catch. They did not allow a catch of 20 yards or longer, and their two leading tacklers, cornerbacks
Cortez Allen
and
Ike Taylor
, combined for 14 stops.
Grade: A-
Special teams:
They received a couple of gifts -- punter
Kevin Huber
dropping a snap and
Cedric Peerman
getting penalized running with the ball after calling for a fair catch on a kickoff that negated a lengthy return. Brown broke free for his first punt return for a touchdown since 2011, and
Shaun Suisham
banged home all three of his field-goal attempts despite the swirling winds.
Grade: B+
Coaching:
So much for the Steelers mailing it in with little to play for in a stadium that had its share of empty seats. They dominated the game for three quarters, then made the necessary stops and first downs to blunt the Bengals' fourth-quarter rally. All three units played well off one another, and the Steelers simply wanted the game more than a playoff-bound team that had everything to play for Sunday night.
Grade: A
November, 29, 2013
11/29/13
1:05
PM ET
BALTIMORE --
Relatively high marks were given after the Pittsburgh Steelers' 22-20 loss to the Baltimore Ravens with a few notable exceptions.
Quarterback:
Ben Roethlisberger
missed a couple of throws, but he was at his best in leading the Steelers back from a double-digit deficit in the fourth quarter and giving them a chance to win. Roethlisberger completed 17 of 30 passes for 179 yards and a touchdown in the second half and did not commit a turnover for the third consecutive game. He fit a 19-yard yard completion to
Heath Miller
into the tightest of windows, and that set up the Steelers' final touchdown.
Grade: B+
Bell
Running backs:
Le'Veon Bell
shook off a slow start on the way to his best game as a professional. His 43-yard run in the third quarter, a career-best, set up the Steelers' first score and Bell's 29-yard catch and run loomed large in the final touchdown of the game. He finished with 136 total yards of offense and a touchdown and accounted for five of the Steelers' 20 offensive first downs. Sturdy and tough with some wiggle, Bell is built for Steelers-Ravens.
Grade: B+
Receivers:
Miller had his most productive game of the season, but the Ravens contained
Antonio Brown
for the most part while
Emmanuel Sanders
had a couple of key drops, including one on a deep ball early in the game that might have jump-started the offense had he held onto it. Roethlisberger said he could have thrown a better pass on the 2-point conversion at the end of the game but Sanders, to his credit, took blame for not catching it, and he was right. That play has to be made at this level, especially given how much was at stake.
Grade: C-
Offensive line:
The unit did not provide enough running room for Bell early but it more than held its own on the road against a formidable front seven. Roethlisberger did not get sacked for the second consecutive game, and the line had just one penalty in the second half when the Steelers ran their no-huddle offense most of the time and excelled at it. If grading on a curve, based on the spate of injuries that caused more in-game injuries up front this would be an A.
Grade: B+
Defensive line:
Ziggy Hood
played his best game of the season after taking over for
Brett Keisel
at right defensive end early in the first quarter. He and
Cameron Heyward
put pressure on Ravens quarterback
Joe Flacco
while also helping limit
Ray Rice
to 32 rushing yards and 2.7 yards per carry.
Al Woods
did OK at nose tackle despite playing limited snaps because of the Steelers' use of their quarter package.
Grade: A-
Worilds
Linebackers:
Left outside linebacker
Jason Worilds
had a monster game, abusing Ravens right tackle
Michael Oher
on the way to 10 tackles, two sacks and three quarterback hurries. Is he the Steelers' best rusher even after
LaMarr Woodley
returns from a calf injury?
Lawrence Timmons
also played well, but the Steelers didn't get to Flacco enough, particularly in the first half.
Jarvis Jones
is still a work in progress, and the rookie didn't provide enough of a pass rush opposite Worilds.
Grade: B-
Secondary:
Ike Taylor
had trouble sticking with the opponent's No. 1 receiver for the third week in a row, though he did a better job on
Torrey Smith
in the second half and didn't get enough help from the safeties.
Troy Polamalu
had a quiet game, and he is clearly much more effective playing closer to the line of scrimmage than back in coverage. The defensive backs limited Baltimore's big plays after Smith's early 54-yard catch but they didn't come close to intercepting Flacco.
Grade: D
Special teams:
They were the biggest reason why the Steelers lost despite not committing any turnovers, achieving balance on offense and forcing the Ravens to settle for field goals instead of scoring touchdowns. A botched field-goal attempt amounted to a six-point swing.
Jacoby Jones
' 73-yard punt return swung momentum back to the Ravens after the Steelers had sliced their lead to 13-7. Ravens kicker
Justin Tucker
made the special-teams imbalance between the rivals all the more acute by banging all five of his field-goal attempts.
Grade: D-
Coaching:
Why did it take a half -- and a 13-0 deficit -- for the Steelers to take the reins off the offense? The Steelers were curiously conservative in the first half, playing not to lose a game they had to win, and it cost them when a furious fourth-quarter rally fell agonizingly short. Credit the Steelers for making the necessary adjustments, though they came a little to late.
Grade: C
November, 28, 2013
11/28/13
12:00
PM ET
BALTIMORE -- It will be interesting to see how much the Ravens challenge Steelers nose tackle
Al Woods
, who is expected to make his first NFL start tonight at M&T Bank Stadium. Woods played well after replacing the injured
Steve McLendon
last Sunday in Cleveland, recording his first two sacks with the Steelers and helping limit the Browns to just 55 rushing yards.
Woods
The Ravens are next to last in the NFL in rushing offense, but they will test the Steelers more than the Browns did simply because they have
Ray Rice
.
Rice is having a down season by just about any statistical measure, and he rushed for 45 yards on 15 carries in the Ravens' 19-16 loss to the Steelers last month at Heinz Field. But he is still a significant upgrade over Browns running backs
Willis McGahee
,
Chris Ogbonnaya
and
Fozzy Whittaker
if only because of his receiving ability -- and his history against the Steelers.
The Steelers could try to cover for the absence of McLendon and the inexperience of rookie inside linebacker
Vince Williams
by playing their quarter package, something they used extensively the last time the AFC North rivals met.
The Steelers haven't hesitated to use the personnel grouping of three safeties and three cornerbacks in most down-and-distance situations since
Troy Polamalu
essentially becomes a linebacker in the quarter package.
Polamalu has easily been more valuable to the Steelers this season when he has played closer to the line of scrimmage, and the seven-time Pro Bowler will be a key to containing Rice and disrupting the Ravens' offense.
Woods, for his part, isn't likely to get overwhelmed making his first start in a nationally televised game that means everything to both the Ravens and Steelers. The fourth-year veteran is listed as a defensive end, but he has worked extensively at nose tackle.
Woods has also been in Dick LeBeau's defense long enough -- he has been in Pittsburgh since the Steelers claimed him off waivers in November 2011 -- that the 6-foot-4, 307-pounder isn't thinking nearly as much when he is on the field.
"I'm getting to the point where I'm comfortable," Woods said. "I know the guys around me. It's becoming second nature to me and I really appreciate that. I want to continue to help this football team in any way possible because I love the Steelers."
Woods will only help himself if he plays well while filling in for McLendon, and establishes himself as a lineman who can move between end and nose tackle.
"We thought that he had the anchor ability certainly to sit down in there and police the middle of the formation," LeBeau said of playing Woods at nose tackle. "I think he did a good job last week when he went in there doing it, but I think he does a good job at end, too. I think he can play both of those positions."
November, 25, 2013
11/25/13
8:20
AM ET
A review of four hot issues from the
Pittsburgh Steelers
'
27-11 win
against the
Cleveland Browns
:
[+] Enlarge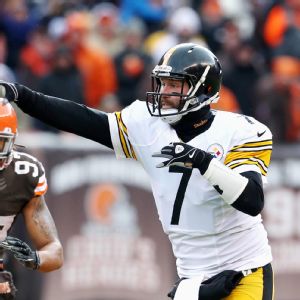 Ron Schwane/USA TODAY SportsBen Roethlisberger had a solid game in a win against the Browns, throwing for 217 yards and two TDs.
Big Ben shows his value:
The absurdity of why the Steelers would consider trading
Ben Roethlisberger
was highlighted late in the second quarter. Browns fans booed
Brandon Weeden
, a first-round draft pick in 2012, as he jogged onto the field to take over for the injured
Jason Campbell
. A Weeden incompletion led to a punt and two plays later Roethlisberger threw a 41-yard touchdown pass to
Antonio Brown
. Roethlisberger's primary target on the play that changed the complexion of the game had been
Jerricho Cotchery
. But when he saw the Steelers' No. 1 receiver race past Browns cornerback
Joe Haden
, Roethlisberger launched a throw into a stiff wind. Brown made a nice adjustment on the ball to haul in his sixth touchdown catch of the season. While Roethlisberger continues to torment the Browns, the Browns continue to cycle through quarterbacks. They already have given up on Weeden and are likely to use their first pick in the 2014 draft on a quarterback. The Browns, who passed on Roethlisberger in the 2004 draft, know as well as any team that finding a franchise quarterback is not easy. And when you have one, you hang onto him.
Hurry back:
Jason Worilds
hasn't just put pressure on opposing quarterbacks the past two games. He also may have turned up the heat on left outside linebacker
LaMarr Woodley
. Woodley has missed the past two games with a calf injury, and the highest-paid defensive player in Steelers history can't seem to stay healthy. Woodley has missed 11 games since injuring his hamstring in a late October 2011 win against the Patriots. In the 25 games he has played in since returning from that injury, Woodley has managed only nine sacks. Worilds has started for Woodley the past two games, and the fourth-year veteran has recorded a sack and accumulated double digits in quarterback hits. Worilds was credited with six pressures against the Browns.
Line shines against Browns:
The Steelers averaged just 2.5 yards per carry, but they ran the ball well enough to stick with it and achieve a perfect 50-50 split in running 34 times and attempting 34 passes as well. That balance helped keep the Browns from teeing off on Roethlisberger. So did an offensive line that has allowed only one sack in the past two games and didn't yield any to the Browns. "I thought they did a nice job," Steelers coach Mike Tomlin said of the offensive line. "I appreciate keeping him clean."
Defensive line shuffle?
Defensive end
Al Woods
recorded two sacks and two quarterback pressures, and he could play significant snaps if starting nose tackle
Steve McLendon
is lost for the rest of the season because of a broken ankle. The Steelers went with Woods instead of nose tackle
Hebron Fangupo
after McLendon went down at the end of the first quarter, and the former took advantage of his first extended playing time this season. Tomlin will provide an update on McLendon later today, but if he is sidelined for the rest of the season, Woods, Fangupo and
Ziggy Hood
could form a rotation at nose tackle.
September, 8, 2013
9/08/13
12:25
PM ET
PITTSBURGH -- The Steelers are only dressing seven offensive linemen and five defensive linemen for their season opener against the visiting Titans.
The move is a bit of a surprise since coach Mike Tomlin usually dresses an extra defensive lineman early in the season because of the heat and humidity. Defensive end
Al Woods
, however, can also play nose tackle, allowing the Steelers to make
Hebron Fangupo
one of their seven inactives for the 1 p.m. game.
Kelvin Beachum
's versatility, meanwhile, is the reason the Steelers didn't dress an eighth offensive lineman. Beachum can play every position on the offensive line. He also could see the field today as a sixth lineman/eligible receiver.
I'm a little surprised that the Steelers did not dress No. 3 quarterback
Landry Jones
. I think it's always a risk to go into any game with two quarterbacks, but the Steelers' inactives reflect Tomlin's determination to get his best special-teams players into uniform.
That explains why five safeties are suiting up for the Steelers, who were shaky on special teams during the preseason.
The Steelers also dressed five wide receivers, and
Derek Moye
will make his NFL debut not far from where he grew up in Rochester.