Pittsburgh Steelers:

Alan Faneca
July, 9, 2014
Jul 9
3:00
PM ET
This is the next in a series that previews every position on offense and defense with training camp approaching. Our sixth look is at guard.
DeCastro
Returning starters:
David DeCastro
and
Ramon Foster
. The Steelers are in good shape here as DeCastro has emerged as a Pro Bowl caliber-player at right guard, and the steady Foster has already made 57 career starts and is just 28 years old.
New faces:
Wesley Johnson
, Will Sutton and
Chris Elkins
. The Steelers took Johnson with the second of their two fifth-round draft picks and signed Sutton and Elkins as undrafted free agents.
On the bubble:
Johnson. The Vanderbilt product can play anywhere along the offensive line, and the Steelers should try to groom him for the all-purpose role that
Kelvin Beachum
played up front before becoming the team's starting left tackle. Johnson's versatility will be the key if he makes the 53-man roster.
By the numbers:
The Steelers have had just three guards selected to the Pro Bowl since 1975: Carlton Haselrig (1992), Duval Love (1994) and Alan Faneca (2001-07).
Did you know:
DeCastro's overall blocking grade on 96.88 percent as a senior at Stanford was the highest score recorded by a Pac 12 offensive lineman since the conference started tracking grades for offensive linemen in 1985.
Quotable:
"It's nothing right now, and I say that in the sense that [the group's potential] has been talked about the last few years. The talent is there, but if we come out here and [falter] we'll be saying the same thing next year. You can't just say because we have the high-round talent or guys that have experience, that it's supposed to be special. We've got to make it that way." -- Foster on the Steelers' offensive line.
Outlook:
The Steelers appear to be pretty set at guard with
Cody Wallace
, providing depth and DeCastro and Foster locked in as the starters. There is no reason to think that DeCastro won't develop into a perennial Pro Bowler as Faneca, another first-round pick, did in the 2000s.
February, 12, 2014
Feb 12
10:00
AM ET
PITTSBURGH -- When I emailed
Alan Faneca
on Tuesday asking if he had heard the news about
Joey Porter
, he wrote back, "I did see that about Joey. That's great!"
Might Faneca one day follow his former Steelers teammate into the coaching ranks? It is something Faneca has been thinking about with some prodding by his wife.
"Julie's always on me, 'Man, you've got to spread some of that knowledge. You know too much,' " said Faneca, who retired in 2011 following a 13-year NFL playing career. "It's very intriguing and would be very exciting I think. I probably wouldn't have said that last year or the year before. You step away from it and get that break and maybe you're ready to get back into it a little bit."
It is easy to see Faneca, who recently ran a marathon and has been spending time with family in his native Louisiana, making the transition from player to coach if he chooses to go that route.
One of the greatest guards of his generation, Faneca was the consummate professional in every way. A brainy and brawny player, he knew how to prepare and knew what it took to succeed at the highest level.
He didn't earn nine All-Pro selections based on natural ability alone.
His career should one day land him in the Pro Hall of Fame, and assuming that happens, Faneca left no doubt as to how he will enter Canton, Ohio.
"I definitely consider myself a Steeler," Faneca said.
That unequivocal answer shows Faneca is at peace with the way his Steelers career ended even though he and the organization didn't have the most amicable split.
Faneca, upset when he thought the Steelers had backed out of a promise to take care of him following the 2006 season, played one more season in Pittsburgh before signing a five-year, $40 million contract with the Jets.
Both sides, in retrospect, could say there were right.
Faneca, as one of the best offensive lineman in Steelers history, had certainly earned another long-term contract. But the market for guard had increased dramatically as Faneca neared a new deal, and it effectively priced him out of Pittsburgh.
Faneca's perspective on how things played out in Pittsburgh has softened with time.
"I think it was the perfect storm of everything happening at the wrong time," Faneca said. "New coach, new regime, my contract. It's unfortunate but looking back on it that's what led everything to go down the path that it went on. You kind of have to move on."
Faneca did in the sense that he played two seasons for the Jets and one for the Cardinals before retiring.
But the Steelers remain a part of Faneca's fabric, and he and his family return to Pittsburgh when they can and have scheduled a visit to the area next month.
"I didn't get a chance to finish out with the team and that's unfortunate (but) even when I left I still carried the Steeler way with me," said Faneca, who attended two Steelers games last season. "That's what people wanted me to bring to their teams as well. Everybody wanted a piece of the Steeler way. Lots of people would try to ask me about what's going on in Pittsburgh and I was like 'You can't recreate it. It's its own little entity.' "
February, 11, 2014
Feb 11
10:00
AM ET
PITTSBURGH --
Brett Keisel
called to offer congratulations a couple of days after
Alan Faneca
accomplished what would have been unfathomable only a few years earlier.
But he also made it clear to his former Steelers teammate that Faneca had laid waste to Keisel's cover.
Keisel's wife, Sarah, has run several marathons and the Steelers defensive end always had an out when she broached the subject of them completing one after his playing days were over.
"I've said all along that football players don't do that, our bodies have taken enough of a beating and then Faneca goes and blows it out of the water," Keisel said with a laugh. "Now what am I supposed to say? 'Well, Alan did it.' "
[+] Enlarge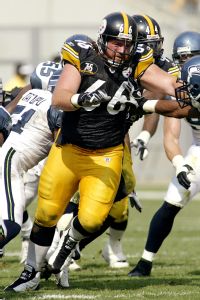 Photo by Rick Stewart/Getty ImagesAlan Faneca was a nine-time All-Pro selection who weighed 320 pounds during his playing days.
Yes, yes he did.
Faneca obliterated any notion that 300-pound plus NFL players can't re-invent themselves after retiring. It turns out they can push their bodies to a different extreme.
Faneca did just that when he ran a marathon on Feb. 2 -- the same day that the Seahawks obliterated the Broncos in the Super Bowl -- and completed it in less than four hours.
Faneca, three years removed from an NFL career that spanned 13 seasons -- and just three months after he started training for his first 26.2 mile race -- ran the New Orleans Rock 'n' Roll Marathon in 3:56:17.
That is astounding on several levels.
"Most people don't break four hours in their first marathons," said Bart Yasso, chief running officer of Runner's World Magazine. "That's a great start for anyone. For someone to run as fast as Alan did he had to train pretty hard to get to that level."
Indeed, juxtaposed pictures of Faneca playing guard, where he was a fixture for 10 seasons in Pittsburgh, and running in the marathon went viral last week. They led to calls from teammates that spanned his career.
Some, like Keisel, offered congratulations. Others asked if he had any fitness and lifestyle advice for them.
What Faneca never expected was the call that came from TMZ, the celebrity website associated with controversial and risqué stories more than ones about running. He took the call while he was in his hyperbaric chamber, his legs still sore and a bit shaky from what he what put them through two days earlier.
"
Who
is this?" Faneca asked after answering his phone.
That's when he realized how much of a story his running a marathon had become.
"I had no inkling," Faneca said. "It just blew up."
The reason for that is simple: Faneca did just that opposite of blowing up after retiring in May, 2011.
He shed more than 100 pounds after calling it a career, one that should one day land him in the Pro Football Hall of Fame. What started Faneca on the path to running a marathon, even if he did not know it at the time, actually happened early during his NFL career.
The details are a little hazy now but Faneca recalls seeing a former player in the Steelers locker room one day and telling himself he would shed the extra weight that was critical to his job when he no longer needed it.
[+] Enlarge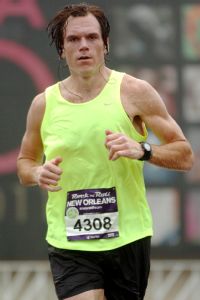 Courtesy of Alan FanecaAlan Faneca has lost more than 100 pounds since retiring from football following the 2010 season.
After retiring following a season with the Cardinals -- he had previously played two seasons with the Jets after signing with them as a free agent in 2008 -- Faneca cut his calorie consumption to around 1,800 a day.
The 6-5 Faneca had taken in around 4,000 calories during his playing days when he weighed around 320 pounds, drinking two to three protein shakes regularly. He watched what he ate, but paid no mind to how often he ate.
The weight started to come off when Faneca changed his approach to eating and also incorporated one hour of cardiovascular exercise a day into his training regimen.
One day last fall he suggested to his wife, Julie, who had recently run a half marathon, that they go for a jog in a nearby park to take advantage of the weather.
They started running together, and "that's where it all began," said Faneca.
He gradually started running longer distances, which gave him a foundation when he decided to tackle a marathon.
Faneca enlisted the help of a running coach to help him train, and he found out early that running a marathon wasn't going to be anything like a jog in the park.
During one of their first training sessions, Faneca ran a mile as fast as he could. The coach extrapolated that time over 26.2 miles and told him that's how fast he should run his first marathon.
"I'm like, 'really?' " Faneca said.
Faneca and the other runners in his group bogged down around the 19-mile mark of the New Orleans Rock 'n' Roll Marathon and fell off their pace a bit. But he reached his goal of completing the race in under four hours.
And he did so in part because Faneca had plenty of practice willing himself through grinds that were as much psychological as they were physical -- whether it was practicing in unrelenting heat and suffocating humidity during training camp or fighting through injuries that piled up over the course of his career.
In that sense maybe there isn't as much of a disconnect that the pictures of Faneca playing football and the ones of him running a marathon seem to suggest.
He had to tap into sheer will to do both.
Yasso has worked at Runner's World for almost 30 years and covered marathons all over the world. He recalls former NFL players running marathons but when asked if that includes linemen, he said, "none come to mind."
[+] Enlarge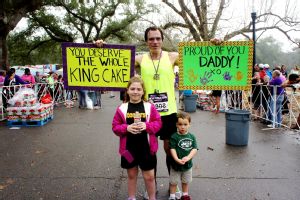 Courtesy of Alan FanecaOn Feb. 2, Alan Faneca ran the New Orleans Rock 'n' Roll Marathon in less than four hours.
"The guy is unbelievable," Yasso said of Faneca. "I have a feeling he'll get the running bug."
He has caught some sort of bug.
Faneca recently bought a racing bike, and he is looking into competing in a duathlon. The duathlon is a close cousin of the triathlon with three phases: running, biking and running.
Faneca said his shoulders are too beat up for him to complete the swimming requirement of a triathlon, which is why he has set his sights on a duathlon.
Faneca may look like more of a runner now than a football player but a new body type only masks the discomfort he deals with on a regular basis, the residue and inevitably of a lengthy NFL career.
"A lot of people see me and they're like 'Oh, you got out while you're healthy.' That's great if you've got that vision in your mind but don't be fooled that I'm not going to going to have a bunch of fake body parts here in the future, that I don't have surgeries lurking," Faneca said. "I'm doing good now and hopefully (surgeries) come much further and hopefully the weight loss helps push those even further off. That's all part of what you sign up for and it comes with the territory."
Faneca covered a tremendous amount of territory during his NFL career and not just because he excelled as a pulling guard.
He earned nine All-Pro selections and threw the block that paved the way for
Willie Parker
's 75-yard run in Super Bowl XL, which is still the longest in the game's history. He earned a spot on the Steelers' all-time team when the organization celebrated its 75-year anniversary in 2007. He also made the NFL's All-Decade team of the 2000s.
Completing a marathon may not quite rank with some of Faneca's heady NFL accomplishments but the feat does have a place in his personal sporting pantheon.
"Needless to say I saved all of my things I wore, my bib and all of that stuff," Faneca said, "so I'm going to do some sort of shrine to the achievement."