Pittsburgh Steelers:

Anthony Barr
May, 9, 2014
5/09/14
6:25
PM ET
PITTSBURGH --
Ryan Shazier
posed with a No. 50 Steelers jersey presented to him by team president Art Rooney II Friday afternoon.
There was a potential problem and it had nothing to do with the shirt per se that Shazier and Rooney held up as photographers snapped pictures in the Steelers' media room.
The No. 50, however, previously belonged to former Steelers linebacker
Larry Foote
.
[+] Enlarge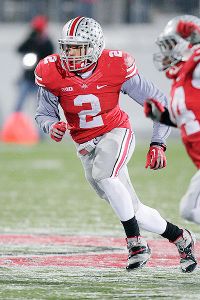 AP Photo/Jay LaPreteRyan Shazier started at Ohio State as a true freshman. Will he impress the Steelers enough this summer to start as a rookie?
Foote played his college ball at Michigan and Shazier is an Ohio State product.
The question, asked in a light vein, of whether he was OK taking a number that had been worn by a Michigan man left Shazier a tad flustered.
But what emerged from his latest stop in what has been a whirlwind since the Steelers made him the 15
th
overall pick of the draft is that Shazier has long been comfortable in whatever he is wearing.
That is especially true of his own skin.
Shazier overcame childhood taunts while growing up in South Florida, and he continues to have the last laugh over those who teased him when Alopecia, a condition in which the immune system attacks hair follicles, robbed him of his hair.
"I was probably the only little kid walking around with a bald head," Shazier said. "It was tough because kids are mean. I just embraced it. I feel like if you didn't like me for who I am, it's a problem with you. I feel like it's my signature now. I love having Alopecia. Having a bald head actually saves me a lot of money."
Shazier will cost the Steelers a few bucks, especially if he comes anywhere close to living up the effusive praise that general manager Kevin Colbert and coach Mike Tomlin lavished on him Thursday night.
Reaction to the Steelers picking Shazier has been mixed at best, and it has little to do with the player who piled up 143 tackles, including 22 ½ for losses, and six sacks in 2013 and is only 21 years old.
Many fans wanted the Steelers to take a cornerback or wide receiver in the first round. When they went in a different direction some wondered why the Steelers didn't try to trade down in the first round and still get Shazier.
There actually is a very good reason why the Steelers stayed where they were: the Cowboys were ready to pick Shazier if he made it past the Steelers.
Cowboys owner Jerry Jones said Shazier, UCLA outside linebacker
Anthony Barr
, Pitt defensive tackle
Aaron Donald
and Notre Dame offensive tackle
Zack Martin
had been targeted by Dallas for its first-round pick.
The Cowboys would have picked between Shazier and Martin but the Steelers did not provide them with that option, and they drafted Martin.
"My dad said that people were hinting to him that the Cowboys were going to draft me with the next pick," Shazier said. "I'm happy that the Steelers drafted me. I can't wait to go to Heinz Field and go out there and play in a Steelers jersey."
The real work for Shazier starts next week when the Steelers hold rookie minicamp.
It will be the first look the Steelers get at Shazier and the rest of the first-year players on the field. And Shazier will be among those who feel utterly lost at times because the 6-foot-1, 237-pounder is learning a new and complex system.
But if Shazier, who played as a true freshman at Ohio State, makes steady progress during offseason practices he will go to training camp with a good chance of winning a starting job.
Such progress will start after his feet touch down and are back firmly planted on the ground.
"It's just amazing to be in a great city like this with the greatest franchise," Shazier said of getting drafted by the Steelers. "The plan is to come here and get a seventh [Super Bowl] trophy."
May, 8, 2014
5/08/14
7:15
PM ET
PITTSBURGH – It's hard to imagine a scenario in which the
Pittsburgh Steelers
don't
use their first-round pick on a cornerback.
But it's not impossible.
One of the left tackles could slip to No. 15 and tempt the Steelers.
Anthony Barr
fell to the Steelers in the ESPN NFL Nation mock draft held earlier this week, and I grabbed the UCLA outside linebacker after also considering Virginia Tech cornerback
Kyle Fuller
and LSU wide receiver
Odell Beckham Jr.
Barr had 23 ½ sacks in two season while learning to play outside linebacker on the fly. He is a playmaker who has a tremendous upside, and the Steelers need to bolster their pass rush.
The problem is I don't think Barr will be available at No. 15. I think Beckham is gone before then too with a team likely trading up to draft him.
That leads me back to cornerback and I think the Steelers will be thrilled if they have their choice of Fuller and Michigan State's
Darqueze Dennard
.
Both are good fits for the Steelers and I think they would be happy with either one. If they have a choice I think the Steelers take Fuller. He is a little bigger and probably has better ball skills than Dennard.
But really it could be a coin flip between the two and the Steelers would love nothing more than if they have to choose between Dennard and Fuller.
I say they do and that they opt for Fuller.
May, 8, 2014
5/08/14
8:00
AM ET
PITTSBURGH – The NFL draft is finally here. And just as the NFL did with its annual selection process I will drag out my final pre-draft coverage.
I will start with the 14 players I think will be drafted before the
Pittsburgh Steelers
pick. I will follow that with a compilation of mock drafts. Next will be my five most realistic targets for the Steelers followed by the player I think they will pick in the first round.
Here are the 14 players I don't think will be available when the Steelers are on the clock for the 15
th
overall pick tonight.
DE Jadeveon Clowney, South Carolina:
Somebody is taking him No. 1. It's just a matter of whether the Texans do or trade out of this pick.
WR Sammy Watkins, Clemson:
The best wide receiver in the draft could slip a little if he doesn't go No. 2 to the Rams or No. 4 to the Browns. But he will still be an early pick.
QB Johnny Manziel, Texas A&M:
The ultimate wild-card could go as high as No. 3 to the Jaguars. He is a big risk but some team is going to gamble on Manziel early in the draft.
OT Greg Robinson, Auburn:
The comparisons to Pro Football Hall of Famers are premature but he will be a top-five pick. The only question with Robinson is whether he is the first offensive tackle taken.
OT Jake Matthews, Texas A&M:
Don't be surprised if the Rams take him at No. 2 over players such as Watkins and Robinson. Rams coach Jeff Fisher knows all about his bloodlines.
OT Taylor Lewan, Michigan:
The Falcons at No. 6 are probably the earliest he goes off the board. Lewan is a candidate to slip but hard to imagine him lasting until the 15
th
pick.
WR Mike Evans, Texas A&M:
The Steelers never had a chance at the tall wideout their fans wanted. Look for the Raiders to grab him with the fifth overall pick.
LB Khalil Mack, Buffalo:
Don't be surprised if the Bills pick Mack if he gets past the Jaguars. He is a safer pick than Clowney but doesn't have as much upside.
DT Aaron Donald, Pitt:
The best defensive player in college football last season goes in the top 10. And I see the Vikings bypassing quarterback
Blake Bortles
to take Donald.
OT Zack Martin, Notre Dame:
Everyone seems high on the most versatile offensive lineman in the draft. It's hard to see Martin making it to No. 15.
WR Odell Beckham Jr., LSU:
A player who has been linked extensively to the Steelers in mock drafts won't be there at No. 15. A team could try to trade up for one of the most explosive players in the draft.
OLB Anthony Barr, UCLA:
I picked Barr after he fell to the Steelers in an ESPN NFL Nation mock draft. It won't happen in the real thing as he is too much of a playmaker and has too much upside not to go before the 15
th
overall pick.
S Calvin Pryor, Louisville:
Big hitter could go in top 10 if Lions draft a safety at No. 10. The Bears could take Pryor at No. 14, one spot ahead of the Steelers.
QB Blake Bortles, UCF:
The Steelers would love it if two quarterbacks are taken before the 15
th
pick. Some team is going to take the quarterback that
Ben Roethlisberger
predicted will be the best one in this class.
May, 7, 2014
5/07/14
8:00
AM ET
PITTSBURGH -- Yep, I was that guy.
The first one who prompted ESPN draft analyst Matt Williamson to really tsk-tsk a pick in the ESPN NFL Nation mock draft conducted Tuesday.
[+] Enlarge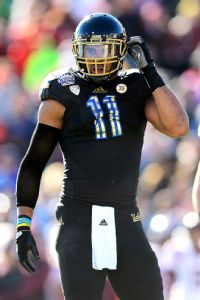 Andrew Weber/USA TODAY SportsAnthony Barr can bolster the Steelers' pass rush, but the former running back needs seasoning at linebacker.
And I have to imagine that what Williamson typed was much more diplomatic than what came out of his mouth when the former NFL scout saw I had picked UCLA outside linebacker
Anthony Barr
for the Steelers at No. 15.
Let me preface my selection by saying that I tried trading down in the first round, something I think the Steelers will attempt to do Thursday night.
I thought I had a deal with Jets writer Rich Cimini when he inquired whether I would swap spots with him in exchange for two fourth-round picks. That would have been ideal as I would have only had to move from No. 15 to No. 18 while pocketing a pair of extra picks in a deep draft.
Unfortunately, Rich let the draft come to him. When it became clear that he would have his pick of a couple of players he liked at No. 18 he pulled the offer.
At least I could take comfort that my demand for a breakfast buffet in the press box when the Steelers visit the Jets this season hadn't been the deal-breaker.
In the end, I only received one trade offer, and 49ers writer Bill Williamson dangling a host of picks -- though none in the first round -- wasn't enough for me to seriously consider.
First-round picks are gold to the Steelers and no way could I give this one up, no matter how deep this draft is.
LSU wide receiver Odell Beckham Jr. and Virginia Tech cornerback
Kyle Fuller
were still on the board when the Steelers were up at No. 15. And believe me, I strongly considered each player.
But I hadn't anticipated Barr being there as well.
In the end I couldn't pass on a player who could bolster the Steelers' pass rush as well as provide immediate depth at a position where they sorely need it.
Nothing will help the Steelers' defense regain its swagger more than if they add some teeth to their pass rush. Only five teams had less sacks than the 34 the Steelers managed in 2013.
And the outside linebackers on the Steelers' roster have a combined 24 career sacks -- one-half more than what Barr produced in his final two seasons at UCLA, where he didn't exactly play against intramural teams in pads.
Barr didn't record any sacks his first two years in Westwood, and there is a good reason for that: He played running back.
After growing two inches, the 6-5, 255-pounder moved to outside linebacker before his junior season, and he promptly dominated. Barr's 13 1/2 sacks in 2012 were second in the country only to
Jarvis Jones
, the Steelers' first-round pick last year.
He is still a baby at his position, which makes Barr far from a finished product. Let him learn the position from new defensive assistant
Joey Porter
, who is fifth on the Steelers' all-time sacks list with 60. Let him improve his strength, something Jones has had to do after his first NFL season.
In the meantime, Barr can provide depth behind Jones and
Jason Worilds
, and contribute on special teams as well as a situational pass rusher.
There are no guarantees with Worilds as there is a question as to whether the Steelers are committed to him beyond 2014. That uncertainty makes outside linebacker as pressing a need as any that the Steelers have.
They need to groom a possible replacement for Worilds. The Steelers also need to help a defense that has 20 interceptions in the last two seasons combined -- one less than they had in 2010 -- create more turnovers by collapsing pockets.
And they can never have enough outside linebackers, which is as important as any position on their defense.
Some see Barr as a player who is not instinctual and not strong enough against the run. I see a player who has a knack for getting after the quarterback and has a high ceiling.
If he is willing to work there may be no better situation for Barr than the Steelers.
He can learn from Porter, learn from linebackers coach Keith Butler, learn from defensive coordinator Dick LeBeau -- and he doesn't have to be rushed into the starting lineup.
If Barr slips to the Steelers in the first round, and they don't trade down, they should take him.
The draft is exceptionally deep at wide receiver. It is also strong as cornerback.
Address those positions later in the draft and go with a player who has a chance to be a real difference maker on a defense that desperately needs more of them.
May, 1, 2014
5/01/14
11:00
AM ET
PITTSBURGH -- The
Pittsburgh Steelers
have nine picks in the 2014 NFL draft and this is the sixth in a series that looks at the nine positions they could address in a week. Keep in mind that the Steelers are likely to draft two cornerbacks so they may not take a player at every position covered in this series.
Our sixth look is at outside linebacker
Added:
Arthur Moats
Lost:
LaMarr Woodley
Skinny:
The Steelers have to replenish one of the most important positions on their defense as the outside linebackers on their roster have a combined 24 career sacks -- less than half of what Woodley produced in seven seasons in Pittsburgh. Do they take an outside linebacker in the first round for the second year in a row? I don't think so but they have done their homework on outside linebackers and defensive ends who project as outside linebackers in a 3-4 scheme. UCLA's
Anthony Barr
, Boise State's
Demarcus Lawrence
, Oregon State's Scott Crichton and Arizona State's
Carl Bradford
are among the outside linebacker prospects the Steelers hosted for pre-draft visits. They also hosted Ohio State outside linebacker
Ryan Shazier
, though I think he projects as an inside player in a 3-4 scheme. The Steelers will take an outside linebacker prospect at some point, and I think one could be in play for them as early as the second round.
Draft likelihood:
High
Extra points
Last OLB drafted by the Steelers:
Jarvis Jones
first round in 2013
Last OLB drafted by the Steelers in the first round:
Jones
Last OLB taken 15th overall in the draft:
Bruce Irvin
, Seahawks, 2012
OLBs drafted under Kevin Colbert/Mike Tomlin:
Six
OLBs drafted under Colbert/Tomlin still with the Steelers:
Three
April, 24, 2014
4/24/14
2:45
PM ET
PITTSBURGH -- A highly regarded pass-rusher and one of the top performers at the NFL scouting combine are among the players visiting the Steelers today.
Boise State defensive end
Demarcus Lawrence
, a projected second-round pick, and Georgia Southern running back
Jerick McKinnon
are the Steelers' latest pre-draft visitors.
Lawrence led the Mountain West last season in both sacks (10 1/2 ) and tackles for losses (20 ½), and the 6-foot-3, 251-pounder projects as an outside linebacker in a 3-4 scheme.
ESPN analyst Mel Kiper Jr. ranks Lawrence as the 44
th
-best player in the draft and there is a possibility he could get taken late in the first round.
The Steelers have hosted a handful of outside linebacker prospects, including UCLA's
Anthony Barr
, a projected first-round pick.
McKinnon is the second running back to visit the Steelers, and he is an intriguing prospect for several reasons. The 5-9, 209-pounder rushed for 3,899 career yards and he gained most of those as an option quarterback.
McKinnon, who led Georgia Southern to a 26-20 upset at Florida last season, played running back in the Senior Bowl and really turned heads at the combine two months ago.
He tested as well as anyone in Indianapolis, running the 40-yard dash in 4.41 seconds and notching 32 repetitions in the 225-pound bench press, tops among all running backs. Both speedy and shifty, McKinnon fits the profile of the kind of back the Steelers may be seeking to complement
Le'Veon Bell
and
LeGarrette Blount
.
McKinnon has been projected as a fourth- or fifth-round pick.
Teams are allowed to host 30 out of area prospects for visits prior to the draft. Sunday is the last day for pre-draft visits.
April, 21, 2014
4/21/14
1:15
PM ET
PITTSBURGH -- The Steelers are meeting with a pair of defensive players Monday, including a potential first-round pick.
Barr
UCLA outside linebacker
Anthony Barr
and Wisconsin defensive tackle
Beau Allen
are the Steelers' latest visitors as the team prepares for the upcoming draft.
Barr is considered one of the best pass-rushers in the draft while Allen is a projected late-round pick after moving to nose tackle last season when Wisconsin switched to a 3-4 scheme.
Barr is an intriguing prospect because of his production at UCLA -- the 6-foot-5, 255-pounder recorded 10 sacks last season -- and his upside as a pass-rusher. Barr played fullback for two seasons before moving to defense, and he is still learning on that side of the ball.
ESPN analyst Mel Kiper Jr. ranks Barr as the 15th-best player in the draft.
"He has a decent arsenal of moves, using quick feet and hands to free himself, and he's disciplined against the run, pursuing with speed when the play runs away from him," Kiper writes of Barr. "I love the effort, and the athleticism, but as a former fullback, he needs to grow in his awareness."
ESPN analyst Todd McShay isn't as high on the former Bruins star. McShay ranks Barr as the 30th-best player in the draft.
The Steelers are unlikely to draft an outside linebacker in the first round since they took one with their first-round pick last year in
Jarvis Jones
. But they do need to add depth at the position and are expected to draft an outside linebacker prospect at some point.
Allen could be a late-round possibility for the Steelers if they don't take a nose tackle early in the draft. The 6-foot-2, 333-pounder recorded 20 tackles and 1.5 sacks last season for the Badgers but did not get invited to the NFL scouting combine.
Allen tested well at Wisconsin's pro day though he was limited in running drills because of a hamstring issue.
The Steelers are allowed to host 30 players outside of the Pittsburgh area for pre-draft visits. This is the final week of visits for NFL prospects.