Pittsburgh Steelers:

Bruce Gradkowski
January, 20, 2014
Jan 20
8:00
AM ET
PITTSBURGH -- This is the first of a series in which I will examine every position relative to the 2013 season -- and take a look ahead. Let's start first with the most important position on the field.
QUARTERBACKS
2014 free agents
: None.
Roethlisberger
The good
:
Ben Roethlisberger
, one of just three active quarterbacks to play in multiple Super Bowls, may have had the best season of his career. Roethlisberger set a Steelers record for completions in a season (375), and he passed Terry Bradshaw for the most touchdown passes (219) in Steelers history. Roethlisberger thrived in the no-huddle attack that the Steelers used extensively in the second half of the season, and at no other point of his career has he had more ownership of the offense. Roethlisberger turned 32 in March but he is still clearly in his prime, and he played every snap this season, something that bodes well for him holding up as he advances in age.
The bad
: Not a lot to quibble with in terms of Roethlisberger, who also nearly set a career-high in passing yards for a season with 4,261. Roethlisberger had some ball control issues early in the season, and he committed four turnovers alone in a 40-23 loss to the Bears. Roethlisberger committed just five turnovers in the Steelers' final eight games. Despite his production, durability and leadership, the Steelers finished 8-8 for the second consecutive and that is not acceptable to Roethlisberger.
The money
(2014 salary-cap numbers): Roethlisberger ($18.9 million),
Bruce Gradkowski
(1.8 million) and
Landry Jones
($604,805). Steelers president Art Rooney II said the team intends to sign Roethlisberger to a contract extension but he did not commit to getting a deal done this offseason. Roethlisberger still has two years left on his contract so there is still plenty of time to get a deal done. It would help the Steelers if they could sign Roethlisberger to a new deal this offseason so they reduce his cap hit the next two years. Gradkowski and Jones are set as the No. 2 and No. 3 quarterback, respectively.
Draft priority
: None. Zilch. Zero. The Steelers took Jones with the second of their two fourth-round picks last year and the former Oklahoma star didn't even dress for a game in his rookie season. The only way a quarterback comes into play in the draft is if a team tries to trade up in the first round and makes the Steelers a deal they can't refuse for the 15
th
overall pick.
October, 18, 2013
10/18/13
4:05
PM ET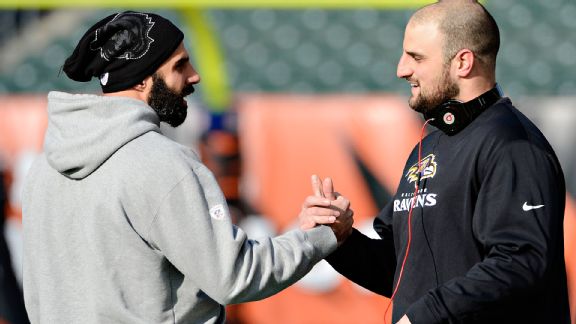 AP Photo/Michael KeatingBruce Gradkowski, left, shakes hands with his brother, Baltimore Ravens guard Gino Gradkowski.
PITTSBURGH -- The lines of communication between
Bruce Gradkowski
and his younger brother, Gino, were not cut this week even though the two find themselves on opposite sides of a black-and-blue rivalry.
"We talked early on in the week," Bruce Gradkowski said, "and I had him on my radio show."
The older Gradkowski, who backs up Steelers quarterback
Ben Roethlisberger
, gets his first up-close look at
Baltimore Ravens
--
Pittsburgh Steelers
on Sunday.
Gino Gradkowski
, meanwhile, will find himself in the thick of one of the NFL's fiercest rivalries.
The younger Gradkowski is in his first season as the Ravens' starter at center. And no one is prouder of him than his big -- well, older -- brother.
"He's doing a great job and is part of a great organization so I'm happy for him," Bruce Gradkowski said. "I told him I want him to do well except for this week. As long as we're doing better than them I'm fine."
The two brothers are close in every way except for size. Bruce, a record-setting quarterback at Seton-LaSalle High School in Pittsburgh, is listed at 6-1 and 220 pounds. Gino Gradkowski, who also starred at Seton-LaSalle and Delaware before getting drafted in the fourth round by the Ravens in 2012, is listed at 6-3 and 300 pounds.
The difference in body types actually bridged the six years that separate the two brothers when they were growing up in Pittsburgh.
Bruce Gradkowski remembers Gino suiting up with his youth-league football team when they were ages 10 and 4, respectively, because the latter was so big.
"We'd finish our lap around the lap and start stretching and Gino in his full pads would still be doing his lap," Gradkowski said with a laugh. "He was always around when I was growing up. He was at all of the games. He remembers being a young guy coming to all of my Toledo games. He had to just keep coming along with his older cousins and his older brother and he developed and grew and worked hard."
The game on Sunday will probably be hardest on the Gradkowski brothers' parents because it will divide loyalties. But it will be rather lopsided when it comes to which Gradkowski has the bigger cheering section at Heinz Field.
"I know my wife, my cousins they'll have their black and gold on," Bruce Gradkowski said with a laugh. "It's an exciting week for our family. Besides that, this is a huge rivalry and I'm excited to be a part of it. This just adds a little more fuel to the fire."
September, 7, 2013
9/07/13
12:15
PM ET
PITTSBURGH -- Cool is the word Steelers backup quarterback
Bruce Gradkowski
used to describe it, and that's exactly what it is.
I mean, how many other NFL players will go from their Sunday games to their grandmother's house for dinner as Gradkowski plans to do after the Steelers play the Titans at Heinz Field?
Eating spaghetti and meatballs with his parents and extended family, something Gradkowski did every Sunday while growing up in Pittsburgh, was one of the perks when the eighth-year veteran signed with the Steelers last March.
There is also the matter of Gradkowski suiting up for the team he cheered from the time he could grip a football through his record-setting days at Seton-LaSalle High in Pittsburgh.
Gradkowski has already had his share of moments that linked his past with the present.
Rod Woodson and Carnell Lake are two of his all-time favorite Steelers. The latter is the Steelers' defensive backs coach while the former spent time with the Steelers in training camp and the preseason as a volunteer assistant coach.
"Growing up and being a fan [of the Steelers], it's pretty neat to be a part of it now," Gradkowski said. "Now it's just football. I've been through the grind of camp, and I'm just excited for this regular season to put together a good year."
Gradkowski said family members and friends have been respectful of the fact that he has a job to do -- as excited as they are that he is playing for the Steelers.
"A lot of family, they'll get their own tickets," Gradkowski said of the season opener. "We'll have about 10 or so there. It won't be too crazy."
It may be at Sunday dinner, especially if the Steelers win.
September, 5, 2013
9/05/13
2:13
PM ET
PITTSBURGH --
Bruce Gradkowski
long admired
Ben Roethlisberger
from afar. The eight-year veteran quarterback is even more impressed after seeing the
Pittsburgh Steelers
' starting quarterback on a daily basis.
"There's no doubt he's the best quarterback in this league," said Gradkowski, whom the Steelers signed last March to back up Roethlisberger. "Nothing against the other guys because there's so many talented guys out there like a
Tom Brady
,
Peyton Manning
,
Aaron Rodgers
,
Drew Brees
. But Ben, the way he's able to move around and avoid rushes and then if he sits back in the pocket how accurate he is. It's hard for a defense to try and plan against him."
Roethlisberger has also made even more of a believer out of Gradkowski because of the work he puts in off the field.
"I think he just does a great job of pushing his teammates to get better," said Gradkowski, who spent the previous two seasons with the Bengals. "That's what the quarterback position's all about is to make the guys around you better, to demand a high level of urgency and a championship effort. I think with him under center that's what it does around here."
Roethlisberger has already won a pair of Super Bowls, and he will try to lead the Steelers back to the postseason after the team slipped to an 8-8 record in 2012. Roethlisberger, who is nearing the 30,000-yard passing milestone, appears poised for a big season provided he stays healthy.
Roethlisberger also has a better rapport with second-year offensive coordinator Todd Haley, and the 10th-year veteran looked sharp during training camp and in three preseason games.
"I do feel good physically so that's Key 1,"said Roethlisberger, who takes 29,844 career passing yards into Sunday's game against the Titans. "I feel like I got a good amount of work in that I'll be ready to roll. We want to come out and set an early tempo."
Gradkowski, who returned to his native Pittsburgh to play for the Steelers, is not just anxious to see how Roethlisberger does this season.
Gradkowski's younger brother is succeeding
Matt Birk
as the Ravens' center. And
Gino Gradkowski
will make his first career start Thursday night when the defending Super Bowl champions visit the Broncos.
"I'm proud of him," Gradkowski said of his brother. "He's done a great job."
August, 27, 2013
8/27/13
3:30
PM ET
PITTSBURGH --
Jonathan Dwyer
will play in the Steelers' final preseason game as he had hoped.
Isaac Redman
won't get a chance to suit up at Carolina on Thursday despite his best lobbying efforts to do so.

Coach Mike Tomlin said Tuesday that the Steelers will use the preseason finale to take a long look at Dwyer,
LaRod Stephens-Howling
and
Felix Jones
.
Dwyer figures to get the least amount of work of the three considering how extensively he has played in the Steelers' past two games.
Stephens-Howling is returning to action after missing the past two games because of a mild knee sprain. Jones, meanwhile, will get one final opportunity to prove to the Steelers coaches that he belongs on the 53-man roster, which has to be finalized by 6 p.m. ET on Saturday.
"Obviously we've got a lot of backs we need to sort through so we're going to look at some of those others," Tomlin said.
That Redman (stinger) won't play actually bodes well for the fourth-year veteran opening the season as the Steelers' starting running back. The coaches apparently don't need to see any more from Redman, who played in just one preseason game and gained 7 yards on two carries.
Whether Dwyer, Stephens-Howling and Jones are competing for two spots remains to be seen.
Rookie
Le'Veon Bell
, who is nursing a foot sprain, is a lock to make the team. So too is Redman.
I've got to think Dwyer and Stephens-Howling are safe and that the decision on Jones will come down to whether the Steelers carry an extra running back on the 53-man roster until Bell returns.
Also notable from Tomlin's news conference:
Rookie outside linebacker Jarvis Jones (chest) has been ruled out for Thursday night. The Steelers are being cautious with Jones, who spent last Saturday night in the hospital after an awkward fall at the end of an interception return.
Tomlin did not say how much the starters will play against the Panthers. If history (and common sense) is any guide most of the starters won't play more than a series."The healthy guys are going to play in some capacity," Tomlin said. "I might select a guy or two to minimize because I want to see others."

Two of those are likely to be quarterback

Ben Roethlisberger

and backup

Bruce Gradkowski

as rookie

Landry Jones

will "get the big bulk of the action," Tomlin said.

There don't appear to be many roster spots on the line Thursday night. One thing Tomlin has emphasized to his players, particularly the young linebackers who are fighting for jobs, is what they do on special teams will be more important than anything else against Carolina."I think we need more consistent, above the line effort from some of those guys in that regard," Tomlin said.
August, 25, 2013
8/25/13
12:49
AM ET
The
Pittsburgh Steelers
easily played their best game of the preseason in a
26-20 overtime loss
to the
Kansas City Chiefs
Saturday night at Heinz Field, but it was hardly a Picasso.