Pittsburgh Steelers:

Chris Rainey
July, 25, 2014
Jul 25
9:00
AM ET
Training camp start starts today as the
Pittsburgh Steelers
have to report to St. Vincent College in Latrobe, Pennsylvania, by 4 p.m. ET. A run test is scheduled for 6 p.m. ET, and the Steelers will hold their first practice of 2014 on Saturday afternoon.
This is the final offseason mailbag and during camp I will post a mailbag on Tuesdays since the players are off that day. Send questions to @ScottBrown_ESPN with #steelersmail.
And away we go...
@ScottBrown_ESPN How many touches will Dri Archer get per game and what percent will be on RB/WR/ST #steelersmail

— Matt Revtai (@Matty_Ice7) July 22, 2014
@ScottBrown_ESPN
:
Chris Rainey
, the player with whom Archer is most comparable because of his speed and versatility, averaged just over five touches per game in 2012. Almost half of those (39) came on kickoff returns, and Rainey averaged only 2.5 touches per game on runs or receptions. I think Archer is a better player than Rainey and that the Steelers will try to utilize him more than they did Rainey. The rub, however, is this: the Steelers are significantly better at running back than they were the one season Rainey played with the team.
Rashard Mendenhall
missed the first 10 games of 2012 while he was still recovering from a torn ACL, and the Steelers leaned heavily on
Isaac Redman
and
Jonathan Dwyer
that season. Archer has stiffer competition than Rainey did for carries with
Le'Veon Bell
and
LeGarrette Blount
ahead of him on the depth chart. I'd like to think that the Steelers will get Archer the ball eight to 10 times a game, but that depends a lot on him and the progress he makes during training camp.
@ScottBrown_ESPN #steelersmail : Who's the projected no. 2 WR behind Antonio Brown? See lots of talk about Wheaton but Moore is a solid vet.

— Enrico Palazzo (@E_Rockah) July 22, 2014
@ScottBrown_ESPN
: I'm with you regarding
Lance Moore
. He looked really good during offseason practices, and he is such a solid player and one of those guys who just knows how to get open. I don't see much of a difference between the No. 2 and No. 3 wide receivers since the Steelers will use a three-wideout formation frequently. It wouldn't surprise me at all if Moore gets the majority of the snaps opposite Brown when the Steelers use only two wide receivers.
Markus Wheaton
will be given every opportunity to win a starting job in camp but it won't be given to him. If he stays healthy I think he will emerge this season and become a big part of the passing game. Wheaton wants to be great and he has the physical talent to succeed at this level.
@ScottBrown_ESPN I need to know how @KelvinBeachumJr is handling the starting LT role going into training camp and how's his confidence

— BigAl (@AlexPolonus) July 22, 2014
@ScottBrown_ESPN
: I will get a better read on that Friday or Saturday after we get a chance to talk to
Kelvin Beachum
. I would imagine his confidence level is high, and not just because he played well in the 11 starts he made at left tackle last season. Beachum is an incredibly hard worker and is very studious. He is mindful that his technique has to be a strength since he is not a prototypical left tackle, and I guarantee you he will be nothing but prepared once he gets to camp. One thing I really like about Beachum: He is not assuming the starting job at left tackle is his even though he enters camp as the No. 1 left tackle. He knows he still has to win the job and welcomes the competition for it since it will only make him better. I'd be surprised if he doesn't win the starting job, and if I'm the Steelers I let
Mike Adams
compete with
Marcus Gilbert
for the starting job at right tackle.
@ScottBrown_ESPN #steelersmail Scott, how much do you expect Jarvis Jones to improve this year?

— Jim Goodrich (@igua9) July 22, 2014
@ScottBrown_ESPN
: I think we will see a different player. As much as
Jarvis Jones
played in 2013 it took him a while to figure out just how to line up properly, and he admittedly spent most of his rookie season thinking instead of reacting. His confidence level should be much higher going into this season and he should play faster given his comfort level with the defense. How much of a jump he makes in sacks after notching just one last season remains to be seen. Joey Porter, who will mentor Jones, went from 2.5 to 10 in his second NFL season. I think the Steelers will be happy with seven or eight sacks from Jones as long as he puts consistent pressure on the quarterback.
July, 24, 2014
Jul 24
10:00
AM ET
PITTSBURGH -- He still uses his GPS to make his way around Pittsburgh, but rookie inside linebacker
Ryan Shazier
didn't need nearly as much navigational assistance when he was on the
Pittsburgh Steelers
practice fields in late May and June.
Shazier started alongside
Lawrence Timmons
from the outset of offseason practices, and he looked anything but lost despite learning a new defense on the run.
[+] Enlarge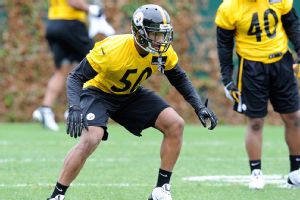 Joe Sargent/Getty ImagesRookie linebacker Ryan Shazier was a star in minicamp, but will his progress continue when the pads come on?
"He understands concepts very well," linebackers coach
Keith Butler
said of the Steelers' first-round draft pick. "He reminds me a lot of
Larry Foote
in terms of football intelligence, and he's a very sharp guy."
Not that Shazier will be exempt from the requisite rookie growing pains. Or that Butler wouldn't prefer the Steelers easing the former Ohio State All-American into the NFL.
That is not an option in large part because Shazier's speed and playmaking ability are both badly needed on a defense that slipped appreciably last season. Shazier, the Steelers' most significant addition during the offseason, made it look easy at times during offseason practices. He turned in a couple of breathtaking plays, including a leaping interception of a pass that backup quarterback
Bruce Gradkowski
thought he could throw over Shazier in the middle of the field.
The caveat with how good Shazier has looked: the 6-1, 237-pounder has only practiced with the Steelers in shorts. That changes Monday, when the Steelers don the pads at training camp following two non-contact practices.
If Shazier makes the same kind of progress at camp as he did during offseason drills he will start Sept. 7 in the season opener against the visiting Browns.
Here are the four other significant additions that the Steelers made during the offseason.
Offensive line coach Mike Munchak.
The Steelers have too often fielded suspect offensive lines under coach Mike Tomlin, though constant injuries up front haven't helped. A line that came together in the second half of last season will start a pair of former first-round draft picks and two second-round selections. Nobody is more qualified to bring the group together then Munchak. There are no excuses this season -- unless mass injuries consistently scramble the line.
S Mike Mitchell.
As with Shazier, the Steelers added speed and a playmaker when they signed Mitchell to a five-year, $25 million contract in March. They badly needed both elements on the back end of their defense, and Mitchell will be a significant upgrade over
Ryan Clark
at free safety. He has aspirations of becoming one of the best safeties in the NFL, and the Steelers would love to see Mitchell achieve that goal in Pittsburgh.
RB/WR Dri Archer.
The Steelers added a bolt of lightning to their offense when they drafted the ultra-fast Archer in the third round. He will return kickoffs and could allow the Steelers to relieve Pro Bowl wide receiver
Antonio Brown
of his duties as the primary punt returner. Archer's speed and versatility gives offensive coordinator Todd Haley the kind of player he can use to exploit mismatches. If Archer is
Chris Rainey
2.0 the Steelers will be more than happy with the investment they have made in the former Kent State star.
OLB Arthur Moats.
The former Buffalo Bill has starting experience and versatility and gives the Steelers a promising option should there be injuries or ineffective play at outside linebacker. Moats can also play inside, though the Steelers are pretty deep there, and he is expected to establish himself as a core special-teams player. The importance of depth in the NFL can't be overstated, and the Steelers improved themselves in that area with the signing of Moats.
May, 14, 2014
May 14
8:00
AM ET
PITTSBURGH -- Kent State coach Paul Haynes and Northern Illinois coach Rod Carey shared a memory -- and a laugh -- recently when they recalled
Dri Archer
's 100-yard kickoff return for a Kent State touchdown last season in a game between the Mid-American Conference rivals.
"Dri went down his sideline and [Carey] said he was going so fast and he was just thinking, 'We are so stupid for kicking to this guy,'" Haynes said. "They were the only team that kicked deep to us. Everybody else pooched."
That anecdote neatly distills why the
Pittsburgh Steelers
were enamored enough with Archer's breathtaking speed and big-play ability to draft him in the third round -- yet also why taking him that high might be a luxury they couldn't afford after consecutive 8-8 seasons.
[+] Enlarge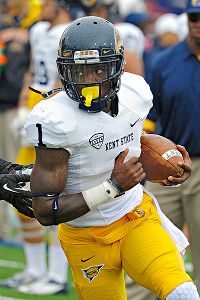 AP Photo/G.M. AndrewsThe Steelers hope Kent State's
Dri Archer can cause matchup problems for opposing defenses.
Archer already had been compared to former great kick returners such as Mel Gray and Gerald "Ice Cube" McNeil, and that was just in the Steelers' building.
But since NFL kickers have been able to boom the ball out of the end zone with regularity since kickoffs were moved to the 35-yard line, how much of a weapon will Archer be if teams simply decide to play keep-away?
That is what teams did last season when Archer managed just two kickoff returns for 128 yards and a touchdown. Haynes said Kent State didn't even bother practicing kickoff returns once it became apparent that opposing teams weren't going to let Archer beat them in that phase of the game.
Despite his limited opportunities last season, the Steelers placed a premium on Archer as a return man during their pre-draft evaluation of him.
"In my mind, return guys are starters," Steelers general manager Kevin Colbert said. "His kick-return ability is unique. It really is special. Whatever he can add to us offensively, we see some value there."
Where exactly the 5-foot-8, 173-pound Archer fits into the offense remains to be seen. The Steelers feature Pro Bowl wide receiver
Antonio Brown
, and they have an emerging running back (
Le'Veon Bell
) and a bruising back (newly signed
LeGarrette Blount
).
"This is a guy that is going to create some unique opportunities for us from a package standpoint in terms of him getting identified," coach Mike Tomlin said. "Is he a running back? Is he a wideout? Regardless of position, I think he's a playmaker. He's a guy that gets yards in chunks and rings up the scoreboard."
Blount
Bell
Such talk sounds great in May, but how will it translate in actual games when there are a limited number of snaps and Archer is not a primary option at running back or wide receiver?
"We are all going to work together to make sure this guy is in the right place," running backs coach James Saxon said. "The kid is a special football player with the ball in his hands."
Indeed, Archer rushed for 1,429 yards and 16 touchdowns as a junior, leading the country with 8.99 yards per carry. His rushing totals plummeted to 527 yards last season, but much of that can be attributed to the fact that Kent State played him extensively at wide receiver to showcase his versatility to NFL teams.
"I think one of the biggest mistakes we made here is flexing him out," Haynes said. "We needed to keep him at running back just because we could have gotten him more touches. He has great vision, he has great feet, he has great burst -- all the things a good running back needs to be."
That includes strength and toughness.
It is easy to fixate on Archer's size and speed and label him a gimmick player, but that evaluation doesn't fit. He ran the fastest 40-yard dash time (4.26 seconds) at the NFL scouting combine in February, but Archer also bench-pressed 225 pounds 20 times.
That's only seven shy of the combine bench-press total for defensive tackle
Daniel McCullers
, the 6-7, 352-pounder the Steelers drafted in the sixth round.
Haynes said Archer is strong and thick enough to absorb a pounding in the NFL, and Tomlin said, "He is not small. He is short."
It remains to be seen how many touches Archer will get in an offense that returns all but one starter from last season.
Bell averaged 17.2 carries per game in 2013, and he is a legitimate feature back because of his pass-catching abilities. The Steelers also have to find carries for Blount, who as recently as January bulled his way to 166 rushing yards and four touchdowns while leading the Patriots to a playoff victory.
That leaves Archer as a situational player, albeit a unique one, and the Steelers didn't get favorable results the last time they drafted a ridiculously fast player with plans to use his speed to exploit mismatches.
Chris Rainey
, even before he fell out of favor in Pittsburgh because of off-field incidents, didn't make much of an impact on the offense. In 2012, his only season with the Steelers, the former Florida speedster rushed for 102 yards on 26 carries and caught 14 passes for a mere 60 yards.
There might turn out to be no comparison between Archer and Rainey aside from sheer speed. And one thing Archer won't have a problem with, Haynes said, is representing the Steelers -- on the field and away from it.
"You think of toughness, you think hard-nose, you think of discipline," Haynes said of the Steelers. "That's why I think Dri is going to fit in so well there, because a lot of those things are how I would describe him. Besides the football, he's going to be a great ambassador for that program.
"You don't have to worry about him off the field. He's going to work, he'll study the game, he'll surround himself with the great pros that are already there and teach him how to be a great pro himself."
May, 9, 2014
May 9
11:40
PM ET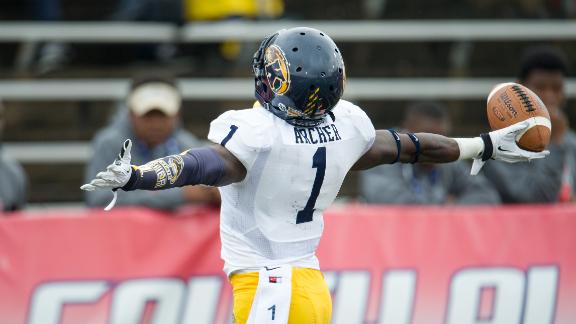 PITTSBURGH --
The pick:
Dri Archer
, RB, Kent State
My take:
The Steelers added more speed, and arguably the fastest player in the draft, when they took Archer in the third round Friday night. This seems like a little early to take a running back, even one who could add a dynamic element to the offense. Archer is a blur -- running backs coach James Saxon said the Steelers timed him in under 4.2 seconds in the 40-yard dash at the NFL combine -- but he is also small. Not that the Steelers will ask the 5-foot-8, 173-pounder to shoulder much of a workload. Archer will be used as a situational back as well as a kick returner, and he averaged 7.8 yards per carry last season while also catching 25 passes for 327 yards.
The Steelers tried this two years ago with ultra-fast
Chris Rainey
, and he was pedestrian even before they cut ties with him due to off-the-field issues. They must think Archer is a much better player, and his versatility and production at Kent State impressed the Steelers as much as his sheer speed. Archer rushed for 2,342 career yards and had 1,194 career receiving yards while also starring as a return specialist for the Golden Flashes. He should at least make an impact in the return game as a rookie.
Still waiting:
Who would have guessed this? Two days and three rounds into the draft, the Steelers have yet to take a cornerback or a wide receiver. They have addressed inside linebacker, defensive end and running back, with only the middle position qualifying as one of serious need. Defensive coordinator Dick LeBeau said he is not worried about the Steelers' depth at cornerback. "I feel good about the cornerbacks that we have, and we have more numbers there than people realize," LeBeau said. "We may have great players in the building; they just haven't had the chance to show us they are greater."
What's next:
The Steelers will be plenty busy Saturday. They have one pick in the fourth round -- which starts at noon -- two in the fifth, two in the sixth and one in the seventh. The Steelers have made some late-round finds in recent years, getting wide receiver
Antonio Brown
, left tackle
Kelvin Beachum
and linebacker
Vince Williams
in the sixth round or later since 2010.
April, 18, 2014
Apr 18
2:00
PM ET
PITTSBURGH -- The is the sixth in a series that reviews the
Pittsburgh Steelers
' drafts under general manager Kevin Colbert and coach Mike Tomlin.
Next up is the 2012 draft:
Total picks:
9
Picks still with the team:
5
[+] Enlarge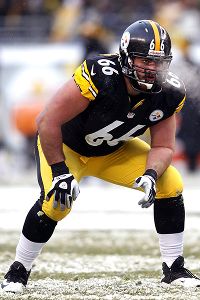 Charles LeClaire/USA TODAY SportsDavid DeCastro looks like he will be a fixture in the lineup for years.
Best pick:
G
David DeCastro
. The Steelers were both surprised and elated when the top guard in the draft fell to them at No. 24 overall. DeCastro overcame some early adversity -- a torn ACL caused him to miss most of his rookie season -- and has established himself as one of the top guards in the NFL. The Stanford product has many Pro Bowls in his future provided he stays healthy, and he could enjoy a career similar to the one Alan Faneca had with the Steelers.
Worst pick:
NT
Alameda Ta'amu
. Taken in the fourth round as Casey Hampton's potential successor, Ta'amu lasted just one season with the Steelers -- he didn't play in a game -- and will be most remembered for his arrest following a police chase in Pittsburgh that damaged several cars and left one person injured. Ta'amu landed with the Cardinals after the Steelers released him and played 14 games last season, starting three.
Best value pick:
OT
Kelvin Beachum
. The Steelers' final pick -- and the 248
th
selection overall -- has proven to be an absolute steal. Beachum's versatility allowed him to make an impact as a rookie, and he stabilized left tackle last season after second-round pick
Mike Adams
floundered there. Beachum started 11 of the Steelers' last 12 games at left tackle, and the SMU product played well enough to go into offseason practices as the starter there. It remains to be seen whether Beachum's long-term future is at left tackle. Even if it isn't, he will start for the Steelers somewhere along the offensive line.
Also of note:
It will be interesting to see what the Steelers do with Adams in the offseason. The Ohio State product could compete with Beachum at left tackle or challenge
Marcus Gilbert
for the starting job at right tackle. Adams started six games at right tackle as a rookie and played considerably better there than at left tackle ... Third-round pick
Sean Spence
could contribute this season at inside linebacker after suffering a career-threatening knee injury in the final preseason game of his rookie season ... Fifth-round pick
Chris Rainey
, released following an offseason arrest in 2013, played two games for the Colts last season but did not have a carry ... Every draft pick has appeared in at least one NFL game.
Final analysis/grade:
It's still a tad early to evaluate this class, but the Steelers hit big with their bookend picks (DeCastro and Beachum). The jury is still out on their second- and third-round picks (Adams and Spence) for different reasons. I will give them a 'B-' for now with the grade moving up or down depending on what they get out of Adams and Spence.