Pittsburgh Steelers:

Dan Rooney
July, 21, 2014
Jul 21
3:00
PM ET
I wrote following a fan vote for the most memorable play in
Pittsburgh Steelers
history that all were vying for second place behind Franco Harris' "Immaculate Reception."
That turned out to be true for every other NFL team as well.
Harris' galloping touchdown after making a shoestring catch of a desperation pass – one that had caromed backwards -- won ESPN.com's bracket challenge for the most memorable play in NFL history.
The Immaculate Reception beat Dwight Clark's touchdown catch that launched the San Francisco 49ers' dynasty in the early 1980s, capturing 52 percent of the fan vote over a three-day period.
Harris' play was the last one standing despite some stiff competition, confirming how enduring it is -- and that it transcends the Steelers and even Pittsburgh.
The play as ESPN.com NFL columnist
Kevin Seifert wrote
had a little bit of everything: drama, a great individual effort and intrigue.
We may never know if Terry Bradshaw's pass first touched Steelers running back Frenchy Fuqua, which would have made Harris' reception an illegal one, despite Zapruderesque dissection of the play.
The controversy over the final play -- and the Steelers' 13-7 win over the Raiders at Three Rivers Stadium -- touched off a rivalry that shaped the 1970s.
And while the Steelers lost the following week in the AFC championship game to the
Miami Dolphins
no less an authority than Dan Rooney has said Harris' catch and game-winning touchdown gave the franchise hope and belief.
It might be difficult for a younger generation of Steelers fans to believe but Pittsburgh was badly in need of both before the Immaculate Reception. The Steelers had never won a playoff game before Harris' miraculous catch and run.
Since beating the Raiders in 1972, two days before Christmas, the Steelers have won 32 times in the postseason and six Super Bowls.
July, 7, 2014
Jul 7
10:00
AM ET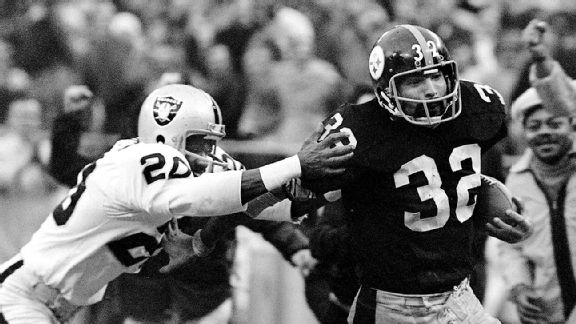 AP Photo/Harry Cabluck
»
VOTE HERE
»
NFC Plays:
East
|
West
|
North
|
South
»
AFC:
East
|
West
|
North
|
South
This is the first of three plays nominated as the most memorable play in team history. Please vote for your choice as the Steelers' most memorable play.
Score:
Steelers 13, Raiders 7
Date:
Dec. 23, 1972
Site:
Three Rivers Stadium
Steelers founder Art Rooney was already headed to the elevator by the time Terry Bradshaw unleashed the last-gasp pass that started perhaps the most memorable play in NFL history.
The gregarious, stogie-chomping owner wanted to get to the field to congratulate his coaches and players on a successful season.

There was a reason the man affectionately known as "The Chief" and the Steelers fans who streamed toward the exits had already conceded defeat in an AFC Divisional Playoff Game.
The Steelers were facing a fourth-and-10 from their own 40-yard line with no timeouts and a dying clock working against them when Bradshaw dropped back to pass.
Bradshaw escaped a heavy rush before firing a pass down the middle of the field.
Raiders safety Jack Tatum and Steelers running back Frenchy Fuqua arrived at the same time as Bradshaw's throw, and the ball shot back from the Raiders' 35-yard line.
Rookie running back Franco Harris had been trailing the play, and, in one of the seminal moments in Steelers history, heard the voice of the man who, ironically, had turned down Pittsburgh's head-coaching job in 1969, which later went to Chuck Noll.
Penn State's Joe Paterno had always exhorted his players to run to the ball, and in that moment, Harris followed his college coach's voice to the ball. He scooped it up just before it hit the rock-hard turf at Three Rivers Stadium and, with mere seconds left on the clock, started galloping down the left sideline.
Harris outraced several Raiders to the end zone and stiff-armed defensive back Jimmy Warren before scoring the touchdown that produced the first playoff victory in Steelers history.
Had instant replay reversal rules been in place then, Harris' score might not have stood since it would have been an illegal pass if Fuqua had touched the ball first.
But the officials ruled it a legal catch on the field after confusion and hysteria had initially ensued, imbuing the dramatic play with controversy and fueling a Steelers-Raiders rivalry that came to define the NFL in the 1970s.
The Steelers lost to the Dolphins the following week in the AFC Championship Game, but "The Immaculate Reception," as it was dubbed by legendary Pittsburgh sportscaster Myron Cope, is widely credited with putting the Steelers on a track to win four Super Bowls from 1974 to 1979.
"I rank it as high as it could be for giving the Steelers the feeling they could be a great team," Steelers chairman emeritus Dan Rooney has said, "that there might be divine intervention, because that play was so remarkable that is hard to believe."
@ScottBrown_ESPN The changing of the direction of the ball changed the direction of a franchise from that moment on.

— Mark S. (@MarkMizzouSteel) June 12, 2014
July, 1, 2014
Jul 1
11:00
AM ET
PITTSBURGH – The anger that had been simmering in
Ike Taylor
since March boiled over Monday when the veteran cornerback lashed out at having to accept a $4.25 million pay cut to remain with the Steelers.
Taylor's rant on "The Jim Rome Show" didn't make sense for a couple of reasons.
First, he didn't say anything about his unhappiness over the pay cut during organized team activities or minicamp. Nor did he mention it on the weekly show he has on TribLive Radio.
Taylor
So why go public with it now?
Taylor seemed genuinely miffed that the Steelers would ask him to take pay cut after he has done the right things during his 11-year career, one in which he has missed just five games because of injuries and kept himself in excellent physical condition.
But how does doing what is required make Taylor exempt from the kind of business decisions that are common in the NFL? It's something he has seen the Steelers do through the years to help manage their salary cap.
The fact is the Steelers had some tough decisions to make to clear enough room under the cap so they could continue reshaping a roster that has been in transition.
It was simply business and Taylor, who has a close relationship with Steelers chairman emeritus Dan Rooney, should know as well as anybody not to take it personally.
His heated comments created a stir during the time of the year when the NFL news cycle is at its slowest. But in the grand scheme of things, they don't mean much.
Taylor is too much of a professional to allow his dissatisfaction to adversely affect his preparation for 2014, a year after his play slipped appreciably, leading to a situation in which the Steelers had all of the leverage.
He will be asked about his comments at the beginning of training camp. After that they will become a non-story.
Taylor isn't the first Steeler who will play with a contract that doesn't make him happy. And he certainly won't be the last.
June, 17, 2014
Jun 17
3:03
PM ET
PITTSBURGH -- Steelers players from multiple eras -- including this one -- attended
Chuck Noll's funeral
on Tuesday morning in the Oakland section of Pittsburgh.
[+] Enlarge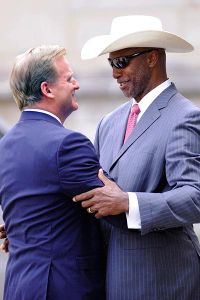 John Heller/AP PhotoNFL commisioner Roger Goodell and former Steelers CB Mel Blount embrace before Tuesday's funeral service for Chuck Noll in Pittsburgh.
Former Steelers greats such as Joe Greene, Franco Harris and John Stallworth were there. So were current players such as
Ben Roethlisberger
,
Maurkice Pouncey
and
Ike Taylor
.
Commissioner Roger Goodell represented the NFL at the service that lasted just over an hour and turned out to be the simple goodbye that Noll, who
passed away Friday
at the age of 82, would have wanted.
Make that demanded.
Dan Rooney, Art Rooney II, Kevin Colbert and Mike Tomlin also attended the funeral with Rooney II, the Steelers' president, joining Greene as one of the pallbearers.
No players spoke at the service but a handful of them talked afterward about what Noll meant to them and his legacy:
Hall of Fame defensive tackle Joe Greene played for the Steelers from 1969-81 and was Noll's first-ever draft pick.
"I used to be very, very bad-tempered with officials and Chuck said, 'You know Joe, those guys have families and kids and they probably don't like you talking to them like that,' and I stopped doing it. He just had a way of sharing information with you that was long lasting. There's not many days that go by when I don't think back on something that Charles Henry Noll said. Anytime I was around Chuck it was a learning experience. Just an outstanding person."
Offensive tackle Jon Kolb played for the Steelers from 1969-81 and then coached under Noll with the Steelers from 1982-91.
"I got to coach with him also for 10 years and he made the point to coaches that the game is about the players. We're here to help the players prepare. That was what he wanted to do and I believe just from the talks I had with him, he didn't just want to prepare for the moment and the season but preparation for life, which is not the norm."
[+] Enlarge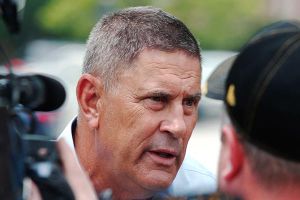 Keith Srakocic/AP PhotoJohn Banaszak recalls the opportunity Chuck Noll provided for him as a Steelers' defensive lineman.
John Banaszak played defensive tackle and defensive end for the Steelers from 1975-81.
"I was an undrafted rookie free agent and there were 17 draft choices in front of me, but Chuck gave me an opportunity and a chance to make that football team and I took advantage of it. I think whether or not I would have played seven years or I would have been (cut) two weeks into (his first) training camp he would have had a very big impact on me anyway. I learned that whether you're in business or you're a football coach or a football player, fundamentals are the essential parts of being successful. He stressed that regularly."
Tight end Mike Mularkey played for the Steelers from 1989-91 and coaches tight ends for the Tennessee Titans.
"You like to be around guys that like playing football and want to do it the right way. That's all he ever asked of his players, and I just told that to my guys in my (meeting) room this past week. He's the best coach I was fortunate to play for but I've gotten more from Chuck off the field about how to do things the right way. Family was important and a balance in life was important, and he showed that every day in his life. I hate to be here under these circumstances but I'm glad I got a chance to be here."
• Read more:
A
collection of memories
from Steelers who played for or coached with Noll.
June, 12, 2014
Jun 12
2:35
PM ET
PITTSBURGH -- The tears that made it hard for
Maurkice Pouncey
to talk Thursday afternoon also cut short what should have been a celebratory news conference.
Emotion choked the
Pittsburgh Steelers
center, and it emanated from the day last September when a teammate crashed into his right knee and left Pouncey in the kind of pain that made him wonder if he would ever walk well enough to play football again -- or at least at a high level.
What also had to overwhelm Pouncey: Steelers chairman Dan Rooney, team president Art Rooney II, general manager Kevin Colbert and coach Mike Tomlin all attended the official announcement of the five-year contract extension he signed nine months after tearing several ligaments in his right knee, including his ACL.
[+] Enlarge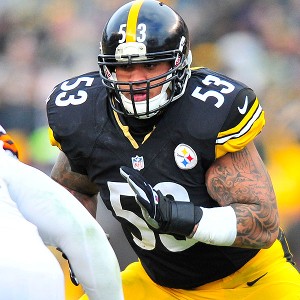 David Dermer/Diamond Images/Getty ImagesMaurkice Pouncey is the only center in NFL history to make the Pro Bowl in each of his first three seasons.
Their presence as much as the new deal that could be worth as much as $44 million, affirmed to Pouncey that he is a Steeler.
And there is a difference between that and playing for the Steelers.
"It's true love here," Pouncey said shortly after the Steelers concluded organized team activities. "I'll do anything for this team and I'm ready to lead us to where we've got to get back to."
The Steelers concluded that Pouncey is one of the keys to them re-establishing themselves as perennial Super Bowl contenders following consecutive 8-8 seasons.
They made a bold move with the contract that is now the most lucrative for a center in the NFL.
They also made the correct move in locking up Pouncey long-term after the Jaguars had raised the ante at the position by signing
Alex Mack
to a five-year, $42 million contract (the Browns later matched it to retain Mack).
Pouncey is the only center in NFL history to make the Pro Bowl in each of his first three seasons. His teammates respect him so much that they voted Pouncey a captain last season, not much more than a month after he had celebrated his 24
th
birthday. And Pouncey is the kind of player you build around on the offensive line, especially if your goal is to maximize
Ben Roethlisberger
's remaining seasons as a top-tier quarterback, something that Colbert has stated.
Questions have been raised about Pouncey and whether the 2010 first-round pick is prone to injury. But he had missed just three regular-season games prior to 2013.
And the injuries he suffered in the Steelers' season opener were a result of nothing more than rotten luck, as friendly fire took Pouncey out after right guard
David DeCastro
whiffed on an attempted cut block.
The Steelers are obviously comfortable with Pouncey's injury history as well as where he is from a health standpoint nine months after hurting his right knee. Pouncey's teammates, meanwhile, were nothing short of ecstatic about his new deal.
And not because Pouncey is likely to pick up the next couple of dinner tabs.
"He worked his butt off so we're glad to have the team commit to him like that," Steelers left guard
Ramon Foster
said. "We're more excited than he is about it."
Just not as emotional.
"I was just telling coach (Tomlin) it seems like five years all over again, and I'm ready to start this path and help this team get back to where we need to," said Pouncey, who turns 25 the day before the Steelers report to training camp. "This is really an awesome feeling and words can't really say enough about it."
May, 7, 2014
May 7
5:10
PM ET
PITTSBURGH -- The first day of the NFL draft usually has the feel of Christmas Eve at the
Pittsburgh Steelers
' headquarters because of the anticipation.
It figures to be a little more somber this year following
the death of longtime scout Bill Nunn
, who passed away Tuesday night of complications from a stroke.
Nunn worked until the end of a life that spanned nearly nine decades -- and probably provided enough stories to fill nine books. He left an indelible imprint on the Steelers, and he is one of the most significant figures in the franchise's storied history.
The Steelers' success in the 1970s probably doesn't happen without Bill Nunn.
Think about that for a second.
Also consider that Nunn did much more than put the Steelers on a path to greatness by opening doors for them at historically black colleges. Nunn created opportunities for African-American players when he worked as a newspaper man.
As the sports editor of The Pittsburgh Courier, a newspaper that could claim a national following and a social conscience, Nunn put together an annual Black College All-America football team.
Some teams used this as a draft guide back when there wasn't exhaustive coverage of the annual selection process. And when Mel Kiper Jr.'s hair didn't have multiple Twitter accounts.
As Steelers.com's Bob Labriola
wrote in a retrospective
, Nunn discovered players such as Deacon Jones before he joined the Steelers in 1967 and helped change the course of a staggering franchise.
He is more well-known for the latter, and in the almost 50 years Nunn spent with the Steelers, he came to embody the spirit of Art Rooney, the Steelers' founder who was affectionately known as "The Chief."
There certainly were similarities between the two.
Both lived fascinating lives and seemed to know everybody in Pittsburgh. Those who were around both on a regular basis spoke in reverential terms about them in part because of their ability to connect with people.
The social change that Nunn helped bring about in the NFL no doubt influenced Steelers owner Dan Rooney, who hired Nunn and successfully pushed for more diversity in the league after he became one of the power brokers in it.
The so-called Rooney Rule, enacted in 2003, requires teams to interview at least one minority when hiring a head coach or general manager.
Art and Dan Rooney are in the Pro Football Hall of Fame for their contributions to the NFL, and hopefully Nunn will one day join them there.
When you look at how he shaped the NFL's greatest dynasty to the opportunities he created for African-American players and those in NFL front offices and scouting departments, it's pretty easy to see that there has to be some place in Canton for Nunn.
April, 29, 2014
Apr 29
7:00
PM ET
PITTSBURGH -- Several
Pittsburgh Steelers
applauded the NBA for imposing
a lifetime ban on Donald Sterling
in the wake of the racist comments the league says the owner of the Los Angeles Clippers made in a recorded conversation.
The controversy, which transcended sports, prompted players such as defensive end
Cameron Heyward
to express how much they appreciate playing for the Rooney family, which has owned the Steelers since their inception in 1933.
Beachum
"I'm very blessed and humbled to be part of an organization that values their workers," Heyward said on Tuesday, shortly before NBA commissioner Adam Silver announced the Sterling ban. "It's just an unfortunate situation with what's going on out there. A lot of organizations can learn from it and just grow from it."
Steelers left tackle
Kelvin Beachum
said Silver did the right thing in taking a hard line against Sterling.
"I think it was needed," Beachum said. "What [Sterling] did was not right and was very disappointing. If I was a player for him I would be very disappointed to know that my owner spoke like that, especially being of African-American descent."
When asked if the controversy showed the contrast between Sterling and Steelers chairman emeritus Dan Rooney, Beachum chuckled.
"It's not even a comparison," the third-year veteran said. "Ever since I've known the Rooneys they've been cordial. You never hear anything that's negative in any way. Any man that can come up and shake your hand and talk to you and have a great relationship with you, and you know genuinely that's how he feels, that's a great thing. I've had that with [Dan Rooney and Steelers president Art Rooney II]."
Dan Rooney is in the Pro Football Hall of Fame, and he has long been at the forefront of promoting diversity in the NFL. He pushed for a requirement enacted in 2003 that requires teams to interview at least one minority candidate when hiring a general manager or head coach, and it is commonly known as the Rooney Rule.
Veteran wide receiver
Lance Moore
played the previous nine seasons in New Orleans before signing with the Steelers last month.
He said he is fortunate to have played for an owner like Tom Benson in New Orleans and now for the Rooney family.
"Tom Benson did things the right way. He made sure his players were taken care of, and the players in turn played hard for him," Moore said. "The Rooneys, from the short time I've been here as well as what I've heard about them, they are awesome. They are all about their players and their organization and doing things the right way."
April, 24, 2014
Apr 24
8:00
AM ET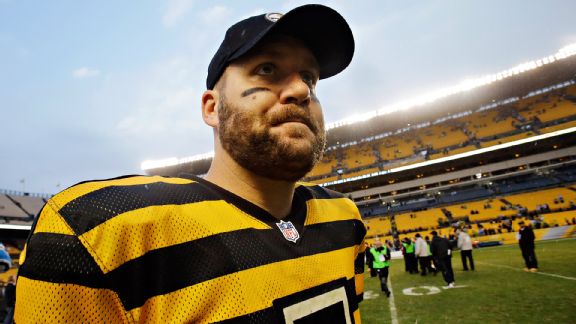 AP Photo/Gene J. PuskarBen Roethlisberger, the Steelers' first-round pick in 2004, has forever impacted the franchise.
PITTSBURGH -- The
Steelers
needed more than a little luck to end their long search for the rightful heir to Terry Bradshaw, the quarterback they had taken first overall in the 1970 NFL draft.
Ten years ago today -- and almost a quarter of a century after they selected Bradshaw by winning a coin toss to secure the top pick over the
Chicago Bears
-- the Steelers drafted
Ben Roethlisberger
with the 11th overall pick.
As with Bradshaw, the pick set the franchise on a glorious course.
Bradshaw struggled early in his career and was benched and booed by fans before winning four Super Bowls, but with Roethlisberger, the Steelers got a serious return on their quarterback investment earlier than anyone could have expected.
An injury to starter
Tommy Maddox
in the second game of the 2004 season thrust Roethlisberger into action. And the quarterback who had been considered more of a project than the two picked ahead of him (
Eli Manning
and
Philip Rivers
) because he hadn't played against top competition at Miami (Ohio) responded by winning his first 14 starts.
The Steelers suffered a disappointing loss to
Tom Brady
and the Patriots in the 2004 AFC Championship Game, but they finally found their quarterback after going through their share of them following Bradshaw's retirement in 1984.
Roethlisberger led the Steelers to three Super Bowls from 2005 to 2010, winning two of them, and he showed a flair for extending plays after his pass protection had collapsed, as well as directing clutch fourth-quarter drives -- both the result of a competitive streak that is as long as one of the three rivers that converge in Pittsburgh.
He authored his signature comeback in Super Bowl XLIII when the Steelers trailed the upstart Arizona Cardinals by three points and were backed up at their 10-yard line with less than three minutes left in the game.
Roethlisberger needed eight plays and a little more than two minutes to lead the Steelers to a game-winning touchdown, capping the drive with a 6-yard scoring pass to
Santonio Holmes
.
The pass was vintage Roethlisberger: daring and something more likely seen in a backyard game, not the NFL's biggest stage. Roethlisberger unleashed the pass under pressure, throwing it into a crowd but only where his receiver had a chance to catch it.
That unlikely play, in retrospect, serves as something of a metaphor for Roethlisberger's Steelers career, because so much had to break just right for him to wear black and gold in the first place.
"We didn't expect that he would end up in Pittsburgh," Ryan Tollner, Roethlisberger's agent, said.
Indeed, 10 teams picked ahead of the Steelers in the 2004 draft, including the Browns, who would have been hailed for taking the Ohio native to lift the struggling franchise.
And Roethlisberger's camp didn't know to what extent he was on the Steelers' radar.
The team had met with Roethlisberger at the NFL scouting combine and also hosted him for a pre-draft visit, but they never worked him out. Tollner figured he would go to the Raiders at No. 2, the Cardinals at No. 3, the Giants at No. 4 or the Browns at No. 6.
If none of those teams drafted Roethlisberger, Tollner thought, Buffalo at No. 13 would be the probable landing spot for his client.
Meanwhile, another member of Roethlisberger's inner circle was convinced the Giants were going to draft him. Terry Hoeppner, his coach at Miami, had spoken extensively with Ernie Accorsi about Roethlisberger and had gotten a good vibe from the Giants' general manager.
[+] Enlarge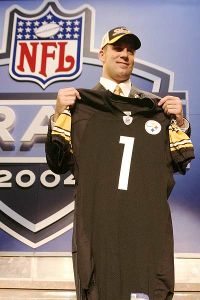 AP Photo/John Marshall MantelQB Ben Roethlisberger hasn't forgotten about all of the teams -- especially the Browns -- who bypassed him in the 2004 draft.
That is why when the Giants drafted Rivers -- they subsequently dealt him to the Chargers for Manning, who had been taken first overall -- Hoeppner fired a water bottle in disgust across the table where he was sitting with Roethlisberger and others at the draft in New York City.
The Redskins took safety
Sean Taylor
with the fifth pick, providing an opening for the Browns, who needed a quarterback after
Tim Couch
, the first overall selection in 1999, didn't pan out.
"[Roethlisberger] is a northwest Ohio kid, and played in-state at Miami of Ohio and here the Browns are, they've struggled at the quarterback position for a long time," Tollner said. "Ben is sitting there and they elect to go with a tight end. It's something Ben's never forgotten and he never will."
The Browns' picking tight end
Kellen Winslow Jr.
proved to be one of the draft's pivotal points. But the Steelers also came close to passing over Roethlisberger after he lasted through the first 10 picks.
The team had zeroed in on Arkansas offensive tackle
Shawn Andrews
, but owner Dan Rooney deftly shifted the conversation to Roethlisberger before the Steelers made their pick.
Rooney had good reason to speak up.
The Steelers had built their dynasty in the 1970s -- and transformed an organization once synonymous with losing -- through shrewd drafting.
They had missed an opportunity near the end of Bradshaw's career when they passed on local legend
Dan Marino
in the 1983 draft and instead selected Texas Tech defensive tackle Gabe Rivera with the 21st pick.
The Dolphins pounced on Marino with the 27th selection, and his strong arm and quick-as-a-hiccup release allowed the Pitt product to become an early star in Miami and eventually a first-ballot Pro Football Hall of Famer.
The Steelers, meanwhile, shuffled through enough quarterbacks in the post-Bradshaw era that seven different players led them in passing from 1983 to 2003.
Rooney fretted that overlooking Roethlisberger also might come back to haunt the Steelers.
"I couldn't bear the thought of passing on another great quarterback prospect," Rooney wrote in his book "Dan Rooney: My 75 Years With The Pittsburgh Steelers and The NFL."
"So I steered the conversation around to Roethlisberger. After some more talk, we came to a consensus and picked Roethlisberger."
Ten years later, Roethlisberger remains the youngest quarterback to win a Super Bowl -- he was only 23 when the Steelers beat the Seahawks in February 2006 -- and joins Eli Manning and Brady as the only active quarterbacks with multiple Super Bowl victories.
Roethlisberger, who turned 32 in March, already has broken many of Bradshaw's Steelers records and is five victories away from becoming the 13th quarterback in NFL history to win at least 100 regular-season games.
It hasn't all been smooth for Roethlisberger in Pittsburgh.
A motorcycle accident after his first Super Bowl victory left Roethlisberger seriously injured and may have contributed to his uneven play in 2006. And two sexual assault allegations made against him less than a year apart led to a four-game personal-conduct policy suspension by the NFL at the beginning of the 2010 season (Roethlisberger was never charged with a crime).
Roethlisberger since has rehabilitated his image, gotten married and started a family. He is considerably closer to the end of his career than the beginning of it, though he played every snap last season.
It's safe to say Roethlisberger is one of the best draft choices in Steelers history -- and the most critical one to reconnecting the team that has won a record six Lombardi trophies with its triumphant past.
Oh, and yeah, Roethlisberger is 19-1 in his career against the Browns, the most notable and personal of the teams that passed on him 10 years ago.
"I think that Ben getting where he did in hindsight was the best thing that could have happened to him because he went to a strong organization but he went in a position that kept him feeling like an underdog," Tollner said. "He entered the league a very respectable pick at No. 11 overall but very driven to prove that 10 teams made a very bad mistake in passing on him."
March, 10, 2014
Mar 10
11:30
PM ET
PITTSBURGH -- It made sense for the Steelers and
Ike Taylor
to get a deal done that will work for both sides.
The Steelers could not afford to lose a cornerback --- even one whose best days are behind him -- and Taylor did not want to finish his career anywhere else.
Taylor
Presto, the contract that saves the Steelers $4.25 million in salary-cap money this year and allows Taylor to play his entire career in Pittsburgh, one that started after the Steelers unearthed a project out of Louisiana-Lafayette in the fourth round of the 2003 NFL draft.
It's tempting to wonder where Taylor would rank among the all-time Steelers' defensive backs -- and how many Pro Bowls he would have made -- had his hands cooperated as much as his coverage skills did while shadowing opponents' wide receivers.
Even with only 14 career interceptions in 11 regular seasons -- and let us not forget the pick against the Seahawks that helped Pittsburgh win Super Bowl XL -- Taylor's place in Steelers history is secure.
And he is not quite done yet.
A source told ESPN.com that Taylor had no interest in leaving the Steelers and that he wanted to do whatever he could to stay with the organization and help it return to Super Bowl contender status following back-to-back 8-8 seasons.
Hence the pay cut that satisfies both sides.
It is no secret that Taylor has an incredibly close relationship with chairman emeritus Dan Rooney, who is on a short list of candidates for a Steelers Mount Rushmore.
But his new contract is more a product of practicality than nostalgia, and Taylor gets one more season to add to his Steelers legacy -- while also serving as a bridge to the cornerbacks it is incumbent upon Pittsburgh to sign or draft.
Or both.
February, 26, 2014
Feb 26
1:00
PM ET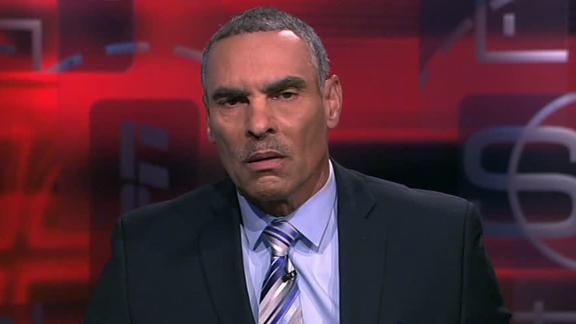 PITTSBURGH --
Ryan Clark
said he does not use the N-word, but the
Pittsburgh Steelers
free safety is not in favor of policing it during games.
Clark said he would have a "problem" with how the rule is enforced if NFL owners voted in favor of penalizing the N-word next month following a recommendation from the league's competition committee.
The competition committee, of which Steelers coach Mike Tomlin is a member, has discussed
a rule proposal that would penalize use
of the highly charged word.
"The N-word is used in so many ways that we as black people have learned to make it a term of endearment, (and) even though I don't necessarily agree it's a term of endearment, if it's used in that way and a white referee comes in and says 'I'm throwing a flag because I heard you use the N-word, I would absolutely lose it on the field. I would go nuts.'"
Clark said Wednesday on ESPN's Mike & Mike

show. "And I think a black coach would also be pretty upset if he got a 15-yard penalty because of two of his teammates were talking to each other and they threw a flag."
Clark
John Wooten, who heads the Fritz-Pollard Alliance, which monitors diversity in the NFL, has pushed for a no-tolerance policy of the N-word. Ravens general manager Ozzie Newsome said last week at the NFL scouting combine that the competition committee will further discuss how penalizing players during games could discourage the use of the word.
The problem, Clark said, is that the "football field is a workplace like no other."
"When you're inside of a building and you're representing an employer, which for me would be the
Pittsburgh Steelers
, I look at that as the workplace," Clark said. "I look at that where things can be policed, where things can be legislated because you're working for an owner. When you're out there on the field it's not a work place anymore. It's not civil."
Clark recounted a story in which Steelers chairman emeritus Dan Rooney, long a champion of diversity in the NFL, heard some of Pittsburgh's players using the N-word in the locker room.
Clark said Rooney encouraged cornerback
Ike Taylor
to talk to his teammates about it but didn't ban the word from the locker room.
"I actually walked by during the conversation and he was just telling (Taylor), 'Hey look, people fought against that word. The origin of that word is demeaning,' " Clark said. "(Rooney) was there during the Civil Rights movement so he knows people who fought against that and he's like 'You guys shouldn't be using it. You should understand that it wasn't meant as a term of endearment so you guys should try to get away from it.' He was more giving Ike knowledge of the word and its origins then just saying, 'Hey I don't want it here.' It's about understanding the meaning and origin of the word, which is why I don't use it.
"Mr. Rooney has earned the right to speak on anything he wants to but especially that word. Not only being instrumental in the Rooney Rule that they implemented into the NFL but by the way he treats us as people, by the way he treats coach Tomlin."
Clark said players are mindful not to use the word in places where it could make people uncomfortable or reflect poorly on the organization.
"I don't remember a time where I've been on a team where an athlete has used the N-word during an interview, where an athlete has used the N-word where it might be on record or where he felt like TV cameras were around," Clark said. "They don't use it when they're around the office staff upstairs. They don't use it in the cafeteria when we're in mixed company. We understand what the right place is to use the word."