Pittsburgh Steelers:

Dennis Allen
October, 27, 2013
10/27/13
9:55
PM ET
OAKLAND -- The Raiders struck a first blow Sunday that was as stunning as it was spectacular when quarterback
Terrelle Pryor
kept the ball on a read-option and raced 93 yards for a touchdown.
There were several factors behind how Pryor ripped off the longest run by a quarterback in NFL history, starting with his fake to running back
Darren McFadden
.
Pryor
"I saw D Mac carrying out the fake and I heard the crowd screaming and I was trying to figure out what they were screaming about," Raiders safety
Charles Woodson
said, "and all of sudden T. Pryor is at the 50-yard line running the ball."
The Steelers bit on the fake, though left outside linebacker
LaMarr Woodley
carried out his assignment when he went after McFadden and buried the seventh-year veteran.
That left strong safety
Troy Polamalu
as the key guy once Pryor kept the ball instead of putting it in McFadden's belly.
"I was saying in my head Polamalu has to get blocked," Pryor said.
Wide receiver
Rod Streater
took care of that, tying up the Steelers' best defensive player and allowing Pryor to flash through an opening on the right side and into the open field.
Polamalu couldn't shed Streater's block, but he didn't get any help from the back end of the Steelers' defense either.
"I should have been a little patient in the middle of the field so if things broke down I could kind of overlap," free safety
Ryan Clark
said.
The Raiders pulled a guard to help sell a hand-off to McFadden, but the Steelers were also guilty of overpursuing on the play.
"Even if you're excited about stopping McFadden, you have to understand the beast that's playing quarterback," Clark said. "Once a guy like him gets a in front of the whole defense, he's a legit 4.4 (speed in 40-yard dash). It just looks slow because he's 6-6 but he was moving."
Raiders coach Dennis Allen said Oakland picked that play to open the game as a way of easing Pryor into action against his hometown team.
Pryor's touchdown set the tone for the Raiders, who gashed the Steelers for 197 rushing yards en route to their
21-18 victory
. But, said Polamalu, "We had 59-and-a-half minutes to come back. We had our opportunities. We just didn't seize them."
October, 23, 2013
10/23/13
6:25
PM ET
PITTSBURGH -- A meeting between
Terrelle Pryor
and
Pittsburgh Steelers
coach Mike Tomlin in August 2011, could have resulted in Pryor living a boyhood dream and playing for his hometown team.
But Pryor said he took a pass on Tomlin's offer to draft him because he wanted to get away from the kind of distractions that would hinder his development as an NFL quarterback.
[+] Enlarge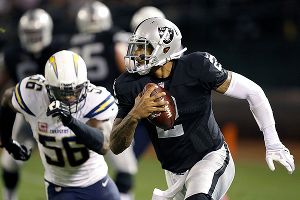 AP Photo/Ben MargotTerrelle Pryor turned down Pittsburgh's offer to be drafted by the team.
Pryor still remembers what Tomlin told him after the two all but mutually agreed that the Steelers would not take the former Ohio State star in the NFL supplemental draft.
"He said 'When the time comes and we play you I'm coming after you, I'm blitzing you,' " Pryor said.
That time comes Sunday, and Pryor said he and Tomlin are sure to share a laugh about that conversation before the game. After the opening kickoff, though, it is all business as Pryor tries to lead his team past the Steelers. The Raiders have beaten Steelers in their past two meetings in Oakland.
Pryor is in his first full season as a starter, and he has shown promise but also experienced growing pains for the perpetually rebuilding Raiders. He said playing against Pittsburgh will be "surreal" but that he won't get too caught up in the moment since he has watched enough film to equal five games against the Steelers.
When asked who won those games, Pryor said, "I can't tell you that. I always win in my mind though."
That confidence as well as off-the-charts athleticism and limitless potential made Pryor one of the most intriguing prospects in years when it came to the supplemental draft. The Steelers knew about Pryor's legend from when he starred in football and basketball at nearby Jeannette High School, and they hosted him for a visit shortly before the draft.
How serious where they about drafting Pryor?
"Mike said, 'Hey, I'll draft you if you want to play here,' " Pryor recalled. "But he gave me a story about when he was in Tampa Bay about a quarterback and he ended up being in the same hometown as the NFL team and it was just hard for him because of all the distractions around him.
"I don't know what the guys up top were thinking and whether they wanted to take me or not. [Tomlin] gave me an opportunity to say if I wanted to [play for the Steelers] or not and I ended up saying no because at a young age I didn't want to be near home and have distractions around me."
It turned out to be the right choice.
Pryor always made it clear that he wanted to play quarterback in the NFL, and he said the Steelers' interest in him was "100 percent" at the position and not another one.
He never would have gotten the opportunity in Pittsburgh that he has in Oakland because of
Ben Roethlisberger
.
Pryor has not yet established himself as the kind of quarterback the Raiders can build around, but he at least gives the organization some hope at the position. He has completed 64.5 percent of his passes while throwing for 1,061 yards and five touchdowns and five interceptions. His 285 rushing yards not only leads the Raiders but also all AFC quarterbacks.
And coach Dennis Allen likes the maturity and mental fortitude Pryor has shown so early in his career as a starter.
"I think every time that he's had a little bit of a setback he's always responded," Allen said. "The results will take care of themselves if he does the things that are necessary for him to play well."