Pittsburgh Steelers:

DeSean Jackson
August, 26, 2014
Aug 26
11:45
AM ET
Antonio Brown
finished second in the NFL with 1,499 receiving yards and 110 receptions in 2013 yet he is only the 14
th
-ranked wide receiver on the ESPN.com list of the top 100 offensive players.
Brown is
No. 38 overall
, a number that is hard to fathom since the fifth-year veteran made the Pro Bowl last season as both a wide receiver and a returner.
Brown
Brown joined
DeSean Jackson
(2010) as the only players to make the Pro Bowl at two different positions in the same season. It should be noted that Brown made one of the biggest jumps in the top 100, moving up 57 spots.
Among the wide receivers ahead of Brown in the latest release of ESPN.com's top 100 player on offense and defense are the Buccaneers'
Vincent Jackson
(No. 37), the Packers'
Jordy Nelson
(No. 35) and the Bears'
Alshon Jeffery
(No. 32).
Getting overlooked is nothing new for Brown.
The two-time Pro Bowler lasted until the 195
th
pick of the 2010 draft, and he wasn't even the Steelers' first sixth-round pick that year.
The Steelers took Brown after selecting running back
Jonathan Dwyer
earlier in the sixth round.
All Brown has done since then is make the Pro Bowl as a kickoff returner, punt returner and wide receiver and twice won the Steelers' MVP Award. He also holds team records for most receiving yards in a season as well as most all-purpose yards in a season (2,211 in 2011).
I'm guessing the Steelers don't think there are 13 wide receivers better than Brown.
March, 31, 2014
Mar 31
12:00
PM ET
Here is the latest Steelers' mail call. If you have a Steelers' question for future mailbags please send to @ScottBrown_ESPN with #steelersmail.
And away we go ...
March, 27, 2014
Mar 27
2:30
PM ET
PITTSBURGH -- The Steelers used a third-round pick last year on Oregon State wide receiver
Markus Wheaton
, and I'm starting to wonder if they will give serious consideration to adding his college teammate via the draft.
To do that the Steelers will have to spend their first-round pick on
Brandin Cooks
even though he would do anything but add size to their receiving corps.

Cooks
Cooks measured in at just 5-foot-9 3/4 at the NFL scouting combine in February but he also wowed teams in Indianapolis by running a blistering 4.33 in the 40-yard dash.
Take that eye-popping time, Cooks' production in college -- he caught 128 passes for 1,730 yards and 16 touchdowns last season -- and his swagger and there is a lot to like about this guy.
Speed, after all, wasn't the only thing that Cooks displayed at the combine. He called himself the best wide receiver in the draft and explained from where such confidence emanates.
"Numbers don't lie and I feel like no one is out there working harder than me," Cooks said. "I have a lot to prove. They say I'm not the tallest but I feel like there's so many guys in this game today that are potential Hall of Famers like
Steve Smith
,
DeSean Jackson
. I can go down the list and there's under 5-10 [players] that are great receivers in this game. For me, I'm a playmaker."
Cooks has a believer in ESPN draft analyst Mel Kiper Jr.
Kiper ranks Cooks as the No. 3 wide receiver in the draft behind only
Sammy Watkins
and
Mike Evans
-- the two players Cooks beat out for the Biletnikoff Award in 2013 -- and the 15th-best player overall.
Kiper has compared Cooks to Rams wide receiver
Tavon Austin
, the eighth overall pick of the 2013 draft, but said Cooks is quicker, stronger and a little bigger than Austin.
Kiper has the Ravens taking Cooks at No. 17 overall in his latest mock draft. But the Steelers could give him serious consideration at No. 15 depending on how the draft shakes out before they make their first pick.
I'm all for the Steelers adding a tall receiver to the offense but it doesn't look like the 6-foot-5 Evans will last until the 15th pick of the draft. And the Steelers are setting themselves up to make a mistake if they place too much of a premium on height when assigning draft grades to wide receivers.
As Cooks said, "Speed kills and I feel like that's what I'm going to bring to the game."
March, 24, 2014
Mar 24
12:00
PM ET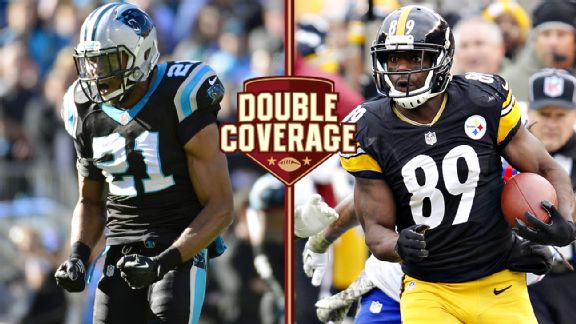 USA TODAY SportsThe swap of safety Mike Mitchell to the Steelers and receiver Jerricho Cotchery to the Panthers bring a veteran presence to each locker room.
It wasn't a trade but two of the biggest free-agent signings by the Steelers and Panthers amounted to two players switching teams. The Steelers signed former Panthers free safety
Mike Mitchell
on March 11, luring him away from Carolina with a five-year, $25 million contract. The Panthers finally added a wide receiver when they signed
Jerricho Cotchery
last Thursday to a two-year contract. ESPN.com Steelers writer Scott Brown and ESPN.com Panthers writer David Newton take a closer look at this de facto swap.
Scott Brown:
David, you reported that Cotchery's contract is worth as much as $5 million. I'm happy for Cotchery, a good player and an even better person, but I am a little surprised that the Panthers gave that much money to a complementary wide receiver who turns 32 in June. Is it a sign that the Panthers were desperate at wide receiver or do they really like Cotchery because he is still productive and gives them a veteran presence?
David Newton:
Maybe a little bit of both. After losing out on
Hakeem Nicks
and with other free agent receivers signing elsewhere, the market was pretty bare. Cotchery was one of the few veterans left, and the Panthers couldn't go into training camp without somebody to help bring along what likely will be the youngest receiving corps in the NFL -- the 31-year-old Cotchery aside. His value comes from his experience and the leadership. That he's played in a system similar to what offensive coordinator Mike Shula ran for five of his 11 seasons is a plus. That he can play all three receiver spots even though he has been labeled as a slot receiver also worked in his favor. Is he as good as
Steve Smith
, Carolina's all-time leading receiver, who was released? I don't think so, even though Smith soon will be 35. But everything else Cotchery brings seems to be a plus.
Having said that, Mitchell brought an aggressive attitude to Carolina's defense last season. Was that something the Steelers were looking for when they signed him?
Brown:
They really needed to get younger and faster in the secondary and the Steelers accomplished both by signing Mitchell. Adding another thumper to the back end of their defense is a bonus and it looks like Mitchell has the range to cover a lot of ground. He will need to do that playing with
Troy Polamalu
. The eight-time Pro Bowler moves around the field, sometimes leaving the Steelers with a single safety as the last line of defense.
I really like this signing for the Steelers as Mitchell is only 27 and seems to be on the upswing of his career. He talked about his work ethic during his introductory news conference in Pittsburgh and seems to have the desire to be great. If he gives the Steelers a badly needed playmaker for their defense they will be very happy with this signing.
Since you covered Mitchell during the season in which he really blossomed what can you tell Steelers fans about one of the newest additions to the team?
Newton:
He's one of the best quotes on the locker room, mainly because he's brutally honest. It's refreshing. He's also one of the more fined players in the league, which he doesn't hesitate to remind commissioner Roger Goodell of. Beyond all that, he's a solid player in coverage and with the occasional pass rush. His numbers this past season were good enough to make the Pro Bowl. Just not a lot of people knew much about him. But the thing I liked the most, and the reason the Panthers wanted him back, was he brought an aggressive attitude to the secondary -- heck, the defense.
Having said that, was aggressiveness something the Steelers were looking for or needed when they signed him?
Brown:
They need the mindset because it lends itself to making game-changing plays and the Steelers could more of that from their defensive backs. They intercepted just 10 passes last season, ranking near the bottom of the league, and they were minus-four in turnover differential. If Mitchell builds on a season in which he intercepted four passes -- four fewer than the Steelers' defensive backs combined -- he will make for a good pairing with Polamalu.
The Mitchell signing got the Steelers off to a good start in free agency but they have since lost two of their top three wide receivers. I think losing Cotchery was bigger than
Emmanuel Sanders
-- even though the latter was a starter -- because it seemed so likely that he would re-sign with the Steelers. But the Panthers made Cotchery and offer he couldn't refuse, leaving the Steelers with little experience at wide receiver behind Pro Bowler
Antonio Brown
before they signed
Lance Moore
.
David, what was the reaction from Panthers' fans to the Cotchery signing? Relief more than anything that they finally brought in an established wide receiver?
Newton:
More astonishment that they let 34-year-old Steve Smith go and signed a 31-year-old that hasn't accomplished nearly what Smith has. I think a few were won over when Cotchery said out of respect he would not wear Smith's No. 89, the number he wore at Pittsburgh. He seems like a classy guy and people will appreciate that. There's still concern that he's not a No. 1 or maybe not even a No. 2 receiver. Many are calling for Carolina to trade for Philadelphia's
DeSean Jackson
, even though the price tag for Jackson would be prohibitive for a team in need of a true No. 1.
How do you see Cotchery fitting in on a team that is looking to take the next step in the playoffs after a 12-4 season? Does he have enough in the tank to be a No. 2 at least?
Brown:
Cotchery is class personified, and he is a consummate professional -- in his preparation, dealings with the media and mentoring younger players. Steelers rookie
Markus Wheaton
became Cotchery's shadow last year because he wanted to learn from such a respected veteran. Does that translate into Cotchery giving the Panthers the kind of production he enjoyed last season when he rejuvenated his career? I'm not sure that is the case if the Panthers are counting on him starting.
I think Cotchery would best serve Carolina as a No. 3 wide receiver, one who uses his smarts and experience to get open more than his speed. I can tell you this:
Ben Roethlisberger
trusted Cotchery more than any wide receiver on the roster last season and I think
Cam Newton
will also find that Cotchery is always where he is supposed to be and just as reliable with his hands. What Carolina has to though is keep adding reinforcements at wide receiver so they don't have to rely too heavily on Cotchery.