Pittsburgh Steelers:

Eddie Lacy
March, 17, 2014
Mar 17
11:45
PM ET
PITTSBURGH -- Scratch that
James Starks
visit.
Starks
The Steelers' search for running back depth will lead elsewhere as Starks has decided to stay in Green Bay.
Per ESPN NFL Insider Adam Schefter, Starks will sign a two-year contact with the Packers, and that development happened the night before the fourth-year veteran was scheduled to fly to Pittsburgh.
Starks, who was going to visit the Steelers on Tuesday, rushed for 493 yards and three touchdowns last season while backing up
Eddie Lacy
.
He would have been an ideal backup for Steelers feature back
Le'Veon Bell
, and apparently the Packers feel the same way about Starks in regard to Lacy.
The Steelers don't have an experienced running back on their roster aside from Bell and fullback
Will Johnson
.
They are also thin at another skill position after wide receiver
Emmanuel Sanders
signed with the Broncos on Sunday, and the Steelers could lose another player at that position.
Jerricho Cotchery
is visiting the Panthers and Carolina badly needs wide receivers after getting raided at that position through the first week of free agency.
The Steelers are scheduled to host former Saints wide receiver
Lance Moore
on Tuesday.
Moore, who was released by the Saints last week, caught 37 passes for 457 yards and two touchdowns in 2013. The 5-9, 190-pounder is less than two years removed from his only 1,000-yard season, having caught 65 passes for 1,041 yards and six touchdowns in 2012.
January, 14, 2014
Jan 14
8:00
AM ET
PITTSBURGH -- Quarterback
Ben Roethlisberger
played every snap and was the only Steelers offensive player to log more than 1,000 snaps in 2013.
Roethlisberger was under center for all 1,021 of the Steelers' snaps, according to ESPN Stats & Info, with wide receiver
Antonio Brown
(923), right tackle
Marcus Gilbert
(922), right guard
David DeCastro
(922) and tight end
Heath Miller
(874) rounding out the top five in playing time among offensive players.
Here is a look at other snap counts on that side of the ball:
I will break down the Steelers' defensive snaps in my next post.
December, 27, 2013
12/27/13
12:00
PM ET
PITTSBURGH -- The headlines Mike Tomlin generated when he said it was an "easy decision" for him to pick
Le'Veon Bell
over
Eddie Lacy
surprised the
Pittsburgh Steelers
coach.
[+] Enlarge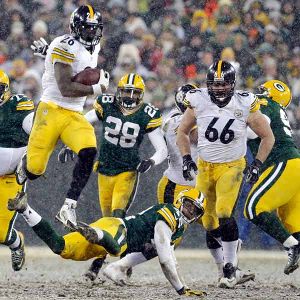 Mike Roemer/AP PhotoPittsburgh Steelers RB Le'Veon Bell makes it look easy, leaping over Packers' Morgan Burnett during the second half of their Week 16 game.
"I just told the truth as I saw it," Tomlin said. "It's not a knock against Eddie Lacy. Oftentimes it seems like in this business we're scared to tell the truth for fear of providing bulletin-board material or offending someone. We like Le'Veon Bell. We like his well-balanced skill-set. We thought he was perfect for us."
It certainly looks that way even with Lacy a near lock to win NFL Offensive Rookie of the Year honors.
Bell needs only 73 total yards on Sunday to break the record Franco Harris has held since 1972 for most yards from scrimmage for a rookie (1,235).
And the more you see Bell the more he just looks like a Steelers running back -- from his bursting up the middle and hurdling a safety as he did after losing a fumble last Sunday in Green Bay to blending the proper reverence with self-assuredness as he did earlier this week while accepting the honor named after one of the greatest players in franchise history.
Bell was the easy choice for the Joe Greene Great Performance Award, which is given annually to the Steelers' top rookie. And he seemed truly humbled to be linked with a second Steelers great just as he is with Harris, who retired nearly a decade before Bell was born.
When asked if there is significance for him to play running back for the Steelers, Bell said, "It means everything in the world. Running backs just come to your head when you think of the Pittsburgh Steelers, running backs and cold weather."
The sturdy Bell is put together for cold weather. His physical running style and ability to handle a heavy workload make the 6-1, 244-pounder the kind of back the Steelers can especially lean on in cold-weather games.
And in the coming seasons.
"This is a guy that's continually been on the rise for us and gaining an understanding of what he's capable of and what we need from him," said Tomlin, who generally isn't very generous when it comes to praising rookies. "In the midst of that, he's staying humble and grounded and that's appropriate as well."
Bell hasn't always stayed so grounded.
Hurdling defenders has become one of his signatures even if it jangles the nerves of those ranging from his mother to Steelers quarterback
Ben Roethlisberger
.
"It looks good on SportsCenter, but I get nervous for him," Roethlisberger said.
Not that Roethlisberger has any real gripes about Bell, who transformed what had been a sickly running game after making his NFL debut in the fourth week of the season.
"To me it looks like he's going stronger than ever and playing great football," Roethlisberger said when asked if Bell has hit the proverbial rookie wall. "Mentally, he's still real sharp because that's one of the first things to go, mentally you start to lag a little bit. He looks as good as ever."
Bell's lack of mental miscues is such that Roethlisberger said, "I have all the faith in the world when a blitz comes he's going to pick it up."
Bell has a lot of faith in himself but that confidence isn't likely to lead to complacency.
"I've still got a lot more things that I know I can get better at," said Bell, who has rushed for 770 yards and seven touchdowns on 224 carries. "I'm always going to find something to get better at."
Bell, who missed the first three games because of a foot injury, wants to become more consistent as a receiver by improving his concentration when catching the ball. He is also finding his way as a runner though he did receive congratulations on Twitter from
Jerome Bettis
after rushing for a career-high 126 yards in a 38-31 win at Green Bay.
Twenty-five of those yards came on the carry after Bell lost a fumble that led to a Packers touchdown.
Tomlin had enough faith in Bell to call his number after the costly miscue, and Bell rewarded the seventh-year coach by flashing through an opening up the middle and leaping over Packers safety
Morgan Burnett
on the way to his longest gain of the game.
Bell knowingly smiled later when asked if he had run angry on that play.
"I really wish there was something that can trigger me to get angry like that," Bell said. "If I could trigger that every carry I definitely would."
Call it another gear to work on for the rookie who is already off and running.
December, 23, 2013
12/23/13
10:52
AM ET
A review of four hot issues from the
Pittsburgh Steelers
'
38-31 win
against the
Green Bay Packers
:
[+] Enlarge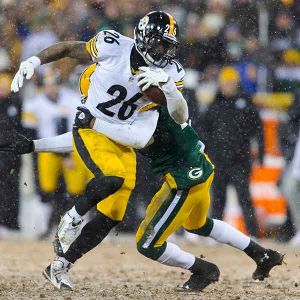 Jeff Hanisch/USA TODAY SportsPittsburgh's Le'Veon Bell rushes for one of his 26 carries against the Packers in their Week 16 game.
Can you top this?:
After rushing for 100 yards Sunday -- his first 100-yard game of the season -- Steelers RB
Le'Veon Bell
admitted that playing against RB
Eddie Lacy
's Packers gave Bell a little extra incentive. Both are rookies, and both were selected in the second round. "I wanted to go out there and play at his level or better," Bell said. It's probably safe to say that Bell and Lacy battled to a draw, if it can be said that a duel transpired between the two at Lambeau Field. Bell outrushed Lacy (124 yards to 85) but Lacy posted a better yards per carry average (5.6 to 4.8). Each showed why his respective team already leans so heavily on him. Lacy displayed nifty vision and footwork on a 14-yard touchdown run in the second quarter. Bell, the first Steelers rookie RB to gain 100 yards in a game since
Willie Parker
in 2004, hurdled a Packers defensive back during one run. He also ripped off a 25-yard run on his first carry after losing a fumble that set up a Lacy touchdown. "He's a good player," Steelers coach Mike Tomlin said of Bell, "and he's getting better every week."
A trip to remember:
Ben Roethlisberger
savored his 94th career victory in the regular season because of where the Steelers won as much as how they won. The 10th-year veteran had never been to Lambeau Field before Sunday; Roethlisberger didn't make the trip to Green Bay in 2005 because it was too soon after knee surgery for him to fly. "I don't know if I'll get to come back because you don't know about scheduling," Roethlisberger said. "If there was one time to play at Lambeau, I guess this is what you want." Indeed, Roethlisberger and the Steelers got a healthy dose of Lambeau as snow swirled throughout the game and provided enough frosting to cover what Roethlisberger politely called a weathered playing surface. "I called a snap from center and there was clumps of mud on the laces," Roethlisberger said with a laugh. "At the end of the half, I had to ask them to get a new ball because the laces were filled with mud."
Steelers blissfully unaware:
Lawrence Timmons
' reaction to what happened outside of Green Bay typified how the Steelers stayed focused on the Packers and not what others around them were doing. When told that pretty much everything had broken right for the Steelers, Timmons said, "Oh, wow, so that puts us in seventh place again? I haven't even checked my cellphone yet." The Steelers are ninth in the AFC, and they still have to jump three teams to make the playoffs. Such a scenario is a lot more plausible than it was two days ago, though it is still hardly favorable. The Steelers have to win Sunday against the visiting Browns and need the Ravens, Dolphins and Chargers all to lose. "It's irrelevant, to be honest," strong safety
Troy Polamalu
said of the playoff picture. "Nothing's changed from our standpoint, and our mental approach to the game's got to be a week-to-week thing."
Injury update:
Wide receiver
Emmanuel Sanders
may have played his last down for the Steelers. Sanders had an MRI taken on the knee that he hurt while running a pass pattern on the slippery field. He did not play in the second half, and Sanders is hoping for the best regarding the noncontact injury. He will be an unrestricted free agent in March, so he is especially hoping that the Steelers extend their season beyond next Sunday -- and that he is healthy enough to play if the Steelers do what seemed impossible a couple of weeks ago. "We've got a legitimate shot of making the playoffs," said Sanders, who caught a touchdown pass and set up the Steelers' only other score in the first half with a 47-yard kickoff return. "Knowing that, I want to be all right because I feel like if we get in the tournament, who knows what will happen." At Tomlin's weekly news conference Monday, the coach will provide an update on Sanders and linebacker
Terence Garvin
's knee.
December, 20, 2013
12/20/13
10:00
AM ET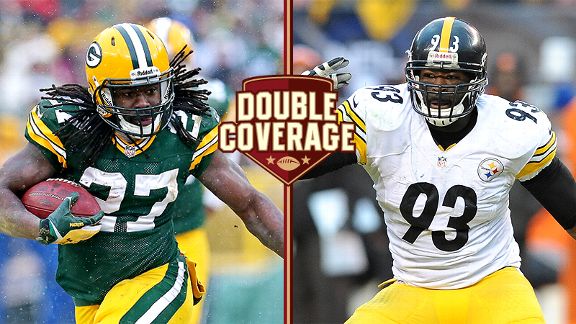 Getty ImagesJason Worilds and the Steelers will have to stop Eddie Lacy -- one of the league's best running backs this season.
The last time the
Green Bay Packers
and
Pittsburgh Steelers
met, the Lombardi trophy was on the line.
In Green Bay, the memories of Super Bowl XLV are alive and well.
In Pittsburgh, all Steelers quarterback
Ben Roethlisberger
said he remembers from that game is one thing: "We lost," he said this week.
The stakes are much different heading into Sunday's game at Lambeau Field. The Steelers (6-8) are in the midst of disappointing season, while the Packers (7-6-1) are fighting for their playoff lives.
Packers reporter Rob Demovsky and Steelers reporter Scott Brown discuss the rematch:
Rob Demovsky:
Let's start with this question. Steelers coach Mike Tomlin said this week that he doesn't regret passing on
Eddie Lacy
in favor of drafting running back
Le'Veon Bell
. Right now, Lacy looks like the better pick, but it's still too early in their careers to say anything definitive. How has Bell fit into the Steelers offense and what's the biggest reason he's only averaging 3.3 yards per carry?
Scott Brown:
Bell has become a big part of the offense and he has added another dimension to it with his pass-catching abilities. He is fourth on the team in receiving, and the Steelers don't just throw screen passes or checkdowns to Bell but also use him as a receiver. Bell is still finding his way as a runner and I'd say his low rushing average is a combination of playing behind a line that is better at pass blocking as well as the adjustment he is making to the speed of the game at this level. Bell has shown flashes, such as when he hurdles a cornerback or plants a defensive end with a stiff-arm, two things he did Sunday night against the Bengals.
Rob, are you surprised at all at the success Lacy has had so early in his career and what has his emergence meant to the Packers offense?
Demovsky
: The only thing that has surprised me about Lacy has been his durability. As everyone around the Steelers knows, there were major questions about his injury history coming out of Alabama. Then, early on his conditioning looked a little off -- although it was not as bad as that unflattering picture of him that was circulating during training camp. Then, he sustained a concussion and missed a game and as half. But ever since he has returned from that, there haven't been any major issues. He's managed to play through a sprained ankle the past two weeks. Whenever they get quarterback
Aaron Rodgers
back, they'll be tough to stop because defenses will have to respect both the run and the pass. That's something Rodgers hasn't really had since he's been the starter.
I've heard a lot of people say they think the Steelers got old in a hurry, especially on defense. Even Roethlisberger looks like an old 31. What do you see in that regard and how much, if at all, has that impacted what's happened to the Steelers this season?
Brown
: Age has certainly been a factor in the decline of the defense this season, but I think it's a bit of a misconception that the Steelers' problems stem from them getting old in a hurry. There is still age on the defense, most notably in the secondary, but the Steelers have quietly gotten younger on that side of the ball -- and will continue to do so after the season. What made the Steelers consistently good before this current stretch is they always seemed to have younger players ready to step in for starters who had passed their prime. Perhaps the best example of this is
James Harrison
and the kind of player he turned into after the Steelers released
Joey Porter
following the 2006 season.
The Steelers are actually pretty young on offense and while Roethlisberger is 31, he has played every snap this season. I think the offense will step to the forefront in the coming seasons while the Steelers retool the defense and Bell and the offensive line get better.
Rob,
Matt Flynn
had trouble sticking with a team before he returned to Green Bay. Is it too strong to say that he saved the season -- or at least prevented the Packers from dropping out of playoff contention after Rodgers went down with the broken collarbone?
Demovsky:
I'm not sure if Flynn saved their season as much as the Detroit Lions' ineptitude saved their season. Same with the
Dallas Cowboys
and
Atlanta Falcons
. It's not exactly like Flynn lit up a couple of defensive juggernauts. That said, it's obvious Flynn has a comfort level with the Packers offense that he did not have in Seattle or Oakland. How else can you explain why he has performed reasonably well here and so poorly in those places?
This is obviously the first meeting between these two teams since Super Bowl XLV. Roethlisberger said this week on a conference call with reporters at Lambeau Field that the only thing he remembers about that game is that his team lost. Given that the Steelers don't have the playoffs to play for this season, does avenging that Super Bowl loss give the Steelers any extra motivation this week?
Brown
: They can say that it doesn't, but I'm sure they would love a little payback for that loss even if a win by the Steelers on Sunday would come on a considerably smaller stage. I have been impressed with how the Steelers have remained focused even though they only have a sliver of hope of sneaking into the playoffs -- and that's if they manage to win their final two games. The Steelers, in fact, could already be eliminated from postseason contention before kickoff Sunday depending on what happens in the 1 p.m. ET games.
If their showing against the Bengals is a guide, the Packers will get the Steelers' best effort no matter what transpires in the early games. The Steelers seemingly had nothing to play for last Sunday night and they jumped all over the Bengals and cruised to a 30-20 win. It was their most impressive win of the season as much for the circumstances under which it came as for the opponent.
Rob, the Steelers offense has really been on the rise since offensive coordinator Todd Haley removed the reins from the no-huddle attack. Given some of the difficulties Green Bay has had on defense do you think it will need to score a lot of points to beat the Steelers?
Demovsky
: The Packers defense gave up 332 yards in the first half alone last Sunday against the Cowboys. They couldn't stop the run -- they haven't really done so since early in the season -- and they seem to have costly coverage breakdowns. When their defense has been at its best is when it has created turnovers. Those two fourth-quarter interceptions of
Tony Romo
sure made up for a lot of defensive mistakes. The same thing happened when they pitched a shutout in the second half against the Falcons the previous week. If Roethlisberger & Co. take care of the ball, then I expect the Steelers will force the Packers to match them in a shootout type of game.
December, 17, 2013
12/17/13
3:20
PM ET
PITTSBURGH -- It is only natural to compare
Le'Veon Bell
and
Eddie Lacy
since the two rookies will be the feature backs at Lambeau Field on Sunday when the
Pittsburgh Steelers
visit the
Green Bay Packers
.
Lacy
And with five running backs taken in the 2013 NFL draft, it's a tough competition as to which teams made the best picks.
Lacy has clearly raced ahead of the pack.
And he should win NFL Offensive Rookie of the Year honors, especially considering that the former Alabama star has continued to put up big numbers despite the absence of Pro Bowl quarterback
Aaron Rodgers
.
Bell
But Bell and
Giovani Bernard
, the first running back taken in the draft, have also established themselves as No. 1-caliber backs even if the latter shares time with
BenJarvus Green-Ellis
in Cincinnati.
Bell has been more workmanlike as a runner, as he has averaged just 3.3 yards per carry. But the 6-foot-1, 244-pounder also missed a significant amount of preseason practice as well as the first three games of the season because of knee and foot injuries.
Bell is still adjusting to the speed of the NFL, and the Steelers are already excited about the all-around skills that have allowed him to become the team's fourth-leading receiver despite not playing in his first game until late September.
"I think he's a foundation back, I really do," former NFL scout and ESPN analyst Matt Williamson said of Bell. "He does everything well and is going to get better and better. He's going to be a big part of the future."
The future will also determine if the Steelers made the right choice in picking Bell over Lacy. Right now it is simply too early to tell.