Pittsburgh Steelers:

Eli Manning
September, 5, 2014
Sep 5
7:00
PM ET
PITTSBURGH –
Ben Roethlisberger
to the
St. Louis Rams
?
The veteran quarterback could only laugh off a tweet, which surfaced earlier this week, that has the Steelers dealing him before the trade deadline if they get off to another slow start this season.
Roethlisberger
"I guess that's the world we live in. People can make up whatever they want [on social media] and it's unfortunate," Roethlisberger said. "That's why I don't tweet and Facebook and all that other stuff."
Roethlisberger – and the Steelers – can each say until they are blue in the face that the shared goal is for him to play his entire career in Pittsburgh, and it still won't stop speculation about his future.
If team president Art Rooney II is looking to unload the most important Steelers' most important player since the dynastic teams of the 1970s, he sure doesn't sound like it.
"I don't see anything physically that would lead you to believe [Roethlisberger] is starting to tail off in any way," Rooney told ESPN.com recently. "So I think maybe some of his best years are still ahead of him here."
Roethlisberger, who turned 32 in March, still certainly appears to be in his prime.
He is coming off a season in which he threw for the most second-most yards (4,261) and touchdowns (28) in his career. The 6-foot-5, 241-pound quarterback is also taking fewer hits with the Steelers running the no-huddle offense more frequently.
Just as significant: Roethlisberger and Todd Haley are in a good place after an, ahem, adjustment period when the latter succeeded Bruce Arians as the Steelers' offensive coordinator in 2012.
For all of the talk about how the two aren't exactly golfing buddies, they have in fact hit the links a couple of times together this year, Haley said.
"He's as competitive as they come," said Haley, who has a similar reputation. "It doesn't matter whether it's on a Sunday or on the golf course. That's a trait that you love to see guys have. He's competitive when you start naming '80s music too. He is surprisingly good."
He's not bad at playing quarterback, either.
Roethlisberger is in the process of rewriting the Steelers' record book, and he has the best winning percentage (.669) this side of
Tom Brady
and
Peyton Manning
among active NFL quarterbacks.
Cornerback
Ike Taylor
said Roethlisberger is the most underrated quarterback in the NFL even though Big Ben, Brady and
Eli Manning
are the only active quarterbacks who have won multiple Super Bowls.
"Just being a tough, hard-nosed guy, I don't think he gets the credit," Taylor said of Roethlisberger. "How he plays, the injuries he plays through, that's why he's a Steeler."
Until they trade him to the Rams, anyway.
April, 24, 2014
Apr 24
8:00
AM ET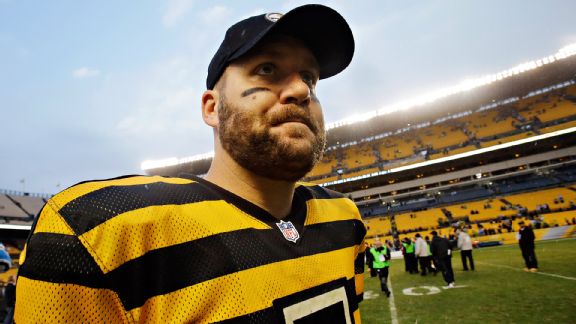 AP Photo/Gene J. PuskarBen Roethlisberger, the Steelers' first-round pick in 2004, has forever impacted the franchise.
PITTSBURGH -- The
Steelers
needed more than a little luck to end their long search for the rightful heir to Terry Bradshaw, the quarterback they had taken first overall in the 1970 NFL draft.
Ten years ago today -- and almost a quarter of a century after they selected Bradshaw by winning a coin toss to secure the top pick over the
Chicago Bears
-- the Steelers drafted
Ben Roethlisberger
with the 11th overall pick.
As with Bradshaw, the pick set the franchise on a glorious course.
Bradshaw struggled early in his career and was benched and booed by fans before winning four Super Bowls, but with Roethlisberger, the Steelers got a serious return on their quarterback investment earlier than anyone could have expected.
An injury to starter
Tommy Maddox
in the second game of the 2004 season thrust Roethlisberger into action. And the quarterback who had been considered more of a project than the two picked ahead of him (
Eli Manning
and
Philip Rivers
) because he hadn't played against top competition at Miami (Ohio) responded by winning his first 14 starts.
The Steelers suffered a disappointing loss to
Tom Brady
and the Patriots in the 2004 AFC Championship Game, but they finally found their quarterback after going through their share of them following Bradshaw's retirement in 1984.
Roethlisberger led the Steelers to three Super Bowls from 2005 to 2010, winning two of them, and he showed a flair for extending plays after his pass protection had collapsed, as well as directing clutch fourth-quarter drives -- both the result of a competitive streak that is as long as one of the three rivers that converge in Pittsburgh.
He authored his signature comeback in Super Bowl XLIII when the Steelers trailed the upstart Arizona Cardinals by three points and were backed up at their 10-yard line with less than three minutes left in the game.
Roethlisberger needed eight plays and a little more than two minutes to lead the Steelers to a game-winning touchdown, capping the drive with a 6-yard scoring pass to
Santonio Holmes
.
The pass was vintage Roethlisberger: daring and something more likely seen in a backyard game, not the NFL's biggest stage. Roethlisberger unleashed the pass under pressure, throwing it into a crowd but only where his receiver had a chance to catch it.
That unlikely play, in retrospect, serves as something of a metaphor for Roethlisberger's Steelers career, because so much had to break just right for him to wear black and gold in the first place.
"We didn't expect that he would end up in Pittsburgh," Ryan Tollner, Roethlisberger's agent, said.
Indeed, 10 teams picked ahead of the Steelers in the 2004 draft, including the Browns, who would have been hailed for taking the Ohio native to lift the struggling franchise.
And Roethlisberger's camp didn't know to what extent he was on the Steelers' radar.
The team had met with Roethlisberger at the NFL scouting combine and also hosted him for a pre-draft visit, but they never worked him out. Tollner figured he would go to the Raiders at No. 2, the Cardinals at No. 3, the Giants at No. 4 or the Browns at No. 6.
If none of those teams drafted Roethlisberger, Tollner thought, Buffalo at No. 13 would be the probable landing spot for his client.
Meanwhile, another member of Roethlisberger's inner circle was convinced the Giants were going to draft him. Terry Hoeppner, his coach at Miami, had spoken extensively with Ernie Accorsi about Roethlisberger and had gotten a good vibe from the Giants' general manager.
[+] Enlarge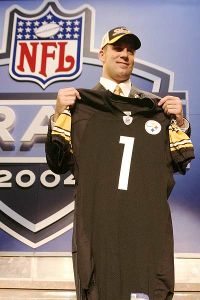 AP Photo/John Marshall MantelQB Ben Roethlisberger hasn't forgotten about all of the teams -- especially the Browns -- who bypassed him in the 2004 draft.
That is why when the Giants drafted Rivers -- they subsequently dealt him to the Chargers for Manning, who had been taken first overall -- Hoeppner fired a water bottle in disgust across the table where he was sitting with Roethlisberger and others at the draft in New York City.
The Redskins took safety
Sean Taylor
with the fifth pick, providing an opening for the Browns, who needed a quarterback after
Tim Couch
, the first overall selection in 1999, didn't pan out.
"[Roethlisberger] is a northwest Ohio kid, and played in-state at Miami of Ohio and here the Browns are, they've struggled at the quarterback position for a long time," Tollner said. "Ben is sitting there and they elect to go with a tight end. It's something Ben's never forgotten and he never will."
The Browns' picking tight end
Kellen Winslow Jr.
proved to be one of the draft's pivotal points. But the Steelers also came close to passing over Roethlisberger after he lasted through the first 10 picks.
The team had zeroed in on Arkansas offensive tackle
Shawn Andrews
, but owner Dan Rooney deftly shifted the conversation to Roethlisberger before the Steelers made their pick.
Rooney had good reason to speak up.
The Steelers had built their dynasty in the 1970s -- and transformed an organization once synonymous with losing -- through shrewd drafting.
They had missed an opportunity near the end of Bradshaw's career when they passed on local legend
Dan Marino
in the 1983 draft and instead selected Texas Tech defensive tackle Gabe Rivera with the 21st pick.
The Dolphins pounced on Marino with the 27th selection, and his strong arm and quick-as-a-hiccup release allowed the Pitt product to become an early star in Miami and eventually a first-ballot Pro Football Hall of Famer.
The Steelers, meanwhile, shuffled through enough quarterbacks in the post-Bradshaw era that seven different players led them in passing from 1983 to 2003.
Rooney fretted that overlooking Roethlisberger also might come back to haunt the Steelers.
"I couldn't bear the thought of passing on another great quarterback prospect," Rooney wrote in his book "Dan Rooney: My 75 Years With The Pittsburgh Steelers and The NFL."
"So I steered the conversation around to Roethlisberger. After some more talk, we came to a consensus and picked Roethlisberger."
Ten years later, Roethlisberger remains the youngest quarterback to win a Super Bowl -- he was only 23 when the Steelers beat the Seahawks in February 2006 -- and joins Eli Manning and Brady as the only active quarterbacks with multiple Super Bowl victories.
Roethlisberger, who turned 32 in March, already has broken many of Bradshaw's Steelers records and is five victories away from becoming the 13th quarterback in NFL history to win at least 100 regular-season games.
It hasn't all been smooth for Roethlisberger in Pittsburgh.
A motorcycle accident after his first Super Bowl victory left Roethlisberger seriously injured and may have contributed to his uneven play in 2006. And two sexual assault allegations made against him less than a year apart led to a four-game personal-conduct policy suspension by the NFL at the beginning of the 2010 season (Roethlisberger was never charged with a crime).
Roethlisberger since has rehabilitated his image, gotten married and started a family. He is considerably closer to the end of his career than the beginning of it, though he played every snap last season.
It's safe to say Roethlisberger is one of the best draft choices in Steelers history -- and the most critical one to reconnecting the team that has won a record six Lombardi trophies with its triumphant past.
Oh, and yeah, Roethlisberger is 19-1 in his career against the Browns, the most notable and personal of the teams that passed on him 10 years ago.
"I think that Ben getting where he did in hindsight was the best thing that could have happened to him because he went to a strong organization but he went in a position that kept him feeling like an underdog," Tollner said. "He entered the league a very respectable pick at No. 11 overall but very driven to prove that 10 teams made a very bad mistake in passing on him."
January, 29, 2014
Jan 29
10:00
AM ET
Tom Brady
and
Peyton Manning
dominated ESPN's NFL Nation survey of which quarterback players would most want if their respective teams needed a touchdown to win the Super Bowl with two minutes left in the game.
Brady (128) and Manning (86) combined to capture roughly two-thirds of the vote among the 320 players polled by ESPN's NFL Nation.
Ben Roethlisberger
received 20 votes to finish fifth among quarterbacks behind Brady, Manning,
Aaron Rodgers
(32) and
Drew Brees
(21).
Five of Roethlisberger's votes came from teammates, a sign of how much his play at the end of close games is valued in the Steelers' locker room.
Roethlisberger has led the Steelers to wins 33 times, including the postseason, in games in which they trailed or were tied in the fourth quarter. His most famous rally came in Super Bowl XLV five years ago when Roethlisberger marched the Steelers 78 yards in eight plays for the touchdown that beat the upstart
Arizona Cardinals
, 27-23.
Roethlisberger capped the drive with a 6-yard pass that
Santonio Holmes
snared with a tip-toe catch before getting pushed out of bounds. That play delivered the Steelers' record sixth Super Bowl title and remains frozen in time for Pittsburgh fans.
Had I been granted a vote I would have thought long and hard before giving it to Brady over Roethlisberger, and I think you could flip a coin between the two quarterbacks who have won a combined five Super Bowls.
Roethlisberger's improvisational skills and his burning desire to win have long made him one of the best quarterbacks when the game is on the line. He has delivered every time? Of course not. But neither has Brady, who has been outdueled late in the Patriots' last two Super Bowl losses by
Eli Manning
.
Eli Manning received nine votes in the anonymous survey followed by
Andrew Luck
(eight) and
Matthew Stafford
(seven) and
Russell Wilson
(three).
The only other quarterback to receive more than one vote?
Matt McGloin
, who picked up two of them.
Draw your own conclusions there.
January, 18, 2014
Jan 18
12:00
PM ET
PITTSBURGH -- Here is a question that will stretch the memory and makes for great trivia: Name the last AFC Championship game that didn't have
Tom Brady
,
Ben Roethlisberger
or
Peyton Manning
playing in it?
Answer: That hasn't happened since 2002, when the quarterbacks were
Rich Gannon
(Raiders) and the late
Steve McNair
(Titans).
Brady, Roethlisberger and Brady have played in a combined 13 AFC Championship games since 2003. That number increases to 15 on Sunday when the Patriots and Broncos meet in Denver.
That is an incredible number, especially when juxtaposed with the NFC Championship game during that span.
Only one NFC quarterback has played in more than two championship games since 2002, with Philadelphia's
Donovan McNabb
(three) heading that list. The only other NFC quarterbacks to play in two championship games since 2002 are New York's
Eli Manning
and Carolina's
Jake Delhomme
.
After Sunday, Brady will have played in an astounding seven of the last 11 AFC Championship games followed by four apiece for Roethlisberger and Manning.