Pittsburgh Steelers:

Ethan Hemer
November, 14, 2014
11/14/14
12:00
PM ET
PITTSBURGH -- The
Pittsburgh Steelers
lost another player on Friday when the
Arizona Cardinals
signed rookie defensive end
Josh Mauro
to their 53-man roster.
Mauro made a strong bid for the Steelers' 53-man roster during training camp and the preseason, but the undrafted free agent from Stanford was the odd man out when Pittsburgh re-signed veteran defensive end
Brett Keisel
in late August.
Mauro had been on the Steelers' practice squad since early September before the Cardinals signed him.
The Steelers re-signed rookie defensive end Ethan Hemer to take Mauro's spot on the 10-man practice squad.
This season, the Steelers lost fifth-round draft pick
Wesley Johnson
after they waived the versatile offensive lineman to make room on the 53-man roster for
Ross Ventrone
.
The Steelers made the roster move because they were thin at safety, and they lost Johnson when the
New York Jets
signed the rookie to their 53-man roster.
November, 5, 2014
11/05/14
12:45
PM ET
PITTSBURGH -- After throwing for an NFL-record 12 touchdown passes in the
Pittsburgh Steelers
last two games
Ben Roethlisberger
has accomplished another first.
Roethlisberger
The veteran has won the AFC Offensive Player of the Week award for the second consecutive week, the first time Roethlisberger has accomplished that feat.
Roethlisberger has thrown for 862 yards and 12 touchdowns passes in the past two games. The 11th-year veteran is second in the NFL with 2,720 passing yards and third in passer rating (110.6).
Just don't ask Mike Tomlin if Roethlisberger has elevated himself to NFL MVP candidate with his recent play.
"I am just concerned about us," the Steelers coach said. "I am not concerned about the Joneses. I don't know how well enough other people are playing to even make that assessment. I know he is significant component obviously for us."
More team news
The Steelers signed safety Jordan Dangerfield to the practice squad on Wednesday and released defensive end Ethan Hemer to make room for Dangerfield on the 10-man unit.
Dangerfield was with the Steelers during training camp and he flashed early at St. Vincent College before getting released on Aug. 26.
Dangerfield had been playing FXFL before re-joining the Steelers.
The Steelers are so thin at safety that the 5-11, 200-pounder could be signed to the 53-man roster at the end of the week.
The Steelers only have three healthy safeties on their roster as
Troy Polamalu
(knee) and
Shamarko Thomas
(hamstring) have already been declared out for Pittsburgh's 1 p.m. ET game Sunday at the
New York Jets
.
Ross Ventrone
, who didn't play in the Steelers'
43-23 win
against the
Baltimore Ravens
because of a hamstring injury, is questionable for the Jets game.
If Ventrone is unable to play Sunday the Steelers will need Dangerfield to provide depth at safety and play on special teams.
October, 15, 2014
10/15/14
12:45
PM ET
PITTSBURGH -- The
Pittsburgh Steelers
shook up their roster a bit -- just not in the way frustrated fans had probably hoped.
The Steelers added three players to their practice squad and released wide receiver Derek Moye from the practice squad while placing rookie cornerback Shaquille Richardson on practice squad/injured reserve.
Moye spent all of last season with the Steelers and caught two passes for 20 yards and a touchdown in seven games. Richardson, a fifth-round draft pick, has been hampered by a knee injury since training camp.
The Steelers signed defensive end Ethan Hemer, cornerback Jordan Sullen and offensive lineman Adam Gettis to their practice squad.
The Steelers had a spot to fill on the practice squad after promoting safety
Ross Ventrone
to the 53-man roster last Saturday.
The Steelers waived rookie offensive lineman
Wesley Johnson
to make room on the roster for Ventrone. They lost Johnson, the second of their two fifth-round picks in May, when the
New York Jets
claimed him off waivers.
Gettis played 12 games for the
Washington Redskins
in 2012-13 while Hemer signed with the Steelers last May as an undrafted free agent.
The Wisconsin product made it to the final cuts at the end of August.
Sullen, an undrafted free agent, has been with the
Chicago Bears
and
Denver Broncos
.
August, 28, 2014
8/28/14
10:35
PM ET
PITTSBURGH -- It certainly looked like a fourth preseason game, from the swaths of empty seats at Heinz Field to the uneven play with many starters from each side playing sparingly, if at all.
Carolina parlayed a big pass play into the game's only touchdown ,and the Panthers beat the Steelers 10-0 Thursday night with the specter of final cuts looming for fringe players on each side.
Landry Jones
started at quarterback and completed 14 of 18 passes for 97 yards before giving way to
Brendon Kay
midway through the third quarter. Jones, a fourth-round pick in 2013, didn't lead any scoring drives but probably did enough to make the 53-man roster as the Steelers' No. 3 quarterback.
No Steelers player battling for a roster spot made a particularly compelling argument to stay with the team beyond 4 p.m. ET Saturday, the NFL deadline for finalizing 53-man rosters.
Brad Wing
looked like he was on his way to nailing down a roster spot after pinning the Panthers deep in their own territory several times. Then the Aussie unleashed a 25-yard clunker, something that will make the coaches ponder whether Wing is consistent enough to be trusted.
Players such as Wing have made their final argument as far as making the team.
The Steelers' coaches and front office personnel will meet on Friday to start paring down the roster and could make some cuts then, with the rest coming on Saturday. The Steelers have to cut 22 players to get to the 53-man limit by late Saturday afternoon.
Some other thoughts from the Steelers' fourth preseason game:
August, 26, 2014
8/26/14
5:15
PM ET
Most significant move:
The Steelers cut a pair of players who appeared in games for them last season. In the process, their plans along the defensive line came more into focus. The team released defensive end
Brian Arnfelt
, who appeared in two games at the end of last season, and nose tackle
Hebron Fangupo
, who played in four games in 2013.
Josh Mauro
, an undrafted rookie, has the edge for the last defensive spot if the Steelers keep seven defensive linemen, and rookie nose tackle
Daniel McCullers
, a sixth-round pick, is almost sure to stick on the 53-man roster. Defensive end
Ethan Hemer
may be the odd man out with defensive end
Nick Williams
and nose tackle
Roy Philon
likely grabbing spots on the practice squad. Arnfelt entered training camp with a good chance at making the team, but the second-year man fell out of favor with the coaches and Mauro passed him at defensive end. Williams still has a chance to unseat Mauro if he plays well in the Steelers' final preseason game Thursday night against the
Carolina Panthers
.
Running back shuffle:
The Steelers are down to five running backs after releasing three at that position Tuesday, including
Tauren Poole
, who got a long look from the coaches. A roster spot is there for the taking if either
Josh Harris
or
Stephen Houston
seizes the final opportunity against the Panthers. The Steelers may go with three running backs and fullback
Will Johnson
even given the uncertain status of starter
Le'Veon Bell
and
LeGarrette Blount
. Coach Mike Tomlin has said the team is considering all options as far as punishment following their arrest on marijuana possession charges. (Bell has also been charged with driving under the influence.) That includes a suspension -- and the Steelers can maneuver around the collective bargaining agreement by simply deactivating Bell, Blount or both for the Sept. 7 season opener against the Browns. I don't expect the Steelers to sit either for an entire game, and a suspension from the NFL wouldn't come until next season. That means Harris or Houston will have to play his way on to the 53-man roster, or the two could be vying for a spot on the practice squad. The Steelers will also keep an eye on the waiver wire to see which running backs become available at the end of the week.
Steelers' moves:
Arnfelt, S
Jordan Dangerfield
, C
Chris Elkins
, Fangupo, WR
C.J. Goodwin
, RB
Jordan Hall
, LS
Luke Ingram
, RB
Miguel Maysonet
, OT
Emmanuel McCray
, WR
Kashif Moore
, Poole, CB
Devin Smith
, OLB
Vic So'oto
, CB
Lew Toler
, TE
Eric Waters
August, 22, 2014
8/22/14
3:00
PM ET
PHILADELPHIA -- A starting job awaited him in Arizona when he boarded a flight to Phoenix early Tuesday morning.
What brought him back to Pittsburgh, where there are no guarantees as far as starting, was a pull even stronger than
Brett Keisel
's desire to play his entire career with the
Pittsburgh Steelers
.
"It was really my wife and kids," Keisel said Thursday night before leaving the visiting locker room at Lincoln Financial Field. "They took me to the airport and my kids were looking at me with doe eyes and wondering what's going on and where are you going and how long are you going to be gone."
[+] Enlarge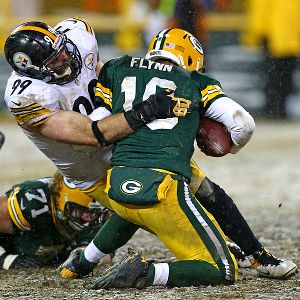 Jonathan Daniel/Getty ImagesBrett Keisel hopes to provide a jolt to the Pittsburgh Steelers' defense.
Keisel, as it turned out, was gone for less than a day. He immediately flew back to Pittsburgh after meeting with the
Arizona Cardinals
, and by Tuesday evening the veteran defensive end had agreed to a two-year, $3 million contract that included a $500,000 signing bonus.
Keisel traveled with the team to Philadelphia and dressed for the Steelers' preseason game. He didn't play against the Eagles but the game made clear why the Steelers brought back Keisel for a 13th season.
The Steelers were gashed repeatedly by the Eagles' running backs, even after
LeSean McCoy
left the game in the first quarter with a thumb injury. And they yielded 182 rushing yards and 5.2 yards per carry in a 31-21 loss to the Eagles.
Keisel had joked with coach Mike Tomlin before the game that he might try to sneak onto the field so he could play in his first game since late last December. The 6-foot-6, 285-pounder probably had to really restrain himself as he watched the Eagles go up and down the field against the Steelers' first-team defense.
"I wish I could have helped. I never like watching," Keisel said. "I'll back go and look at [film] with them and try to correct some of the mistakes that were made."
Keisel figures to be part of the solution if the Steelers are to fix a run defense that is allowing 4.8 yards per carry during the preseason. The question moving forward is where he will fit in after practicing with the Steelers on Wednesday.
The Steelers listed Keisel as the starting right defensive end on their depth chart after he signed with the team. They later put him fourth on the depth chart, behind rookie
Stephon Tuitt
,
Nick Williams
and
Ethan Hemer
.
Tomlin did not commit to anything when asked about Keisel's return to the Steelers.
"Obviously Brett is a capable NFL lineman and we've been in continual communication with him," the eighth-year coach said. "I'm glad to have him back in the fold. He's in great shape. We'll see what the football looks like."
Said Keisel, "I think I can still play."
That Keisel, who turns 36 next month, is again playing for the Steelers can be traced -- at least from his part -- to the offseason he spent pondering his next move.
Keisel did not take part in offseason practices, and the five months he had off gave him more time to spend with his wife, Sarah, daughter, Grace, and sons Jacob and William. In the end, "Da Beard" could not leave them even if the Cardinals may have offered a better opportunity than the Steelers.
"[The offseason] really did bring us closer and going to the airport it just really put things into perspective for me," Keisel said. "I'm just grateful that [the Steelers] helped work something out to where I could finish where I started."
August, 20, 2014
8/20/14
4:30
PM ET
PITTSBURGH -- Well, that didn't take long.
The ink had barely dried on the
two-year contract
that
Brett Keisel
signed with the
Pittsburgh Steelers
on Wednesday when he vaulted to the top of the depth chart at right defensive end.
Keisel
The signing of Keisel led to several changes on a depth chart that coach Mike Tomlin said he pays scant attention to during the preseason.
Keisel is back at the position where he has started since 2006 with
Stephon Tuitt
,
Nick Williams
and
Ethan Hemer
listed behind him.
Cameron Heyward
is the starter at left defensive end with
Cam Thomas
,
Brian Arnfelt
and
Josh Mauro
listed behind him.
Prior to the re-signing of Keisel, Heyward had been the starter at right defensive end with Thomas the starter at left defensive end and Tuitt behind Thomas.
Keisel made the trip with the Steelers Wednesday afternoon to Philadelphia, but he is not expected to suit up for the Steelers' 7:30 p.m. ET game against the Eagles Thursday night.
What is clear is the Steelers did not bring back "Da Beard" to play a limited number of snaps and mentor their young defensive linemen.
Heyward has been practicing at right defensive end but he should be fine moving back to the position where he emerged as a starter last season. The fourth-year veteran has said there is not much difference in playing right and left defensive end.
Thomas appears to lose the most with Keisel back.
He is now relegated to the
Al Woods
role of swing defensive end/nose tackle. Thomas, however, also provides injury insurance at nose tackle and could push
Steve McLendon
there if the latter struggles this season.
August, 18, 2014
8/18/14
10:00
AM ET
This is the eighth in a series that takes a post-training camp look at every position. Next up is defensive end.
Players on the roster:
Cameron Heyward
,
Cam Thomas
,
Stephon Tuitt
,
Josh Mauro
,
Brian Arnfelt
,
Nick Williams
and Ethan Hemer.
Projected starters:
Heyward and Thomas. Heyward is poised to become one of the best 3-4 defensive ends in the NFL and he should again provide an inside rush on passing downs. Thomas is the left starting end but sooner rather than later he will give way to Tuitt and settle into the Steelers' preferred role for him as a swing defensive end/nose tackle.
Projected number on 53-man roster:
Four. Hard to see the Steelers keeping more here though they could go with five as coach Mike Tomlin prefers to dress an extra defensive lineman for games early in the season when heat and humidity are a factor.
Rookie watch:
The Steelers look like they hit big with Tuitt, their second-round draft pick. The 6-foot-5, 303-pounder is already replacing Thomas in the nickel defense and he is going to play a lot of snaps this season. Mauro, an undrafted free agent, has really emerged and moved past Arnfelt at right defensive end. The Stanford product has the edge over Arnfelt for the final roster spot at this position.
What we learned in camp:
Tuitt has an explosive first step and already has an NFL body. His development has made it less likely that the Steelers will bring back
Brett Keisel
, though they haven't ruled out the possibility. Thomas should be fine in the role the Steelers want him to play and Mauro is an interesting developmental player. Heyward is the unquestioned leader of this group and a recent snapshot showed why. A running play during one practice went opposite Heyward but that didn't stop him from running all of the way across the field to chase down the back who had already been touched down. And this was at the end of a camp in which the Steelers were in pads for every practice except for walk-throughs for an upcoming game. Heyward is captain material.
He said it:
"Even though I knew he could run, when I see him in person I am surprised by his endurance and his speed and quickness. I don't know if I've seen a guy that big move like that. Now, does that mean he's going to be a great player? No it doesn't. There's a lot of other things that come in there. But he seems willing to try to acquire that knowledge and those skills." – Steelers defensive coordinator Dick LeBeau on Tuitt.
July, 14, 2014
7/14/14
2:00
PM ET
Next in a series that looks at every position on offense and defense with training camp approaching, we take a look at the
Pittsburgh Steelers
' defensive ends.
Returning starter:
Cameron Heyward
. The former first-round draft pick broke through in his third NFL season. Heyward, who took over at left defensive end in the fifth game of the season for
Ziggy Hood
, led the Steelers with 31 quarterback pressures. He also established himself as one of the young players that the Steelers will build around on defense.
New faces:
Cam Thomas
,
Stephon Tuitt
,
Josh Mauro
and
Ethan Hemer
. Thomas, who started 10 games at nose tackle for the
San Diego Chargers
last season, signed a two-year, $4 million contract with the Steelers in March. The Steelers drafted Tuitt in the second round and added Mauro and Hemer as undrafted rookie free agents.
On the bubble:
Brian Arnfelt
. The undrafted free agent spent most of 2013 on the practice squad before receiving a late-season promotion. The Northwestern product played in two games and has a good chance of making the 53-man roster. Arnfelt, however, could become part of a numbers crunch if the Steelers bring back
Brett Keisel
for one more season.
By the numbers:
Heyward played 800 snaps last season. Arnfelt was the only other defensive end on the roster to get any snaps for the Steelers last season, and he was in for just two plays.
Did you know:
The only time Tuitt played at Heinz Field he didn't finish the game because of an ejection. Tuitt was thrown out of Notre Dame's 28-21 loss at Pitt last season after officials ruled he had targeted
Carolina Panthers
quarterback
Tom Savage
with an above-the-shoulder hit on the first play of the second quarter. The controversial call was later ruled a correct one by the ACC's head of officiating.
Quotable:
"Some fans in San Diego gave me that when I first had Twitter and I was playing around with them and they called me 'Baby Zilla.' I stuck with it ever since." – the 6-foot=4, 330-pound Thomas on how he got his nickname.
Outlook:
Heyward is one of the Steelers' best defensive players, and he gives them a strong inside rusher when they go to their nickel defense. Thomas is more ideally suited to swing between defensive end and nose tackle, the role that
Al Woods
filled last season. He is a stopgap at defensive end until Tuitt is ready to start. Keisel also becomes a part of the rotation at the defensive end spot opposite Heyward if the Steelers re-sign the 12
th
-year veteran.
May, 20, 2014
5/20/14
9:00
AM ET
May, 11, 2014
5/11/14
4:00
PM ET
PITTSBURGH -- The Steelers agreed to terms with 10 undrafted free agents Saturday night, and history says one or a couple of them has a good chance of making the team's 53-man roster.
Heck, an undrafted free agent that the Steelers have yet to sign could end up sticking with the team.
Consider that the Steelers signed West Virginia safety Terence Garvin after a tryout last year and he made the team after moving to linebacker. Garvin played in 15 games before hurting his knee, and he shined on special teams while also getting snaps on passing downs.
The Steelers' rookies will take part in a three-day minicamp that starts Friday, and here are five undrafted free agents to watch:
OLB Howard Jones, Shepherd:
Jones arrived at the Division II school in West Virginia as a wide receiver and left as Shepherd's all-time sacks leader (34 1/2). The 6-foot-4, 238-pounder opened enough eyes to receive an invitation to the NFL combine where he ran the 40-yard dash in 4.54 seconds. Jones has a real chance to make the Steelers given their depth issues at outside linebacker.
DE Josh Mauro, Stanford:
The 6-6, 282-pounder is certainly built for defensive end in a 3-4 scheme. Mauro has long arms and good strength, and he recorded 51 tackles, including 12 ½ for losses, and four sacks in 2013. The Steelers could still use depth at defensive end and Mauro is an intriguing prospect.
DE Ethan Hemer, Wisconsin:
Former walk-on is no stranger to overcoming long odds in pursuit of his dream of playing in the NFL. Hemer recorded just 13 tackles in 2013 but the 6-6, 285-pounder played well enough to earn All-Big Ten honorable mention honors from the league's coaches.
TE Eric Waters, Missouri:
Only caught eight passes for 72 yards and a touchdown last season as the Tigers primarily used him as a blocker. Waters opened eyes at Missouri's pro day when the 6-5, 245-pounder ran the 40-yard dash in 4.58 seconds and recorded a vertical leap of 39 ½ inches.
S Devon Carrington, Stanford:
The 6-1, 204-pounder recorded 33 tackles and broke up four passes in his final season for the Cardinal. A highly regarded recruit coming out of high school, Carrington played as a true freshman at Stanford but never established himself as a full-time starter. Could be interesting as a developmental player.
The rest of the undrafted free agents:
G Will Simmons, East Carolina
DT Roy Philon, Louisville
QB Brendon Kay, Cincinnati
OT Kaycee Ike, UAB
OL Chris Elkins, Youngstown State