Pittsburgh Steelers:

Franco Harris
January, 29, 2014
Jan 29
2:30
PM ET
PITTSBURGH -- Art Rooney II said it succinctly.
The Steelers president also said it best in regard to
Jerome Bettis
' fourth bid to gain entrance into the Pro Football Hall of Fame.
It's time.
Amen to that.
It can be argued that the more pertinent question when it comes to Bettis and the Hall of Fame is this: Why hasn't "The Bus" pulled into Canton, Ohio, already?
Bettis retired after the 2005 season as the fifth-leading rusher in NFL history with 13,662 yards. He is now sixth on that list, and all of the players in front of him who are eligible for the Hall of Fame are in it.
This should be the year that Bettis, one of 15 modern-day finalists for the Hall of Fame, joins them in football immortality.
Full disclosure: Bettis, who will be among those voted on Saturday, is an NFL analyst for ESPN. However, I was given the freedom to make a case for or against him getting into the Hall of Fame.
I frankly don't know of a credible argument I could make against Bettis.
He was one of the most productive running backs in NFL history. He was also unique.
Bettis may have been the best big back of all-time, and he was anything but a plodding, pile pusher.
Bettis' quick feet were as critical to his success as his sheer bulk -- his playing weight was listed at 255 pounds -- and power. He averaged 3.9 yards per carry, which is just a tick below what Hall of Famer
Curtis Martin
averaged during his career.
Bettis' value transcended the six consecutive 1,000-yard seasons he posted after the Steelers heisted him from the Rams in the greatest trade in franchise history. It also went beyond his ability to grind out the clock when the Steelers were protecting a fourth-quarter lead.
Bettis made those around him better because of the respect he garnered for playing through the pain that is a daily companion for a workhorse back -- and doing so with a smile.
Bettis was also so beloved by teammates that they wanted to win for him as much as for themselves, particularly at the end of his career.
The desire to get Bettis to the Super Bowl in 2005 helped fuel a stirring postseason run that the Steelers capped by beating the Seahawks for their first world championship since 1979.
Bettis called it a career after getting the one thing that had eluded him -- in his hometown of Detroit, no less -- and now it's time for him to receive an honor that has been equally as elusive as a Super Bowl title.
There are plenty of other people stating his case -- from Rooney, who is anything but prone to hyperbole, to Bill Cowher, who coached him, and Mike Tomlin, who coached against him.
Typical of the support Bettis' latest Hall of Fame bid has received is what Franco Harris said.
"Why he isn't in there, I have no clue," Harris told Steelers.com. "Should he be in there this year? Absolutely. You are talking about a great football player. I am hoping that he will be able to join me in the Hall of Fame this year."
Bettis has been gracious about his omission from the Hall of Fame, and he is at peace with the argument he made for inclusion in it during a career that spanned from 1993-2005.
"The way I look at it is I can't be selfish in that why am I not in now?" Bettis said. "I think when my timing is there I'll be in."
As Rooney said, it's time.
January, 23, 2014
Jan 23
12:55
PM ET
PITTSBURGH -- No one in the
Pittsburgh Steelers
' locker room should be more excited about the addition of offensive line coach Mike Munchak than rookie running back
Le'Veon Bell
.
Bell will be one of the biggest beneficiaries of the improvement that should take place up front with Munchak mentoring a young and promising offensive line. He should also thrive in the zone blocking scheme that Munchak is expected to make a staple of the Steelers'offense.
Bell is a patient yet decisive runner and that blend is perfect for zone blocking, which requires backs to read and react.
[+] Enlarge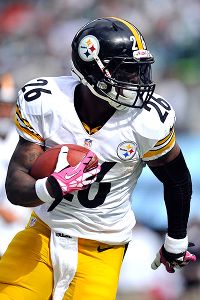 Joe Camporeale/USA TODAY SportsLe'Veon Bell's running style seems well-suited for the zone-blocking scheme the Steelers are expected to adopt.
Bell rushed for 860 yards last season despite missing the first three games with a foot injury and broke Franco Harris' Steelers record for yards from scrimmage for a rookie (1,259).
The 6-foot-1, 244-pounder is one of the biggest reasons the Steelers' offense could really take off next season, and he could get a lot better with Munchak now coaching the Steelers' offensive line.
Bell was the easy choice for the the Joe Greene Performance Award, which goes annually to the top Steelers rookie. While accepting the award Bell talked about how he watched the Steelers while growing up outside of Columbus, Ohio, and that he had always associated the team with cold weather and running the ball.
Bell never got a chance to see Harris play, but he followed
Jerome Bettis
and admired the way "The Bus" churned out tough yards on the way to a Hall of Fame-caliber career.
Bettis, it turns out, has been following Bell for a while, too.
The Detroit native kept his eye on Bell during the latter's career at Michigan State, and he applauded the Steelers' decision to take Bell in the second round of the 2013 NFL draft.
That pick looked better and better as the season progressed and Bell got more acclimated to the speed of the NFL game.
"I was really impressed at how well he developed," Bettis said. "He's a big, physical guy."
Bettis congratulated Bell via Twitter after the latter rushed for 124 yards in a Dec. 22 game at Green Bay, and he plans on talking to Bell in the near future.
"I'm definitely going to reach out to him at some point," said Bettis, who is an ESPN NFL analyst. "I'm a huge fan."
January, 21, 2014
Jan 21
11:00
AM ET
PITTSBURGH -- This is the second in a series in which I will examine every position relative to the 2013 season -- and take a look ahead. I didn't include fullbacks here with
Will Johnson
under contract in 2014 and the position being one that receives limited snaps
RUNNING BACKS
2014 free agents
:
Jonathan Dwyer
,
Felix Jones
and
LaRod Stephens-Howling
.
The good
: Rookie
Le'Veon Bell
established himself as an every-down back who should anchor the running game for years provided he stays healthy. Bell missed the first three games of the season because of a foot injury, but he was exactly what a sickly running game needed once the second-round draft pick got on the field. Bell broke Franco Harris' record for yards from scrimmage by a rookie (1,259), and he earned quarterback
Ben Roethlisberger
's trust as a receiver and with his ability to pick up blitzing linebackers. Bell averaged just 3.5 yards per carry, but he showed steady improvement -- not to mention toughness, patience and power as well as the athletic ability he flashed with his signature hurdle over would-be tacklers -- and the 6-foot-1, 244-pounder rushed for 214 yards in the Steelers' final two games.
The bad
: Depth is an issue, especially if Dwyer signs elsewhere as an unrestricted free agent. Alvester Alexander is the only other running back on the roster who is signed for 2014, and he spent all of last season on the practice squad. The Steelers aren't expected to bring back Jones and Stephens-Howling is a question mark after missing most of the 2013 season with a torn ACL. Dwyer carved out a niche for himself as a backup whose physical running style can further wear down opposing defenses when Bell needs a breather as well as a key special-teams player. But with Bell entrenched as the Steelers' feature back will Dwyer seek out a larger role elsewhere?
The money
(2014 salary-cap numbers): Bell will be a bargain again next season when he is scheduled to make a base salary of $495,000 and will count just $936,500 against the cap. The Steelers' top priority should be re-signing Dwyer though they will likely let the fourth-year veteran test free agency and let the market set his price. Stephens-Howling is a strong candidate to re-sign with the Steelers if they are satisfied with the progress he has made recovering from the knee injury he sustained in the 2013 season opener.
Draft priority:
It isn't a high one but the Steelers' need for depth as well as recent history suggests that the team will draft a running back. The Steelers have taken a running back in six consecutive drafts, and given how many good ones have been unearthed in the latter rounds of the draft league-wide they are likely to add a back with one of their later picks.
December, 27, 2013
12/27/13
12:00
PM ET
PITTSBURGH -- The headlines Mike Tomlin generated when he said it was an "easy decision" for him to pick
Le'Veon Bell
over
Eddie Lacy
surprised the
Pittsburgh Steelers
coach.
[+] Enlarge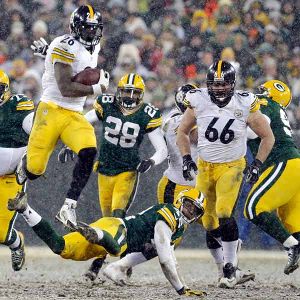 Mike Roemer/AP PhotoPittsburgh Steelers RB Le'Veon Bell makes it look easy, leaping over Packers' Morgan Burnett during the second half of their Week 16 game.
"I just told the truth as I saw it," Tomlin said. "It's not a knock against Eddie Lacy. Oftentimes it seems like in this business we're scared to tell the truth for fear of providing bulletin-board material or offending someone. We like Le'Veon Bell. We like his well-balanced skill-set. We thought he was perfect for us."
It certainly looks that way even with Lacy a near lock to win NFL Offensive Rookie of the Year honors.
Bell needs only 73 total yards on Sunday to break the record Franco Harris has held since 1972 for most yards from scrimmage for a rookie (1,235).
And the more you see Bell the more he just looks like a Steelers running back -- from his bursting up the middle and hurdling a safety as he did after losing a fumble last Sunday in Green Bay to blending the proper reverence with self-assuredness as he did earlier this week while accepting the honor named after one of the greatest players in franchise history.
Bell was the easy choice for the Joe Greene Great Performance Award, which is given annually to the Steelers' top rookie. And he seemed truly humbled to be linked with a second Steelers great just as he is with Harris, who retired nearly a decade before Bell was born.
When asked if there is significance for him to play running back for the Steelers, Bell said, "It means everything in the world. Running backs just come to your head when you think of the Pittsburgh Steelers, running backs and cold weather."
The sturdy Bell is put together for cold weather. His physical running style and ability to handle a heavy workload make the 6-1, 244-pounder the kind of back the Steelers can especially lean on in cold-weather games.
And in the coming seasons.
"This is a guy that's continually been on the rise for us and gaining an understanding of what he's capable of and what we need from him," said Tomlin, who generally isn't very generous when it comes to praising rookies. "In the midst of that, he's staying humble and grounded and that's appropriate as well."
Bell hasn't always stayed so grounded.
Hurdling defenders has become one of his signatures even if it jangles the nerves of those ranging from his mother to Steelers quarterback
Ben Roethlisberger
.
"It looks good on SportsCenter, but I get nervous for him," Roethlisberger said.
Not that Roethlisberger has any real gripes about Bell, who transformed what had been a sickly running game after making his NFL debut in the fourth week of the season.
"To me it looks like he's going stronger than ever and playing great football," Roethlisberger said when asked if Bell has hit the proverbial rookie wall. "Mentally, he's still real sharp because that's one of the first things to go, mentally you start to lag a little bit. He looks as good as ever."
Bell's lack of mental miscues is such that Roethlisberger said, "I have all the faith in the world when a blitz comes he's going to pick it up."
Bell has a lot of faith in himself but that confidence isn't likely to lead to complacency.
"I've still got a lot more things that I know I can get better at," said Bell, who has rushed for 770 yards and seven touchdowns on 224 carries. "I'm always going to find something to get better at."
Bell, who missed the first three games because of a foot injury, wants to become more consistent as a receiver by improving his concentration when catching the ball. He is also finding his way as a runner though he did receive congratulations on Twitter from
Jerome Bettis
after rushing for a career-high 126 yards in a 38-31 win at Green Bay.
Twenty-five of those yards came on the carry after Bell lost a fumble that led to a Packers touchdown.
Tomlin had enough faith in Bell to call his number after the costly miscue, and Bell rewarded the seventh-year coach by flashing through an opening up the middle and leaping over Packers safety
Morgan Burnett
on the way to his longest gain of the game.
Bell knowingly smiled later when asked if he had run angry on that play.
"I really wish there was something that can trigger me to get angry like that," Bell said. "If I could trigger that every carry I definitely would."
Call it another gear to work on for the rookie who is already off and running.
December, 16, 2013
12/16/13
3:15
PM ET
PITTSBURGH -- Maybe it is time for Lisa Bell to enlist the help of the Steelers' coaches.
Bell, after all, has a legitimate objection when her son leaps a would-be tackler as if it were some trip wire he saw at the last second.
[+] Enlarge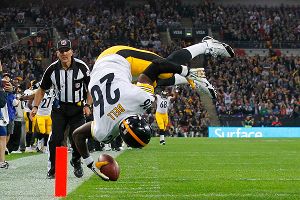 AP Photo/Sang TanLe'Veon Bell's tendency to leave his feet is not a mom-approved move.
That is because
Le'Veon Bell
is not just the Steelers' starting running back -- and biggest source of optimism for a ground game that still ranks near the bottom of the NFL. He is also her baby in as much as a 6-1, 244-pounder who dishes out as much punishment as he receives can be characterized as one.
"My mom, when I talk to her, she's going to be talking out of me again," Bell said with a sheepish grin following the Steelers' 30-20 win over the Bengals.
The most nerve-fraying run for Lisa Bell on Sunday night also qualified as the most impressive one on a frigid night at Heinz Field. Bell's 8-yard gain after hurdling Bengals cornerback
Dre Kirkpatrick
did not even count because of a holding penalty, but that was beside the point after the Steelers improved to 6-8 and averted a season sweep by the Bengals.
The leap, which is quickly becoming a Bell signature, fused a breathtaking display of instincts and athleticism. And runs like that show that Bell is not the plodding back his pedestrian rushing average this season (3.3 yards per carry) suggests.
Bell is still feeling his way as a runner at this level and sometimes you wonder if the rookie is a little too patient, though he does anything but dance in the backfield and certainly isn't averse to lowering his head to initiate a collision. (See Baltimore game on Thanksgiving night).
The Steelers' second-round pick last April has shown enough flashes to make you think he is going to be really good once everything comes together for him. That entails getting more running room from his offensive line and taking better advantage of the openings his line provides for him. It will come, as will the first 100-yard rushing game of Bell's NFL career.
One aspect of Bell's game that won't change is his going airborne despite his mother's worries. It is pure instinct and is something his coaches have not tried to eliminate from Bell's repertoire.
"They just said be smart with it and be safe because you once you leave your feet you don't have any control of your body anymore," said Bell, who joined Franco Harris and Bam Morris as the only rookie running backs in Steelers history to gain at least 1,000 yards from scrimmage. "It's a risk, but I feel like I do it at the perfect time. I haven't gotten messed up on it yet and hopefully I don't."
They are leaps of faith Bell is willing to take.
And ones his mother will have to accept.