Pittsburgh Steelers:

Geno Smith
November, 6, 2013
Nov 6
12:45
PM ET
PITTSBURGH -- What is good news for the Bills -- that quarterback E.J. Manuel has been cleared to return from a right knee sprain -- may also be good news for the Steelers.
Nothing could prove to be more of an elixir for an ailing defense than a rookie signal caller. The Steelers will face one in Manuel or
Jeff Tuel
, and they are expecting to play against the former in the 1 p.m. game Sunday at Heinz Field.
"With them releasing
Matt Flynn
you have to acknowledge that E.J. Manuel is probably back in action," Steelers coach Mike Tomlin said. "I've studied his tape quite a bit. He is worthy of a first-round selection. He is a talented guy."
The former Florida State star is also a guy who has started just five NFL games, and the Steelers have feasted on rookie quarterbacks since Dick LeBeau returned for a second stint as defensive coordinator.
According to ESPN Stats & Information, the Steelers have averaged 3.4 sacks in 18 games against rookie quarterbacks since 2004 and limited them to an average of 167 passing yards in those contests.
The Steelers are 16-2 against rookie quarterbacks since 2004, and both of those losses came when
Ben Roethlisberger
didn't play.
The Steelers' defense played its best game of the season last month when it kept the Jets out of the end zone and sacked
Geno Smith
three times and intercepted the rookie quarterback twice.
In other words, even in a season when so much has gone wrong for the defense it still shuts down rookie quarterbacks.
Not that the Steelers can take anything for granted following a 2-6 start and after the defense got ambushed in New England.
Manuel, despite bouts with inconsistency, has shown flashes, and it nothing will help him more Sunday than if the Steelers can't stop
C.J. Spiller
and
Fred Jackson
, who lead a ground attack that is averaging almost 146 rushing yards per game.
"He has poise in the pocket for a young guy," Tomlin said of Manuel. "He does a nice job of administering their offense and the no-huddle variety that they employ. Obviously his mobility and escapability is an asset."
And if recent history is any guide, Manuel will need both on Sunday.
October, 12, 2013
Oct 12
10:00
AM ET
Here is a quick-hit look at the Steelers-Jets game on Sunday. The 1 p.m. game will be played at MetLife Stadium in East Rutherford, N.J., and televised by CBS.
0
Turnovers committed by Jets quarterback
Geno Smith
in a 30-28 win at Atlanta last Monday
1
Jets' NFL rank in rushing yards allowed per carry
3.0
Rushing yards per carry allowed by the Jets
4
Sacks by Steelers this season
4
Sacks by Jets defensive end
Muhammad Wilkerson
this season
4.2
Average yards per carry for Jets running back
Bilal Powell
, who is third in the AFC in rushing
7
Times the Steelers have beaten the Jets in eight road games dating back to 1970
11
Turnovers committed by Smith in the Jets' first four games of the season
12
First-quarter points scored by the Steelers this season
16
Times the Steelers have beaten rookie quarterbacks in 18 games against them since Dick LeBeau returned as defensive coordinator in 2004
32
Catches by Steelers wide receiver
Antonio Brown
after four games
34
First-quarter points yielded by the Steelers this season
34.6
Conversion rate on third down that the Jets have allowed since 2009, second-lowest in the NFL during that span
49
Combined catches by Jets wide receivers after five games
53
Quarterback pressures by Steelers defensive end
Brett Keisel
since 2012
58.0
Rushing yards per game the Steelers, worst in the NFL
73.7
Percentage of Brown's 167 catches that have accounted for first downs since 2011
76.2
Rushing yards allowed per game by the Jets, second fewest in the NFL
148.3
Smith's fourth-quarter passer rating in the last three games
196
Career touchdown passes by Steelers quarterback
Ben Roethlisberger
299.0
Total yards allowed per game by the Jets, second fewest in the NFL
October, 11, 2013
Oct 11
12:00
PM ET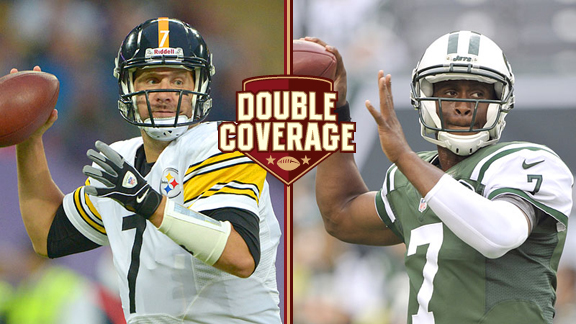 USA TODAY SportsBen Roethlisberger and the 0-4 Steelers take on Geno Smith and the surprising Jets.
Things you didn't expect to see in the standings when the NFL released the schedule last April: The
New York Jets
at 3-2, the
Pittsburgh Steelers
at 0-4.
The rebuilding Jets were supposed to struggle under a coach who already was being called a lame duck, and the Steelers ... well, they were supposed to be the Steelers, a model of consistency.
The two teams meet up Sunday at MetLife Stadium. The Steelers are off to their worst start since 1968, the year of the Jets' only Super Bowl season. If the Steelers lose this game, they're pretty much done in terms of playoff aspirations. The Jets played a similarly desperate team Monday night, and that didn't seem to faze them, as they stunned the
Atlanta Falcons
on the road. The Steelers should be well-rested coming off a bye week.
ESPN.com Jets team reporter Rich Cimini and Steelers reporter Scott Brown break down the matchup:
Cimini
: Scott, I look down the Steelers' roster and I still see a lot of those familiar names --
Ben Roethlisberger
,
Antonio Brown
,
Troy Polamalu
,
LaMarr Woodley
, etc. It's hard to imagine how the Steelers could be this bad. I'm sure you could write 5,000 words on why they're 0-4, but how 'bout a few thoughts on what has gone wrong?
Brown
: Rich, I think I have written triple that amount on everything that has gone wrong, but yes, who would have thought the winless Steelers would be playing the 3-2 Jets even just a couple of weeks ago? Turnovers have been the biggest problem for the Steelers, and that is on both sides of the ball. The Steelers have committed 11 of them with six coming in the last two games by Roethlisberger alone, and they are still without a takeaway, which is unbelievable when you think about it.
Playing from behind has a lot to do with the Steelers' turnover problem, especially on defense. The defense is at its best when it puts opposing quarterbacks in obvious passing situations and forces them into the kind of mistakes that lead to turnovers. Would you believe the Steelers have had exactly two leads this season and those were 2-0 and 3-0 in the season opener against the Titans and in the second game at Cincinnati, respectively?
Rich, this defense usually confuses and frustrates rookie quarterbacks, but
Geno Smith
has hardly played like a first-year signal caller. Has his play surprised you, and is it sustainable?
Cimini
: I was surprised by how well he played Monday night in Atlanta because he had been a turnover machine -- 11 in his first four games. All of a sudden, something clicked. I don't know if it was a one-game thing or the start of a trend.
I know the Steelers' defense isn't what it used to be, but Dick LeBeau will have had two weeks to cook up something to confuse the kid. How he responds to new looks from the defense will decide this game. The Jets leaned a bit more on the running game last week, taking some pressure off Smith, and I suspect they'll take a similar approach on Sunday. Blitz pick-up will be a key, as will the receivers' ability to gain separation. I remember the Steelers were very aggressive last season in Week 2 with the Jets' wideouts. While on the subject of quarterback play, how would you assess Big Ben's play to this point?
Brown
: It has been fine other than the turnovers, and I think it will get better with tight end
Heath Miller
back and running back
Le'Veon Bell
giving the Steelers a legitimate threat in the ground game. Roethlisberger is on pace to throw for almost 5,000 yards this season, which would obliterate his career-high of 4,328 yards (2009). But Roethlisberger is also averaging just over 40 pass attempts per game. That number is way too high, especially given how leaky the Steelers' offensive line has been through the first quarter of the season.
The emergence of Bell should restore balance to the Steelers' offense. My question for you is whether or not such balance will have to wait a week? The Jets' defensive line looks awfully physical, and it is hard to envision that Steelers having much luck running the ball against it.
Cimini
: You're right, Scott, the Jets have been very good against the run. They've faced some good backs --
Chris Johnson
,
C.J. Spiller
,
Doug Martin
-- and they're allowing only 76.2 yards per game and 3.0 per carry. I'd be surprised if the Steelers have much success on the ground.
The Jets' front seven is much improved from last season. They added more athleticism at nose tackle (
Damon Harrison
), tackle (
Sheldon Richardson
), weak inside linebacker (
DeMario Davis
) and rush linebacker (
Quinton Coples
). They're no longer vulnerable on the perimeter, as they were last season. I think they will make the Steelers one-dimensional, which should allow them to get good pressure on Roethlisberger. Speaking of pressure ... four sacks for the mighty Steelers? What happened to that defense?
Brown:
Man, depends on who you ask. The easy answer is to say that age has finally collared a once fearsome defense, but that is not entirely accurate. Defensive end
Brett Keisel
, strong safety Polamalu and cornerback
Ike Taylor
are among the most tenured Steelers, and they have played well this season.
Age has caught up with the Steelers a little bit, and the defense needs to get more out of younger players such as cornerback
Cortez Allen
and outside linebacker
Jarvis Jones
. Jones, the Steelers' No. 1 pick last April, is going to be really good, but he has not made much of an impact as a pass-rusher. The Steelers desperately need Jones to emerge opposite Woodley, who has three of the Steelers' four sacks.
.
October, 11, 2013
Oct 11
8:06
AM ET
Steel City wake-up: morning links
The Steelers may have to lean on their offense as they try to snap out of their winless funk. It nearly bailed them out a couple of weeks ago in London but a late rally fell agonizingly short in a 34-27 loss to the Vikings.
The pieces
finally seem to be in place
, assuming Kelvin Beachum or Levi Brown is at least serviceable at left tackle, though the offense will be tested Sunday when the Steelers visit the Jets. Coach Rex Ryan has the Jets playing at a high level as New York is allowing just under 300 yards per game.
The Jets
survived a scare
when top cornerback Antonio Cromartie went down in practice Thursday with a non-contact injury. But his availability for Sunday appears to be in question, and the Jets are already thin at cornerback. Cromartie is a top-tier cornerback and he will probably shadow Antonio Brown if he plays against the Steelers so Friday could be a critical day for Cromartie and the Jets.
With our without Cromartie, Steelers quarterback Ben Roethlisberger will be
front and center
Sunday and that is just the way the 10th-year veteran wants it. His counterpart, Geno Smith, has created
quite a buzz
in leading the Jets to a surprising 3-2 start. Smith had been turnover-prone through the first quarter of the season but the rookie was near flawless last Monday night in leading the Jets to a 30-28 upset at Atlanta.
Smith will play against a Steelers secondary that could have
some moving parts
. Defensive coordinator Dick LeBeau acknowledged Thursday that William Gay and Cortez Allen are competing to start opposite No. 1 cornerback Ike Taylor. Allen is still dealing with the effects of a high ankle sprain, and he did not play well in the Steelers' loss to the Vikings.
October, 9, 2013
Oct 9
8:00
AM ET
PITTSBURGH -- The Steelers' offense appears to be heading in the right direction. The return of tight end Heath Miller and addition of running back Le'Veon Bell has totally changed the dynamic of a unit that had been woeful in the Steelers' first two games.
Now the
defense has to step up
if the Steelers are to get their season untracked. The Steelers traditionally torment rookie quarterbacks such as the one they will face Sunday when they visit the Jets.
But Geno Smith shouldn't be lacking for confidence when he faces the Steelers, and not just because the former West Virginia star threw three touchdown passes and led a game-winning drive that stunned the Atlanta Falcons on Monday night.
The Steelers have not put enough pressure on the quarterback this season, making it debatable how uncomfortable they will make things for Smith at MetLife Stadium.
Defensive end Cameron Heyward has replaced Ziggy Hood in the starting lineup, and he is second on the team in quarterback hurries with nine. Hood
joins left tackle Mike Adams
as the two players who have been demoted following the Steelers' first 0-4 start since 1968. Will more
players be on the hot seat
if the Steelers continue their losing ways?
Their 1 p.m. game against the Jets looked like one of their easier road contests before the start of the season.
But the Jets are 3-2 and have emerged as one of the NFL's early surprises. Coach Rex Ryan appeared to be on his way out of New York after a disastrous 2012, but
he has the Jets playing well
despite starting a rookie quarterback who is surrounded by no-name skill players.
At least one NFL analyst has Ryan and the
Jets beating the Steelers
and moving to 4-2.
October, 8, 2013
Oct 8
7:56
AM ET
Before the season started, the Steelers' game against the Jets shaped up as a matchup between a 3-2 team and a winless squad still trying to find its way. Who would have guessed, though, that the Steelers would qualify as the latter?
The Jets, team turmoil in 2012, have emerged as one of the early surprises this season. They shocked the Falcons, 30-28, Monday night in Atlanta behind the
splendid play of rookie quarterback Geno Smith
, and they take a winning record into their Sunday game against the Steelers.
Smith threw a trio of touchdown passes and led a game-winning drive after the Jets had squandered a 13-point lead. Just as significant in one of the biggest upsets of the season was the play of the Jets' defensive line. The Jets dominated the Falcons up front, making it more
imperative for the Steelers to shore up left tackle
before Sunday.
Levi Brown, acquired last Thursday in a trade with the Cardinals, practiced for the first time with the Steelers Monday and early indications are that he will be given every opportunity to win the starting job.
The game will be a homecoming of sorts for Steelers wide receiver Jerricho Cotchery.
Cotchery played his first seven seasons with the Jets, and he is coming off his first 100-yard receiving game with the Steelers. The 10
th
-year veteran
should continue to play a big role
in the passing game, benefitting from the extra attention afforded to No. 1 wide receiver Antonio Brown.
The Steelers' lack of takeaways have been well documented.
Just as problematic
are the 11 turnovers the Steelers have committed through the first quarter of the season. The Steelers are making a run at a dubious record due to the frequency with which they have turned the ball over.
The Steelers are relatively healthy following their bye, and the biggest question mark is
starting left guard Ramon Foster
. The fifth-year veteran is nursing a pectoral strain, and a decision on his availability for Sunday won't be made until near the end of the week.