Pittsburgh Steelers:

Joe Thomas
October, 14, 2014
10/14/14
3:15
PM ET
PITTSBURGH -- A
Pittsburgh Steelers
defense that is reeling after giving up four touchdowns and 360 yards after the first quarter in a
31-10 loss
to the
Cleveland Browns
is also banged up.
McLendon
Starting nose tackle
Steve McLendon
won't play Monday night against the visiting
Houston Texans
because of a sprained shoulder. Starting free safety
Mike Mitchell
(knee) and defensive end
Brett Keisel
(knee) will be monitored this week in practice, Steelers coach Mike Tomlin said, putting their participation Monday in question.
Keisel said after the loss to the Browns that he will be fine.
Rookie linebacker
Ryan Shazier
(knee) and strong safety
Shamarko Thomas
(hamstring) will practice in some capacity this week, Tomlin said.
Shazier, who has missed the Steelers' last three games, practiced on a limited basis last week. There is an outside chance the first-round pick could play against the Texans.
If Shazier is unable to play Monday night, the Steelers will be missing at least four starters on defense.
With McLendon out, rookie nose tackle
Daniel McCullers
is likely to dress for his first game.
Defensive end
Cameron Heyward
hurt his ankle late in the loss to the Browns but is expected to be OK. Heyward was furious after getting chop blocked by Cleveland left tackle
Joe Thomas
, and after the game the fourth-year veteran said it is "cowardly" for teams to chop block.
Tomlin said Thomas' block was a legal one even though Heyward got hurt on the play.
"He was upset, but I think his anger had to do with how the game was going as well," Tomlin said Tuesday.
October, 12, 2014
10/12/14
6:05
PM ET
CLEVELAND -- Observed and heard in the locker room after the
Pittsburgh Steelers
'
31-10 loss
to the
Cleveland Browns
.
Brown

The question caused wide receiver Antonio Brown to pause, but he still delivered a diplomatic answer following a disappointing loss. The Steelers ran the ball early and often Sunday and targeted Brown just three times in the first half. The two-time Pro Bowler finished with seven catches for 118 yards. Asked if he should have been more of a focal point in the game plan because of his past success against Cleveland cornerback Joe Haden, Brown said, "We're just trying to find a way to win. It's not about individual matchups."
Defensive end Cameron Heyward didn't hide his anger in the visiting locker room at FirstEnergy Field, and not just because the Steelers had been embarrassed by one of their archrivals. Heyward was still fuming at getting chop-blocked several times. Late in the fourth quarter, Heyward hurt his ankle and angrily pointed at Browns left tackle Joe Thomas several times as he walked off the field. Heyward did not sustain a significant injury, but that's beside the point, the fourth-year veteran said. "It's a dirty play," Heyward said of chop-blocking. "We talk so much about safety. We don't do a good job of keeping it safe for everybody. I think it's cowardly thing, but if [the Browns are] going to coach it like that, that's their call."
Defensive end Brett Keisel and free safety Mike Mitchell each sprained his knee against the Browns, but neither injury is believed to be serious. "I'll be fine," Keisel said. That each player conducted postgame interviews is a strong indication neither is seriously hurt. Nose tackle Steve McLendon sprained his right shoulder in the second half and did not return to the game. Steelers coach Mike Tomlin said Keisel, Mitchell and McLendon are still being evaluated.
October, 10, 2014
10/10/14
4:30
PM ET
The
Pittsburgh Steelers
visit the
Cleveland Browns
on Sunday in a key AFC North game for each team. The 3-2 Steelers are trying to win consecutive games for the first time this season and the 2-2 Browns are trying to build on their 29-28 win against the
Tennessee Titans
last Sunday. The Browns overcame a 25-point deficit, setting an NFL record for the biggest road comeback in the regular season.
Here is a statistical look at the teams that meet Sunday at 1 p.m. ET at FirstEnergy Stadium.
1
Steelers quarterback Ben Roethlisberger's NFL rank in pass completions that have covered at least 25 yards.
1
Turnovers by the Browns in four games this season, the fewest in the NFL.
2.4
Steelers' average yards on running plays after contact, tops in the NFL.
3
Steelers running back
Le'Veon Bell
's NFL rank in yards from scrimmage since the fourth week of last season.
4
Interceptions Roethlisberger has thrown in nine career road games against the Browns.
4
Steelers players who have at least 20 receptions, most in the NFL.
4.5
Browns' average yards per carry.
5.1
Yards per carry the Browns are allowing.
7
Interceptions by Browns safety
Tashaun Gipson
since 2013, behind only
Richard Sherman
and
DeAndre Levy
.
8
The number of catches Steelers wide receiver Antonio Brown has made that has covered at least 25 yards, which is tops in the NFL.
26.0
Points the Browns have averaged in quarterback Brian Hoyer's seven career starts in Cleveland.
31
Browns' NFL rank in total defense.
38.3
Percentage of teams that have made the playoffs since 1990 after starting the season 3-3, according to ESPN Stats & Information.
48
Second-half points scored by the Steelers this season.
62.3
Percentage of teams that have made the playoffs since 1990 after starting the season 4-2, according to ESPN Stats & Information.
67
Second-half points the Browns have scored in four games compared to 30 by their opponents.
108.2
Bell's average yards from scrimmage per game in 18 career games.
116
Consecutive starts by Browns left tackle
Joe Thomas
, third-longest streak among active offensive linemen.
189
Consecutive passes Hoyer had gone without throwing an interception before getting picked off in the fourth quarter of Sunday's comeback win against the Titans.
421.8
Yards per game allowed by the Browns.
October, 10, 2014
10/10/14
10:30
AM ET
PITTSBURGH --
Brian Hoyer
made a quite impression on the
Pittsburgh Steelers
despite spending only a couple of weeks with them late in 2012.
Pittsburgh signed Hoyer after injuries left the team thin at quarterback, and everyone from
Ben Roethlisberger
and Todd Haley has said they aren't surprised by the success Hoyer is enjoying in Cleveland even though he never threw a pass while with the Steelers.
[+] Enlarge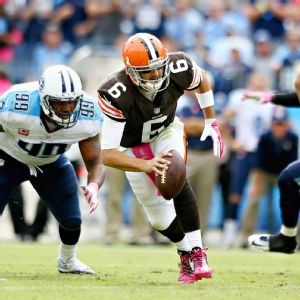 Andy Lyons/Getty ImagesThe Steelers said they aren't surprised by the success Brian Hoyer is enjoying with the Browns.
"We really got kind of excited about Brian while he was here," said Haley, the Steelers' third-year offensive coordinator. "He brought a lot to the meetings and out on the field. He has real good football intellect as far as the feel and what was going on. He was driven and he wanted to prove that he was pretty good."
Hoyer has been more than pretty good through the first four games of the season. The former undrafted free agent has completed 62.1 percent of his passes for 1,008 yards and six touchdowns and just one interception.
He is 5-2 in seven career starts with the Browns and has led already led three game-winning drives late in the fourth quarter.
And to think Hoyer was only supposed to serve as a placeholder until rookie
Johnny Manziel
took over at quarterback.
"I don't think he was fazed by drafting Johnny," Browns left tackle
Joe Thomas
said. "That was important because anybody else in his position it would've been easy for him to just shut it down and accept the fact that when you draft a first-round quarterback it's kind of an unwritten rule that he's going to be the starter and he's the future of the franchise.
"I think it was great because it made both players better because we did have a good competition and it was an open competition through training camp. Brian won the job and I think he's done a great job since he's won it."
Here is what the Steelers are saying about Hoyer:
Cornerback Brice McCain:
"He's just putting everything together and the offense really fits him well. We've got to get him off his spot and make him uncomfortable. He sits in one spot but his pocket awareness is pretty good. He steps up when he needs step up and he makes quick accurate throws. He reminds of [
Kansas City Chiefs
quarterback]
Alex Smith
when Alex Smith doesn't turn the ball over. He only has one interception but he had a lot of opportunities to throw a lot more picks. People aren't capitalizing right now. He has some tipped balls that should have been picks and dropped balls that should have been picks. We can't miss opportunities to get picks on him."
Safety Mike Mitchell:
"He's extremely smart and can make all of the throws. He doesn't have the laser-strong arm but his accuracy is up there with any of them. He's a good decision maker, doesn't hold onto the ball very long. You can see that by how many times he's been sacked (four). It's going to be a great challenge for us."
Defensive coordinator Dick LeBeau:
"He's very good at avoiding pressure. He's very good at keeping the play alive. He's a guy that looks to throw it but if he's got room to run, he's smart. He knows how much he needs and he'll get it. You can't put the numbers they've been putting up without a good offensive line and a good quarterback."
Outside linebacker Arthur Moats:
"Any time you get a guy who's been under
Tom Brady
for a long time, you're definitely going to learn something from him so you see a lot of similarities between the two. [Hoyer] is doing a really good job of what they ask him to do. He gets the ball out on time, he's very smart in the pocket. I feel like that's a lot of reasons why they're having success and they're running the ball really well too. It's not putting as much pressure on him."
Defensive end Cameron Heyward:
"He's just poised in the pocket and doesn't turn over the ball and he's not getting sacked a bunch. We always think that if you hit the quarterback enough, he's going to get hazy and start to throw some bad balls but the offensive line held up well and it's going to be important for us to get pressure on him."
October, 10, 2014
10/10/14
8:30
AM ET
PITTSBURGH – The
Pittsburgh Steelers
' pecking order behind starting wide receivers Antonio Brown and
Markus Wheaton
probably won't change this week -- or maybe any time soon.
Brown
Offensive coordinator Todd Haley said rookie
Martavis Bryant
is "making progress" but added that special teams are a reason as to why the fourth-round draft has yet to dress for a game this season.
That likely means
Darrius Heyward-Bey
will continue to dress because the sixth-year veteran plays special teams. Meanwhile,
Justin Brown
still appears to be ahead of
Lance Moore
as the primary slot receiver.
Brown had his best game of the season last Sunday, catching all three passes thrown to him for 26 yards in the Steelers' 17-9 win at Jacksonville. Haley said the 6-foot-3, 209-pounder was an "integral part" of the Steelers' running game.
"He did a very good job. He was physical and he helped get the runners 3-4 yards multiple times," Haley said. "I thought he did a real good job in that and made a couple of tough catches when called upon. I thought he played good."
A couple of notes:
Rookie running back/wide receiver Dri Archer has yet to make an impact in three games -- he missed two contests with a sprained ankle -- as he has just 15 rushing and receiving yards combined and four kickoff returns for 65 yards. The Steelers tried to get Archer the ball several times against the Jaguars, and Haley said the third-round draft pick was close to breaking a big play. Haley said the 5-8, 173-pound Archer's touches have been limited with Le'Veon Bell and LeGarrette Blount ahead of him. "I don't think he can carry it 25 times per game if he were the feature guy but he is a good runner inside and outside," Haley said of Archer. "I think he has very good vision. He is putting the ball where it is supposed to go. I haven't seen any issues there."
The Cleveland Browns were expected to struggle on offense while All-Pro wide receiver Josh Gordon is suspended but are averaging just under 26 points per game. The Browns are also fourth in the NFL with 143.3 rushing yards per game. The success of the Browns' offense starts up front, where Pro Bowl left tackle Joe Thomas and Pro Bowl center Alex Mack have been joined by guard Joel Bitonio, who has been one of the top rookies in the NFL. "They're working good together. They're cohesive and it's showing," Steelers outside linebacker James Harrison said. "They're averaging something ridiculous rushing. Their zone blocking is very good." Said Steelers defensive coordinator Dick LeBeau, "Their line play is excellent, as good as anybody we've played."
October, 9, 2014
10/09/14
8:00
AM ET
PITTSBURGH -- A day after
Pittsburgh Steelers
coach Mike Tomlin praised
Stephon Tuitt
, the rookie defensive end turned in a head-turning play.
Tuitt
Tuitt intercepted a short pass near the end of practice Wednesday, reeling in an ill-advised throw after the 6-5, 303-pounder had dropped into coverage and returning it for a touchdown.
"It was almost like a natural reaction," Tuitt said.
The play provided a glimpse into the kind of physical talent that has the Steelers so excited about Tuitt's future.
The second-round draft pick logged 12 snaps in a 17-9 win at Jacksonville, and Tomlin said earlier this week that Tuitt will get more playing time as he continues to progress.
Tuitt had played primarily on special teams before last Sunday.
"All I can control is doing what I have to do during the week and being there for substitutions during games," Tuitt said. "When my time is here I'll be able to step up during games."
Tuitt had two touchdowns during his career at Notre Dame, returning an interception for a score against Michigan and taking a recovered fumble to the house against Navy.
"I hope to get me a touchdown in the NFL one day," he said with a smile. "That would be pretty cool."
A couple of notes:
The Antonio Brown catch at the end of the Jaguars game caused a stir in Pittsburgh but two Jacksonville players shrugged it off when asked about the play by ESPN NFL Nation reporter Michael DiRocco. Brown caught a 16-yard pass to extend his NFL record of games with at least five catches and 50 receiving yards to 21. The Steelers got Brown a fifth catch in the game when all they needed was for quarterback Ben Roethlisberger to take three knees to run out the clock. Roethlisberger did just that after Brown's catch-and-run. "I don't mind that at all," Jaguars defensive end Tyson Alualu said of the Steelers throwing to Brown at the end of the game. "We're not taking it as disrespect. It's just part of football." Said Jacksonville cornerback Will Blackmon, "He had a streak? I had no idea about that."
Cleveland Browns left tackle Joe Thomas will play against a familiar foe Sunday. Thomas, one of the best tackles in the NFL, tangled regularly with James Harrison from 2007-12 when Harrison started at right outside linebacker for the Steelers. The Steelers coaxed Harrison out of retirement a couple of weeks ago and he is splitting time with Arthur Moats at right outside linebacker while Jarvis Jones is out with a dislocated wrist. "I'm happy to see him back there," Thomas said. "He's a guy that I knew still had football left in him. I know the guys up there probably missed him because he's one of the all-time greats for the Steelers."
January, 7, 2014
1/07/14
11:00
AM ET
The lone AFC North team in the playoffs made another early exit Sunday when the No. 3 Bengals lost to the No. 6 Chargers, 27-10, at Paul Brown Stadium. With all four division teams now in offseason mode, here is a quick look at them by order of finish in the AFC North.
Cincinnati Bengals

2013 record:
11-5, 3-3 in division
Key free agents:
DE
Michael Johnson
, OT
Anthony Collins
Biggest question:
Have coach Marvin Lewis and quarterback
Andy Dalton
taken the Bengals as far as they can?
Biggest reason for hope:
Despite losing in the wild-card round of the playoffs for the third consecutive season, the Bengals have a very good nucleus. Rookie
Giovani Bernard
showed enough to think his time splitting carries with the plodding
BenJarvus Green-Ellis
is over.
Why they might disappoint:
Dalton has faltered too many times in big games to think he can take the next step, and just making the playoffs is no longer good enough in Cincinnati.
Overall state of the franchise:
The Bengals find themselves at a crossroads, but they have little choice but to stick with Dalton -- for now -- unless they want to draft a quarterback in the first round and hand over a veteran team to him.
Pittsburgh Steelers

2013 record:
8-8, 4-2
Key free agents:
OLB
Jason Worilds
, WR
Emmanuel Sanders
Biggest question:
Will the Steelers re-establish themselves as Super Bowl contenders while re-tooling their defense?
Biggest reason for hope:
The offense will be able to mask some of the issues the Steelers have on defense if it builds on its strong second half of the 2013 season.
Why they might disappoint:
The defense could get worse before it gets better if younger players don't emerge in the secondary and Worilds signs elsewhere.
Overall state of the franchise:
The Steelers are facing a lot of uncertainty, but a 6-2 finish and the way the offense has come together point to them returning to postseason play in 2014 after missing the playoffs in consecutive seasons.
Baltimore Ravens

2013 record:
8-8, 3-3
Key free agents:
TE
Dennis Pitta
, LB
Daryl Smith
Biggest question:
Did the Ravens suffer through the dreaded Super Bowl hangover or are they in decline?
Biggest reason for hope:
Joe Flacco
is a franchise quarterback, and there is still plenty of talent on both sides of the ball.
Why they might disappoint:
The Ravens, like the Steelers, are clearly in transition on defense. Two cornerstones of that defense -- outside linebacker
Terrell Suggs
and defensive tackle
Haloti Ngata
-- no longer dominate on a consistent basis.
Overall state of the franchise:
Ozzie Newsome and John Harbaugh are as good as any general manager-coach tandem in the NFL, and they have to be given the benefit of the doubt even though the Ravens slipped this season.
Cleveland Browns

2013 record:
4-12, 2-4
Key free agents:
C
Alex Mack
, S
T.J. Ward
Biggest question:
Will a new coach and a quarterback finally stabilize an organization that has floundered, often spectacularly, since the NFL returned to Cleveland in 1999?
Biggest reason for hope:
There are some pieces in place, most notably wide receiver
Josh Gordon
, cornerback
Joe Haden
and left tackle
Joe Thomas
, and the Browns have a pair of first-round picks, including the fourth overall selection.
Why they may disappoint:
Tim Couch, Brady Quinn and
Brandon Weeden
are the quarterbacks the Browns have drafted in the first round since 1999. Why should Browns fans think they will get it right in this draft?
Overall state of the franchise:
The Browns dumped coach Rob Chudzinski after just one season, and unless they find the right replacement and, oh yeah, a quarterback in the draft, the Browns will continue to bottom feed in the AFC North.