Pittsburgh Steelers:

John Stallworth
November, 30, 2014
11/30/14
2:20
PM ET
PITTSBURGH -- Antonio Brown, who set another
Pittsburgh Steelers
record with his first catch against the
New Orleans Saints
today, has a big admirer in one of his organization's all-time greats.
"I think he's just scratching the surface on what he can do," former Steelers wide receiver John Stallworth said Sunday morning during a gathering of the 1974 team that won the first of four Super Bowls in the 1970s. "I've seen some amazing things and I think he's just an excellent receiver."
Brown
Brown entered today's game with 88 receptions, most in the NFL, and 1,161 receiving yards. His first catch against the Saints netted 8 yards and gave him 4,730 for his career.
That moved Brown past Buddy Dial and into first-place on the Steelers' all-time list for most receiving yards by a player in his first five seasons.
Stallworth, one of the stars on the dynastic teams of the '70s and a Pro Football Hall of Famer, has gotten to know Brown through talking to him before games and at training camp.
Stallworth, a minority owner of the Steelers, is as impressed with Brown's approach as he is with the former sixth-round draft pick's production.
"His personality suits well to him continuing to do well in this league," Stallworth said. "He wants to get better. He has that mindset."
Brown is among the pass-catchers who have challenged or eclipsed Stallworth's spots in the Steelers' record book.
Stallworth caught 537 passes for 8,723 yards – both are still second in Steelers history – from 1974-87. Who knows that numbers he might have put up had Stallworth played now when the NFL has increasingly become a pass-first league?
"Numbers would be a lot higher," Stallworth said, "but for the era that we played in and what we were able to do our numbers were good for us."
October, 24, 2014
10/24/14
6:00
PM ET
A by-the-numbers look at the
Indianapolis Colts
-
Pittsburgh Steelers
game on Sunday at 4:25 p.m. ET.
-8:
Steelers' point differential, the worst of any team with at least four wins
.810:
Colts' winning percentage in games decided by eight or fewer points since 2012, the best in the NFL
1:
Colts' NFL rank in time of possession (36:56)
2:
Steelers running back
Le'Veon Bell
's NFL rank in yards from scrimmage (938)
3:
Passes thrown by Colts quarterback
Andrew Luck
that should have been intercepted, according to ESPN Stats & Information, the most by any quarterback this season.
4:
Total third-down conversions allowed by the Colts in their past four games
9:
Steelers wins against the Colts the 11 times they have played in Pittsburgh
10:
Colts players who have at least one sack this season
11:
Sacks allowed by the Colts
17:
Wins by Steelers quarterback
Ben Roethlisberger
in 18 career October games at Heinz Field
18:
Receptions Colts wide receiver
T.Y. Hilton
needs to break Marvin Harrison's team record for most receptions in first three seasons (179)
18:
Colts drives that have been at least 10 plays
19.3:
Points allowed per game by the Steelers at home since 2012, fourth fewest in the AFC
26.7:
First downs per game for the Colts, second-most in the NFL
34:
Catches by Steelers wide receiver
Antonio Brown
that have resulted in first downs
36:
Catches by Hilton that have resulted in first downs, tops in the NFL
45:
Catches tight end
Heath Miller
needs to move past John Stallworth and into second place on the Steelers' all-time receptions list
87.9:
Shaun Suisham
's field-goal percentage since joining the Steelers in 2010, tops in franchise history
96.0:
Roethlisberger's passer rating, 11
th
best in the NFL
100.5:
Luck's passer rating, seventh best in the NFL
July, 14, 2014
7/14/14
8:00
AM ET
Franco Harris' "Immaculate Reception" proved to be a landslide winner in a recent ESPN.com poll of the
Steelers' most memorable plays
, and that was a foregone conclusion.
A discussion of the other two most memorable plays in Steelers' history generated a lot of debate and for good reason.
Roethlisberger
There were so many worthy ones that did not make the final three, from John Stallworth's over-the-shoulder touchdown catch in Super Bowl XIV and any number of Lynn Swann grabs in the Super Bowl to Troy Polamalu's interception for a return touchdown in the 2008 AFC Championship Game.
"Where is Ben's tackle?" Polamalu asked when I talked to him about the greatest plays in Steelers history and specifically James Harrison's 100-yard interception return in Super Bowl XLIII.
That is a great question.
Of all the plays that did not make the final three, none received more nominations or mentions from Steelers fans via Twitter than Ben Roethlisberger's touchdown-saving tackle in a 21-18 win over the Indianapolis Colts in a 2005 AFC divisional playoff game.
And of all the great plays Roethlisberger has made over the last decade none may be more significant than his tackle of Colts cornerback Nick Harper following a Jerome Bettis fumble as the Steelers were going in for the game-clinching touchdown.
It was such a stunning turn of events with the underdog Steelers poised to seal an upset over the Peyton Manning-led Colts, and only a shoestring tackle by Roethlisberger saved Pittsburgh from one of the most devastating losses in franchise history.
As for Roethlisberger's take on his best-ever tackle, he said, "Because it's a quarterback making a tackle I think that's why it's so unusual. But in the grand scheme of championship runs, if I make that play and we lose the game no one's talking about it. But because we won the game it became such a big deal."
That is precisely why it is such a big deal.
The Steelers went on to win the Super Bowl for the first time since the dynastic teams of the 1970s, and there is no telling how things would have played out beyond 2005 if they had lost that game.
The Steelers had endured so much playoff heartbreak under coach Bill Cowher. Losing a game they had dominated at the now razed RCA Dome might have allowed serious doubt to creep in about whether they could take that final step from contenders to Super Bowl champions.
The Steelers did get some help after Roethlisberger's tackle, most notably from Mike Vanderjagt.
The Colts kicker shanked a 46-yard field goal attempt on the final play, sending the Steelers to the AFC Championship Game.
And there was no stopping them from that point with Bettis' fumble becoming a mere footnote to his retiring as a Super Bowl champion.
"It was just so unbelievable when it happened," Roethlisberger said of one of the defining sequences of his career, "and it was just find a way to make a play."
He did and the rest is history.
June, 17, 2014
6/17/14
3:03
PM ET
PITTSBURGH -- Steelers players from multiple eras -- including this one -- attended
Chuck Noll's funeral
on Tuesday morning in the Oakland section of Pittsburgh.
[+] Enlarge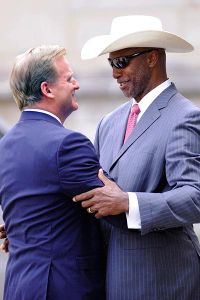 John Heller/AP PhotoNFL commisioner Roger Goodell and former Steelers CB Mel Blount embrace before Tuesday's funeral service for Chuck Noll in Pittsburgh.
Former Steelers greats such as Joe Greene, Franco Harris and John Stallworth were there. So were current players such as
Ben Roethlisberger
,
Maurkice Pouncey
and
Ike Taylor
.
Commissioner Roger Goodell represented the NFL at the service that lasted just over an hour and turned out to be the simple goodbye that Noll, who
passed away Friday
at the age of 82, would have wanted.
Make that demanded.
Dan Rooney, Art Rooney II, Kevin Colbert and Mike Tomlin also attended the funeral with Rooney II, the Steelers' president, joining Greene as one of the pallbearers.
No players spoke at the service but a handful of them talked afterward about what Noll meant to them and his legacy:
Hall of Fame defensive tackle Joe Greene played for the Steelers from 1969-81 and was Noll's first-ever draft pick.
"I used to be very, very bad-tempered with officials and Chuck said, 'You know Joe, those guys have families and kids and they probably don't like you talking to them like that,' and I stopped doing it. He just had a way of sharing information with you that was long lasting. There's not many days that go by when I don't think back on something that Charles Henry Noll said. Anytime I was around Chuck it was a learning experience. Just an outstanding person."
Offensive tackle Jon Kolb played for the Steelers from 1969-81 and then coached under Noll with the Steelers from 1982-91.
"I got to coach with him also for 10 years and he made the point to coaches that the game is about the players. We're here to help the players prepare. That was what he wanted to do and I believe just from the talks I had with him, he didn't just want to prepare for the moment and the season but preparation for life, which is not the norm."
[+] Enlarge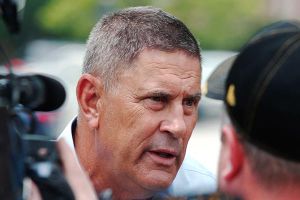 Keith Srakocic/AP PhotoJohn Banaszak recalls the opportunity Chuck Noll provided for him as a Steelers' defensive lineman.
John Banaszak played defensive tackle and defensive end for the Steelers from 1975-81.
"I was an undrafted rookie free agent and there were 17 draft choices in front of me, but Chuck gave me an opportunity and a chance to make that football team and I took advantage of it. I think whether or not I would have played seven years or I would have been (cut) two weeks into (his first) training camp he would have had a very big impact on me anyway. I learned that whether you're in business or you're a football coach or a football player, fundamentals are the essential parts of being successful. He stressed that regularly."
Tight end Mike Mularkey played for the Steelers from 1989-91 and coaches tight ends for the Tennessee Titans.
"You like to be around guys that like playing football and want to do it the right way. That's all he ever asked of his players, and I just told that to my guys in my (meeting) room this past week. He's the best coach I was fortunate to play for but I've gotten more from Chuck off the field about how to do things the right way. Family was important and a balance in life was important, and he showed that every day in his life. I hate to be here under these circumstances but I'm glad I got a chance to be here."
• Read more:
A
collection of memories
from Steelers who played for or coached with Noll.
June, 15, 2014
6/15/14
2:00
PM ET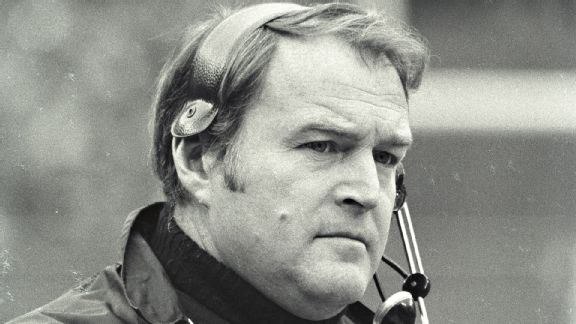 George Gojkovich/Getty ImagesLegendary Steelers coach Chuck Noll had a profound impact on his players and colleagues.
PITTSBURGH -- George Perles didn't snap at me when he received a call during the dinner hour. Instead, the former
Pittsburgh Steelers
defensive coordinator and defensive line coach thanked me for giving him the opportunity to remember Chuck Noll.
The Steelers released statements from a who's who list of the teams that won four Super Bowls in six seasons. Statements are anodyne by nature. These were heartfelt testimonials from the likes of Joe Greene and John Stallworth, both Hall of Famers.
Merril Hoge compared Noll to Gen. George S. Patton, another one of his heroes. He recalled a story that had little to do with football but said everything about Noll.
"Hershey wanted him to sign his autograph, and they were going to put it on the back of every Hershey's candy bar," the former Steelers running back said. "He wasn't going to have to do anything else but sign it and give them the right to put it on the back [of candy bars] for $100,000. That would be like half a million dollars today, and he said no because he stayed true to who he was. He was the greatest man I've ever been around."
Here, in their own words, is a collection of memories from Steelers who played for or coached with Noll, who died Friday at 82 in his Pittsburgh-area home:
[+] Enlarge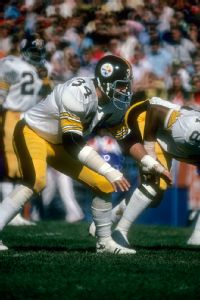 Focus on Sport/Getty ImagesLinebacker Andy Russell, a seven-time Pro Bowler, called Noll "the perfect mentor."
Andy Russell played linebacker for the Steelers from 1963 to 1976 and made the Pro Bowl seven times. He recalled his first meeting with Noll.
He called me and asked me to come over and talk to him, and as I was going over, I was actually thinking he's calling me to compliment me on making my first Pro Bowl [in 1968]. Nooo, that was not it at all. He had me sit down across from him, and he said, "I don't like the way you play. You're too aggressive, you're out of control, you're making too many mistakes. I'm going to have to change the way that you play. You're going to be a better player in your 30s than when you were in your 20s." He did make me a better player, so I have a lot of respect for him. He was the perfect mentor. He's the greatest coach in the history of the league, I think.
Dick Hoak played running back for two seasons for Noll and then coached the Steelers' running backs for 20 seasons under Noll. He recalled a Noll teaching moment shortly after he joined the Steelers' coaching staff in 1972.
I didn't get there until after the draft. They had already drafted Franco [Harris] and one of the preseason games Franco had a really good game. We're on the practice field and I'm saying something to Franco, coaching him about something, and after Franco walked away, Coach Noll walked up to me and said, "Dick, don't overcoach him." I always remembered that. You see a lot of coaches, they get in that film room and they run that projector back about 10 times and say you should have done this and they forget that guy had a split second to make up his mind. And [Noll] taught me that. He taught me so many things about coaching.
[+] Enlarge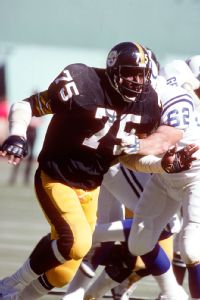 Focus on Sport/Getty ImagesHall of Famer Joe Greene was Noll's first-ever draft choice.
Joe Greene, Noll's first draft pick, played defensive tackle for the Steelers from 1969 to 1981 and is arguably the greatest player in franchise history. He recalled, in a statement released by the Steelers, a unique Noll moment a week before the 1974 AFC Championship Game in Oakland.
He said those people in Oakland said the championship game was played yesterday [when the Raiders beat the
Miami Dolphins
in the 1974 playoffs], that the best two teams in football had played. He said, "I want you guys to know that the Super Bowl is played three weeks from now. And the best team in football is sitting right here in this room." That statement doesn't mean a whole lot if he said something like that every week. Chuck never said anything like that prior to that or after that, not in that way. At that point in time, the Raiders, after Chuck talked to us, they had no chance of winning that ballgame. I felt that never changed throughout the course of our preparation and during the game. Even when we were down at halftime and even when they took away a touchdown from John Stallworth, that never changed. They just weren't going to win the game. There were many times Chuck said things just about winning football games that proved to be so true. The man was just so consistent in his belief that we just believed everything he said. He was a man who wasn't about any kind of hyperbole at all. You got the same Chuck all the time.
Joe Gordon became the Steelers' director of communications in 1969, the same year they hired Noll as head coach. He remembered a you-had-to-see-it-to-believe-it Noll moment.
It was before one of the championship games against Houston, either '78 or '79, and in my office I had these files and one of the parts that opened to the file was broken. He came into my office and saw it lying on top of the [file cabinet], and he says, "What's this?" This was about two hours before the game and I told him. Paul Zimmerman, who was working for Sports Illustrated, came into the office, and he saw Chuck down on his hands and knees repairing that file folder as though he had nothing else on his mind. That was really a great example of how focused he could be and how wide-varied his interests were.
[+] Enlarge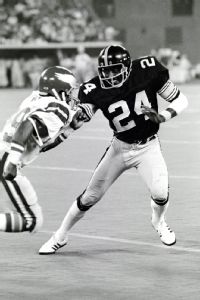 George Gojkovich/Getty ImagesFormer Steelers cornerback J.T. Thomas remembered Noll as a unique, but effective, communicator.
J.T. Thomas played cornerback for the Steelers from 1973 to 1981 and made the Pro Bowl in 1976. He recalled a Noll teaching moment early in his career.
My rookie year, I'm on the kickoff team and my job is to break up that wedge. So we're watching film from a preseason games, and Chuck said, "J.T., is that you running down there?" I was going down cautious to make sure I don't get clipped or anything. So he says, "I don't see that 4.4 speed." Now the whole team is sitting there, and he says, "Where is that 4.4 speed?" And then he made a comment that was directed at me. Being from the Bible belt and [Noll] knowing that I knew biblical works, he says, "You know what? They say the meek shall inherit the earth." Now no one knew what that was, I don't think, but I knew what he was talking about. His greatest asset, I think, was the way he communicated. He communicated with everybody differently, and it was amazing to watch him go around the locker room and communicate with guys on their level.
Bill Cowher succeeded Noll as the Steelers' head coach in 1992, and he coached 15 seasons and led the Steelers to their fifth Super Bowl victory in 2005. He told 93.7 The Fan in Pittsburgh about his first extensive talk with Noll after the Steelers hired him.
There was an opportunity for me to get on a private plane and I was going to work out a player at Clemson and I think he was going down to his vacation home. I probably had about 25 questions and I don't want to bombard him right away, and as we started talking, his answers are very short and didn't really give me a whole lot of insight. He'd come back with more a response of, "Well, how's your family?" I got off the plane, and I just said, "Jeez, I really didn't get a whole lot from that conversation." But what I took out of it was he didn't want me to have preconceived thoughts. You need to do it your way. You need to figure out how to work within that building with the Steelers organization. I thought that was one of the best pieces of advice that was ever given to me. When people asked me what did I say to Mike Tomlin when Mike took over [in 2007], I laughed and I said "I gave him the same advice Chuck Noll gave me. None." You pass your own judgments, and I think in today's world to be able to work through it yourself and not be convoluted with other people's opinions is refreshing. I always will take that away from Chuck Noll.
Tony Dungy, the most prominent member of Noll's coaching tree, joined the Steelers in 1977 as an undrafted rookie free agent out of Minnesota. Converted by Noll into a defensive back, he played on the Steelers' Super Bowl XIII team and returned to Pittsburgh in 1981 where he served as a member of Noll's staff for eight seasons. Before he shared anecdotes about Noll, Dungy paused and said, almost to himself: "I'm not even sure I can even express how great he was, how important he was in my life and all that I learned from him."
[+] Enlarge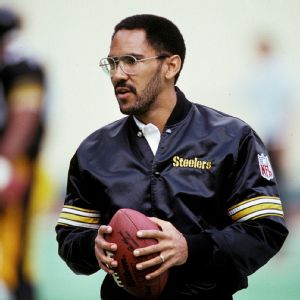 George Gojkovich/Getty ImagesAfter playing for Noll, Tony Dungy got his start in coaching on Noll's Steelers staff.
Dungy on Noll's message to players about football and life:
The first time I ever saw Chuck Noll, I was a rookie on the first day of minicamp in 1977. The Steelers had just won two Super Bowls. I sat down, opened my notebook and my playbook, preparing to write down everything he said -- what to do, how to make the team and win Super Bowls just like Chuck Noll. And the first thing he says is, "Gentlemen, welcome to the National Football League. You are getting paid to play football now so that makes it your profession, but don't ever mistake football for your life. Football can't be your life. I am your coach but my job is to help you find your life's work. We're gonna win some games along the way and become a great football team, but I don't want you to think life is all football." And I sat there, blown away. That certainly wasn't my view of the world at the time. My life was all football. And that was the greatest lesson I learned from him: that you could be excellent at what you do in football but it didn't have to consume you. There was a lot of Coach Noll that went through me and a little bit, I think, now running through Jim Caldwell and Lovie Smith and Mike Tomlin.
Dungy on his job interview for defensive coordinator:
In 1984, I was on his staff and I was pretty sure I was going to get the defensive coordinator job, but I was only 28 or 29 at the time so I wasn't completely sure. We were at the combine, which was in New Orleans at the time. He asks me if I want to go out to dinner with him, and I just figured that's what we'd talk about, football, coaching, the job. So we go to dinner and instead he's telling me about New Orleans food. Then we go to Preservation Hall for some jazz and then he walks me around to look at all these incredible historical sites in the city. In all, I'm with him for about four hours and we get back to the hotel and he says, "I really, really enjoyed this tonight." Then he gets on the elevator and goes to his room. My wife calls and says, "Well, do you have the job, are you the coordinator?" And I say, "Um, I don't know." When we got back to Pittsburgh I finally asked him, and he said, "Well, of course you got the job." That was just him. Given the chance to enjoy New Orleans, to enjoy life, it never occurred to him to interrupt that to talk about football.
Dungy on Noll's knack for finding players for his system:
His genius was in finding players who fit what he wanted to do. People look at the 1974 draft and say it was one of the greatest drafts of all time. But you had Lynn Swann who was kind of an undersized receiver. And Jack Lambert, he was a 205-pound middle linebacker from a small school. John Stallworth was a kind of running back, slash, slot receiver from a tiny school. Mike Webster was a short, undersized center who was not fast at all. Those guys would not have been drafted by a lot of teams. The
Dallas Cowboys
would not have even had them on their draft board based on their size and speed. But with Coach Noll, they were just what he was looking for. His players didn't fit a cookie cutter. He could take what you did and were great at and plug it into his system. He looked at intensity and desire and will to win, and he thought that was just as important as physical talent. And then, he was strong enough as a person and coach to get a lot of talented individuals with strong personalities to come together and buy into the team's scheme first. That is very, very difficult to do as a coach. And that was Chuck Noll's genius.
[+] Enlarge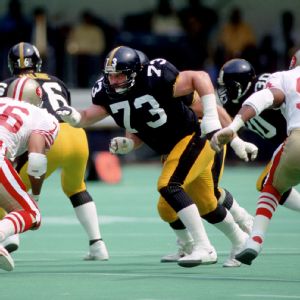 George Gojkovich/Getty ImagesOffensive lineman Craig Wolfley had a memorable first encounter with Noll that left the coaching legend with a bloody lip.
Craig Wolfley played offensive tackle and guard for the Steelers from 1980 to 1989 and is a color analyst/sideline reporter for the team's radio broadcast. He recalled his first encounter with Noll -- and a hit he will never forget.
When I was a senior at Syracuse, Chuck flew up and he worked me out. We're doing pass rushes and he's teaching me the punch, and I've never seen a punch like that in my life, the extension of the hands and everything else. So he's telling me, "When I rush and I throw a swim, arm over or arm under, punch me in the chest." So we do this a few times, and I can see that he's getting a little chagrined. He knows I'm not getting it, I'm not really punching him. He said, "I really want you to punch me." The next pass rush he comes and throws this arm over and I just drill him and [his fist] ricochets off his arms and I punch him right in the mouth. He's bleeding from the mouth, and I'm standing there going, "OK, this is probably over. He'll never draft me. I just bloodied his lip." And I could see that little flash of anger in his eyes and that bulldog look that I'd come to know in the future years. Then he just kind of slowed up and started to laugh and said, "Now that's a punch."
Merril Hoge played running back for the Steelers from 1987 to 1993 and is now an ESPN NFL analyst. He remembered how Noll rallied the Steelers from an awful 0-2 start in 1989, the last season the team made the playoffs under Noll.
Our opening game, we played the
Cleveland Browns
and we got beat 51-0. We go on to play Cincinnati the next week and we got beat 41-10. Now, when you get hammered like that in back-to-back weeks, there's not much hope for your team. Everybody was writing us off, saying we may end up being one of the worst teams ever. I went in Monday and we were deflated as a team. I remember needing direction more than ever and thinking, "How can he possibly dig us out of this one?" We went over what had happened the last two weeks and what had happened to us. He said, "Nobody believes in you, but I do." And when he said, "but I do," you talk about life in that room. His belief in us, I'm telling you, that's what I thought he did the very best. He'd challenge you. He'd put obstacles in front of you to see how you handled them, and based on how you handled them, if you earned that respect, then he believed in you. Knowing that was all you needed. I've passed that on, not only to my son but all of the youth kids I've coached. I've been able to teach them principles in the form of football. I'm one of many that's been lucky enough to be able to play for him for all of the things he would teach you as a human being. He goes way beyond being a coach.
[+] Enlarge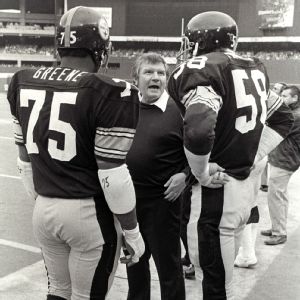 George Gojkovich/Getty ImagesFormer Steelers defensive line coach George Perles remembered Noll as someone who didn't crave the spotlight.
George Perles coached on Noll's staff from 1972 to 1982, serving as a defensive line coach and then as defensive coordinator. He remembered how Noll never wanted the focus to be on him.
When he first started a TV show, I went with him, and when we finished, we said, "Well, after the season, that's the end of that." He wasn't interested in putting makeup on and all of those things that go with being on TV. He was a humble guy. He never took anything with endorsements. He wasn't interested in making money on the side by doing commercials, and he said to give it to the players. There's only so many guys like that. This guy could have been a priest, and he was obviously one of the great coaches. That doesn't go hand in hand a whole lot. He was a perfect gentleman. He was a real leader of men.
John Stallworth played wide receiver for the Steelers from 1974 to 1987 and now has a small ownership stake in the team. He remembered, in a statement released by the Steelers, how Noll helped him develop into a Pro Football Hall of Famer.
I went through a lot of things as a player, but I always thought that Chuck was there for me. We did have some personal conversations when some issues that came up were dear to me. He never brushed them off. I think he deeply considered what I was feeling and what I was going through, and he tried his best to make that easy. That made the relationship special. He had 40, 50, 60 players to deal with, but I always thought he was knowledgeable and considerate of what was going on in the life of John Stallworth. One of the lessons I learned from him was that you've never arrived, that you never get to the point where you are the best that you can be, and you should admit you are always striving to be better and to get better in whatever it was -- as a football player, as a father, as a business person, as someone who was active in the community. I think I carry that more than anything.
Senior writer David Fleming of ESPN The Magazine contributed to this report.