Pittsburgh Steelers:

Keith Butler
January, 27, 2014
Jan 27
4:30
PM ET
PITTSBURGH -- Five of the Steelers' eight draft picks last April spent the 2013 season on the 53-man roster and three of them started at least eight games. Seven of those selections are on the roster, including wide receiver Justin Brown (practice squad last season) and defensive end
Nick Williams
(injured reserve), and the 2013 draft should provide significantly more returns next season.
Here is the first in a series that takes a closer look at each player in the Steelers' most recent draft class with ESPN Insider and former NFL scout Matt Williamson providing his take on that player.
Jones
Jarvis Jones
Position:
Outside linebacker
Drafted:
First round, 17
th
overall (taken one pick after Bills quarterback
EJ Manuel
and one spot before 49ers safety
Eric Reid
, who made the Pro Bowl).
Key stats:
Managed just one sack despite playing 612 snaps and starting eight games at right outside linebacker. Jones was credited with 11 quarterback pressures.
His first season:
No one expected more out of Jones in 2013 than Jones himself. He became the first rookie to start at outside linebacker since the Steelers switched to a 3-4 defense in 1982, but he struggled rushing the passer against tackles who were bigger and more athletic than the ones he routinely tormented while at the University of Georgia. Thinking instead of reacting also hampered Jones, though that is common, especially with rookies who play extensively while also still learning the Steelers' complex defense.
Looking ahead:
The 6-foot2, 245-pound Jones clearly has to get stronger and linebackers coach Keith Butler has said he needs to transform his physique from that of a basketball player to one that can handle the rigors of rushing the passer and holding up against the run in the NFL. Jones turned in his best game in the Steelers' regular-season finale when he didn't appear to be thinking as much and just playing. Even better for the Steelers is Jones wants to be great, and he has vowed to improve his strength as well as his grasp of the defense in the offseason. His development during the period in which coach Mike Tomlin has said players make their biggest jump is crucial. The Steelers are unlikely to bring both
LaMarr Woodley
and
Jason Worilds
back in 2014, and they are going to need a lot more from Jones than what he provided in his rookie season.
Williamson says:
"I thought he would at least be a situational pass-rusher that would make more big plays but I'm not ready to throw the towel in on the guy, either. He did flash. He did play well on special teams. How many rookies come into this defense and play well? A couple of things worry me. I think he's a far cry from Woodley or [James] Harrison against the run as an outside contain guy. I think he needs a lot more strength at the point of attack for that, and he's not a great athlete so it makes you wonder if he hasn't gotten by on technique and hustle so far. It's not like he has these ridiculous Lawrence Taylor tools to fall back on. I would think he'll get every opportunity next year."
January, 25, 2014
Jan 25
6:15
PM ET
PITTSBURGH -- Mike Tomlin has another coaching spot to fill, and this time he has to replace one of his most trusted lieutenants.
Running backs Kirby Wilson is leaving Pittsburgh for the same position with the
Minnesota Vikings
, a source confirmed to ESPN.
The Pittsburgh Post-Gazette first reported Wilson's departure, which is not yet official, hours after reporting that Wilson was no longer a candidate to become the Ravens' offensive coordinator.
Wilson twice interviewed for the opening in Baltimore -- he was one of three finalists for the job -- and his departure leaves just five assistants on the staff who have been with Tomlin since he became the Steelers' head coach in 2007.
The Steelers permitted Wilson to pursue other jobs even though he had one year left on his contract and was significantly involved in crafting game plans.
The one question that will trail Wilson out of Pittsburgh is what might have been for the well-traveled assistant.
Wilson would have been one of the top candidates to take over at offensive coordinator in 2012 after the Steelers did not renew Bruce Arians' contract. But Wilson was badly burned in house fire about a month earlier, and he couldn't start working again -- even on a limited basis -- for more three months after the blaze that nearly cost him his life.
The Steelers hired Todd Haley to replace Arians, and when it became apparent that Haley would return in 2014 Wilson started looking around for other opportunities with Tomlin's blessing.
The loss of Wilson comes three days after the Steelers hired Mike Munchak as their next offensive line coach. Running backs coach is the only position Tomlin is expected to have to fill with both coordinators returning as well as linebackers coach Keith Butler.
Butler had been a candidate to join Ken Whisenhunt's staff in Tennessee as the defensive coordinator but he never interviewed for the position.
Wilson joins his sixth NFL organization after coaching running backs such as
Willie Parker
,
Rashard Mendenhall
and Bell with the Steelers.
Bell, under Wilson's tutelage, rushed for 860 yards in 2013 despite missing the first three games of the season. The second-round draft pick also broke Franco Harris' Steelers' record for yards from scrimmage by a rookie with 1,259 yards and established himself as a focal point of the offense in the coming seasons.
Wilson will join first-year coach Mike Zimmer in Minnesota, and he will work with the best running back in the NFL in
Adrian Peterson
.
Peterson rushed for 1,266 yards and 10 touchdowns in 2013 despite weathering foot and groin injuries, the latter of which sidelined him for two of the Vikings' last three games.
Peterson had groin surgery last week but the Vikings said he should be fully healthy after a six-week recovery period.
January, 21, 2014
Jan 21
2:05
PM ET
PITTSBURGH -- A surprising name has surfaced in connection with the opening the
Baltimore Ravens
have at offensive coordinator.
Coach John Harbaugh announced on Tuesday that
Pittsburgh Steelers
running backs coach Kirby Wilson is among four finalists for the job that became open when the
Detroit Lions
hired Jim Caldwell as their head coach.

Wilson is eminently qualified for the job, and he probably would have been promoted to offensive coordinator in Pittsburgh had he not been badly burned in a house fire in January, 2012.
The surprise is that the Steelers have granted Wilson permission to interview with their chief rival. Wilson is to meet with Harbaugh this week, presumably in Mobile, Ala., where NFL coaches are scouting Senior Bowl practices and interviewing draft prospects.
The Steelers could have blocked Wilson from interviewing with the Ravens since it is not for a head-coaching job. The guess here is that Mike Tomlin does not want to deny Wilson, who has been with him since 2007 in Pittsburgh, an opportunity given how loyal Wilson has been and what he persevered through to return to coaching.
Wilson would be attractive to the Ravens because of Baltimore's need to fix a running game that faltered badly in 2013. The Ravens averaged just 83.0 rushing yards per game, ranking 30th in the NFL in that cateogry. They averaged just 3.1 yards per cary, last in the NFL.
Wilson is the second Steelers assistant coach who has been linked to a coordinator job elsewhere.
Linebackers coach Keith Butler was considered one of the favorites to become new coach Ken Whisenhunt's defensive coordinator in Tennessee. But Butler, who is considered the heir apparent to Dick LeBeau in Pittsburgh, never interviewed for the job.
In addition to Wilson, the other finalists for the job in Baltimore are former Rams head coach and Lions offensive coordinator Scott Linehan, former Redskins offensive coordinator Kyle Shanahan, and Ravens wide receivers coach Jim Hostler.
There has been only one change to Tomlin's coaching staff so far, as he fired offensive line coach Jack Bicknell Jr., this month.
Former Titans coach Mike Munchak interviewed for the job of offensive line coach last week in Pittsburgh.
January, 15, 2014
Jan 15
12:40
PM ET
PITTSBURGH -- It looks like a coach Ken Whisenhunt worked with in Pittsburgh will be joining his staff in Tennessee.

And it won't be Steelers linebackers coach Keith Butler.

Per ESPN NFL Insider Chris Mortensen, Ray Horton is the leading candidate to become the Titans' new defensive coordinator, a position he held for two seasons in Arizona while Whisenhunt was the head coach.

Horton currently holds the same position with the Browns and is still under contract in Cleveland. But the former Steelers defensive backs coach has been given permission to pursue other opportunities, according to ESPN NFL Insider Adam Schefter, even though the Browns could block him from taking another job other than head coach.

There had been speculation that Whisenhunt would target Butler -- the two worked together on Bill Cowher's staff in Pittsburgh -- after landing a second-head coaching job. But Butler, who turned down a chance to become the Dolphins' defensive coordinator in 2010, still has a year left on his contract.

The Steelers can block a move by any of their assistant coaches under contact unless it is for a head-coaching job. Butler has long been seen as the heir apparent to Dick LeBeau as the Steelers' defensive coordinator.

But with all signs pointing to the 76-year-old LeBeau returning in 2014, Butler will probably have to wait at least another year before becoming a defensive coordinator.
September, 16, 2013
9/16/13
2:45
PM ET
CINCINNATI --
Andy Dalton
is just 1-3 in his career against the Pittsburgh Steelers.
If the Steelers are to saddle the Cincinnati Bengals quarterback with another loss, they are going to have to make things very uncomfortable for him tonight at Paul Brown Stadium.
And nothing would help the Steelers more in that department than if
LaMarr Woodley
re-introduces himself to the nation as one of top pass-rushers in the NFL.
[+] Enlarge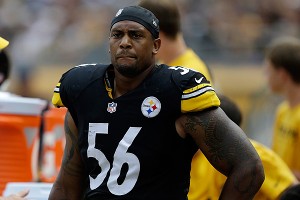 AP Photo/Gene J. PuskarThe Steelers need linebacker LaMarr Woodley to get back to being a feared pass-rusher.
Woodley hasn't been the same since suffering a serious hamstring injury midway through the 2011 season.
The seventh-year veteran recorded the Steelers' only sack in a season-opening loss to the Tennessee Titans, and linebackers coach Keith Butler likes something else about Woodley when he looks at the bigger picture.
"LaMarr is probably in as good a shape as he has been since I've been here," said Butler, who arrived in Pittsburgh long before Woodley.
"He looks like he is almost 265, but I know he isn't," Butler said with a laugh. "But he's not far from it. This is as close as he's been in awhile."
Woodley is listed in the Steelers' media guide at 265 pounds. But those weights are nothing if not dated as they rarely change following a player's arrival in Pittsburgh.
The 6-2 Woodley has probably played closer to 285 than 265 in recent seasons. His weight became an issue in the offseason when an anonymous teammate ripped his work ethic in the Pittsburgh Post-Gazette.
The withering criticism was more of a surprise since it came from inside a locker room where players often describe their solidarity as a brotherhood.
It nonetheless shed additional light on the fact that Woodley registered just four sacks in 2012, his lowest total since his rookie season, and missed three games because of hamstring and ankle injuries.
Butler said the high-ankle sprain that Woodley suffered in the 10
th
game contributed most to what turned out to be a lost season for one of the highest-paid players in franchise history. That dreaded sprain happened a month after Woodley returned from a hamstring injury.
"It wasn't something that you could say 'OK, LaMarr's fat butt was out of shape.' That wasn't necessarily the case when he did his ankle," Butler said in defense of Woodley. "That (injury) has nothing to do with his will or the type of condition he's in.
"The biggest thing is for him to try and stay healthy, and that's what we're going to do with those outside linebackers and I think we'll be OK."
The Steelers will spell Woodley at left outside linebacker with
Jason Worilds
in an attempt to keep Woodley fresh and healthy for the entire season.
That doesn't mean they have lowered expectations for Woodley, whose 52 sacks in his first six seasons are the most of any player in franchise history since sacks became an official statistic in 1982.
Butler has talked to Woodley about how the fast start to his career -- as well as the six-year, $61.5 million contract he signed in 2011 -- has raised the bar for him.
"You see countless number of players on the waiver wire that's had great contracts that you're saying, 'What are those guys doing on the waiver wire?' The reason they're on the waiver wire is their productivity hasn't matched what they're making," Butler said. "And that's just a fact of life in the league. I wasn't trying to challenge him. I was trying to reiterate those facts, but he knew them before I told him. He knows."
September, 15, 2013
9/15/13
1:50
PM ET
PITTSBURGH --
Jarvis Jones
will make his first career start Monday night, and Steelers linebackers coach Keith Butler may be just as excited about that as the team's first-round pick in the 2013 NFL draft is.
"We just want to see this young guy, and we think he's going to be productive," Butler said. "The more he plays the better off he's going to be and so we're going to try to get some improvement out of him. At the same time, Jason [Worilds] played well for us last week and hopefully he'll continue to play well."
Worilds giving way to Jones at right outside linebacker isn't an indictment of the former as much it is as an endorsement of the latter.
Indeed, the Steelers will continue to use a three-man rotation at outside linebacker so they can also keep
LaMarr Woodley
fresh. But Jones, barring injury, will play the majority of the snaps at right outside linebacker against the Bengals.
"I'm ready for it," the former Georgia star said. "I'm going to take full advantage of it and just try to make it count. It's all about staying focused and prepared."
Jones has done well enough in both areas to ascend to the starting lineup -- something that rookies rarely do so early in their career while playing in Dick LeBeau's complex defense.
And he has consistently made an impact when he has been on the field, whether in preseason games or last Sunday when both tackles that Jones registered went for losses.
The first one came in the second quarter when Jones blew up Titans running back
Chris Johnson
and dropped him for a 2-yard loss. That kind of play could be a preview of things to come from the player whom the Steelers drafted as
James Harrison
's successor at right outside linebacker.
Jones spent part of his offseason working out with cornerback
Ike Taylor
at Tom Shaw Performance Camp in Orlando, Fla., and Butler said, "He's in real good shape; better than I thought he would be."
What has Butler really excited about Jones is how much better the latter will be once he gets stronger. Jones is listed at 6-foot-2, 245 pounds, and his frame can clearly handle more bulk without compromising his speed.
"He's a big, tall, long basketball-looking type of guy, and I told him he needs to start looking like a football player instead of a basketball player," Butler said. "He will. He's a great kid. He's confident but humble, and that's a great combination in my opinion."