Pittsburgh Steelers:

Kelvin Benjamin
February, 24, 2014
Feb 24
8:00
AM ET
PITTSBURGH --
Sammy Watkins
solidified his standing as the top wide receiver in the draft on Sunday by running an official 40-yard dash time of 4.43 seconds at the NFL scouting combine.
The Clemson standout is expected to be gone well before the 15th overall pick of the draft.
Evans
The question for the Steelers is whether or not they will have an opportunity to take Texas A&M wide receiver
Mike Evans
with their first-round pick.
Evans has had an impressive combine, though, we don't know how he has performed behind doors in team interviews or if he has any medical issues that might concern the Steelers. Based on everything else, Evans appears to have separated himself from the wide receivers who are jockeying for position behind the transcendent Watkins.
At least for now.
Evans ran an official time of 4.53 seconds in the 40-yard dash, showing impressive speed for a player who measured in at 6-5, 231 pounds in Indianapolis and also has the longest arms of any wide receiver at the combine.
Evans' 40-yard dash time could push him up draft boards and out of the range of the Steelers, who appear intent on adding another dimension to a wide receiving corps that lacks an established big target.
Speed has been the biggest question with Evans, and he opened eyes with what he posted in the 40-yard dash.
To put his time into perspective consider that the 6-5, 240-pound
Kelvin Benjamin
ran the 40-yard dash in 4.61 seconds, almost a full second slower than Evans.
Evans and Benjamin are probably the top two targets for the Steelers if they use their first-round pick on a tall wide receiver, and there are a couple of things are worth nothing.
The 40-yard dash is just one aspect of the combine, and the combine is only part of what goes into the final grade that the Steelers will assign to prospects prior to the draft.
The draft isn't until May and there are still pro days for the Steelers to attend and homework to do on the prospects that they do like after the combine. In other words, it is way too early to read too much into a 40-yard dash time, though it happens every year or with other physical tests that are conducted at the combine.
What doesn't help the Steelers if they covet Evans: he was considered a high first-round pick before the combine.
Johnny Manziel
's favorite target has the size and length that sets him apart from most of the wide receivers in the draft and he was highly productive in the uber-competitive SEC. The combine has confirmed that he has the speed to thrive at the next level, though it's one thing to run fast in shorts and often quite another to play fast in pads.
It will be interesting to see how much Evans has helped himself in the eyes of draft gurus such as ESPN's Mel Kiper Jr. and Todd McShay when they review the combine.
One thing that appears certain from his time in Indianapolis: Evans did nothing to hurt himself, and he possibly put himself out of reach for the Steelers.
February, 20, 2014
Feb 20
10:00
AM ET
With the NFL scouting combine starting today, we review positions of need and who the Steelers might be looking at during the combine at those positions.
Position of need: Wide receiver
Unrestricted free agent
Emmanuel Sanders
is likely to receive an offer that the Steelers are unwilling to match and sign elsewhere. Even if
Markus Wheaton
is ready to step into the starting lineup after playing sparingly as a rookie and the Steelers re-sign No. 3 wide receiver
Jerricho Cotchery
, they could still find room for a wide receiver, particularly one who is bigger than the ones they have on their roster and are projected to play regularly in 2014. The Steelers would make no bigger splash with the 15th overall pick than if they selected a tall wide receiver, something quarterback
Ben Roethlisberger
has long coveted.
Three players the Steelers might be targeting
Kelvin Benjamin, Florida State:
Played just two seasons for the Seminoles but exploded onto the scene in 2013, catching 54 passes for 1,011 yards and an ACC-best 15 touchdown receptions. Benjamin may be the most intriguing player among the draft-eligible wide receivers because of his blend of size and athleticism and his upside, which may be the highest among the wideouts. ESPN draft analyst Mel Kiper Jr. has Benjamin just eighth in his rankings of the top 10 wide receivers in the draft but no player could move up more based on what he does in Indianapolis. It will be interesting to see what his measurements are -- Benjamin is listed at 6-foot-4 7/8, 233 pounds -- as well as what he runs in the 40-yard dash. Benjamin doesn't lack the polish of other top wide receivers in the draft, which might make picking him at No. 15 overall risky. But if the Steelers don't get him in the first round they are unlikely to get another crack at Benjamin.
Mike Evans, Texas A&M:
Johnny Manziel
's primary target in college has already been linked to the Steelers by several draft analysts, and he may be the most attractive tall wide receiver in the draft. Evans, who is listed at 6-foot-4 and 220 pounds, had two highly productive seasons at Texas A&M before declaring for the draft, and he is second on Kiper's rankings for wide receivers. Here is what Kiper wrote about Evans earlier this week: "I had a friend in one front office tell me he feels Evans has the best ball skills he's seen in 20 years. I won't go that far, but If Evans shows off mid-4.4 speed, we'll have teams debating the top wide receiver in this draft between him and [Sammy] Watkins." Like Benjamin, there are questions about Evans' speed, but no receiver in the draft is better in jump-ball situations or plays bigger than Evans, who had 69 catches for 1,394 yards and 12 touchdowns last season.
Allen Robinson, Penn State:
It took him just two seasons to etch his name all over the Nittany Lions' record book for wide receivers, obliterating marks held by
O.J. McDuffie
and
Bobby Engram
, each of whom had lengthy and productive NFL careers. The 6-foot-3, 210-pounder has good size and he uses the basketball skills that made him a Division I prospect in high school to make contested catches in traffic. Robinson is not among Kiper's top 10 wide receivers but that is a reflection of the depth at the position more than anything. The two-time Big Ten wide receiver of the year is a likely second-round pick though Robinson still has time to push his way into the first round, especially if he runs well as the combine. He could be an option for the Steelers in the second round if they don't pick a wide receiver at No. 15 overall and if Robinson, who caught 97 passes for 1,432 yards and six touchdowns last season, is still on the board.
February, 19, 2014
Feb 19
3:15
PM ET
PITTSBURGH -- Another public affirmation of the Steelers' commitment to
Ben Roethlisberger
provided more proof that the team plans to go all-in on its franchise quarterback.
Kevin Colbert's comments Wednesday about the organization needing to do its part to help Roethlisberger dovetail with recent ones the general manager made about the Steelers having to surround Big Ben with as much talent as possible to maximize his remaining years.
And they again point to the Steelers fetching the tall wide receiver Roethlisberger has long coveted or a game-breaking one early in the 2014 NFL draft.
The offense around Roethlisberger is mostly set, but it could use another wide receiver, especially if
Emmanuel Sanders
, who started opposite Pro Bowler
Antonio Brown
last season, signs elsewhere as an unrestricted free agent.
A draft class that is deep, in general, looks particularly strong at wide receiver. And the Steelers, picking at No. 15 overall, could have their choice of wide receivers after Clemson's
Sammy Watkins
-- from rangy ones such as Texas A&M's
Mike Evans
and Florida State's
Kelvin Benjamin
-- to smaller but polished ones such as Southern Cal's
Marqise Lee
.
The Steelers theoretically could help Roethlisberger by taking a left tackle with their first pick. But it's not a glaring need after the way
Kelvin Beachum
played in 11 starts last season, and the Steelers have invested two first-round picks and two second-round picks since 2010 on their offensive line.
It's time to let new offensive coach
Mike Munchak
, one of the best hires of the offseason, to get the most out of those players, particularly tackles
Mike Adams
and
Marcus Gilbert
.
Any number of positions on defense also could be addressed with the first-round pick, and even if the Steelers target a pass-catcher at No. 15, they might find North Carolina's
Eric Ebron
too tempting to pass on if he is still available.
The NFL scouting combine, which starts Thursday, should provide more clarity for the Steelers. They will get an extended look at the underclassmen as a group and will presumably fill in more blanks as they start to assemble their draft board.
It is too early to tell where the Steelers will find help for Roethlisberger in this draft. But it has become clear that giving him the best chance of succeeding in the coming seasons has become as much of a priority for the Steelers as addressing a defense that is in need of reinforcements.
February, 14, 2014
Feb 14
3:30
PM ET
PITTSBURGH -- On the same day Gerry Dulac of the Pittsburgh Post-Gazette reported that the Steelers have told
Ben Roethlisberger
they plan to draft a tall wide receiver early, general manager Kevin Colbert offered this nugget in regard to the franchise quarterback.
"What we have to do is surround [Roethlisberger] with the best talent," Colbert said on Wednesday, "and he has to play to that level that he's capable of playing if we do get that talent around him."
Colbert's response was parsed and part of a larger answer to his acknowledgement that Big Ben isn't getting any younger. But it signaled that the Steelers plan to go all-in with Roethlisberger, who turns 32 next month, and give him every chance of getting the organization back to the Super Bowl.
That, taken with what Dulac reported during an online chat, points to the Steelers providing Roethlisberger with the tall wide receiver he has long coveted – and hasn't had since his rookie season in 2004.
Think about it.
The offense, unlike a defense in transition, is already largely in place for 2014.
Pro Bowler
Antonio Brown
returns after authoring the greatest season by a Steelers wide receiver.
Le'Veon Bell
has established himself as a feature back with plenty of upside after a robust rookie season. Tight end
Heath Miller
, solid in 2013, will be even better next season when he isn't coming back from reconstructive knee surgery.
Colbert could have been referring to the offensive line when talking about the need to surround Roethlisberger with top talent. But the line returns intact after making significant improvement in the second half of last season, and it will get better under the watchful eye of new offensive line coach Mike Munchak.
Kelvin Beachum
may not be a prototypical left tackle but he proved to be more than capable there after supplanting
Mike Adams
following the fourth game of the season. And the second-year man provided enough of a sample size for the Steelers to think he can hold his own protecting Roethlisberger's blind side while also continuing to get better.
The obvious missing piece on offense is a rangy wide receiver, and the Steelers may not get a better chance to provide Roethlisberger with one while he is still in his prime.
The draft that Colbert said is as deep as any he has seen in 30 years is particularly flush with wide receivers. There are tall ones such as Texas A&M's
Mike Evans
and Florida State's
Kelvin Benjamin
-- each is listed as at least 6-foot-5 -- and there also appears to be a handful in the 6-2, 6-3 range who could be early-round selections.
Whether that means the Steelers draft a tall wide receiver in the first or second round remains to be seen. Colbert insists that the Steelers stick to their draft board and that talent always trumps need when they are making their picks.
The Steelers can't know how things will shake out during the pre-draft evaluations that shift into another gear next week at the NFL combine.
Or how the actual draft in May plays out.
But if the Steelers are intent on taking advantage of every snap that Roethlisberger has left at wide receiver at No. 15 overall is very much in play despite the more pressing needs they have on defense.
February, 1, 2014
Feb 1
2:00
PM ET
Here is the latest edition of the Steelers' mailbag. Any questions that I received but did not answer here are at the top of the list for next week. Great questions again, and please keep them coming. Send to @ScottBrown_ESPN with hashtag #steelersmail.


January, 25, 2014
Jan 25
3:00
PM ET
Here is the latest
Pittsburgh Steelers
mailbag and thank you for all of the great questions. Those who sent questions that weren't answered they are at the top of the list for next week's mailbag. Please keep the questions coming and send them via Twitter to
@ScottBrown_ESPN
with the
#steelersmail
.
And away we go:
January, 22, 2014
Jan 22
4:00
PM ET
PITTSBURGH -- This is the third in a series in which I will examine every position relative to the 2013 season -- and take a look ahead.
WIDE RECEIVERS
2014 free agents
:
Emmanuel Sanders
,
Jerricho Cotchery
and
Plaxico Burress
.
Brown
The good
:
Antonio Brown
answered any questions about whether the Steelers had a No. 1 wide receiver after
Mike Wallace
left for Miami with an exclamation point. Brown put together the greatest season by a Steelers receiver by catching 110 passes for 1,499 yards and eight touchdowns. The Steelers don't have to worry about Brown getting complacent as he is a tireless worker who hasn't forgotten that 194 players were taken ahead of him in the 2010 NFL draft. Cotchery made the most of his first extensive playing time with the Steelers, catching a career-high 10 touchdown passes and showing that he can still play 10 seasons into his NFL career.
The bad
: Sanders put up decent numbers in his first season as a starter but he was also inconsistent. The Steelers need more reliability out of their No. 2 wide receiver since teams will have a whole offseason to game plan for Brown. The Steelers got almost nothing out of rookie
Markus Wheaton
as a finger injury stunted the third-round draft pick's development.
Derek Moye
has intriguing size but he hasn't shown enough for the Steelers to count on him emerging as the tall wide receiver that the offense is missing.
The money
(2014 salary-cap numbers): The Steelers only have serious money tied up in Brown, whose cap hit will be $8.47 million. One of the biggest questions of the offseason is what they are willing to pay Sanders to bring back the fourth-year veteran in 2014. The Steelers matched the one-year, $2.5 million contract that the Patriots signed Sanders to last year as a restricted free agent. They are likely to let the market set Sanders' price before deciding if they want to make a serious run at re-signing him. Cotchery, who made $1.5 million in 2013, has said he wants to stay in Pittsburgh and his price shouldn't be too prohibitive for the Steelers to bring him back.
Draft priority:
Moderate to high depending on what happens with Sanders. If he leaves the Steelers could take a wide receiver with one of their top picks and possibly their first-round selection. This appears to be a deep draft for wide receiver and the Steelers may be tempted to take a tall one with the 15
th
overall pick.Texas A&M's
Mike Evans
and Florida State's
Kelvin Benjamin
are among the wide receivers who fit that profile and are projected first-round picks.
January, 22, 2014
Jan 22
12:00
PM ET
The Steelers have 21 unrestricted free agents and team president Art Rooney II dropped a pretty strong hint last week about which one tops their list as far as trying to re-sign. Rooney cited outside linebacker
Jason Worilds
when asked during a conference call with season-ticket holders about the Steelers' top priorities regarding their own free agents.

Worilds came into his own in 2013 after underachieving through his first three seasons. He led the Steelers with eight sacks and dominated at times after settling in at left outside linebacker for the injured
LaMarr Woodley
. The 2010 second-round pick is in now in a position to cash in, and he has a lot of leverage with the Steelers given Woodley's uncertain future in Pittsburgh. ESPN's Mike Sando lists Worilds
No. 22 on his list of "must-sign" free agents

and second among 3-4 outside linebackers.
Look for the Steelers to make every effort to re-sign Worilds before he hits the open market on March 11 and even consider using one of the tags that would prevent him from becoming an unrestricted free agent.
Reinforcements for a defense that slipped from first in 2012 to No. 13 in yards allowed will come more from the draft than free agency. The Steelers have already been linked with Notre Dame's
Louis Nix II
, the best nose tackle in the draft, and they could also strongly consider a safety at No. 15 overall, such as Alabama's
Ha Ha Clinton-Dix
.
That is not to say the Steelers won't use their first pick in May on an offensive tackle or a tall wide receiver such as Texas A&M's
Mike Evans
or Florida State's
Kelvin Benjamin
.
January, 15, 2014
Jan 15
3:00
PM ET
Space-eating defensive tackle
Louis Nix III
-- a potential heir to
Casey Hampton
-- has again been linked to the Steelers.
ESPN NFL
draft analyst Mel Kiper Jr. has the Steelers taking Nix

with the 15
th
overall pick in the 2014 draft even though they also have a number of other needs on defense.

Nix went to the Steelers in Kiper's mock draft over players such as Alabama safety
Ha Ha Clinton-Dix
, Michigan State cornerback
Darqueze Dennard
and Florida State wide receiver
Kelvin Benjamin
, who would give quarterback
Ben Roethlisberger
the big target he has long coveted.
Kiper joins ESPN NFL draft analyst Todd McShay in sending Nix to the Steelers in his first mock draft.
Drafting a nose tackle for a defense that slipped dramatically against the run a year after the Steelers did not re-sign Hampton certainly won't get any arguments from me.
But the draft is still more than three months away, and who knows how much Nix's stock may rise or fall during the gauntlet that lies ahead for him and other top prospects?
Pittsburgh general manager Kevin Colbert has often said that a prospect's final grade is based mostly on what he put on tape in college. That is what may give the Steelers pause when it comes to Nix.
He did not consistently dominate at Notre Dame, and when trying to assess whether Nix can be the long-term successor to Hampton, I can't help but recall what former Texas coach Mack Brown once told me about the latter.
Hampton, he said, was so disruptive as a defensive tackle that the Longhorns sometimes could not even scrimmage with him on the field. Did Nix come close to having that kind of impact at Notre Dame?
That is one of the questions the Steelers will try to answer as they scrutinize Nix.
January, 11, 2014
Jan 11
1:00
PM ET
This is the first Steelers' mailbag and it is someting I hope to make a staple both during the season and in the offseason. Please send any questions for the mailbag to
@ScottBrown_ESPN
with the hashtag #SteelersMail. I will try to answer all of the questions that are within reason.
And away we go:
January, 8, 2014
Jan 8
8:00
AM ET
PITTSBURGH -- What could be
Kelvin Benjamin
's final catch as a college player should leave a lasting impression on NFL teams that may soon start scouting him in earnest.
Benjamin secured Florida State's third national championship when he caught a 2-yard touchdown pass in the waning seconds of a wild BCS National Championship on Monday. What stood about the grab, which gave Florida State a 34-31 win over Auburn, is that Tigers cornerback
Chris Davis
had no chance on the play even though he had pretty good coverage.
[+] Enlarge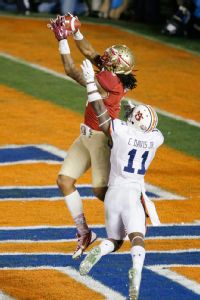 AP Photo/Gregory BullFlorida State's Kelvin Benjamin caught the winning touchdown in the BCS title game.
Florida State quarterback Jameis Winston threw the ball high and a leaping Benjamin made an easy grab for the game-winning score.
That play encapsulates why teams will be salivating over the 6-5, 234-pound Benjamin whenever he leaves Florida State for the NFL.
Benjamin's size and athleticism allowed him to blossom this season as a sophomore as well as score the final touchdown of the college football season. Benjamin really came into his own this season, and in Florida State's final three games he caught 18 passes for 385 yards and six touchdowns.
Benjamin is eligible for the 2014 NFL draft since he redshirted his first year at Florida State. There is a chance he could return to school and chase a second consecutive national championship with Winston and a team that will still be loaded with talent no matter how many players leave for the NFL.
If Benjamin does leave early for the draft he will certainly be among the prospects prominent on the Steelers' radar. A tall wide receiver is perhaps the one thing missing on offense, and Benjamin fits the profile of the target quarterback
Ben Roethlisberger
has long coveted.
If Benjamin declares for the draft he is likely to be the second wide receiver taken behind Clemson's
Sammy Watkins
. And he could still be available when the Steelers pick 15th overall.
I'm not ready to say picking him is a no-brainer as is the case with Watkins. And I still think that the Steelers should use their first pick on defense.
But a wide receiver such as Watkins or Benjamin -- or a left tackle that the Steelers deem as a player who can protect the quarterback's blind side for the next decade -- should merit strong consideration when it comes to that first pick.
And it will be very interesting to see what the Steelers do if Watkins is gone when they pick in the first round but Benjamin is still there.