Pittsburgh Steelers:

Kevin Huber
January, 14, 2014
Jan 14
2:45
PM ET
No. 4
The play:
Antonio Brown
returned a punt 67 yards for a touchdown late in the first quarter against the Bengals on Dec. 15.
The situation:
The Steelers had already taken advantage of a Bengals' special-teams gaffe for a touchdown when Brown broke the kind of return that had just eluded him several times earlier in the season. Brown took a hard step to the left before racing right up the middle on the way to his second career punt return for a touchdown against the Bengals.
Terence Garvin
punctuated the play by leveling
Kevin Huber
with a block that left the Bengals punter with a broken jaw and ended his season. The return staked the Steelers to a 21-0 lead and they never looked back.
Why it mattered:
The Steelers backed up their collective vow that they wouldn't mail in the rest of the season even with the playoffs seemingly out of their reach at 5-8. The Bengals, jockeying for playoff positioning, had everything to play for on a cold night with plenty of empty seats at Heinz Field. But it was the Steelers who seized control of the game early by playing the more inspired ball of the two AFC North rivals. They cruised to a 30-20 victory and won their next two games to finish 8-8 and just outside of the AFC playoffs.
December, 18, 2013
12/18/13
2:00
PM ET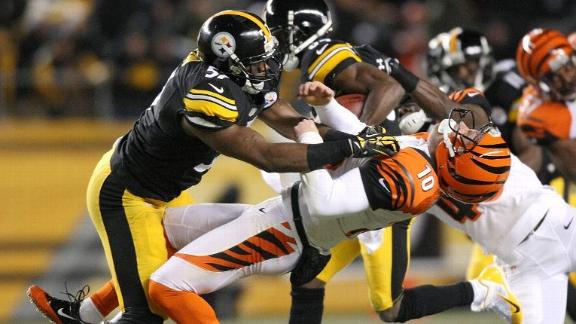 PITTSBURGH --
Terence Garvin
plans on reaching out to
Kevin Huber
, the Bengals punter he left with a broken jaw and cracked vertebrae following a crushing –
and illegal
– block in the Steelers' 30-20 win this past Sunday night.
"I'll probably say something to him, let him know I'm praying for him and hope he gets healthy," Garvin said Wednesday.
Garvin expects to get fined by the NFL – the rookie linebacker has not heard from the league yet – for the block that helped spring
Antonio Brown
on a 67-yard punt return for a touchdown but also struck Huber in the chin.
Specialists are deemed defenseless by the NFL, and Dean Blandino, the league's head of officials, told NFL Network on Tuesday night that Garvin should have been flagged for unnecessary roughness.
Garvin said there was no intent to hurt Huber, whom the Bengals placed on injured reserve on Tuesday.
"I fell down on the play and I got up and saw A.B. coming towards me so I was like, 'Oh, I've got to try and help him break on this play,'" Garvin said. "I wasn't out there trying to be vicious. When you're in the game you're really just trying to make a play and help your team out."
Mike Tomlin said Garvin carried out his assignment on the play. But the Steelers coach also acknowledged "the nature in which the block unfolded is not what we're looking for. It's not what we coach. It's not what he wants but that play hit pretty quickly."
Steelers punter
Mat McBriar
said he hasn't taken a hit like the one Huber absorbed.
"The league's done a good job protecting specialists," the 10
th
-year veteran said. "I didn't know who it was initially and once I found out it was Kevin it was, 'Gee whiz, I hope he's OK.' He seems like a really nice guy."
Garvin made the Steelers as an undrafted free agent because of his special-teams play. He said the fine he receives from the NFL won't curb his aggressiveness on the field.
"I'm going to try to play the way I grew up playing," Garvin said. "You've got to think about things before you do them but you've still got to fly around and make plays the best way you can."
December, 16, 2013
12/16/13
4:45
PM ET
PITTSBURGH -- After watching countless replays of
Terence Garvin
's crushing block on Bengals punter
Kevin Huber
, I don't think there's any doubt that the Steelers linebacker will be fined by the NFL.
That is not to say there isn't some gray on the play in which
Antonio Brown
scored on a 67-yard punt return.
Garvin lined up Huber in the chest before hitting him and appeared to make a good, if ferocious, block. But when Garvin finished his block the crown of his helmet hit Huber's chin, leaving the latter with a
broken jaw and a serious neck injury
, according to ESPN NFL Insider Chris Mortensen.
Punters are not protected from hits if they try to make a tackle as Huber clearly did. But they are afforded the same protection as other players who are deemed defenseless and cannot be hit above the shoulders.
It is close as to whether Garvin violated that rule or simply made a textbook block on a player who probably should have been more aware of where he was on the field -- or what position he put himself in when he gave chase to Brown.
But a league that has made improving player safety a top priority is going to err on the side of caution, which is why Garvin should expect some mail from the NFL this week.
December, 16, 2013
12/16/13
1:15
PM ET
PITTSBURGH -- High marks all around after the Steelers' most impressive win of the season, given the opponent and the circumstances.
Quarterback:
Ben Roethlisberger
wasn't spectacular, but he didn't need to be after the Steelers built an early three-touchdown lead. Roethlisberger completed 20 of 25 passes for 191 yards and a touchdown, and finished with a passer rating of 95.2. The only marks against him were the interception he threw on a deep ball that became caught up in the wind, and the Steelers' inability to score touchdowns when they were twice inside the Bengals' 10-yard line.
Grade: B+
Running backs:
Le'Veon Bell
scored the first touchdown of the game, but he averaged just 2.4 yards on 22 carries. Despite his limited production on the ground, Bell still flashes the kind of ability to make you think he is going to be a very good running back in this league, such as when he planted Bengals defensive end
Michael Johnson
with a wicked stiff-arm. The Steelers got some nice production out of
Jonathan Dwyer
and
Felix Jones
.
Grade: B-
Brown
Receivers:
They caught just about everything that came their way, and weren't asked to do too much after the Steelers seized control of the game early. The receivers made a couple of key catches after the Bengals had crept back into the game.
Antonio Brown
again found the end zone, and he has caught six touchdown passes in the past seven games.
Grade: B
Offensive line:
The unit didn't open up a lot of holes for Bell, but it kept Roethlisberger clean. The Bengals managed just one sack and two quarterback pressures, and Roethlisberger has been dropped just five times in the Steelers' past five games. There were a couple of in-game injuries, but nothing that caused the kind of shuffling that has happened all too often this season. The line did not commit a holding penalty despite playing against a physical defense.
Grade: B+
Woods
Defensive line:
It might have played its best game of the season despite the absence of two starters.
Ziggy Hood
and
Al Woods
shined while filling in for
Brett Keisel
and
Steve McLendon
, respectively, and the Bengals averaged just 2.6 yards per carry. Cincinnati's longest run was 9 yards, and that came off a read-option by quarterback
Andy Dalton
. Hood recorded the Steelers' only sack of the game.
Grade: A
Linebackers:
Vince Williams
made a textbook read and tackle early in the game, stuffing
BenJarvus Green-Ellis
for no gain on third-and-1. That led to the muffed punt attempt that set up the first touchdown of the game. The linebackers were stout against the run all night, though they could have put more pressure on Dalton.
Grade: B
Secondary:
A.J. Green
caught nine passes for 93 yards, but the Steelers were more than happy to keep the Pro Bowler in front of them after jumping out to a 21-0 lead. Green averaged just 5.2 receiving yards per target, and the Steelers excelled at tackling after the catch. They did not allow a catch of 20 yards or longer, and their two leading tacklers, cornerbacks
Cortez Allen
and
Ike Taylor
, combined for 14 stops.
Grade: A-
Special teams:
They received a couple of gifts -- punter
Kevin Huber
dropping a snap and
Cedric Peerman
getting penalized running with the ball after calling for a fair catch on a kickoff that negated a lengthy return. Brown broke free for his first punt return for a touchdown since 2011, and
Shaun Suisham
banged home all three of his field-goal attempts despite the swirling winds.
Grade: B+
Coaching:
So much for the Steelers mailing it in with little to play for in a stadium that had its share of empty seats. They dominated the game for three quarters, then made the necessary stops and first downs to blunt the Bengals' fourth-quarter rally. All three units played well off one another, and the Steelers simply wanted the game more than a playoff-bound team that had everything to play for Sunday night.
Grade: A
December, 16, 2013
12/16/13
11:15
AM ET
A review of four hot issues from the
Pittsburgh Steelers
'
30-20 win
against the
Cincinnati Bengals
:
[+] Enlarge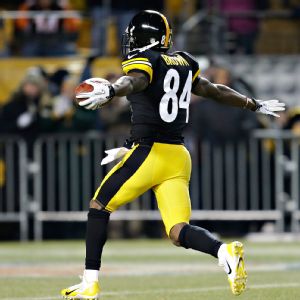 AP Photo/Gene J. PuskarThrough 14 games this season, Antonio Brown is averaging 13.8 yards per reception for the Steelers.
Roethlisberger, Brown shine again:
And then there were two. The Steelers' MVP award, which the players will vote on shortly, is down to quarterback
Ben Roethlisberger
and receiver
Antonio Brown
. Roethlisberger continues to have the finest statistical season of his career, already establishing a new Steelers record for completions in a season (340). Roethlisberger, who completed 80 percent of his passes against the Bengals, needs 414 passing yards in the final two games to break the Steelers' single-season record, which he holds. Brown, meanwhile, became the first player in the NFL since 2001 with at least five catches and 50 receiving yards in each of his team's first 14 games, according to ESPN Stats & Information. The fourth-year veteran also joined
Hines Ward
as the only players in Steelers history to catch at least 95 passes in a season. Flip a coin between Roethlisberger and Brown, who won the Steelers' MVP award in 2011. It is that close between the two players.
Was it legal?
Brown gave the Steelers a commanding three-touchdown lead with his 67-yard punt return near the end of the first quarter, and a devastating block by rookie linebacker
Terence Garvin
helped spring him. Garvin demolished
Kevin Huber
with a block that left the Bengals punter with a fractured jaw, and the NFL will determine whether the blindside hit violated the rule on crack-back blocks that it instituted in 2009, a season after Ward broke Bengals linebacker
Keith Rivers
' jaw with a block that happened behind the play. Garvin did not get flagged on the play, and he said the block was a legal one. "I thought I hit him pretty square, right in his chest. Nobody said anything to me about it," Garvin said. "I saw AB about to break and I really just wanted to finish up and help him get all the way out."
A different look:
Garvin, who made the Steelers as an undrafted free agent, has worked his way into the Steelers' nickel defense. Garvin, who played safety at West Virginia, replaced
Vince Williams
when the Steelers went to their nickel package against the Bengals. The Steelers used the nickel extensively against Cincinnati, allowing
Troy Polamalu
to play safety more than he has in recent games. "My shoulders are pretty fresh," Polamalu said after he recorded five tackles and forced a fumble. The Steelers sustained a couple of injuries on defense, most notable a calf injury that sidelined outside linebacker
LaMarr Woodley
early in the game. Woodley missed three games earlier this season with a calf injury. The seventh-year veteran hurt his other calf against the Bengals. Cornerback
Ike Taylor
sustained a rib injury, but he said after the game that he is fine.
Big Ben blitzes Bengals:
The offensive line allowed just one sack, and gave Roethlisberger enough time to pick apart the Bengals when they didn't blitz him. Roethlisberger completed 17 of 20 passes when the Bengals rushed four or fewer players, according to ESPN Stats & Information.
Andy Dalton
, by comparison, completed just 14 of 28 passes when the Steelers didn't blitz the Bengals quarterback. The one thing that didn't sit well with Roethlisberger after he improved to 14-6 lifetime against the Bengals: The Steelers had to settle for three
Shaun Suisham
field goals, including twice after they had driven inside Cincinnati's 10-yard line. "I'm disappointed because I thought we could have been better in the red zone," Roethlisberger said. "We could have put seven points on the board a couple of times."