Pittsburgh Steelers:

Mat McBriar
February, 15, 2014
Feb 15
12:00
PM ET
Here is the latest Steelers' mailbag. Questions I received but didn't answer top the list for next week's mailbag. I appreciate the great questions and, as always, keep them coming. And away we go ...


January, 3, 2014
Jan 3
2:45
PM ET
PITTSBURGH -- The
Pittsburgh Steelers
have signed punter Brad Wing and long-snapper Bryce Davis to reserve/future contracts.
Wing competed for the punting job in Philadelphia last season before getting released Aug. 25. The Australian native starred at LSU, earned 2011 first-team All-American honors, and was a semifinalist for the Ray Guy Award that season.
Wing is best known for the booming punts that allowed LSU to beat Alabama, 9-6, in a showdown between the nation's two top-ranked teams in 2011.
He joins fellow Aussie
Mat McBriar
as the only punters under contract for the Steelers, and McBriar will become an unrestricted free agent in March. Long-snapper
Greg Warren
, who just completed his ninth season for the Steelers, is also set to become an unrestricted free agent.
Davis spent parts of the 2012 season on the Bengals' practice squad after signing with Cincinnati as an undrafted free agent out of Central Oklahoma.
The Bengals released Davis on Aug. 31.
December, 22, 2013
12/22/13
11:05
PM ET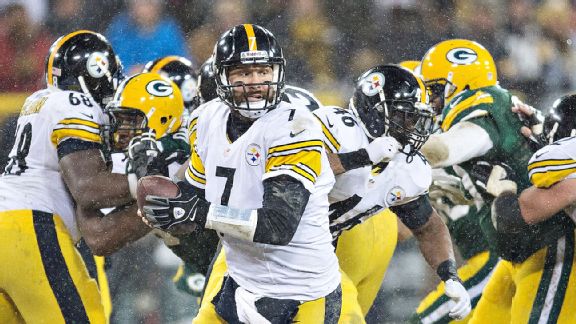 Wesley Hitt/Getty ImagesBen Roethlisberger and the Steelers survived a wild second half on the road against Green Bay.
GREEN BAY, Wis. -- A punter with a distinct Aussie accent completed arguably the most important pass of the game.
A defensive end who hadn't played more than 10 snaps since the middle of November produced a sack and recovered a fumble that led to the late touchdown that set up a wild finish at snowy Lambeau Field.
A defense that might have taken the field with only some light clean-up work had coach Mike Tomlin played the percentages needed to make a last-second goal-line stand to preserve the Steelers'
38-31 win
against the Packers on Sunday, ensuring Pittsburgh's playoff hopes survived another day.
The victory came in spite of the Steelers. But the improbable nature of the win seemed as apropos as the snow that coated the field at legendary Lambeau three days before Christmas.
The Steelers' alter ego has tried to sabotage this season countless times already -- including several times against the Packers -- and yet this team still ticks.
The Steelers are 7-8, and they will go into their final game of the season with a chance to make the playoffs. They still need a lot to happen, but the Steelers should be able to at least take care of their own business next Sunday -- and in less dramatic fashion than what transpired at Lambeau.
They play the 4-11 Browns in a 1 p.m. ET game at Heinz Field, which suddenly will have many fewer empty seats than recently expected.
"There's a chance," defensive end
Brett Keisel
said with a smile. "And we're going to fight."
And that is the rub on the latest edition of the Steelers, who have shown a knack for responding when pushed to the brink.
And you thought the Steelers had no identity.
"I think tonight showed there's no quit in this team," quarterback
Ben Roethlisberger
said. "That's who we are."
Now let's talk about where they are with just one game left on the schedule.
"Still not going to talk about it, because we have to take care of our business," Roethlisberger said of the "P" word. "I don't even know what the scenario is, but I'm sure it's still pretty crazy."
It got a lot less crazy by the end of the afternoon games Sunday.
The Steelers got what they needed in wins from the Bills and Jets, and they can live with the Chargers beating the hapless Raiders.
They almost didn't hold up their end, squandering a double-digit fourth-quarter lead before scoring a late touchdown and then hanging on for dear life.
A compelling if not always cleanly played game -- the teams combined for 16 penalties -- could have turned following a bizarre sequence in the third quarter.
The Steelers' defense made an inspiring stand after
Le'Veon Bell
lost a fumble at Pittsburgh's 3-yard line.
Steve McLendon
blocked a short
Mason Crosby
field goal attempt, and
Ryan Clark
scooped up the loose ball.
Clark tried to lateral it to
William Gay
, but when the ball landed on the turf,
Ziggy Hood
swatted it out of bounds. Officials ruled that there had never been a change of possession, and they awarded the Packers the ball and a first down after an illegal batting call on Hood.
An irate Tomlin tried to challenge the call, which was made after a lengthy discussion among officials, but it was not reviewable. Tomlin seethed about the call even after the game.
"They screwed it up in my opinion," Tomlin said.
The Steelers nearly did the same after rebounding from that deflating swing with a pair of touchdowns.
They blew a 10-point lead before Keisel pounced on a loose ball that was a result of a
Troy Polamalu
strip-tackle with just less than two minutes left in the game.
The Packers delivered an early Christmas present when
Nick Perry
hopped offside before
Shaun Suisham
's 27-yard field goal attempt.
The Steelers had a first down at the 5-yard line with 1:35 left in the game. With the Packers having only one timeout remaining, Tomlin could have killed much of the clock and sent Suisham out for the equivalent of an extra point.
"I'm not into that," Tomlin said of having Roethlisberger take a knee twice after Bell had reached the 1-yard line. "Given an opportunity to score, we are going to score."
The score held up because rookie
Shamarko Thomas
chased down
Micah Hyde
after a 70-yard kickoff return, and the Steelers' defense had one more stand in it -- albeit barely.
The story of the game, at least from the Steelers' vantage point, could have been questionable coaching decisions and the sequence that gave the Packers that ball back after a blocked field goal.
Instead, the story was punter
Mat McBriar
throwing a 30-yard pass -- on his second read, no less -- after a perfectly called fake punt that served as a precursor to a wild third quarter.
It was Keisel, who still has trouble putting weight on his injured heel, making two of the biggest plays near the end of the game -- and near the end of his Steelers career.
It was about the improbable adding up to what seemed impossible a couple of weeks ago: the Steelers having a chance to play beyond Dec. 29 this season.
"You've got to give our whole team credit for continuing to fight," Keisel said, "for continuing to believe."
December, 9, 2013
12/09/13
11:12
AM ET
Defense and coaching receive low marks after the 34-28 loss to the Miami Dolphins that all but snuffs out the Pittsburgh Steelers' playoff hopes.
Roethlisberger
Quarterback:
Hard to put much blame on
Ben Roethlisberger
, even though he couldn't engineer a late scoring drive with the Steelers' season hanging in the balance. Roethlisberger threw for 349 yards and a trio of touchdowns and twice brought the Steelers back from second-half deficits. He lost a fumble that led to the Dolphins' first touchdown.
Grade: B+
Running backs:
The Steelers established the run early with
Le'Veon Bell
but got away from it in the back-and-forth second half. Bell rushed for 61 yards and averaged 4.1 yards per carry but had just five totes after halftime. One mark against the backs: they didn't have a run of 10 yards or longer.
Grade: C+
Brown
Receivers:
Antonio Brown
had another big game statistically but he was credited for 55 of his 137 receiving yards on the final play on which he almost scored a miracle touchdown after a series of laterals. There were some dropped passes, including a couple early in the game when the Steelers had a chance to build on a 7-0 lead.
Grade: C+
Offensive line:
The unit took a step back as it struggled to protect Roethlisbeger and also combined for five of the Steelers' nine penalties, including an illegal man downfield that wiped out what would have been a key 12-yard catch by
Jerricho Cotchery
with six minutes left in the game. One bright spot was
Mike Adams
, who played reasonably well at left tackle and was the only starting lineman who did not commit a penalty.
Grade: D
Defensive line:
End
Cameron Heyward
dominated the game in the first half and finished with a game-high 10 tackles. But the line has to assume a lot of responsibility for the Dolphins gashing the Steelers defense for 181 rushing yards and averaging an equally unacceptable 7.5 yards per carry. As good as Heyward was, he didn't get nearly enough help.
Grade: D+
Worilds
Linebackers:
Jason Worilds
had another big game as he recorded two more sacks and eight tackles, but the Steelers did not get enough pressure from the right side of their defense.
LaMarr Woodley
had a relatively quiet game and
Jarvis Jones
clearly needs to get bigger and stronger.
Lawrence Timmons
did not play one of his better games as he was not much of a factor:
Grade: C-
Secondary:
There were some good things, starting with
Troy Polamalu
's interception return for a touchdown that seemed to change the complexion of the game.
Cortez Allen
also did a nice job of locking down
Mike Wallace
as the latter caught just two passes for 19 yards. But the Steelers' tackling was atrocious, and the defensive backs were the biggest culprits in this area. A lot of changes are coming to this unit during the offseason:
Grade: D+
Special teams:
They were mostly nondescript as the Steelers got almost nothing out of their return game. The Steelers had a punt blocked near the end of the first half but the defense held and didn't allow any points off that miscue. The kick coverage teams were solid, and take away the block and
Mat McBriar
averaged almost 47 yards per punt.
Grade: C
Coaching:
The Steelers made a mess of their penultimate drive of the game as coach Mike Tomlin decided to go for it on fourth and 10 from the Steelers' 10-yard line and then had to use a timeout even though the clock was stopped. How could the coaches not have a play ready for that critical down? The Steelers also ran the ball just two times after they had taken a 28-24 lead in the fourth quarter, and a team that is supposedly committed to balance finished with 37 passes and 21 runs.
Grade: D
November, 11, 2013
11/11/13
11:45
AM ET
PITTSBURGH -- Marked improvement from the New England debacle.
Quarterback:
Ben Roethlisberger
wasn't flashy, but he didn't need to be in completing 18 of 30 passes for 204 yards and a touchdown. Roethlisberger threw a bad interception early in the game when Bills safety
Jairus Byrd
read him the whole way on a deep pass to
Markus Wheaton
. Byrd's interception set up a field goal that gave Buffalo its only lead of the game.
Grade: C+
Running backs:
The Steelers stayed committed to the run, and as a result they rushed for 136 yards.
Le'Veon Bell
averaged just 2.6 yards per carry, but he scored a touchdown. Reserves
Jonathan Dwyer
and
Felix Jones
combined for 54 yards on 10 carries.
Grade: B
Brown
Receivers:
Antonio Brown
continues to build a strong case for the Pro Bowl, catching six passes for 104 yards. Brown set a team record for most receptions (67) through the first nine games of a season, but he needs a little more help.
Emmanuel Sanders
totaled just 13 yards on his four catches, and tight end
Heath Miller
was a non-factor in the passing game.
Grade: B-
Offensive line:
The Steelers used tackle
Mike Adams
as an extra tight end early and often, and the line more than held its own against Buffalo's vaunted front. The Steelers' 136 rushing yards were their second-most this season, and they shut out Bills sack maestro Mario Willliams. Williams, who entered the game with 11 sacks, did not even record a tackle against the Steelers.
Grade: B
Defensive line:
The Bills couldn't establish the run, and it started up front for the Steelers. They controlled the line of scrimmage in holding the Bills to under 100 rushing yards and almost 50 below their season average. End
Cameron Heyward
, the third-year veteran who recorded a sack, has shined since becoming a starter.
Grade: A-
Linebackers:
Lawrence Timmons
owned the middle of the field as he registered eight tackles and delivered a handful of jarring hits, including one on a sack of Bills quarterback
EJ Manuel
. The Steelers still aren't getting enough pressure from their outside linebackers, though
Jarvis Jones
recorded his first career sack.
Grade: B+
Secondary:
The maligned unit bounced back in a big way after getting torched at New England. It allowed just two receptions of 10 yards or more, and the Steelers' defensive backs were solid in tackling, whether it was after a catch or in run support.
Ryan Clark
's interception set up a field goal.
Grade: A-
Special teams:
Take away a couple subpar
Mat McBriar
punts, and this group was nearly flawless. Brown broke a big punt return for the third game in a row and
Shaun Suisham
was perfect on three field goal attempts. Four of Suisham's six kickoffs went for touchbacks, though one also ended up out of bounds. The kick coverage teams were solid as usual.
Grade: A-
Coaching:
The Steelers were disciplined on defense, and they did not allow the Bills to run the ball. They stuck with the running game even though the offense got off to another slow start, and that commitment set up a second-quarter touchdown pass from Roethlisberger to
Jerricho Cotchery
. The one negative: the Steelers had to settle for field goals after Brown's punt return and Clark's interception gave the offense short fields.
Grade: A-
November, 10, 2013
11/10/13
4:05
PM ET
PITTSBURGH -- A few observations from the
Pittsburgh Steelers
'
23-10 victory
against the Buffalo Bills at Heinz Field:

What it means:
The Steelers kept their season from spiraling out of control by beating up on the Bills in a stadium that had more than a few empty seats. As cathartic as the victory proved to be a week after the Steelers were humiliated in New England, there isn't anything to suggest it is anything more than a Band-Aid. The Bills (3-7) were awful, and the Steelers (3-6) need to string at least three victories together before there can be any talk of them as plausible playoff contenders, as mediocre as the AFC North and the conference is.
Stock watch:
Yes, the Steelers weren't exactly facing Jim Kelly and the K-Gun offense, but the defense needed to play well in the worst way, and it did for the most part during a cold, drab day at Heinz Field. The Steelers used a familiar formula -- stopping the run and not letting a young quarterback beat them -- a week after arguably the worst defensive performance in franchise history.
C.J. Spiller
never got out of neutral, and the Bills were just 3-of-14 on third-down conversions. The Steelers improved to 17-2 against rookie quarterbacks since 2004, the year Dick LeBeau returned for a second stint as the team's defensive coordinator.
Walking wounded:
It wouldn't be a Steelers game without an injury sustained by at least one of the offensive linemen. Left guard
Ramon Foster
left the game with an ankle injury early in the third quarter and did not return to the game. Starting outside linebacker
LaMarr Woodley
(calf) and reserve safety
Shamarko Thomas
(ankle) also left the game with injuries.
Hardly a clinic:
Somewhere
Drew Butler
is laughing.
Zoltan Mesko
, too. The punters ushered out of Pittsburgh by coach Mike Tomlin probably couldn't have done worse than
Mat McBriar
in his first two games with the Steelers. McBriar, signed after Pittsburgh waived Mesko two weeks ago, had punts of 27 and 36 yards in the first quarter and was a major reason the Steelers were unable to flip the field.
No regrets:
The Steelers were reminded that it could be worse when it comes to their punting situation.
Brian Moorman
couldn't beat out Butler in training camp -- Butler was later dumped for Mesko -- and he didn't do much of anything for Buffalo against the Steelers. Moorman nearly kicked a ball into the stands when the Bills were hoping they could down a punt deep inside Steelers territory. He later kicked a low line drive that
Antonio Brown
returned 24 yards and led a 4-yard touchdown run by Le'Veon Bell.
Next up:
The Steelers and their defense face what should be a considerably sterner test next Sunday when the
Detroit Lions
visit Heinz Feld for a 1 p.m. ET game.
Matthew Stafford
is the kind of passer who can carve up the Steelers' secondary if he gets time in the pocket. Lions wide receiver
Calvin Johnson
, meanwhile, is a bigger matchup problem than polka dots and stripes.
November, 4, 2013
11/04/13
4:55
PM ET
FOXBOROUGH, Mass. -- Mike Tomlin was so mad after the
Pittsburgh Steelers
lost at Oakland -- and managed two touchdowns on the same field where the Eagles'
Nick Foles
threw seven scoring passes a week later -- that he fired his punter.
Never mind that
Zoltan Mesko
played his best half of football following the one that apparently sealed his fate in Pittsburgh. Someone had to pay for the Steelers' third consecutive loss in Oakland, and Tomlin takes a hard line when it comes to punters.
Just ask
Drew Butler
.
[+] Enlarge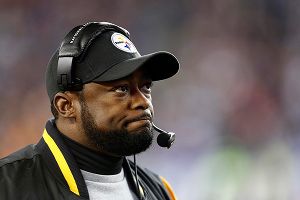 Mark L. Baer/USA TODAY SportsMike Tomlin may want to shake up the roster after the Steelers' 2-6 start but his options are limited.
Mat McBriar
, signed to replace Mesko, may be a little uneasy after his line-drive punt resulted in a 43-yard return by New England's
Julian Edelman
on Sunday. That miscue set up the touchdown that unleashed an avalanche of scoring, which buried the Steelers in New England and pretty much for the rest of the season.
After the Steelers' 55-31 loss to the Patriots Tomlin strongly hinted that changes could be coming. The question is will the seventh-year coach go beyond scapegoating a punter after yet another dispiriting loss?
"You re-evaluate everything, you have to after a performance like that and we will," Tomlin said after the Steelers gave up the most points in a game in franchise history. "That doesn't necessarily mean we will change, or we will change for the sake of changing. But we will look at every aspect of what we are doing and who we are doing it with because we can't have performances like that. Those people that were lacking effort won't be playing. It's just that simple."
Steelers fans probably rolled their eyes when they heard or read that last quote -- and note that tough talk or inferences after the Oakland loss were followed by the release of Mesko.
Truth be told Tomlin is limited in what he can do because of the constraints of a 53-man roster.
The roster size means that in-season changes mainly have to come from within, and Tomlin has at least tried them during the Steelers' first 2-6 start since 2006.
Ziggy Hood
,
Jarvis Jones
,
Cortez Allen
and
Mike Adams
are among the players who have lost their starting jobs. Several players lost their starting job
and
their roster spot, and the Steelers even tried to trade for a left tackle after Adams flopped there.
Levi Brown
didn't make it through one pregame warm-up before sustaining a triceps injury that may have ended his Steelers career before it started.
That is the kind of season it has been for the Steelers, and of the many things for which Tomlin can be criticized an unwillingness to shake things up isn't one of them.
There isn't a whole lot more the seventh-year coach can do at this point, and no, signing street free agents is not the answer, either.
The challenge Tomlin now faces is trying to salvage the season with veterans such as
Brett Keisel
,
Ike Taylor
,
Troy Polamalu
and
Ryan Clark
while also taking a long look at younger players such as Adams, Allen and rookie wide receiver
Markus Wheaton
.
This is certainly not where the Steelers expected to be at the halfway point of the season. But they got a harsh reality check of where they are as a team -- and perhaps an organization -- following a meeting with old nemesis
Tom Brady
.
"It was something in my 12 years that has never happened here," Keisel said of the New England loss. "This is a disgusting test and nobody likes it, and the only thing you can do is dust yourself off and get back to work."
November, 4, 2013
11/04/13
10:00
AM ET
Not quite Bluto Blutarsky on defense but not much better either
:
Quarterback:
Ben Roethlisberger
threw for 400 yards, and he joined Terry Bradshaw as the only quarterbacks in franchise history with 200 career touchdown passes. But he also committed three turnovers and missed what should have been an easy pitch and catch for a touchdown to
Emmanuel Sanders
in the second quarter.
Grade: C
Running backs:
Le'Veon Bell averaged 4.6 yards per carry and finished with 139 rushing and receiving yards combined. But the rookie was stopped behind the line of scrimmage on fourth-and-one early in the second quarter, and the Patriots took advantage of the short field to score their second touchdown of the game.
Jonathan Dwyer
added a 30-yard run on his only carry. :
Grade: B-
Receivers:
Hard to find a lot of fault with this group as the Steelers' wide receivers consistently got open after the Steelers finally started attacking the Patriots' cornerbacks. Their top three wideouts combined for 18 catches for 265 yards and all four of the Steelers' touchdowns.
Grade: B+
Offensive line:
The unit acquitted itself fairly well despite the absence of right guard
David DeCastro
and the crowd noise that forced the Steelers to use a silent snap count for much of the game. The Steelers averaged 5.4 yards per carry, and Roethlisberger holding onto the ball too long accounted for at least two of his five sacks.
Grade: B-
Defensive line:
Teams are running right at the Steelers with
Casey Hampton
no longer clogging the middle, and New England gashed them for 197 rushing yards. End
Cameron Heyward
played as well as anyone defensively with a sack and two quarterback hurries, and he is only reason why this isn't a failing grade.
Grade: D
Linebackers:
LaMarr Woodley
couldn't even manage a quarterback hurry despite lining up across from a new right tackle, and that offsets his eight tackles and fumble recovery.
Lawrence Timmons
recorded 11 tackles and
Jason Worilds
had a pair of sacks but the group struggled as a whole and didn't put enough pressure on
Tom Brady
.
Grade: D
Secondary:
It didn't get enough help from the front seven, but the Steelers' defensive backs were simply atrocious, and no one seemed immune to getting beat – and beat badly. Speed is an issue, especially at safety and breakdowns that led to a couple of big pass plays were alarming.
Grade: F
Special teams:
The Steelers got a couple of nice returns from
Felix Jones
and
Antonio Brown
, respectively. But
Mat McBriar
unleashed what coach Mike Tomlin might refer to as a "junior varsity punt" at the worst time. McBriar hit a low line drive that
Julian Edelman
returned 43 yards near the end of the third quarter with the Steelers trailing 27-24. The Patriots scored a touchdown five plays later and never looked back.
Grade: C-
Coaching:
The Steelers again started slow, and they also allowed the Patriots to score touchdowns on all four of their fourth-quarter possessions. Dick LeBeau's zone blitz scheme rattles or confuses no one these days, and the lack of discipline against the Patriots (three turnovers and eight penalties for 96 yards) is on Tomlin :
Grade: F
October, 30, 2013
10/30/13
8:00
AM ET
Steel City wake-up: morning links
Coach Mike Tomlin acknowledged Tuesday at his weekly news conference that
slow starts have been an issue
for the Steelers. Earlier in the day quarterback Ben Roethlisberger indicated on his weekly radio show that the Steelers may have to
consider changing the script
of plays they take into games depending on circumstances.
Tomlin dismissed the notion having a script of plays at the outset of games is a problem. His more immediate concerns were shaking up a team that is 2-5 with a trip to New England next up on the schedule. Zoltan Mesko is out as the Steelers' punter as the team released the fourth-year veteran and signed Mat McBriar to take his place.
Tomlin also made another change to the starting lineup with
Jason Worilds moving ahead of rookie Jarvis Jones
at right outside linebacker. The Steelers have just 10 sacks in seven games and putting pressure on Tom Brady Sunday at Gillette Stadium is paramount if the Steelers are to beat the Patriots quarterback for the first time in New England.
The Patriots ate 6-2 despite dealing with injury issues, particularly on defense. They addressed the loss of Pro Bowl nose tackle Vice Wilfork before the trade deadline on Tuesday by
acquiring Isaac Sopoaga
from the Eagles.