Pittsburgh Steelers:

Matt Williamson
August, 9, 2014
Aug 9
9:00
AM ET
LATROBE, Pa. --
Sean Spence
checks another box off on his to-do list Saturday night and this one will be a biggie.
Spence
The
Pittsburgh Steelers
inside linebacker will play in his first game since sustaining a career-threatening knee injury almost two years ago in a preseason game. Spence's progress since shredding his left knee while chasing a quarterback has been as consistent as it has been remarkable.
And he takes a big step toward coming all the way back from several torn knee ligaments, a dislocated knee cap and nerve damage tonight when the 2012 third-round pick takes the field at MetLife Stadium.
Spence won't only play against the
New York Giants
, he is likely to start in the 7:30 p.m. ET game with
Ryan Shazier
unlikely to suit up because of a knee injury.
Spence has looked really good in training camp and his reconstructed left knee has become such a non-issue that the only time it comes up is when it is time for Spence to pass another marker on his long road back.
"I've been pretty consistent [when] I said I wouldn't be surprised if he has a full recovery," Steelers coach Mike Tomlin said. "I just know the type of young man that he is, the type of worker that he is and those things usually work out for those guys."
Spence has been practicing with the first-team defense at weakside inside linebacker with Shazier sidelined, and his return to action only bolsters a position where the Steelers are pretty deep.
ESPN.com NFL analyst Matt Williamson had an interesting take on Spence.
Williamson didn't think Spence was a good fit for the Steelers when they drafted him because the 5-11, 231-pounder was a little undersized for an inside linebacker. Williamson has since done a 180 in his thinking because of how much the NFL game has changed.
"It wasn't obvious [in 2012] how much the passing game was valued, and that's really, really changed over the past couple of years. I give the Steelers credit for seeing the future," Williamson said on ESPN 970 AM in Pittsburgh. "He's not Levon Kirkland and never will be. But if [healthy] he's going to be one of those every-down guys that can run with today's tight ends and running backs. If Spence can be that guy that's tremendous. You've got to root for him."
May, 7, 2014
May 7
8:00
AM ET
PITTSBURGH -- Yep, I was that guy.
The first one who prompted ESPN draft analyst Matt Williamson to really tsk-tsk a pick in the ESPN NFL Nation mock draft conducted Tuesday.
[+] Enlarge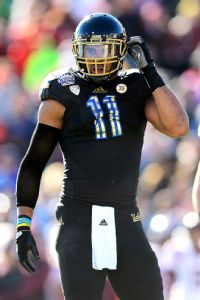 Andrew Weber/USA TODAY SportsAnthony Barr can bolster the Steelers' pass rush, but the former running back needs seasoning at linebacker.
And I have to imagine that what Williamson typed was much more diplomatic than what came out of his mouth when the former NFL scout saw I had picked UCLA outside linebacker
Anthony Barr
for the Steelers at No. 15.
Let me preface my selection by saying that I tried trading down in the first round, something I think the Steelers will attempt to do Thursday night.
I thought I had a deal with Jets writer Rich Cimini when he inquired whether I would swap spots with him in exchange for two fourth-round picks. That would have been ideal as I would have only had to move from No. 15 to No. 18 while pocketing a pair of extra picks in a deep draft.
Unfortunately, Rich let the draft come to him. When it became clear that he would have his pick of a couple of players he liked at No. 18 he pulled the offer.
At least I could take comfort that my demand for a breakfast buffet in the press box when the Steelers visit the Jets this season hadn't been the deal-breaker.
In the end, I only received one trade offer, and 49ers writer Bill Williamson dangling a host of picks -- though none in the first round -- wasn't enough for me to seriously consider.
First-round picks are gold to the Steelers and no way could I give this one up, no matter how deep this draft is.
LSU wide receiver Odell Beckham Jr. and Virginia Tech cornerback
Kyle Fuller
were still on the board when the Steelers were up at No. 15. And believe me, I strongly considered each player.
But I hadn't anticipated Barr being there as well.
In the end I couldn't pass on a player who could bolster the Steelers' pass rush as well as provide immediate depth at a position where they sorely need it.
Nothing will help the Steelers' defense regain its swagger more than if they add some teeth to their pass rush. Only five teams had less sacks than the 34 the Steelers managed in 2013.
And the outside linebackers on the Steelers' roster have a combined 24 career sacks -- one-half more than what Barr produced in his final two seasons at UCLA, where he didn't exactly play against intramural teams in pads.
Barr didn't record any sacks his first two years in Westwood, and there is a good reason for that: He played running back.
After growing two inches, the 6-5, 255-pounder moved to outside linebacker before his junior season, and he promptly dominated. Barr's 13 1/2 sacks in 2012 were second in the country only to
Jarvis Jones
, the Steelers' first-round pick last year.
He is still a baby at his position, which makes Barr far from a finished product. Let him learn the position from new defensive assistant
Joey Porter
, who is fifth on the Steelers' all-time sacks list with 60. Let him improve his strength, something Jones has had to do after his first NFL season.
In the meantime, Barr can provide depth behind Jones and
Jason Worilds
, and contribute on special teams as well as a situational pass rusher.
There are no guarantees with Worilds as there is a question as to whether the Steelers are committed to him beyond 2014. That uncertainty makes outside linebacker as pressing a need as any that the Steelers have.
They need to groom a possible replacement for Worilds. The Steelers also need to help a defense that has 20 interceptions in the last two seasons combined -- one less than they had in 2010 -- create more turnovers by collapsing pockets.
And they can never have enough outside linebackers, which is as important as any position on their defense.
Some see Barr as a player who is not instinctual and not strong enough against the run. I see a player who has a knack for getting after the quarterback and has a high ceiling.
If he is willing to work there may be no better situation for Barr than the Steelers.
He can learn from Porter, learn from linebackers coach Keith Butler, learn from defensive coordinator Dick LeBeau -- and he doesn't have to be rushed into the starting lineup.
If Barr slips to the Steelers in the first round, and they don't trade down, they should take him.
The draft is exceptionally deep at wide receiver. It is also strong as cornerback.
Address those positions later in the draft and go with a player who has a chance to be a real difference maker on a defense that desperately needs more of them.
April, 21, 2014
Apr 21
10:00
AM ET
PITTSBURGH -- Mock drafts have, predictably, been all over the place as far as the
Pittsburgh Steelers
' first-round pick. Most, however, have them taking a wide receiver or a cornerback No. 15 overall, assuming they don't try to trade down.
I think those two positions are most likely the ones the Steelers will target with their first pick, though North Carolina tight end
Eric Ebron
could also be in play if he slides a little in the draft.

Ebron
Ebron is the No. 1 player at one of the few positions that is not particularly deep, and he would give the Steelers a tall receiver while also filling a long-term need. I think
Heath Miller
has at least three good seasons left in him, but the Steelers have to plan for the post-Miller years at some point.
If Ebron is still available when they make the first pick, I think they give him serious consideration, especially if a couple of cornerbacks are already off the board, as well as Texas A&M wide receiver
Mike Evans
.
The Steelers have eight other picks in the draft, three of which are compensatory selections, including one at the end of the third round. They have a lot of needs -- or as general manager Kevin Colbert would frame it "wants" -- particularly on defense.
Here is my projection of the positions they will address with their nine picks, which is contingent on the Steelers not adding extra ones through a trade.
Cornerback (2):
The Steelers could use immediate help here, and they don't have a long-term starter at cornerback after third-year man
Cortez Allen
. I would be surprised if they don't draft two cornerbacks, with one of them coming in the first three rounds. They drafted two cornerbacks in 2011, including Allen in the fourth round.
Defensive line (2):
The Steelers will draft a defensive lineman as early as the second round -- ESPN analyst Mel Kiper Jr. has them taking Notre Dame nose tackle
Louis Nix III
with their second pick in his latest mock draft -- and they need to take at least one end. The signing of
Cam Thomas
gives them a player with position flexibility, but the Steelers' need at defensive end is every bit as glaring as it is at cornerback.
Wide receiver (1):
No position is deeper in the draft, and even if the Steelers don't address it in the first round, they can still get a good prospect later. The Steelers probably won't get a chance to draft Evans unless they trade up in the first round and Florida State's
Kelvin Benjamin
may be too much of a risk to take at No. 15. LSU's
Odell Beckham Jr.
has been linked to the Steelers in various mock drafts, and they could pull the trigger on him if they have him high on their board.
Linebacker (1):
The Steelers have to take a player who projects as an outside linebacker in a 3-4 scheme given how thin they are at the position. It will be interesting to see what they will do if Alabama's
C.J. Mosley
is still on the board at No. 15. Mosley, who projects as an inside linebacker, may be one of the most NFL-ready players in the draft. "He and (Lawrence) Timmons could be your (NaVorro) Bowman and (Patrick) Willis," ESPN analyst and former NFL scout Matt Williamson said. If the Steelers take Mosley, they will also draft an outside linebacker later in the draft.
Safety (1):
The Steelers have hosted at least three safeties for pre-draft visits, including Louisville's
Calvin Pryor
, a projected first-round pick. The signing of
Mike Mitchell
makes it unlikely the Steelers take a safety in the first round but it wouldn't hurt to add another younger player here. The question is whether it makes sense for them to draft a safety -- or instead sign a couple of undrafted free agents -- if they don't take one in the second or third round.
Offensive line (1):
I don't see this as the need that others do. The Steelers got their upgrade up front when they hired Mike Munchak to coach the offensive line and he has plenty of material with which to work. All five starters return, including Pro Bowl center
Maurkice Pouncey
, who tore his ACL eight snaps into last season. And the Steelers have depth up front after re-signing
Cody Wallace
and
Guy Whimper
. The Steelers will probably take a lineman they can develop later in the draft, but I could also see them not drafting one for the second year in a row if they take two linebackers or a tight end.
Running back (1):
The Steelers need depth and they could use a speedster to complement
Le'Veon Bell
and
LeGarrette Blount
. The de-valuing of running backs allows the Steelers to wait until later in the draft to address the position and still get a good prospect. I don't see them taking a running back before the fifth round.
April, 11, 2014
Apr 11
8:00
AM ET
PITTSBURGH -- A month into free agency few could have expected the Steelers to be as active as they have been in reshaping their roster. They have signed more than 10 free agents, including seven from other teams.
The Steelers are around $300,000 under the salary cap and are done signing players for now, having shifted their focus to the draft. With free agency having slowed to a crawl following a furious spending spree, let's take a closer look at the outside free agents that the Steelers added with ESPN NFL analyst and former NFL scout Matt Williamson weighing in on each player:
Mitchell
Mike Mitchell
Position:
S
Age
: 27
Ht/Wt.:
6-0, 210
Deal:
five-year, $25 million contract with $5.25 million guaranteed
2013 statistics:
Set career-highs in tackles (66), interceptions (4), sacks (3 1/2) and forced fumbles (2) for the Panthers, blossoming after leaving Oakland for Carolina.
Skinny:
The Steelers signed Mitchell to take over for
Ryan Clark
at free safety and get younger in the secondary. Mitchell prepares and plays with an edge. Next up for one of former Raiders owner Al Davis' most infamous drat picks is proving those wrong who say his breakout season had more to do with the talent around Mitchell than his growth.
Matt Williamson's take:
"I think the arrow is very much going up on him because he's big and fast and now he knows how to play the game. I think he's a better coverage player than he is a run defender. I think he's going to be your deep centerfield more often than not and let Troy (Polamalu) do his thing. Tackling is one thing he needs to work on but he can blitz."
Thomas
Cam Thomas
Position:
DL
Age:
27
Ht/Wt.:
6-4, 330
Deal:
two-year, $4 million contract with $1 million guaranteed
2013 statistics:
Recorded 23 tackles while starting 10 of 16 games at nose tackle for the Chargers and also made his first career interception.
Skinny:
The Steelers signed Thomas to provide depth at nose tackle and defensive end. The player known as "Baby Zilla" could get an opportunity to start at the defensive end spot opposite
Cameron Heyward
depending on the players that the Steelers draft or sign in free agency.
Matt Williamson's take:
"I thought it was a decent pick up. I think he's versatile enough to play any of their defensive line spots as is (Steve) McLendon. They certainly need d-line help but it's not like boy they have to get a Casey Hampton or boy they have to get a (Brett) Keisel. It's giving them more options going into the draft and he's young, big body, fits the mold of what they want from that position."
Moore
Lance Moore
Position:
WR
Age:
30
Ht/Wt.:
5-9, 190
Deal:
two-year, $3 million contract with $645,000 million guaranteed
2013 statistics:
Caught 37 passes for 457 yards and two touchdowns while starting five of the 13 games he played in his final seasons with the Saints.
Skinny:
The Steelers moved quickly to fill their opening at No. 3 wide receiver after
Jerricho Cotchery
signed with the Panthers. They landed Moore, who was a 1,000-yard receiver in 2012, and had some other good seasons in New Orleans. Moore, like Cotchery, knows how to get open and has reliable hands. He is a little younger than Cotchery but isn't as effective as Cotchery is in the red zone. Eight of Cotchery's 10 touchdown receptions last season were from inside the opponents' 20-yard line.
Matt Williamson's take:
"I think having a veteran in that room is really important, but I just wish he was a bigger guy. Cotchery was a pretty good red zone weapon where now they're extra small at receiver. Moore had a bad year last year. He didn't play much because of injuries but the few seasons before that he was a good player. He was always very reliable."
Moats
Arthur Moats
Position:
LB
Age:
26
Ht/Wt.:
6-2, 250
Deal:
one-year, $795,000 contract with $65,000 guaranteed
2013 statistics:
Played in every game last season, starting 12 at inside linebacker, and recorded a career-high 54 tackles.
Skinny:
This under-the-radar signing could turn out to be a significant one for the Steelers. Moats will provide depth at outside linebacker and play special teams. He also could get a shot at challenging
Vince Williams
for the starting job at left inside linebacker, though Moats has said the Steelers will first try him at outside linebacker.
Matt Williamson's take:
"He's unique. I can't really come up with a guy off the top of my head in the league who can play all four linebacker spots at a 3-4. They're very different skill sets. At a minimum he's your fifth linebacker. He's a very good special teamer. He's still really young."
McCain
Brice McCain
Position:
CB
Age
: 27
Ht/Wt.:
5-9, 187
Deal:
one-year, $795,000 contract with $65,0000 guaranteed
2013 statistics:
Started a career-high four games for the Texans and recorded 32 tackles with an interception and seven passes defended.
Skinny:
The Texans cut ties with McCain after opposing teams picked on the fifth-year veteran a good bit last season. The Steelers only had three other cornerbacks with significant NFL experience before signing McCain so he gives them some insurance and will be plenty motivated to bounce back from a rough 2013 campaign.
Matt Williamson's take:
"He's a fourth or fifth guy that plays sparingly and might not even make the team if they draft one or two (cornerbacks) that are real impressive. He has at least played a lot of snaps in this league. He's good enough to get on the field but bad enough to get burned when he's on there and he's little. He's the (signing) I'm least excited about."
Blount
LeGarrette Blount
Position:
RB
Age
: 27
Ht/Wt.:
6-0, 250
Deal:
two years, $3.85 million, with $950,000 guaranteed
2013 statistics:
Rushed for 772 yards and seven touchdowns and averaged 5.0 yards per carry while emerging as the Patriots' best back by the end of the season. Blount went off in a Patriots playoff win over the Colts, rushing for 166 yards and four touchdowns.
Skinny:
The Steelers were looking for a proven back to provide depth and injury insurance behind
Le'Veon Bell
and they found a young one at a reasonable price. If Blount can shoulder some of the workload at running back that should keep Bell fresh throughout the season and perhaps add some seasons to his career.
Matt Williamson's take:
"If you watch SportsCenter and watch his highlights you think he's better than he is. There's times that he doesn't play as big and strong as he really is. If there isn't a hole there he doesn't make his own, but he is powerful and I think he's got really good feet. He doesn't really offer anything in the passing game but the best thing is he's better than (Jonathan) Dwyer and (Isaac) Redman. They upgraded there."
Heyward-Bey
Darrius Heyward-Bey
Position:
WR
Age
: 27
Ht/Wt.:
6-2, 219
Deal:
one-year, $795,000 contract with $65,000 guaranteed
2013 statistics:
Played a career-high 16 games, starting 12 of them, and caught 29 passes for 309 yards and a touchdown in his only seasons with the Colts.
Skinny:
The seventh overall pick of the 2009 draft has never lived up to expectations with suspect hands often neutralizing his unique blend of size and speed. Heyward-Bey gives the Steelers a bigger wide receiver and one who is still young enough to have some upside. If he doesn't work out the Steelers took virtually no risk in signing Heyward-Bey
Matt Williamson's take:
"Highly unreliable and it really only comes down to drops. He drops so many passes. It wasn't his fault that he was the seventh pick of the draft and didn't live up to it. Nobody thought he should be (picked that high) except for Al Davis. He may not even make the team."
April, 8, 2014
Apr 8
4:30
PM ET
I wrote an earlier post that included ESPN NFL analyst Matt Williamson's take on what defines a No. 1 pass catcher as part of a larger argument for the Steelers
drafting a tall receiver
.
What is interesting to note is that tight ends
Jimmy Graham
and
Rob Gronkowski
are among the players Williamson thinks are bona fide No. 1 receivers.
Williamson followed that piece with one on potential No. 1 receivers, a mix that includes wide receivers and tight ends and players who are already in the NFL as well as ones who will be drafted next month.
Seventh on his list is
North Carolina tight end Eric Ebron

.
The 6-4, 250-pound Ebron would qualify as a tall receiver and his production and athleticism in college -- he caught 62 passes for 973 yards and three touchdowns last season -- make him the No. 1 tight end in the draft
Here is what Williamson wrote about Ebron:
While Ebron lacks the height and bulk of Graham or Rob Gronkowski, he might possess better pure speed. This guy can truly stretch the field like few NFL tight ends. Ebron is fluid and smooth, but he also has an instant acceleration burst. He is versatile in terms of his alignment on the field and should be an instant-impact tight end, as he is noticeably above average in all receiving categories for an incoming prospect.
ESPN NFL draft analyst Mel Kiper Jr. has projected Ebron going between picks 12 and 18 next month, which would put him in the range of where the Steelers are drafting. What makes Ebron intriguing for the Steelers is he could help right away given the increasing frequency with which teams use two-tight end sets and also give them Heath Miller's eventual replacement.
Former Buccaneers general manager Mark Dominik wrote that tight end is a hidden need for the Steelers, which is why he thinks
Ebron could be an option

for them.
Here is what Dominik, an ESPN Front Office Insider, wrote:
Heath Miller is still a very talented player, and he is a great fit in the Steelers' offense. However, he will turn 32 this season, and the team needs to find a big-bodied tight end via the draft so Ben Roethlisberger can begin building trust in him. They'll need a young tight end to take over as their primary target at the position in the near future. North Carolina's Eric Ebron, the consensus top tight end in this year's draft, could be in play for the Steelers at No. 15 overall if he's still on the board.
Also of note from Williamson's story on future No. 1 receivers is he has LSU wide receiver Odell Beckham Jr. fifth on his list -- three spots ahead of Texas A&M's Mike Evans.
The 5-11, 198-pound Beckham doesn't have great size but he makes up for it in other areas, writes Williamson:
He gets separation with the more technical intermediate routes, as well as just using his pure ability to run past defensive backs. Beckham is also a good return man and excels with the ball in his hands. I think I'm actually higher on Beckham than most others, but expect him to make an instant impact in the NFL. I could see Beckham landing in Pittsburgh, Kansas City or Carolina in Round 1.
Kiper has the Steelers taking Beckham No. 15 overall in the Grade A Mock Draft he released last week. The mock draft is one in which Kiper's picks are based on what he thinks teams should do in the first three rounds of the draft.
April, 8, 2014
Apr 8
1:15
PM ET
PITTSBURGH -- The Steelers are expected to take a wide receiver early in the draft and they could try to find what ESPN NFL analyst Matt Williamson defines as a No. 1 pass-catcher.
Williamson, a former NFL scout, wrote an interesting piece about the traits that
define a true No. 1 receiver
,

of which there are only 14 in the NFL, in his opinion -- and none named
Antonio Brown
.
Brown, who set a Steelers single-season record with 1,499 receiving yards in 2013, just missed making the cut. That is probably because one of Williamson's requirements of a No. 1 receiver is that he plays big.
That usually, but not always, eliminates players such as Brown, who is only 5-foot-10, 186 pounds. As dynamic as Brown is, particularly when he is in the open field, he did not prove to be a viable scoring option in the red zone last season.
Brown's eight touchdown catches last season
averaged
32.3 yards and his shortest scoring reception was 12 yards. That teams were able to neutralize Brown where players are bunched together in a smaller space highlights the Steelers' need for a bigger receiver they can target in the red zone.
So too does the loss of
Jerricho Cotchery
.
Cotchery excelled in the red zone last season, catching all 10 of his touchdown passes in that area, including six inside opponents' 10-yard line. The Steelers replaced Cotchery, who signed with the Panthers, with
Lance Moore
, and they can't expect the 5-9, 190-pounder to come close to giving them what Cotchery did last season when the offense moved into scoring territory.
The need for a taller wide receiver leads me to think that the Steelers will consider two players who fit that profile in the first round: Texas A&M's
Mike Evans
and Florida State's
Kelvin Benjamin
.
The problem for the Steelers is they likely will have to trade up to take Evans while Benjamin, who played just two seasons, may be a reach with the 15
th
overall pick.
Consider ESPN NFL draft analyst Mel Kiper Jr.'s take on the latter.
"Big, physically talented receiver," Kiper said of Benjamin. "He improved this year from a pass-catching standpoint. He didn't drop as many balls but he still needs to continue in that area. He's got upside but he's not a finished product yet. You wish he would have stayed [in school] because he would have been a top-10 pick next year."
If Evans is gone before the 15th pick and the Steelers are willing to take a bit of a gamble on Benjamin, maybe they try to take trade back in the first round to collect an extra draft pick and take the 6-5, 240-pounder a little lower.
If it isn't Evans or Benjamin in the first round, I'd expect the Steelers to wait until the second or third round to take a wide receiver. The position is arguably the deepest one in the draft and the Steelers should be able to get a good receiver -- and a bigger one than the projected top three wideouts on their roster -- even if they wait until after the first round to select one.
March, 25, 2014
Mar 25
3:35
PM ET
PITTSBURGH -- ESPN Insider Mike Sando has handed out
grades for every team
relative to free agency and he gave the Steelers about what you would expect at this point.
The Steelers received a 'C,' which sounds right considering their additions and subtractions.
Their most significant signing has been safety Mike Mitchell, and the Steelers filled a gaping hole last week when they signed wide receiver Lance Moore to a two-year contract. They have also added depth along the defensive line and at linebacker with the signings of Cam Thomas and Arthur Moats.
"Other than (Emmanuel) Sanders, they didn't lose anybody that meant anything to them," former Colts general manager and ESPN NFL analyst Bill Polian said. "Cam Thomas and Mike Mitchell are good pickups. They get a little bit better. The re-signings were not bad. The Steelers create wide receivers. It's a receiver draft. That is where they are going to go."
Polian's praise for what the Steelers have done so far is not surprising. His aversion to frenzied spending in free agency is well documented, and the Steelers have quietly improved themselves – at least on paper – but just not created as much of a buzz as other teams.
ESPN NFL analyst Matt Williamson said he has been surprised at how the Steelers have cleared salary-cap room without sustaining significant losses and added some key pieces.
"I expected their offseason to be worse," Williamson said. "All the cap finagling they did worked out smoother than I'd projected. They got Mitchell at a good price with the arrow pointing up – exactly what they needed. I did not expect Jason Worilds to remain there."
January, 31, 2014
Jan 31
11:00
AM ET
PITTSBURGH -- Here is the last in a series that takes a closer look at the
Pittsburgh Steelers
' most recent draft class with ESPN Insider and former NFL scout Matt Willamson providing his take on every player in it. I did not profile
Landry Jones
, the second of the Steelers' two fourth-round picks, because he did not dress for a single game last season and again projects as the team's No. 3 quarterback in 2014.
Vince Williams
Position:
Linebacker
Drafted:
Sixth round, 206th overall (taken one pick after Raiders defensive tackle
Stacy McGee
and one spot before Chiefs defensive end
Mike Catapano
).
Key stats:
Williams recorded 53 tackles, eighth-most on the team.
Williams
His first season:
No rookie provided more value for the Steelers than Williams, whom they took with the final pick in the sixth round. Thrust into the starting lineup a couple of games after left inside linebacker
Larry Foote
went down with a season-ending bicep injury in the opener, Williams made 11 starts and showed promise as a two-down linebacker.
Looking ahead:
It is too early to tell whether Williams is a long-term starter at inside linebacker even though he played as well as the Steelers could have expected. The Florida State product made significant improvement stopping the run, but he also gave way to undrafted rookie
Terence Garvin
near the end of season on passing downs. Foote mentored Williams, and the Steelers would love if Williams can develop into a player of Foote's caliber, one whose forte is stopping the run and isn't a liability in coverage. Williams could spend another season learning from Foote if the Steelers bring the 12
th
-year veteran back for one more season. At the very least the Steelers appear to have unearthed in Williams a player who can provide quality depth at inside linebacker and also contribute on special teams.
Williamson says:
"Their defense is going to get shuffled up so much. They possibly could lose five or six starters with contract issues and age. I wonder if you just say, 'OK, we like (Lawrence) Timmons a lot. Williams we like enough for you to be a two-down guy even though you weren't great as a rookie, and we'll use our picks on corners and defensive ends and another safety.' I think ideally you'd love him to be your third inside linebacker. But I'm not sure they'll have that luxury, and I can't see them using a top two or three-round pick on an inside linebacker."
January, 30, 2014
Jan 30
11:00
AM ET
PITTSBURGH -- Here is the fourth in a series that takes a closer look at the Steelers' most recent draft class, with ESPN Insider and former NFL scout Matt Williamson providing his take on every player in it.
Shamarko Thomas
Position:
Safety
Drafted:
Fourth round, 111th overall (taken one pick after Giants quarterback
Ryan Nassib
and one spot before Raiders quarterback
Tyler Wilson
). The Steelers traded a third-round pick in this year's draft for the extra fourth-round selection that they used on Thomas.
Key stats:
Thomas recorded 22 tackles and had seven stops on special teams.
Thomas
His first season:
Thomas worked his way into the Steelers' quarter package as the third safety and played significant snaps before a going down in the ninth game with a high ankle sprain. The injury sidelined Thomas for two games, and he didn't play a defensive snap the rest of the way as
Will Allen
took Thomas' spot in the quarter package. That Thomas played only special teams in the final five games raises a "red flag," Williamson said, but Allen played well after getting an opportunity and may have been the Steelers' most unsung player on defense.
Looking ahead:
Thomas is another rookie facing a critical offseason since there may be an opportunity for the former Syracuse standout to start in 2014. Free safety
Ryan Clark
becomes an unrestricted free agent March 11, and the Steelers are unlikely to bring back the 12
th
-year veteran. Thomas, however, is more likely the eventual successor to
Troy Polamalu
at strong safety. The 5-9, 217-pounder is a big hitter who craves contact and those traits make him more suited for strong safety. However the turnover in the secondary shakes out, Thomas should play a bigger role in 2014.
Williamson says:
"I think he's still projecting as a starter. I think defensive back is one of the hardest positions to come in and excel at as a rookie. Rarely do you see a rookie safety or especially corners come in and contend for Pro Bowl honors. That's a big adjustment, the speed of [the NFL] playing deep like that, so I'm going to give him an incomplete. He has ability. He's always going to be size deficient. He's always going to struggle against
Jimmy Graham
or
Tyler Eifert
in the end zone on high passes. I think he'll be a core special teamer for sure."
January, 28, 2014
Jan 28
2:00
PM ET
PITTSBURGH -- Here is the second in a series that takes a closer look at the
Pittsburgh Steelers
' most recent draft class, with ESPN Insider and former NFL scout Matt Willamson providing his take on every player in it.
Le'Veon Bell
Position:
Running back
Bell
Drafted:
Second round, 48
th
overall (taken one pick after Cowboys tight end
Gavin Escobar
and one spot before Giants defensive tackle
Johnathan Hankins
).
Key stats:
Bell rushed for 860 yards and eight touchdowns and caught 45 passes for 399 yards. The former Michigan State star's 1,259 total yards broke Franco Harris' Steelers record for most yards from scrimmage by a rookie.
His first season:
Bell overcame a foot injury that sidelined him for the first three games, becoming the kind of player the Steelers envisioned when they made him one of five running backs taken in the second round of the 2013 draft. Bell's versatility and blocking ability allowed him to emerge as a three-down back, and he is the gem of the draft class -- at least so far. The winner of the Joe Greene Great Performance Award, Bell improved as the season progressed and cemented his status as the Steelers' feature back for seasons to come.
Looking ahead:
As coach Mike Tomlin would say, the arrow is obviously pointing up for Bell, who averaged 4.7 yards per carry in his final two games. Bell is already a polished receiver and an able blocker, and the 6-foot-1, 244-pounder is only going to get better as a runner now that he has had a season to adjust to the speed of the NFL. Bell should benefit from the zone-blocking scheme new offensive line coach Mike Munchak is expected to implement, and he could put up the kind of numbers in 2014 that makes fantasy owners drool.
Williamson's take:
"I think he's exceeded expectations. I've heard him compared to
Matt Forte
and I think that's not too far off, and the reason I say that is because there's so few backs in the league with his size that can consistently run wide receiver routes, and (the Steelers) use him that way. He showed that he can be a workhorse at Michigan State, and I think he will be (in Pittsburgh), and I think they'll use him a ton in the receiving game and between the tackles and outside the tackles. I think he's an NFL feature back."
January, 27, 2014
Jan 27
4:30
PM ET
PITTSBURGH -- Five of the Steelers' eight draft picks last April spent the 2013 season on the 53-man roster and three of them started at least eight games. Seven of those selections are on the roster, including wide receiver Justin Brown (practice squad last season) and defensive end
Nick Williams
(injured reserve), and the 2013 draft should provide significantly more returns next season.
Here is the first in a series that takes a closer look at each player in the Steelers' most recent draft class with ESPN Insider and former NFL scout Matt Williamson providing his take on that player.
Jones
Jarvis Jones
Position:
Outside linebacker
Drafted:
First round, 17
th
overall (taken one pick after Bills quarterback
EJ Manuel
and one spot before 49ers safety
Eric Reid
, who made the Pro Bowl).
Key stats:
Managed just one sack despite playing 612 snaps and starting eight games at right outside linebacker. Jones was credited with 11 quarterback pressures.
His first season:
No one expected more out of Jones in 2013 than Jones himself. He became the first rookie to start at outside linebacker since the Steelers switched to a 3-4 defense in 1982, but he struggled rushing the passer against tackles who were bigger and more athletic than the ones he routinely tormented while at the University of Georgia. Thinking instead of reacting also hampered Jones, though that is common, especially with rookies who play extensively while also still learning the Steelers' complex defense.
Looking ahead:
The 6-foot2, 245-pound Jones clearly has to get stronger and linebackers coach Keith Butler has said he needs to transform his physique from that of a basketball player to one that can handle the rigors of rushing the passer and holding up against the run in the NFL. Jones turned in his best game in the Steelers' regular-season finale when he didn't appear to be thinking as much and just playing. Even better for the Steelers is Jones wants to be great, and he has vowed to improve his strength as well as his grasp of the defense in the offseason. His development during the period in which coach Mike Tomlin has said players make their biggest jump is crucial. The Steelers are unlikely to bring both
LaMarr Woodley
and
Jason Worilds
back in 2014, and they are going to need a lot more from Jones than what he provided in his rookie season.
Williamson says:
"I thought he would at least be a situational pass-rusher that would make more big plays but I'm not ready to throw the towel in on the guy, either. He did flash. He did play well on special teams. How many rookies come into this defense and play well? A couple of things worry me. I think he's a far cry from Woodley or [James] Harrison against the run as an outside contain guy. I think he needs a lot more strength at the point of attack for that, and he's not a great athlete so it makes you wonder if he hasn't gotten by on technique and hustle so far. It's not like he has these ridiculous Lawrence Taylor tools to fall back on. I would think he'll get every opportunity next year."
December, 19, 2013
12/19/13
12:00
PM ET
PITTSBURGH -- A significant number of
Pittsburgh Steelers
fans were ready to run Todd Haley out of Pittsburgh a couple of months ago, blaming him for the slow start of an offense that essentially opened the season with one arm tied behind its back.
Now, I don't see how the Steelers can't bring their offensive coordinator back for a third season in 2014.
The offense has steadily improved in 2013, and it has become the biggest reason for optimism that the Steelers can rebound from their first back-to-back non-winning seasons since the late 1990s.
Consider former NFL scout Matt Williamson's take on the job Haley has done this season.
"I think the best I've seen
Ben Roethlisberger
play is with Todd Haley as his offensive coordinator," said Williamson, an ESPN NFL analyst. "I think he's really gotten the most out of Ben Roethlisberger."
Even most ardent Haley critics might be hard-pressed to dispute that.
Roethlisberger has already established a new Steelers' season record for completions (340), and the 10th-year veteran is on pace for 4,474 passing yards, which would eclipse the franchise record he set in 2009 for passing yards in a season.
Roethlisberger has never looked more in command, especially when running the Steelers' no-huddle offense.
Continuity lends itself to that attack running smoothly and the Steelers only have two significant skill players who will be unrestricted free agents after this season, wide receivers
Emmanuel Sanders
and
Jerricho Cotchery
.
An offense that isn't expected to experience much turnover in the offseason, especially relative to the defense, shouldn't undergo a lot of coaching changes if it wants to build on this season.
And that starts with Haley.
Roethlisberger himself has said how excited he is over the direction of the offense, something he reiterated on Wednesday.
"I think production has gone up and I think that the mistakes have really come down," Roethlisberger said. "I think guys enjoy doing it. I'm sure if you ask the receivers they say they like it. Le'Veon [Bell] likes it, mixing in the run and the pass so it's not just pass-heavy.
"I think just being able to take what Coach gives helps me with and what we, whether it's [quarterbacks] coach Randy [Fichtner] and coach Todd [Haley], the other quarterbacks, we put so much work in. I know I get a lot of credit, but it's all of us really. This is a lot about communication."
December, 18, 2013
12/18/13
4:00
PM ET
PITTSBURGH -- And with their first pick of the 2014 NFL draft, the Steelers select ...
Louis Nix III
, NT, Notre Dame.
The first of many mock drafts to be released by ESPN Insiders Todd McShay and Mel Kiper Jr. has the Steelers addressing the defensive line with their top pick in 2014. McShay just completed his first
mock draft

, and here is his reasoning behind the Nix pick:
McShay: "Nix might be a little bit of a reach here. He didn't have a great season in 2013 for the Fighting Irish, and when NFL teams get a look at a couple of bad tapes of his play (he didn't perform well against Michigan State, in particular) his stock could drop. But I still have a hard time seeing him fall out of the first round, given the way he dominated in 2012. With his size and the way he can move, he has the potential to be a very good player. If the Steelers are comfortable with his durability and work ethic, he could become their new Casey Hampton. Offensive tackle and secondary are two other need areas they could address here."
McShay also lists offensive tackle, cornerback and safety among the Steelers' biggest needs. I would have no problem with the Steelers taking a nose tackle with their first pick given the difficulty they have had stopping the run this season.
The Steelers slipped from No. 2 in rushing defense last season to No. 19, and they are giving up 25 more rushing yards per game this season. They Steelers have already yielded 19 rushing touchdowns this season compared to nine in 2012.
That's not to pin such a precipitous decline in their run defense on nose tackle
Steve McLendon
, who took over for Hampton this season. But McLendon is not a prototypical nose tackle, and I think the Steelers need a player there more in the mold of a Hampton.
Here is what former NFL scout Matt Williamson said about McLendon's future with the Steelers:
"I think in a perfect world he would be your fourth defensive lineman," said Williamson, an ESPN NFL analyst. "This defense needs a
Vince Wilfork
and they don't have one."