Pittsburgh Steelers:

Matthew Stafford
January, 29, 2014
Jan 29
10:00
AM ET
Tom Brady
and
Peyton Manning
dominated ESPN's NFL Nation survey of which quarterback players would most want if their respective teams needed a touchdown to win the Super Bowl with two minutes left in the game.
Brady (128) and Manning (86) combined to capture roughly two-thirds of the vote among the 320 players polled by ESPN's NFL Nation.
Ben Roethlisberger
received 20 votes to finish fifth among quarterbacks behind Brady, Manning,
Aaron Rodgers
(32) and
Drew Brees
(21).
Five of Roethlisberger's votes came from teammates, a sign of how much his play at the end of close games is valued in the Steelers' locker room.
Roethlisberger has led the Steelers to wins 33 times, including the postseason, in games in which they trailed or were tied in the fourth quarter. His most famous rally came in Super Bowl XLV five years ago when Roethlisberger marched the Steelers 78 yards in eight plays for the touchdown that beat the upstart
Arizona Cardinals
, 27-23.
Roethlisberger capped the drive with a 6-yard pass that
Santonio Holmes
snared with a tip-toe catch before getting pushed out of bounds. That play delivered the Steelers' record sixth Super Bowl title and remains frozen in time for Pittsburgh fans.
Had I been granted a vote I would have thought long and hard before giving it to Brady over Roethlisberger, and I think you could flip a coin between the two quarterbacks who have won a combined five Super Bowls.
Roethlisberger's improvisational skills and his burning desire to win have long made him one of the best quarterbacks when the game is on the line. He has delivered every time? Of course not. But neither has Brady, who has been outdueled late in the Patriots' last two Super Bowl losses by
Eli Manning
.
Eli Manning received nine votes in the anonymous survey followed by
Andrew Luck
(eight) and
Matthew Stafford
(seven) and
Russell Wilson
(three).
The only other quarterback to receive more than one vote?
Matt McGloin
, who picked up two of them.
Draw your own conclusions there.
November, 17, 2013
11/17/13
9:00
AM ET
PITTSBURGH -- The Steelers will try to avoid their first 3-7 start since 2003 Sunday when they host the 6-3 Detroit Lions. A shootout probably doesn't favor the Steelers, and preventing the 1 p.m. game from becoming one will be a challenge.
Detroit's troika of quarterback
Matthew Stafford
, wide receiver
Calvin Johnson
and running back
Reggie Bush
will challenge the Steelers like few opposing offenses have this season. The Steelers have held four of their last five opponents to under 300 yards. The one exception during that span? The New England Patriots game in which the Steelers surrendered a franchise-worst 610 yards in a 55-31 loss.


Here are three keys to victory for the Steelers -- and three things they must avoid to beat the Lions.
Steelers win if they ...
1. Control the ball:
The Steelers have to win the time of possession battle, and nothing would help their cause more than if they monopolize the clock the way they did last Sunday in a 23-10 win over the Buffalo Bills. The Steelers had the ball for just over 35 minutes, and if they can keep Stafford & Co. on the sideline, the better chance they have of keeping the game from becoming a high-scoring one.
2. Take advantage of the Lions' secondary:
What will be tricky for offensive coordinator Todd Haley is establishing the run but also trying to take advantage of what is easily where the Lions are most vulnerable on defense. The Steelers got back into the Patriots game by attacking New England's cornerbacks, and they should have favorable matchups against Detroit's secondary.
3. Disrupt Lions' passing game:
There is a way to stop the Lions' passing attack, which averages just under 307 passing yards per game, according to Dick LeBeau. "Get the quarterback on the ground before he can throw it," the Steelers' defensive coordinator said. "That works pretty well against all passes." It is not realistic, however, to think Stafford will spend a lot of time on his back. The Steelers have just 16 sacks while Stafford has been dropped only 10 times. The Steelers have to hurry Stafford in the pocket and hope he gets careless -- the fifth-year veteran has been prone to that at times this season -- while also making it difficult for the Lions' receivers to run their routes.
Steelers lose if they ...
1. Continue to struggle in the red zone:
The Steelers have to score touchdowns instead of field goals when they get inside the Lions' 20-yard line. Their percentage of scoring touchdowns in the red zone this season is just 44.8 -- only four teams are less efficient in that area -- and settling for field goals probably won't allow the Steelers to keep pace with the Lions.
2. Lack balance on offense:
The math is obvious. The Steelers have thrown the ball almost 70 percent of the time in their six losses and have run it more than they have passed it in their three wins. Achieving balance will be critical to the Steelers' winning time of possession but establishing the run won't be easy. The Lions are stout in the middle, and their defense starts with tackles
Ndamukong Suh
and
Nick Fairley
. The Steelers' offensive linemen will have to match the nastiness of those two behemoths and provide enough running room for rookie
Le'Veon Bell
, who is still looking for his first 100-yard game in the NFL.
3. Lose turnover battle:
The Steelers are minus-11 in turnover differential, and they have to find a way to create some takeaways while also limiting the kind of miscues that gives the Lions' offense extra possessions and possibly some short fields. The Lions are averaging less than one giveaway a game so the onus in the all-important turnover battle will most likely fall on the Steelers' offense.
November, 16, 2013
11/16/13
1:15
PM ET
A quick-hit preview of the 1 p.m. game Sunday at Heinz Field:
1
Lions WR Calvin Johnson's NFL rank for career receiving yards per game
2
Lions' NFL rank in third-down defense
5
Games this season in which Lions RB
Reggie Bush
has at least 113 yards from scrimmage
5
Interceptions by Lions OLB
DeAndre Levy
, which is tied for first in the NFL
7
Takeaways by the Steelers
7
Lions QB Matthew Stafford's NFL rank in passer rating
12
Steelers QB Ben Roethlisberger's NFL rank in passer rating
23.1
Percentage of Stafford completions this season that have gone to Johnson
26.5
Career sacks by
Ndamukong Suh
, second-most in Lions history by a DT
27
Lions' NFL rank in passing defense
30
Steelers' NFL rank (tied) in takeaways
30.8
Percentage opponents have on third down against the Lions
30.7
Percentage of Roethlisberger completions that have gone to WR
Antonio Brown
36
Career touchdown passes thrown by Stafford to Johnson
38.7
Steelers' conversion rate on third down
87.4
Johnson's career receiving yards per game
87.6
Roethlisberger's passer rating
94.1
Stafford's passer rating
306.9
Lions' passing yards per game
335.8
Stafford's average passing yards in eight career games against AFC teams
November, 14, 2013
11/14/13
12:00
PM ET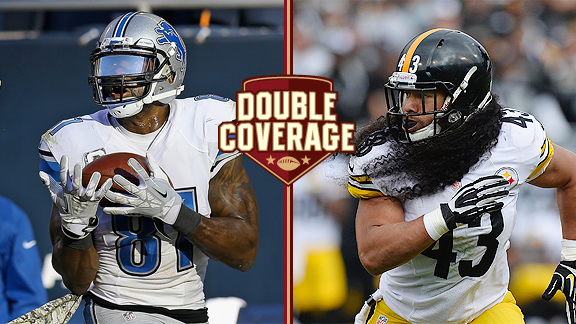 Getty ImagesCalvin Johnson's Lions look to continue their success against Troy Polamalu's struggling Steelers.
The respective histories of the
Detroit Lions
and
Pittsburgh Steelers
suggest that the latter would be 6-3 and the former 3-6 heading into their game Sunday at Heinz Field.
But it is the Steelers who have scuffled this season, and they are still trying to dig out from an 0-4 start. The Lions, meanwhile, sit atop the NFC North and have the pieces to make a lengthy postseason run assuming they can keep up their winning ways.
The Steelers have little margin for error as they try to stay on the fringes of the AFC playoff picture, and the Lions will try to maintain their grip in first place in the NFC North when the teams meet at 1 p.m.
ESPN.com NFL Nation reporters Michael Rothstein (Lions) and Scott Brown (Steelers) take a closer look at the first matchup between the two teams since 2009.
Brown:
Michael, I'm not surprised that the Lions are playing so well this season, and my question for you is, what has the signing of running back
Reggie Bush
done for the offense?
Rothstein:
It's been huge, Scott. Bush's signing in the offseason spreads defenses out and forces teams to make a choice. Either double
Calvin Johnson
or continuously roll safety coverage Johnson's way or bring a defender down into the box to stop Bush -- but that leaves things open for
Matthew Stafford
to find Johnson. He has the ability to take a dump-off play and turn it into a massive touchdown -- something he has done twice on screens this season. While he doesn't change the offense the way it would if Stafford or Johnson were missing, he's a massive cog there.
Speaking of that -- and I feel as if I've asked this question weekly -- how do you think Pittsburgh handles that matchup against the Detroit offense?
Brown:
Michael, it's hard to like the matchup if you are the Steelers. Speed in their secondary has been an issue this season, particularly at safety, and I'm not sure anyone can run with Bush if the Lions isolate him on linebacker or safety as a receiver.
The Steelers are going to have to pay Johnson the extra attention he demands, and last I checked they will only be allowed to have 11 defensive players on the field. Assuming the Steelers use a combination of double and bracket coverage on Johnson, there are going to be some one-on-one matchups that the Lions may be able to exploit.
The Steelers haven't generated a consistent pass rush this season, but it will be absolutely essential that they do so against Stafford. If he is allowed to get comfortable in the pocket Sunday it will be a long day for the Steelers.
The best thing the Steelers can do for their defense is to control the clock, but it won't be easy to run on Detroit's front seven. Does it start on the Lions' defense with tackles
Ndamukong Suh
and
Nick Fairley
, and how have other teams tried to neutralize those two?
Rothstein:
Yes, most of what Detroit does defensively starts with Suh, and to a lesser extent, Fairley. Suh is having one of the most consistent seasons of his career, this despite the constant presence on double teams each week. The attention Suh is given opens rush lanes for Fairley, but he hasn't been completely consistent taking advantage of them.
For every game he has like Sunday's against Chicago, he has a game where he disappears. But the pressure Suh, Fairley and the defensive line put on quarterbacks has led to incomplete passes and interceptions often.
If there is a concern with the Detroit defense, it is with its cornerbacks, who have been inconsistent. Can
Ben Roethlisberger
take advantage of this with his current crop of receivers?
Brown:
Antonio Brown
has really emerged as a No. 1 receiver and made the Steelers look smart for not overpaying for
Mike Wallace
. That said,
Emmanuel Sanders
has not been consistent enough to give the Steelers a receiving option to pair with Brown.
Sanders has a ton of talent, and he is a big-play threat. I keep waiting for him to break out. This could be the week for him to do it as the Steelers are going to have to score their share of points to keep up with the Lions. Lost in the Steelers' 55-31 loss at New England a couple of weeks ago is how much success the Steelers had attacking the Patriots' cornerbacks.
If the Lions' cornerbacks are vulnerable, the Steelers will go after them, and Detroit has to be mindful of the middle of the field where tight end
Heath Miller
and
Jerricho Cotchery
work and are trusted by Roethlisberger.
Michael, I don't see the Steelers winning this game unless they score a lot of points. What needs to happen for the Lions to lose?
Rothstein:
That's an interesting question, Scott, and with the Lions you just never know. I'd probably start with if any of the Lions' starters in the secondary went down with injury. That would necessitate playing either an inexperienced safety or rookie
Darius Slay
if one of the corners goes down. Roethlisberger is good enough that he'd pick on that side of the field consistently.
Another would be to force turnovers. Stafford has been quite good this season, essentially throwing less than two interceptions per 100 attempts (he has a 1.9 percent rate), which is in the top 10 of the league and tied with
Drew Brees
. If Detroit's offense can hold on to the ball and everyone is healthy, it'll score points.
I'll close out with this: You mentioned Pittsburgh trying to establish the run first. What's been going on there? It seems as if there has been a rotating cast of players because of injuries and other issues. Do the Steelers even have a reliable running attack?
Brown:
Depends on the week, it seems, when it comes to the Steelers' running game. It has gotten a lot better since
Le'Veon Bell
became the feature back, and the Steelers have rushed for over 100 yards in their last two games.
To put into perspective how important it is for the Steelers to establish the ground game, they have run the ball just over 51 percent of the time in their three wins and around 30 percent of their time in six losses.
The Steelers have to run the ball against the Lions, and a big component of that is not falling behind early, something that has been a problem this season.
November, 10, 2013
11/10/13
4:05
PM ET
PITTSBURGH -- A few observations from the
Pittsburgh Steelers
'
23-10 victory
against the Buffalo Bills at Heinz Field:

What it means:
The Steelers kept their season from spiraling out of control by beating up on the Bills in a stadium that had more than a few empty seats. As cathartic as the victory proved to be a week after the Steelers were humiliated in New England, there isn't anything to suggest it is anything more than a Band-Aid. The Bills (3-7) were awful, and the Steelers (3-6) need to string at least three victories together before there can be any talk of them as plausible playoff contenders, as mediocre as the AFC North and the conference is.
Stock watch:
Yes, the Steelers weren't exactly facing Jim Kelly and the K-Gun offense, but the defense needed to play well in the worst way, and it did for the most part during a cold, drab day at Heinz Field. The Steelers used a familiar formula -- stopping the run and not letting a young quarterback beat them -- a week after arguably the worst defensive performance in franchise history.
C.J. Spiller
never got out of neutral, and the Bills were just 3-of-14 on third-down conversions. The Steelers improved to 17-2 against rookie quarterbacks since 2004, the year Dick LeBeau returned for a second stint as the team's defensive coordinator.
Walking wounded:
It wouldn't be a Steelers game without an injury sustained by at least one of the offensive linemen. Left guard
Ramon Foster
left the game with an ankle injury early in the third quarter and did not return to the game. Starting outside linebacker
LaMarr Woodley
(calf) and reserve safety
Shamarko Thomas
(ankle) also left the game with injuries.
Hardly a clinic:
Somewhere
Drew Butler
is laughing.
Zoltan Mesko
, too. The punters ushered out of Pittsburgh by coach Mike Tomlin probably couldn't have done worse than
Mat McBriar
in his first two games with the Steelers. McBriar, signed after Pittsburgh waived Mesko two weeks ago, had punts of 27 and 36 yards in the first quarter and was a major reason the Steelers were unable to flip the field.
No regrets:
The Steelers were reminded that it could be worse when it comes to their punting situation.
Brian Moorman
couldn't beat out Butler in training camp -- Butler was later dumped for Mesko -- and he didn't do much of anything for Buffalo against the Steelers. Moorman nearly kicked a ball into the stands when the Bills were hoping they could down a punt deep inside Steelers territory. He later kicked a low line drive that
Antonio Brown
returned 24 yards and led a 4-yard touchdown run by Le'Veon Bell.
Next up:
The Steelers and their defense face what should be a considerably sterner test next Sunday when the
Detroit Lions
visit Heinz Feld for a 1 p.m. ET game.
Matthew Stafford
is the kind of passer who can carve up the Steelers' secondary if he gets time in the pocket. Lions wide receiver
Calvin Johnson
, meanwhile, is a bigger matchup problem than polka dots and stripes.