Pittsburgh Steelers:

Miami Dolphins
February, 5, 2014
2/05/14
1:15
PM ET
PITTSBURGH -- Was a Steelers player prepared to lobby Pittsburgh to sign guard
Richie Incognito
had the Dolphins cut him in the aftermath of bullying allegations that generated national headlines?
Consider what Steelers free safety
Ryan Clark
said Wednesday morning on ESPN's "First Take."
"The only person that I know that knows Richie Incognito personally said the day after (the story broke), 'If Richie Incognito gets cut I'm walking upstairs and telling coach to pick him up,' " Clark said. "He's like, 'That's the type of football player I want to play with. All of that stuff in the locker room, that's how they act, that's how they talked but as far as playing football I want you to play nasty, I want you to be like that.' "
Clark did not reveal the name of the player who told him that, and it could well have been someone on other team with whom the veteran free safety is friendly. But it is reasonable to assume that there is a good chance Clark's conversation took place with a Steelers teammate.
Would the Steelers have given any consideration to signing Incognito had the Dolphins released him last November? Not a chance.
But Clark's revelation shows a different side of NFL locker rooms, one in which players are able to separate or overlook behavior, no matter how coarse it is, from the business of winning games.
It is also consistent with how a significant number of players in the Dolphins' locker room felt after offensive tackle
Jonathan Martin
abruptly left the team last October and later leveled bullying charges against Incognito.
The accusations led to Incognito's suspension -- it was lifted earlier this week -- and a host of Dolphins teammates defended him and backed Incognito's claim that he and Martin were friends.
The recent release of text messages between the two, bawdy as they were, appear to support what Incognito has maintained all along and that there may have been a rush to judgment.
Clark did not defend Incognito or the offensive language he used freely around teammates.
But he questioned whether the physical and psychological stress of playing football had led to Martin breaking down and then scapegoating Incognito for his hasty exit from the Dolphins.
Clark recalled a conversation he had with former Dolphins executive vice president of football operations Bill Parcells in 2010 when he nearly signed with Miami as an unrestricted free agent.
"He said 'One day Ryan you're going to walk out of the huddle, it happens to every player, and you're not going to want to hit the person on the other side of the ball and when that happens it's time to let it go,' " Clark said. "I just think Jonathan Martin got there earlier than most people do."
As for the NFL futures of both players, Clark said, "I think (Incognito) will get a chance before Jonathan Martin. The way he behaves is genuinely who he is where Jonathan Martin behaves more to me like a person who is being advised."
December, 8, 2013
12/08/13
10:00
AM ET
By
ESPN.com staff
| ESPN.com
Join our ESPN.com NFL experts as they break down the Miami Dolphins' visit to the Pittsburgh Steelers. Contribute your thoughts and questions beginning at 1 p.m. ET. And, be sure to visit our
NFL Nation Blitz page
for commentary from every game, as well as fan photos and the latest buzz from Twitter. See you there.
December, 7, 2013
12/07/13
10:00
AM ET
A quick-hit look at the Steelers' 1 p.m. game Sunday against the Dolphins at Heinz Field:
0
: Wins the Steelers have this season when they have allowed a 100-yard rusher

1
: Touchdown pass
Ben Roethlisberger
needs to become the Steelers' all-time leader in that category
1
: Career 100-yard rushing game by Dolphins RB
Lamar Miller
2
: Interceptions by Steelers S
Troy Polamalu
in three career games against the Dolphins
3
: Running backs who have rushed for at least 100 yards against the Steelers this season
4
: Defensive backs among the Steelers' six leading tacklers
5
: Catches of 40 or more yards by Dolphins WR
Mike Wallace
5
: Games in which Steelers RB
Le'Veon Bell
has had at least 90 yards from scrimmage
8
: Consecutive games that the Dolphins have intercepted a pass
8
: Catches of 40 or more yards by Steelers WR
Antonio Brown
16
: Interceptions made by the Dolphins, six more than they had all of last season
23
: Receiving yards Steelers WR
Emmanuel Sanders
needs to establish a new season high
26
: Dolphins' NFL rank in total offense
30
: Steelers' NFL rank in net punting average
36.5
: Average net yards per punt by the Steelers
37
: Sacks by the Dolphins
49.5
: Sacks by Dolphins DE
Cameron Wake
since 2009, the fifth most of any NFL player during that span
108.2
: Roethlisberger's passer rating in four games against the Dolphins
321.9
: Dolphins' average yards per game
453
: Yards the Dolphins had in their 23-3 win over the Jets last Sunday, their highest total of the season
December, 6, 2013
12/06/13
12:00
PM ET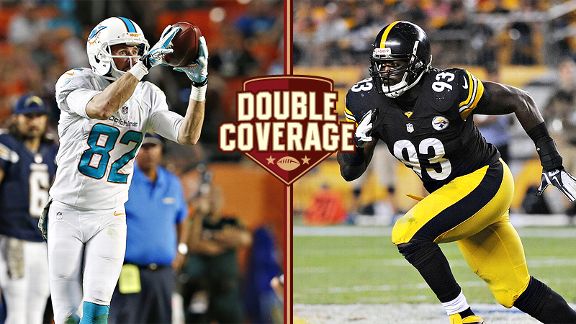 Getty ImagesBrian Hartline, left, and Miami face Jason Worilds and Pittsburgh in a game with playoff implications.
The postseason has started early for several teams around the NFL. The
Miami Dolphins
(6-6) and
Pittsburgh Steelers
(5-7) are two of those clubs, and they will meet Sunday at Heinz Field in what could amount to a playoff eliminator.
Miami and Pittsburgh are fighting for the final wild-card spot in the AFC, which is currently held by the
Baltimore Ravens
(6-6). The winner of Sunday's game will remain firmly in the playoff hunt, while the loser falls behind the pack.
ESPN.com's Dolphins reporter James Walker and Steelers reporter Scott Brown weigh in on who will prevail in this important game.
Walker:
Scott, I think much of this game will be determined by the matchup between Miami's ninth-ranked pass defense against Pittsburgh's eight-ranked passing offense. This is a strength vs. strength clash. The Dolphins are very wary of Pittsburgh quarterback
Ben Roethlisberger
. Miami defensive coordinator Kevin Coyle knows Roethlisberger well from his days with the
Cincinnati Bengals
and has a healthy respect for "Big Ben." He's unlike any quarterback Miami has faced this season because of his ability to extend plays to throw deep, not necessarily to run for extra yards. There is a lot of pressure on Miami's cornerbacks and safeties to maintain their coverage longer than usual to prevent big gains on broken plays.
Speaking of which, Steelers receiver
Antonio Brown
is Pittsburgh's best playmaker, and leads the NFL in receptions. What makes him so dangerous?
Brown:
It's funny that Brown still doesn't get his due as a No. 1 wide receiver, even from some media types in Pittsburgh, despite the phenomenal numbers he has put up this season. Brown might not have the size associated with No. 1 receivers, and he does not have blazing speed, but he has excellent quickness, is a superb route runner, and Roethlisberger has said he's never seen a receiver who is able to adjust to a ball while it's in the air the way Brown regularly does. Above all, Brown works at it. I mean really works at it. He is maniacal about training, and it's not uncommon for Brown to hit the gym for a workout after spending all day at Steelers' headquarters.
James, you have been immersed in one the biggest stories of the season, and I'm sure Steelers' fans would appreciate your take on how the Dolphins have dealt with the turmoil and distractions caused by the
Jonathan Martin
bullying allegations. Have the Dolphins settled into any semblance of normalcy, or is their a new normal in Miami?
Walker:
Things have been as close to normal this week as it's been since Martin left the team Oct. 28. There was a huge dark cloud hanging over the Dolphins, and things intensified and became very uptight the week NFL lead investigator Ted Wells visited the team. I expect things to be relatively calm for a couple more weeks until Wells completes the report and releases his findings. After that, all bets are off. There will be no winners in this complex situation. I don't expect
Richie Incognito
or Martin to return to Miami. So the Dolphins have already taken a hit. More heads could roll if others are found culpable.
Scott, one Dolphin who is excited about this matchup is former Steelers receiver
Mike Wallace
. What type of reception do you think he will receive, and how will Pittsburgh's secondary defend Wallace?
Brown:
I think Wallace will hear his share of boos. I think he is perceived, fair or not, by a lot of Steelers fans as selfish and a player who did not produce enough last season or help the team chemistry because of his contract situation. I'm real interested to see how the Steelers try to defend Wallace. His speed is going to be a problem for a defensive backfield that has lost a collective step given the age of its starting safeties, not to mention top cornerback
Ike Taylor
.
Taylor usually draws the assignment of shadowing the opposing team's No. 1 wide receiver, but I'm not sure the Steelers will do that with Wallace, since coach Mike Tomlin has a lot of respect for
Brian Hartline
as well. Whoever draws Wallace will get help from a safety, but he could have a big game at Heinz Field. The Steelers have given up seven passing plays of at least 50 yards this season, and I'm sure Wallace would love nothing more than to add to his former team's total.
James, what are the early reviews on Wallace? It doesn't seem like the Dolphins are getting the return from the investment they made in him, though I know it's early.
Walker:
It's still a work in progress, Scott. Wallace hasn't put up the production many in Miami expected, but there is plenty of blame to go around. Starting with Wallace, the drops are on him. Wallace had too many drops early in the season, although he's gotten better in the second half of the year. But other factors such as scheme and quarterback
Ryan Tannehill
's inability to throw a consistent deep ball has made it tough for Wallace to make the same plays he made in Pittsburgh. Tannehill doesn't have Roethlisberger's arm strength or ability to extend plays. Wallace thrived off broken plays that Roethlisberger created. Tannehill doesn't have near the same elusiveness and ability to out-throw the coverage. Wallace is getting open, but many of Tannehill's deep balls have been underthrown, which allows defenders to recover. There are some things involved that Wallace cannot control. But he does have momentum coming into this game. Wallace has totaled 12 catches for 209 yards and two touchdowns in his past two games. I expect him to be amped for Sunday.
Finally, Scott, what do you think of Pittsburgh's playoff chances, and how it relates to this game?
Brown:
In spite of the latest wave of injuries to hit the offensive line, I actually think the Steelers have a chance to win their final four games and make the playoffs -- if they get the help they are going to need with the Ravens. My outlook probably changes if
Aaron Rodgers
is playing quarterback in the Steelers' Dec. 22 game at Green Bay. But if the Packers drop out of playoff contention, does Rodgers play against the Steelers? That is a big if as of right now.
Green Bay is the only remaining road game for the Steelers, so the schedule sets up favorably, especially given Rodgers' uncertain status. Roethlisberger is really locked in right now, and I think he is capable of carrying the Steelers and masking a lot of problems assuming an offensive line that is held together by duct tape can do a reasonable job of protecting him.
.