Pittsburgh Steelers:

Michael Palmer
August, 28, 2014
Aug 28
10:35
PM ET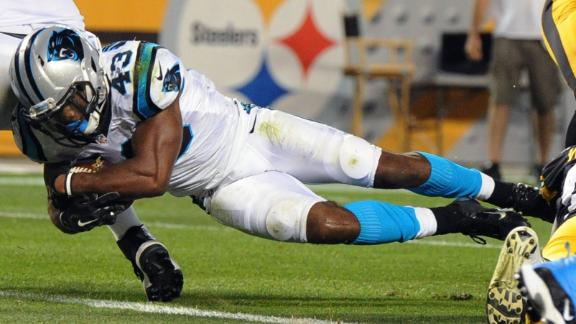 PITTSBURGH -- It certainly looked like a fourth preseason game, from the swaths of empty seats at Heinz Field to the uneven play with many starters from each side playing sparingly, if at all.
Carolina parlayed a big pass play into the game's only touchdown ,and the Panthers beat the Steelers 10-0 Thursday night with the specter of final cuts looming for fringe players on each side.
Landry Jones
started at quarterback and completed 14 of 18 passes for 97 yards before giving way to
Brendon Kay
midway through the third quarter. Jones, a fourth-round pick in 2013, didn't lead any scoring drives but probably did enough to make the 53-man roster as the Steelers' No. 3 quarterback.
No Steelers player battling for a roster spot made a particularly compelling argument to stay with the team beyond 4 p.m. ET Saturday, the NFL deadline for finalizing 53-man rosters.
Brad Wing
looked like he was on his way to nailing down a roster spot after pinning the Panthers deep in their own territory several times. Then the Aussie unleashed a 25-yard clunker, something that will make the coaches ponder whether Wing is consistent enough to be trusted.
Players such as Wing have made their final argument as far as making the team.
The Steelers' coaches and front office personnel will meet on Friday to start paring down the roster and could make some cuts then, with the rest coming on Saturday. The Steelers have to cut 22 players to get to the 53-man limit by late Saturday afternoon.
Some other thoughts from the Steelers' fourth preseason game:
August, 15, 2014
Aug 15
7:00
PM ET
This is the third in a series that takes a post-training camp look at every
Pittsburgh Steelers
' position. Next up is tight end.
Players on the roster:
Heath Miller
,
Matt Spaeth
,
Michael Palmer
,
David Paulson
,
Rob Blanchflower
and
Eric Waters
.
Miller
Projected starter:
Miller. The 10th-year veteran is still one of the best all-around tight ends in the NFL. Miller should be better this season after practicing during the offseason as well as in training camp, something he couldn't do in 2013 because of a torn ACL.
Projected number on 53-man roster:
Three. That number is a tick low but the Steelers can save a spot at this position since
Will Johnson
will play a lot of tight end and
Mike Adams
can be used as a third tight end in the Steelers' jumbo package. What is still very much in question is who the third tight end will be after Miller and Spaeth.
Rookie watch:
I think Waters is more on the Steelers' radar than Blanchflower is, even though they drafted the latter. Waters, who signed with the Steelers as an undrafted free agent, is more athletic and physical than Blanchflower. At worst he makes the practice squad unless his play drops off sharply in the final two weeks of the preseason. It is go time for Blanchflower if the seventh-round pick intends on making a serious push for the 53-man roster or even practice squad.
What we learned in camp:
The Steelers are not especially deep at tight end and the opening is there for a promising youngster like Waters to emerge and play his way onto the roster. The Steelers like Palmer, who's a veteran, because he blocks and plays special teams but he is a non-factor in the passing game. Paulson caught a lot of passes at St. Vincent but he is even more expendable than Palmer. Johnson gives the Steelers a solid third tight end and allows them to keep Palmer if they don't want to lose his special-team contributions, or one of the rookies if they don't think they will be able to sneak that player onto the practice squad.
He said it:
"Certainly we have some guys that are talented (but) that doesn't mean much in the grand scheme of things because everyone can look at their roster and feel good about where they are right now. We have to work on being cohesive as a unit and we'll see." -- Miller on the potential of the Steelers' offense.
August, 10, 2014
Aug 10
9:00
AM ET
The
Pittsburgh Steelers
dropped another preseason game, this one when they allowed
Curtis Painter
to drive the
New York Giants
down the field for a late touchdown.
But they did not lose the most important thing Saturday night at MetLife Stadium: bodies.
Left guard
Ramon Foster
left the game in the first quarter after getting poked in the eye, but that was the only injury of note in the Steelers' 20-16 loss to the Giants, and it doesn't appear to be serious.
The Steelers remain relatively healthy as only linebacker
Ryan Shazier
(knee), nose tackle
Steve McLendon
(concussion), wide receiver Darrius Heyward-Bey (concussion) and tight end
Michael Palmer
(undisclosed) did not play against the Giants because of injuries.
Troy Polamalu
did not play in the Steelers' preseason opener but coach Mike Tomlin said he elected to hold the veteran strong safety out of action.
Here are
my initial thoughts
on the Steelers' performance and a view from the other side as ESPN.com Giants reporter Dan Graziano takes a
closer look at New York
, which was playing in its second preseason game.
Other coverage from the game:
The Pittsburgh Post-Gazette's Ed Bouchette writes that it certainly looked like a first preseason game for the Steelers -- and that they have plenty to work on during their final practice of training camp.
The Pittsburgh Tribune-Review's Alan Robinson found positives from the loss that kept the Steelers winless in the preseason since 2012, namely the return of linebacker Sean Spence.
Steelers Digest named outside linebacker Howard Jones its player of the game after the undrafted rookie recovered a pair of fumbles and returned one of them for a 28-yard touchdown.
July, 5, 2014
Jul 5
4:00
PM ET
This is the next in a series that look at every position on offense and defense with training camp approaching. The next look is at tight end.
Returning starter:
Heath Miller
. The trusty veteran missed just two games despite coming back from a torn ACL, and he caught 54 passes for 593 yards and a touchdown. Miller should be better in 2014 after participating in offseason practices as well as training camp.
New faces:
Rob Blanchflower
. The Steelers drafted the UMass product in the seventh round and he has a good chance of making the 53-man roster despite four tight ends returning from last season.
On the bubble:
David Paulson
. The 2012 seventh-round pick has caught just 13 passes for 153 yards in two seasons, and he is an average blocker at best. Paulson and
Michael Palmer
could battle for one roster spot, with special teams making the difference.
Miller
By the numbers:
The Steelers averaged 115.3 rushing yards in the four games that Miller and
Matt Spaeth
played together last season, much better than their season rushing average of 86.4 yards.
Did you know:
Miller is one of only six players in Steelers history to accumulate at least 5,000 career receiving yards. He is one of just five players with at least 40 touchdown catches and the only Steelers tight end to achieve that feat.
Quotable: "
We've got new faces, but from what I've seen they're all more than capable of getting the job done and it's just a matter of who is going to be out there doing it. It doesn't matter who it is, I think we're going to have capable guys out there." – Miller on the new addition to the Steelers' passing game.
Outlook:
Miller, entering his 10
th
NFL season, is still one of the best all-around tight ends in the NFL as well as a favorite target of quarterback
Ben Roethlisberger
. The 6-foot-4, 256-pounder had been in the midst of his best season in 2012 before tearing his right ACL in the Steelers' next-to-last game. The Steelers need Miller to re-establish himself as a similar threat this season with Spaeth more of a blocking tight end. Having Miller and Spaeth together for an entire season could be big considering the success the Steelers have had running the ball when both tight ends are in the game. Starting fullback
Will Johnson
will play more tight end this season, and he could provide some production as a pass catcher.
June, 10, 2014
Jun 10
2:45
PM ET
PITTSBURGH -- It is only June, not to mention voluntary practices in shorts.
But
Mike Mitchell
has been keeping track of interceptions, and the
Pittsburgh Steelers
free safety made his first one during organized team activities, a nifty over the shoulder grab on the plush grass at Heinz Field.
Mitchell
The Steelers held their offseason practice Tuesday away from team headquarters. For Mitchell, it was his first time back at Heinz Field since playing there in 2010 when the
Oakland Raiders
visited the Steelers.
"That's got to be a good omen, right? And it's my birthday, so I was super excited," Mitchell said following the Steelers' first practice of the week. "It felt really good to be running around and playing in the stadium."
While Mitchell, who turned 27 today, got reacquainted with Heinz Field, many of the rookies and first-year Steelers experienced it for the first time.
Wide receiver
Lance Moore
returned to Heinz Field for the first time in more than a decade. Moore played in the stadium when Toledo visited Pitt, which shares Heinz Field with the Steelers, a year after it opened in 2002.
Moore, who has stood out during OTAs, made perhaps the catch of the day when he hauled in a short touchdown pass from quarterback
Ben Roethlisberger
.
Moore ran a fade pattern and the ninth-year veteran hauled in Roethlisberger's pass in the left corner of the end zone despite tight coverage by cornerback
Brice McCain
.
Also of note from the Steelers' eighth OTA session:
Outside linebacker Jason Worilds did some running but did not participate in practice. Worilds has not practiced since hurting his calf during the Steelers' first OTA session. Defensive end Nick Williams (knee) did not practice and tight end Michael Palmer did some running on the side. Cornerback Ike Taylor did not attend practice Tuesday. Fullback Will Johnson, who had been wearing a protective boot last week, was a full participant in practice.
Linebacker Vince Williams drew a rebuke from coach Mike Tomlin after he threw a forearm to the head of wide receiver Danny Coale during a drill. Coale, who will be part of a crowd battling for a roster spot at wide receiver, had a nice day at Heinz Field. He caught a long pass that drew praise from Tomlin.
Tomlin was active, as always, during Tuesday's OTA session. When he wasn't joking with Le'Veon Bell about the running back's lofty opinion of his own basketball skills he was barking at Martavis Bryant after a Roethlisberger pass sailed through the rookie wide receiver's hands when the Steelers were working on their red zone offense. Bryant, Dri Archer, Markus Wheaton and Antonio Brown were among the players who fielded punts on Tuesday.
June, 5, 2014
Jun 5
3:15
PM ET
PITTSBURGH -- The Steelers again worked on their no-huddle offense Thursday, and quarterback
Ben Roethlisberger
appears to have more peace of mind about the attack than he did a couple of weeks ago.
"I think everybody's doing a good job and that we can get back on track pretty quick," Roethlisberger said following the Steelers' final practice of this week.
Roethlisberger
Roethlisberger expressed some reservation about the no-huddle offense at the start of organized team activities. He said how much the Steelers use the attack that worked so well for them last season would depend on how quickly the new wide receivers became comfortable with it.
So far, so good on that front, said Roethlisberger, who added that the Steelers have worked more on their no-huddle offense in OTAs than they have in past years when it comes to the voluntary practices.
"I think it's something that we've realized what we can be and what we did last year," Roethlisberger said on one of the nicest days of the year in Pittsburgh. "We'll use it more. I don't want to call it our base offense but I think you'll see more of it so I think it was important for us to get in it early and often."
Roethlisberger, running the no-huddle offense at the end of practice, led the Steelers on a scoring drive that he capped with a short touchdown pass to
Antonio Brown
. It was a good way for the first-team offense to end practice, especially since
Will Allen
had stopped an earlier drive when the veteran safety intercepted a Roethlisberger pass along the left sideline.
"I thought it was a good play and Will came and picked it off," Roethlisberger said. "We're not going to score on every series that we go no-huddle."
Also of note from Thursday's OTA session:
Roethlisberger didn't bite when asked about the six-year, $110 million contact that quarterback Colin Kaepernick signed with the San Francisco 49ers. "Congratulations to him and his family and the 49ers franchise," Roethlisberger said. "We're on opposite sides of the coast. I'm over here just worried about being a Steeler and that's all that matters with me. It's just about getting better out here with these guys." Roethlisberger has two years left on his contract – the same number he had left on his rookie deal when he signed an eight-year, $102 million contract in 2008. The Steelers are expected to sign their franchise quarterback to a new deal at some point though nothing is imminent.
Center Maurkice Pouncey and wide receiver Markus Wheaton were among the players who didn't practice on Thursday. Fullback Will Johnson was out of the walking boot he wore Wednesday but he watched practice on Thursday, as did tight end Michael Palmer. Outside linebacker Jason Worilds, who is nursing a calf injury, spent part of the practice riding a stationary bike.
May, 20, 2014
May 20
4:30
PM ET
PITTSBURGH -- This is the next in a series that takes a post-free agency, post-draft look at all of the positions with the exception of quarterback.
Our second look is at a position that returns four players from last season.
TIGHT END
Who is new:
Rob Blanchflower
. The seventh-round draft choice out of Massachusetts has a real chance of making the team despite the glut of players in front of him.
Who is gone:
David Johnson
. Injuries limited the 2009 seventh-round pick to five games in his final two seasons with the Steelers. Johnson signed a two-year contract with the Chargers in March.
Returning starter: Heath Miller.
One of the most respected players in the Steelers' locker room returned to the field a little more than nine months after reconstructive knee surgery. Miller, one of the best all-around tight ends in the NFL, will become a bigger part of the passing game assuming he is back to full strength for the start of 2014.
Most significant addition:
Blanchflower. The Steelers really like this under-the-radar prospect who set UMass' record for career receiving yards by a tight end (1,164). Blanchflower can block as well as catch passes, and tight ends coach James Daniels said, "He has a high level of aggression."
Most significant loss:
Johnson. He wasn't flashy but he did a lot of little things that don't show up in box scores. Johnson could line up in the backfield as well as provide blocking as an inline tight end. He also played special teams.
On outside looking in:
David Paulson
or
Michael Palmer
. The former is a pass-catching tight end who is not much of a blocker. The latter does not add much to the passing game but is a solid blocker. If Blanchflower plays his way onto the 53-man roster, Paulson and Palmer are likely battling for one spot.
Hidden number:
Miller caught 58 passes in 2013 but just one of those resulted in a touchdown. The previous season, when he was at full strength, Miller caught a career-high eight touchdown passes in 15 games. He also had a career-high 816 yards on 71 receptions.
Outlook:
Having a healthy Miller at the start of the season will be huge for the Steelers and particularly their passing game. Don't overlook having
Matt Spaeth
for an entire season too after the eight-year veteran missed all but four games in 2013 because of a foot injury. Miller and Spaeth make a terrific blocking tandem, and the Steelers averaged 115.3 rushing yards in the four games they played together -- almost 20 yards higher than their season average. There aren't a lot of pass-catching options after Miller so keeping the 2012 team MVP healthy is paramount for the Steelers.
March, 21, 2014
Mar 21
12:30
PM ET
PITTSBURGH -- The Steelers added depth at tight end Friday when they re-signed
Michael Palmer
to a one-year contract.
Palmer, whom the Steelers signehttp://proxy.espn.go.com/blogadmin/pittsburgh-steelers/wp-admin/edit.php?page=statusPaged last August, played in every game last season and caught one pass for eight yards. He was a core special teams player in 2013, and the fourth-year veteran joins
Heath Miller
,
Matt Spaeth
and
David Paulson
as the tight ends on the roster.
The Steelers lost tight end David Johnson last week when the fifth-year veteran signed a two-year contract with the Chargers.
Palmer is the fifth of the Steelers' free agents to re-sign with the team, joining center
Cody Wallace
, offensive tackle
Guy Whimper
, safety
Will Allen
and long snapper
Greg Warren
in that group.
January, 23, 2014
Jan 23
4:00
PM ET
PITTSBURGH -- This is the fourth in a series in which I will examine every position relative to the 2013 season -- and take a look ahead.
TIGHT ENDS:
2014 free agents
:
David Johnson
and
Michael Palmer
Spaeth
Miller
The good:
Heath Miller
came back sooner -- and played better -- than anyone could have expected less than a year after he tore several ligaments in his right knee, including his ACL. Miller played the fifth-most snaps (874) among offensive players despite missing the first two games of the season and seeing limited action in the third. Miller caught 58 passes, third most on the Steelers, for 593 yards. He also proved to be just as valuable as a blocker, and Miller and
Matt Spaeth
really bolstered the ground game when they were on the field together.
The bad:
Miller had uncharacteristic drops and scored just one touchdown. Spaeth played in only four games, missing the first 12 because of a foot injury. The Steelers did not get much out of
David Paulson
and Palmer beyond special teams, and Johnson played in just five games before dislocating his wrist and landing on injured reserve. Miller's absence at the start of the season exposed the Steelers' lack of quality depth at the position.
The money (2014 salary-cap numbers):
Miller's cap hit will be just under $9.5 million but the Steelers can lower that number by signing the ninth-year veteran to a new deal. Miller is going into the final year of his contract, and I will be shocked if the two sides don't reach an agreement on a new deal sooner rather than later. The drop-off after Miller is significant, and he is still one of the best all-around tight ends in the NFL. The work ethic that allowed Miller to return to the field less than a year after reconstructive knee surgery also bodes well for him continuing to play at a high level despite the advancement of age. Spaeth's cap hit this year is just over $1 million, making him a bargain if he can stay healthy. My guess is the Steelers will bring Johnson back since the price will be right given that he has played just five games in the last two seasons. The Steelers would probably feel pretty good going into training camp if Miller, Spaeth and Johnson are their top three tight ends and they add another one in the draft.
Draft priority:
Higher than it looks. Miller isn't getting any younger and the Steelers certainly aren't oblivious to the matchup problems big, athletic tight ends with soft hands create in a league that is clearly a passing one. There are a couple of tight ends in this year's draft with the potential to be that kind of player. Eric Ebron tops that list, and the former North Carolina star looks like a transcendent talent. Ebron could be in play with the 15
th
overall pick even though the Steelers have more pressing needs, particularly on defense. I think the Steelers draft a tight end this year, but where they take one is anybody's guess.
November, 12, 2013
11/12/13
2:00
PM ET
PITTSBURGH -- Coach Mike Tomlin became the latest to refute an NFL Network report that
Ben Roethlisberger
may request that the Steelers look into trading him in the offseason because the veteran quarterback is frustrated over the direction of the franchise.
When asked if he has sensed that Roethlisberger is frustrated, Tomlin said, "I have, [it's] relative to losing and I share it but not anything that would lead us into (trade) discussion in any form or fashion. I'm not going to provide any more legs to an erroneous story. I thought it was handled and handled appropriately."
Here are more Tomlin takes from his weekly news conference:
The Bengals have drifted back toward the pack in the AFC North following back-to-back losses, but Tomlin said he is not taking note of what is happening around the league for a simple reason. "Our first charge is handle our business and we haven't done that consistently enough to look outside of our own house," Tomlin said. "It doesn't matter what's going on in our division or around the National Football League unless we can start stacking significant wins."
The seventh-year coach said reserve running back Jonathan Dwyer has earned more playing time. Dwyer has rushed for 139 yards and is averaging 4.8 yards per carry, and Tomlin lauded the fourth-year veteran for his work on the Steelers' kickoff and punt return teams. When asked if Dwyer has changed because the Steelers released him in late August, Tomlin said, "I would imagine unemployment does that."
Heath Miller caught just one pass for six yards in the Steelers' 23-10 win over the Bills, and the veteran tight end didn't hang onto what appeared to be a couple of catchable balls. Despite limited production from Miller in the passing game the last couple of weeks, Tomlin said he has been pleased with Miller's play. "I thought it's been timely and consistent as always. It's our job to take what they give us and take it consistently. I've got no issue with Heath." Michael Palmer has moved ahead of David Paulson on the depth chart at tight end, Tomlin said Palmer has practiced better than Paulson and earned more opportunities.
After reviewing film of the win over the Bills, Tomlin said he liked how the offense, defense and special teams all complemented one another. "There were contributions from all three phases," he said, "but really they came at different times."