Pittsburgh Steelers:

Mike Pettine
September, 4, 2014
Sep 4
6:45
PM ET
PITTSBURGH – Dick LeBeau again offered high praise for
Johnny Manziel
and said he expects the
Cleveland Browns
quarterback to play in some capacity Sunday at Heinz Field.
"I'll be very surprised if we don't see him," the
Pittsburgh Steelers
defensive coordinator said on Thursday. "He's been one of the top football players in the nation not for one year but for several years. You look at his offensive numbers and it's not a magic wand that he's waving out there. He's creating those situations and making plays. They're going to be wanting to bring him along and get him some game action. I'm sure of that."
How much game action Manziel sees in the 1 p.m. ET game remains to be seen.
Browns coach Mike Pettine has been coy about Manziel's role, and he has publicly said that starting quarterback
Brian Hoyer
doesn't have to worry about getting yanked from the game early if Cleveland's offense struggles.
LeBeau praised Hoyer and said he "has a lot of respect for him," but he has been preparing for Manziel in some form since the early part of training camp. LeBeau said the Steelers will have to adjust if Manziel plays against them in the season opener.
"You do have to treat him a little bit differently," LeBeau said. "Some guys you can take a little more liberties with [when rushing the passer], but he'll be gone in a minute. You have be coordinated in your rush. It comes down to execution more than anything."
The Steelers have downplayed the significance of getting the first crack at Manizel in the regular season assuming the former Heisman Trophy winner plays on Sunday.
"I don't think we want to just treat him like he's all-world but we're going to respect his talent," defensive end
Cameron Heyward
said. "He did it at a high level in college and he's looking to do it again. We have to look to show him this is the NFL now."
September, 4, 2014
Sep 4
12:00
PM ET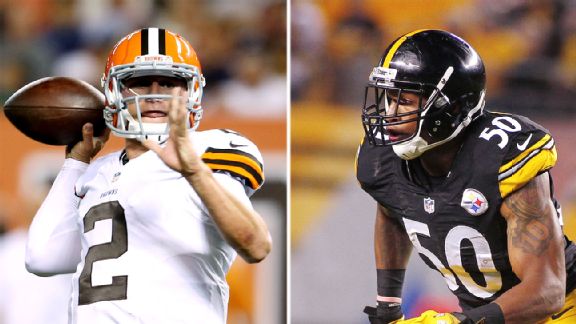 USA TODAY Sports, Getty ImagesAll eyes will be on these rookies in Week 1: Cleveland's Johnny Manziel and Pittsburgh's Ryan Shazier.
The
Cleveland Browns
and
Pittsburgh Steelers
renew their long-standing rivalry Sunday at Heinz Field.
And something has to give in the game in which
Johnny Manziel
is expected to make his NFL debut. The Browns have lost 10 consecutive games at Heinz Field, while the Steelers haven't won a season opener since 2010.
ESPN NFL Nation Browns reporter Pat McManamon and ESPN NFL Nation Steelers reporter Scott Brown take a closer look at the 1 p.m. ET game.
Brown:
Pat, how many times have you written the surname Manziel since the Browns drafted Johnny Football in early May? Well, let's get the obligatory Manziel chatter out of the way. How do you see the Browns using Manziel on Sunday and how much do you expect him to play?
McManamon:
As for the first part, Scott, let's say more than five and less than 10,000, but just barely less. I would be surprised if Manziel does not see the field for a play or a series in each half. The Browns and coach Mike Pettine have been coy about how he'll be used, but he does bring a different element than
Brian Hoyer
, and the Browns could put him on the field the same way the Steelers first used Kordell Stewart. Certain down-and-distance situations might be good for the read-option, or certain spots on the field might be good for a quarterback who can move. I don't think Manziel will play a lot, but I do think he'll play in the right spot, as judged by the coaching staff.
Scott, a slow start doomed the Steelers last season. How determined are they to avoid that slow start again, and how much bad luck is it for the Browns to draw the Steelers in the opener?
Brown:
For the record, I am not going to start calling you Pat McFootball no matter how many times you privately lobby me to do so. Take a picture with the Biebs in it and we will talk. With that order of business out of the way, I will say the schedule-makers did not do the Browns any favors by having them open in Pittsburgh. I suspect the Steelers will publicly downplay the notion that this is a must-win game, but in reality it is. The Steelers cannot start slow again this season, and with road games against the Ravens and the Panthers looming, they have to beat the Browns. As hard as it is to win in the NFL, nothing is more served on a platter than an opponent that hasn't won in Pittsburgh in more than a decade and has an offense riddled with question marks. Did I mention
Ben Roethlisberger
, who has never forgiven the Browns for passing on him in the 2004 NFL draft, has lost just one time to Cleveland?
Getting back to the Browns' offense, who do the Steelers have to worry about beating them with wide receiver
Josh Gordon
out for the season?
McManamon:
Nobody, really. The Browns will try to run the ball and use tight end
Jordan Cameron
creatively, but there is no real outside threat even close to the threat Gordon provided. And Cameron better get used to consistent double coverage. It's almost unfair to throw a quarterback into a game with these circumstances. Running back
Ben Tate
probably will be the offensive bell cow. He'll be featured prominently in the game plan. But the Steelers stop the run in their sleep. This game will be a serious challenge for the Browns' offense and offensive coaches.
Speaking of offense, how has and how will the marijuana possession charges against
Le'Veon Bell
and
LeGarrette Blount
affect the team, if at all, this weekend?
Brown:
It is a footnote to this game. Not to minimize the stupidity that the Steelers' top two running backs showed -- and they are worthy of all of the unflattering nicknames that have surfaced on social media, among other places -- but the issue has presumably been dealt with from the Steelers' end. If Bell and Blount had been suspended for the season opener, we would have seen Roethlisberger throwing a ton of passes and a one-dimensional offense. But with both Bell and Blount slated to play against the Browns, the Steelers' offense will be at full strength.
I am real interested in seeing whether the Steelers try to set up the pass through the run or vice versa. Steelers coach Mike Tomlin predictably gushed about Cleveland's defense at his news conference earlier this week, and certainly that unit is the strength of the Browns. Will that defense be as good as advertised?
McManamon:
Let's tap the brakes on this "good defense." Nobody knows yet. The defense has new names -- and they are good names to have -- but they might not be improved. Also, a defense that was supposed to be good a season ago made a habit of blowing late leads. The weak spot this season is the same as last -- cornerback opposite
Joe Haden
. First-round pick
Justin Gilbert
is going through significant growing pains, and
Buster Skrine
is coming off a thumb injury. The Browns wanted
Isaiah Trufant
to be the nickelback, but he's on injured reserve. Smart teams pick at weaknesses; it would be surprising if the Steelers don't pick on the second corner. The other concern, which has been an ongoing issue: Will the defense wear down because it's on the field too much due to the offense struggling?
Staying with defense, Steelers rookie linebacker
Ryan Shazier
is an Ohio State guy, and there's been a lot of positive press on him throughout preseason. Has he been that good?
Brown:
He has, but the caveat, of course, is that Shazier has yet to play in an NFL game that counts. That changes Sunday, and most telling about the progress Shazier has made is the fact he will become the first Steelers defensive rookie to start a season opener since Kendrell Bell in 2001. There will be the inevitable growing pains as the first-round pick adjusts to the speed of the game at this level. Probably the biggest concern with Shazier is whether he will consistently be able to shed blocks since the 6-1, 237-pounder is not the biggest linebacker. The Browns' offensive line is one of their biggest strengths, so it will be a good opening test for Shazier. I think the kid is going to be a star, and I predict he will win the NFL Defensive Rookie of the Year Award.
September, 4, 2014
Sep 4
8:00
AM ET
PITTSBURGH --
Ike Taylor
painted an optimistic, perhaps even an overly rosy, picture of the
Pittsburgh Steelers
defense Wednesday afternoon as the veteran cornerback held court in front of his locker.
One thing that stood out from another entertaining chat was how Taylor quickly shook his head when asked if rookie
Ryan Shazier
will struggle as he learns to play linebacker on the job.
"He's one of those
Troy [Polamalu]
,
Maurkice [Pouncey]
kind of guys where you can't hold him back regardless of what you want to say," Taylor said. "He's one of those guys. He has that kind of talent."
The Steelers need Shazier to flash that talent early and often after a season in which they allowed 23.1 points per game, the fifth-highest total in franchise history, and yielded more than 100 rushing yards per game for the first time since 2003, according to ESPN Stats & Information.
Shazier will start at weakside inside linebacker, and Taylor is not the only veteran on the Steelers defense who expects big things from the first-round draft pick.
"He's going to be fine," said
Lawrence Timmons
, who will start alongside Shazier. "He listens, which is key. He still doesn't know it all yet but he's the type of guy that's going to listen to veteran like Peezy (defensive assistant Joey Porter) and myself. He's going to go out there and have fun and just create havoc with us."
Shazier will make his first NFL start Sunday against the Browns, and Cleveland coach Mike Pettine said the former Ohio State star was prominent on the teams radar when it was evaluating players before the 2014 draft.
"We thought that he was outstanding," Pettine said of Shazier. "He is just the total package of a guy that can run and hit. He's kind of that new breed of NFL linebacker where not only does he have the height and weight but he has the movement skills as well."
September, 3, 2014
Sep 3
12:30
PM ET
PITTSBURGH –
Ryan Shazier
will make his much-anticipated NFL debut on Sunday but excited is probably not among the words Steelers coach Mike Tomlin would use to describe his feelings about it.
When asked if he is pleased with where Shazier is heading into the regular season, Tomlin said, "Slated to start, yes, but I don't find comfort in that. He's a young guy. He'll be better in two weeks than he is today.
"I think that's one of the points you continue to reiterate to young players, not only him. That yeah, [starting] is a significant point in the journey when we move from preseason to regular season but he's by no means a finished product. We're by no means a finished product."
Shazier will become the first Steelers defensive rookie to start since Kendrell Bell in 2001.
Here are a few other midday odds and ends:
Arthur Moats is the primary backup at outside linebacker and Tomlin strongly hinted that the fifth-year veteran will play significant snaps against the Browns. With heat and humidity likely to be a factor on Sunday, Moats could spell both Jarvis Jones and Jason Worilds. The Steelers rotated three outside linebackers in the first part of the 2013 season. "Fresh bodies are the best bodies, particularly if they are capable of being reasons why we win," Tomlin said. "We believe [Moats] is. We'll let the game circumstances dictate the usage."
The Browns haven't won in Pittsburgh since 2003, and that is not the only history that will be working against new coach Mike Pettine on Sunday. The last seven Browns head coaches have lost their debut with Cleveland. The last Browns coach to win his first game was Bud Carson in 1989 when Cleveland walloped Pittsburgh 51-0. Among the seven coaches who lost their first game with the Browns are Bill Belichick (1991), Romeo Crennel (2005) and Eric Mangini (2009).
April, 3, 2014
Apr 3
4:40
PM ET
PITTSBURGH --
Arthur Moats
wanted stability after dealing with a revolving door at defensive coordinator in Buffalo. The
Pittsburgh Steelers
needed depth at both inside and outside linebacker, and they also wanted to get younger on defense.
Moats
Hence, the match that looks like it will be a pretty good one for each side.
The Steelers signed Moats to a one-year, $795,000 contract last week and
he said on Thursday
that playing both inside and outside linebacker won't be a problem for him after doing the same in Buffalo.
"I'll definitely have to get adjusted to the terminology," Moats said on 970 ESPN in Pittsburgh. "But I feel like I'm a guy who dedicates himself to the game, dedicates himself mentally as well as physically."
Moats started 12 of 16 games last season for the Bills, and the Steelers will initially play him at outside linebacker where they badly needed depth prior to his signing. The 6-2, 250-pounder will really add value if he can indeed play outside and inside, and the Steelers are also counting on Moats to contribute on special teams.
Moats, who recorded 54 tackles last season, is only 26 and he said he had an opportunity to stay in Buffalo. But with Bills defensive coordinator Mike Pettine taking the head coaching job in Cleveland, Moats said the prospect of playing for an organization that is synonymous with stability led to his signing with the Steelers.
"I've had three defensive coordinators (in Buffalo) and this would have been my fourth one, two different head coaches and two different general managers," said Moats, a sixth-round draft pick by the Bills in 2010, "so I was looking for stability and I wanted to go somewhere where they were already proven and had that type of success already."
February, 5, 2014
Feb 5
11:00
AM ET
PITTSBURGH -- Staggering might be a bit strong when looking at the amount of coaching turnover that has taken place in the AFC North.
But there has been a lot of it in the last six weeks, which leads me to a story even if it does poke fun at yours truly.
I decided to recap all of the coaching changes in the division, reaching out to the other ESPN.com AFC North reporters about the comings and goings on their respective teams.
Here is the response I got from ESPN.com Brown reporter (and noted nemesis of mine) Pat McManamon:
Um ... Scott ... except for special teams coach, they've changed the entire staff.
Uh, yeah, would make sense that a new head coach hires his own staff. I appreciated Pat not calling me stupid though I'm pretty sure he implied it (Pat, I must be getting too much sun here in Pittsburgh).
But I digress. Here is an update on the coaching staffs in the AFC North (teams in order of 2013 finish).
Cincinnati Bengals

Jackson
What has changed:
The Bengals have two new coordinators, Hue Jackson (offense) and Paul Guenther (defense), after Jay Gruden and Mike Zimmer left for head coaching jobs.
Most significant hire:
Guenther. Zimmer, who left for Minnesota, had been a widely respected coordinator. The Bengals finished no worse than seventh in the NFL in total defense in each of the previous three seasons, Guenther, who was promoted from linebackers coach to take over for Zimmer, has said he will call plays with the same aggressiveness that defined his predecessor.
Skinny:
Head coach Marvin Lewis stayed in-house to replace both coordinators, and Jackson is expected to emphasize the run more, something the Bengals got away from in their playoff loss to the
San Diego Chargers
. Look for Jackson to take better advantage of
Giovani Bernard
, who flashed as a rookie and should get more touches after splitting carries with the plodding
BenJarvus Green-Ellis
in 2013.
Pittsburgh Steelers

Munchak
What has changed:
Mike Munchak
is the new offensive line coach, and the Steelers essentially traded running backs coaches with the Vikings with Kirby Wilson joining Zimmer's new staff in Minnesota and
James Saxon
replacing Wilson.
Most significant hire:
Munchak. The Pro Football Hall of Famer becomes the third former head coach who is now an assistant on Tomlin's staff, and there are incredibly high hopes for him. His credentials as a player and an offensive line coach make this one of Tomlin's best hires -- and one that Steelers' fans appear to be unanimous in applauding.
Skinny:
Tomlin's staff for 2014 appears to be set. Defensive assistant
Jerry Olsavsky
was a candidate to become the linebackers coach in Buffalo but that position has been filled. Munchak is expected to institute a zone-blocking scheme and there may not be a
more qualified person
on the planet to teach it. I've written how
Le'Veon Bell
could be one of the biggest beneficiaries of the zone-blocking scheme. Here is what former Titans tight end and current radio talk show host Frank Wyche told the Pittsburgh Post-Gazette about Bell in that scheme: "He's going to run the ball like
Eddie George
did for us."
Baltimore Ravens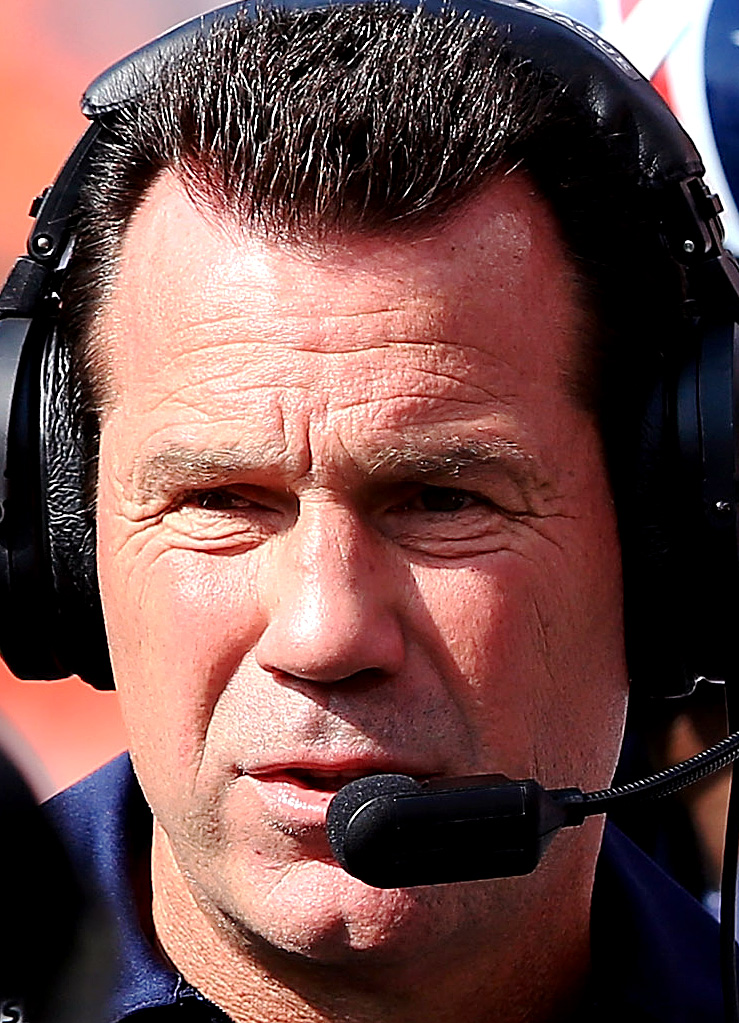 Kubiak
What has changed:
John Harbaugh made plenty of changes after the Ravens went 8-8 and missed the playoffs a season after winning the Super Bowl. Gary Kubiak is the new offensive coordinator and Rick Dennison, has followed Kubiak to Baltimore. Dennison, the Texans' offensive coordinator for the previous four seasons under Kubiak, will coach the Ravens' quarterbacks
Most significant hire:
Kubiak. The former Texans head coach wasn't among the three finalists for the offensive coordinator job, but Harbaugh convinced him to join his staff. Kubiak's biggest challenge is reviving a ground attack that mustered just 3.0 yards per carry in 2013, the worst in the NFL. The Texans always seemed to be able to run the ball during Kubiak's tenure in Houston so he is probably the right coach to fix the Ravens' broken ground game.
The skinny:
Harbaugh now has two former NFL head coaches on his staff with assistant head coach/secondary coach Steve Spagnuolo joining Kubiak in that distinction. There are still openings at running backs coach and wide receivers coach to fill. When Harbaugh has finished rounding out his staff he will have made six changes to it. The previous high as far as coaches Harbaugh had to replace in an offseason was four in 2011.
Cleveland Browns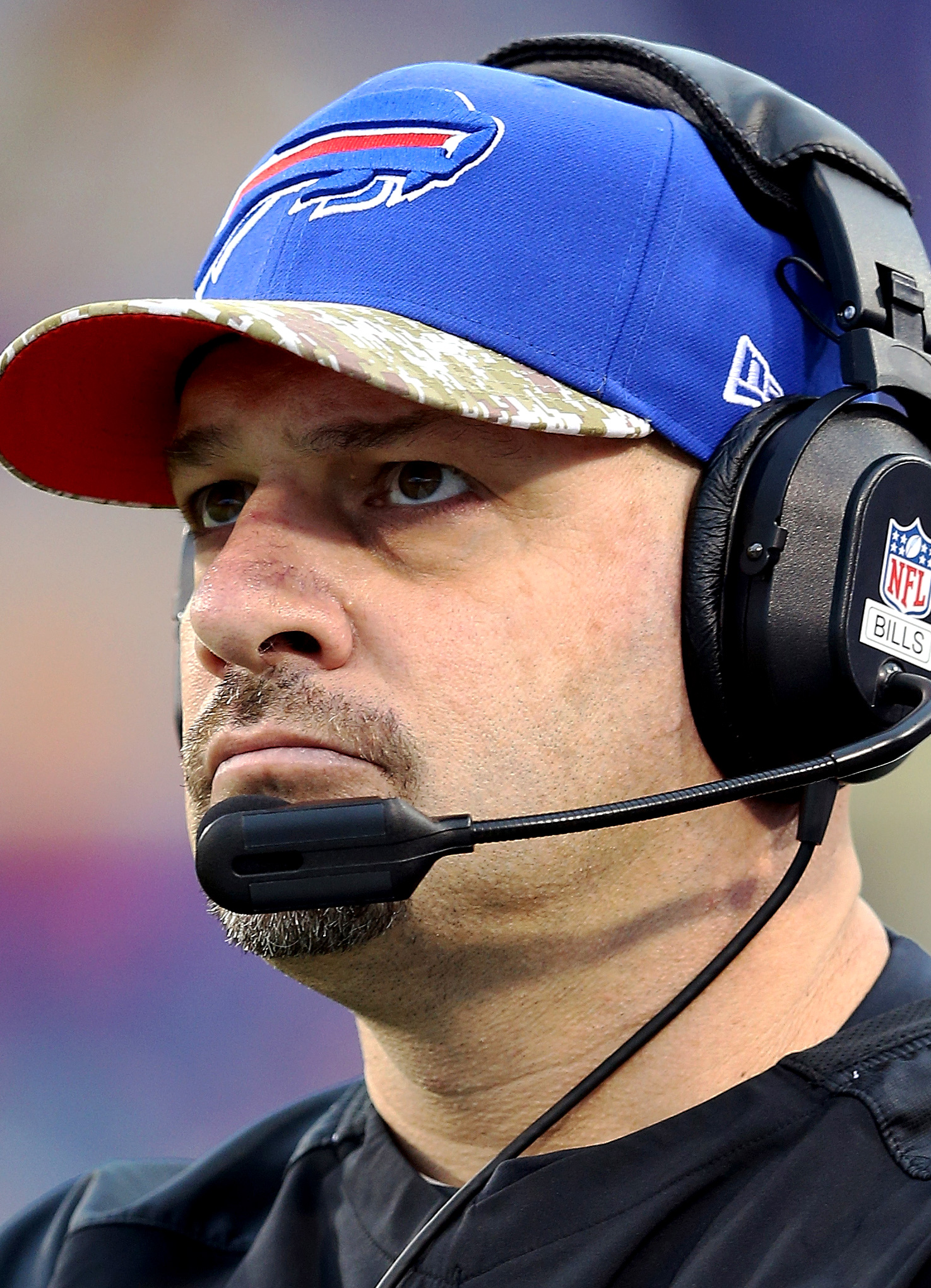 Pettine
What has changed:
Well, just about everything and yet not much at all to jaded Browns fans. Cleveland dumped Rob Chudzinski after just one season. What seemed like an interminable search for his successor turned up former Bills defensive coordinator Mike Pettine, who didn't appear to be on any other teams' radar as far as head-coaching candidates. Former Bills linebackers coach Jim O'Neil is the new defensive coordinator while former Redskins offensive coordinator Kyle Shanahan now holds the same position in Cleveland.
Most significant hire:
After Pettine, it is Shanahan. The former will be tasked with grooming the quarterback of the future and getting more out of an offense that has a legitimate star in wide receiver
Josh Gordon
but is lacking overall at the skill positions. The Browns have two first-round draft picks, including No. 4 overall, this year and they figure to take a quarterback with one of those selections.
The skinny:
The Pettine hire didn't inspire much hope among Browns fans so add that to the list of things working against him in Cleveland. The Browns might have been able to lure defensive coordinator Dan Quinn away from Seattle had they waited longer to hire Chudzinski's replacement. That too will loom over Pettine's first season in Cleveland, especially if his results are similar to the ones that got Chudzinski fired.
January, 23, 2014
Jan 23
8:00
AM ET
Steel City wake-up: morning links
Steelers fans may want to hold off on ticketing Pittsburgh for the 2014 Super Bowl, but their excitement over the
hiring of Mike Munchak
to coach the offensive line is understandable.
The Steelers have more often than not won in spite of their offensive line since Mike Tomlin took over as head coach seven years ago. The uneven play of the line, which, in fairness, has been consistently ravaged by injuries, is why Tomlin is hiring his fourth different offensive line coach.
A young offensive line that returns all of its starters in 2014 is also expected to get Pro Bowl center Maurkice Pouncey back from a torn ACL. The line really jelled in the second half of the season as it allowed just seven sacks in the final seven games and also improved in run blocking.
Munchak's credentials strongly suggest that he is
the coach to pull everything together
up front.
I can't remember such a consensus among Steelers' fans in applauding a Tomlin coaching hires. There is indeed a lot to like about Munchak, who will return to his native Pennsylvania after spending more than
three decades with the Houston Oilers/Tennessee Titans
as a player and then a coach.
It is pretty quiet around the AFC North, and that is news when it comes to the Browns as Cleveland has yet to hire a head coach. Buffalo Bills' defensive coordinator Mike Pettine has emerged the favorite to land the job, and he is scheduled to interview with the team today in Cleveland. ESPN.com reporter Browns reporter Pat McManamon has a good read on what is taking so long for Cleveland, which abruptly fired Rob Chudzinski earlier this month, to hire a coach.
ESPN.com NFL draft analysts Todd McShay, Steve Muench and Kevin Weidl break down how some of the quarterbacks at the Senior Bowl have fared during practices this week. They also list four players who may not wow teams during the workout aspect of the pre-draft evaluation but should not be overlooked because of that. Ohio State offensive tackle Jack Mewhort, a player who could interest the Steelers, is among those players.