Pittsburgh Steelers:

Mike Wallace
August, 4, 2014
Aug 4
4:15
PM ET
LATROBE, Pa. -- Bengals quarterback
Andy Dalton
's new contract won't change the Steelers' approach to
Ben Roethlisberger
and that includes their intention to reward their franchise quarterback when the time is right.
Roethlisberger
The Steelers have concluded that is after the season when room under the salary cap isn't expected to be an issue -- and they can pay Roethlisberger, whose base salary is $12.1 million thie year, top dollar without putting too much strain on the cap.
Roethlisberger turns 33 in March but he is still playing at a high level, and general manager Kevin Colbert said he has never seen the Steelers' franchise quarterback look better.
"I think he's had as good a spring as I've ever seen him have," Colbert told ESPN.com on Monday. "I think he's continued to move that into training camp and right now he's getting acclimated to the young guys we have at wide receiver and at running back."
Roethlisberger has been nothing if not engaged when working with the wide receivers, and he has coached them during training camp as much as he has thrown to them.
The Steelers are brimming with talent at wide receiver and there may not be a more intriguing player at the position than rookie
Martavis Bryant
.
The 6-foot-4, 210-pounder has a unique blend of size and speed, and Bryant has flashed that in recent practices.
He dominated a red zone drill on Saturday. The next day Bryant stretched out to make a sideline catch of a
Bruce Gradkowski
pass that initially looked like it had been way overthrown.
"He's faster than what most people think he is," Steelers cornerback
Ike Taylor
said. "He just has a few routes he needs to work on and I'm sure the coaches are going to use his ability."
Taylor went as far as to say that Bryant has a chance to make an impact similar to what former Steelers wide receiver
Mike Wallace
did as a rookie in 2009. Wallace emerged as the Steelers' No. 3 wide receiver that season and caught 39 passes for 756 yards and six touchdowns.
"Nobody has Mike Wallace's speed but as far as having that kind of ability, yes, I do think [Bryant] has that kind of ability," Taylor said. "When you've got a guy who's 6-4, who can pretty much run with anybody and can jump and catch, that's a good sign."
July, 7, 2014
Jul 7
2:00
PM ET
This is the next in a series that looks at every position on offense and defense with training camp approaching. Our fourth look is at wide receiver.
Brown
Returning starter:
Antonio Brown
. There are breakout seasons. Then there is what Brown did in 2013 when there were questions about whether the Steelers had a No. 1 wide receiver following the free-agent loss of
Mike Wallace
. Brown set a Steelers single-season record with 1,499 receiving yards and his 110 catches were just three shy of establishing a team record in that category.
New faces:
Lance Moore
and
Darrius Heyward-Bey
. The Steelers signed Moore to a two-year, $3.5 million contract shortly after
Jerricho Cotchery
signed with the
Carolina Panthers
. They signed the speedy Heyward-Bey to a veteran minimum contract and he will have to win a spot on the 53-man roster.
On the bubble:
Derek Moye
. The former undrafted free agent played his way onto the roster last season but he had a hard time getting on the field. The 6-5, 210-pounder caught just two passes for 20 yards and a touchdown, and he will have to hold off Heyward-Bey and 2013 sixth-round pick
Justin Brown
, among others, to again stick with the Steelers.
By the numbers:
Brown had 23 catches that were at least 20 yards last season – one more than Lions wide receiver
Calvin Johnson
.
Did you know:
Danny Coale
, who signed with Pittsburgh last January, is the son-in-law of former Steelers offensive lineman and color analyst for the team radio broadcasts Tunch Ilkin. Coale, a fifth-round draft pick by Dallas in 2012, has spent time on the Cowboys' and Indianapolis Colts' practice squads.
Quotable:
"You can see a different level of confidence in the way they carry themselves. They are no longer rookies. They are no longer looking around at who to follow. They are coming out here and leading their group. I think that's come from hard work. They didn't get noticed during the season last year when they were on the practice squad or not getting a ton of reps in games, but everybody out here can see that they were working hard and were continuing to make plays and get better." – offensive coordinator Todd Haley on second-year wide receivers
Markus Wheaton
and Brown.
Outlook:
The Steelers had significant turnover at the position with the losses of Cotchery and
Emmanuel Sanders
. They need Wheaton, a 2013 third-round pick, to emerge after a broken pinkie sabotaged most of his rookie season. Moore should prove to be a more than capable replacement for Cotchery and the wild card of the group is rookie
Martavis Bryant
. The fourth-round pick has an excellent blend of size and speed, and he could help the Steelers this season if he makes steady progress during training camp and preseason practice.
April, 15, 2014
Apr 15
12:00
PM ET
PITTSBURGH -- The is the third in a series that reviews the Steelers' drafts under general manager Kevin Colbert and coach Mike Tomlin.
Next up is the 2009 draft:
Total picks:
9
Picks still with the team:
0

Wallace
Best pick:
WR
Mike Wallace
. The second of three third-round picks, Wallace made an immediate impact and he developed into one of the top deep threats in the NFL. Wallace had just over 4,000 receiving yards and 32 touchdown catches in four seasons in Pittsburgh and he made the Pro Bowl in 2011. His speed and production priced Wallace out of the Steelers' range and he signed a five-year, $60 million contract with the Dolphins last year. The Steelers were wise not to overpay for Wallace and his loss helped them net three compensatory draft picks this year.
Worst pick:
G
Kraig Urbik
. Urbik, the Steelers' second pick -- and first one in the third round -- lasted just one season in Pittsburgh and didn't suit up for a game his rookie season. What is puzzling is why the Steelers were so quick to give up on Urbik. He landed in Buffalo and has started the past three seasons for the Bills. Whether there was some disconnect between the scouts/front office evaluation of Urbik and that of the coaches the fact remains that Steelers got nothing out the 79
th
overall pick of the draft.
Best value pick:
TE
David Johnson
. The Steelers' final pick – and the 241
st
overall selection in the draft – contributed as a blocking tight end/H-back as well as on special teams before knee and elbow injuries derailed his final two seasons in Pittsburgh. Johnson, who recently signed a two-year contract with the Chargers, caught 22 passes for 216 yards and a touchdown for the Steelers.
Also of note:
Defensive end
Ziggy Hood
may be the most dubious first-round pick the Steelers have made since Colbert joined the organization in 2000. The former Missouri star proved to be durable and his effort and commitment were never an issue. But Hood was miscast as a hold-the-point-of-attack defensive end after shooting gaps and getting up the field as a tackle in college. Hood recently signed a four-year, $16 million contract with the Jaguars. ... The Steelers erred in letting cornerback
Keenan Lewis
, a third-round pick, get away in free agency last year. A late bloomer, Lewis has developed into a quality starter. Now with the Saints, Lewis is sorely missed on a team that has to get younger at cornerback and replace
Ike Taylor
in the starting lineup sooner rather than later.
Final analysis/grade:
This is a tricky evaluation because the Steelers largely did a good job in picking players who could succeed at this level albeit in varying roles. The problem is they have nothing to show from this class other than the three compensatory draft picks they were awarded this year in part for losing Wallace and Lewis in free agency. Meanwhile, at least four players from this class project as starters – for other teams – in 2014. I will give the Steelers a "C" since they got contributions from a handful of players in this draft and maximized the pick they used on Wallace.
March, 24, 2014
Mar 24
7:20
PM ET
The Steelers have nine picks in the 2014 NFL draft after adding three compensatory selections based on free-agent losses last year.
The Steelers were awarded third-round, fifth-round and sixth-round picks Monday by the NFL. They effectively recovered the pick they traded last year when they dealt their 2014 third-round selection for the Browns' fourth-round pick.
The Steelers used the pick to draft safety
Shamarko Thomas
.
The Steelers' received the highest compensatory pick as their third-round selection is 97th overall. The other two picks they were awarded are 173rd and 215th overall, respectively.
Wide receiver
Mike Wallace
, cornerback
Keenan Lewis
and running back
Rashard Mendenhall
were among the players the Steelers lost via free agency last year.
The extra picks come at a good time for the Steelers.
General manager Kevin Colbert has said this is the deepest draft he has seen since he broke into the NFL, and the Steelers have to replenish a defense that is in transition. It's also a team that has needs on offense.
The Steelers have a pick in each of the seven rounds. They have two selections apiece in the fifth and sixth rounds of the draft.
December, 26, 2013
12/26/13
1:15
PM ET
PITTSBURGH -- Wide receiver
Antonio Brown
has been voted the Pittsburgh Steelers' MVP, marking the second time in the past three seasons he has won the award.
The award clearly came down to Brown and quarterback
Ben Roethlisberger
, and the former became the Steelers' first two-time winner of it since
James Harrison
in 2007-08.
Brown
Roethlisberger, surprisingly, has only won the award once in 10 seasons -- in 2009 when he set a franchise record with 4,328 passing yards.
To me, the award was a coin flip between Roethlisberger and Brown, so I'm certainly not going to argue against Brown -- or that the vote was some sort of referendum on Roethlisberger's standing in the locker room.
Brown has simply been outstanding this season and, in the words of coach Mike Tomlin, "ridiculously consistent all year."
Brown has answered any questions about whether the Steelers had a No. 1 wide receiver following the departure of
Mike Wallace
, and Brown has already established a single-season Steelers record with 1,412 receiving yards.
Brown has at least five catches and 50 receiving yards in every game this season, and he has an outside chance of breaking Hines Ward's Steelers record for receptions in a season.
Brown needs 12 catches Sunday against the Browns to surpass the 112 grabs that Ward had in 2002. The fourth-year veteran is also one of only four players in franchise history with at least two seasons of 1,100 or more receiving yards.
Brown, who is also one of the top punt returners in the NFL, is a lock to make the Pro Bowl for a second time.
The Pro Bowl teams will be announced on Friday.
December, 8, 2013
12/08/13
11:25
AM ET
PITTSBURGH --
Ryan Clark
has a problem with
Mike Wallace
, and it has nothing to do with how the latter left Pittsburgh following four seasons with the Steelers.

Wallace
"He has terrible running form and it's so frustrating," Clark said. "I do all that work in the offseason working on my form, pulling sleds and he just runs dumb. His hands are too low, he doesn't have knee drive and he's faster than everybody."
Wallace's speed is as much a storyline today as his return to Pittsburgh for two reasons: the Steelers have been susceptible to the deep ball and Wallace would love nothing better than to stick it to his former team.
The Steelers will be on high alert for Wallace, and they could get some help from the weather. A light snow is already falling, and the forecast is calling for cold temperatures, including sleet.
Wallace is not putting up the kind of numbers yet to justify the five-year, $60 million contract he signed last March, but Clark said he is dangerous as ever.
"(Dolphins quarterback Ryan) Tannehill's going through what Ben (Roethlisberger) kind of went through once you start playing with Mike, having to realize that you can't overthrow him," Clark said. "It's not like other plays when they get behind a guy you have to try to hang a ball up so he can get to it. When Mike's out there you have to throw it before he gets behind a guy because if you wait it's going to be short. He's still getting behind people at the same type of rate (when) he was here."
Wallace has made a relatively smooth transition to Miami, and he has apparently been a good fit in the locker room. Wallace is so gracious with the media that he may win the Dolphins' Good Guy Award in his first season with the team.
"He's a fun guy to have on the ball club," Dolphins coach Joe Philbin said. "I think he's acclimated himself well in the locker room. I think he's real respected by his teammates and he likes his teammates. It really doesn't matter what profession you're in it's always good to work with people you enjoy being with on a regular basis. I'm happy about the chemistry that he's found here."
December, 6, 2013
12/06/13
12:00
PM ET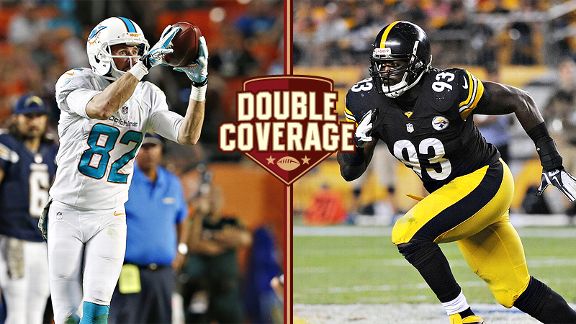 Getty ImagesBrian Hartline, left, and Miami face Jason Worilds and Pittsburgh in a game with playoff implications.
The postseason has started early for several teams around the NFL. The
Miami Dolphins
(6-6) and
Pittsburgh Steelers
(5-7) are two of those clubs, and they will meet Sunday at Heinz Field in what could amount to a playoff eliminator.
Miami and Pittsburgh are fighting for the final wild-card spot in the AFC, which is currently held by the
Baltimore Ravens
(6-6). The winner of Sunday's game will remain firmly in the playoff hunt, while the loser falls behind the pack.
ESPN.com's Dolphins reporter James Walker and Steelers reporter Scott Brown weigh in on who will prevail in this important game.
Walker:
Scott, I think much of this game will be determined by the matchup between Miami's ninth-ranked pass defense against Pittsburgh's eight-ranked passing offense. This is a strength vs. strength clash. The Dolphins are very wary of Pittsburgh quarterback
Ben Roethlisberger
. Miami defensive coordinator Kevin Coyle knows Roethlisberger well from his days with the
Cincinnati Bengals
and has a healthy respect for "Big Ben." He's unlike any quarterback Miami has faced this season because of his ability to extend plays to throw deep, not necessarily to run for extra yards. There is a lot of pressure on Miami's cornerbacks and safeties to maintain their coverage longer than usual to prevent big gains on broken plays.
Speaking of which, Steelers receiver
Antonio Brown
is Pittsburgh's best playmaker, and leads the NFL in receptions. What makes him so dangerous?
Brown:
It's funny that Brown still doesn't get his due as a No. 1 wide receiver, even from some media types in Pittsburgh, despite the phenomenal numbers he has put up this season. Brown might not have the size associated with No. 1 receivers, and he does not have blazing speed, but he has excellent quickness, is a superb route runner, and Roethlisberger has said he's never seen a receiver who is able to adjust to a ball while it's in the air the way Brown regularly does. Above all, Brown works at it. I mean really works at it. He is maniacal about training, and it's not uncommon for Brown to hit the gym for a workout after spending all day at Steelers' headquarters.
James, you have been immersed in one the biggest stories of the season, and I'm sure Steelers' fans would appreciate your take on how the Dolphins have dealt with the turmoil and distractions caused by the
Jonathan Martin
bullying allegations. Have the Dolphins settled into any semblance of normalcy, or is their a new normal in Miami?
Walker:
Things have been as close to normal this week as it's been since Martin left the team Oct. 28. There was a huge dark cloud hanging over the Dolphins, and things intensified and became very uptight the week NFL lead investigator Ted Wells visited the team. I expect things to be relatively calm for a couple more weeks until Wells completes the report and releases his findings. After that, all bets are off. There will be no winners in this complex situation. I don't expect
Richie Incognito
or Martin to return to Miami. So the Dolphins have already taken a hit. More heads could roll if others are found culpable.
Scott, one Dolphin who is excited about this matchup is former Steelers receiver
Mike Wallace
. What type of reception do you think he will receive, and how will Pittsburgh's secondary defend Wallace?
Brown:
I think Wallace will hear his share of boos. I think he is perceived, fair or not, by a lot of Steelers fans as selfish and a player who did not produce enough last season or help the team chemistry because of his contract situation. I'm real interested to see how the Steelers try to defend Wallace. His speed is going to be a problem for a defensive backfield that has lost a collective step given the age of its starting safeties, not to mention top cornerback
Ike Taylor
.
Taylor usually draws the assignment of shadowing the opposing team's No. 1 wide receiver, but I'm not sure the Steelers will do that with Wallace, since coach Mike Tomlin has a lot of respect for
Brian Hartline
as well. Whoever draws Wallace will get help from a safety, but he could have a big game at Heinz Field. The Steelers have given up seven passing plays of at least 50 yards this season, and I'm sure Wallace would love nothing more than to add to his former team's total.
James, what are the early reviews on Wallace? It doesn't seem like the Dolphins are getting the return from the investment they made in him, though I know it's early.
Walker:
It's still a work in progress, Scott. Wallace hasn't put up the production many in Miami expected, but there is plenty of blame to go around. Starting with Wallace, the drops are on him. Wallace had too many drops early in the season, although he's gotten better in the second half of the year. But other factors such as scheme and quarterback
Ryan Tannehill
's inability to throw a consistent deep ball has made it tough for Wallace to make the same plays he made in Pittsburgh. Tannehill doesn't have Roethlisberger's arm strength or ability to extend plays. Wallace thrived off broken plays that Roethlisberger created. Tannehill doesn't have near the same elusiveness and ability to out-throw the coverage. Wallace is getting open, but many of Tannehill's deep balls have been underthrown, which allows defenders to recover. There are some things involved that Wallace cannot control. But he does have momentum coming into this game. Wallace has totaled 12 catches for 209 yards and two touchdowns in his past two games. I expect him to be amped for Sunday.
Finally, Scott, what do you think of Pittsburgh's playoff chances, and how it relates to this game?
Brown:
In spite of the latest wave of injuries to hit the offensive line, I actually think the Steelers have a chance to win their final four games and make the playoffs -- if they get the help they are going to need with the Ravens. My outlook probably changes if
Aaron Rodgers
is playing quarterback in the Steelers' Dec. 22 game at Green Bay. But if the Packers drop out of playoff contention, does Rodgers play against the Steelers? That is a big if as of right now.
Green Bay is the only remaining road game for the Steelers, so the schedule sets up favorably, especially given Rodgers' uncertain status. Roethlisberger is really locked in right now, and I think he is capable of carrying the Steelers and masking a lot of problems assuming an offensive line that is held together by duct tape can do a reasonable job of protecting him.
.
December, 6, 2013
12/06/13
8:00
AM ET
A hodgepodge of topics from this week at the Steelers:
Bracing for Wallace:
Teams have been throwing deep on the Steelers, who have given up 11 passing plays that have covered at least 40 yards. You can bet the Dolphins will take a couple of shots on Sunday with
Mike Wallace
, one of the fastest players in the NFL. Wallace has not gotten behind opposing defensive backs with as much regularity this season as he has just nine catches of 20 yards or longer -- the same number as Steelers' No. 3 wide receiver
Jerricho Cotchery
. The Steelers, however, are a favorable matchup for Wallace given how they have struggled with the speed of
Calvin Johnson
,
Josh Gordon
and
Torrey Smith
the past three weeks. When asked if teams are challenging the Steelers with the deep ball more, defensive coordinator Dick LeBeau said, "I would say that they're not really throwing it deeper any more than they ever have. It just appears to me that they're catching it a little more often than they did. We've got to cut that out. The games that we've been successful defensively are the games that we have done that."

Keeping the faith:
Dropped passes were an issue for
Emmanuel Sanders
in the Steelers' 22-20 loss to the Ravens but
Ben Roethlisberger
doesn't sound like his confidence in the fourth-year veteran has wavered. "We cannot afford to have guys get down if they do have a drop because I have bad passes," Roethlisberger said. "Everyone makes mistakes. That's why we're human. I'm proud of the way those guys have played this year." The Steelers used their no-huddle offense to get back into the Ravens game in the second half, and they scored three touchdowns after intermission. Injuries along the offensive line has raised questions about how much the Steelers will be able to use the no-huddle offense against the Dolphins. But Roethlisberger said he doesn't think the injuries will force the Steelers to rein in the no-huddle offense on Sunday.
Biding his time:
Markus Wheaton
's potential has not translated into much production, and offensive coordinator Todd Haley said part of the reason for that is there aren't enough snaps to get the rookie wideout more involved in the passing game. Wheaton has caught just six passes for 64 yards. He missed four games following surgery to fix a broken right pinkie. "He was showing a lot of signs that he was going to help us," Haley said. "He had some setbacks. When they occurred the guys that played were playing at a high level. He's continued to work and get better. He knows when his opportunity comes he has to make plays."
Welcome back:
Sunday will be something of a homecoming for Joe Philbin. The Dolphins coach played his college ball at Washington & Jefferson in suburban Pittsburgh, and he nearly became the head coach at his alma mater in the late 1990s. Philbin said he was about 12 hours from accepting the head coaching job at W&J when Iowa coach Kirk Ferentz offered him a job. Philbin went from Harvard to Iowa where he coached the offensive line and that move put him on a path toward the NFL. Philbin recalled how he gauged his wife's reaction to going to Iowa instead of W&J. "I asked her if she liked corn. She had certainly never been to Iowa," said Philbin, who spent four seasons at Iowa before moving onto the Packers. "It's funny how things work out."
Scouting Tannehill:
Second-year Dolphins quarterback
Ryan Tannehill
has thrown 17 touchdown passes but also 13 interceptions. Tannehill ranks 24th in the NFL in passer rating (83.2) though he is two sports ahead of Indianapolis'
Andrew Luck
, the first overall pick of the 2012 draft. "His mobility is surprising for me," Steelers coach Mike Tomlin said. "He's capable of creating when plays break down."
December, 5, 2013
12/05/13
3:02
PM ET
PITTSBURGH -- Remember predictions that the
Pittsburgh Steelers
' passing game would flounder without a bona fide deep threat?
The Steelers' receivers apparently do.
"They took to heart (questions of) how good are we going to be on offense without
Mike Wallace
," Steelers quarterback
Ben Roethlisberger
said. "I'm proud of the way they've handled things. We've had guys that have stepped up."
Brown
No one has stepped up more than
Antonio Brown
, who leads the NFL with 85 catches and is on pace to break the Steelers' single-season record for receiving yards (1,398 held by Yancey Thigpen.).
Brown's ascension and Roethlisberger staying healthy are the biggest reasons why the Steelers' passing game has thrived in spite of the loss of Wallace, one of the fastest players in the NFL.
The Steelers are averaging 261.8 passing yards per game, compared with 236.7 last season. Roethlisberger has played every snap -- he is the only Steelers' offensive player to do so -- and he already has 21 touchdown passes. Steelers quarterbacks had 27 last season when three of them started games because of injuries that sidelined Roethlisberger.
The passing game not only had to overcome the loss of Wallace, but also do without a legitimate receiving threat at tight end for the first two weeks of the season.
In addition to Brown's emergence as a No. 1 receiver,
Jerricho Cotchery
has rejuvenated his career -- the 10th-year veteran has a career-high eight touchdown catches -- and the Steelers can only imagine how good their passing game would be if they could coax more consistency out of
Emmanuel Sanders
.
Getting open hasn't been a problem for the speedy Sanders, but he has struggled with drops, and his recent one came on a game-tying 2-point conversion attempt last Thursday in Baltimore.
Sanders appears to be doing fine after the fallout from that missed opportunity, and he pledged to become more reliable in the final four games of the season.
"Ben put a lot of great balls out there that I didn't (catch) that I usually (catch) that I've got to make and that I will start making," said Sanders, who has 54 catches for 604 yards and four touchdowns.
Fans lit up Sanders following the Steelers' 22-20 loss to the Ravens on Twitter and other social media venues. He shrugged off the vitriol directed at him as something that "comes with the territory."
"It's been alright," Sanders said on what the last week has been like for him. "People are going to say what they want to say, but I don't really care. I'm just here to play football and win."
December, 1, 2013
12/01/13
11:30
AM ET
PITTSBURGH --
Assorted thoughts with the Steelers off this weekend following a 22-20 loss at Baltimore on Thursday night.
Fine should be forthcoming:
Do I think Mike Tomlin intentionally tried to obstruct
Jacoby Jones
as the Ravens kickoff returner raced past the Steelers sideline last Thursday night? No. Do I think the NFL will be justified when it slaps the Steelers coach with a significant fine? Absolutely. Tomlin's defense for almost wandering onto the field as after Jones flashed through a gaping hole was that he watched the play unfold on one of the video screens in M&T Bank Stadium. Tomlin's explanation for standing in the white area that is supposed to be off-limits to coaches: everybody else does it, and he said it rather defiantly instead of issuing any sort of mea culpa. That won't -- and shouldn't -- fly with NFL headquarters.
Not done yet?
Center Fernando Velasco's season is finished due to an Achilles injury, but the Steelers should seriously consider trying to re-sign him during the offseason. He would provide needed insurance for Pro Bowl center
Maurkice Pouncey
, who has had trouble staying healthy. Velasco is also good enough to challenge
Ramon Foster
for the starting job at left guard or at the very least give the Steelers an excellent backup for the interior of their line. Velasco seemed to really embrace the tradition that comes with playing for the Steelers, and he'd probably be inclined to stay in Pittsburgh if he is at least given an opportunity to start somewhere along the offensive line.
Youth movement:
If the Steelers lose one more game, they have to consider seeing what they have in some of their younger players, especially wide receiver
Markus Wheaton
. The veteran players have raved about Wheaton's physical ability and eagerness to learn but that has not translated into much production. That is not necessarily Wheaton's fault as the Steelers' No. 4 wide receiver doesn't get nearly as many opportunities as fourth wideouts in pass-centric offenses. I remember
Jerricho Cotchery
joking before the season how fresh he felt after playing limited snaps the past two years as the Steelers' No. 4 wide receiver. I think Wheaton's lack of playing time is due more to the fact that
Antonio Brown
,
Emmanuel Sanders
and Cotchery are ahead of him. And Sanders is at best a coin flip to return next season as he will be an unrestricted free agent in March so the Steelers need to see what they have in Wheaton.
Taylor on the spot:
The Steelers need cornerback
Ike Taylor
to bounce back in a big way or give the 11
th
-year veteran more help. Among the receivers the Steelers have in their final four games are
Mike Wallace
,
A.J. Green
,
Jordy Nelson
and
Josh Gordon
, who torched the Steelers for 237 receiving yards and a touchdown last Sunday. The most problematic of those matchups may be Wallace, given his speed and how much he is going to want to stick it to the Steelers, who let him sign with the Dolphins last March.
Big Ben and the Pro Bowl:
Ben Roethlisberger
is playing at a Pro Bowl level, but the 10
th
-year veteran may be one of the odd men out -- at least initially -- when the all-star teams are selected following a
fan vote
as well as voting by the players and coaches. A change in format has the best players, in theory, making it to the Pro Bowl regardless of conference, and there are six spots for quarterbacks.
Peyton Manning
,
Tom Brady
and
Drew Brees
are locks.
Aaron Rodgers
is also likely to make the team assuming he returns this season from a broken collarbone. Among those battling for two spots are Roethlisberger,
Russell Wilson
,
Philip Rivers
,
Cam Newton
,
Nick Foles
and
Matthew Stafford
.
September, 6, 2013
9/06/13
7:31
PM ET
To fans fretting over how the
Pittsburgh Steelers
' passing game will overcome the loss of
Mike Wallace
,
Jerricho Cotchery
offers this message: Have a little faith in the team's brain trust.
Cotchery
"One year they're trading away
Santonio Holmes
and they've got Mike Wallace waiting in the wings," the veteran wide receiver said. "They prepare for situations like that, so you have to give the organization credit for drafting guys, developing guys. We've got guys that are more than capable, man."
They'd better, because the Steelers lost one of the top deep threats in the NFL when Wallace broke the bank and signed with the
Miami Dolphins
last March.
Consider that quarterback
Ben Roethlisberger
has completed 73 passes that were at least 30 yards over the past four seasons, according to ESPN Stats & Information, tied for eighth in the NFL during that span. Nearly half of those (36) were caught by Wallace.
Antonio Brown
becomes the Steelers' No. 1 receiver and should also provide Roethlisberger with a deep threat.
Emmanuel Sanders
, meanwhile, isn't lacking for confidence as he takes over for Wallace at split end.
"I felt like last year I was starting," said Sanders, who caught 44 passes for 626 yards and a touchdown as the Steelers' No. 3 wideout in 2012. "Toward the middle of the season, we were really a three-wide receiver team if you go back and watch the film."
That bodes well for Cotchery increasing his playing time and production, each of which fell off considerably after he signed with the Steelers in 2011.
Cotchery has 33 receptions in two seasons in the Steelers after averaging more than 66 catches a year from 2006-2010 with the Jets.
The 10th-year veteran should get plenty of snaps this season as the No. 3 wide receiver, and Cotchery will be particularly important on third down.
"I said I've been resting for two years," he said with a chuckle. "But I'm ready to do the job. I've been preparing for it. I spent the offseason getting my body right and all of that stuff."
Cotchery is the graybeard of a young group that also includes rookie
Markus Wheaton
and
Derek Moye
, in his second year out of college.
One thing that has impressed Cotchery is the workmanlike approach Brown and Sanders have taken with each expected to play bigger roles in the offense.
"It all started in the offseason and they haven't swayed from it one bit," Cotchery said. "I know the coaches appreciate it. We're a tight group and I just like the (wide receivers meeting) room. Just a hard-working group."